You can view the status of emails sent from your SimplePractice account in your Sent emails report. This report lists emails sent in the last 30 days to the Account Owner, team members, clients, and contacts. This includes the Daily Agenda, Evening Summary, claim status, appointment reminders, and billing document notification emails.
In this guide, we'll cover:
---
Viewing the Sent emails report
To view the Sent emails report:
Navigate to your

Calendar

Click

Analytics > Reports

Choose

Sent emails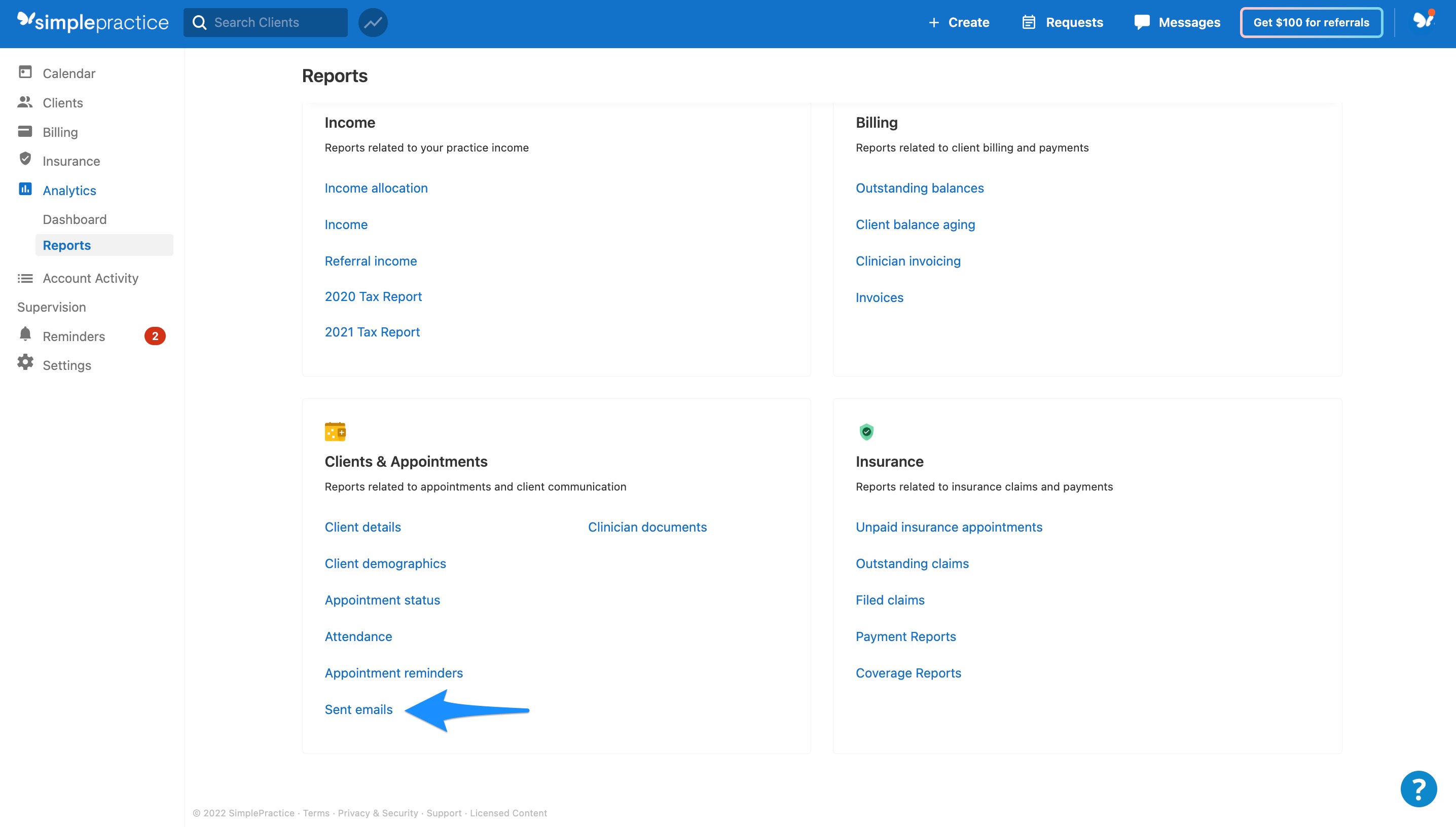 For each email, the report includes the Date sent, current Status, recipient, and Subject line. The report can also be filtered by Primary Clinician in a group practice: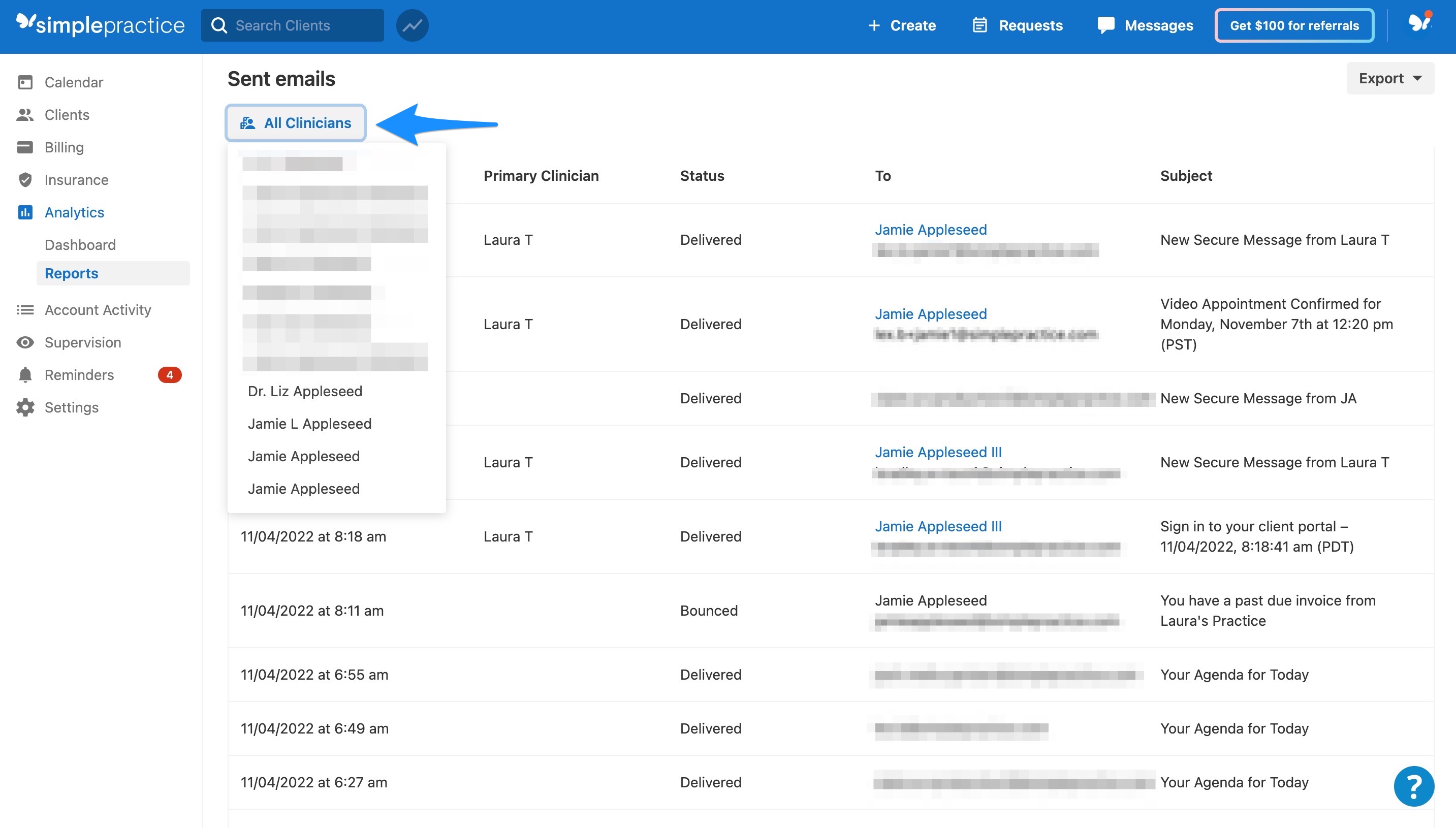 For more information on the types of emails sent to clients and contacts, see When are different email templates sent to clients?
Note: The types of emails a team member can view is dependent on their role and permissions. For more details, see Team member roles and access levels.
---
Understanding email statuses
Each email in the Sent emails report includes its delivery status. These include:
| | |
| --- | --- |
| Status | Meaning |
| Queued | The email is waiting to be sent. |
| Deferred | The client's email server wants to delay the email from being received. We'll continue to try to deliver the email for 72 hours. |
| Delivered | The email was delivered successfully. |
| Dropped: Spam Reporting Address | The recipient's email service marked the email as spam. |
| Dropped: Invalid | The recipient's email host domain was entered incorrectly. For example, the email was entered as gnail.com instead of gmail.com. |
| Dropped: Bounced address/Bounced | The client's email provider denied the email. Future emails to this email address will be blocked. |
---
Troubleshooting email statuses
If a recipient can't locate a sent email, we recommend that they first check their email spam and junk folders.
Emails from SimplePractice to clients and contacts will come from yourprovider@simplepractice.com. To prevent emails from SimplePractice being marked as spam, clients and contacts can add this email to their email address book. In the future, emails from SimplePractice won't be marked as spam by their email provider.
Emails from SimplePractice to you and your team members will come from yourteam@simplepractice.com. You and your team members can also prevent these emails from being marked as spam by adding this email to your email address books.
If the recipient has checked their spam and junk folders and still can't locate an email, you can submit a help request with the recipient's secure URL so that our team can investigate further. For more information, see Sharing a secure URL with your help request.
---
FAQs
I see that my client's email has the Dropped: Invalid status, but their email is correct. What should I do?
If your client's email is receiving the Dropped: Invalid Status with the correct email, you can submit a help request with the recipient's secure URL so that our team can investigate further.
Emails always go to my client's spam folder. How can they fix this?
If emails from yourprovider@simplepractice.com are ending up in your client's spam folder, make sure that they've added yourprovider@simplepractice.com to their address book. Email filters change over time, but adding an email address to your contact book will make sure that the email ends up in the correct inbox.