In this article, we'll talk about setting up services for billable session hours.
Services are billable appointments that you record in the calendar. These are things like "90834 - Psychotherapy 30 minutes" or a more general service like "Art Therapy, or "Supervision." All services include the option to write a progress note.
Products can be any other item that you include in an invoice. "Product" is a broad term and might include things like books, workshops, refunds, service charges, consulting fees, etc. You can learn more about setting up Products here: Adding A Product
Service codes
Setting up Service Codes at the Practice Level
To access service codes at the practice level: Go to My Account > Settings > Billing and Services > Services.
Every appointment you put on the calendar will be assigned a service code (or CPT code), whether you bill insurance or not. We provide you with a list of commonly used service codes for insurance providers and also give you the option to create your own service codes.
From this page, you can edit the description of the service code, set the default service code, and adjust availability settings.
Note: You can also bill services in units and add Multiple CPT Codes to appointments. To learn more, see this guide: Understanding Unit Billing and using Multiple CPT Codes in SimplePractice.
Editing the description of the service code
Editing the service code description changes the description on the Online Booking page for clients. Any billing documents containing the service code will have the original description for insurance purposes.
Click the service code you would like to edit.
Edit the text in the text field that has the current description. You can change this to whatever description suits your needs and is understandable for the client.
Click Save.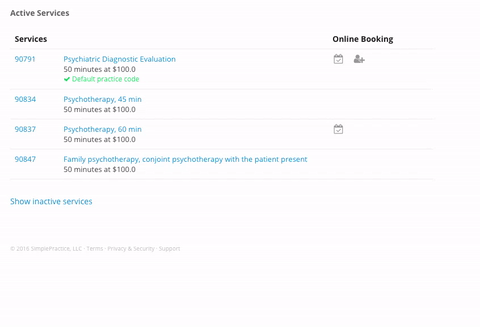 Creating a custom service code
If we do not have a code that you like to use, or if you provide non-insurance services, you can create a new custom code. Here's how:
Click Add New Service.
Enter in the information for the custom service code. You can add a custom code, custom description and set the rate as well as the service duration.
Click Save.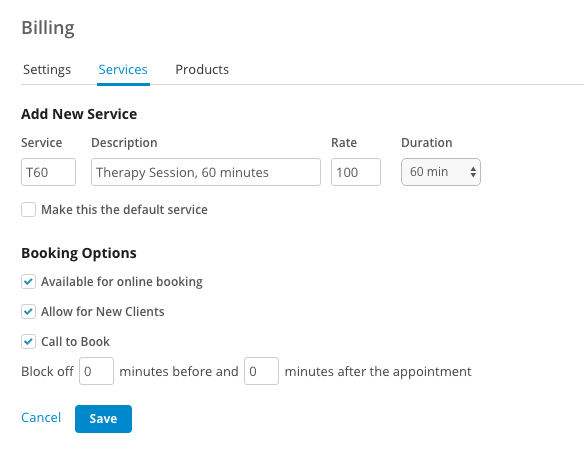 Note: Creating or changing a default setting will not update existing scheduled appointment. This means that if you are trying to update a recurring series of appointments that are already set in the calendar, you will have to delete all future occurrences of this series and recreate it with the new default settings.
Adding service codes at the client level
Service codes can be specified client by client as well. While the practice settings will indicate the default code and rate for all new clients, you can choose specific default codes individually. This is optional.
Example: General rate is $150, but you have a long-time client who only pays $100. You can set the default code/rate in this individual client's profile, so that you don't have to change the default fee per appointment every time you enter this client in the calendar.
Here's how:
Navigate to the client's profile page.
Click edit client info.
Click the Billing & Insurance tab and scroll down to the Service Codes section.
Click the Add Code drop-down to add a service code for the client, or edit the existing service code fee.
Click Save.