With SimplePractice Availability Scheduling, you can easily indicate the times you are available so your clients can schedule their own sessions and you can also specify the services you provide during your availability blocks.
We've integrated a "Call to Book" feature as well, which allows you to designate service codes as available to book by phone call.
To get started with Availability Scheduling, just make sure you have enabled Online Booking. If you haven't yet, click here to learn how. Once you've enabled Online Booking, you're ready to start setting your availability. In fact you'll be prompted to set your availability when you save your Online Booking settings if you haven't yet.
Setting Availability
For most clinicians, setting your availability means setting your practice hours. For others, it might mean setting a few open blocks for clients to schedule online. 
To get started, make sure you are looking at the calendar. If Online Booking is enabled, you'll see a button in the upper righthand corner of the calendar labeled Availability.

Click on Availability to open the Availability mode.
The calendar will switch to Availability mode. Click anywhere on the calendar to add a new availability block.
A calendar flyout will appear. Similar to creating a session, you will create an availability block. Click Title and type in a title for your availability.
Click the time to change the time for the start and end times of the availability blocks.
Click the Repeats dropdown. This will allow you to set repeating blocks. For example, if your regular hours are from 9am-4pm, you can have these availability blocks repeat for the days of the week that you are open every week.
Click Weekly. Click on the days of the week that you want this availability block to repeat.
Click the drop-down next to Every to select the frequency. If you want it to repeat every week, leave it at 1. You can make this repeat every 2 weeks up to 8 weeks.
Click on the drop down next to Ends. If this is temporary, you can select After or On Date. Otherwise, you can select Never if these are your typical hours and you want them to repeat. You'll always have the option to delete individual blocks later. 
If you want to offer multiple services, your active codes will display and you can select the available services for this time block. We'll go over how to make sure your service codes are enabled for Online Booking. Click here to learn more.
Click Done to save the availability. 
See how easy that was? You can click anywhere on the calendar to add another availability. You can also add multiple availability blocks that overlap. Just follow the previous steps to create another availability block. It's that easy.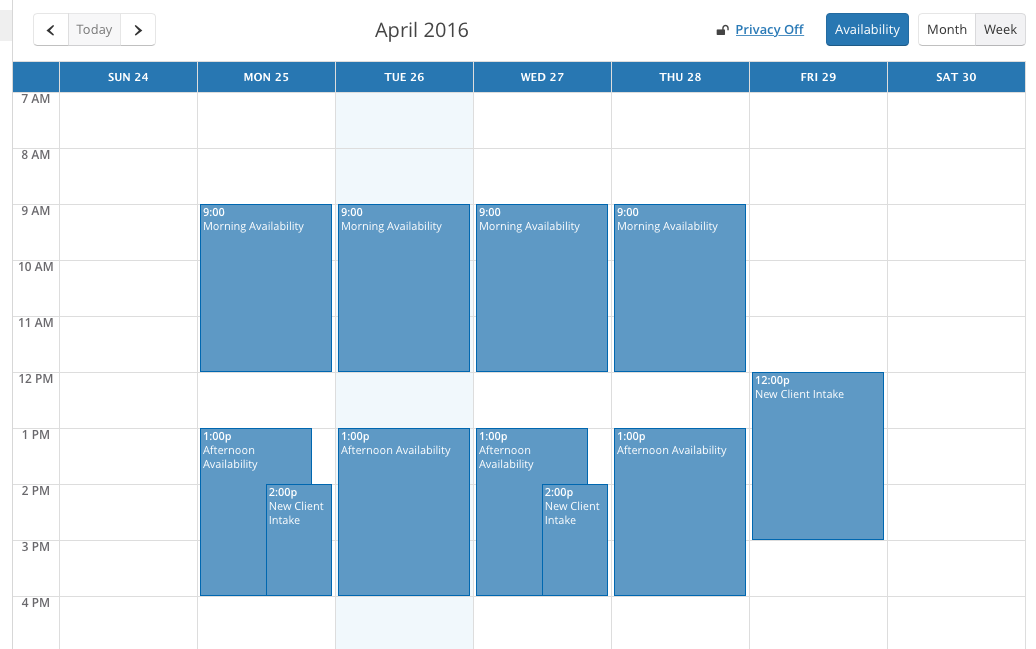 Editing Availability
Here's how to make a change to your availability:
Click the availability that you want to edit. A fly out will appear.\
Edit the name, date, time start, time stop, location, and services offered.
Click Done to save.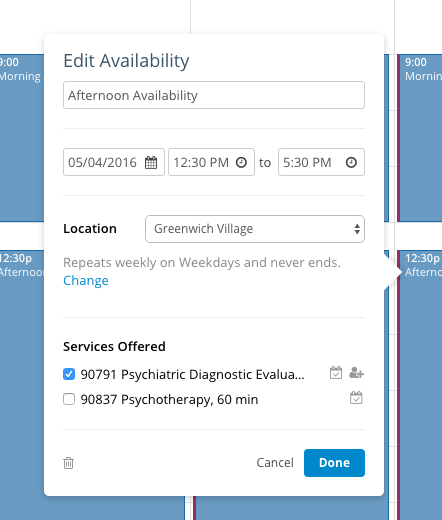 Deleting Availability
Just like a session, you can delete an availability by clicking on the availability block that you want to delete. A flyout will appear. Just click on the Trash Can Icon.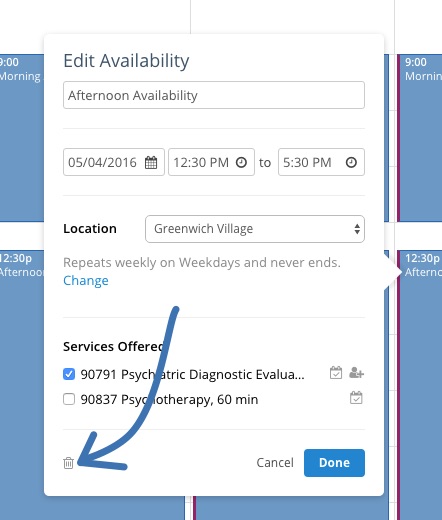 If the availability is recurring, you will be given the option to delete the single occurrence, all future occurrences, or all availabilities in the series.