When you receive payments from Insurance Providers for claims, you can assign those payments to sessions. This is a great way to track who owes you money.

Before you start, make sure your insurance clients' Billing Type is set to "Insurance" If you haven't set your client's Billing Type yet, check out this article before continuing. Also make sure that your client's sessions are being recognized as insurance billable sessions- they will display the co-pay and insurance payer portions of the session fee like this: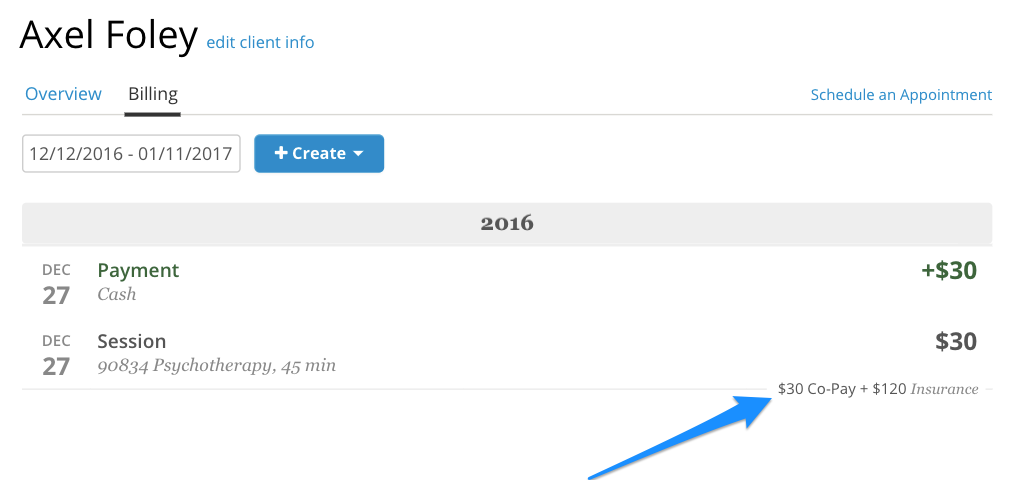 If your client's sessions don't have this formula, read this article: Changing the Billing Type, Co-Pay, or Cash Write-off at the Session Level.

To begin assigning insurance payments to sessions go to your client's billing details page and click the ADD INSURANCE PAYMENT button.

Adding the insurance payment
On the Add Payment screen the client's Primary insurance will be automatically selected in the Payer drop down menu. If the payment is from secondary insurance or a previous insurance company the client had, you can select the appropriate payer from the searchable list.
Enter the CHECK or WIRE Transfer number.
Select the DATE RANGE that includes the sessions associated with the payment. (If no sessions show up, read more about that here.) 
Set the PAYMENT DATE that's on the insurance payment.
Enter the AMOUNT of the payment/check. 
Using the EOB (Explanation Of Benefits) sent with your payment enter:
1) The amount paid for each session in the INS. PAID field.  
2) If the EOB indicates that the client owes something different than you charged, enter in the client's responsibility for each session in the CO-PAY field.
3) If the amount paid by the client and the amount paid by insurance is less than you billed, you will assign a WRITE-OFF amount. This indicates that you will not be receiving additional reimbursements from insurance. 
Click the circular icon to auto-calculate the remaining balance after setting the CO-PAY and INS. PAID fields. This is the amount to write-off.
Once you have assigned the payment to all the appropriate sessions, updated the client's co-pay amount if necessary and written-off any remainder, click SAVE. 
On the client's Billing Details page, the reimbursement allocations, write-offs and co-pay adjustments will appear for the individual sessions:
If you made any changes to the CO-PAY fields when adding the insurance payment, the client's balance due will update to reflect whether the client owes more or less than you originally billed to the client.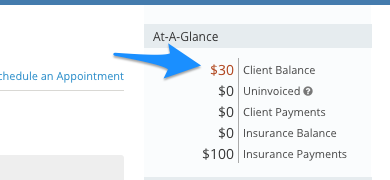 In the BILLING > INSURANCE section, the insurance payment will be listed in the PAYMENTS section:  
and in the practice billing section:
and on the client's billing page.
Entering insurance payments will allow you to easily track client balances. Read more about tracking an insurance client's balance here.