With SimplePractice, we've made it simple for you to set up your account so billing documents are created and delivered to clients without a single click! And now with AutoPay you can automatically collect fees from clients by automatically billing them.
These powerful, time-saving automations are customizable and offer the flexibility to set your billing preferences on a client by client basis.
Automated Billing Documents
1) To get started, head to a client's Billing and Insurance tab and indicate if you'd like to create a monthly statement and/or superbill for this client. 
2) Next, click over to your client's Communication tab. Here you'll pick how you'd like billing documents delivered to your client. The options are Manual, Email, and Client Portal.
Manual: WIth this option selected, the system will rely on you to manually print, or email billing documents. If you have a client who requires no billing documents at all, this is the option to select. 
Email: With this option, the system will automatically email billing documents as PDF attachments to your client.
Client Portal: This option will automatically notify your client via email whenever a new billing document is delivered to their client portal. This is the most secure option and the one most practices prefer since no PHI is sent over email. This is the option to choose if you'd like clients to pay online through the portal. 
3) Now you're ready to select which type of documents you want delivered to your client: Invoices, Statements, and/or Superbills.
You can pre-select the default billing options for every new client you create. To do this, go to My Account > Settings > Billing and Services:
Automated Payments with AutoPay
If you've already set up Stripe for your account, you can set up AutoPay!
1. Click on My Account then click on Settings.
2. Click on Billing and Services.
3. Scroll down to the AutoPay section.
4. Just select the checkbox next to "AutoPay Enabled" in your Billing settings.
5. Click Save. It's that simple!
If you haven't set up Stripe, you'll be prompted to set up Stripe when you try to enable AutoPay. For more info about Stripe and setting up your account, click here.

How do I enable AutoPay for a client?
You'll need to have a valid credit card on file for the client to enable AutoPay for them. Click here to learn how to add a credit card for your client.
You can enable AutoPay for a client in two places:
1. Billing Settings. If AutoPay is enabled, you'll see a list of clients in your AutoPay settings. If the checkbox is deselected, the client is not enrolled. To enable, just select the box, then click on the blue Save button at the bottom of the page.
2. Client Overview. Navigate to the client's overview page. Click on edit client info then click on the Billing tab. If the client already has a credit card on file, you can select the AutoPay Enrolled checkbox, then scroll down and click Save.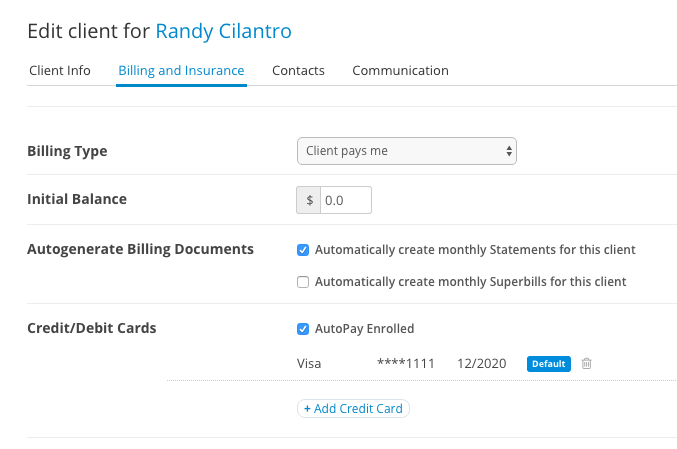 To Learn more about Billing Settings in SimplePractice, click here.