This is the most common error we see when customers try to file insurance claims:
Please correct the following errors in the claim and re-submit
NPI 1234567890 should be enrolled before you can start submitting claims for payer id: UH107. You can learn how to submit your enrollment at https://support.simplepractice.com/hc/en-us/articles/207925273-Submitting-enrollments-for-claim-filing-and-payment-reports

The reason you're getting that error message is because the payer you're working with requires you to file an enrollment in order to be able to file claims with them electronically via SimplePractice. If you need help submitting an enrollment, click here.
If you have already submitted your enrollment, then you need to wait for the payer to accept it before you can file claims electronically to them via SimplePractice. Go to My Account > Settings > Insurance Payers and check on the status of your enrollment. If the status reads Submitted, it means the enrollment is still being processed.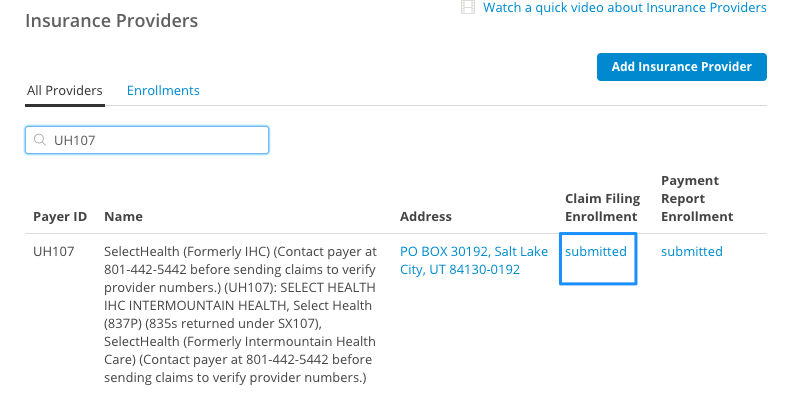 We will email you when your enrollment has been completed or if there are any other steps needed from you in order to complete this process.
Keep in mind that enrollments can take anywhere between 1-8 weeks to be accepted by the payers. We recommend that you continue to file claims outside of SimplePractice until your enrollment is accepted so that you don't experience an interruption to your cashflow.