At times, a specialist may decide that scheduling a one-to-one call would be the best way to resolve a question you have. If that's the case, you'll be scheduling a video call via Zoom.
Using Zoom for video calls and screen-sharing makes it easy to demonstrate how to use SimplePractice, and also for you to show us specifically what you have questions about.
Note: Zoom is a secure HIPAA compliant video call and screen share platform.
In this guide, we'll cover:
---
Scheduling a Zoom call with a specialist
Note: To learn more about getting help, see Logging in to SimplePractice and submitting help requests.
If it's determined that a call would be helpful for your situation, the specialist will send you a link to book a one-to-one video meeting with them.
To book the meeting:
Click the booking link in the help request

Select the date and time you'd like to have the meeting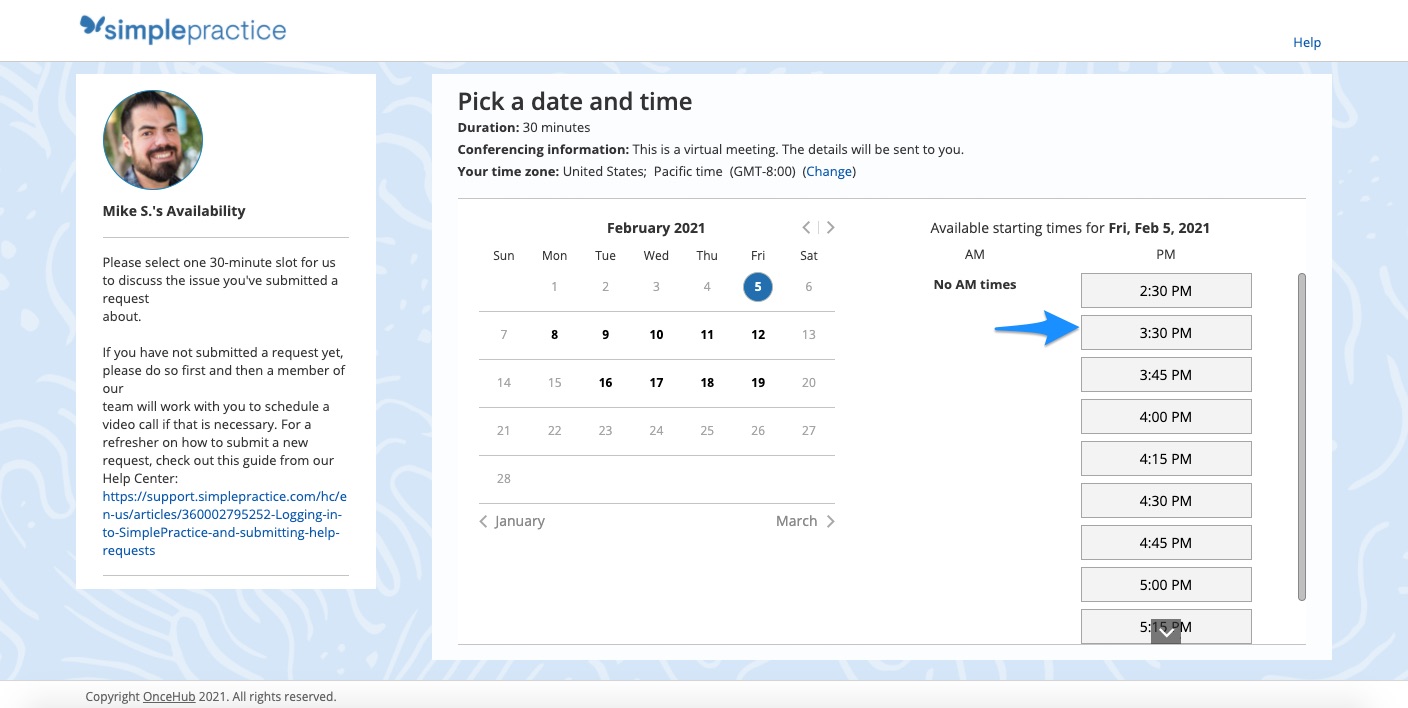 Complete the fields under Provide information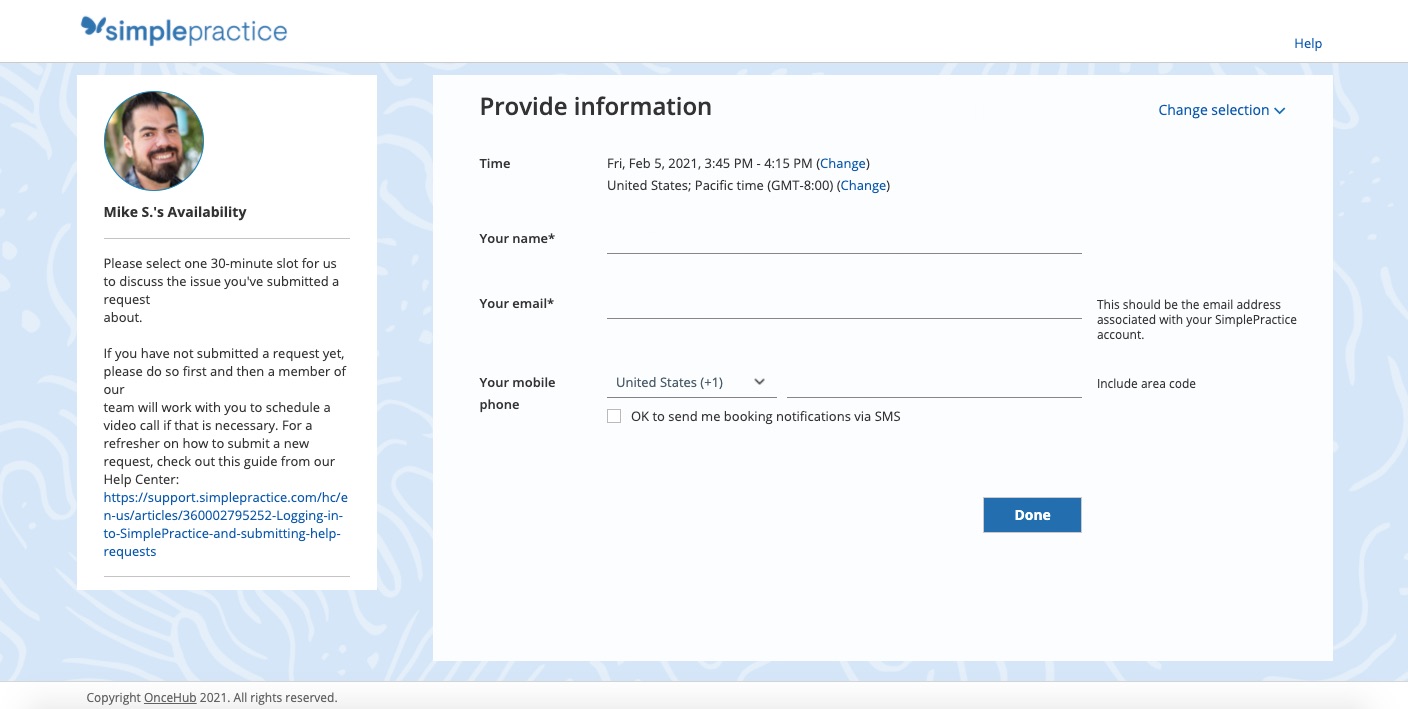 Click

Done

You'll see your booking confirmation on the next screen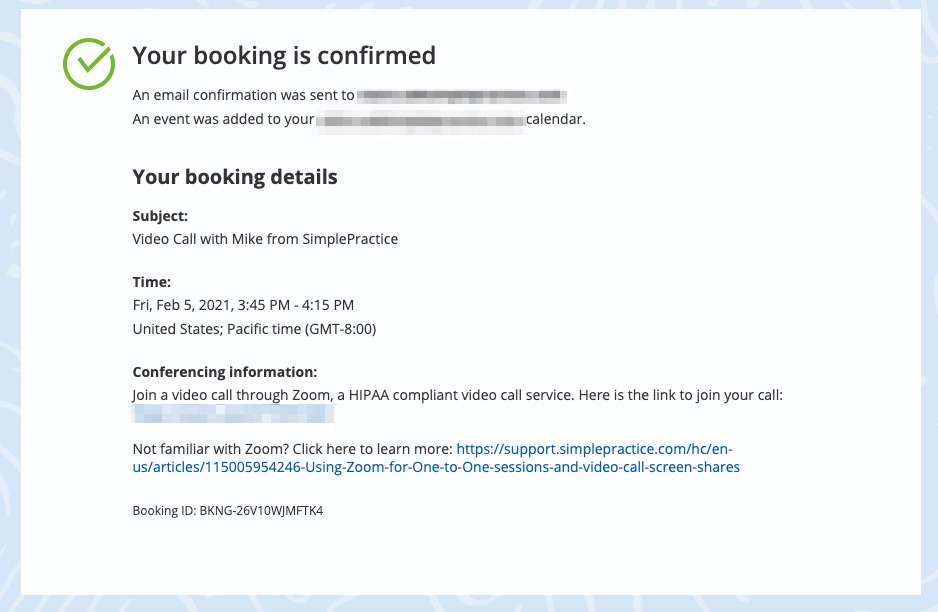 You'll also get an email booking confirmation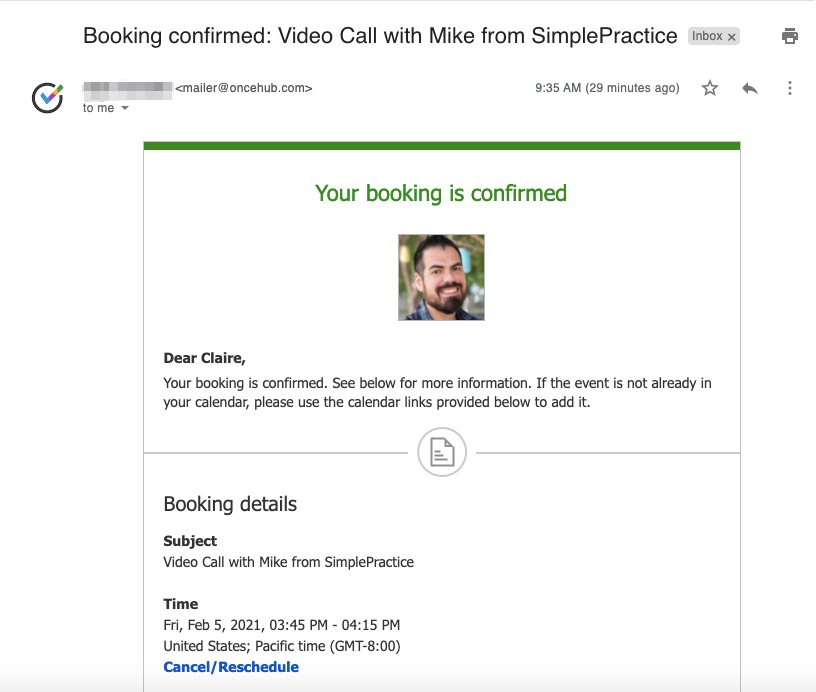 The email confirmation will include the Zoom link for your upcoming meeting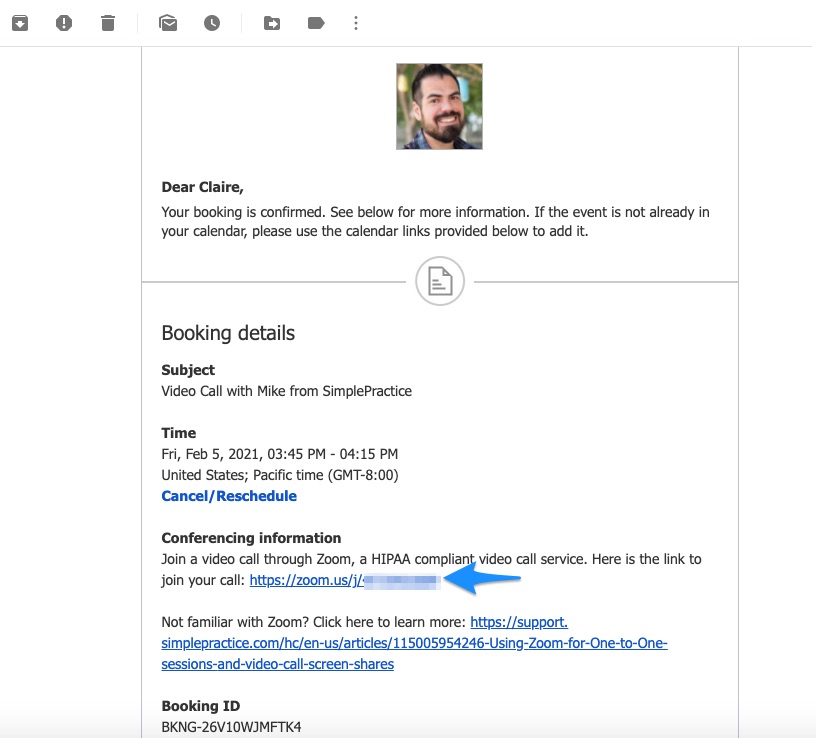 ---
Installing Zoom
If you're using Zoom for the first time, you'll want to give yourself a few extra minutes before your scheduled meeting to install and set up the software.
To join the Zoom meeting, click the Zoom link in your one-to-one confirmation email or the link in the email that the specialist sent you. Follow any on-screen prompts and Zoom will install in a matter of minutes. We recommend downloading Zoom before your meeting. For additional details, see Zoom Download Center.
---
Using Zoom
To join the Zoom meeting:
Click the link in your one-to-one confirmation email or the link in the email that the specialist sent you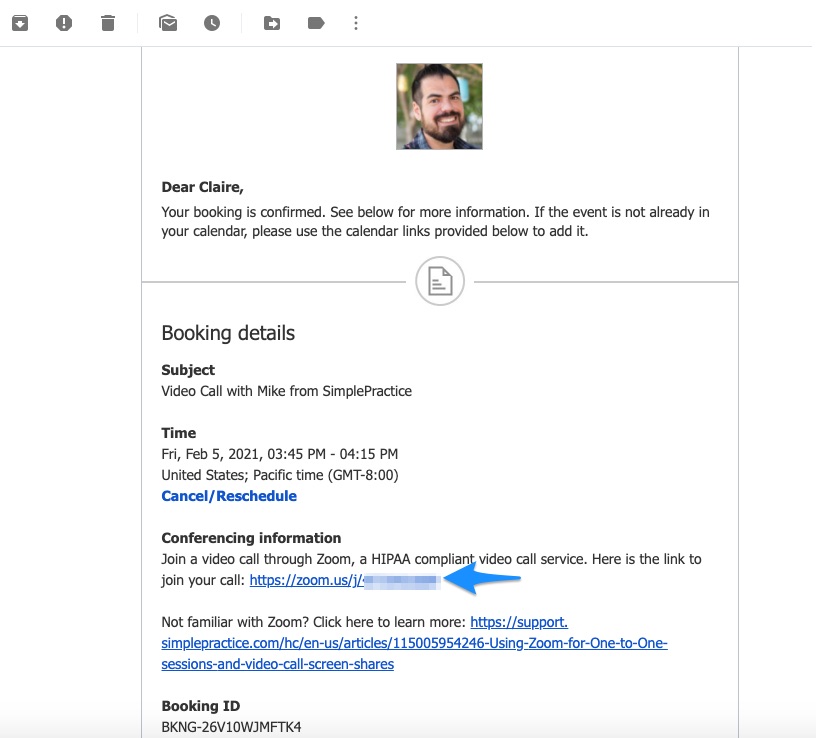 Once Zoom opens, click

Join with Computer Audio

so you and the specialist can hear each other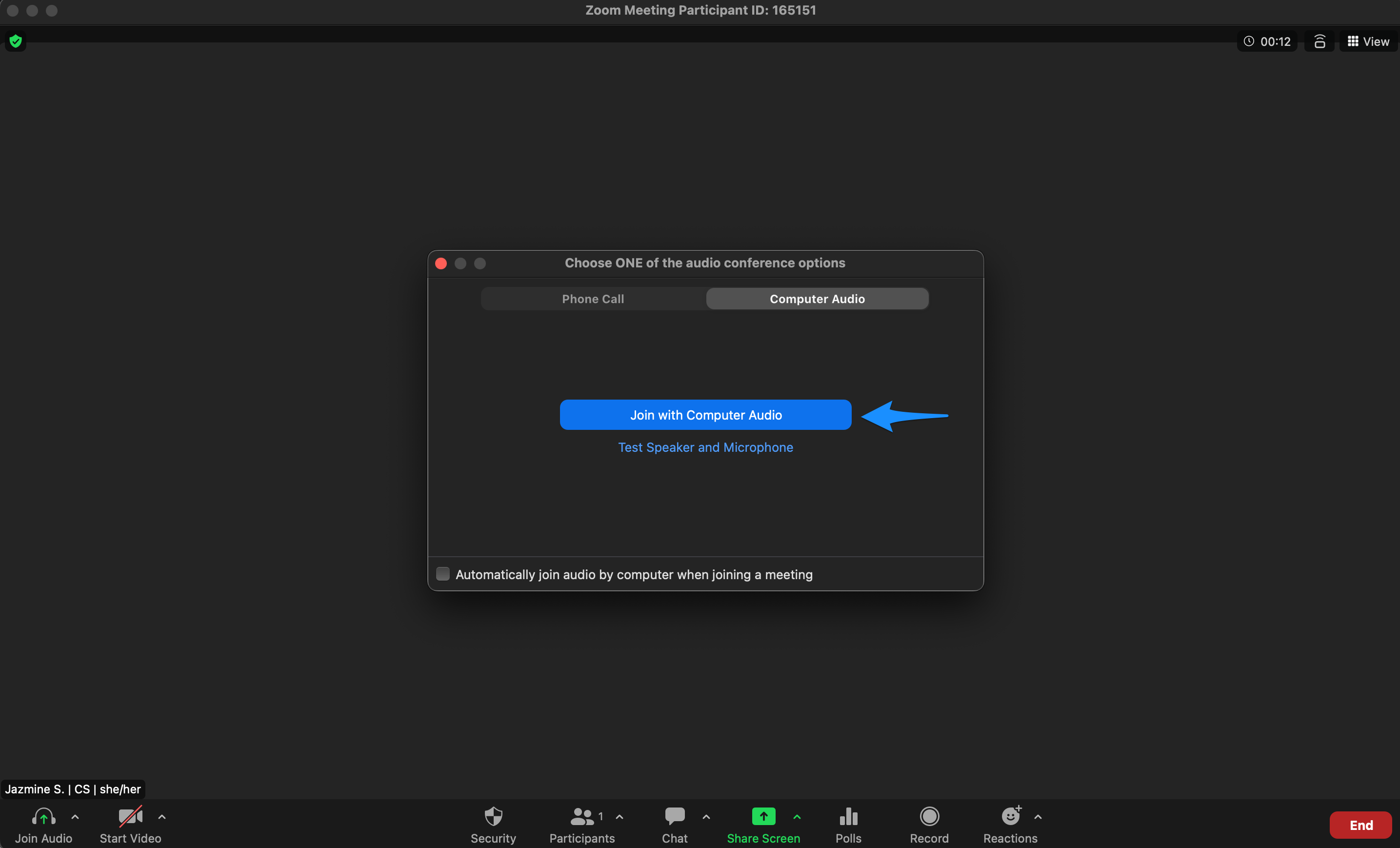 Hover over the Zoom window and select

Start Video

in the lower left corner of the Zoom window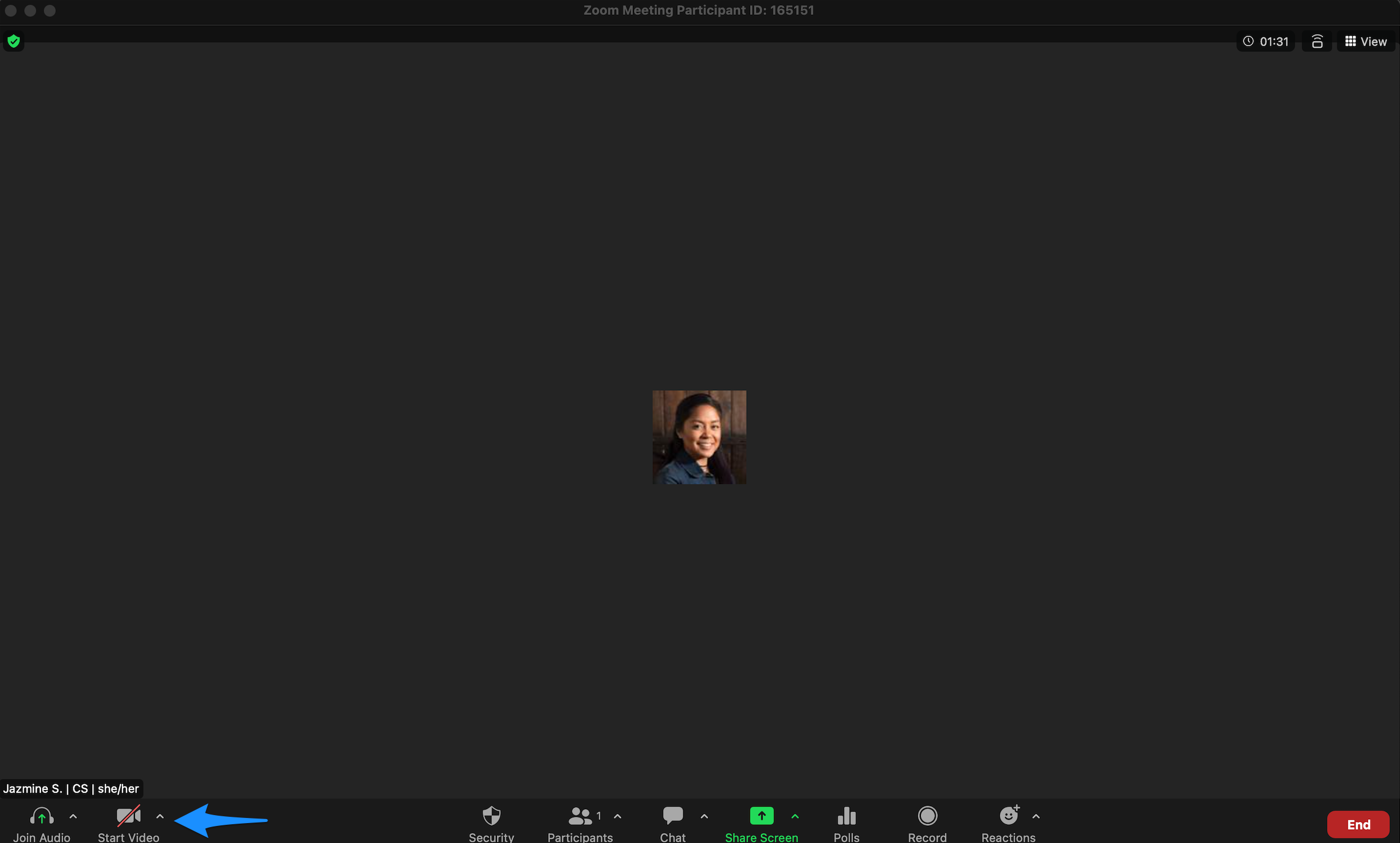 Note: If you have questions about joining the video call, see Zoom's resources on Joining a Zoom meeting.
---
Enabling your Security & Privacy settings on a Mac
When accessing Zoom from a Mac computer, make sure your computer's Privacy & Security settings are properly enabled to allow screen-sharing through Zoom by following these steps:
Navigate to your computer's

System Preferences > Security & Privacy > Privacy

Choose

Screen Recording
Check the box for the zoom.us

app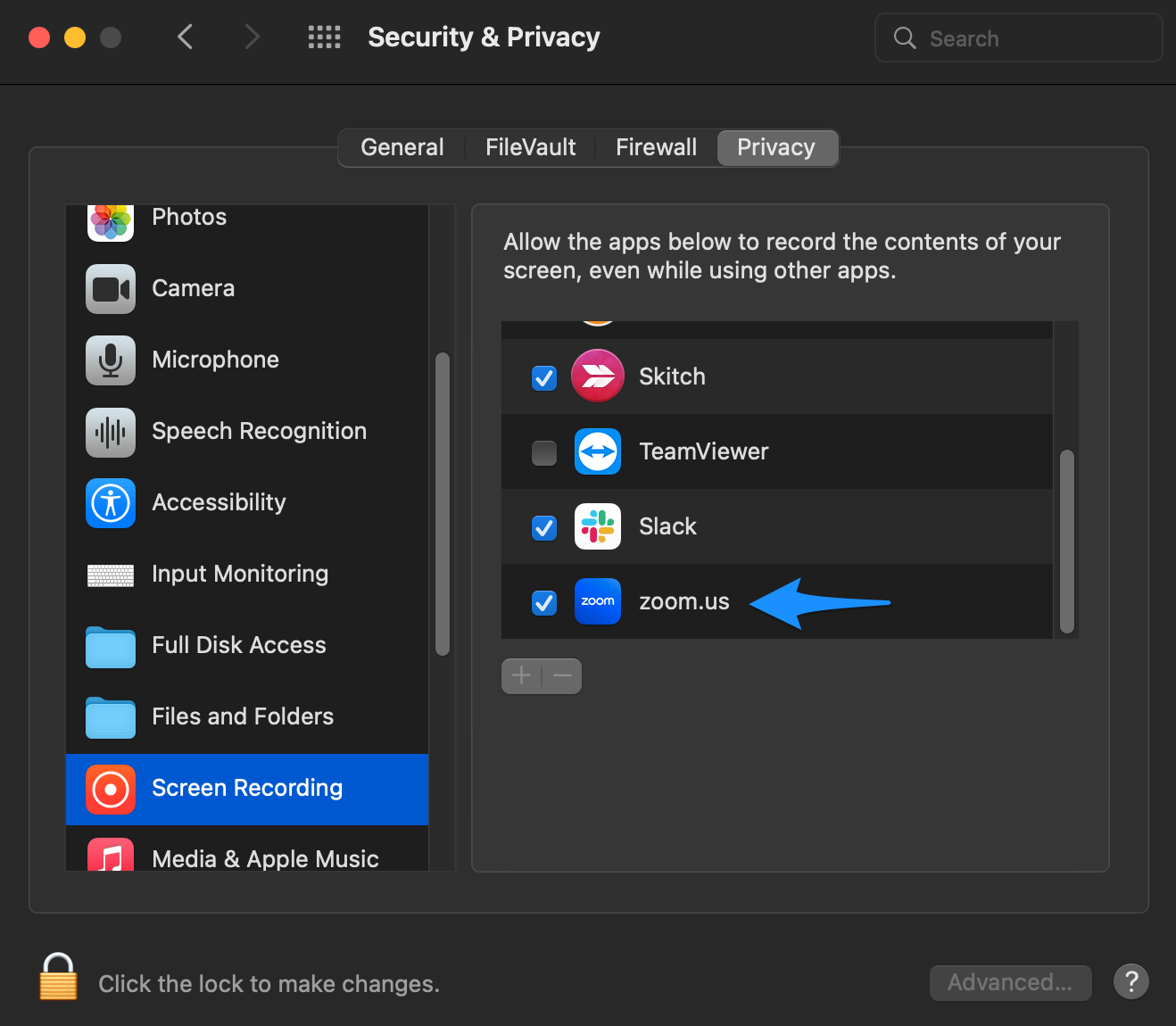 In the Security & Privacy settings, you can also allow Camera and Microphone access for Zoom as well.
---
Using Zoom on a PC
While Mac computers require that you allow access to share your screen and use the camera and microphone, PC's don't. If you do encounter issues while using Zoom on your PC, you can follow these steps:
Click the

Start

button in the bottom left

Navigate to the

Settings Wheel > Privacy > Camera

or

Microphone

Make sure

Allow apps to access

is turned on
---
Sharing your screen
While using Zoom, hover over the Zoom window and select

Share Screen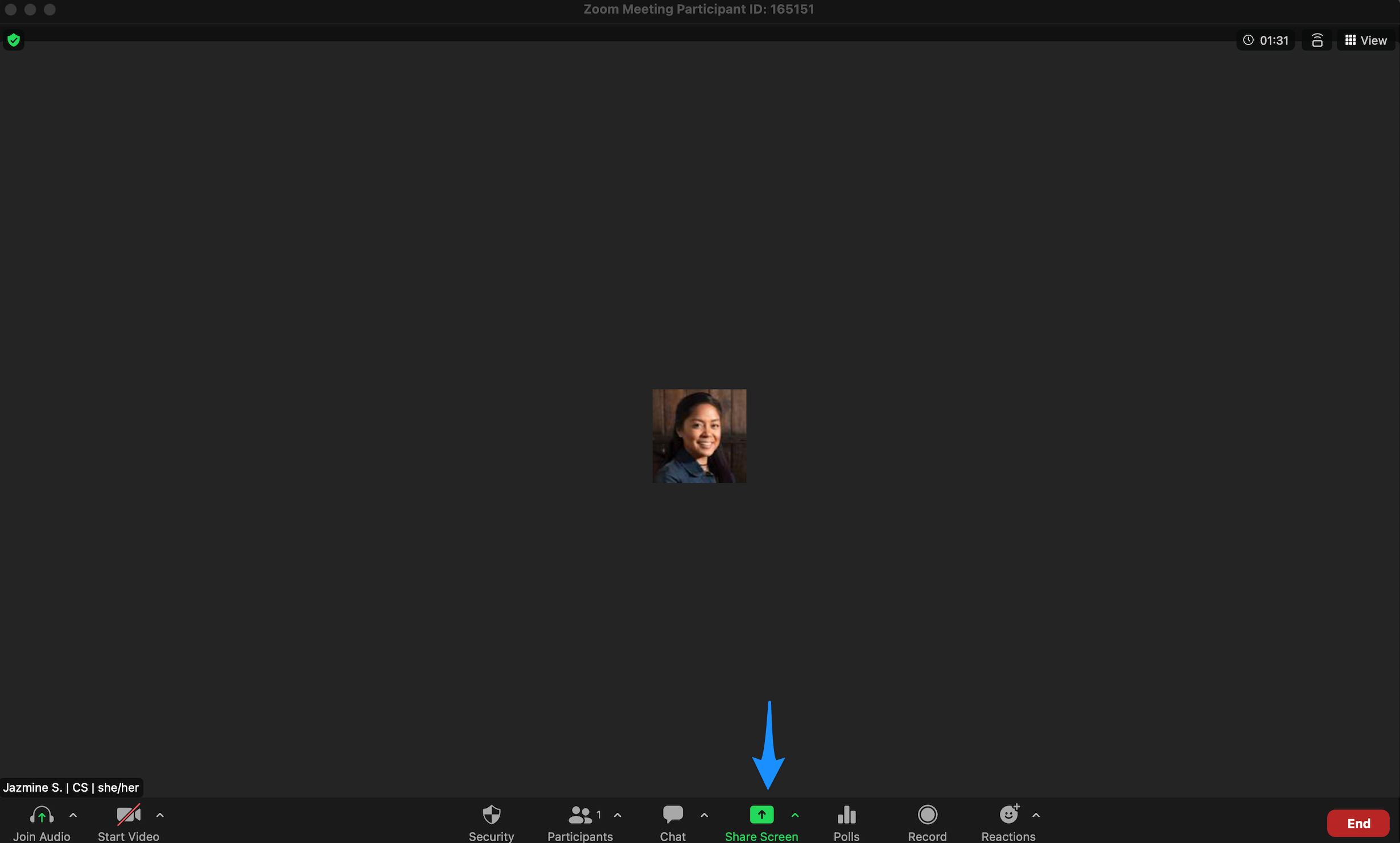 Select the window or app that you would like to share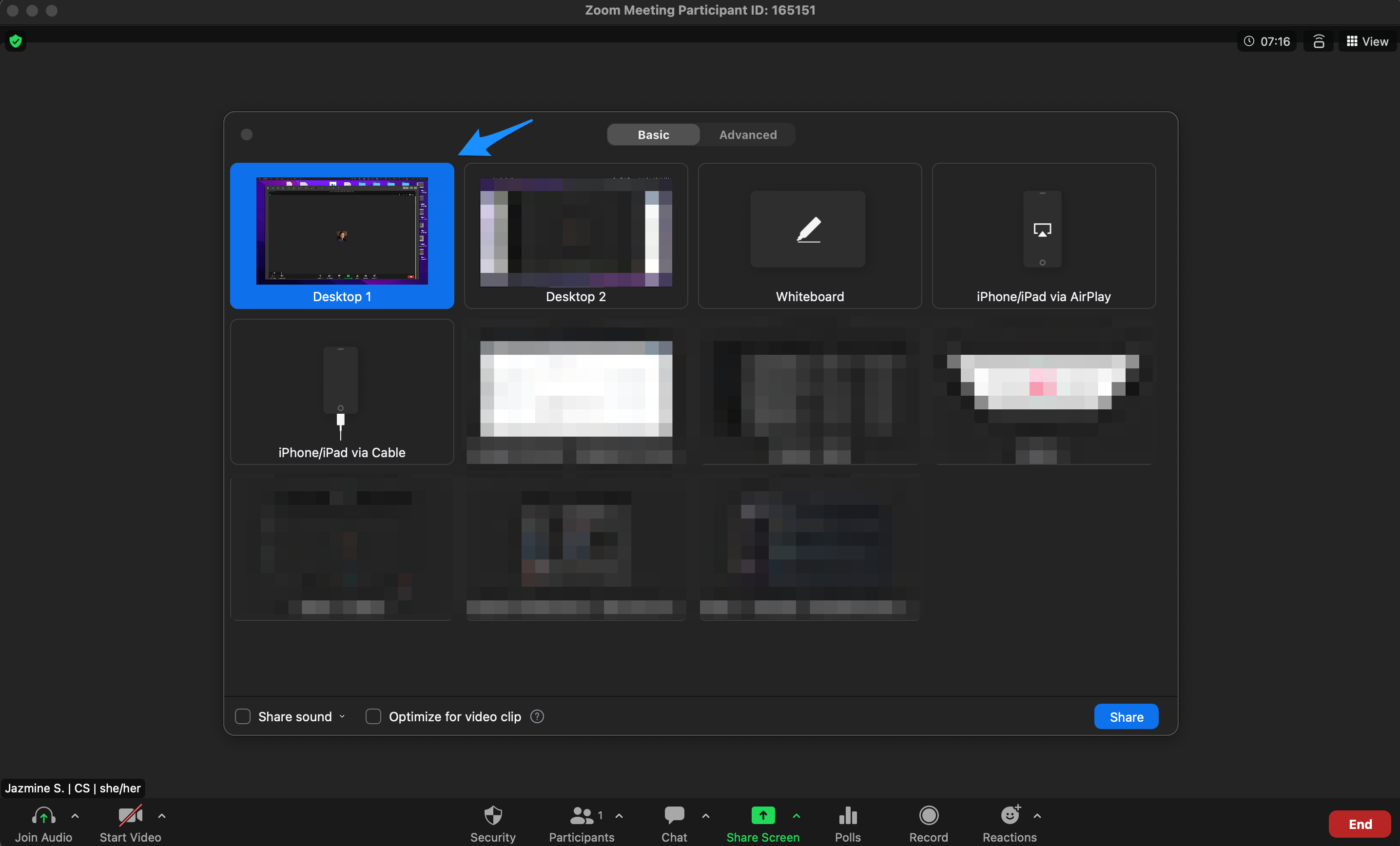 ---
Meeting is locked by host
If the meeting is locked by the host, this means the specialist is currently speaking to another customer. If it's a few minutes to your meeting time, they're likely wrapping up with another customer and will be ready to speak with you shortly.
---
Waiting for host to join
If you see this message, this means the specialist will join at the scheduled meeting time. If it's a couple minutes past your scheduled meeting time, the specialist may be finishing up with another call.