The list of billable ICD-10 codes gets updated every year on October 1st. This means that codes you previously used may become outdated. It's important to use current codes for diagnoses, whether you file insurance claims or not.
In this guide, we'll cover:
---
Do you use ICD-10 or DSM-5 descriptions?
While you can find the ICD-10 codes available in your account in the DSM-5, you may find that the descriptions aren't aligned. Because many of our customers bill insurance, we use the ICD-10 descriptions from CMS.gov. This database keeps codes up-to-date, and the codes are confirmed as billable.
There are some descriptions that we updated to be consistent with the DSM-5 and to be considerate of clients. These changes shouldn't affect billing and are listed below:
F64.1

- Gender dysphoria in adolescents and adults

F64.2

- Gender dysphoria in children

F64.8

- Other specified gender dysphoria

F64.9

- Unspecified gender dysphoria
All other code descriptions are based on ICD-10 and can be found and downloaded here: 2022 ICD-10-CM.
---
How can I tell if a code is billable?
Every year on October 1st, the list of billable ICD-10 codes is updated. This means that diagnosis codes you previously used may become outdated. There may also be certain codes that you'd like to use that aren't billable for insurance, and therefore aren't available in SimplePractice.
Because we only keep up-to-date, billable codes in SimplePractice, you can confirm a code's current description as well as check if it's billable by following these steps:
Navigate to the

ICD-10 database

Search the code

Click the ICD-10 CM Diagnosis Code
Confirm the code has the current year and is listed as a Billable/Specific Code in green

---
What if I can't find a code in SimplePractice?
If a code is listed as active and billable for the current year but you can't find it in your account, we'll be happy to add it for you.
To request a code gets added, submit a help request to our team and include the code and its description, as listed in the ICD-10 database.
We'll verify the code on our end and will let you know once it's added.
---
How do I update a code in a client's file?
The list of billable ICD-10 codes is updated every year on October 1st. Whether you file insurance claims or not, you'll need to make sure that you update your client records.
Important: If you need to submit claims for any appointments that took place prior to October 1st, make sure not to include any post-October 1st appointments. This will lead to the claim being rejected. If a claim has been rejected stating that an invalid ICD code was used, you'll need to update the client's file, delete, and recreate the claim. Before deleting a rejected claim, it's recommended to download a copy and save its clearinghouse reference number.
If a diagnosis code(s) you use has been modified, follow these steps to update a client's file:
Navigate to the client's Overview page
Click New > Diagnosis and treatment plan

Select the new diagnosis code from the drop-down menu

Set the Date & Time of Diagnosis to a date on or after October 1st of the current year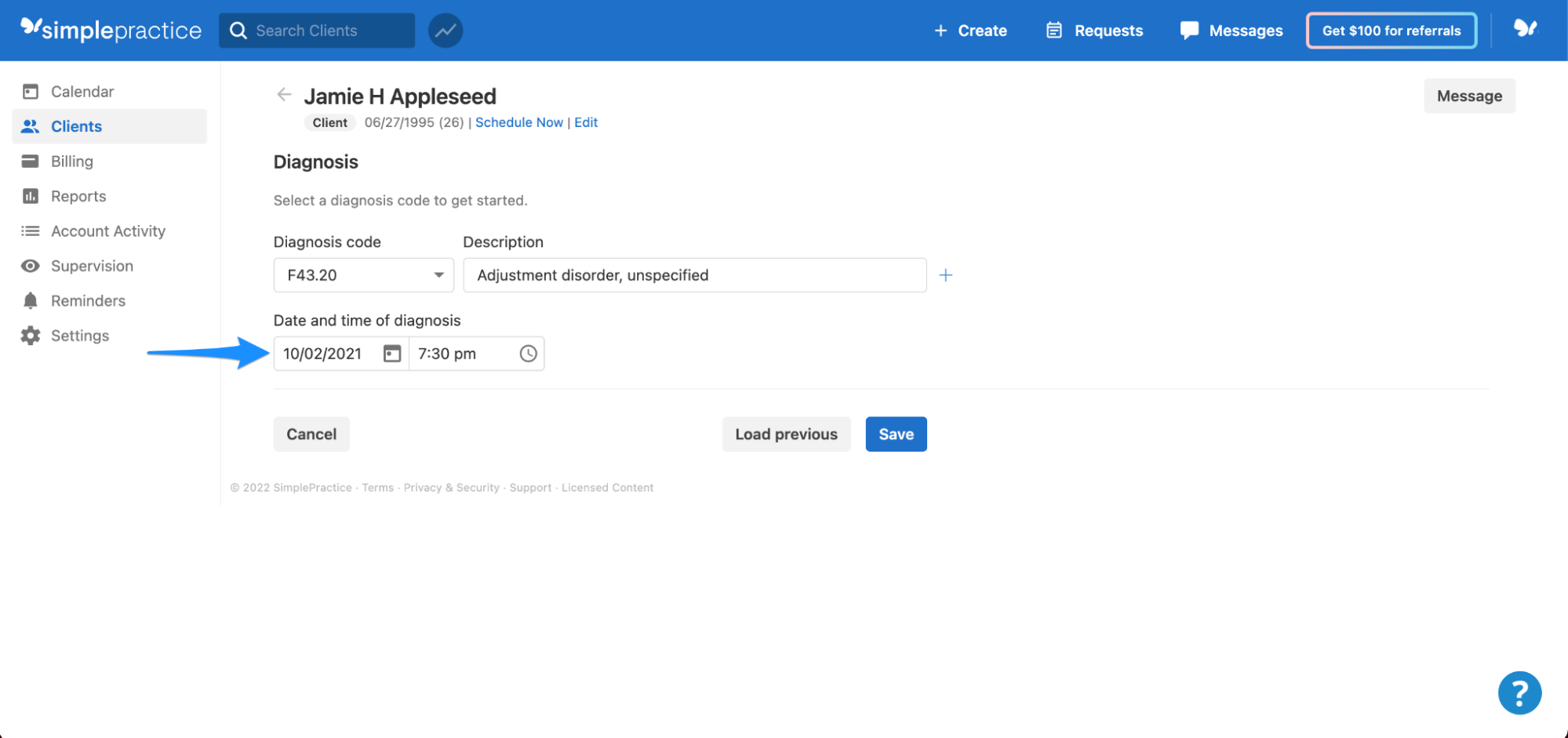 ---
How do I add a code description to a superbill?
When billing out-of-network, some insurance payers may ask that you include a code's description on a superbill. To do this:
Navigate to Settings > Documents
Scroll down to Superbills
Check the Include Diagnosis Description option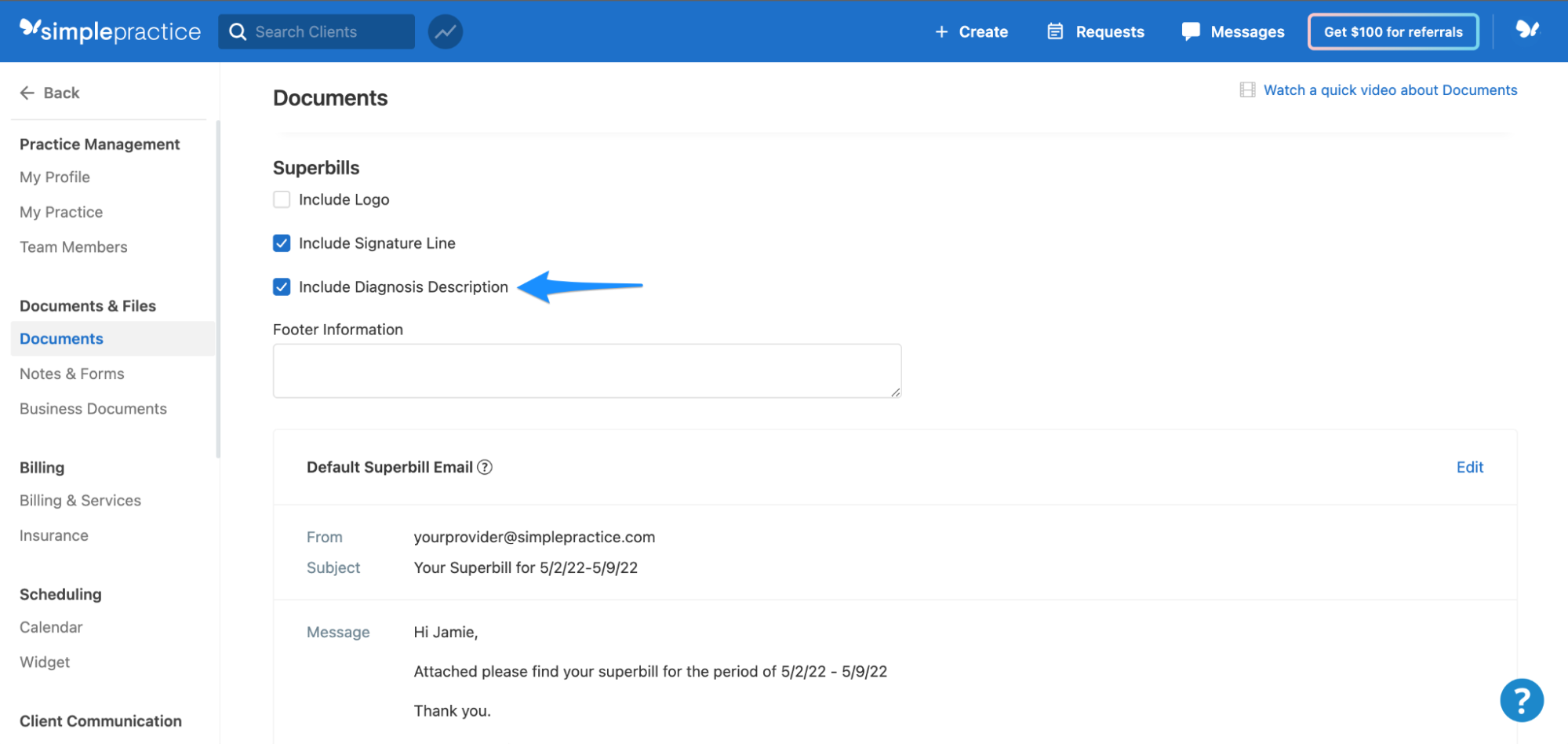 Note: If a superbill was created before enabling this setting, delete it and recreate it for the change to take effect.
If you need multiple diagnosis codes included on a claim or superbill, see: How do I include multiple diagnoses on claims/superbills?