The Billing and Services settings for your practice make up the foundation for all client billing. Taking a few moments to set this up properly will help make sure your clients are charged the correct amount for your services. You can also set up billing automations to help you save time.
To get started, navigate to Settings > Billing and Services.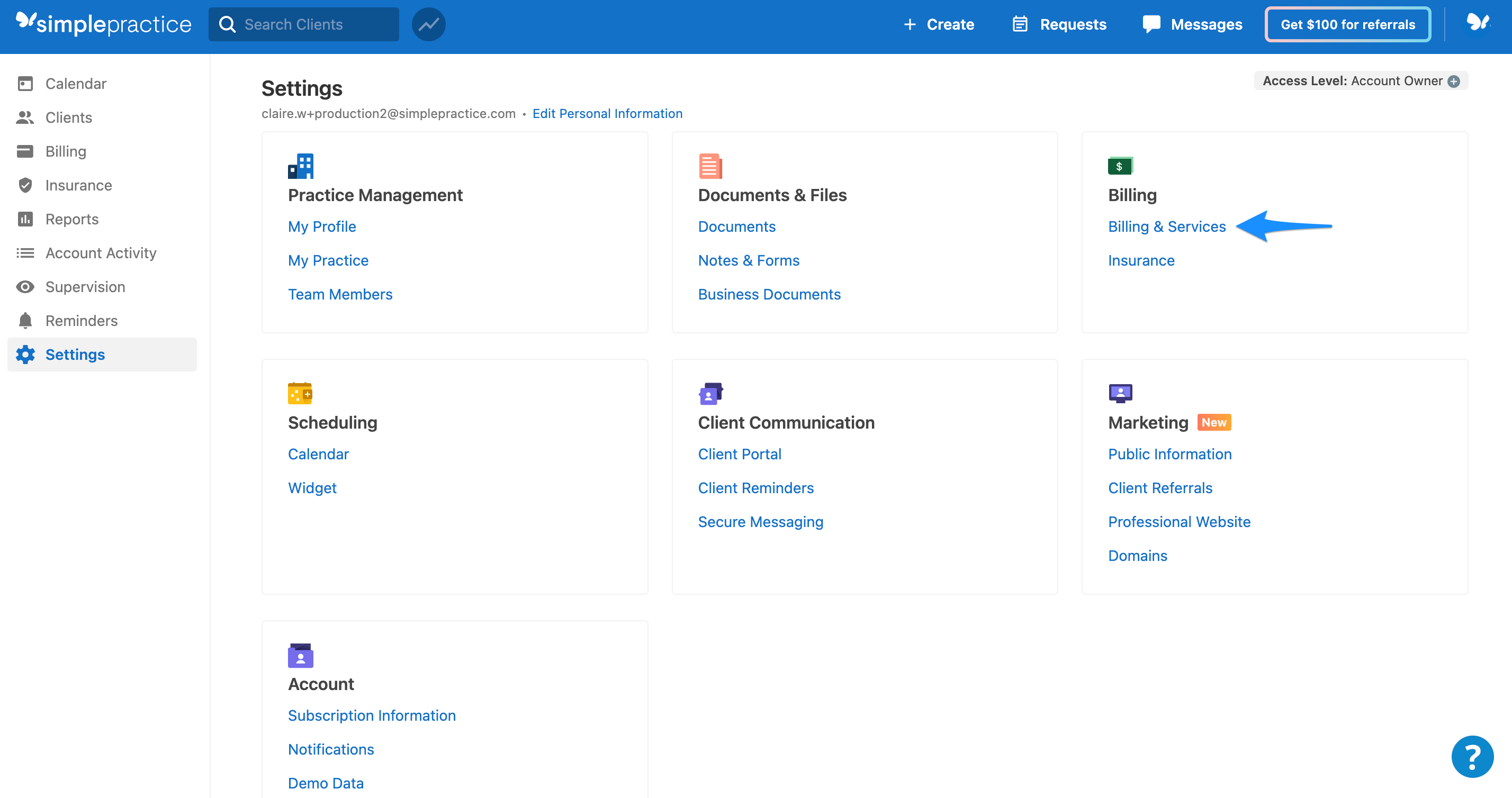 The Settings tab contains 7 sections that you'll want to complete before billing a client. To learn more about these settings, watch the video or read more information below.
In this guide, we'll cover:
---
Billing Settings
Under Billing Settings, you can set the Billing Currency that'll be used to charge client's through your Online Payments account.
You can also enter your Tax ID (EIN) or SSN if you'll be accepting insurance. Your Tax ID (EIN) or SSN will appear on claim forms, superbills, and Good Faith Estimates. If you're not accepting insurance, this field can be left blank.
If you have a Type-2, Group, or Billing NPI enter it in the Organization NPI field. If you don't have an Organization NPI, this field can be left blank.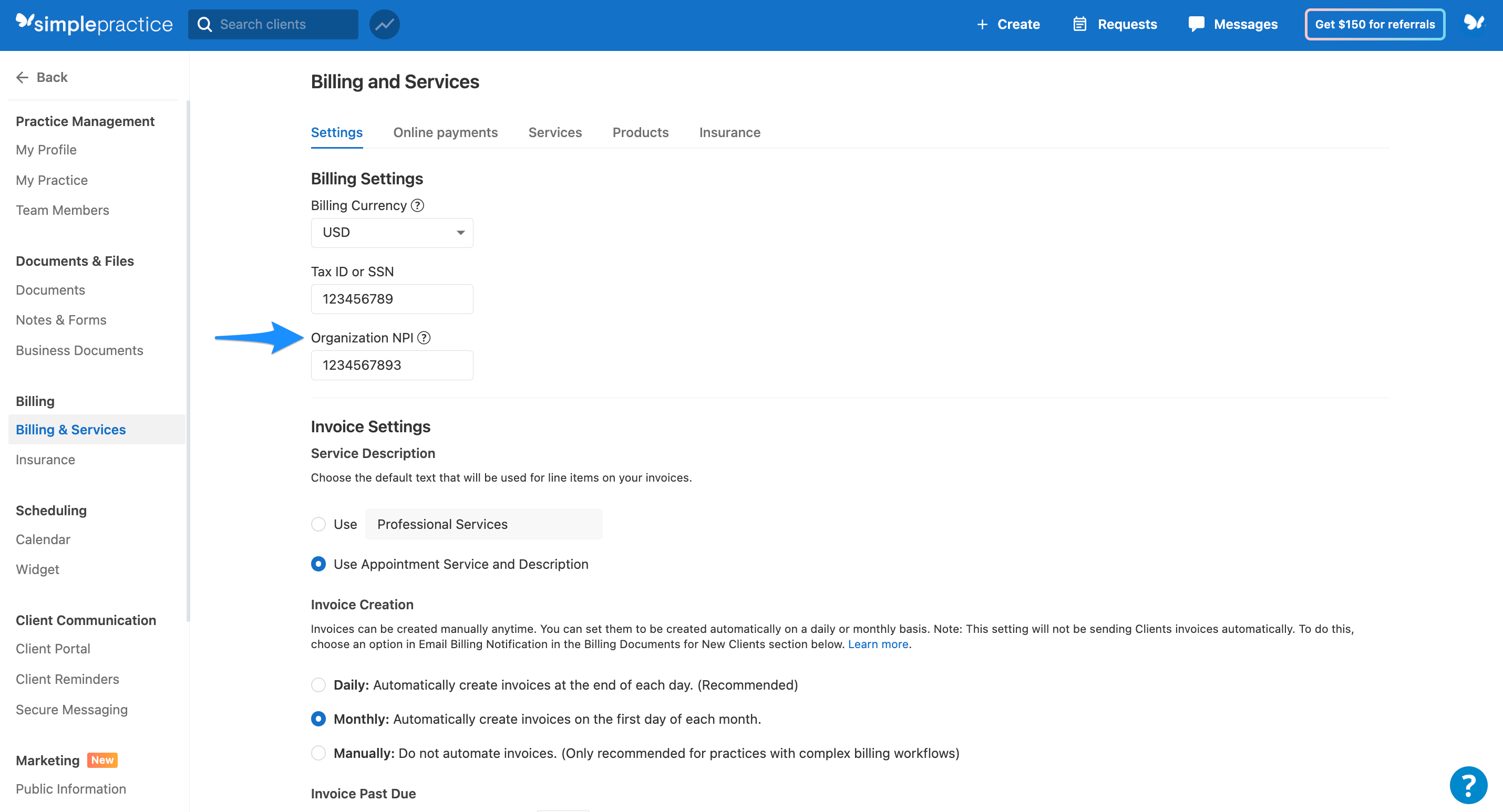 ---
Invoice Settings
Invoices are the building blocks of our billing system and allow you to bill your clients. This section allows you to choose the appointment descriptions that will display on your invoices and when to create these invoices: at the end of the day, the end of the month, or manually. Additionally, you can choose when invoices will be considered past due.
Note: To learn more about customized appointment descriptions on invoices, see How to set up appointment descriptions on invoices.
Most practices choose to have invoices automatically created at the end of the day. If you collect payment at the time of the appointment, Daily invoice creation is the best option to select. If you bill monthly, then Monthly invoice creation is the best option for your practice.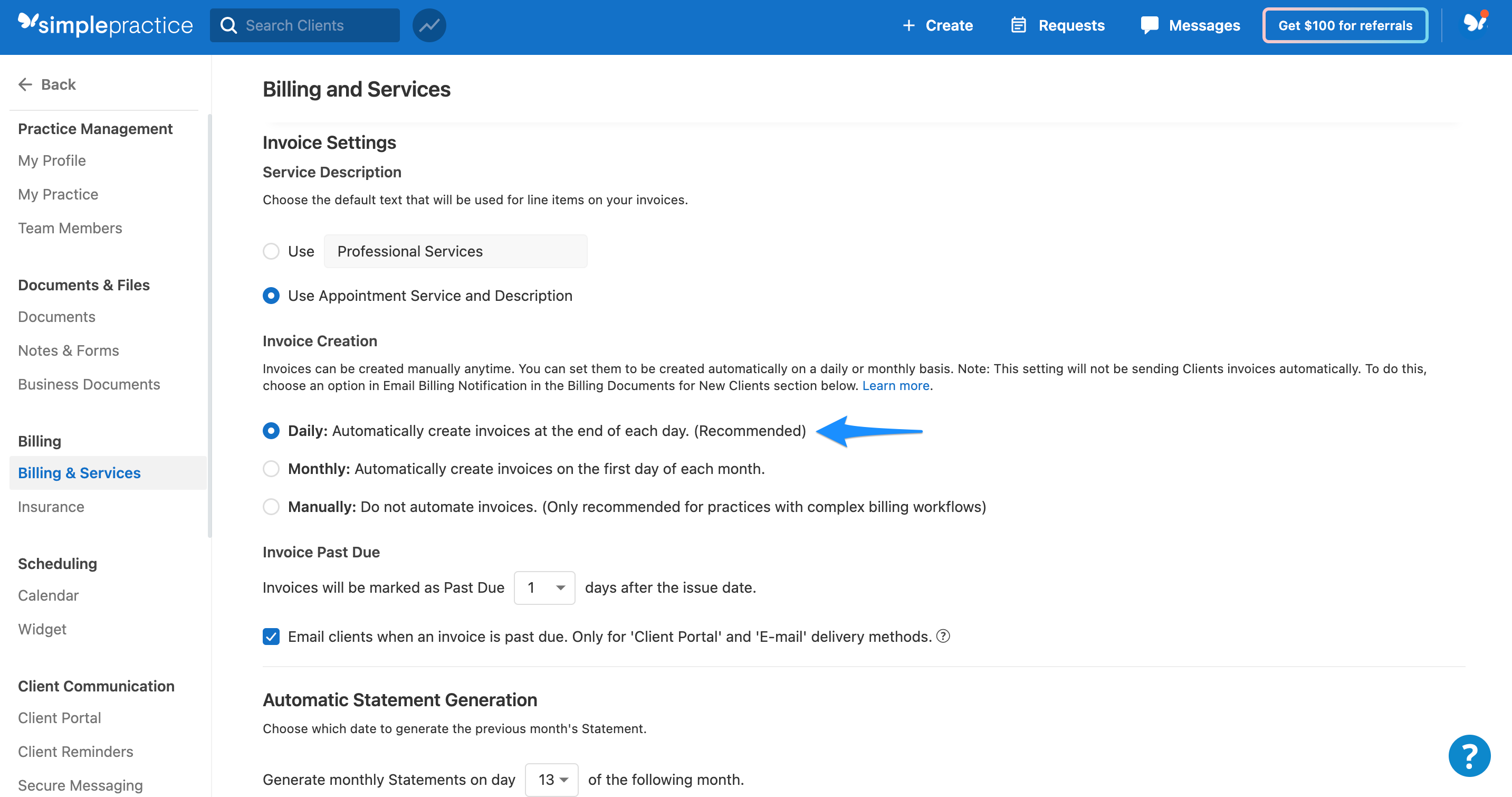 Note: Automated invoices are generated at midnight based on your practice's location and timezone.
Under Invoices Past Due, you can select the number of days beyond which a past due designation will appear on invoices. You can also choose whether or not to email clients when an invoice is past due.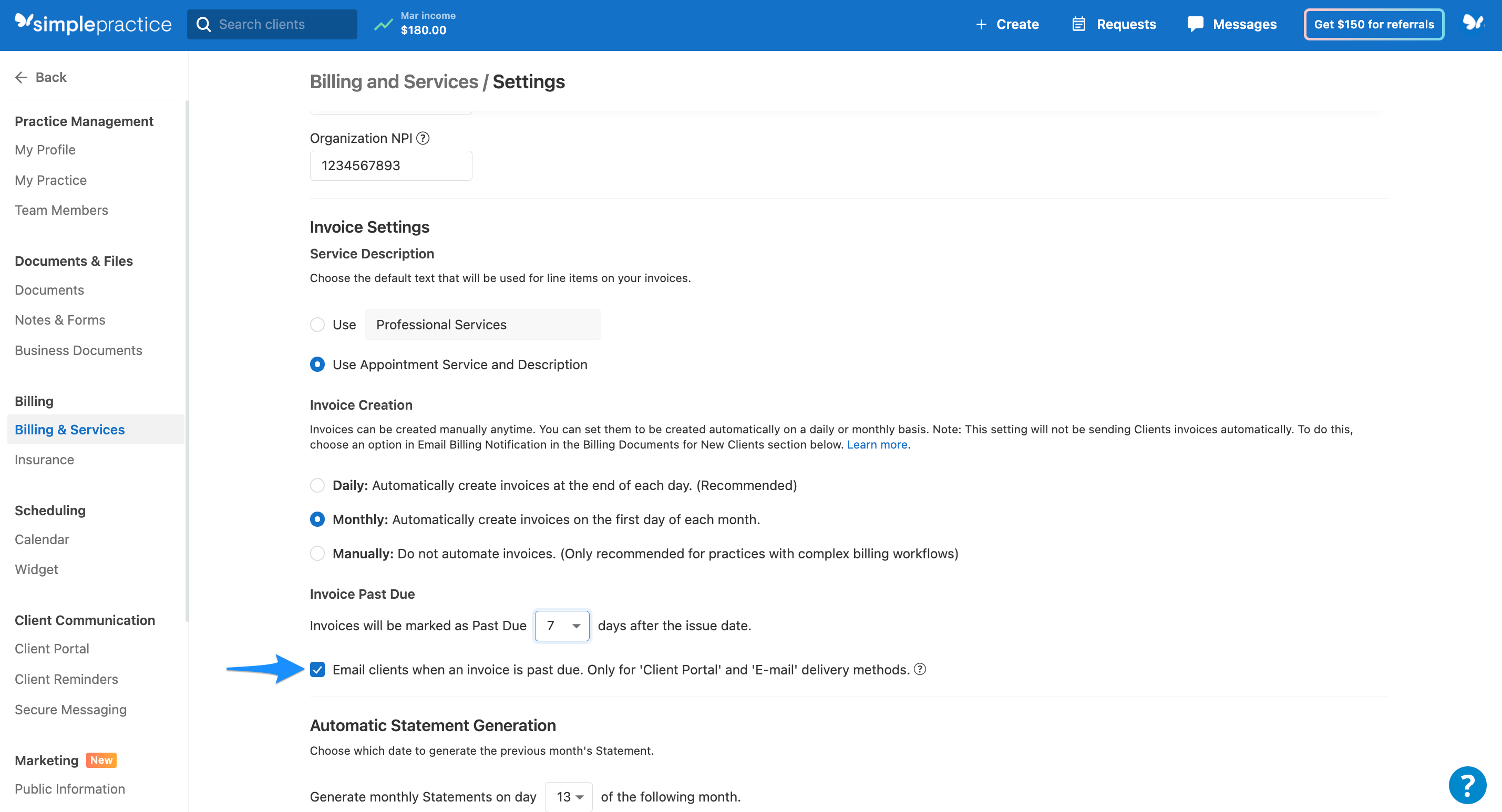 ---
Automated Statement and Superbill Generation
You have the option to pick which day of the month you'd like statements and superbills to be created for your clients. These documents will be created at 12 AM PST on the day of the month selected.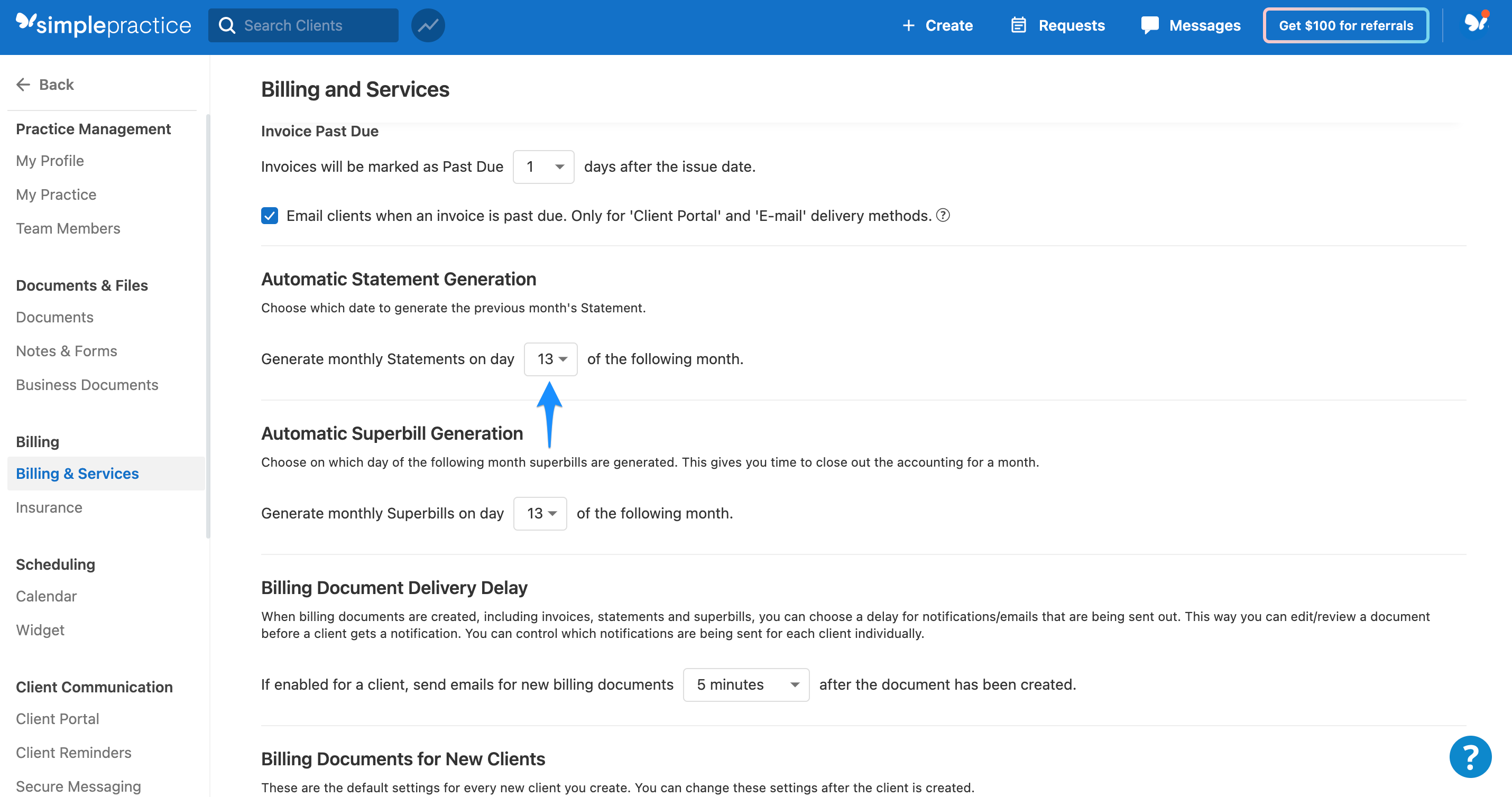 Note: These documents will only be created for your clients that have this setting enabled in their account. To learn more, see Client-specific billing automations.
If you collect payments and record them at the time of an appointment, we recommend choosing the 1st or 2nd day of the month. If you collect or enter client payments after the appointment, we recommend selecting a date later in the month.
Note: Automated superbills and statements are generated at midnight based on your practice's location and timezone.
---
Billing Document Delivery Delay
You can choose to delay the delivery of billing documents for clients who receive these documents via email or through their Client Portal. This creates a grace period between when a document is created and when it is sent, giving you time to review the document.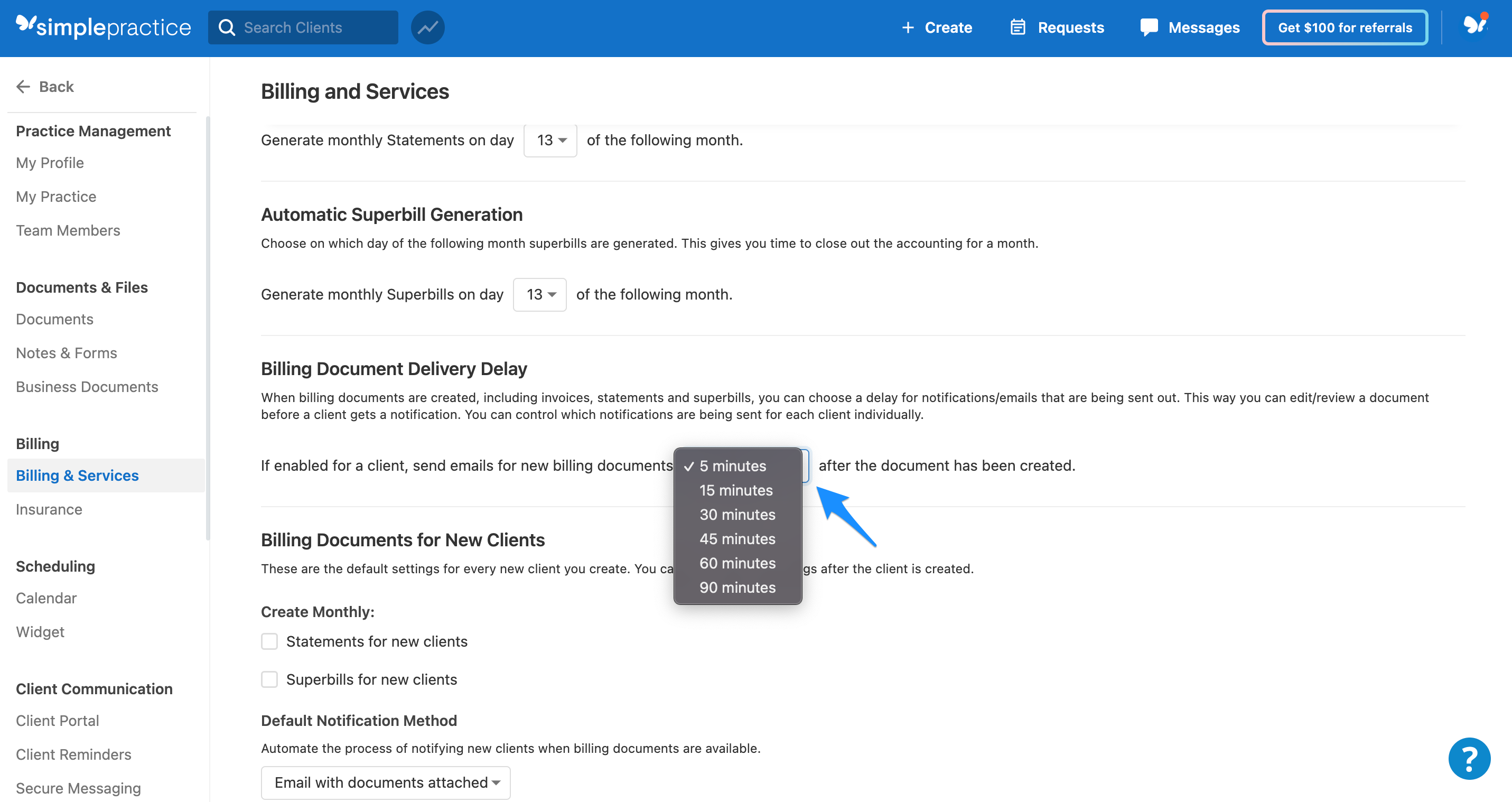 Note: This delivery delay only applies to manually created billing documents. It doesn't apply to auto-generated monthly statements or superbills.
---
Billing Documents for New Clients
You can also select the default billing settings for every new client you create.
Note: All billing documents created in your account will be accessible to your clients via their Client Portal, regardless of the delivery method you select. You can disable an individual client's access to billing documents from their Client Portal settings. To learn more, see Enabling Client Portal features for individual clients.
---
AutoPay
You can click the toggle to enable AutoPay in your account. When clients are enrolled in AutoPay, their default credit card on file is automatically charged for their full invoiced balance. AutoPay transactions run between 12:00-2:00 AM.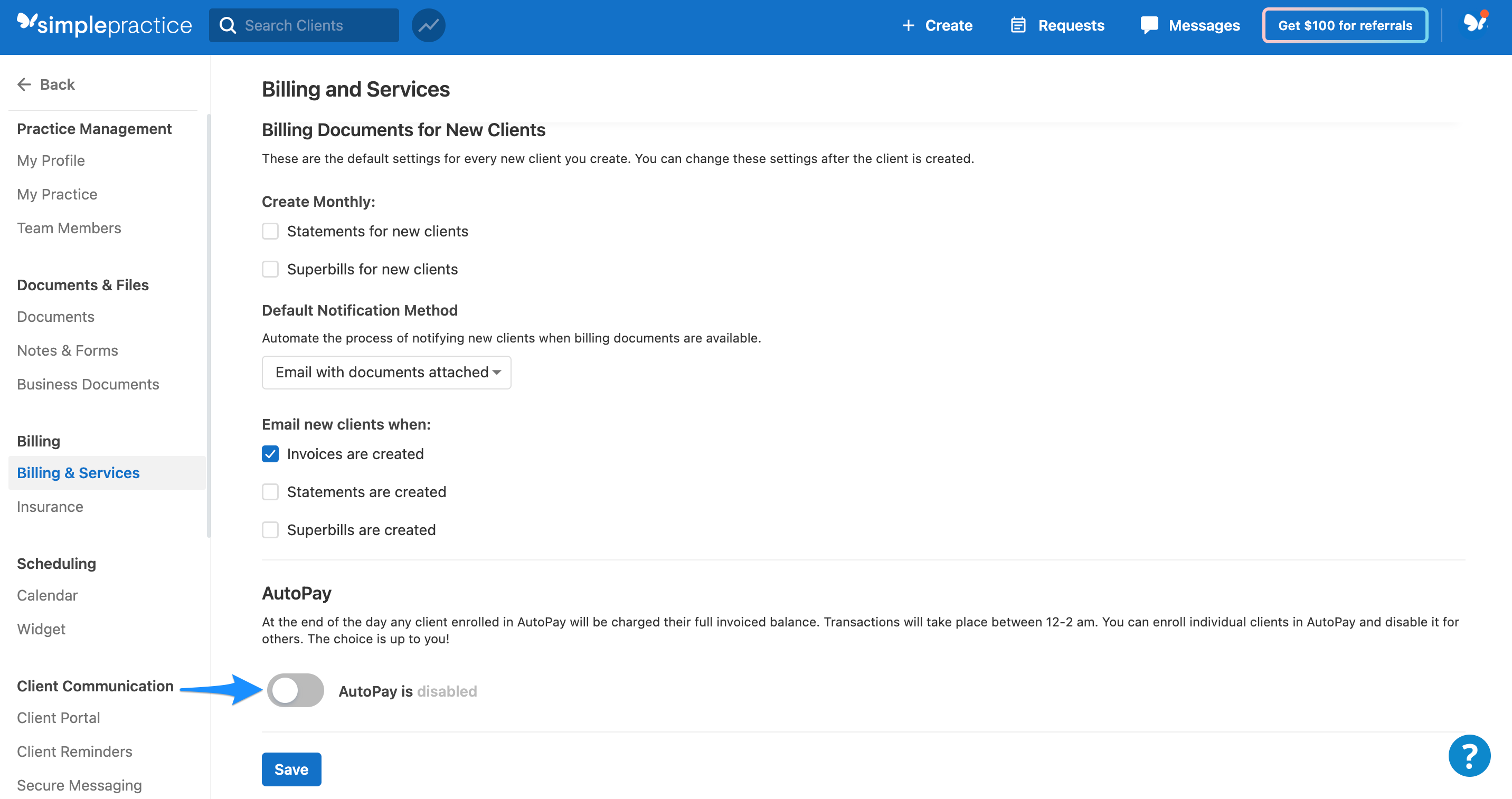 Note: You can enroll individual clients in AutoPay and disable it for others. For more information, see Getting Started with AutoPay.