The Billing Settings section is where you set the foundation for all of your billing within SimplePractice.  
These settings will apply across your SimplePractice account and by taking a few minutes to set this up, you can automate your practice billing if you wish. 
To find these settings, click on My Account > Settings, then Billing and Services.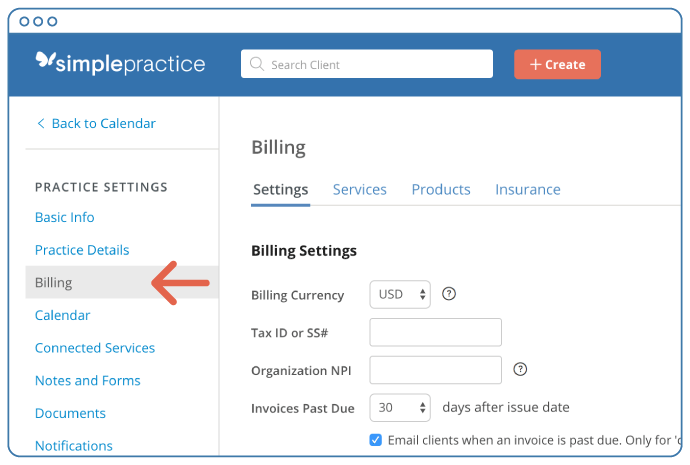 The billing section contains five sections that you'll want to set up before billing clients.
1. Billing Settings
2. Invoice Settings
3. Automated Statement and Superbill Generation
4. Billing Document Delivery Delay
5. Default Billing Document Settings for New Clients
Billing Settings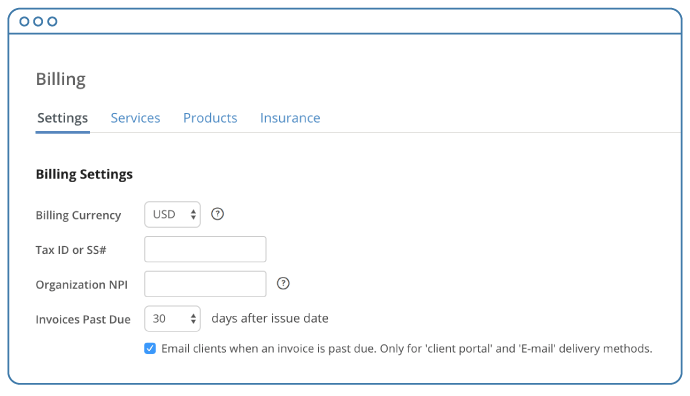 Billing Currency: Options are either USD or CAD, and this currency setting will apply for those using Stripe payments as well. 
Tax ID (EIN) or SSN: This will appear on claim forms and superbills.  If you are not accepting insurance, there's no need to enter this information if you do not want it on billing documents.
Billing NPI: This field is important for insurance billing.
Taxonomy Code (you can now find this in the Insurance tab)
Invoices Past Due: Select the number of days beyond which a "past due" designation will appear on invoices. You can also choose whether or not to email clients when an invoice is past due.
Invoice Settings
This section allows you to choose the session descriptions which display on invoices.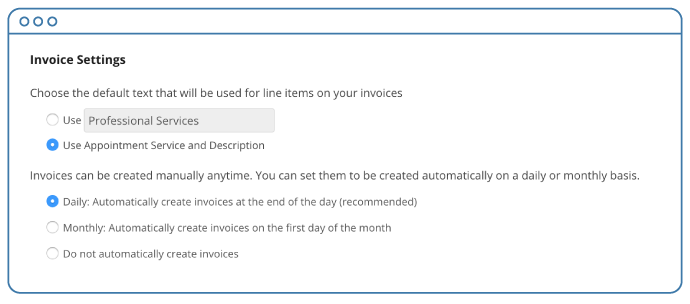 By default, invoices will display all session types as "Professional Services" when the invoice is generated.

This general description is used on the invoice billing document to help protect client privacy since more descriptive session information is generally required only on superbills.
If you wish to maintain client privacy but "Professional Services" isn't the right session description for your practice, you can customize this description to be anything you wish. Just click into the text box and change the description. Here's an example of the default text some SimplePractice customers choose to use:

If you wish to have the full service code description display on the invoice, you can do that too. Just select "Use Service Code Description." Your invoices will now display like this:

Remember that you can always edit invoices individually when you generate them. 
Superbills will continue to use the full description of the session's Service Code.  
You can also determine when to create invoices: at the end of the day, the end of the month, or manually.

Most practices chose to have invoices automatically created at the end of the day. If you collect payment at the time of session, this is the option to select. If you bill monthly, then monthly invoice creation is the best option for your practice.
Automatic Statement and Superbill Generation
Here you have the option to pick which day of the month you'd like statements and superbills to be created for your clients with billing automations set up.

Pick the 1st or 2nd day of the month if you collect payments and record them at the time of a session. If you collect or enter client payments after the time of session, then pick a date later in the month. 
Billing Document Delivery Delay

For your clients who receive billing documents via email or in their client portal, you can choose to delay the delivery of these documents. This gives you a grace period between when a document is created and when its sent. This gives you the option to review the document before it's sent. This is a useful tool if you manually create your billing documents.  
Default Billing Document Settings for New Clients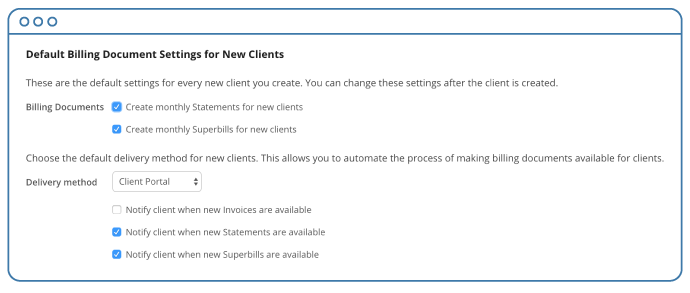 Here you can determine the default billing settings for every new client you create. 
IMPORTANT:  All billing documents created in your account will be accessible to your clients in their portal regardless of the delivery method you select.  If you wish, you can disable this feature directly from your client's communication page.
RELATED ARTICLES:
Automate the Process of Sending Statements, Superbills, or Invoices
How to Set up Services and Products in SimplePractice
Understanding Unit Billing and using Multiple CPT Codes in SimplePractice