We've made it incredibly easy for you to refer your colleagues and earn $50 credits on your subscription plan. All you have to do is use our automated referral system that is located in your SimplePractice account. You can invite people right from SimplePractice, and even send your custom referral link to your Twitter followers or Facebook friends.
If colleagues you invite sign up with a paid SimplePractice account, you get a $50 credit and so do they... Simple!
Requirements
Referrals are managed automatically through the referral link, so be sure that your colleagues sign up via your link so that we can give you your credit.
You can copy/paste these detailed instructions and share them along with your referral link to make sure your colleague understands the steps to receive the referral credit:
Instructions to colleague:
Be sure that you click on the referral link BEFORE creating your free trial account with SimplePractice. Once you're ready to sign up for a free 30 day trial, follow these steps and so that we can both earn a $50 subscription credit:
Click the referral link, and this will take you to the SimplePractice website.

Click the orange Start My Free Trial button.
Fill out and submit the Sign Up form to create your free 30 day trial account.
You're all set! If you decide to become a SimplePractice member at the end of your 30 day free trial, we both will receive a $50 credit toward our SimplePractice subscriptions.
How do I find my referral link?
You can find your referral link by clicking the Earn free credit! button at the top of your account:

Then share the referral link that is unique to your account: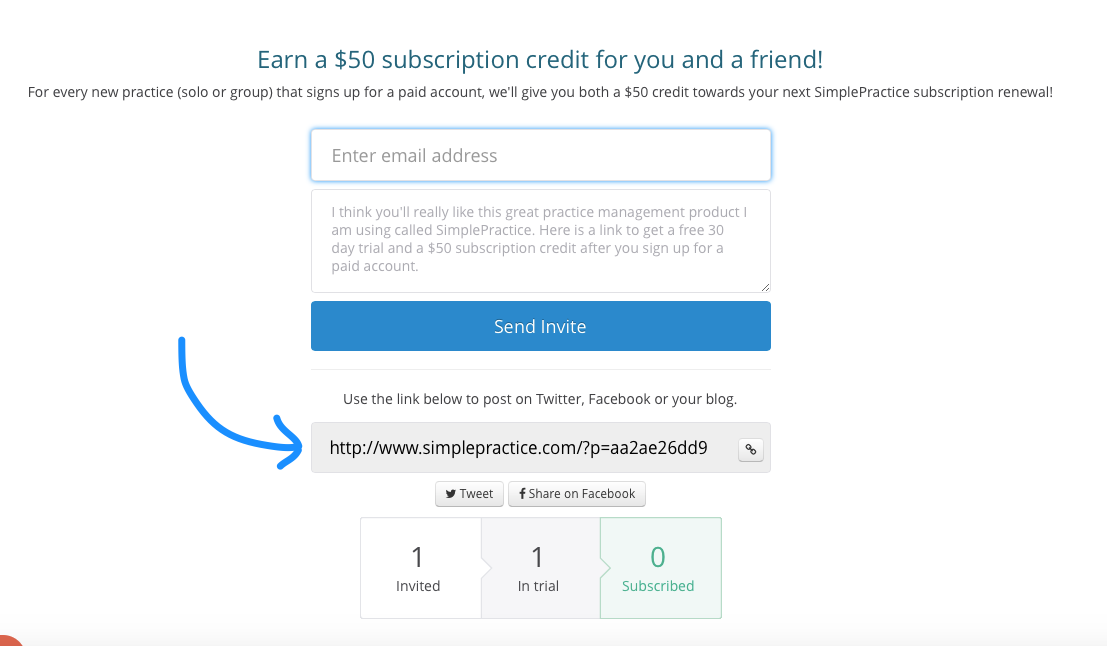 You can email or share it through the invite and share buttons on this page, or you can copy the link and send it directly to a friend.
Additional Information
All referrals and credits are managed automatically. This is the only way we can track your referrals and credits.

We will not be able to credit your account if your colleagues don't sign up via your unique referral link or if your colleagues have signed up for a SimplePractice account before clicking on your referral link.

We cannot credit either of your accounts until your colleague upgrades to a paid account.

For annual accounts, you will receive a $50 credit to your account, for use towards your next year's renewal.

For monthly accounts, your credit will be applied to your next monthly payment.

You will not receive credit for adding a clinician to an existing group account.