This guide details how to change the time zone for your practice and it includes important information to note about changing the time zone for your account.
---
Changing or setting the time zone
Here's how to change or set the time zone for your practice:
Go to My Account > Settings > My Practice, click the Time Zone dropdown, and select the correct time zone for your practice.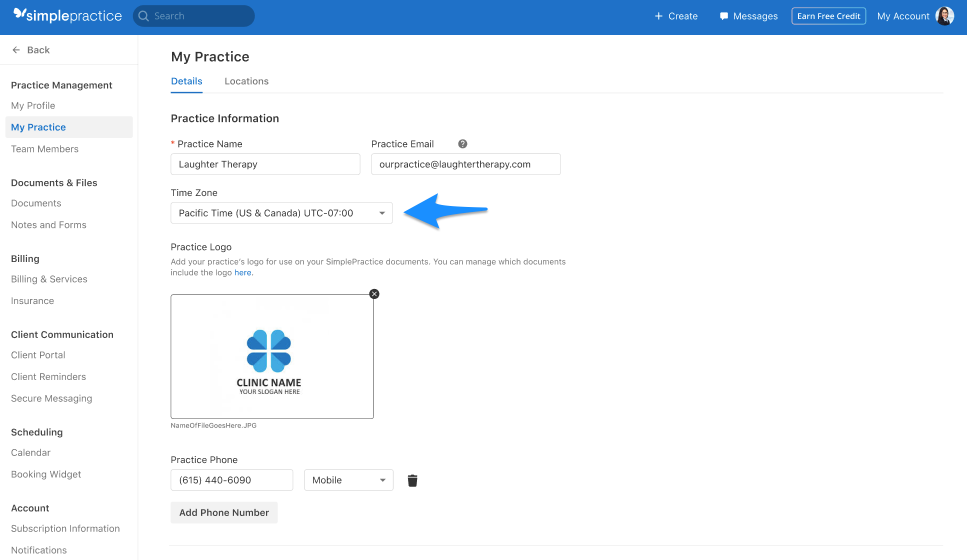 ---
Important information about time zones in SimplePractice
Here are important things to note about time zones in your account:
Daylight Saving Time will automatically change in SimplePractice.

You can select one time zone for your practice. This setting is at the practice level, so clinicians can't select different time zones for themselves

.

If you're using the mobile app, you have the option to either lock your practice time zone or turn this feature off. If you turn the feature off, the SimplePractice mobile app time zone will match your device settings.

In your SimplePractice mobile app, you can navigate to your Settings to keep your mobile app in your Practice time zone or to change it to the Device time zone.

The web version does not change time zones based on your location. If you're traveling and you want to view your schedule in your practice time zone, you can log into your account through a browser rather than the mobile app.