Payment reports are a great way to automate your insurance bookkeeping and save a lot of time. Payment reports are just like EOBs (Explanation of Benefits) and are our version of ERAs (Electronic Remittance Advice). They give a detailed breakdown of the insurance payer's finalized claim status after the claim has been processed and will indicate which appointment(s) were paid, if the claim was denied, or if the claim was applied to the client's deductible.
Below, you'll find information about:
---
Enrolling to receive payment reports
If you would like to receive electronic payment reports in SimplePractice, you'll want to submit an enrollment. This guide walks you through how to do this: How do I submit an enrollment to file claims or receive payment reports?
Once your payment report enrollment is accepted, the payer will send ERAs to our clearinghouse after they've processed the claim which will in turn be sent to your SimplePractice account as a payment report. Payment reports will attach themselves to their respective claims, update the claim status, and automatically add the insurance payment for the respective appointments.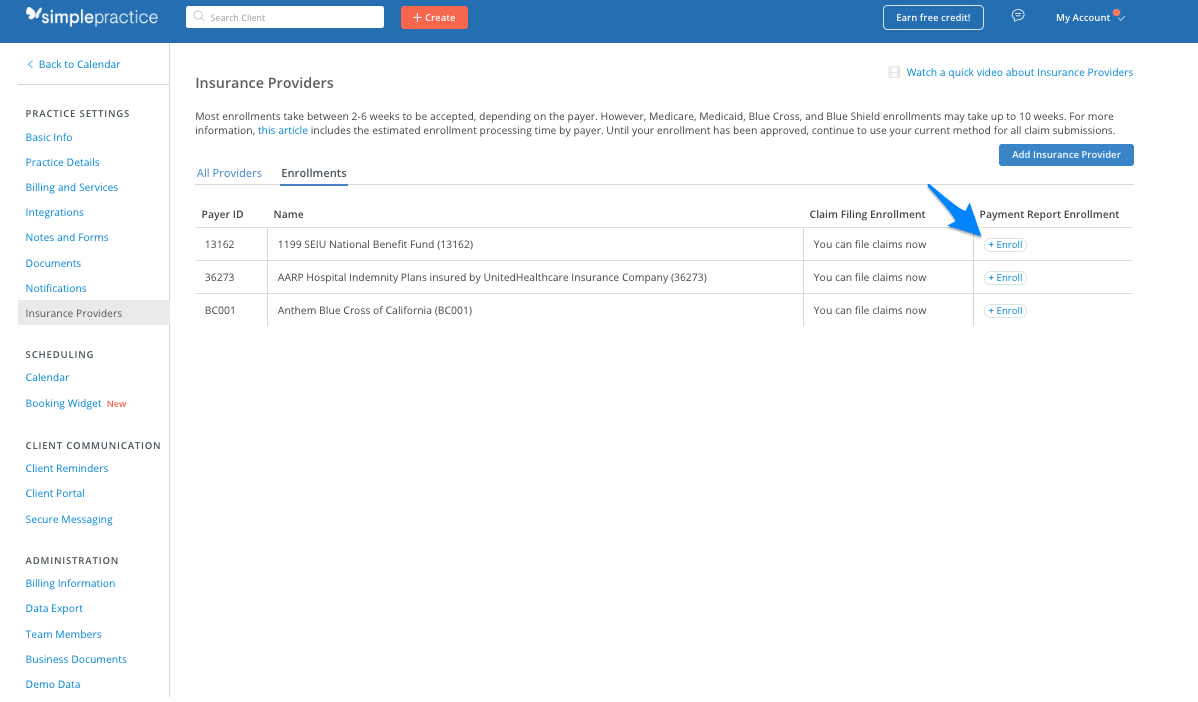 ---
Filing insurance claims and payment reports
Whether you file claims through SimplePractice or manually outside of your account, payment reports will be delivered to your account once a claim has been processed as long as you're enrolled to receive them.
Note: If a claim is filed outside of SimplePractice and you're enrolled to receive electronic payment reports, you'll want to remember to manually add the insurance payment(s) to the claim.
Read more about filing electronic claims, generating auto-filled CMS claim forms, and adding insurance payments:
---
Viewing your payment report
You can access your payment reports three ways:
Go to

Reports > Electronic Payment Reports

and enter the date range for the payment report you would like to view.

Go to

Billing > Insurance > Claims and c

lick

Payment Report

to open the one associated with the claim.

Open the paid claim

and click

Payment Overview

to open the payment report associated with the claim.
Important: Electronic payment reports will override a client's Client Owes section of their profile if the copay amount is different on the report than in their file. When a client's Client Owes is automatically updated, it may result in a fee adjustment invoice. This can, in turn, affect AutoPay if a client has AutoPay enabled.
---
Accessing the full EOB
If you're enrolled for payment reports, SimplePractice now offers a full version of the payer's EOB (Explanation of Benefits).
This can save you time when investigating insurance payments with unallocated amounts, and when preparing secondary claims. With this information integrated within your SimplePractice account, you'll no longer need to reference two different systems in order to locate the full details outlined on the EOB.
This also means that all EOBs that you receive through SimplePractice will be shown in the same format, whereas EOBs accessed outside of SimplePractice may vary in formatting.
To access the full EOB, simply navigate to an insurance payment that was created from a payment report. In the upper right corner, you'll now see the option to Download EOB: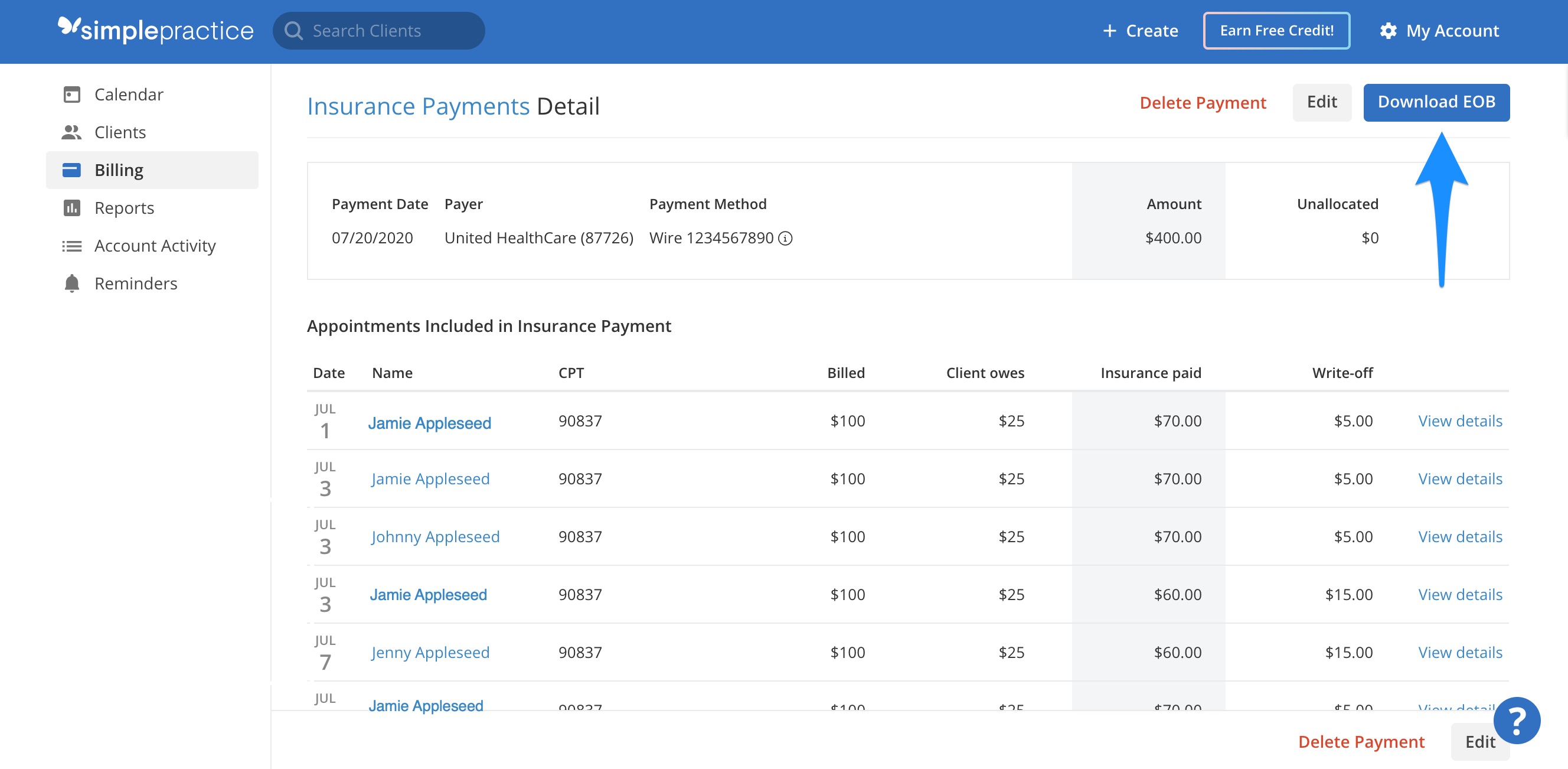 When viewing the downloaded report, you'll see an overview of the complete payment at the top of the page, followed by the individual remittance information for each claim that the payment covers: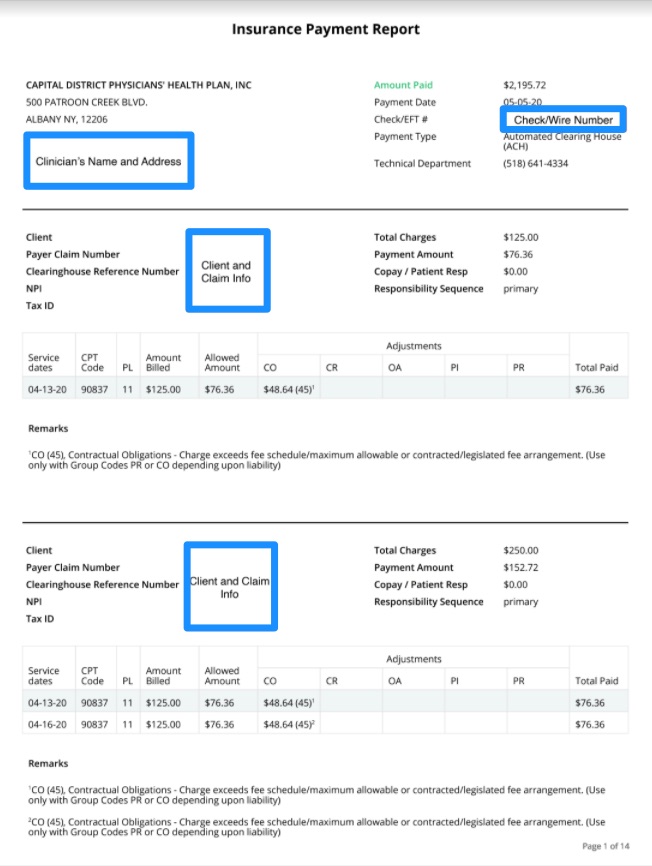 Each claim included in a full EOB will be followed by a Remarks section, which lists all additional information we received from the payer. This can include a reason for why the payer processed the claim in the way that they did. If you have any questions regarding the payer's remarks or processing of the claim, you will need to call the payer directly for more information.
Note: The full EOB will only be generated if the payer issued an insurance payment for the claims that they processed. This means that if all claims were denied, no EOB would be created.
---
Reviewing the automated bookkeeping record
When your payment report is delivered to SimplePractice, your claim's status will automatically update and we will notify you by email.
We take the payment report information and automatically record insurance payments to each appointment associated with the claim.
There are a few ways to review the payment details from the payment report:
Click

Billing > Insurance > Payments

to see the insurance payment amount and associated Check/Wire transfer number.

Click

Insurance Payer

to view the payment details.
Note: If needed, you can also edit the insurance payment on this screen.
Open the claim and click

Payment Overview > Insurance Payer

to open the

Insurance Payment Details

associated with the claim.