Setting your client's Billing Type to Insurance will allow you to bill the client's insurance payer for their appointments.
Here's how to set your client's account to bill insurance:
Go to your client's page and click View/edit client info.

Select the Billing and Insurance tab.

Next, set the Billing Type to Insurance.

Scroll down to Insurance info. Click +Insurance info to add the client's insurance information (Primary Insured, Insurance Company, Member ID, Co-Pay, and Group ID). The starred fields are required. This information will populate on your claim forms for this client.

Use the search/drop down field to find the insurance payer. For more information on selecting your client's insurance company, check out this article: Selecting the correct insurance provider.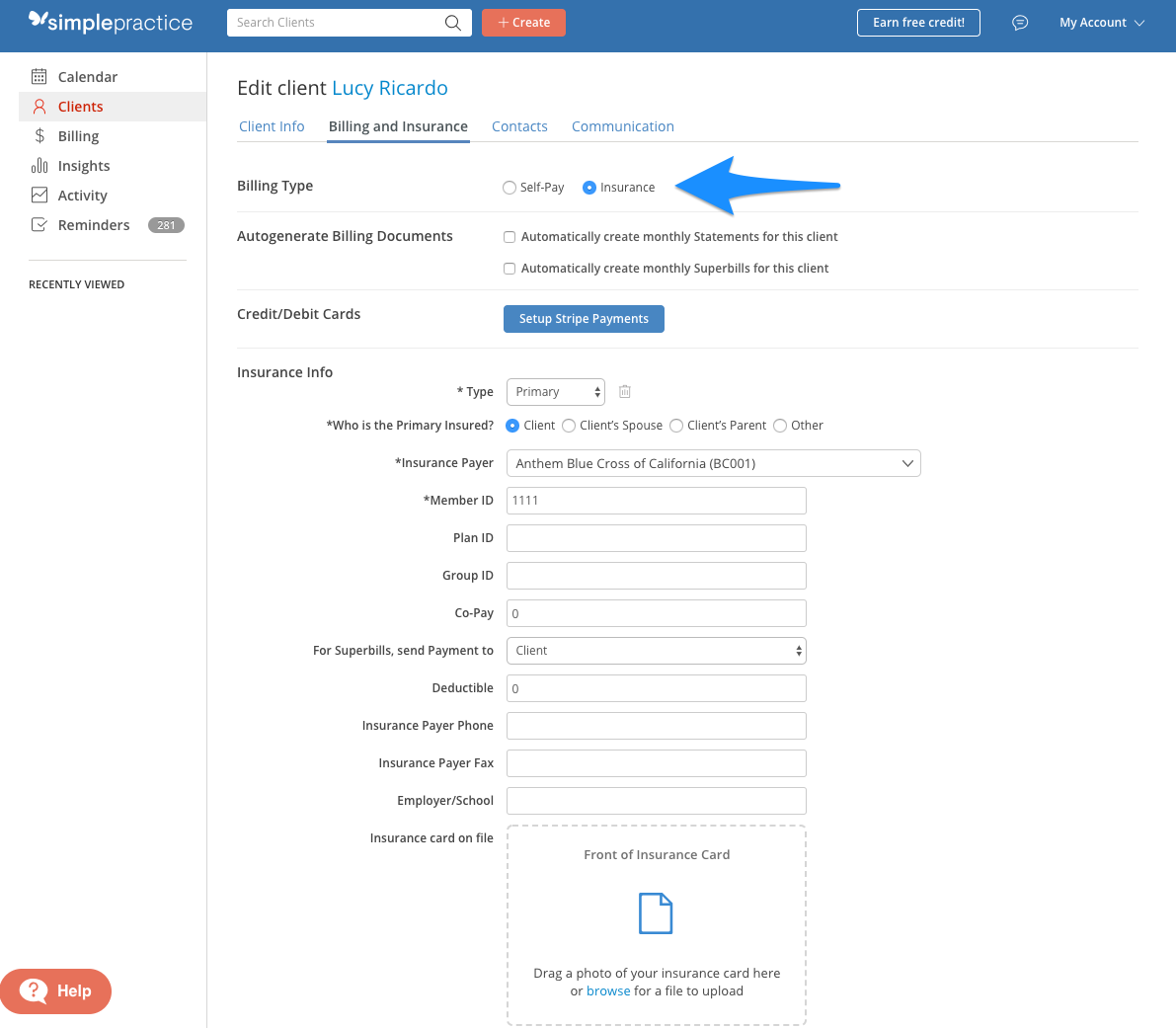 Below you can find more information about the following:
---
Co-Pays
If you are collecting Co-Pays, you can add the amount in the Co-Pay field. The Co-Pay amount is the amount that the client owes you. The Co-Pay amount will auto-populate when an appointment is scheduled, and you'll see this when viewing the appointment on the Billing page when an insurance payment is added. This amount is labeled Client owes.

---
Authorization Tracking
Some insurance payers require prior authorization for services. To add a prior authorization number click +Authorization Number. The prior authorization number will populate in box 23 on the claim.
Note: For more information about Authorization Tracking, check out this article: How do I use Authorization Tracking?
---
Insurance Claim/CMS Fields
Check Enable Additional Fields to select which additional fields you'd like to auto-populate on your client's claims: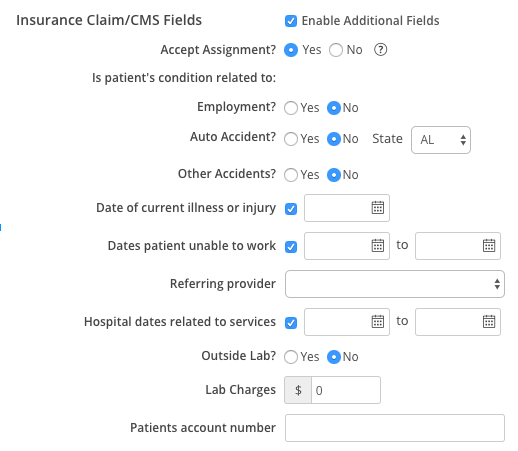 ---
Client's Default Service
To set a Default Service or CPT code, click the dropdown box and select the Client's Default Service. The Default Service or CPT code will automatically be assigned when an appointment is scheduled. It will also auto-populate in box 24D on the claim. You can change this at anytime.
Important: When you change the client's billing type to Insurance, only new appointments will show the new billing type. The billing type for previously schedule appointments will stay the same, unless it is manually changed.
To update the billing type for previous appointments:
Go to the client's Billing page.

Locate the appointment date, hover over the dollar amount to the right of the appointment date, and click Edit.

Change the billing type and then Save.