Below you'll find answers to the most frequently asked questions about using Online Payments, the integrated Stripe credit card processing feature in SimplePractice:
Tip: You can upgrade to the integrated Stripe credit card processing experience here: Online Payments.
---
Why can't I upload my ID?
If you previously had a Stripe account linked to your SimplePractice account, there is often no need to go through the identity verification process again. You've already gone through it once with setting up your original account, and Stripe is able to automatically verify your identity based off of checking the new information you've entered against the information they had on file for you.
---
My routing number does not have 9 digits, how can I add it?
Please contact our team and we'll be glad to work with you to ensure you're able to add the bank account you need to be able to process card transactions with ease.
---
I need to enter my personal information again, is this safe to do?
This is a necessary part of the process, and your data will be safely handled.
Your personal information required to upgrade your Stripe account is not stored by SimplePractice. Instead we use tokenization (an advanced data security method) to securely pass your information to Stripe for verification.
We chose Stripe for our credit card processing partner for multiple reasons after a great deal of research. One of the most important criteria we had was security. Stripe is fully PCI-compliant and is one of our BAA partners.
You can learn more about the lengths that SimplePractice goes to earn and maintain your trust, please see the following guide: SimplePractice BAA, Terms of Service, and Trust & Security information. You can also learn more about how Stripe manages access to your data by reviewing the information found here: Stripe's Privacy Policy: Security and Retention.
---
Why do I have to provide personal information to upgrade my Stripe account?
We know how important a seamless transition is for your payment processing with SimplePractice. With that in mind, requiring you to provide your personal information increases the possibility of your upgraded Stripe account being quickly accepted and verified by Stripe. 
---
Do I have two Stripe accounts now?
If you previously had a Stripe account linked to your SimplePractice account before setting up Online Payments, you will still have access to that previous account for record-keeping purposes. This means you will have access to two Stripe accounts, but you'll only be managing transactions and payouts moving forward from your integrated SimplePractice experience. This will not be reflected in the separate Stripe dashboard associated with your previous account.
---
How long does it take to get paid?
For US accounts, payouts of your available account balance are made daily and contain payments processed two business days prior (this is how long it takes for your pending account balance to become available on this schedule). For example, payments received on a Tuesday are paid out by Thursday, and payments received on a Friday are paid out by Tuesday. The payouts will be coming from SimplePractice and not Stripe.
Note: Payouts are affected by Federal holidays. American banks are closed these days:
New Year's Day, Birthday of Martin Luther King, Jr., Presidents' Day, Memorial Day, Independence Day, Labor Day, Indigenous Peoples'/Columbus Day, Veterans' Day, Thanksgiving Day, Christmas Day.
For CA (Canadian) accounts, payouts of your available account balance are made daily and contain payments processed seven business days prior (this is how long it takes for your pending account balance to become available on this schedule). The payouts will be coming from SimplePractice and not Stripe.
Note: This is based on location, not currency.
---
Where do I find my payout totals?
You can find your payout totals in your Payout reports in your SimplePractice account. If you had an old Stripe account linked to SimplePractice, information about payouts will only be accessible through your Payout reports in SimplePractice and will not be reflected in your Stripe dashboard. You can also learn more here: How do I keep track of credit card payments?
Note: If you had an old Stripe account linked to your SimplePractice account, your Integrations tab will no longer be accessible and payments will no longer be reflected in the Stripe dashboard.
---
I haven't received a payout I was expecting - where is it and what should I do?
If a payout hasn't arrived according to its expected delivery date, there can be several reasons as to why:
7-day delay for the first payout on an account: There is a mandatory 7-day waiting period for the first payout for all new Stripe accounts. Once this 7-day hold is satisfied, payouts will resume according to the account's payout schedule.

Payout failed: There are a number of reasons why a payout might fail when attempting to deposit into a bank account. See Payout failures for more information and how to remedy the issue.

The payout date was offset by a weekend or a holiday: Weekends and holidays can shift the deposit date beyond the expected due date. If the deposit date lands on a weekend or a holiday, the payout should land the following business day.

The payout amount was offset by refunds: Sometimes refunds can outnumber the positive balance of a payout and result in a withdrawal, rather than a deposit. Check the Payout reports for details on the contents affecting each payout.
Note: If none of the reasons listed above appear to be the culprit of a delayed or missing payout, we recommend waiting five business days from the expected deposit date before escalating. There can sometimes be processing delays on the receiving bank's end that Stripe won't have visibility into. If five business days have elapsed and the payout still hasn't arrived, let us know.
---
How do payouts work when there's been a dispute?
If a charge is disputed before it has been included in a payout, it will not be included in the next payout until that payout is resolved. Once the payout has been won or lost, that's when the money will either be sent to the bank or will be withdrawn from your Stripe account and returned to the client.
---
Can I change my payout schedule?
Yes, you can adjust your payout schedule to be daily, weekly, or monthly. Here's how:
Go to My Account > Settings > Billing and Services > Online Payments
In the Payout Schedule section, click Change schedule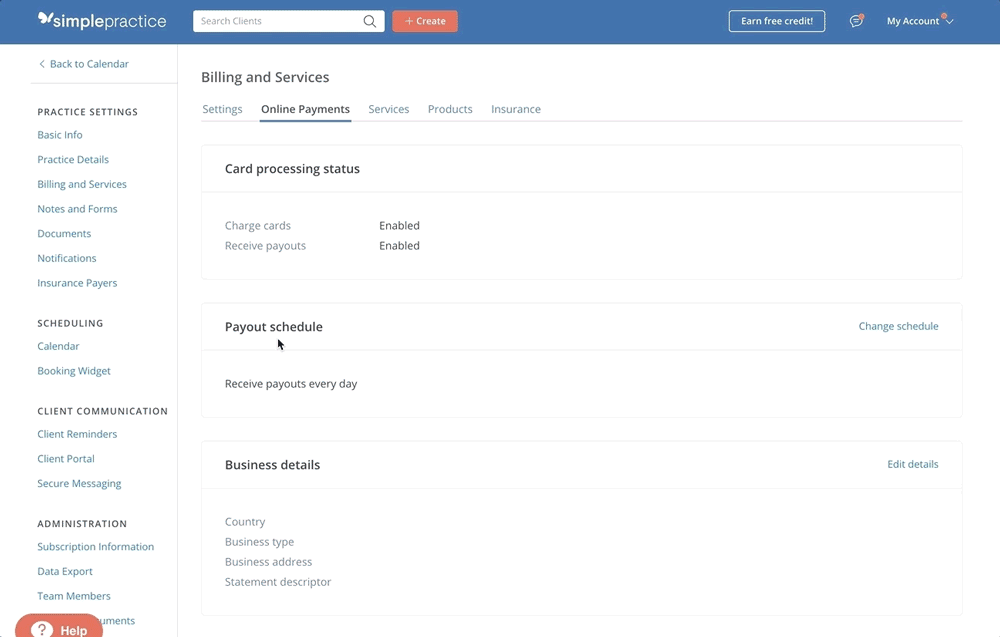 ---
Is there a reader I can get to swipe my client's cards?
Our team is actively considering adding a terminal option for our customers. While we don't have an ETA to share at this time, we encourage you to keep an eye on our Product Roadmap for updates.
---
I'm part of a group practice, can we connect multiple Stripe accounts to our SimplePractice account?
Your Group Practice account will allow you to connect with a single Stripe account only. If you're trying to separate the income received by each clinician in your group, we have created a report for that.
Tip: This guide will show you how to access the Payments Received by Clinicians report. You may also want to take a look at our Insights to see the rest of the reports we have available for you. 
---
Can I expect a different level of functionality with my new Stripe account? Will everything be the same?
You won't be missing any functionality with the new Stripe experience in the SimplePractice web app - you'll actually be gaining so much more power and flexibility. With the new experience, you can easily manage all parts of the credit card payment process, you'll have more information available to you about transactions, and now you'll have access to our new reporting features: the Payout reports and Card Transactions reports.
Note: You can learn all about the new functionality available to you here: Charging, refunding, and setting up AutoPay for clients with your Stripe account.
Additionally, if you've been using the Stripe mobile app to manage your payments, we're looking to learn from customers how to best build an experience in our iOS and Android apps to meet customer needs.
If you have insights to share about how to bring more functionality for our integrated Stripe experience that would be useful to our whole community, we encourage you to post on our Ideas and Suggestions board.
Posting on our Ideas and Suggestions board means that members of our Product Team, as well as all members of our Community, have transparent access to review and vote on your suggestion. This board is one of our most important resources for understanding which features will have the most value for our community.
---
Can I just go back to my old Stripe account?
With Online Payments in SimplePractice, you'll be able to enjoy more integrated features like:
More comprehensive support:

Our Success Team will now help with all Stripe-related questions

All in one place: View and manage your Stripe transactions in SimplePractice with Payout reports and Card Transactions reports.
Update credit cards automatically
No additional fees
All Stripe accounts linked to SimplePractice accounts must be through Online Payments.