We've created guides for clients about using the Client Portal. You can find the English and Spanish versions of the How to Request Appointments guide below. You can also download the PDF versions of each by clicking the images.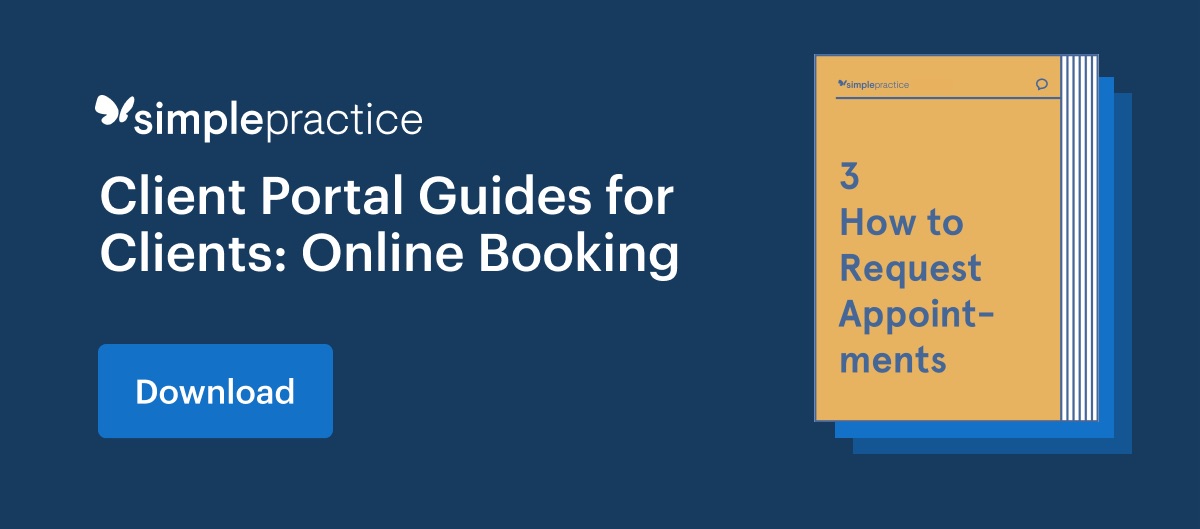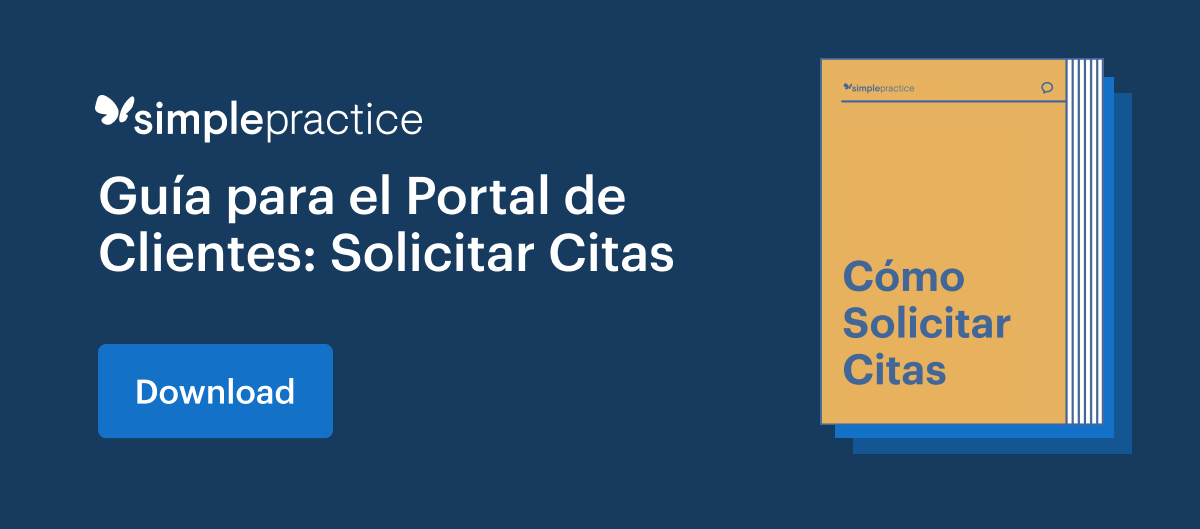 Note: See Getting started guides for your clients to download other guides about the Client Portal and Telehealth for clients.
---
How to Request Appointments
Online Booking lets you request, cancel, or reschedule appointments with your clinician.
SECTIONS:
Request an appointment

Viewing and cancelling requests
REQUEST AN APPOINTMENT
Go to your clinician's Client Portal and click

I'm an Existing Client

to log in. The

I'm a New Client button is only for clients who have never logged into the Client Portal before.


Navigate to the Appointments tab. This may already be selected by default.


Select your clinician (if there are multiple).


Select your service.


Choose your office location (there may only be one to select from).


Click the date and time that you'd like.


Your appointment request has been sent to your clinician. Your clinician will need to accept your request). You can click to view a map of the office location, or add the session to your calendar.

If your request is accepted, you'll receive an email confirming the session.

If they cannot see you at that time, you'll receive a link to reschedule. Click it to go

back to your Client Portal and request a new session.

VIEWING AND CANCELLING REQUESTS
You'll see a list of your upcoming requests and confirmed or denied appointments on the Appointments page of your client portal. Click Cancel Session to cancel your appointment request.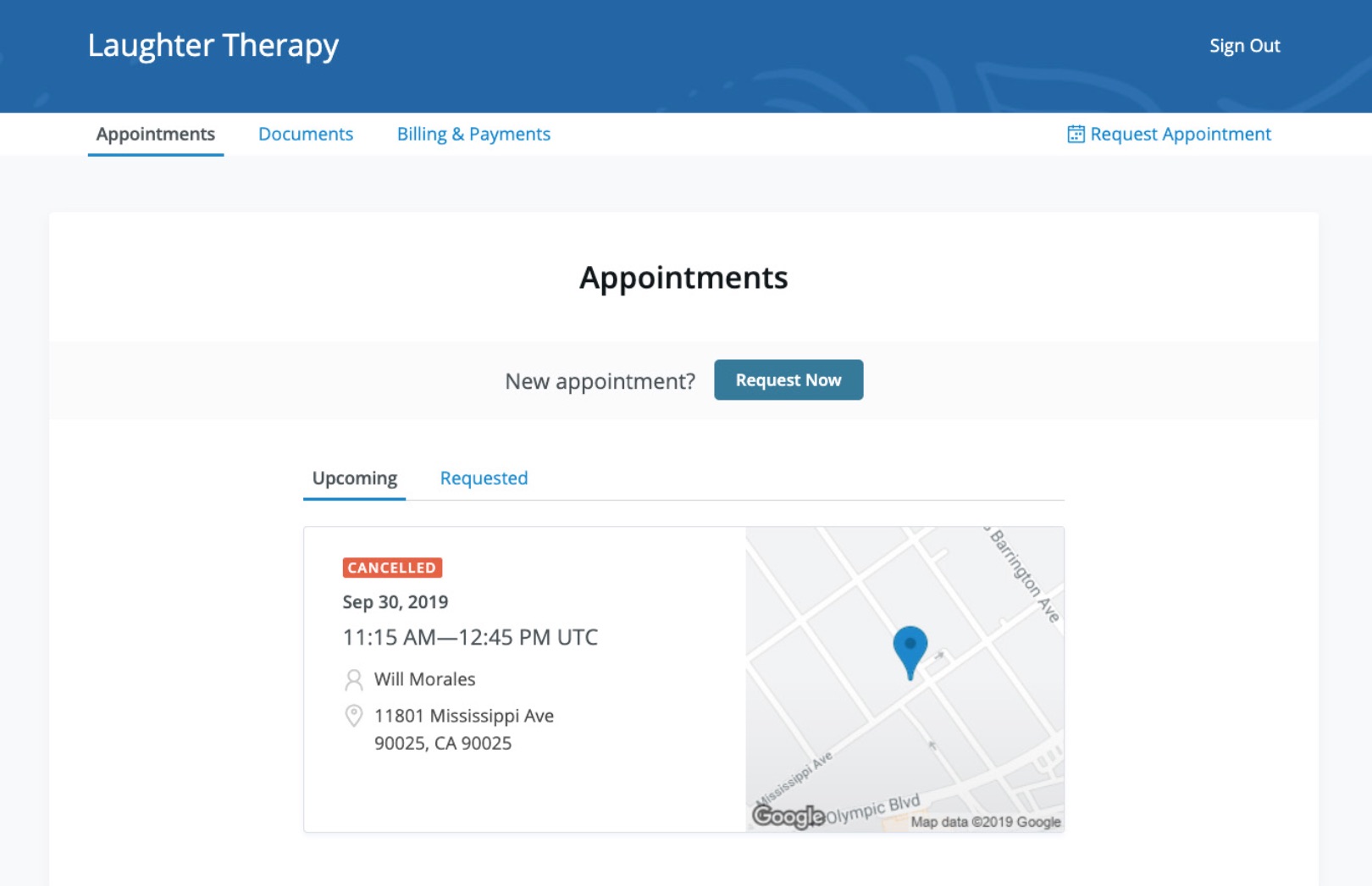 Note: You'll only be able to cancel this way according to your clinician's cancellation policy. If you attempt to cancel too close to a session, or if they don't offer online cancellation, you'll receive a message to call their office to cancel.
Once your session is cancelled, you'll see this reflected on your Appointments tab in the Client Portal. Use this page to check the status of your requests, cancel sessions, or schedule new ones.
---
Cómo Solicitar Citas
Las Reservaciones en línea le permiten solicitar, cancelar o reprogramar citas con su médico.
SECCIONES:
Solicitar una sesión

Cancelar una sesión
SOLICITAR UNA SESIÓN
Los siguientes pasos le mostrarán cómo solicitar citas.
Vaya al Portal de clientes de su médico y haga clic en I'm an Existing Client (Cliente existente) para iniciar sesión. El botón I'm a New Client (Nuevo cliente) es sólo para clientes que nunca antes han ingresado al Portal de clientes.


Acceda a la pestaña Appointments (Citas) (puede estar ya seleccionada por defecto).


Seleccione su médico (si hay varios).


Seleccione su servicio. ¿Para qué tipo de citas ve a su médico?


Elija la ubicación de su consultorio (puede que sólo haya uno a elegir, como se muestra a continuación).


Haga clic en la fecha y hora que desee.


Su solicitud de cita ha sido enviada a su médico (Su médico necesitará aceptar su solicitud). Puede hacer clic para ver un mapa de la ubicación del consultorio, o añadir la sesión a su calendario.


Si su solicitud es aceptada, recibirá un correo electrónico confirmando la sesión.

Si no puede verlo en ese momento, recibirá un enlace para reprogramar. Haga clic en él para volver a su Portal de clientes y solicitar una nueva sesión.



VER Y CANCELAR SOLICITUDES
Verá una lista de sus próximas solicitudes y de las citas confirmadas o denegadas en la página de citas de su Portal de clientes. Haga clic en Cancel Session (Cancelar sesión) para cancelar su solicitud de cita.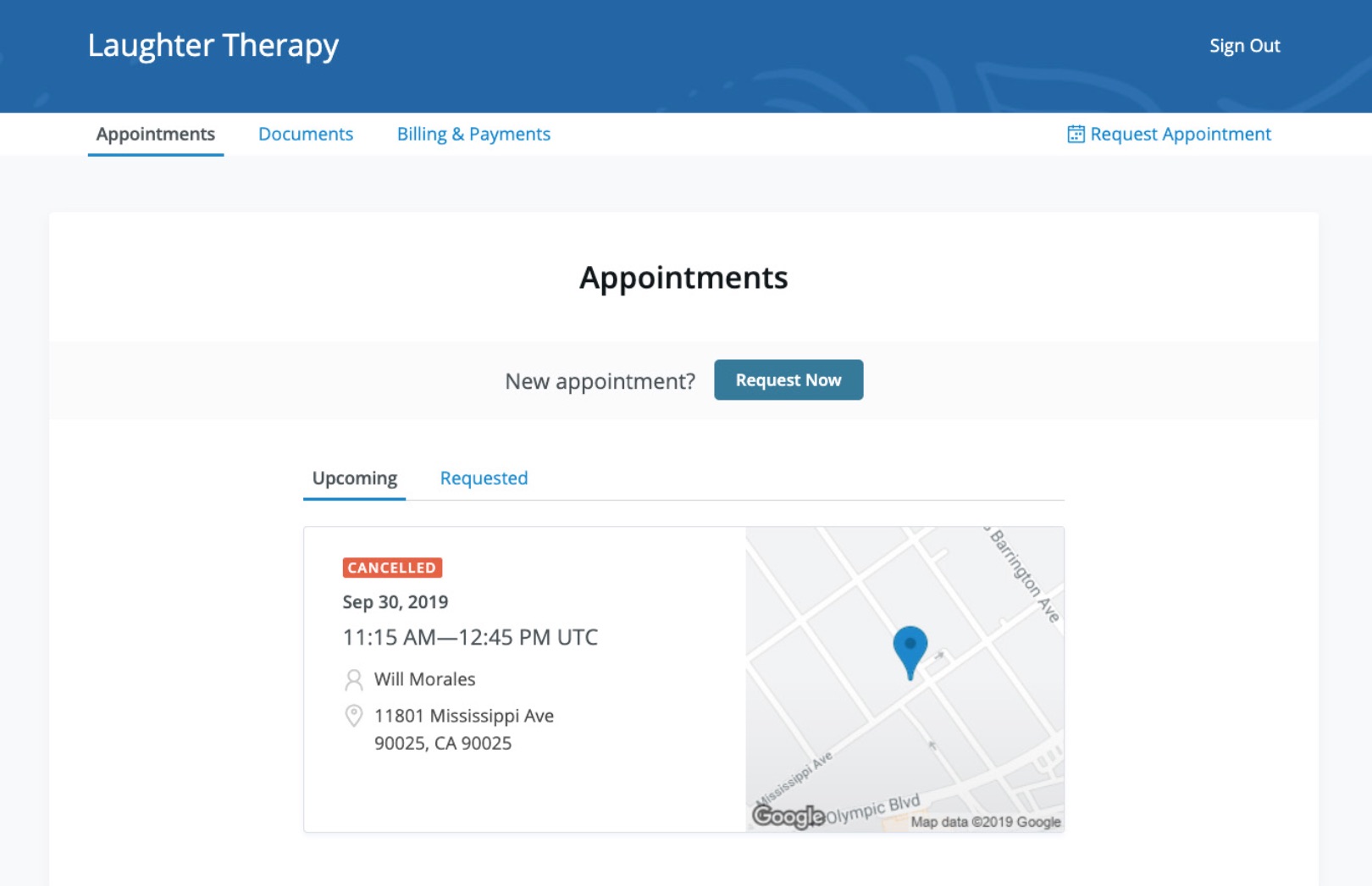 NOTA: Solo podrá cancelar de esta manera de acuerdo con la política de cancelación de su médico. Si intenta cancelar demasiado cerca de una sesión, o si su médico no ofrece la opción de cancelación en línea, recibirá un mensaje para llamar a su consultorio para cancelar.
Una vez que se cancele la sesión, lo verá reflejado en la pestaña Appointments (Citas) en el Portal de clientes. Utilice esta página para comprobar el estado de sus solicitudes, cancelar sesiones o programar sesiones nuevas.