We've created guides you can share with your clients about using the Client Portal. You can find the English and Spanish versions of the How to pay your bills in the Portal guide below. You can also download the PDF versions of each by clicking the images.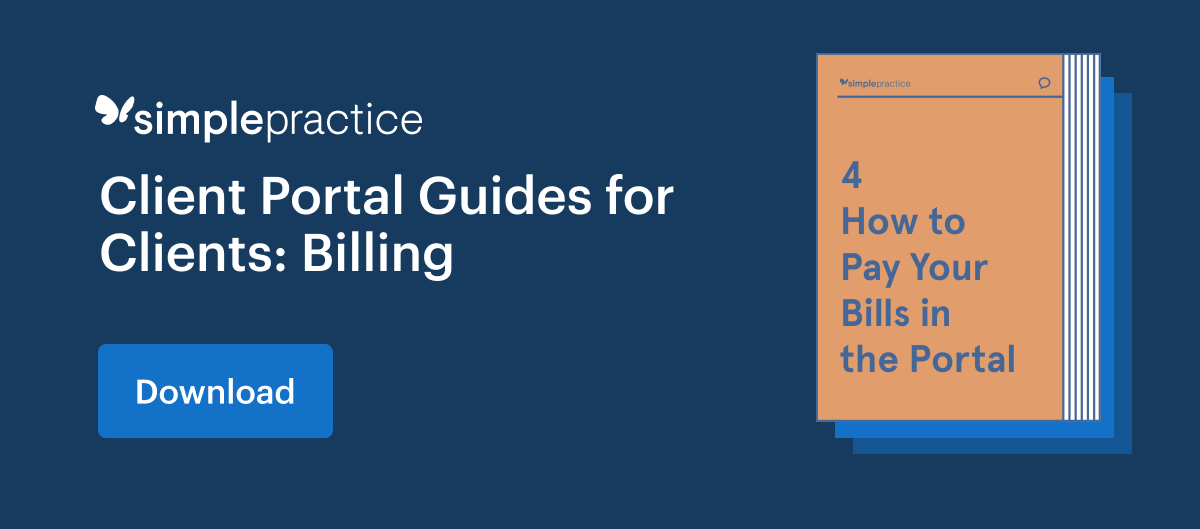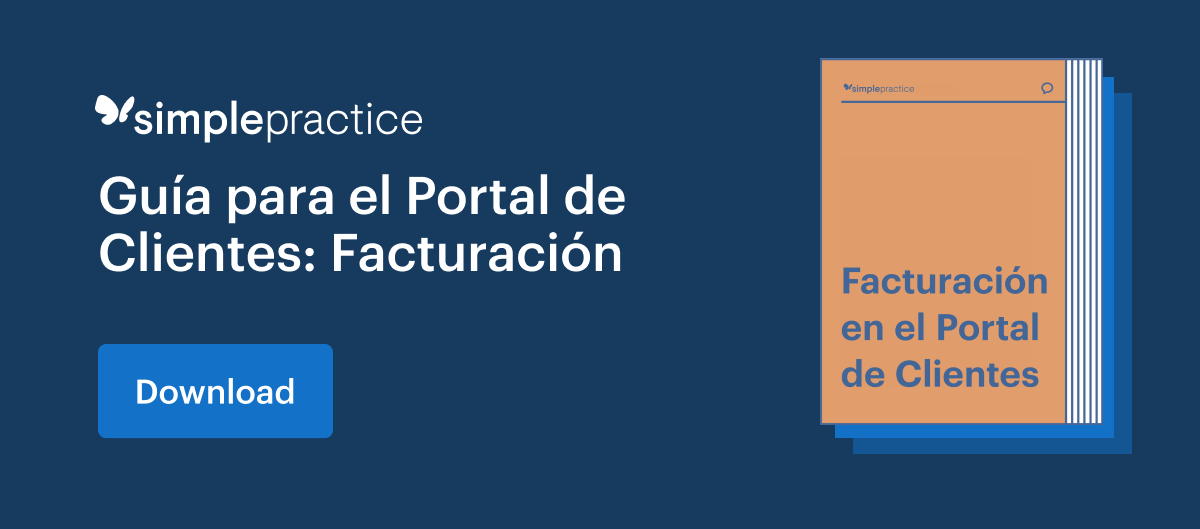 Note: See Getting started guides for your clients to download other guides about the Client Portal and Telehealth for clients.
---
How to Pay Your Bills in the Portal
Using the Client Portal, you can view your recent invoices, statements, superbills, and payments. You can also add a credit card and pay for your sessions.
SECTIONS:
---
Viewing your billing history and documents
After logging into the Client Portal, click

Billing & Payments

to see your billing page.

This page provides you with an overview of your recent payment history and access to your billing documents

You'll see three sections for

Invoices

,

Statements

, and

Insurance Reimbursement Statements (superbills)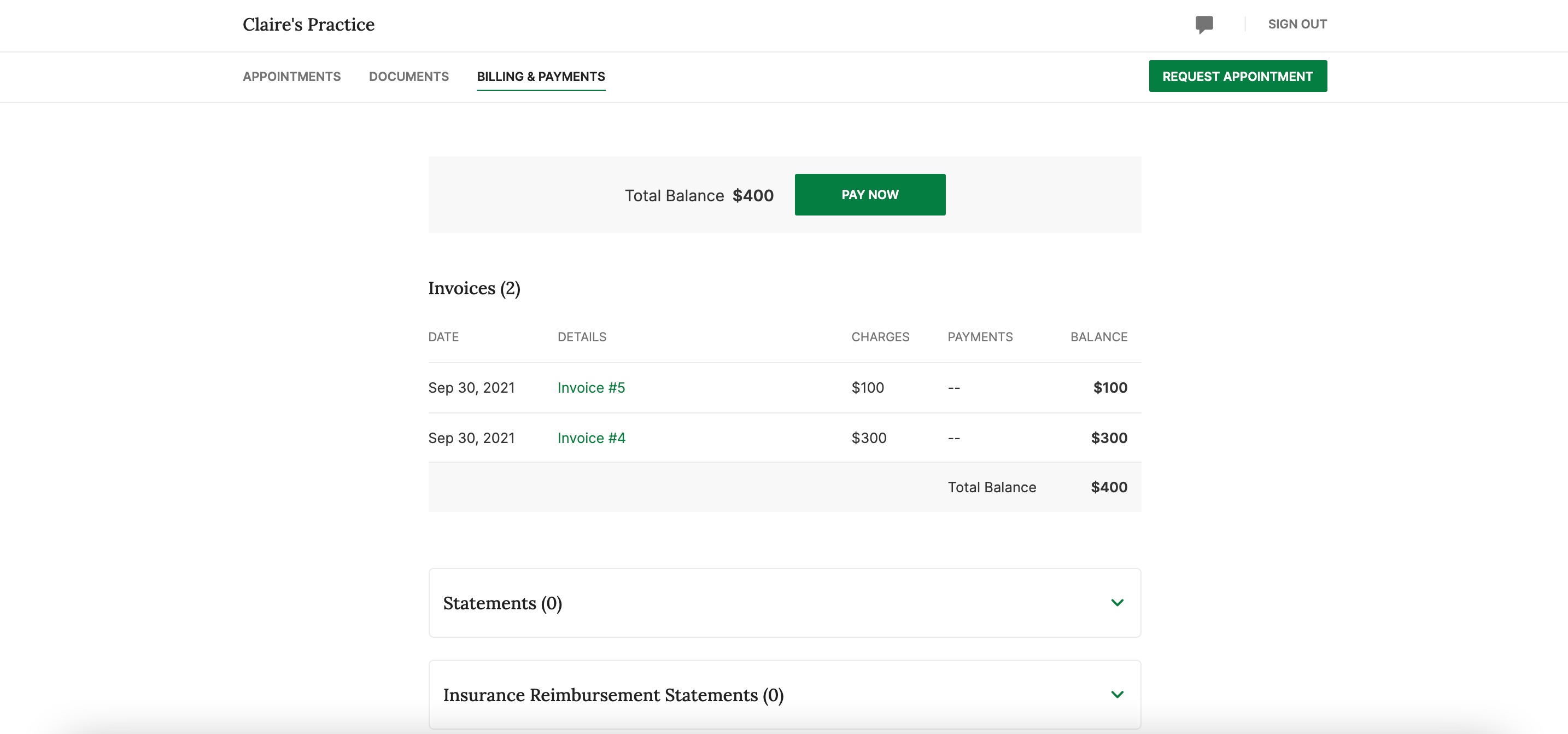 At the very bottom, there's a section for Account History that shows your most recent sessions and payments: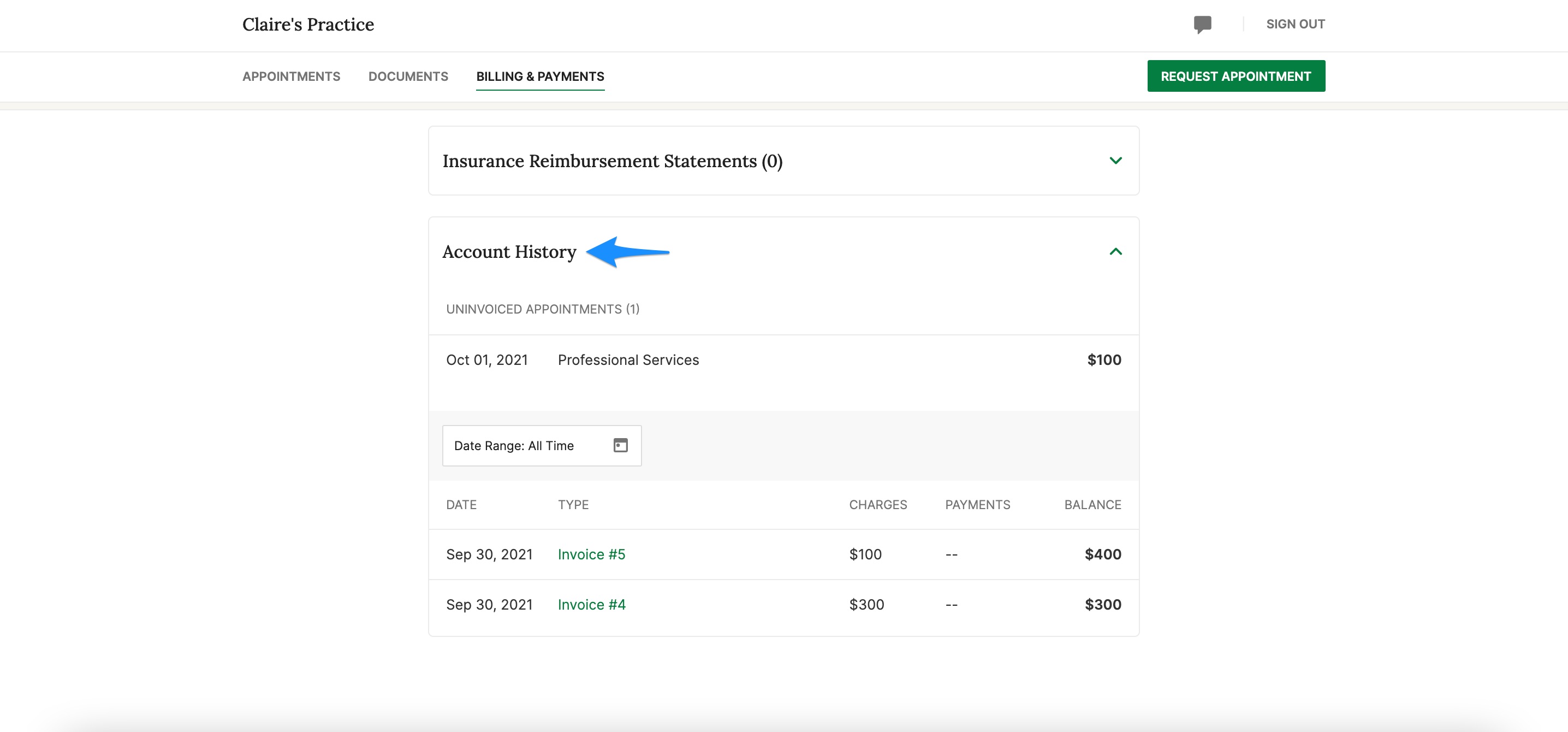 Adjust the date range to display whichever sessions you'd like by clicking the calendar icon: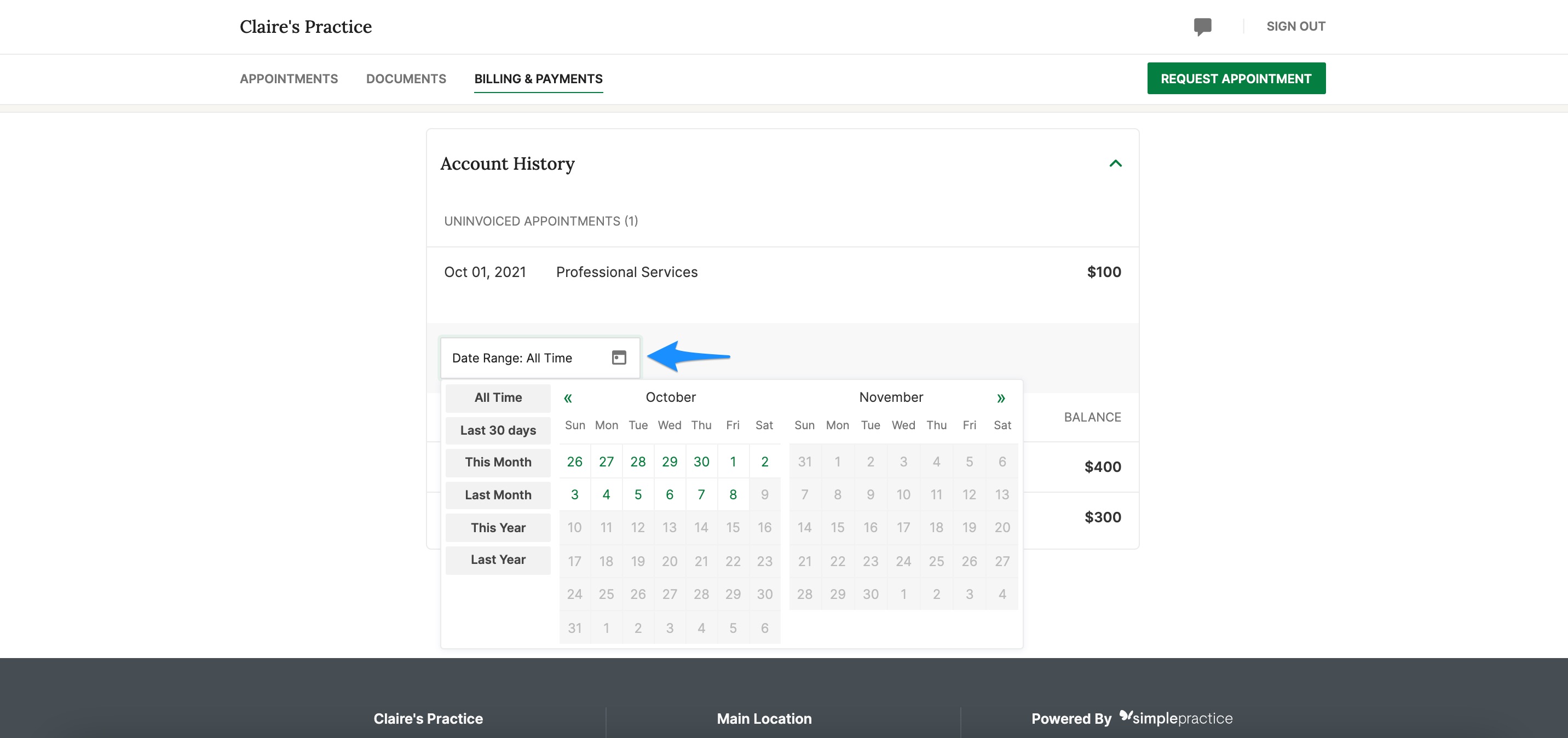 Tip: Once you open a billing document, you can click Print to print it or Download to download it to your computer.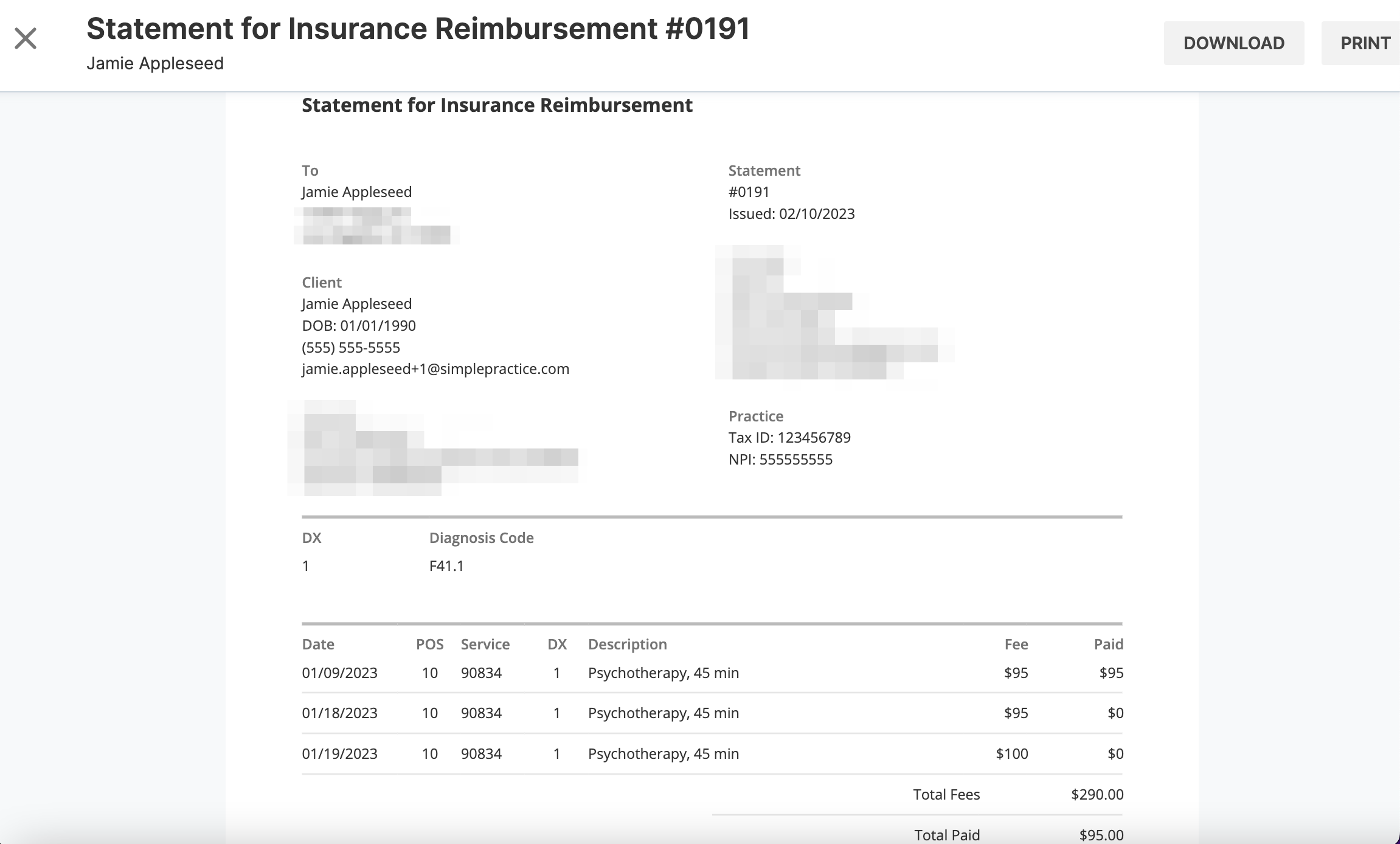 ---
Making payments
It's easy to pay your bills in the Client Portal and stay on top of your payment history. Your current balance displays at the top of the page. You can either pay this entire balance, or pay a specific invoice.
To pay your entire balance, click

Pay Now next to the balance amount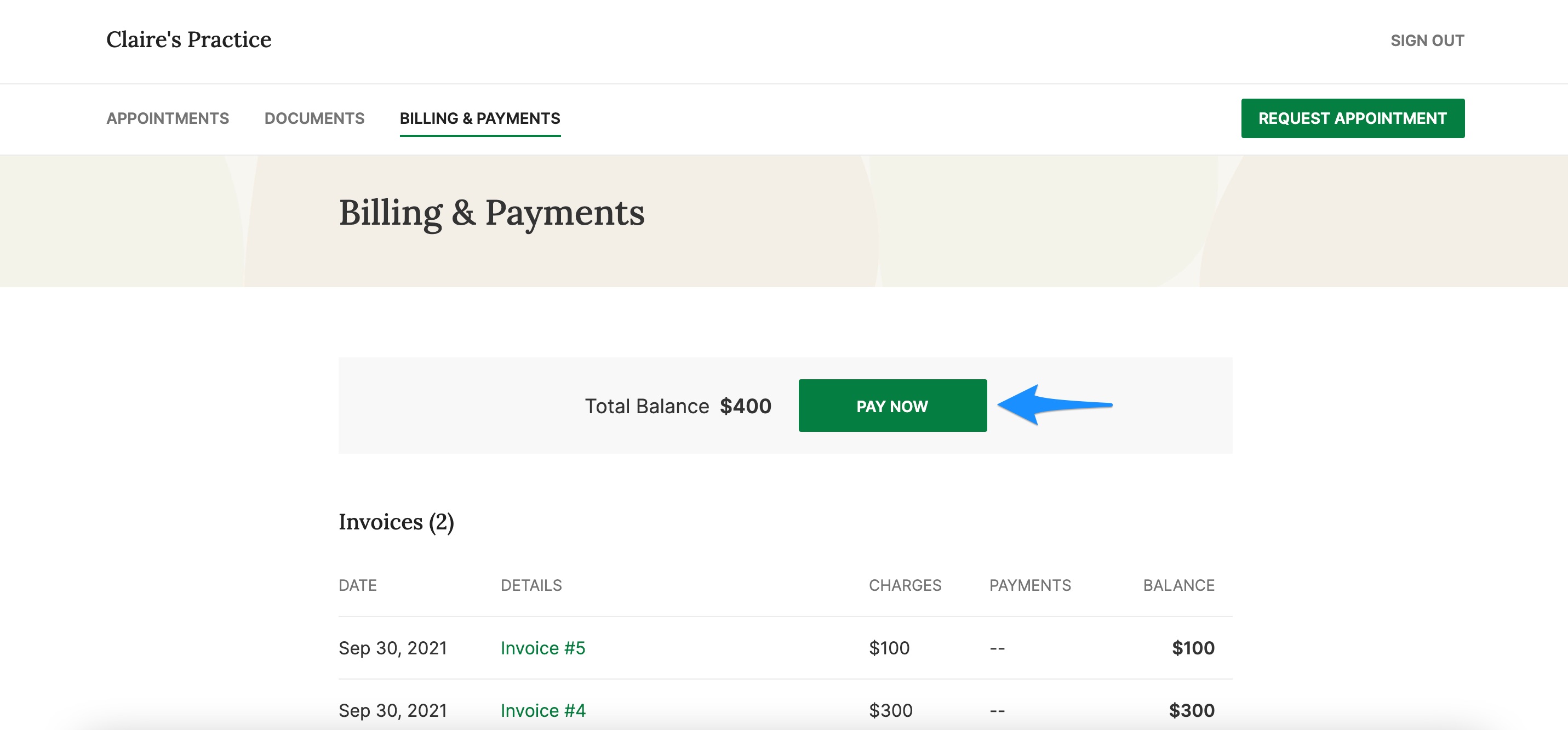 To pay a specific invoice, open the invoice and click

Pay Now at the top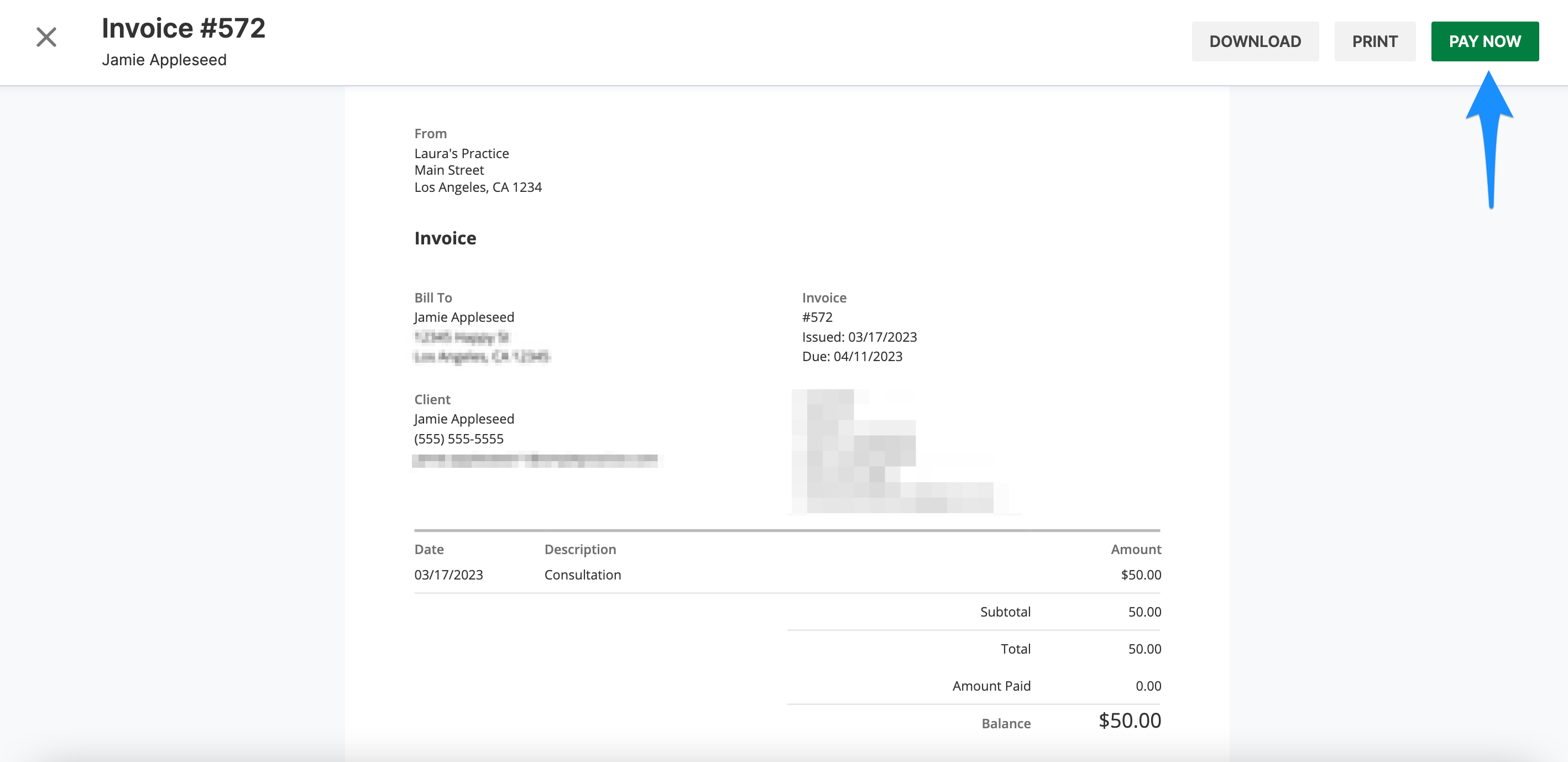 Note: You'll only see the option to Pay Now in the Client Portal if your clinician has Online Payments set up.
Enter the cardholder's name, card info, and billing zip code

If you'd like to store this card to use in the future, check the

Save Card

box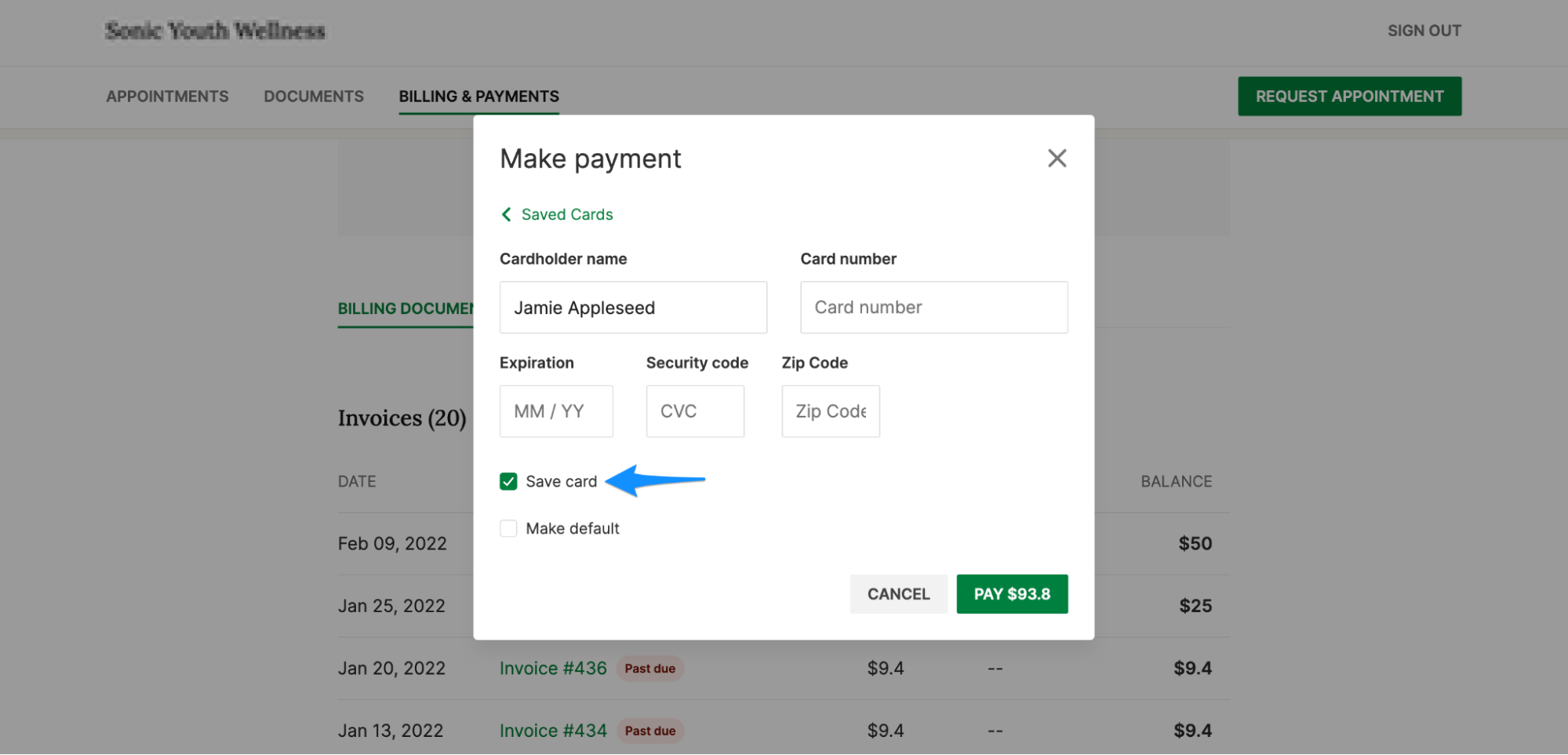 The amount on the

Pay

button will reflect the payment that you're making. Make sure it's the correct amount, then click

Pay $(amount)
You'll see that the status next to that invoice date in your Account History section has changed to Paid
---
Setting a default card
You can add multiple cards and determine which one will be your default payment method going forward. To do this:
Navigate to Billing & Payments
Click Payment Methods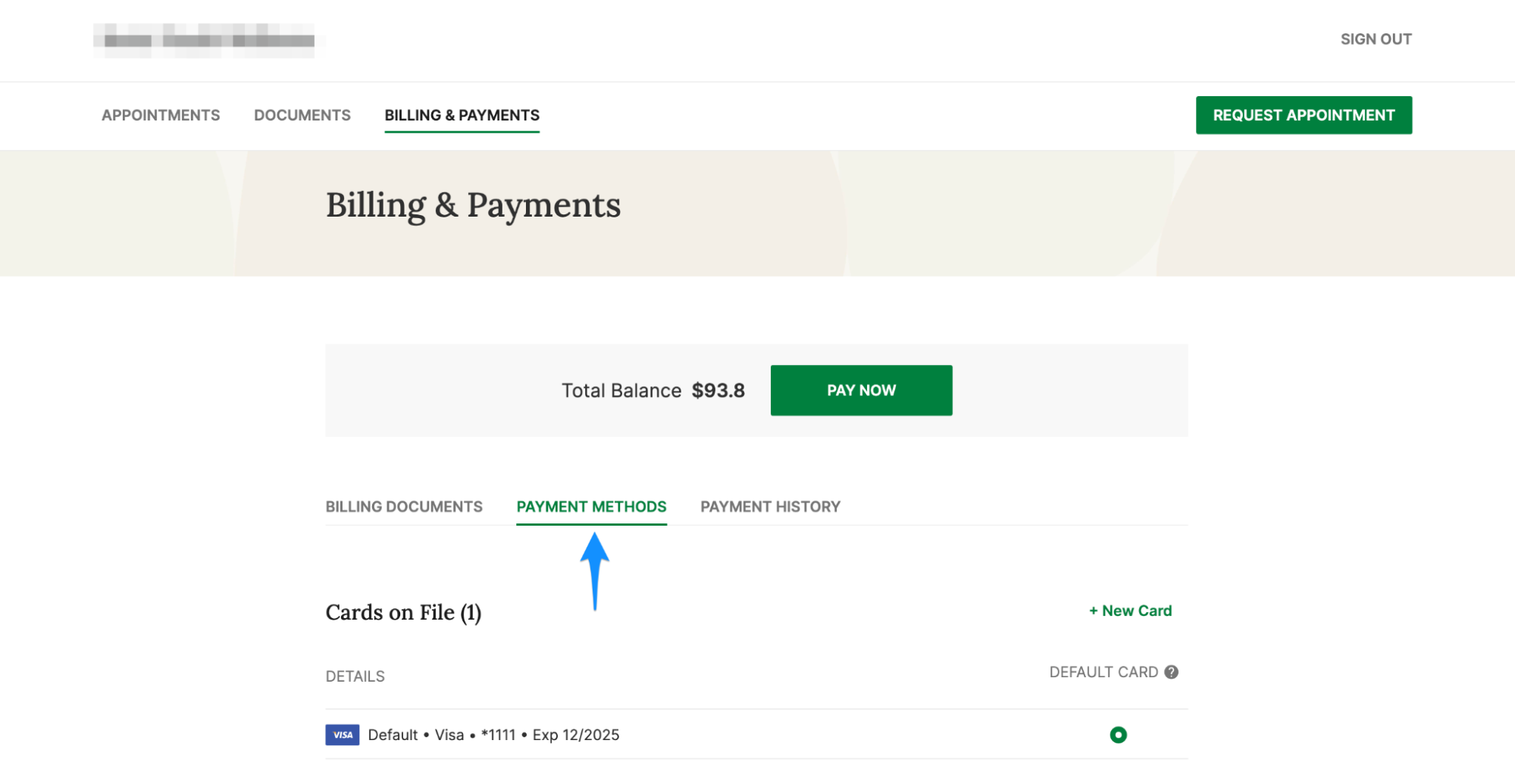 Click +New Card to add the new card information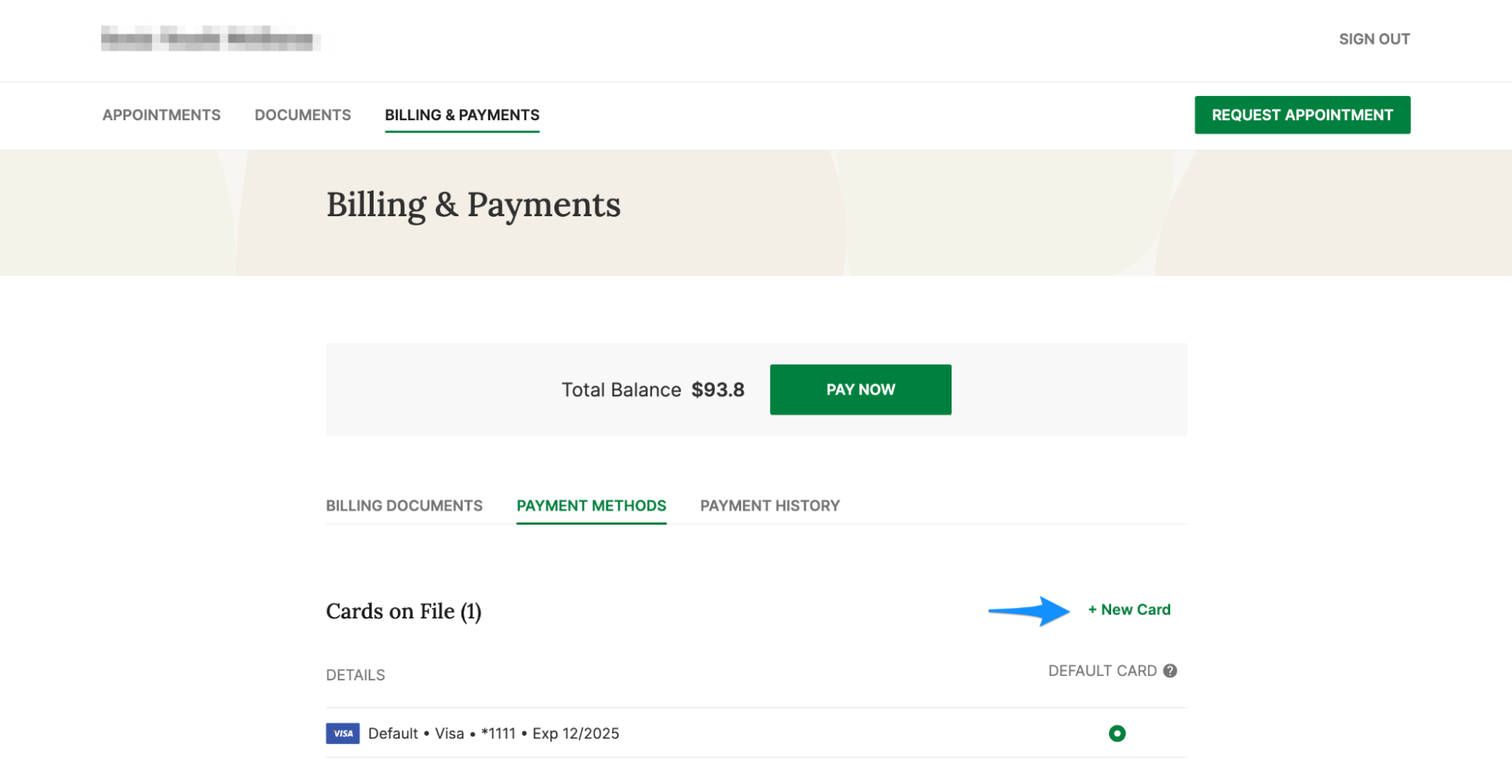 After entering the card information, click Make default if you'd like that card to be your payment method going forward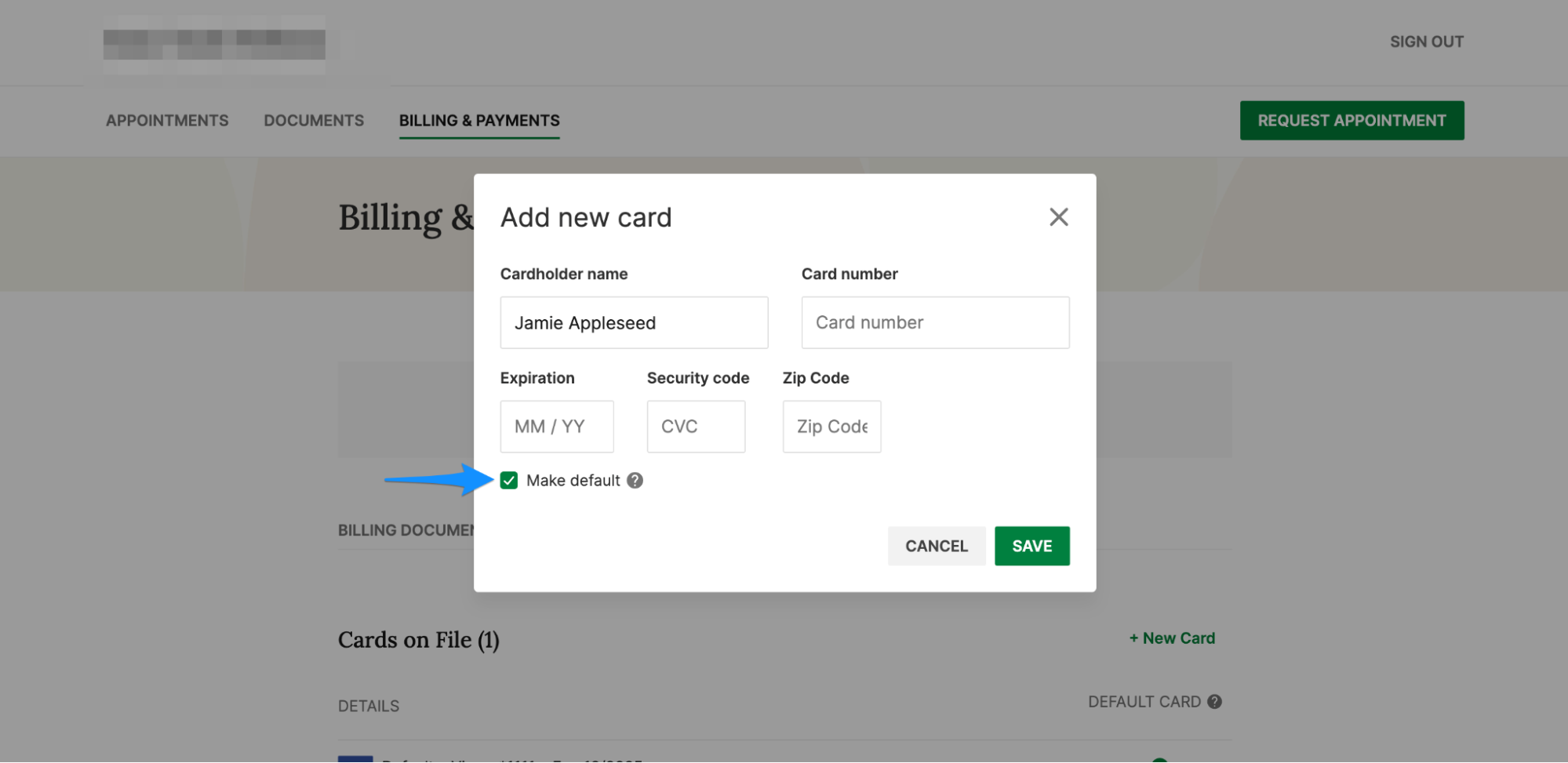 If you have multiple cards on file already, navigate to the Payment Methods section and choose the Default Card button for the one you'd like to have payments charged to going forward: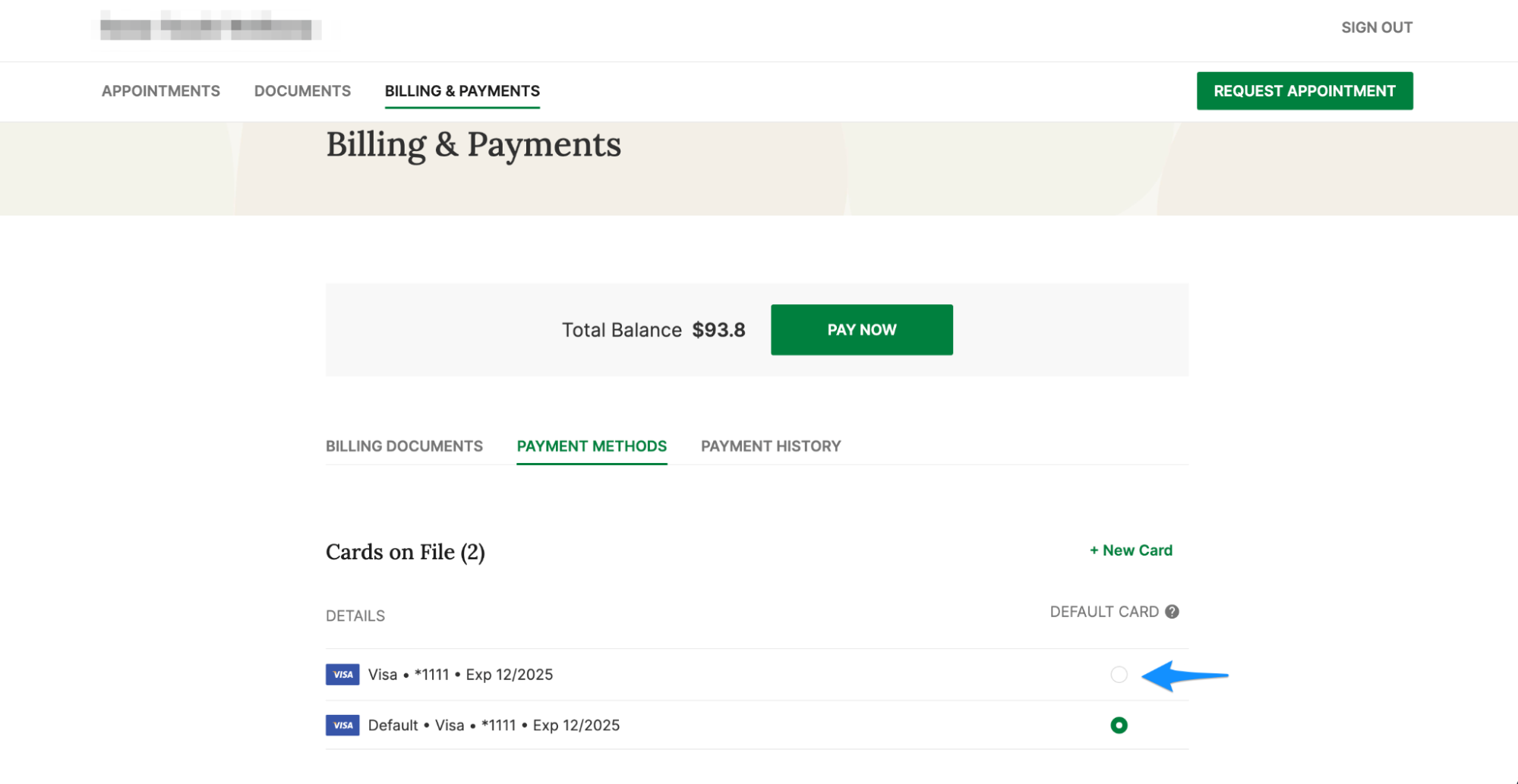 ---
Facturación en el Portal de Clientes
A través del Portal de clientes, puede ver sus facturas, estados de cuenta, superfacturas y pagos recientes. También puede agregar una tarjeta de crédito y pagar sus sesiones.
SECCIONES:
---
Ver su historial de facturación y documentos
Después de iniciar sesión en el Portal de clientes, haga clic en Billing & Payments (Facturación y pagos) para ver su página de facturación. Esta página le proporciona un resumen general de su historial de pagos recientes y acceso a sus documentos de facturación.
Verá tres secciones para Facturas, Estados de cuenta y Estados de cuenta de reembolso del seguro (superfacturas).


En la parte inferior hay una sección para Account History (Historial de cuenta) que muestra sus sesiones y pagos más recientes.


Ajuste el intervalo de fechas para mostrar las sesiones que desee haciendo clic en el botón del icono de calendario.


SUGERENCIA: Una vez que abra un documento, puede hacer clic en Print (Imprimir) para imprimirlo o en Download PDF (Descargar PDF) para descargarlo en su computadora.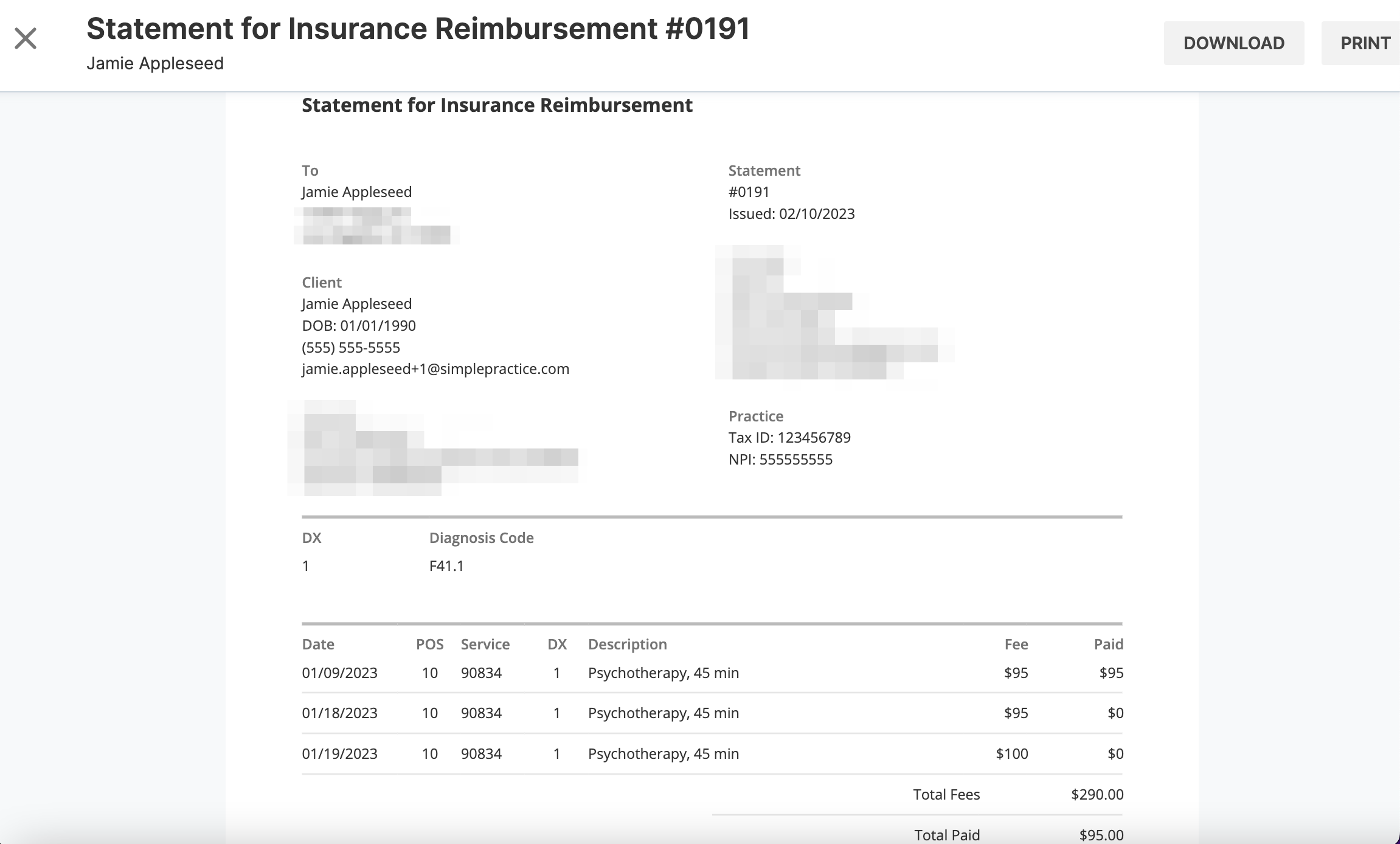 ---
Realizar pagos
Es fácil pagar sus cuentas en el Portal de clientes y estar al tanto de su historial de pagos. Su saldo actual se muestra en la parte superior de la página. Puede pagar todo el saldo o pagar una factura específica.
Para pagar todo el saldo, haga clic en Pay Now (Pagar ahora) junto al monto del saldo.


Para pagar una factura específica, abra la factura y haga clic en Pay Now (Pagar ahora) en la parte superior.


Independientemente del botón de pago que elija, los siguientes pasos son los mismos:
Ingrese el nombre del titular de la tarjeta, la información de la tarjeta y el código postal de facturación.

Si desea guardar la tarjeta para utilizarla en el futuro, marque la casilla Save Card (Guardar tarjeta).
El monto en el botón Pay (Pagar) reflejará el pago que está haciendo. Asegúrese que sea la cantidad correcta y luego haga clic en Pay $(amount) (Pagar $(monto).
Verá que el estado que aparece junto a la fecha de la factura en la sección Account History (Historial de cuenta) ha cambiado a Paid (Pagado). Si ha guardado la tarjeta, podrá seleccionarla para futuros pagos.