We've created guides for clients about how to confirm and cancel appointments via their appointment reminders.
Note: See Getting started guides for your clients for more downloadable client guides.
You can view instructions on confirming and canceling appointments below:
Click the link below to download a PDF version to share with your clients:
Note: If you're a clinician setting up appointment reminders, see How to set up appointment and time of scheduling reminders for more information on allowing clients to confirm or cancel appointments via text.
---
Confirming your appointment
When you receive your text appointment reminder, you'll see a message similar to this: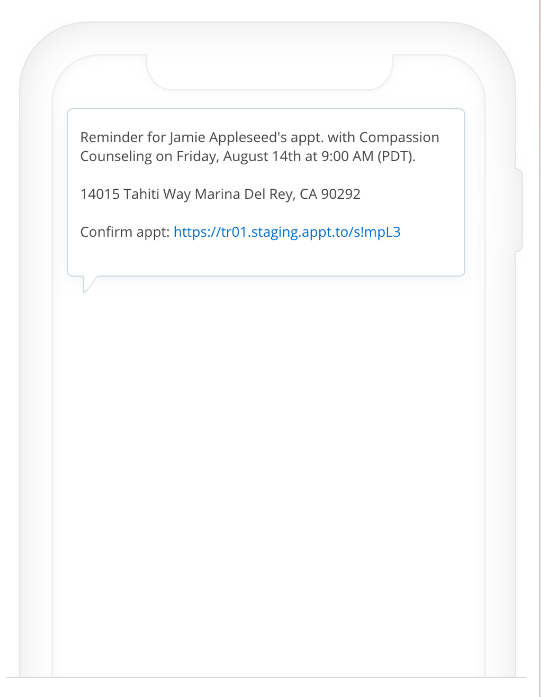 Tap the link in the message. The Appointment Details page will open in the default browser of your device.
To confirm your appointment, tap Yes, I'll be there.

You'll then see a confirmation modal that says Your appointment is confirmed.

Your clinician will be notified of your appointment confirmation.
---
Canceling your appointment
Tap the appointment link in your text appointment reminder. The Appointment Details page will open in your default browser.
Tap Cancel Appointment.

To submit the cancelation, enter a Reason for canceling and tap Yes, Cancel.


Note: You can only cancel your appointment via text reminder within your clinician's cancelation window.
---
Re-enrolling in text reminders
If you've unsubscribed from text reminders and would like to begin receiving them again, simply text START in your previous reminder text thread. This will re-enroll you in text reminders.
If you've deleted the text reminder thread, you won't be able to re-enable it from your end. Instead, please reach out to your clinician for further assistance.
Tip: Make sure to let your clinician know as far in advance as possible if you need to cancel your appointment.