We've created an appointment-focused billing system with a clean and organized client billing page to take away some of the guesswork that can come with client billing. We wanted to make it easy for you to see the status of each appointment and identify what needs your attention at a glance.
You can learn about the following updates in this guide:
---
Self-Pay Billing Overview
Self-Pay clients don't have an Insurance column in their Billing Overview. Their profiles show the Date, Details, Fee, Client Owes, and Write-Off for each appointment.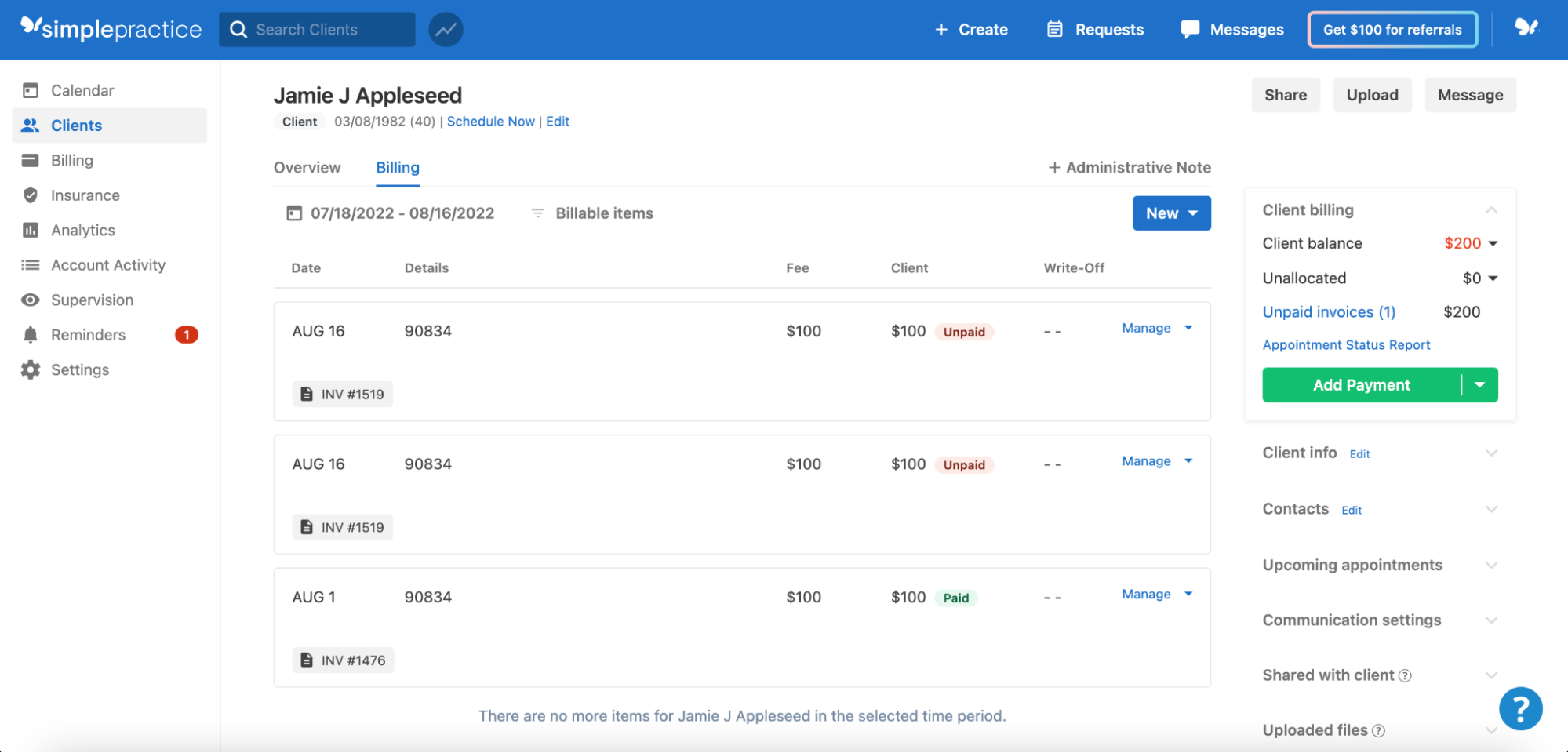 ---
Insurance Billing Overview
Insurance clients require more information to be recorded with their bookkeeping. If a client's billing type is set to Insurance, their Billing Overview includes an additional column for the client's Insurance balance.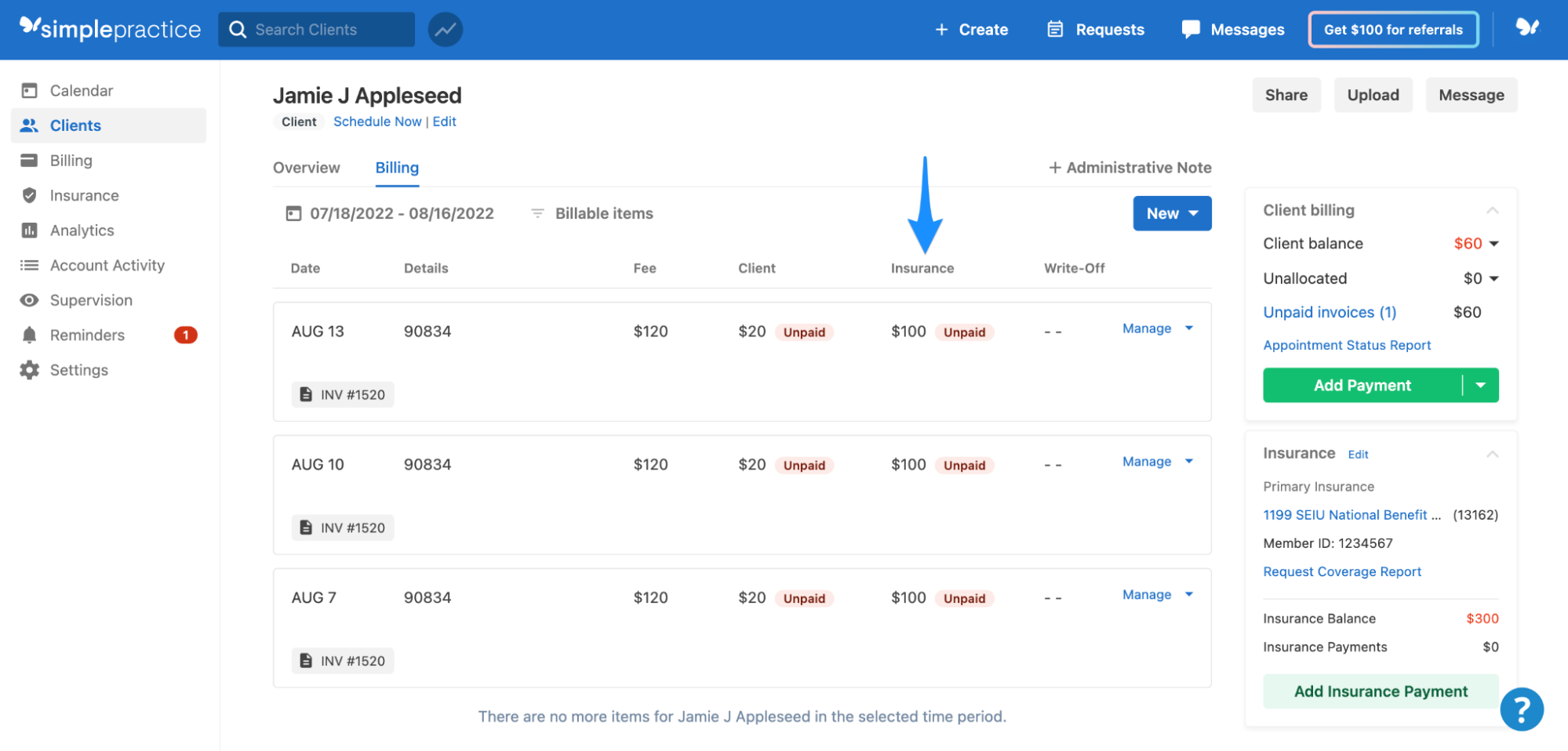 ---
Client billing summary
The Client billing summary provides a complete overview of a client's billing history. This includes their current balance, unallocated payments, and any unpaid or uninvoiced amounts.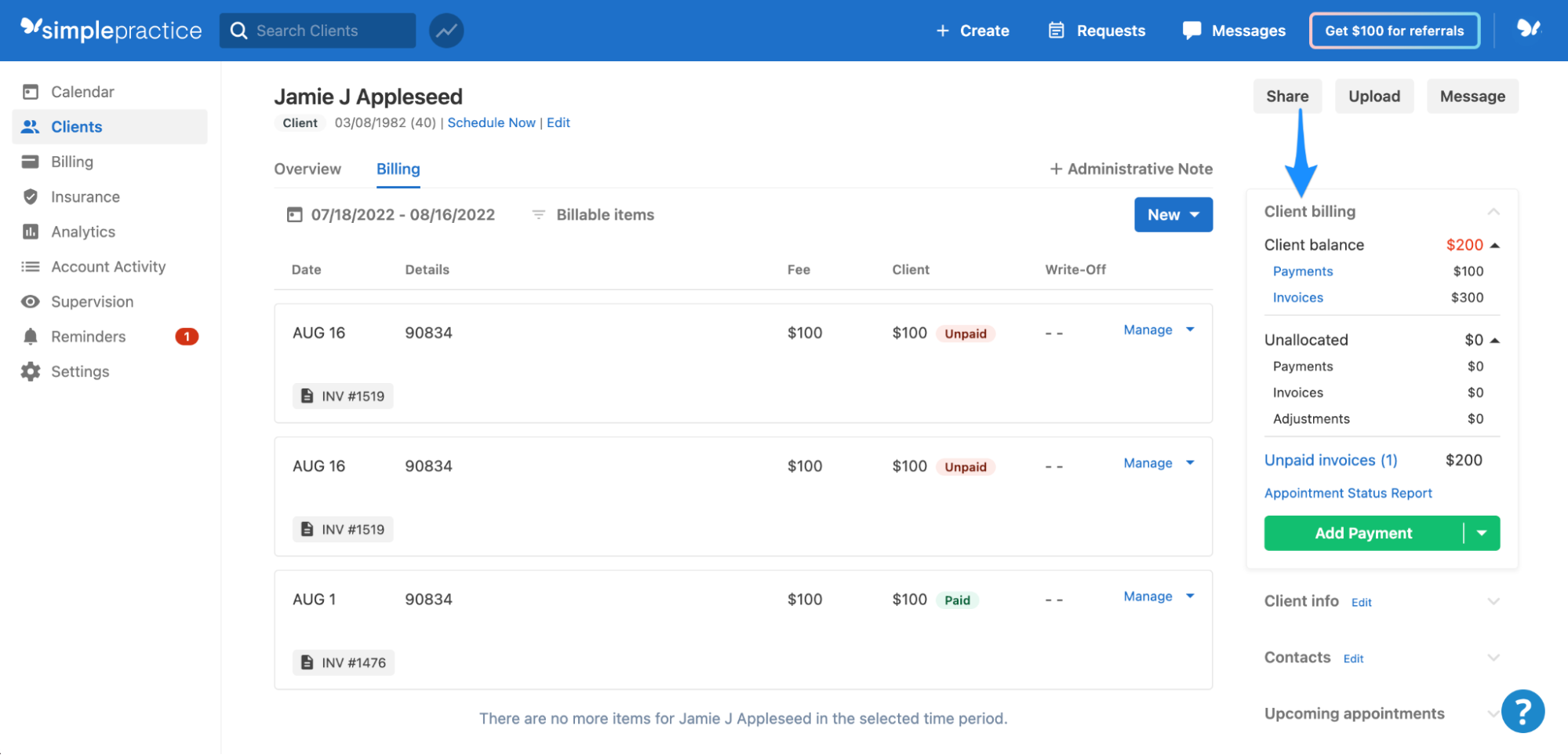 For more information on unallocated payments, see: Navigating client payments.
---
Viewing specific billing items
On a client's Billing Overview page, you have the ability to filter the items that you're seeing by using the dropdown menu.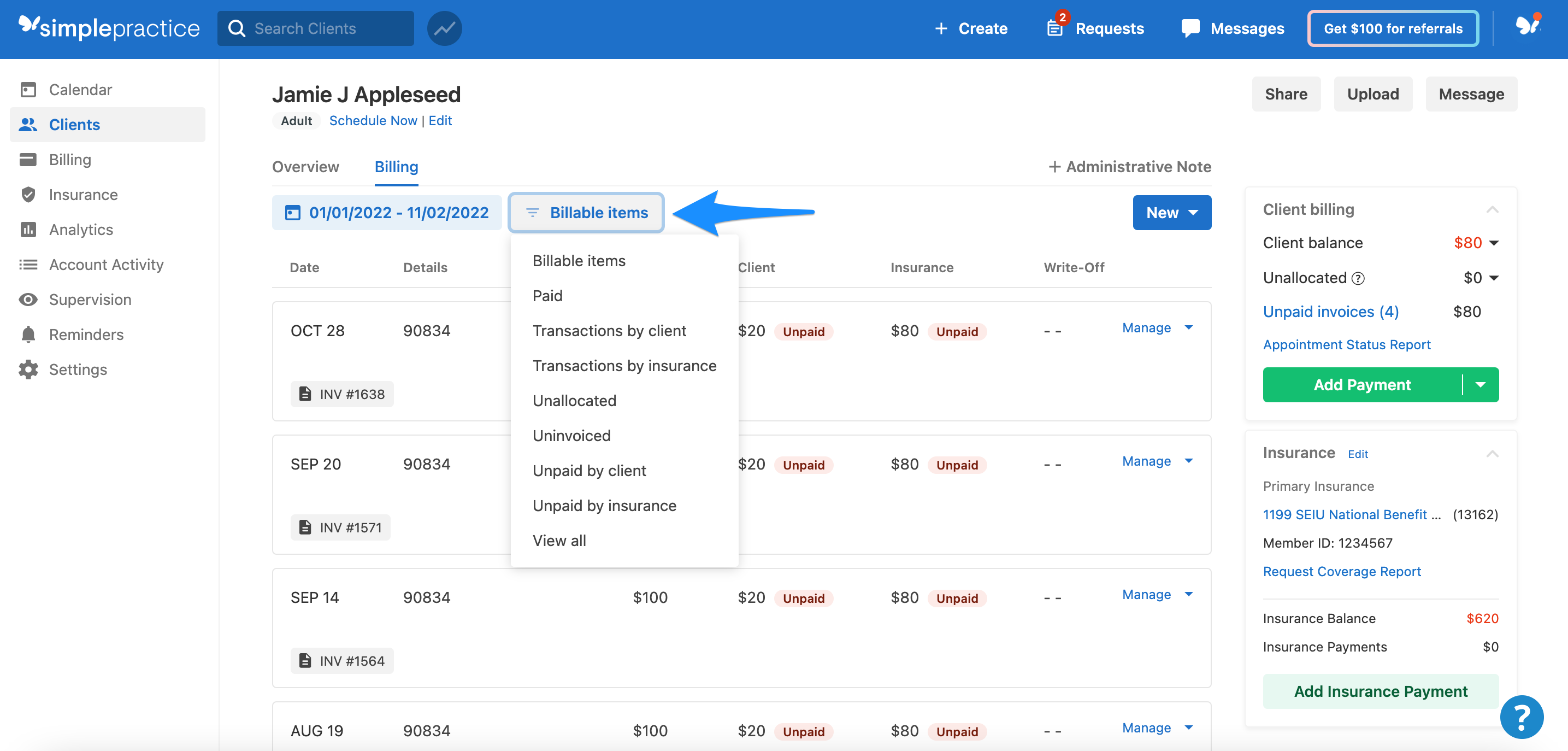 Note: You can also click on the dates to adjust the date range.
Below, you'll find what populates on the client's Billing Overview page for each item in the dropdown menu:
| | |
| --- | --- |
| Item | |
| Billable items | This shows all billable items for the client, including appointments and products. |
| Paid | This shows all appointments that are fully paid by the client and insurance. |
| Transactions by client | This shows all client payments, refunds, and adjustments. |
| Transactions by insurance | This shows all insurance payments added to the client's file. |
| Unallocated | This shows all dollar amounts that aren't allocated. |
| Uninvoiced | This shows all appointments that have an uninvoiced amount. |
| Unpaid by client | This shows all appointments that have an unpaid client responsibility. |
| Unpaid by insurance | This shows all appointments that have a remaining insurance balance. |
| View All | This shows a comprehensive list of all of the above |
---
Selecting appointments for billing documents
You're able to select which appointments you want to include on your billing documents. Here's how:
Navigate to your client's Billing Overview page
Select the appropriate date range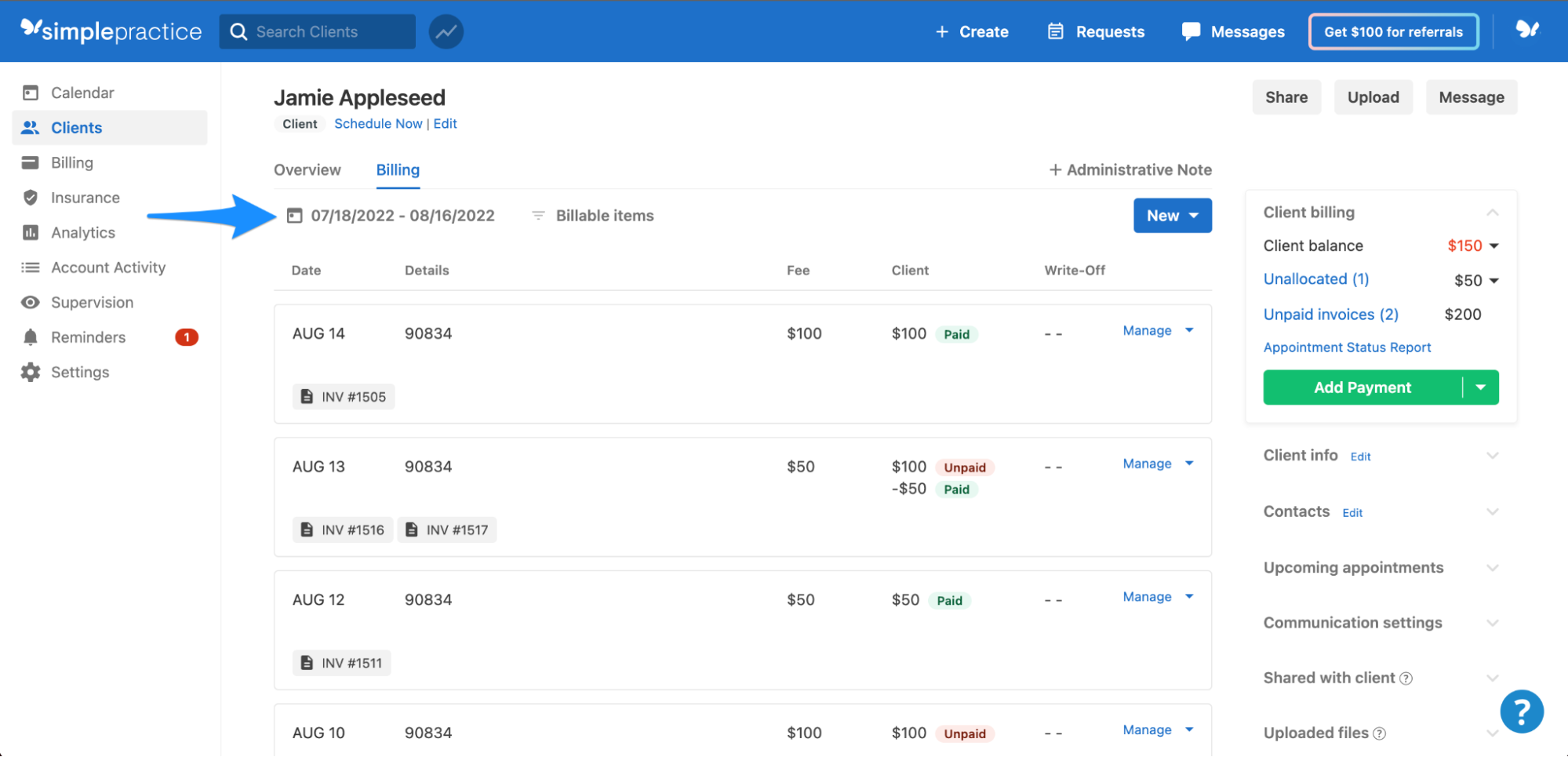 Click New and select the type of billing document to create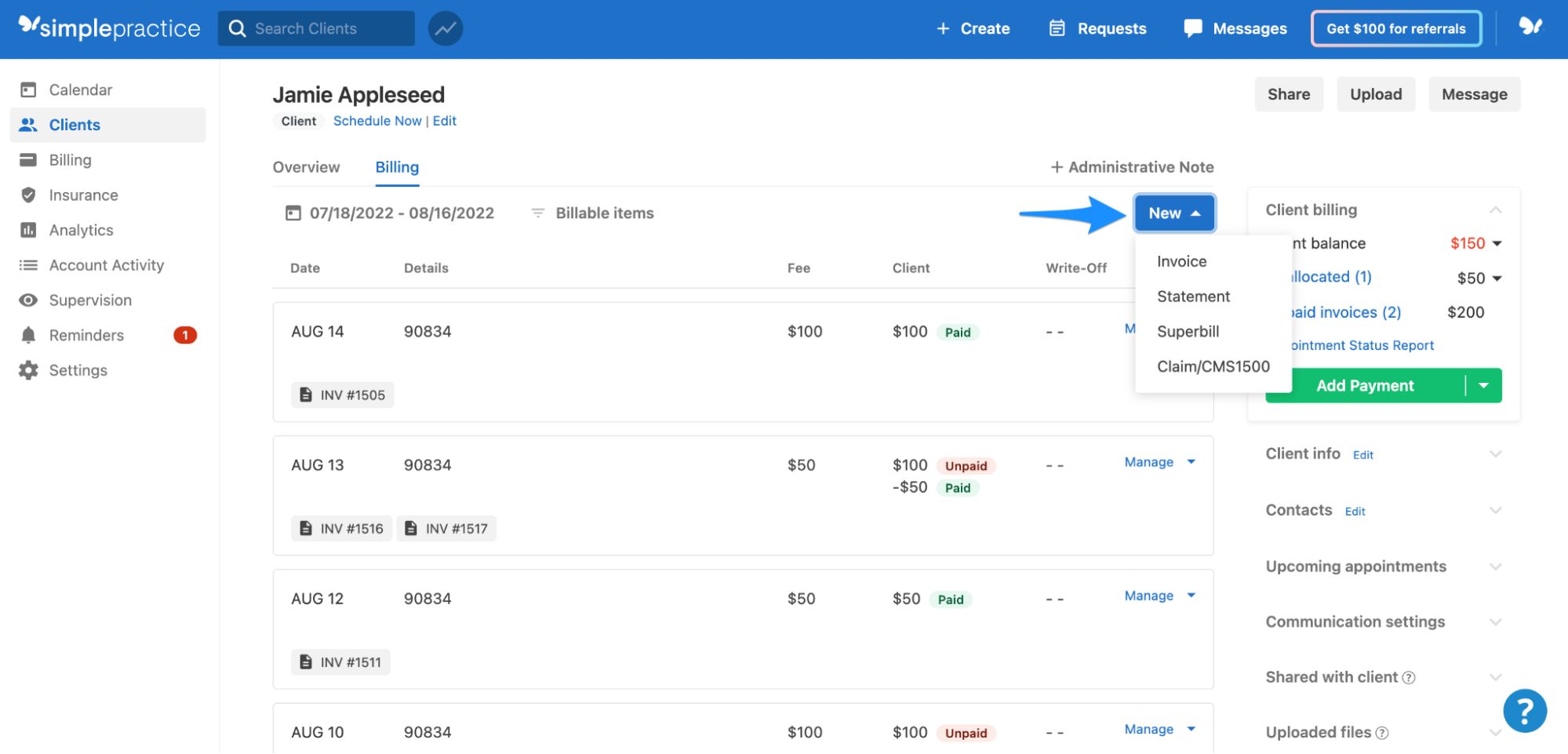 Check the box next to each appointment you want included on the document