This guide covers the answers to commonly asked questions about Monarch:
---
What is Monarch?
Monarch is an online directory that's reimagining how therapists connect with therapy seekers. It simplifies how therapists connect with prospective clients, helps them maintain a cohesive online presence, and seamlessly integrates with SimplePractice. Monarch helps to emphasize what makes a therapist's practice unique, so they can meet the clients that they can serve best.
---
What does the name Monarch represent?
Butterflies have long been a symbol of transformation, and also of Psyche, the guardian of the soul in Greek mythology. Given that Monarch's parent company, SimplePractice, has used the butterfly for its transformational connotations, we felt it important to reference both our roots and the beauty and power that the butterfly, and its unique lifecycle, represents.
Across many cultures, the monarch's bold, bright appearance has long signaled the return of a soul to its familial home. The monarch's journey is ultimately a defining part of its existence. To us, the journey to improved mental health bears a resemblance to the monarch's journey. Therapy can be a key to deep soul transformation and a reminder that brighter days are always ahead.
---
How does Monarch work?
Your Monarch profile is managed from your SimplePractice account. This is where you'll enter your profile details—information like profile picture, bio, insurance and fees, clients served, and more—and is where you'll set your availability if you choose to enable online appointment requests. Your SimplePractice account also allows you to take advantage of other helpful features like an easy-to-use Professional Website and HIPAA-compliant Telehealth.
Once your Monarch profile is live, therapy seekers will be able to discover you based on the filters they select, which will match with the information you've entered (i.e., specialties, insurances accepted, availability, etc.). This helps therapists connect with clients that are best suited for their practice.
Note: To learn more about setting up your Monarch profile, see Updating your Public Information settings. For tips on writing your bio, see How to Write a Professional Bio.
---
Why should I list on Monarch?
Monarch was designed for ease and simplicity—because it shouldn't be expensive or difficult to enhance your online presence. What sets Monarch apart from other directory services is its integration with SimplePractice, which simplifies your practice's needs by integrating your online presence with your SimplePractice account. It also allows prospective clients to look at your availability online, and request an appointment when they're ready. This reduces a barrier they face to finding care, while leaving you in control of your schedule.
This online directory doesn't have any costly membership fees or an exclusive application process. Monarch is included for free on the Essential and Plus plans, and all you have to do is set up an account to join.
---
Who can list on Monarch?
Monarch supports behavioral health therapists—including social workers, marriage and family therapists, mental health counselors, psychologists—and substance use disorder counselors. Pre-licensed clinicians may also be listed.
Our team is continuing to work on expanding Monarch's reach and are looking at ways to support other specialties in the future.
---
How much does it cost to list on Monarch?
Monarch is included on the Essential and Plus subscription plans for no additional cost.
Note: To learn more about the features included in each plan, see Which subscription plan is right for me?
---
In what order are profiles displayed?
Monarch aims to create an optimal experience for people seeking mental health resources and support, while giving every therapist a fair chance to attract new clients.
We leverage an ever-evolving algorithm to ensure fairness in how therapist profiles are displayed on the Monarch directory. You can learn more about this here: How Monarch profiles are ranked.
---
How do I allow prospective clients to request appointments via Monarch?
First, you'll want to enable online appointment requests for prospective clients. To do this:
Navigate to

Settings > Client Portal
If

Online appointment requests are disabled, click the toggle to turn this on
Select Yes

for

Can new clients request appointments?

Select the box next to each new client type you're accepting: individual clients

,

couple clients

, and/or

contacts scheduling on behalf of someone else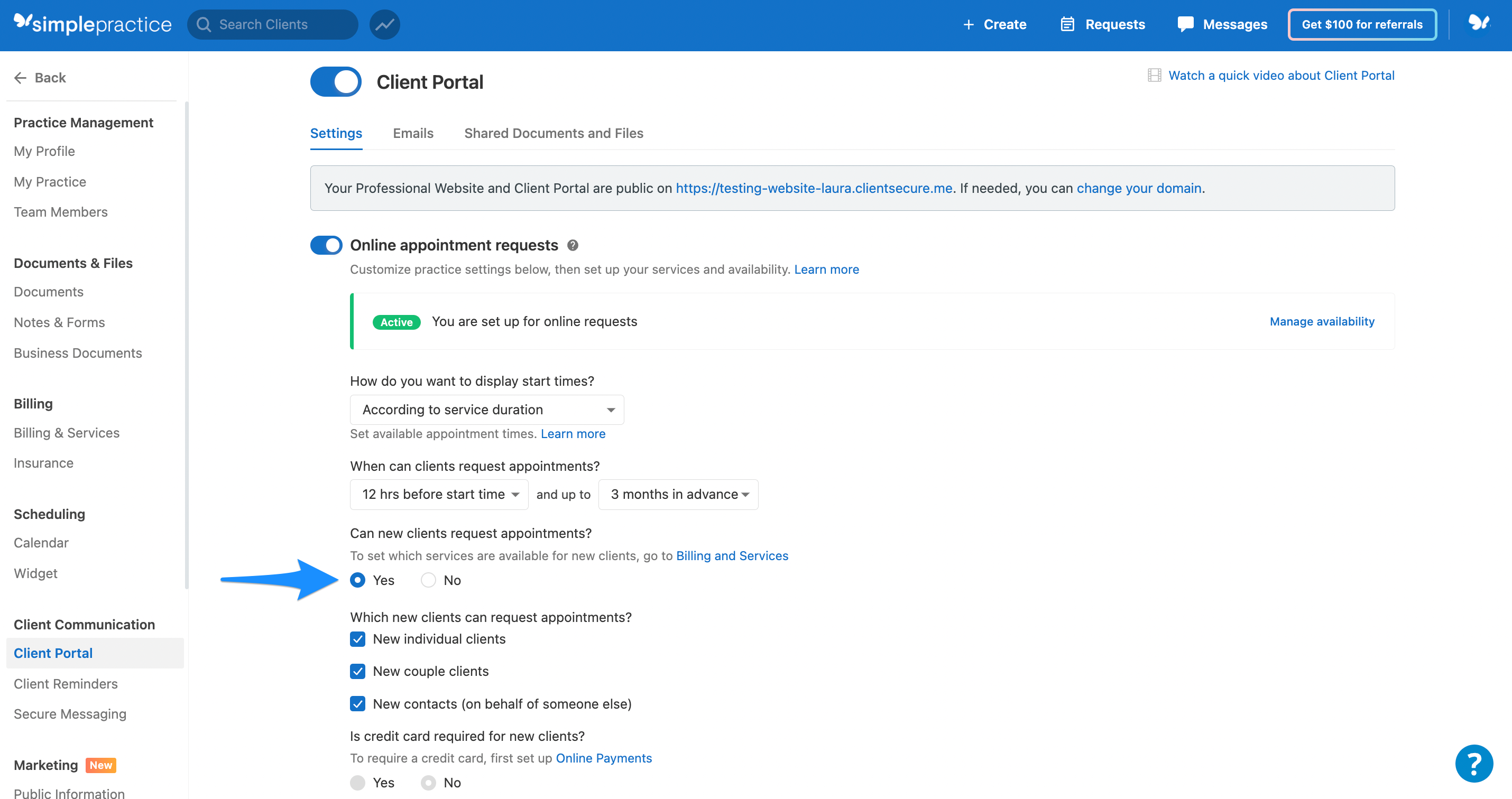 Next, you'll want to set up your services to allow prospective clients to request appointments online without having to call to book. To do this:
Navigate to

Settings > Billing and Services > Services

Click the service code you'd like to edit

Select

Allow for New Clients

Deselect

Require Clients to call to request available appointment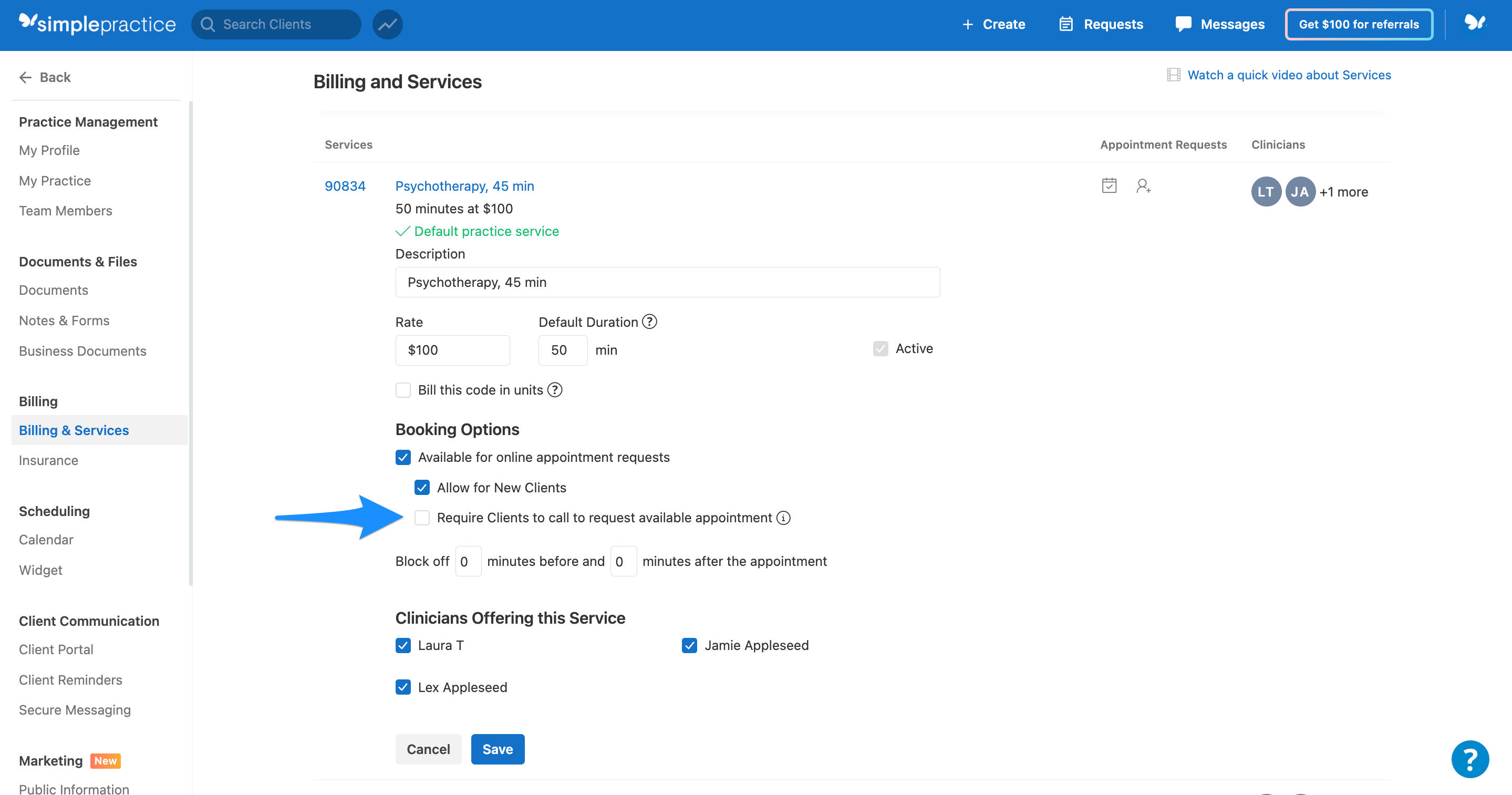 Repeat this for each service you'd like new clients to be able to request online.
---
How do I set up a phone screening service for new clients?
Many clinicians opt to set up a phone screening service specifically for therapy seekers on Monarch. This allows you to get to know a prospective client, while setting expectations and guidelines for your work together. It also gives therapy seekers the ability to request a brief initial consultation instead of a full appointment directly on Monarch, the Client Portal, your Professional Website, or the Appointment-request widget.
To create a new service for initial consultations, follow these steps:
Navigate to

Settings > Billing & Services > Services

Click

Add New Service

Use the drop-down menu under

Service

to select

00000 - Initial Consultation - No Charge

You can customize the service code and description as needed

Set the

Rate

and adjust the

Default Duration

Most clinicians set the Rate to

$0

and the Default Duration to

15 minutes

Select the boxes next to

Available for online appointment requests

and

Allow for New Clients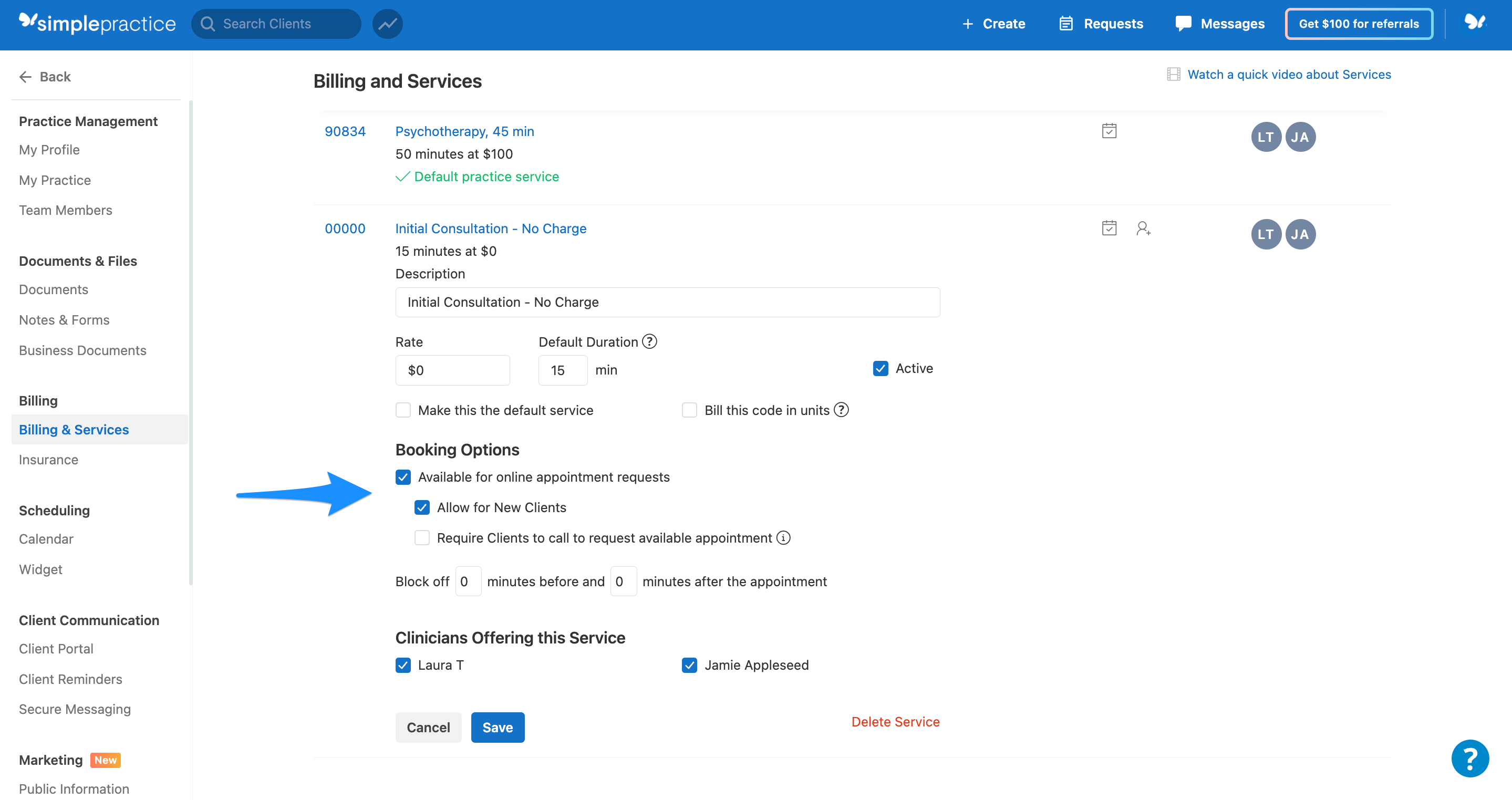 After creating your initial consultation service, you can add it to your existing Availability blocks, or create new Availability blocks specifically for this service. To do this:
Navigate to your

Calendar

homepage

Click

Availability

in the top right corner

Select an existing Availability block to edit, or click anywhere on the calendar to add a new Availability block

Select Allow online appointment requests
Adjust the Availability title,

Day(s) & hours,

and

Location(s)

as needed
Under

Service(s), click

Add service

and select the new service you created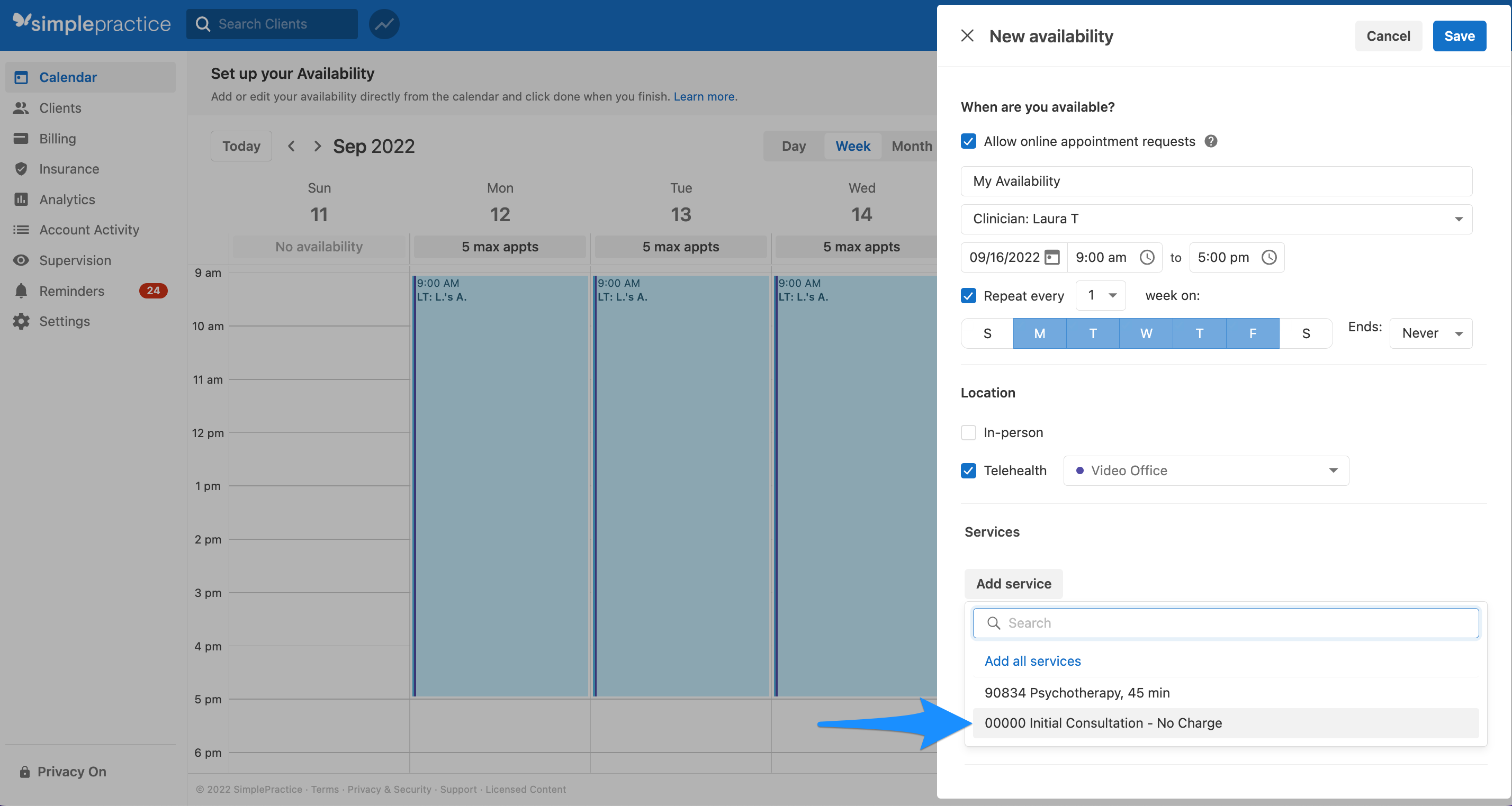 When you're done, click

Save
Note: To learn more, see Managing your Availability. You can also watch our video on How to set up a phone screening service for prospective clients for a detailed walkthrough.