SimplePractice gives you the option to request license verification for your profile on the Monarch Directory. License verification can help build trust with prospective clients by indicating that your license is confirmed as active and in good standing with your state's licensing board. Profiles with verified license badges will also rank higher in Monarch search results.
In this guide, we'll cover:
Note: Adding a license verification badge to your Monarch profile isn't the same as becoming legally licensed and is completely optional. You aren't required to submit a license verification request before listing on our directory. To learn more about Monarch, see Monarch FAQs.
---
Submitting a license verification request
You can submit a request to have your license verified for your Monarch profile from your SimplePractice account. To do this:
Important: The License Verification tab will only appear if you have an active Monarch profile and availability for online appointment requests from new clients. License verification is available at no additional cost for paid SimplePractice customers on the Essential or Plus plan.
You'll see your licenses listed with an option to Verify License
Click Verify License next to the license you're submitting for verification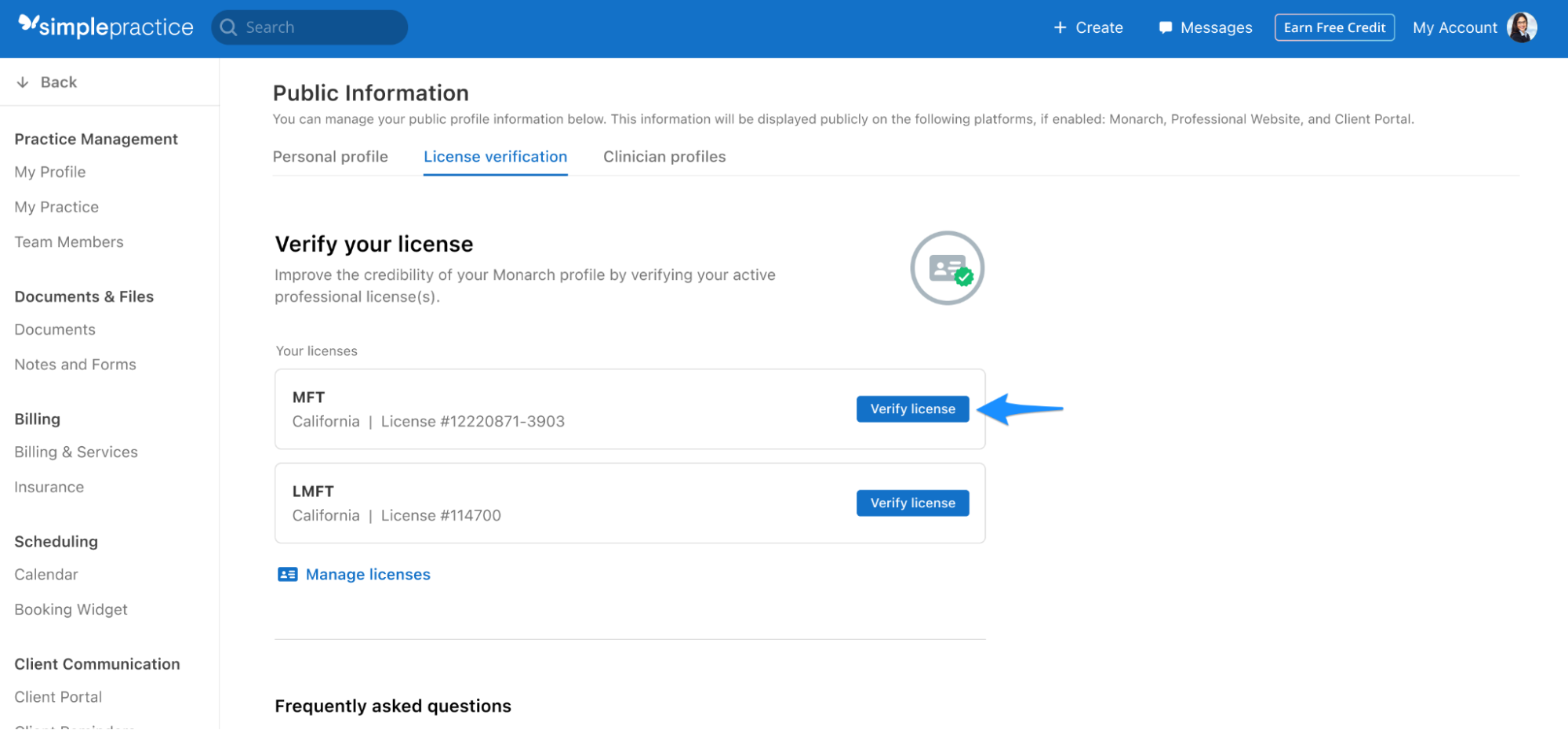 Enter your personal information

Providing your date of birth can help speed up the verification process

Click Next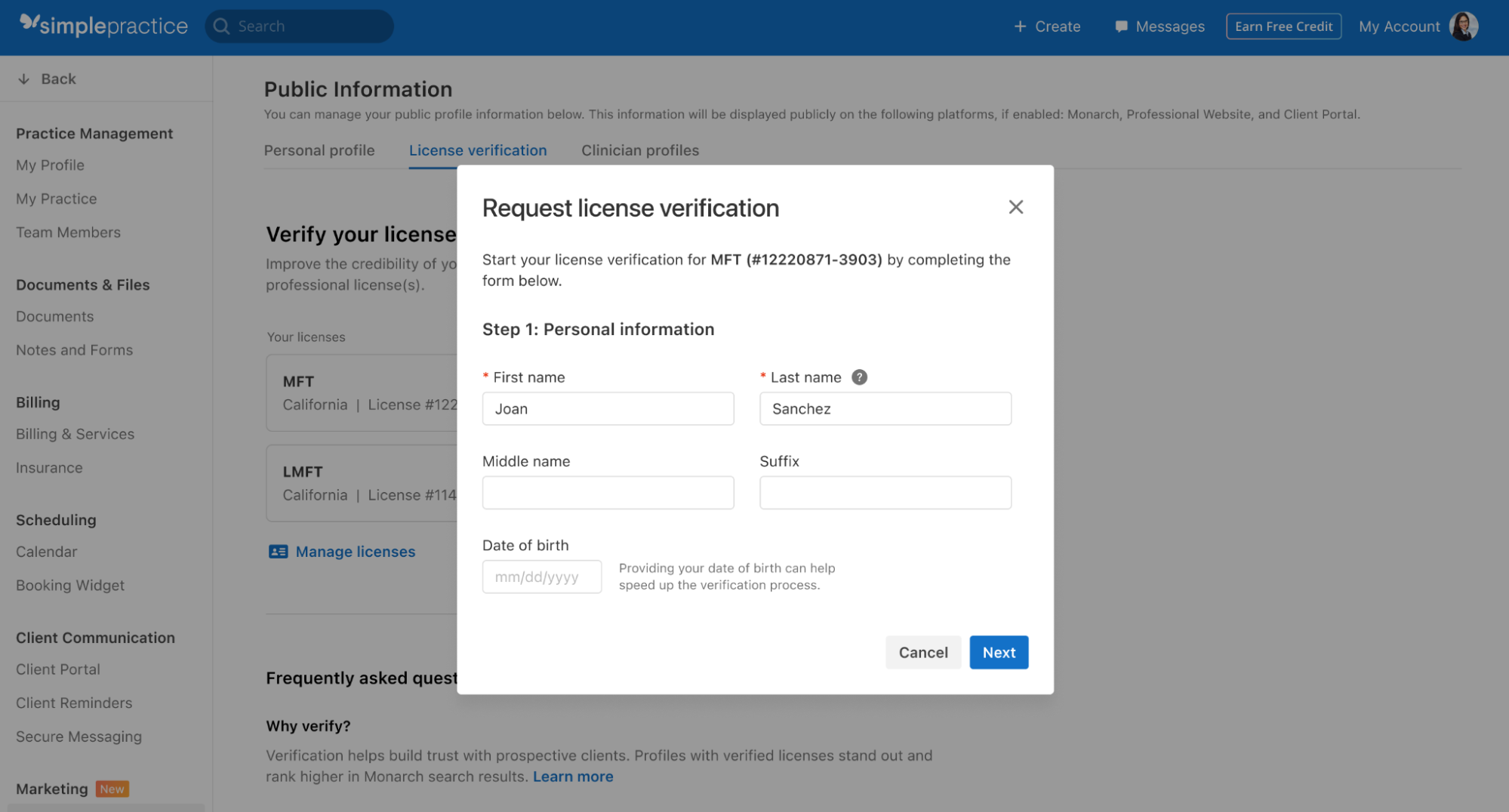 Confirm your personal and license information
Click Submit request
License verification can take 1 to 5 business days. During this time, your request will show as Pending verification.
Note: There's no way to edit your license information after you've submitted it for verification. If you need to update your license information, you can navigate to Settings > My Profile > Clinical, delete the existing entry, and add a new license. If needed, you can then resubmit your license verification request from Settings > Public Information > License Verification.
If you have multiple license types, you can only submit one verification request at a time.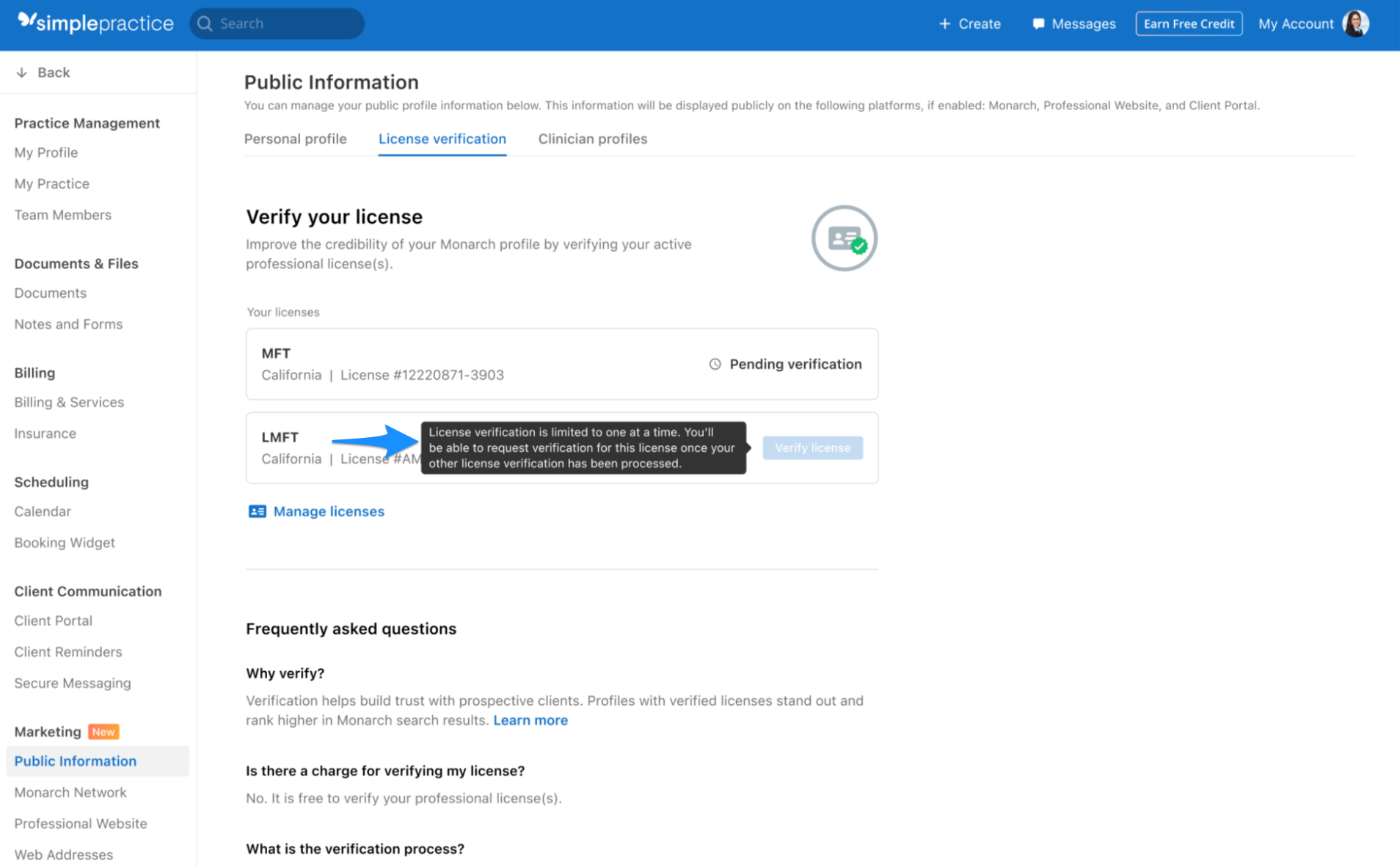 You'll be able to submit additional license verification requests once the pending request is approved or denied. If successfully verified, a Verified badge will appear next to the license type.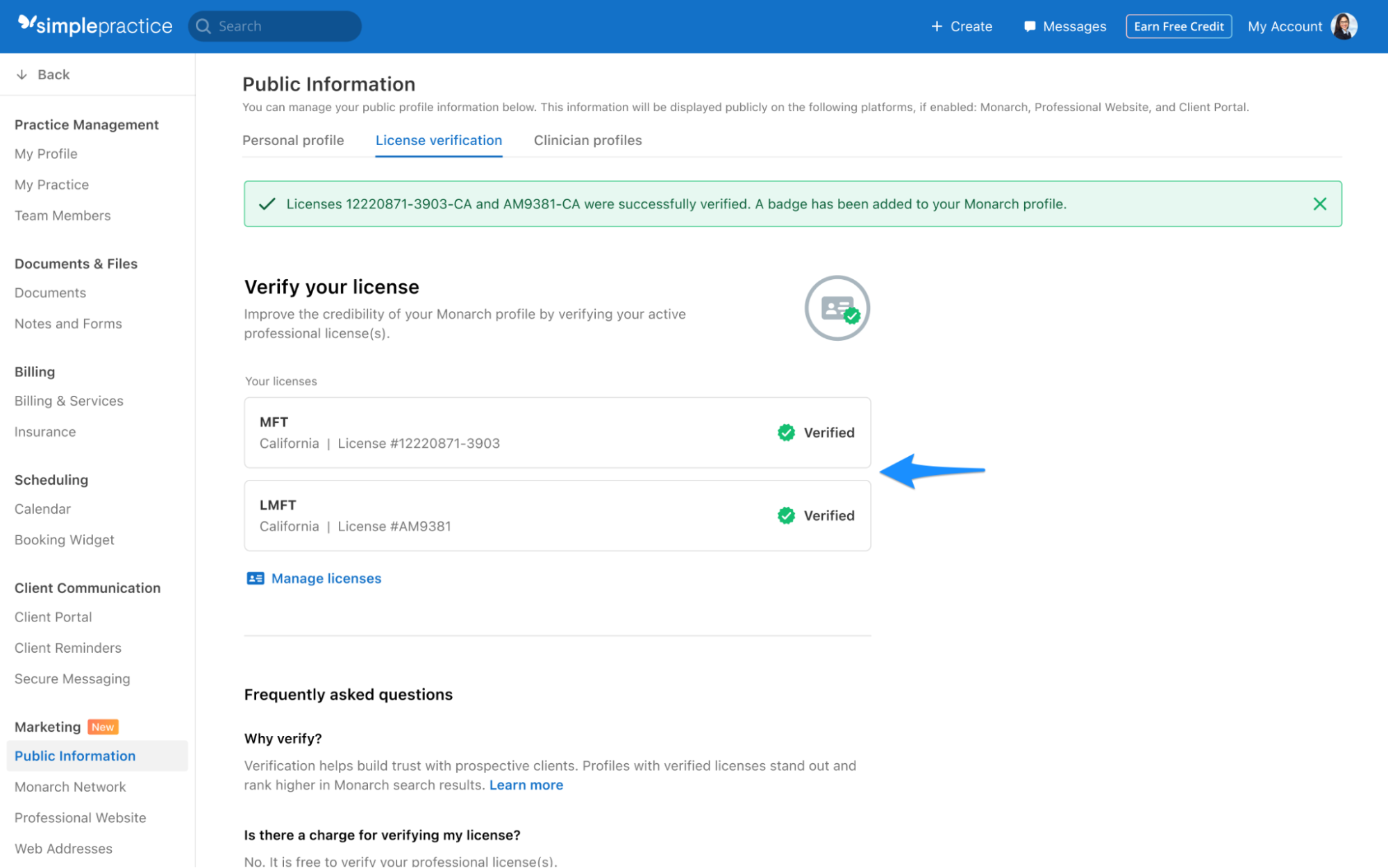 A license verification badge will also be displayed on your Monarch profile.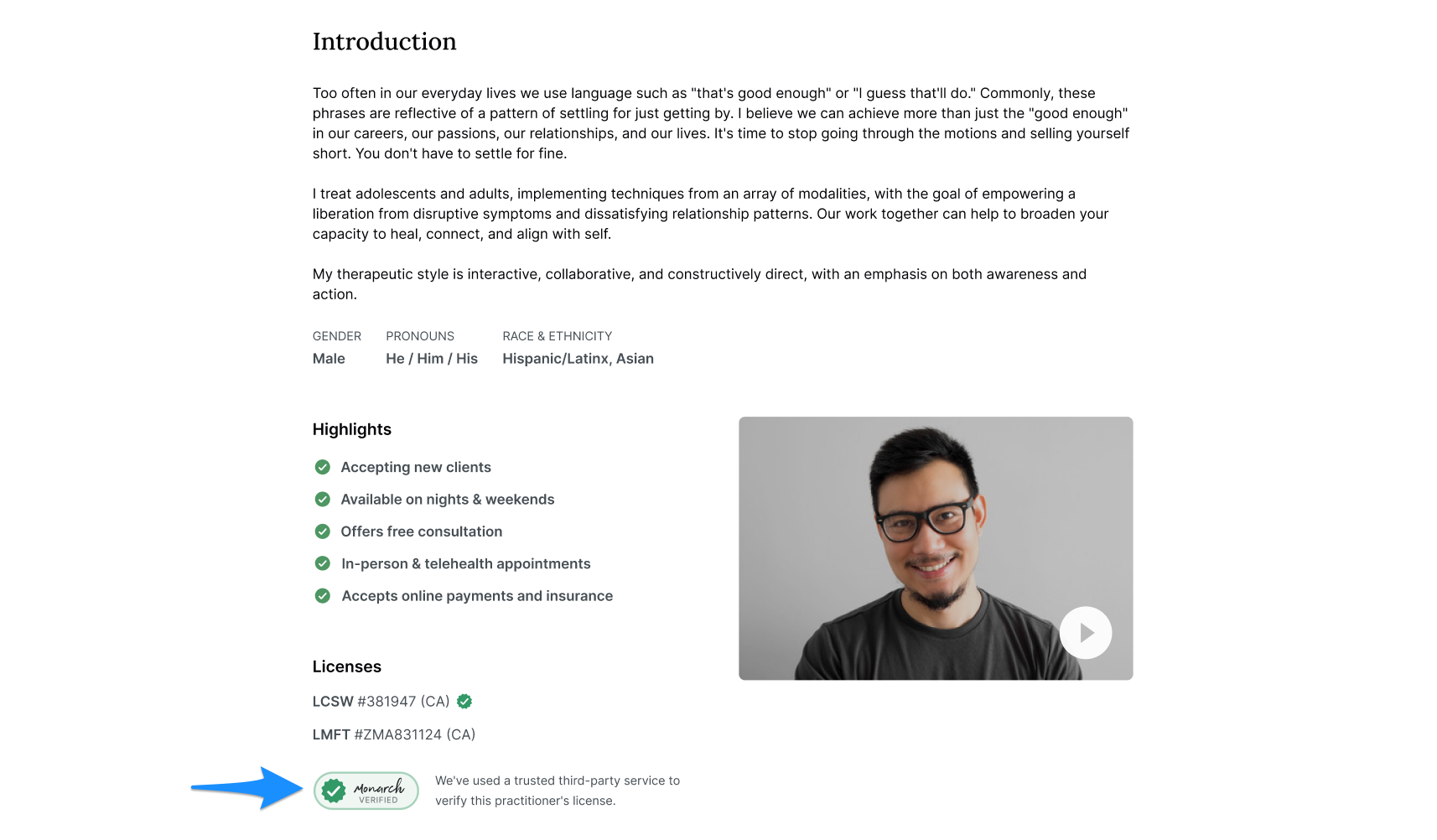 ---
License types that are supported for verification
Monarch supports behavioral health therapists, including social workers, marriage and family therapists, mental health counselors, psychologists, and substance use disorder counselors. However, only certain license types can be verified at this time.
In the table below, you'll find the license types we currently can and cannot verify.
Tip: If you're using a Mac, press Command+F to quickly search the table for your license type. If you're using a PC, press Control+F.
| | |
| --- | --- |
| License type | Supported for verification |
| LMFT | YES |
| LCSW | YES |
| ASW | YES |
| LPC | YES |
| Psy. D. | YES |
| MD | YES |
| RN | YES |
| LCPC | YES |
| LICSW | YES |
| LIMHP | YES |
| LCSW-C | YES |
| LMHCA | YES |
| LMFTA | YES |
| RD | YES |
| LMHP | YES |
| LPC-I | YES |
| MFTI | YES |
| LSWAIC | YES |
| LPCA | YES |
| LAMFT | YES |
| LAC | YES |
| LPA | YES |
| LMLP | YES |
| LPC-S | YES |
| LGMFT | YES |
| CMHC | YES |
| LPC-Intern | YES |
| LMFT-S | YES |
| SLP | YES |
| LISW-CP | YES |
| LISW | YES |
| LPMFT | YES |
| RDT | YES |
| PLMHP | YES |
| APC | YES |
| LSW | YES |
| BCBA | YES |
| LMFT-Intern | YES |
| PLPC | YES |
| LADC | YES |
| LCGC | YES |
| OTR/L | YES |
| COTA-L | YES |
| OTL | YES |
| OTA/L | YES |
| CCC-A | YES |
| CCC-SLP | YES |
| DPT | YES |
| PT | YES |
| RDN | YES |
| CADC I | YES |
| CADC II | YES |
| CADC CS | YES |
| RPT | YES |
| LBA | YES |
| DO | YES |
| ATR | YES |
| PCC-Intern | YES |
| LCADC | YES |
| ACMHC | YES |
| RCC | YES |
| QMHA | YES |
| QMHP | YES |
| NP | YES |
| MFT | YES |
| LPCC-S | YES |
| LCSW-R | YES |
| LCAT | YES |
| AMFT | YES |
| LISW-S | YES |
| SLP-A | YES |
| LLMFT | YES |
| LCDC | YES |
| LSAT | YES |
| MFTC | YES |
| LGSW | YES |
| LPC-MHSP | YES |
| LBSW | YES |
| DN | YES |
| LADC/MH | YES |
| NCC | YES |
| LMT | YES |
| LCMHC | YES |
| LPC-MH | YES |
| PA-C | YES |
| MT-BC | YES |
| LSCSW | YES |
| APCC | YES |
| LGPC | YES |
| PTA | YES |
| LCAS | YES |
| CCS | YES |
| MaC | YES |
| ATR-BC | YES |
| ARNP | YES |
| LEP | YES |
| CSW-PIP | YES |
| BCBA-D | YES |
| BCaBA | YES |
| RBT | YES |
| RSW | YES |
| LDN | YES |
| LCAC | YES |
| LCP | YES |
| LMFT Associate | YES |
| LCDC-Intern | YES |
| CDE | YES |
| CSW | YES |
| CADC-III | YES |
| LCSW-S | YES |
| IBCLC | YES |
| CAADC | YES |
| MHC-LP | YES |
| CDP | YES |
| BCTMB | YES |
| CMT | YES |
| CBT | YES |
| LMBT | YES |
| RMT | YES |
| LSATP | YES |
| LPAT | YES |
| LADAC | YES |
| CRPO | YES |
| LISAC | YES |
| PCMSW | YES |
| PLADC | YES |
| LICDC | YES |
| LPE-I | YES |
| CADAC II | YES |
| CADAC III | YES |
| CADAC IV | YES |
| CADAC V | YES |
| NCAC I | YES |
| NCAC II | YES |
| CCJP | YES |
| ICAADAC | YES |
| LLMSW | YES |
| MSW | YES |
| LCMHCS | YES |
| LCMHCA | YES |
| FMHNP | YES |
| MLADC | YES |
| LCHMC | YES |
| Resident in MFT | YES |
| CDN | YES |
| RMHCI | YES |
| CTRS | YES |
| DDS | YES |
| DMD | YES |
| Resident in Counseling | YES |
| Registered Psychological Assistant | YES |
| Licensed Psychologist | YES |
| LCPAT | YES |
| SUDP | YES |
| LSSP | YES |
| HSP | YES |
| PLMFT | YES |
| CPCS | YES |
| QBHS | YES |
| RCSWI | YES |
| MSW-Intern | YES |
| CCC | YES |
| RADT | YES |
| LMHC | YES |
| LPCC | YES |
| LMSW | YES |
| LP | YES |
| Ph. D. | NO |
| Ed. D. | NO |
| Other | NO |
| RP | NO |
| MA | NO |
| MA, LP | NO |
| LCMFT | NO |
| IMFT | NO |
| CGC | NO |
| MPT | NO |
| FAOTA | NO |
| LAADC | NO |
| SAP | NO |
| LMHC-I | NO |
| PsyaD | NO |
| DC | NO |
| CN | NO |
| CHT | NO |
| CSWA | NO |
| LLPC | NO |
| TLP | NO |
| RPA | NO |
| RAC | NO |
| LLP | NO |
| BCB-T | NO |
| BCBA | NO |
| LCSWA | NO |
| PMHNP-BC | NO |
| DOM | NO |
| ND | NO |
| CAc | NO |
| NCTMB | NO |
| CMBT | NO |
| CACIII | NO |
| Intern | NO |
| IMFT-S | NO |
| MA LLP | NO |
| E.Passport/APIT | NO |
| ICACI | NO |
| ICACII | NO |
| CFT | NO |
| ICCJP | NO |
| ICCS | NO |
| ICAADC | NO |
| MSW | NO |
| LCMHCA | NO |
| MS | NO |
| MAC | NO |
| M.Ed. | NO |
| RPC-C | NO |
| RPC | NO |
| MPCC | NO |
| MPCC-S | NO |
| CDCA | NO |
| DACM | NO |
| MSTOM | NO |
| L.Ac. | NO |
| BHT | NO |
| HAS | NO |
| SUDP | NO |
| SUDPT | NO |