With SimplePractice Availability Scheduling, you can easily indicate the times you're available so your clients can schedule their own appointments. You can also specify the services you provide during your Availability blocks. Any appointments you already have on your calendar will block those times that are available to prevent double booking from clients. This doesn't block you from scheduling multiple appointments at the same time.
We've integrated a Call-to-Request feature as well, which allows you to designate service codes as available to book by phone call.
To get started with Availability Scheduling, make sure you have enabled online appointment requests. If you haven't yet, learn how to enable appointment requests. Once you've enabled online appointment requests, you're ready to start setting your Availability.
In this guide, we'll cover:
---
Setting Availability
For most clinicians, setting your Availability means setting your practice hours. For others, it might mean setting a few open blocks for clients to schedule online.
To get started, navigate to your Calendar homepage. If online appointment requests is enabled and you have at least one office location listed at Settings > My Practice > Locations, you'll see an Availability button in the upper right-hand corner of the calendar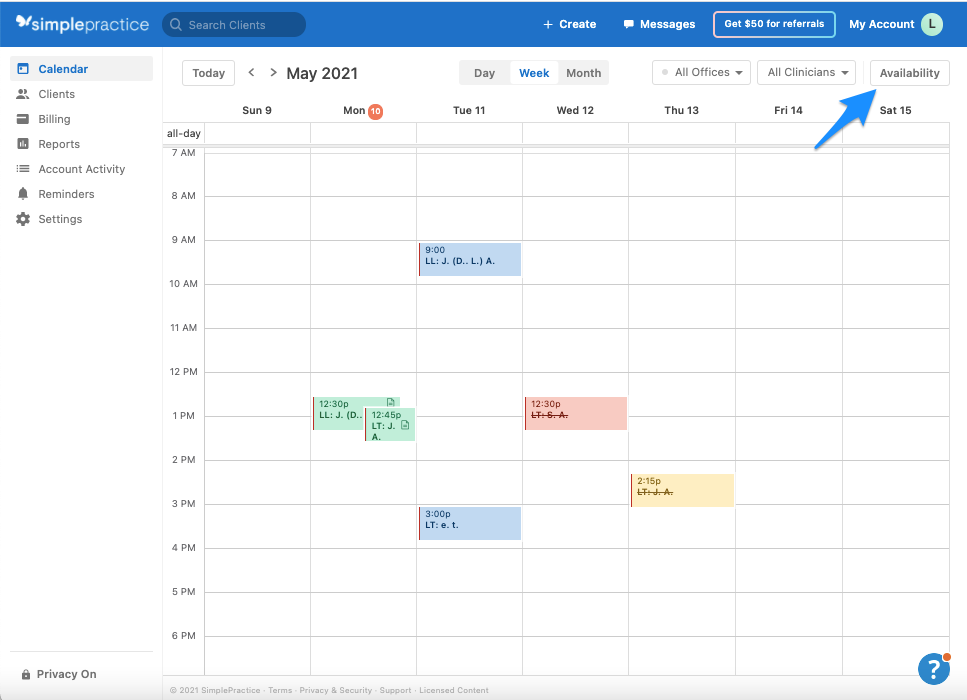 Click Availability to open the Availability mode. Click anywhere on the calendar to add a new Availability block
Type in a title for your Availability block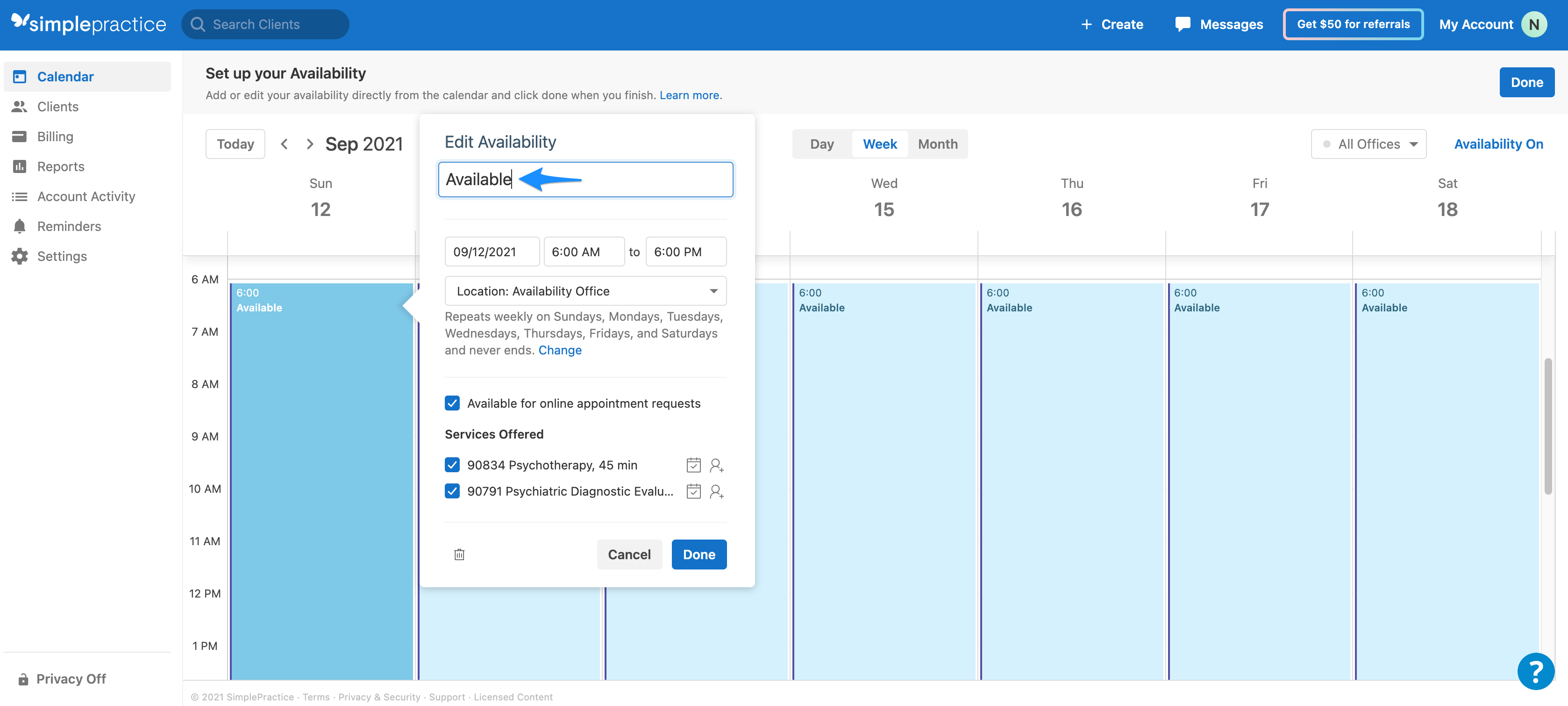 Click the time to adjust the start and end times for your Availability blocks
Set the Location of where you want to offer this Availability
Check the box next to Repeats to set repeating blocks. For example, if your regular hours are from 9:00 AM to 4:00 PM, you can have these Availability blocks repeat for the days of the week that you are available each week
Select the drop-down next to Every to set the frequency. If you want it to repeat every week, leave it at 1. You can make this repeat up to every 8 weeks
Select the drop-down next to Ends. If this is temporary, you can select After or On Date Otherwise, you can select Never if these are your typical hours and you want them to repeat. You'll always have the option to delete individual blocks later
If you want to offer multiple services, your active codes will display and you can select the available services for this time block. You can learn how to enable your service codes for online appointment requests here: Enabling online appointment requests
Click Done
You can click anywhere on the calendar to add another Availability block. You can also add multiple Availability blocks that overlap. Follow the previous steps to create another Availability block.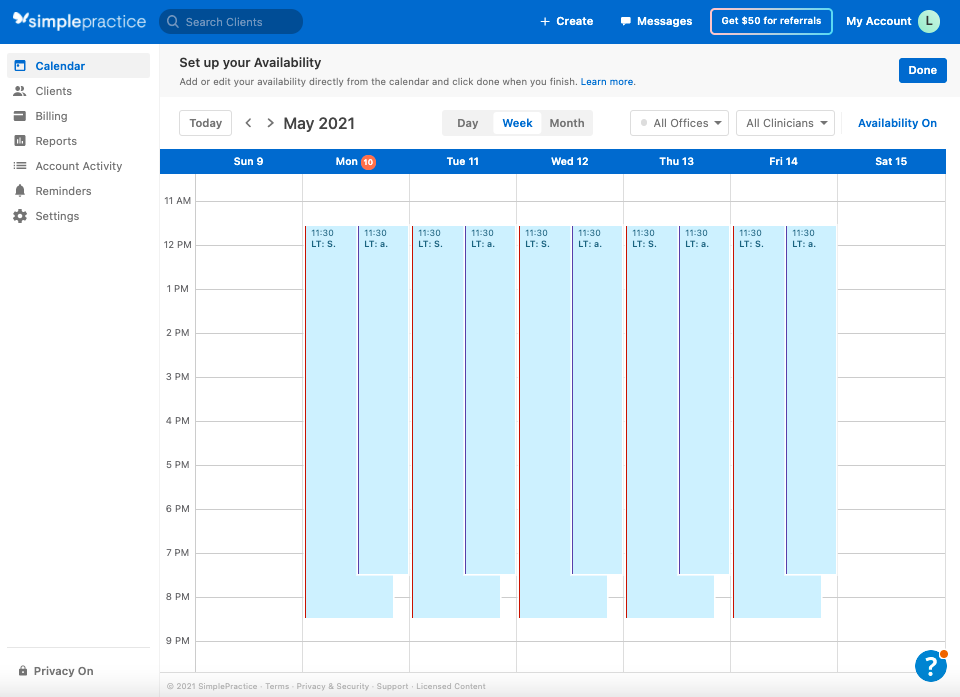 ---
Editing Availability
If you want to make any changes to your Availability:
Click the Availability block you want to edit. A fly out will appear and you can edit the name, date, time, location, and services offered
Once you have made your changes, click Done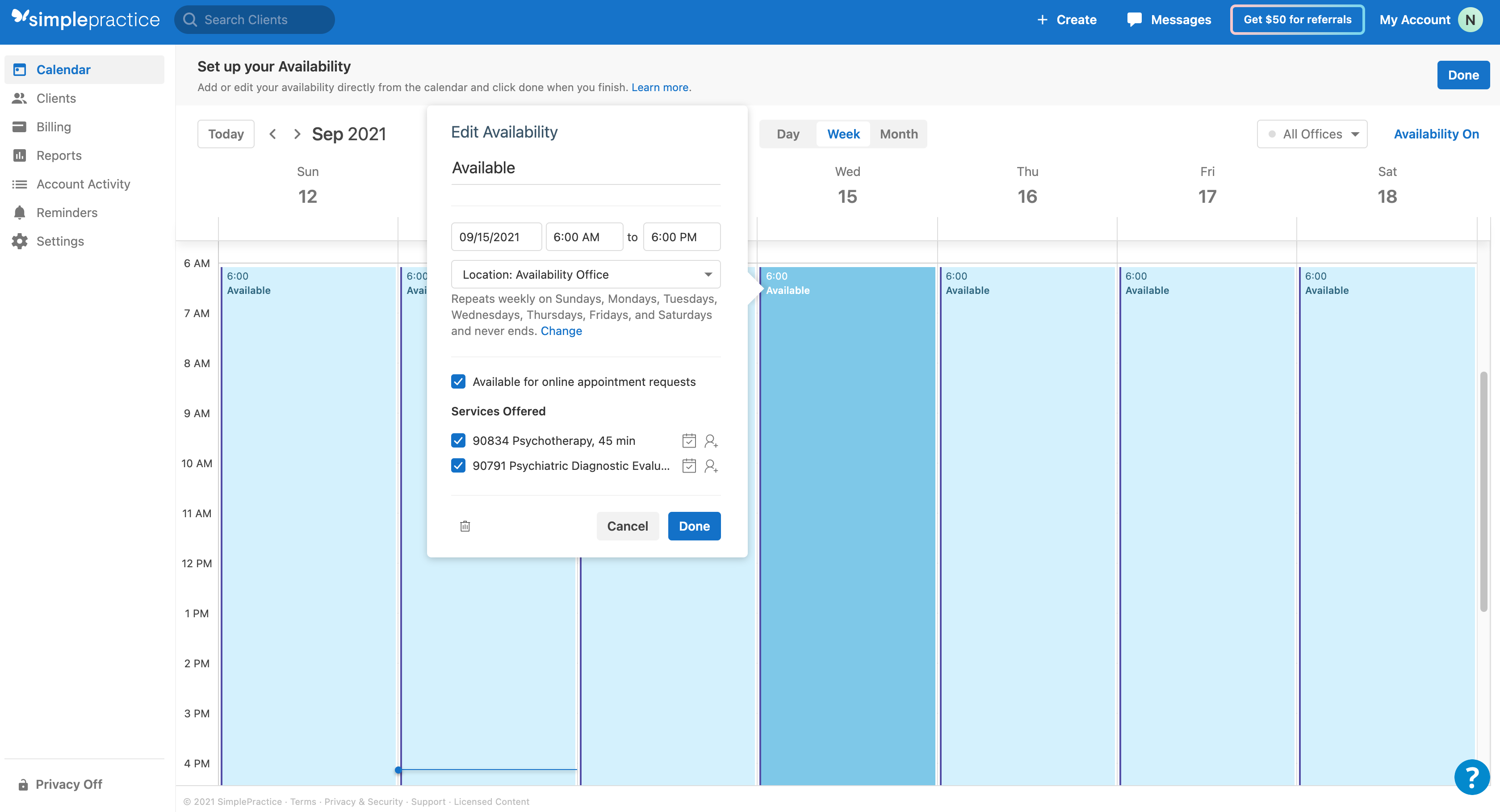 ---
Deleting Availability
To delete an Availability block, click on the Availability block that you want to delete and click the trash can icon in the flyout window.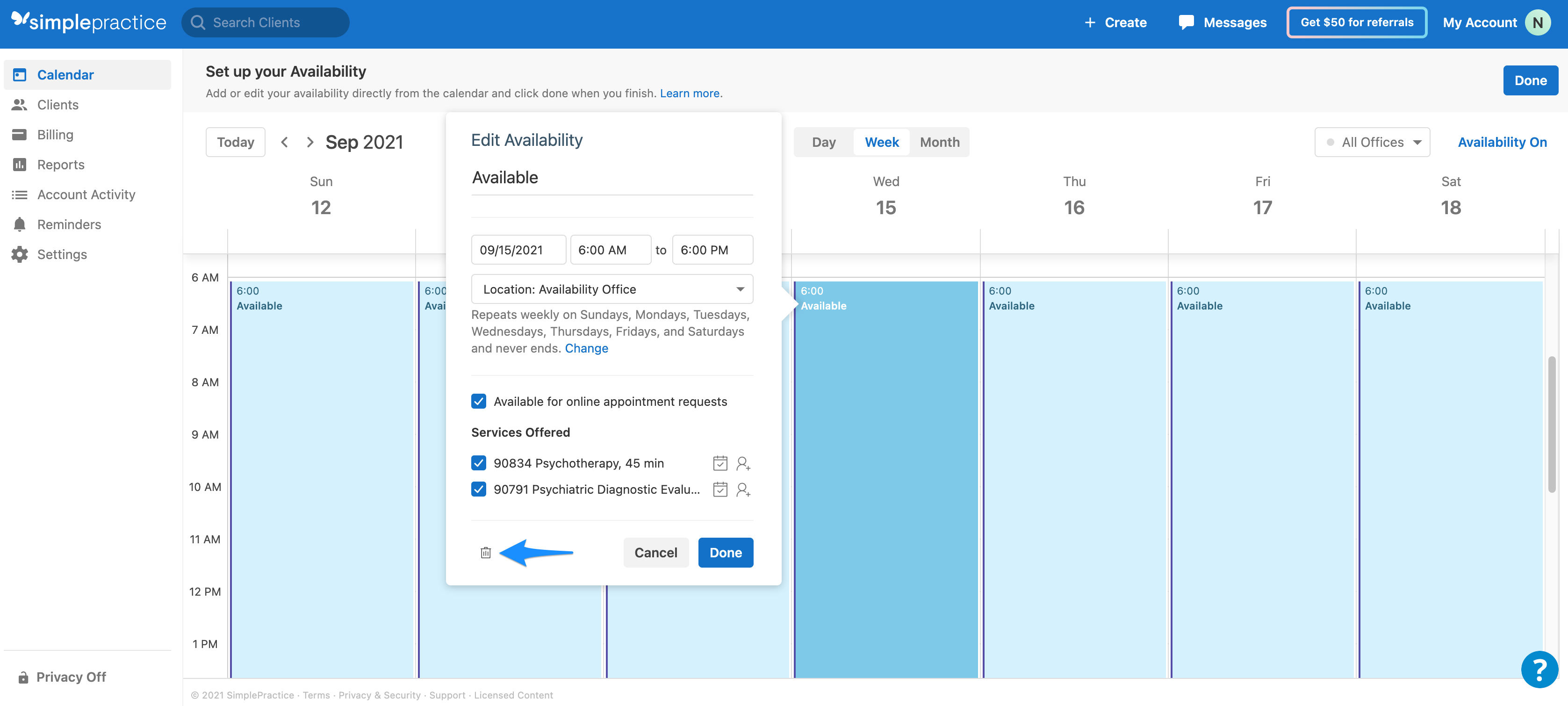 If the Availability block is recurring, you have the option to delete the single availability block, all future availability blocks, or all availabilities blocks in the series.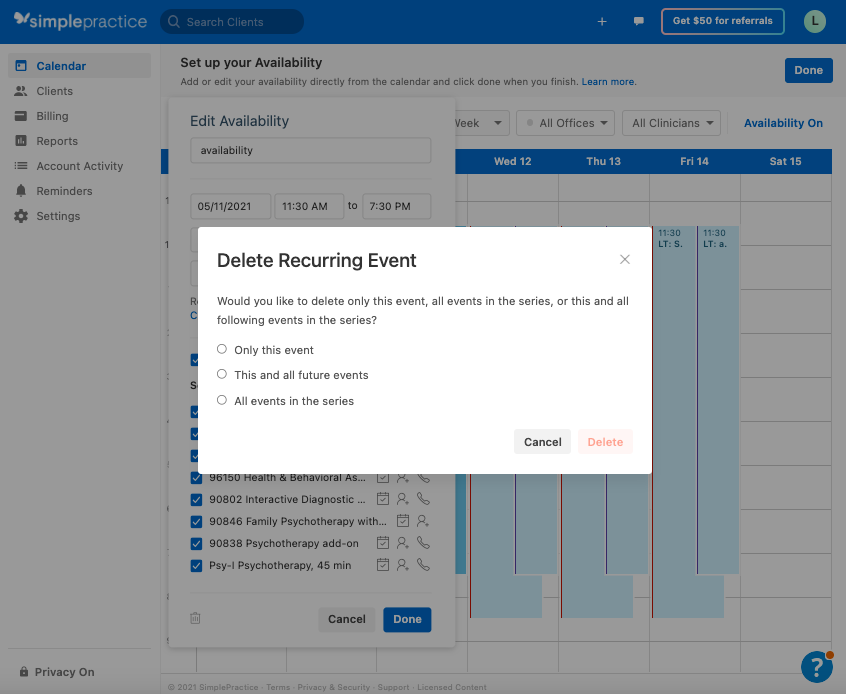 ---
Scheduling time between appointments
If you have Appointment Requests enabled to book appointments by session duration, you can automatically schedule breaks in between sessions or add extra buffer time to allow for paperwork or time between clients. For example, if you have a 50 minute session and you need 10 minutes after each session to prep for your next session, you can adjust your schedule so that session blocks takes 60 minutes instead of starting the next appointment immediately after. Here's how to do this:
Go to Settings > Billing and Services > Services
Click the service code you want to edit
Make sure Available for online appointment requests is selected to see all Booking Options
Enter a number of minutes to block off before and/or after the appointment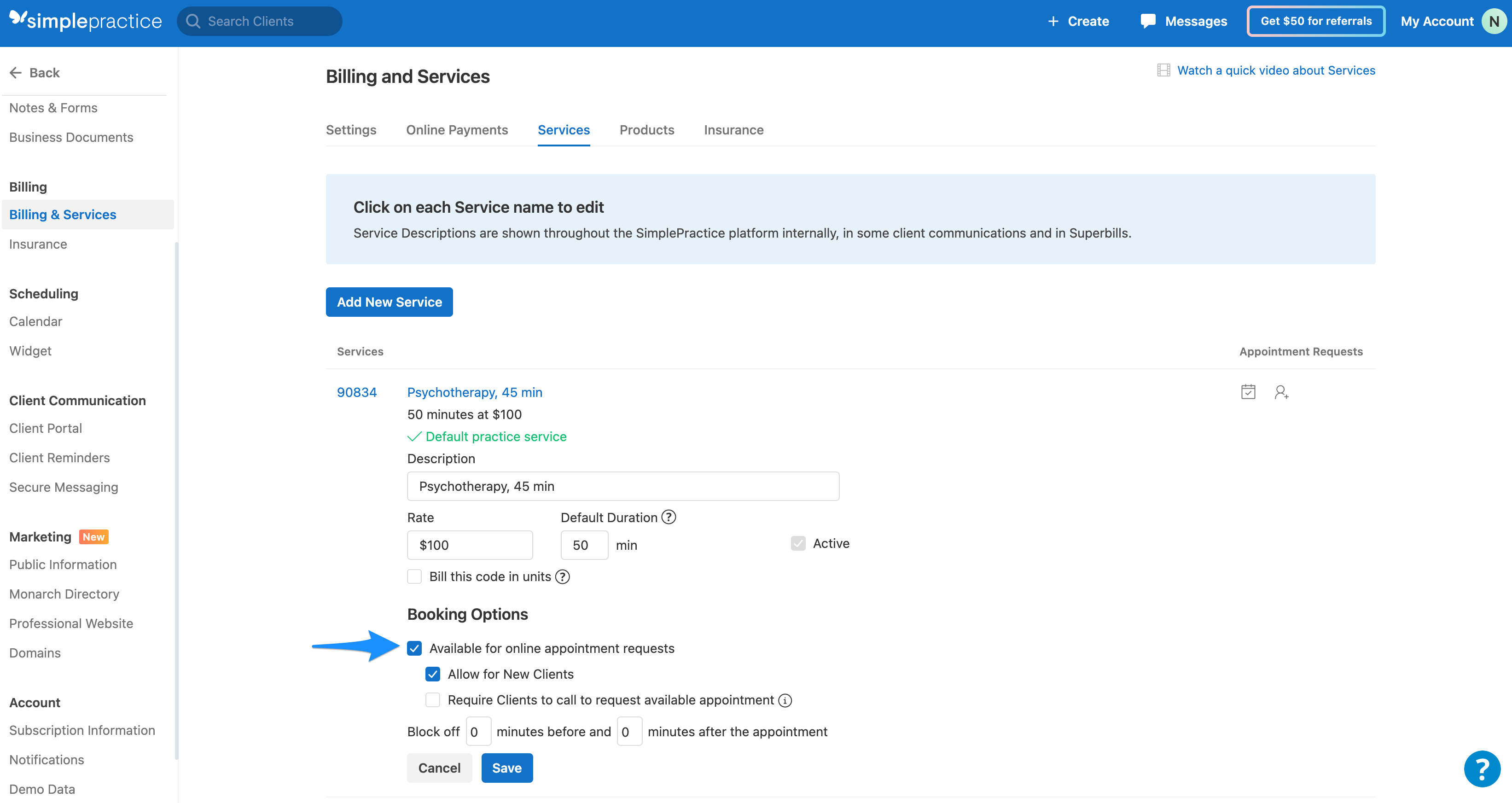 Note: We recommend only choosing to block off time before or after a service, not both. This will help to keep your Availability streamlined and easier to troubleshoot if issues arise.
---
Scheduling available appointments at the bottom of the hour
You have the flexibility to customize your hours of availability however you need. You can have sessions begin on the hour, the half hour, or every 1.5 hours.
Note: Before proceeding, set your availability to start on the half hour and make sure the service codes you want to use are selected.
Next, follow these steps:
Go to Settings > Client Portal
Select According to service duration for the Client can request appointments setting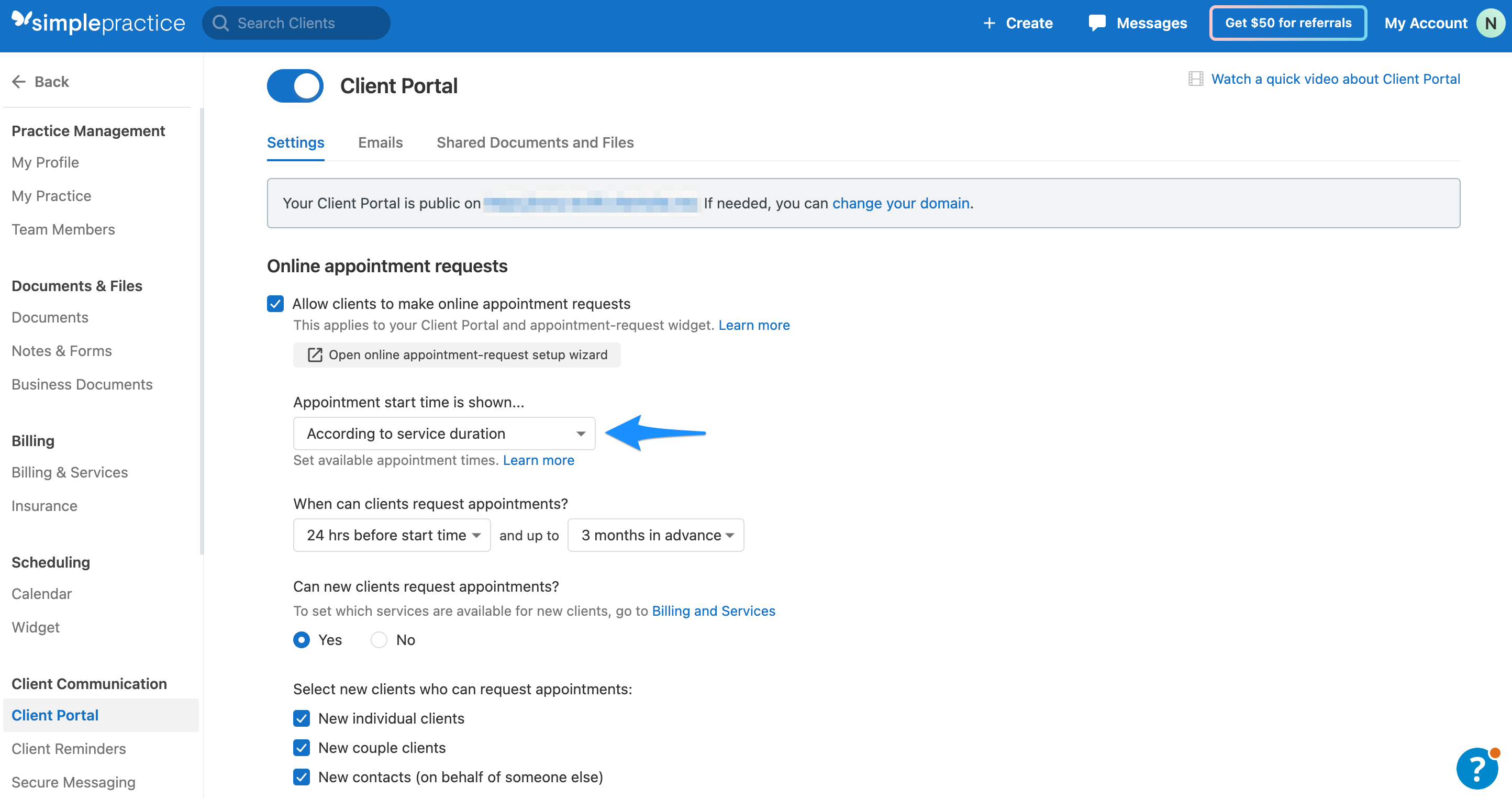 Next, confirm that the appointment duration works for your setup by following these steps:
Go to Settings > Billing and Services > Services
Select the service you want to offer for this custom time event

Repeat these steps if you have other codes with similar requirements

Change the service code Duration to 60 minutes

If the duration is already set to 60 minutes, you do not need to make any changes
If the duration is set to 50 minutes, you'll want to add extra time by adding a 10 minute block off time, but not affect the billable duration


Click Save
You can customize these buffer times if you would like your appointments to be available every 1.5 hours or other custom times.
---
Displaying Availability without enabling online appointment requests
You can set availability blocks that help you see your available times or show your team when you are available, even if that time isn't available for your clients to book online. Here's how:
Click Availability to switch to your Availability calendar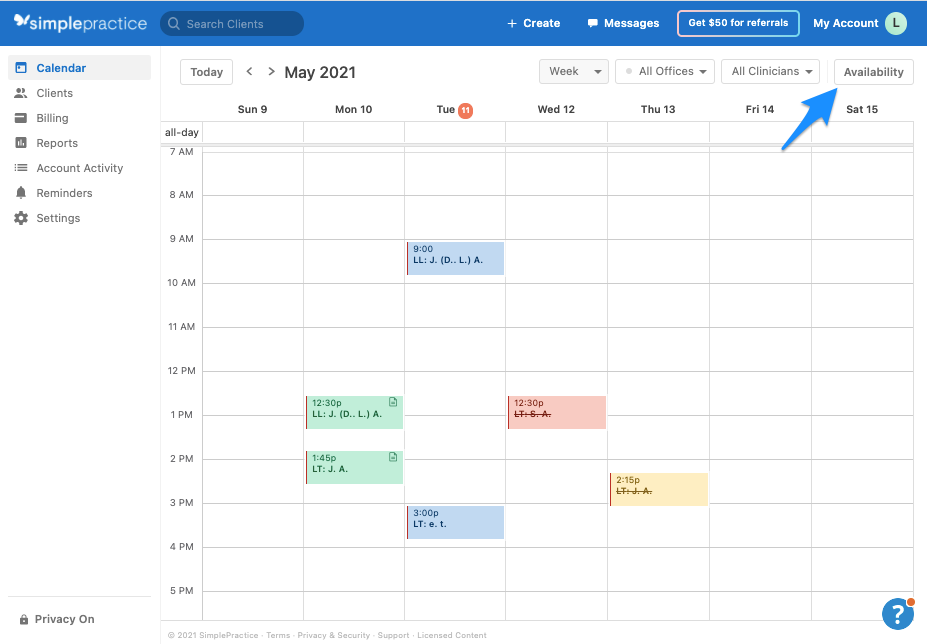 Click anywhere in the calendar and a flyout window will appear


Enter a title (i.e., Morning Availability, as shown below)

Change the duration if applicable
Uncheck Available for online appointment requests
Click Done to save