Every insurance payer may have specific rules and requirements when filing an insurance claim but within SimplePractice, there is a minimum amount of information needed within your client and account settings to successfully create a claim. If you are just getting started with insurance billing in SimplePractice, please review this guide to get your account set up: Getting started guide - Insurance.
This guide will go through:
Once the CMS claim form is filled out and ready to file, click the Submit button at the top of the page.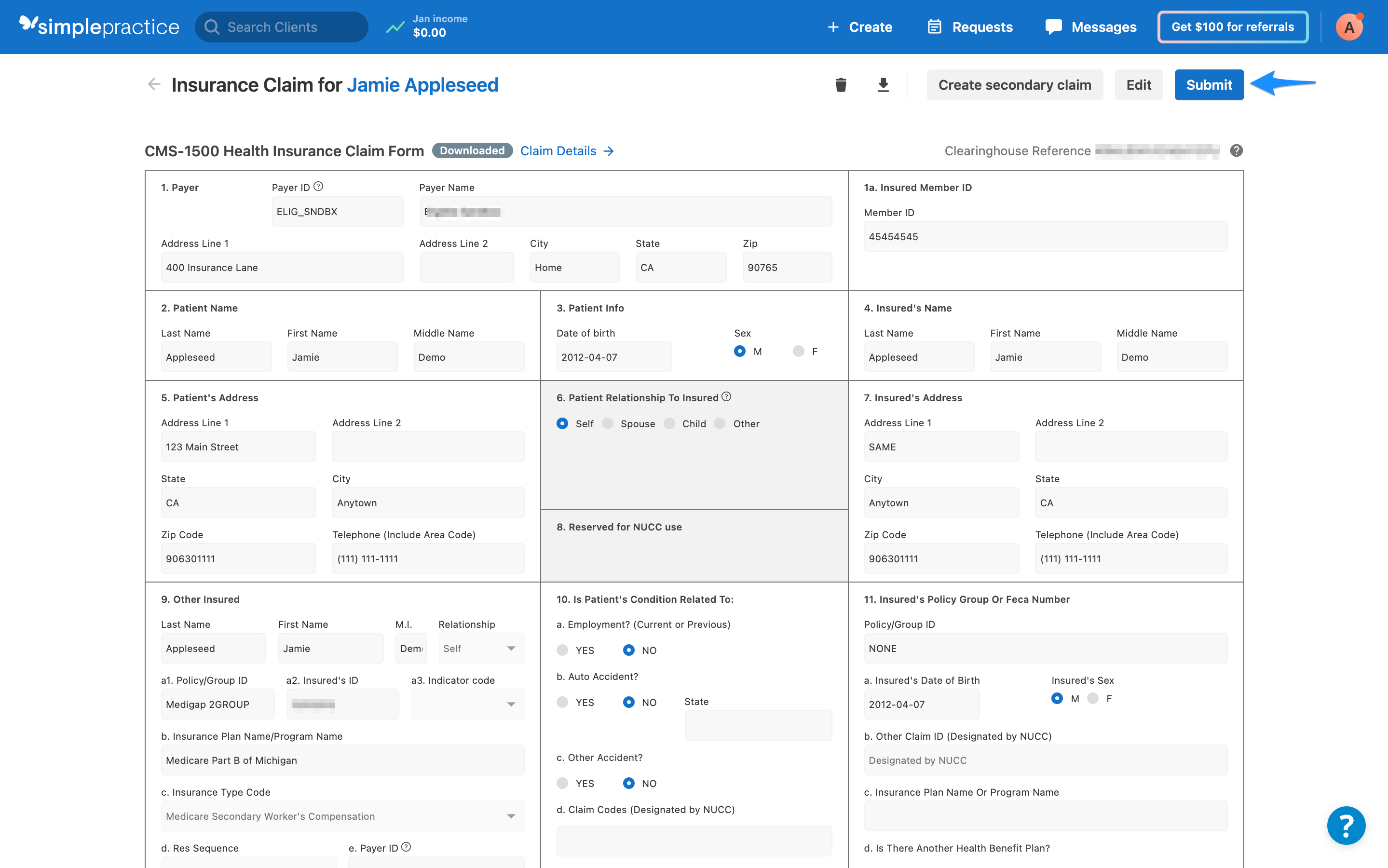 Important: If you've entered the client and account information as outlined in this guide and you're still unable to submit a claim, see our recommendations on what to do when a claim is scrubbed or rejected.
After the claim is submitted, you can review these guides to familiarize yourself with the claim statuses within SimplePractice and best practices we recommend for when to follow up with the payer: SimplePractice claim statuses and What should I do if my claim is stuck in a status?
If you need to make a correction to a claim you've already submitted, you'll have to wait until the claim has been rejected, or you've received the payer claim number. For information on resubmitting claims, see When to submit a corrected claim in SimplePractice and how.
Note: For information on submitting secondary claims in SimplePractice, see Filing secondary insurance claims. Please note, at this time SimplePractice only supports primary and secondary insurance claims
---
The minimum information required to create a claim
Within the client's settings, you will need to have on file the:
First name
Last name
Date of birth
Gender
Address
Phone number
The client's insurance information (payer and member ID)
Within the account settings, you will need the:
Provider name
NPI
Tax ID or Social Security number
Billing provider address
If you try to create an individual claim and some of this information missing, you'll see an error message indicating what additional information's required.
Tip: You can bill your insurance your full appointment fee on claim forms, even if that amount exceeds your contracted rate. This allows you to accurately record your billing and enter a write-off amount in SimplePractice. Payers will continue to pay you for your contracted rate, and they'll explain all of the remittance information for the appointment in the EOB.
---
Filing claims with both your organization and individual NPI
If you have two NPIs, the Individual NPI will be entered in the Clinical tab of your My Profile account setting, while the Organization NPI will be entered in the Settings tab of your Billing and Services account setting.
Entering your individual NPI
Navigate to Settings > My Profile > Clinical
Enter your individual NPI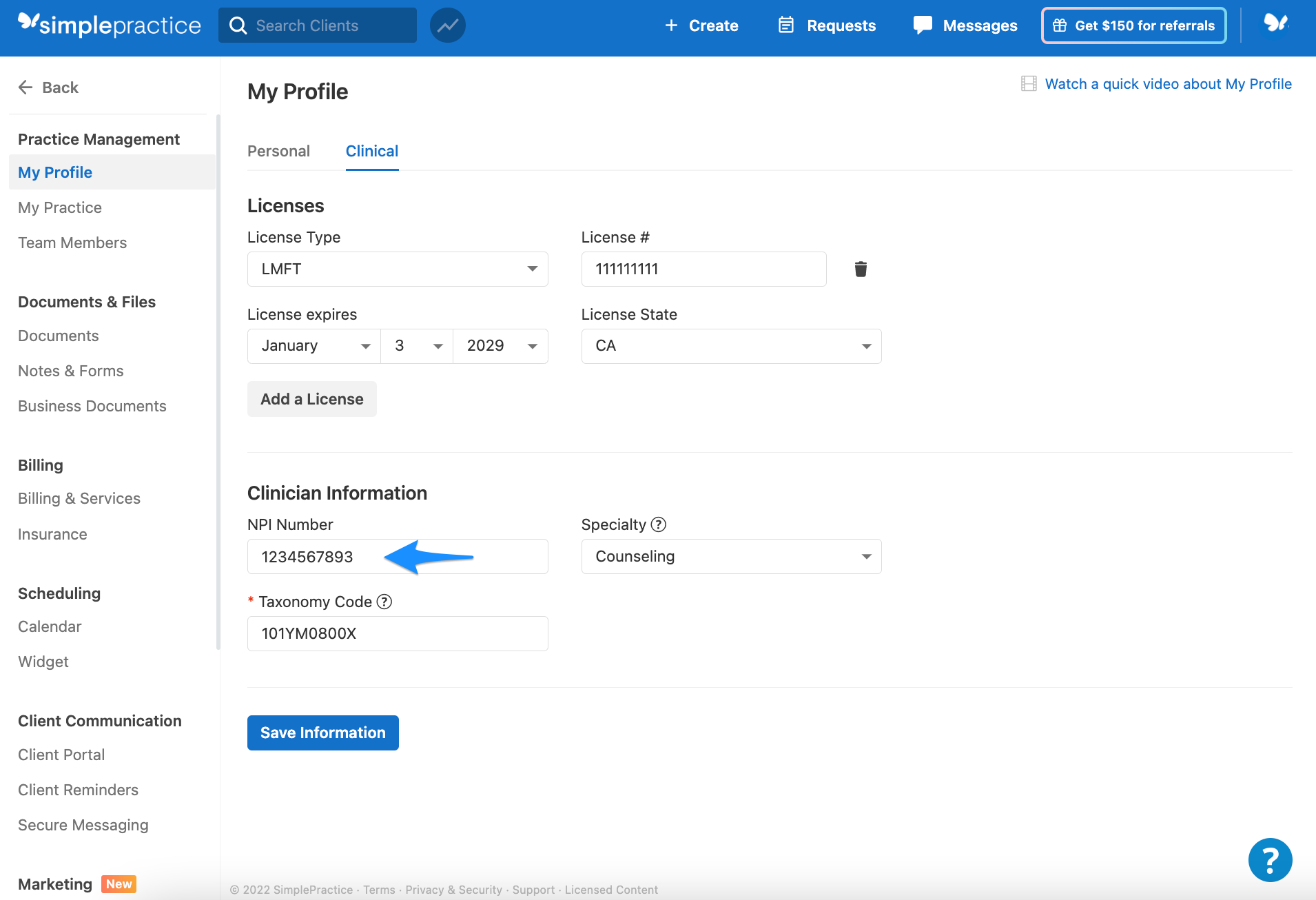 Note: Every clinician in your account will need to take this step.
Entering your organization's NPI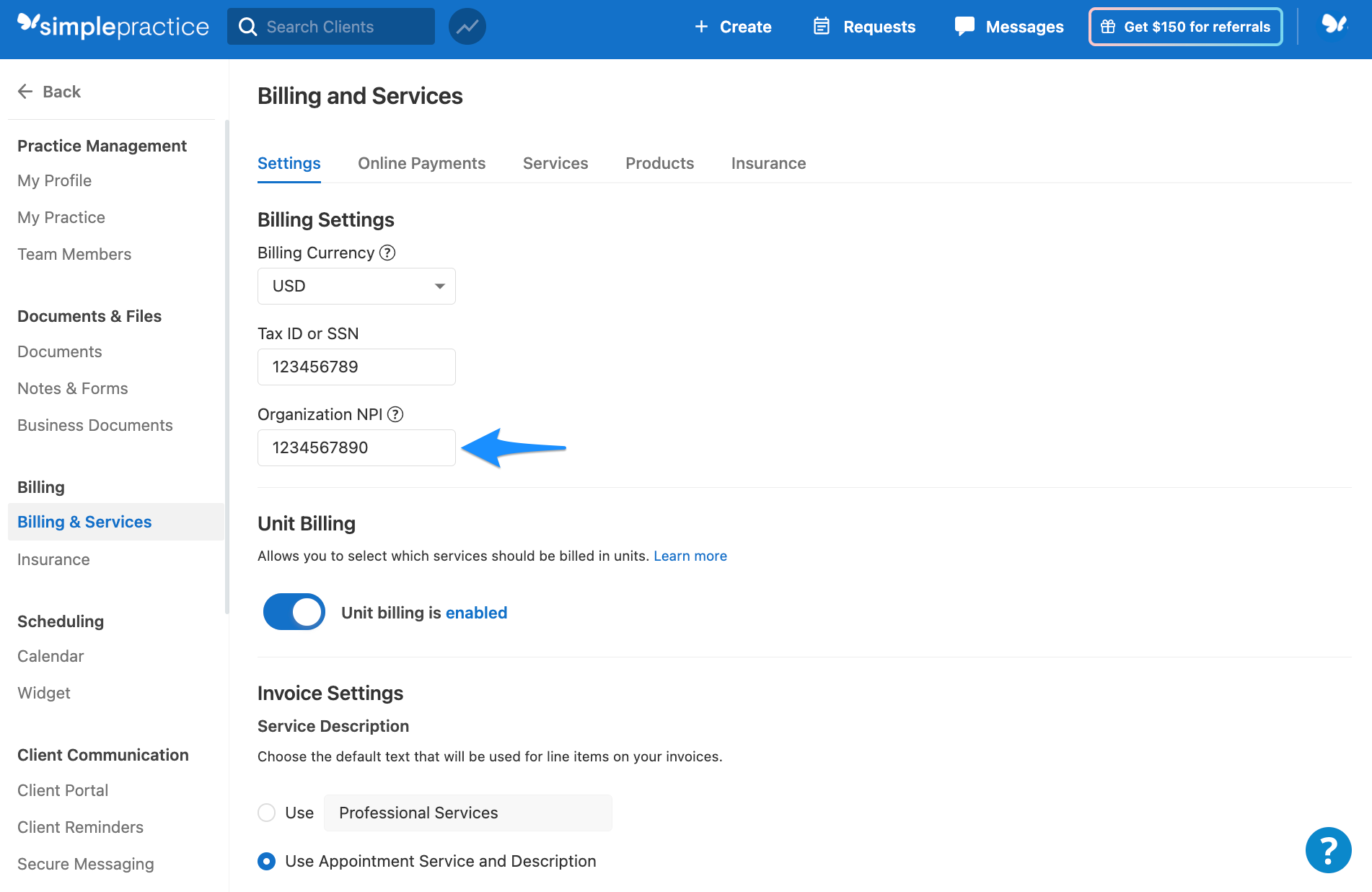 You will also need to make sure you've entered the Tax ID that is associated with your organization NPI.
Note: If your organization NPI is associated with an EIN, make sure you enter the EIN in this format XX-XXXXXXX.
If you are billing as an organization and would like the claim to populate with both your NPIs, you can select the Organization bubble within your insurance settings to ensure the billing provider information in Box 33 is populating with your organization information.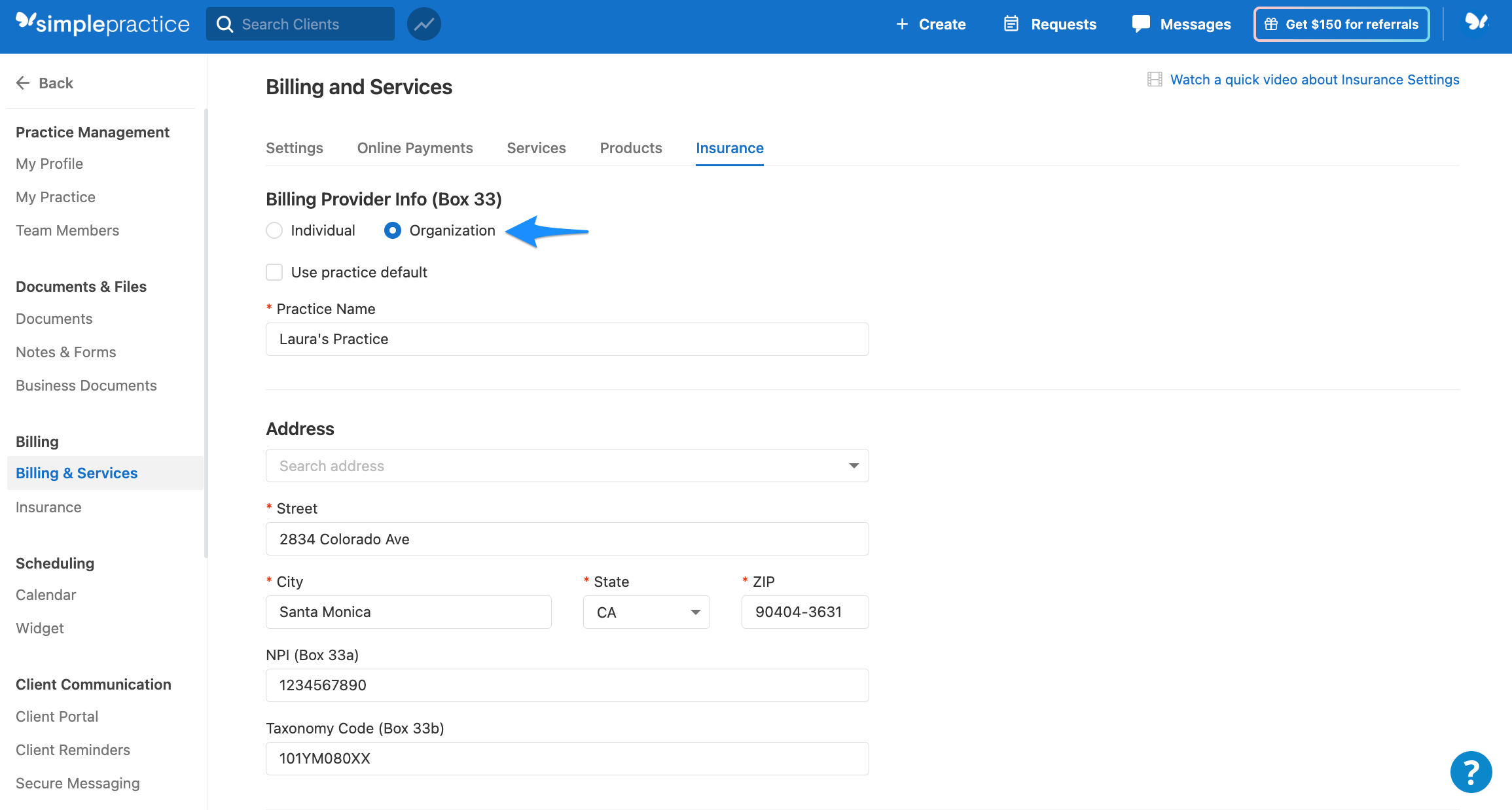 Once you've made these changes, every claim you create will include the NPIs for your clinicians in Box 24J as the individual who rendered the services and the group's information will populate in Box 33 as the billing provider.
---
Box 32: Service facility location
The requirement to include information in Box 32 is specific to each payer, and we recommend excluding it unless the payer has explicitly requested it be included.
Important: If the NPIs populating in Box 32A and 33A are identical, the service facility location box shouldn't be included, as the claim can be rejected by the payer due to duplicate data.
To include Box 32 on a claim to a payer that has specifically requested it be included:
Navigate to

Settings > Billing and Services > Insurance

Check

Include on Claim Form

under

Service Facility Location (Box 32)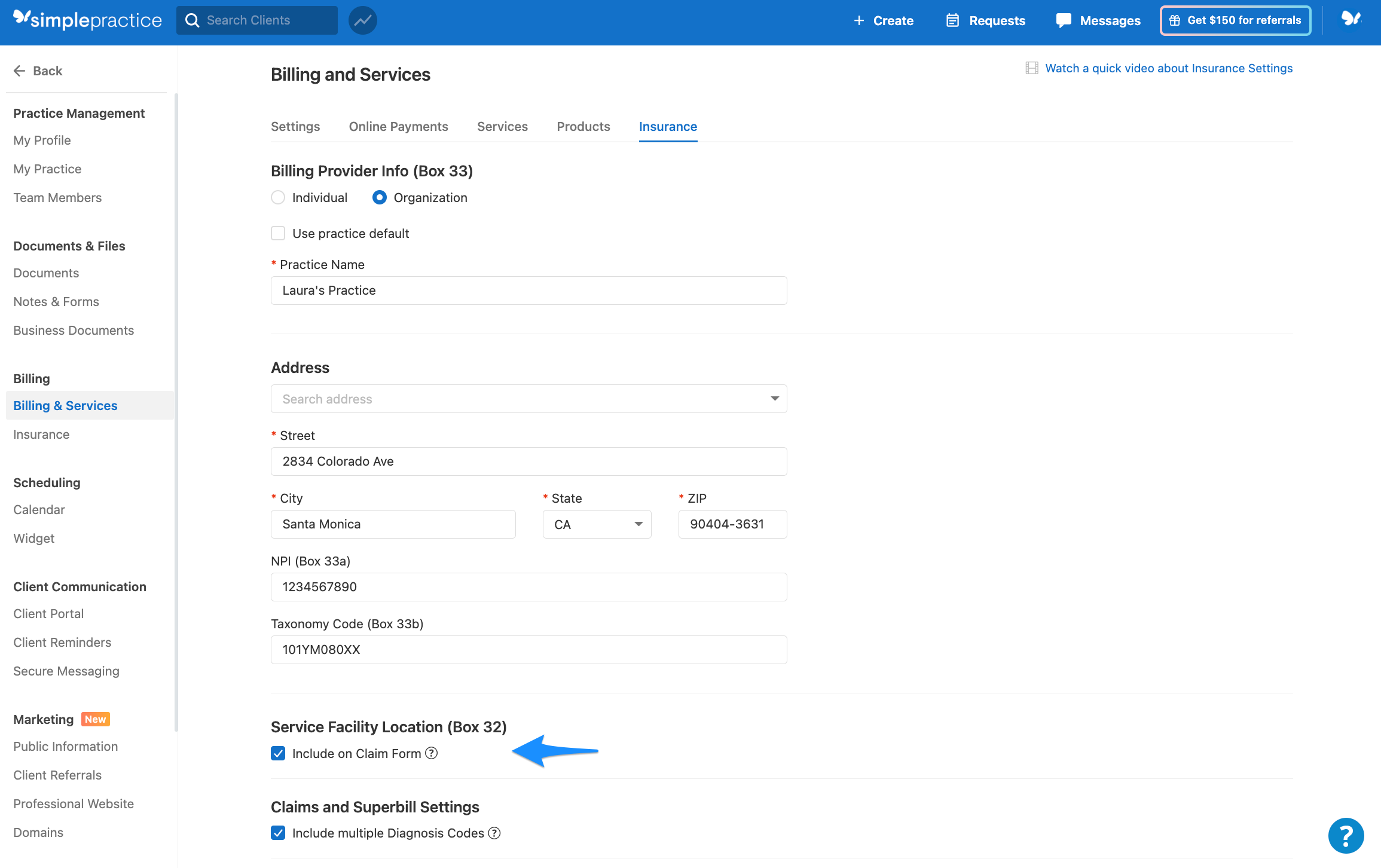 Selecting this option will automatically populate Box 32 on your claim forms, with the address of the location you assigned to this client when you scheduled their appointment.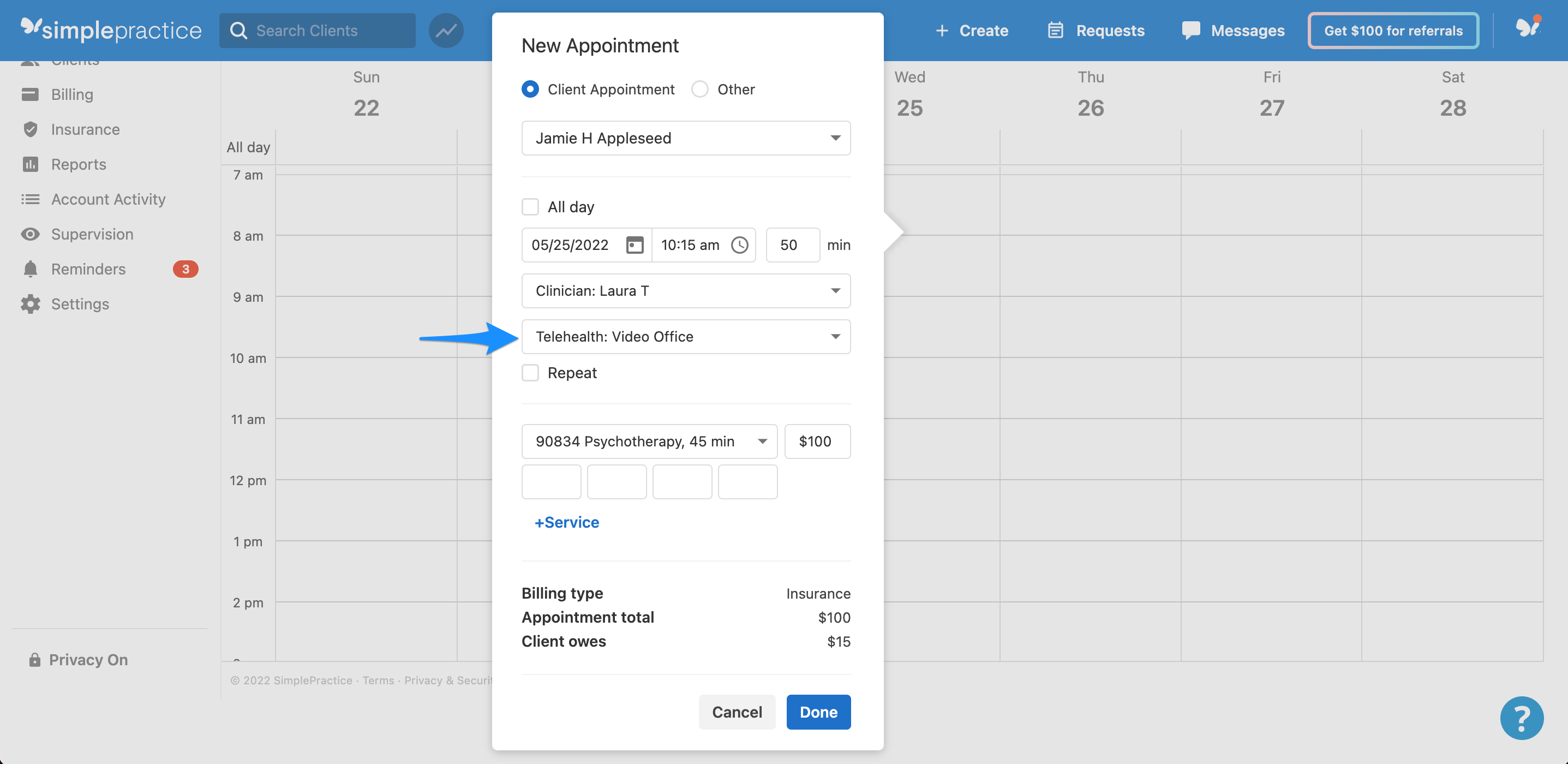 Now that you've collected all the required information, you can start creating and filing claims. For additional information, see: