Creating batch claims is an efficient way to get your billing done. Batch claims allow you to include up to six appointments for a single client on one claim. Batch claim filing is highly recommended to save you time and money.
In this guide, we'll cover:
Note: The Unbilled appointments tab lists all appointments for clients whose billing type is set to Insurance and aren't yet included on a claim. Appointments set to Self-Pay aren't included.
---
How to create batch claims
A batch claim is any claim that includes more than one appointment, with six appointments being the maximum amount that can be included. To create a batch claim:
Navigate to Insurance > Unbilled appointments
On the Unbilled appointments page, you'll see a list of all billable insurance appointments that haven't been included on a

CMS 1500 (HCFA) form within the selected date range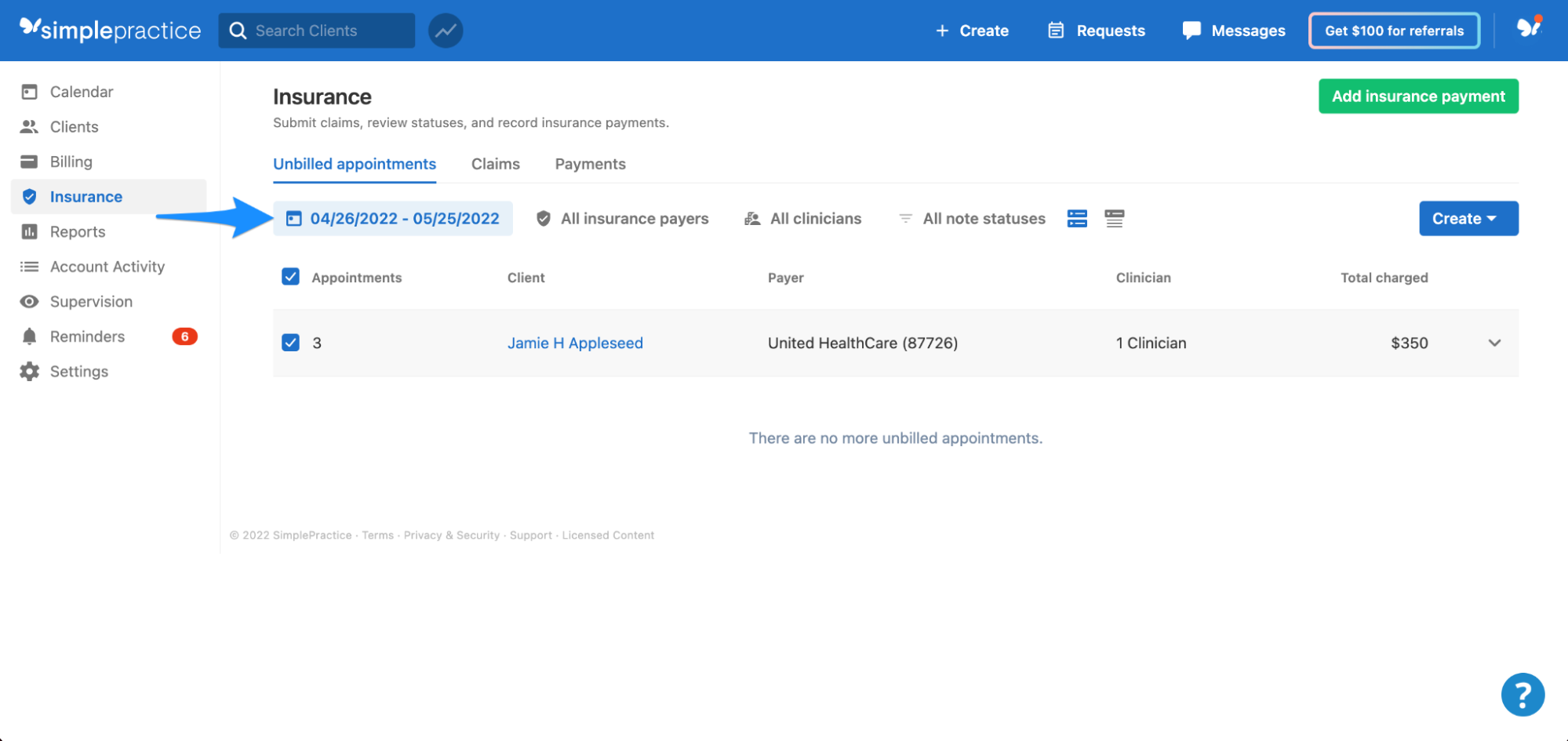 Tip: The date range in the Unbilled appointments tab defaults to the last 30 days. If the appointment you're looking for isn't listed, try expanding the date range.
Click the

arrow

to view all appointments for a client within the selected date range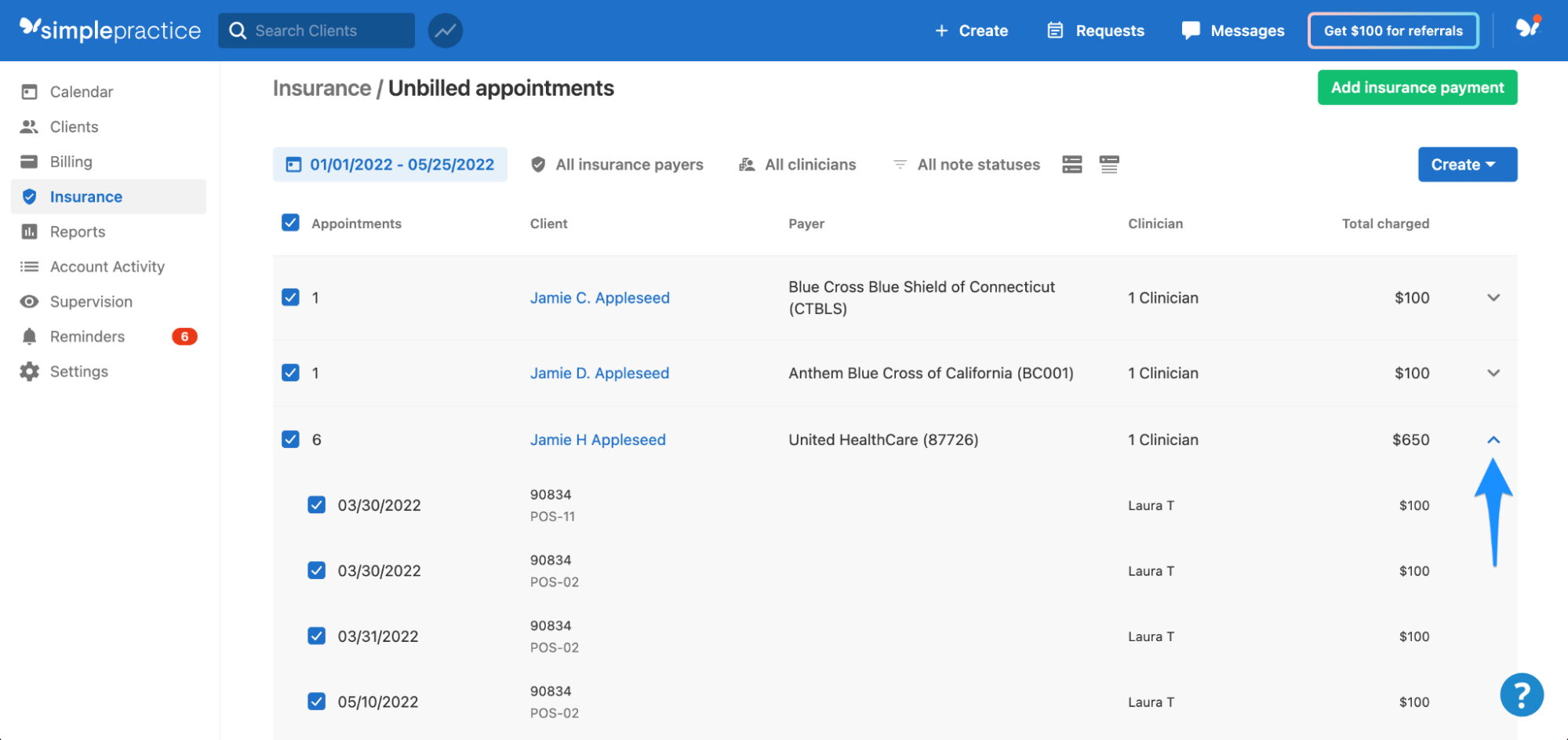 Expanding a client's appointments will reveal the appointment date(s), CPT code, modifier, Place of Service code, and billed amount

You can filter your search using the Insurance Payers, Clinicians, or Note Statuses filters to further specify which appointment(s) you're looking for

The Notes Status filter searches for appointments with locked notes, no notes, or unlocked notes

The Supervision filter shows any appointments that have a note signed by a clinician under supervision, but isn't yet signed by their supervisor. Once a note is signed by a supervisor, it will fall under the locked notes filter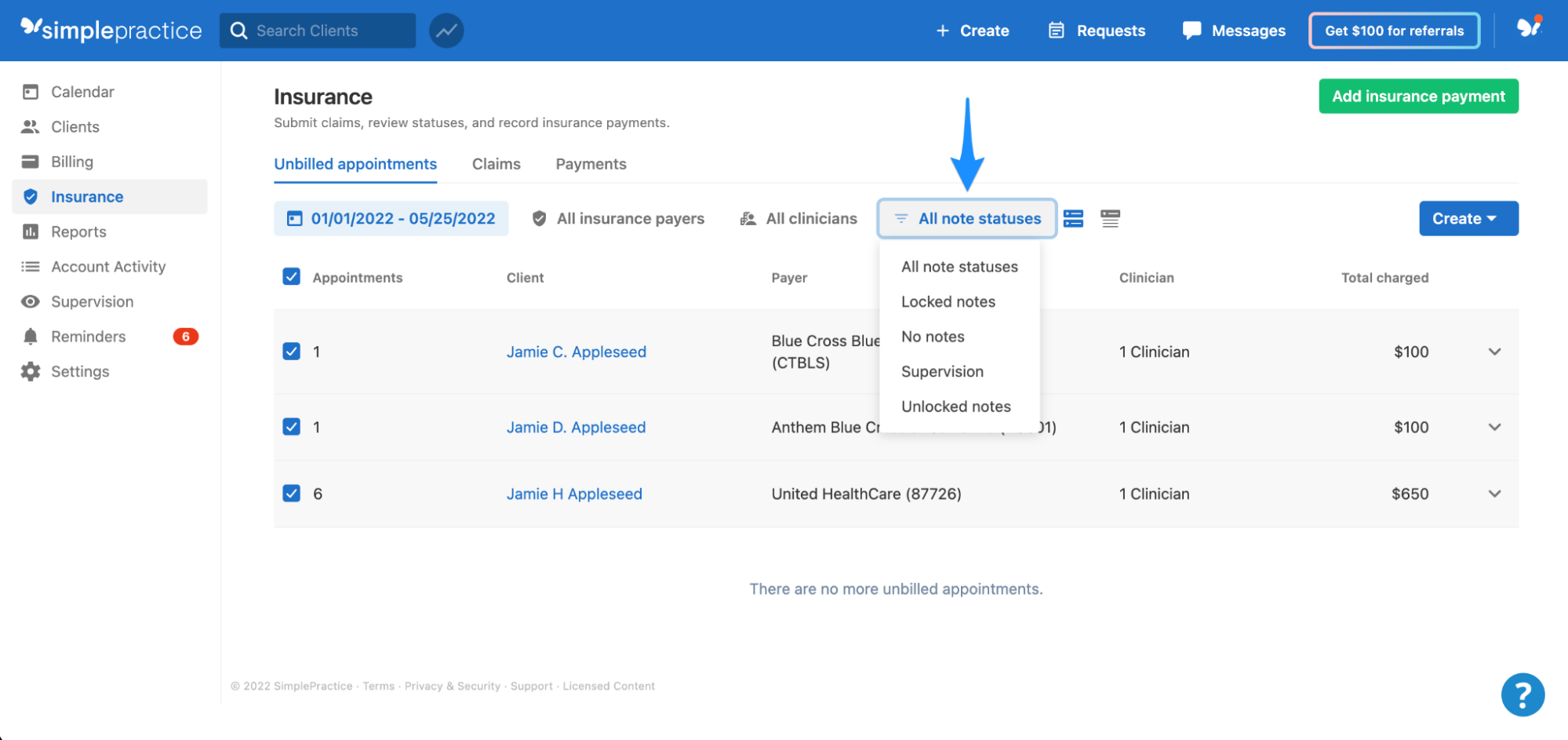 If there are multiple appointments for a client, use the checkmarks in the expanded appointment details to select which ones you're including on the batch claim. Unchecking a box means that the appointment won't be included on the batch claim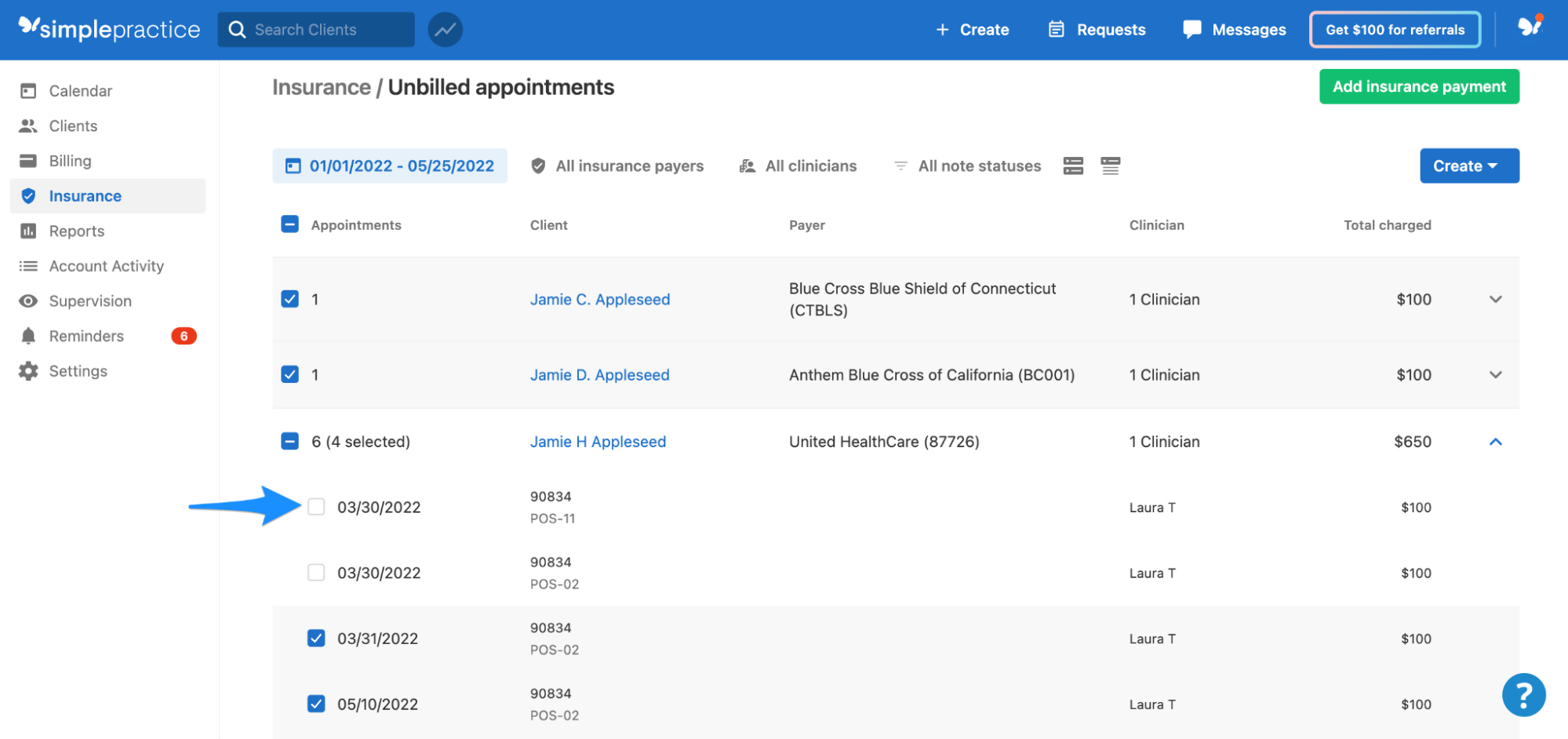 Note: You can include up to six appointments/services codes on a single claim. If more than six are selected for a client, multiple claims will be generated. For more information, see Billing insurance with multiple service codes.
Click

Create > Create claims

to create a batch of claims for all the clients selected on this page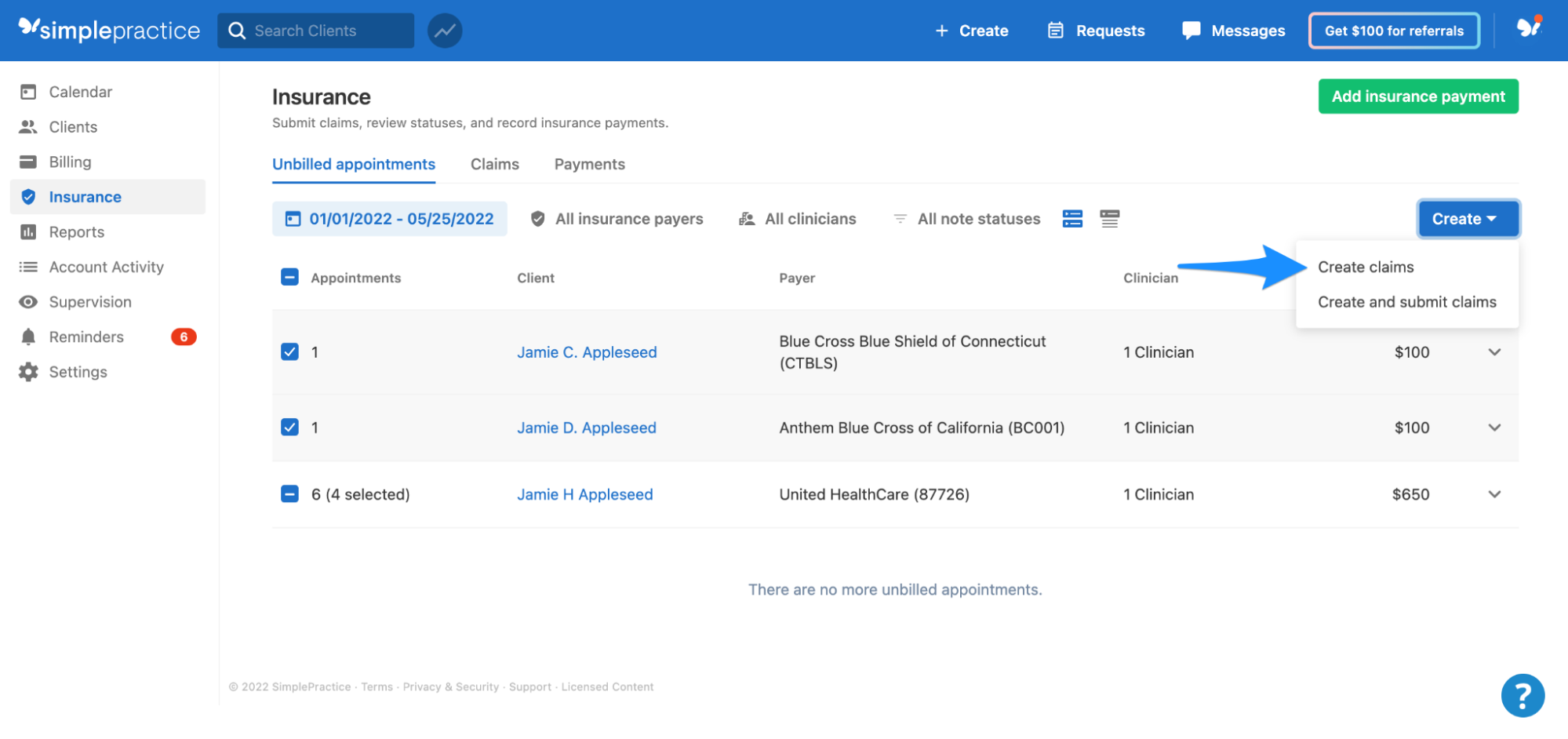 Important: Clicking Create claims will create claims for all appointments on this page, but will not submit the claims. When a claim is created, the appointment(s) are removed from the Unbilled appointments list. All created claims can be found under the Claims tab and will be in the Prepared status. Review, edit, and file these batch claims just as you would any other claim. You can read more about filing claims here: Filing primary claims in SimplePractice.
Click

Create > Create and submit claims

to submit the claims directly from the

Unbilled appointments

tab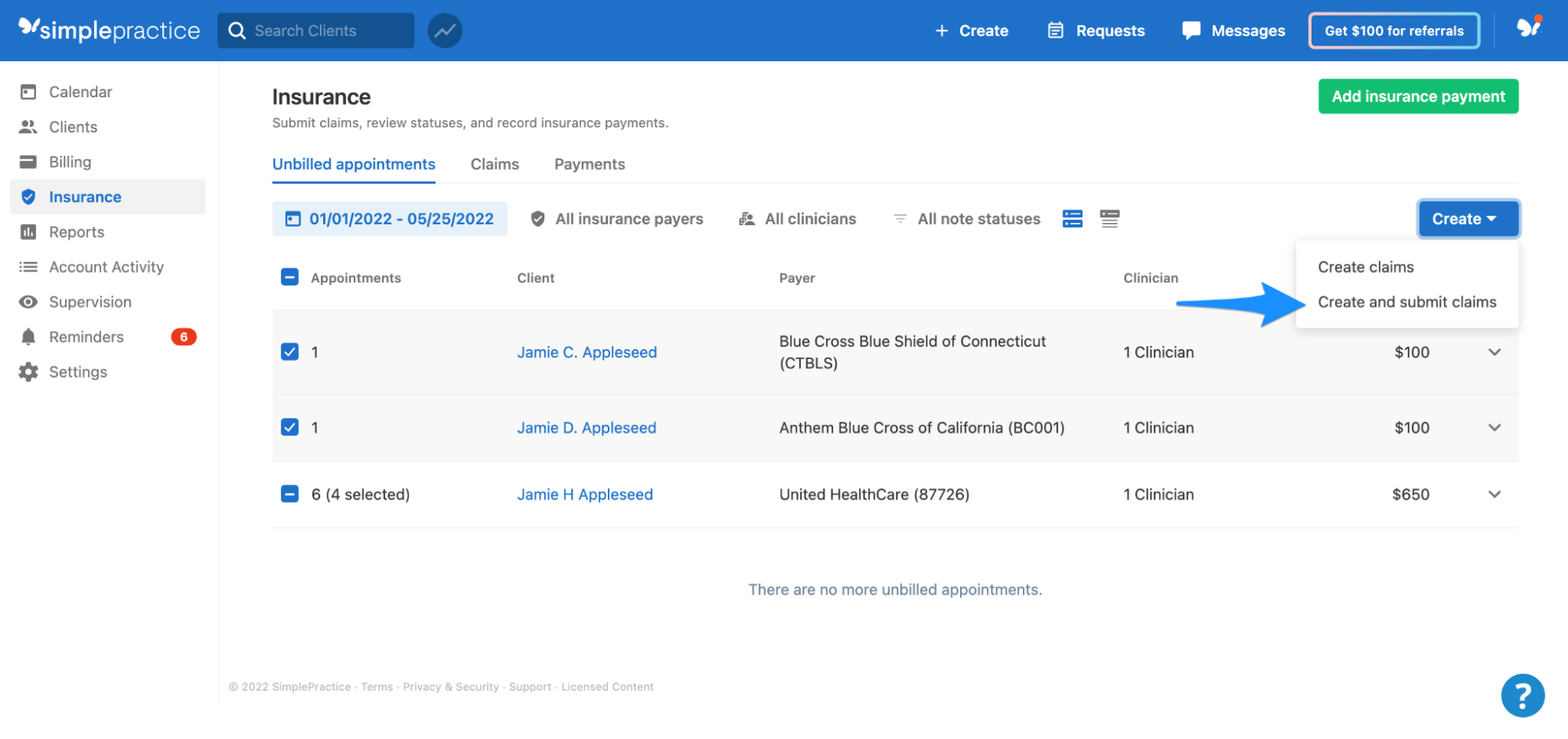 Click

Create and submit claims

to confirm the action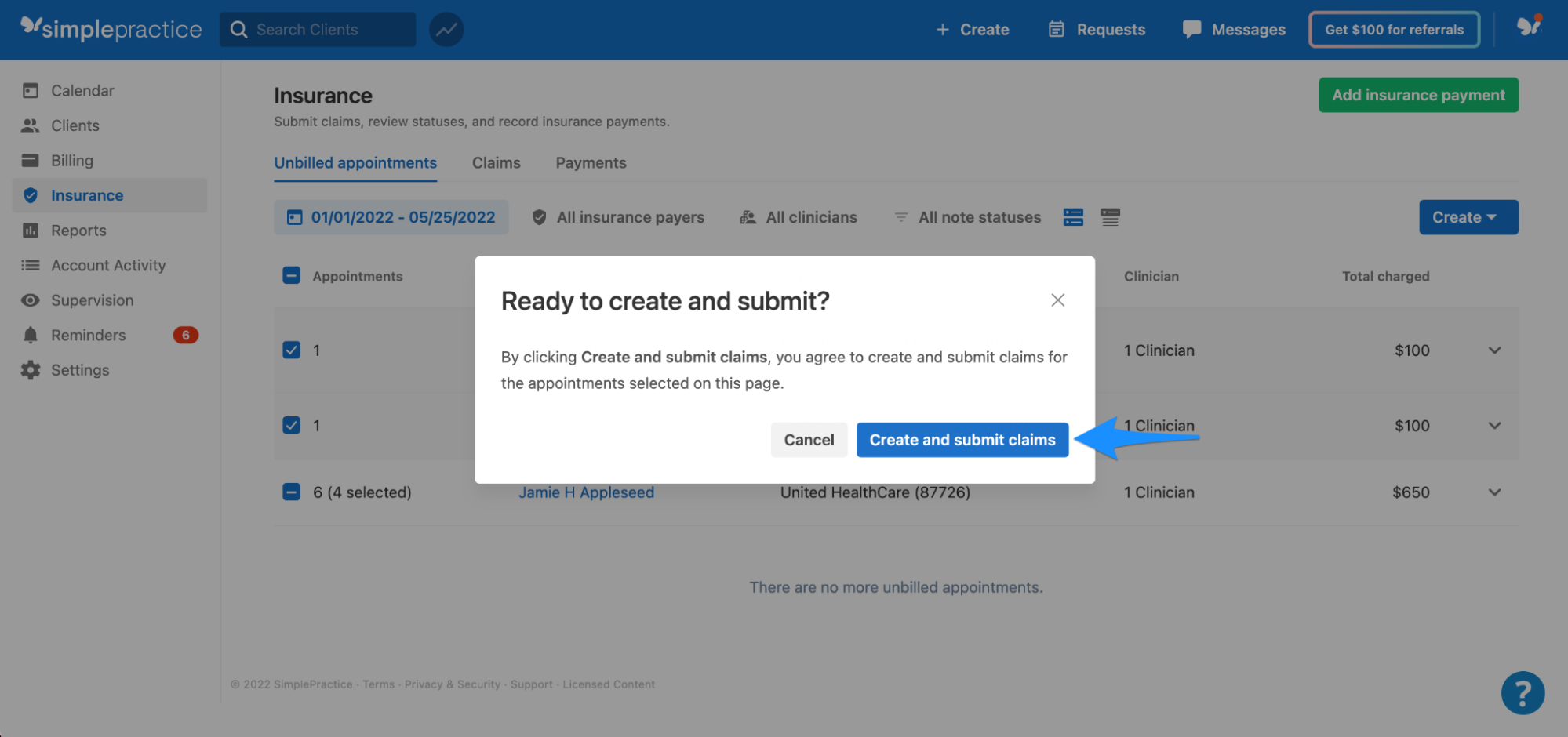 Note: If one client has more than six unbilled appointments (the maximum amount allowed on a CMS 1500 claim form), multiple CMS claim forms will be generated to accommodate all of the billable appointments. If a client has unbilled appointments from two or more years, multiple CMS claim forms will be generated for each year since insurance payers will only process claims with dates of service from the same year.
---
Missing information when a batch claim isn't created
If a claim isn't generated for an individual client when you click Create claims, it means that they're missing required information in their file. You'll see what information is missing by hovering over the orange exclamation point next to a client's name.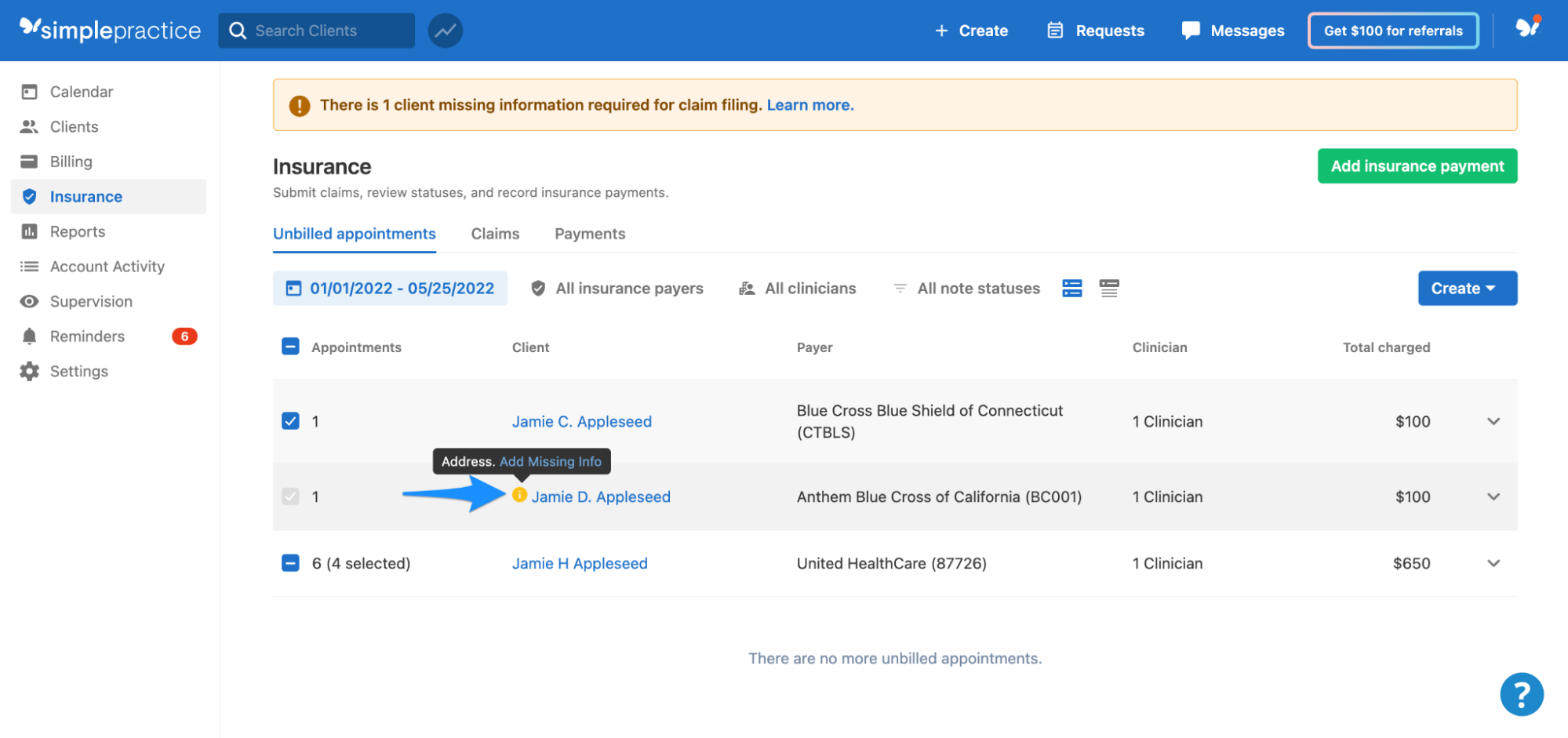 Clicking Add Missing Info will take you to the client's Client Info tab to enter the required information.
Note: To learn about the minimum field requirements to create a claim, see: The minimum information required to create a claim.
---
Removing appointments from the Unbilled appointments list
If you've filed claims outside of SimplePractice, these appointments will still appear on the Unbilled appointments list because they're set to Insurance as their billing type. You can remove the appointments from this list by creating a claim. You don't need to submit the created claim since you've already submitted it outside of SimplePractice.
To remove insurance appointments from the Unbilled appointments list:
Navigate to the client's Billing page
Select the date range to isolate the appointments you'd like to remove from the Unbilled appointments list, and click Apply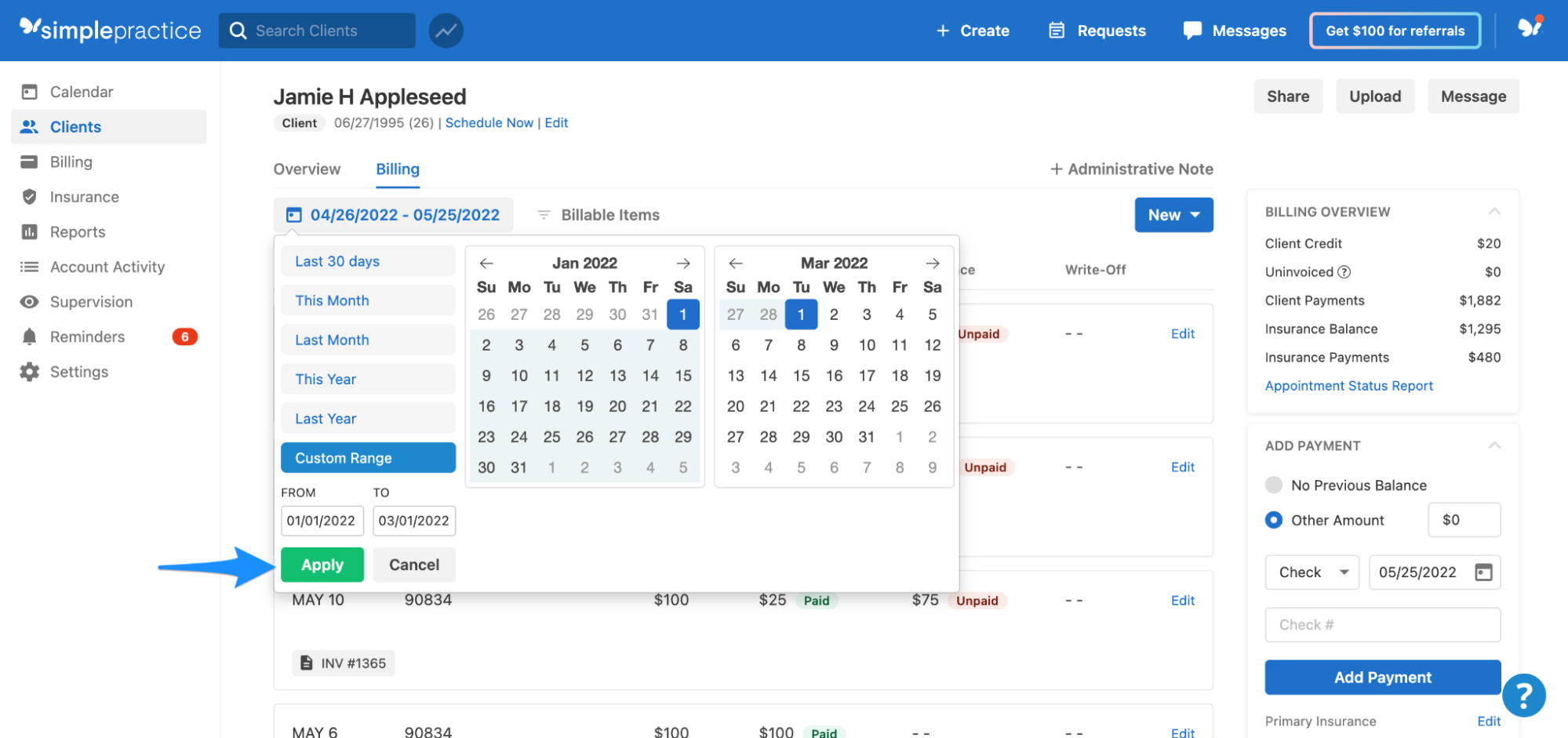 Click

New > Claim/CMS1500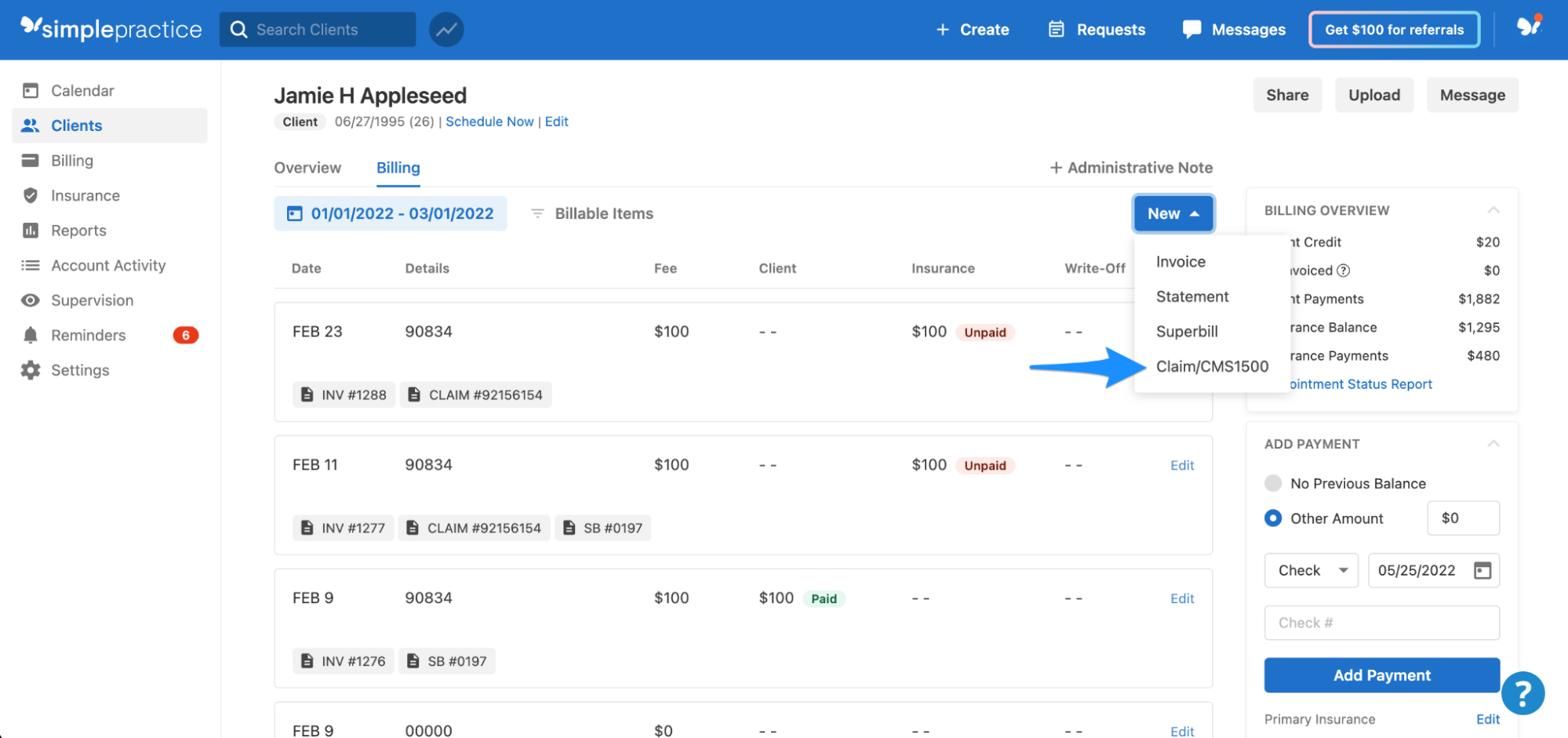 Important: You don't need to submit the claim here because you've already submitted the claim to the payer outside of SimplePractice
Open the claim

Click the

download

icon to move the claim from

Prepared

to

Downloaded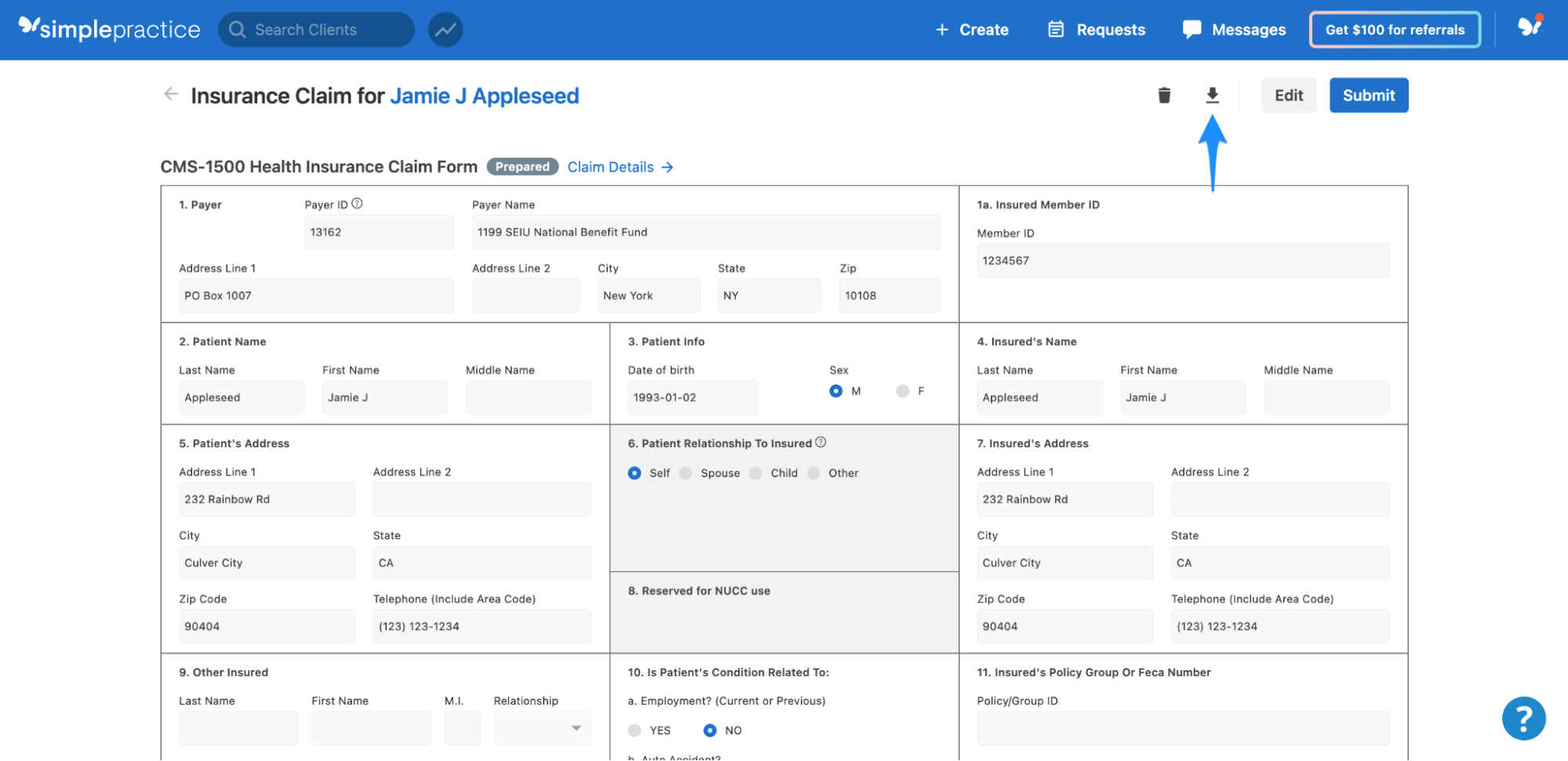 Moving the claim to the Downloaded status will remove it from the Unbilled appointments tab, so you'll no longer be prompted to create a claim for the appointment(s) in question.
If you've received an Explanation of Benefits from the payer for the claim(s) you've submitted outside of SimplePractice, you can manually add the insurance payment for the dates of service, and the Prepared status will update to Paid.