If you're a pre-licensed clinician under supervision or will be supervising pre-licensed clinicians in your group practice, you'll want to designate a Supervisor and/or Supervisee in your account to properly review and sign notes.
In this guide, we'll cover:
Note: To learn more about the Supervisor role, see Team member roles and access levels.
---
Designating a Supervisor
Important: Before designating a Supervisor, add any Supervisees as team members to your group practice if you haven't already. For details on this process, see Adding a new team member. Keep in mind that pre-licensed clinicians aren't required to provide clinical information such as License Type or License # to be added to your SimplePractice account. These fields can be left blank.
In group practices, you can add the Supervisor role to yourself or any other team member. To do this:
Navigate to

Settings > Team Members 

Click the team member you'd like to assign the Supervisor role to

Select the

Supervisor Role

checkbox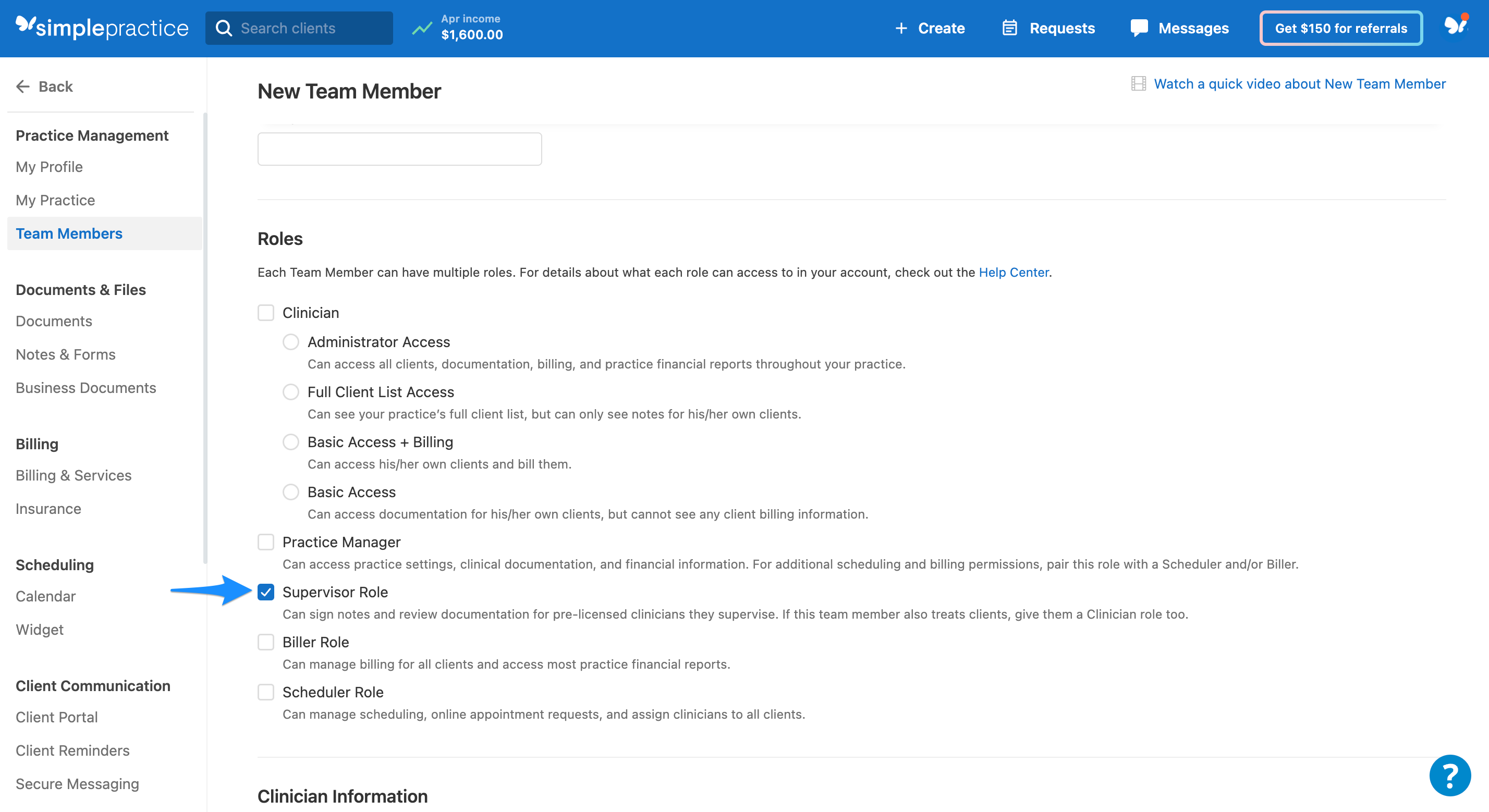 ---
Designating a Supervisee
Once you've assigned the Supervisor role to yourself or a team member, you can designate who the Supervisees will be. To do this: 
Navigate to

Settings >

Team Members

 

Click the name of the Supervisee

Under

Supervision

, check the box for

This clinician is pre-licensed under supervision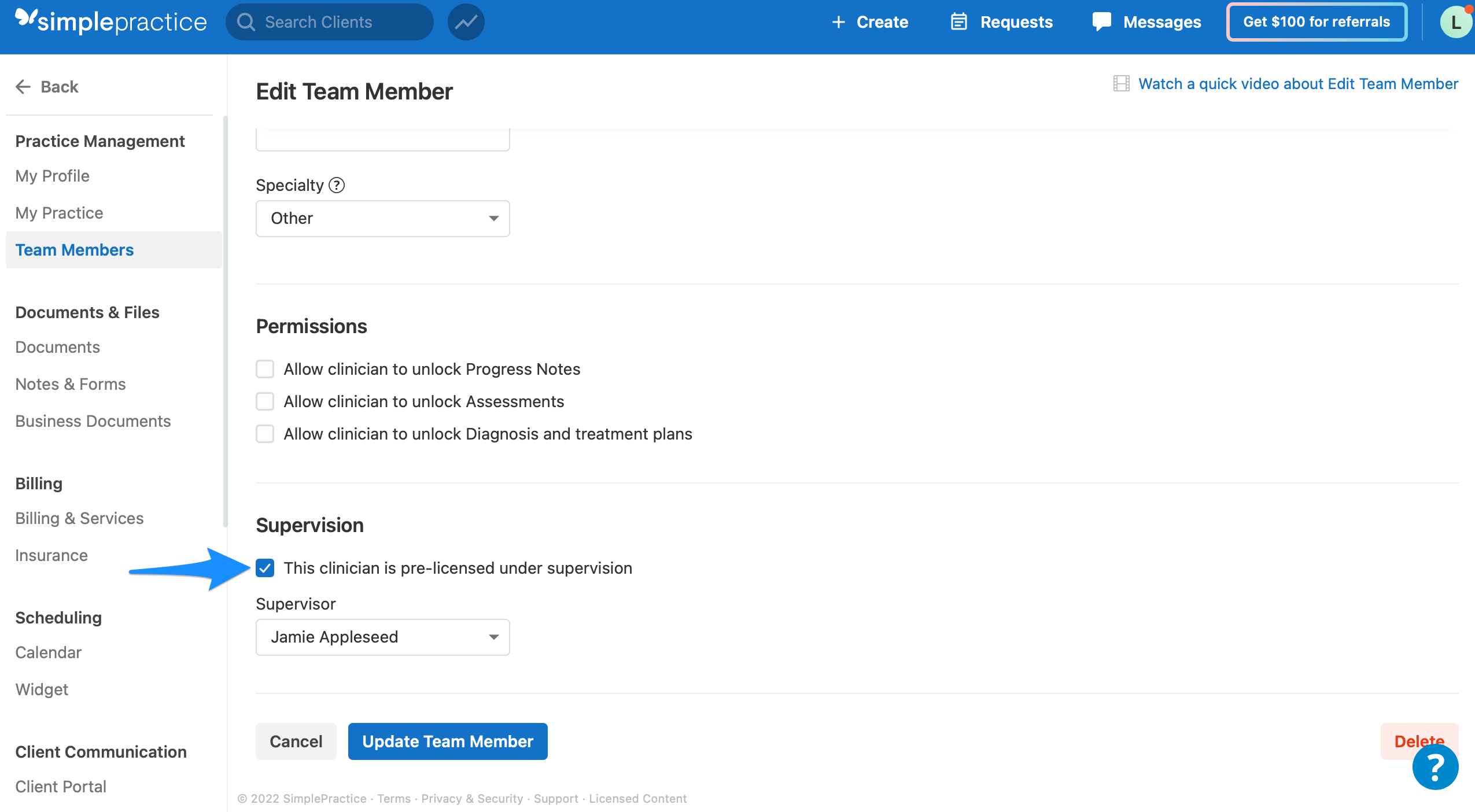 Use the dropdown menu to select a

Supervisor

Click

Update Team Member

Repeat these steps for any other Supervisees in your group practice
A Supervisee can also select their own Supervisor by navigating to Settings > My Profile > Clinical from their own account. Under Clinician Information, they can check the box for I'm pre-licensed under supervision. A dropdown menu will appear where they can choose a Supervisor. The Supervisor role must already be assigned to team members for them to appear on this list.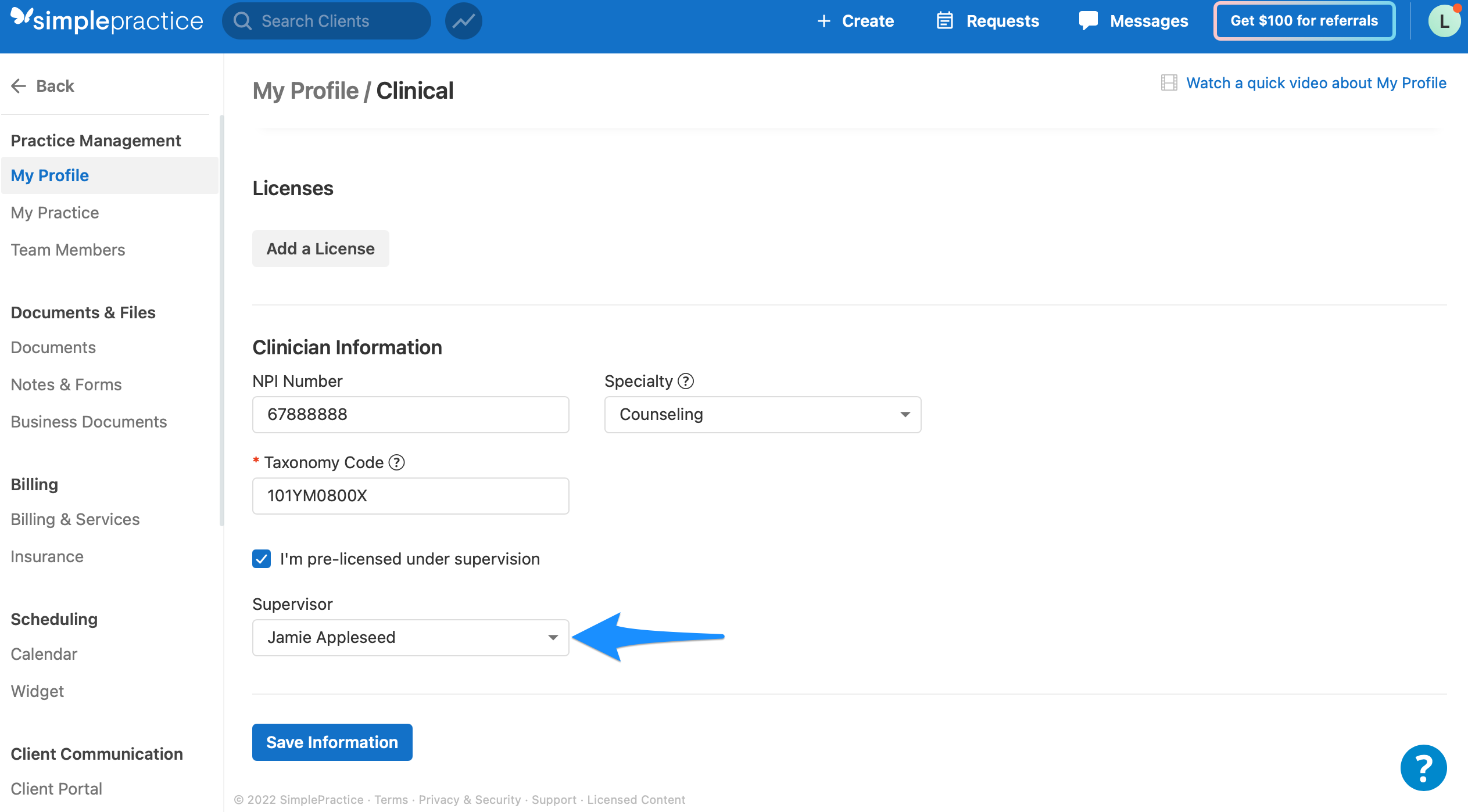 Note: While a Supervisor can have an unlimited number of Supervisees, a Supervisee can only have one Supervisor.
---
Reviewing and signing notes
Once a Supervisor and Supervisee have been designated in your account, when the Supervisee writes a progress note and clicks Save, they have the option to either Edit or Sign & Share: ​​​​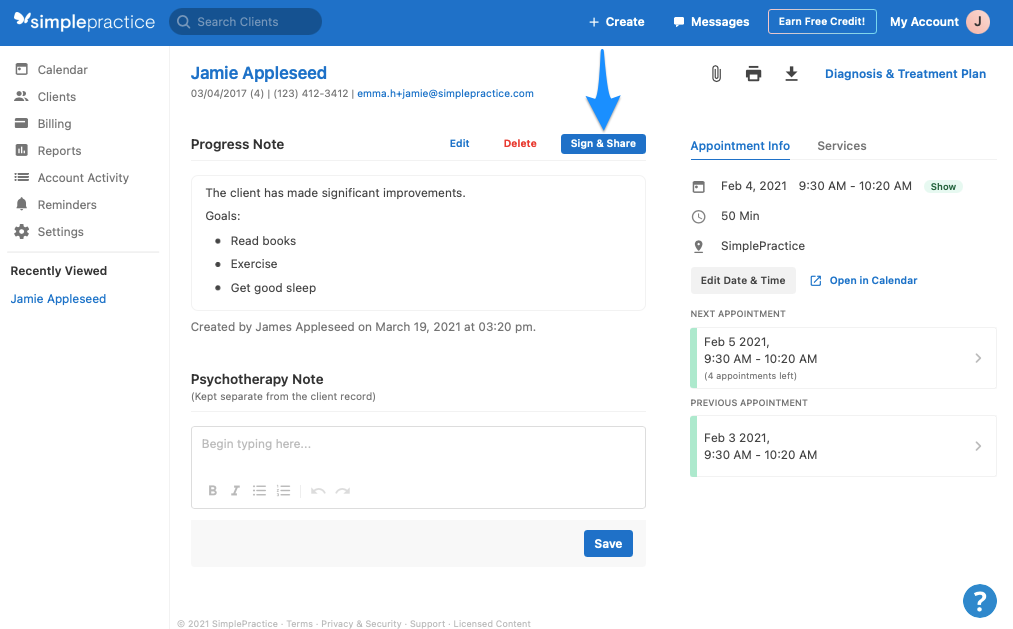 Once the progress note is shared, the Supervisor can review their Supervisee's notes. To do this: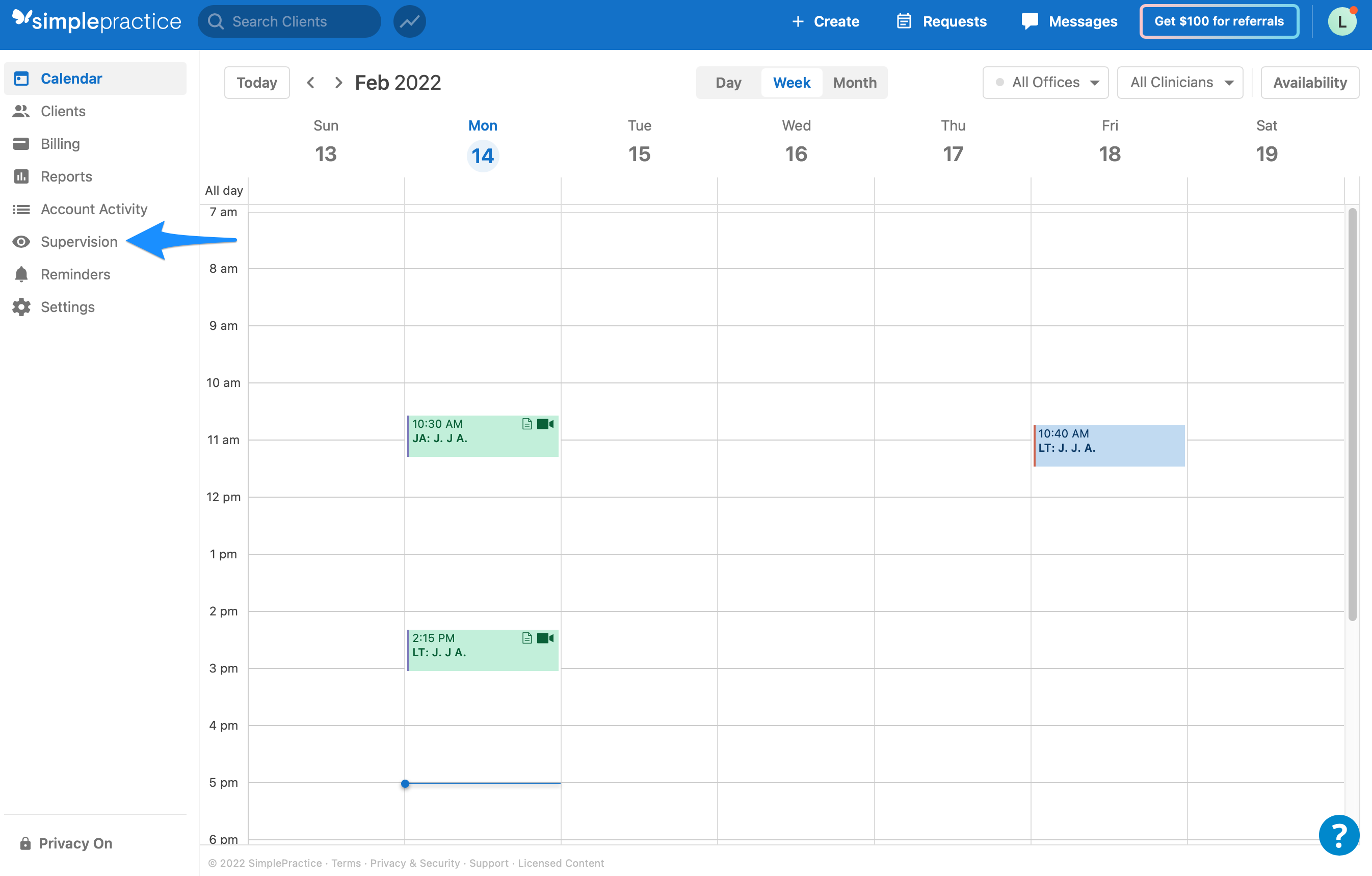 Note: Clinicians in the Supervisor role will see a Supervision counter that represents how many items of documentation are waiting for their review. This counter will increase by 1 each time the supervisee has signed and shared a progress note, diagnosis and treatment plan, or assessment. It will decrease by 1 when the supervising clinician unlocks, requests edits, or signs the documentation.
Select the note you want to review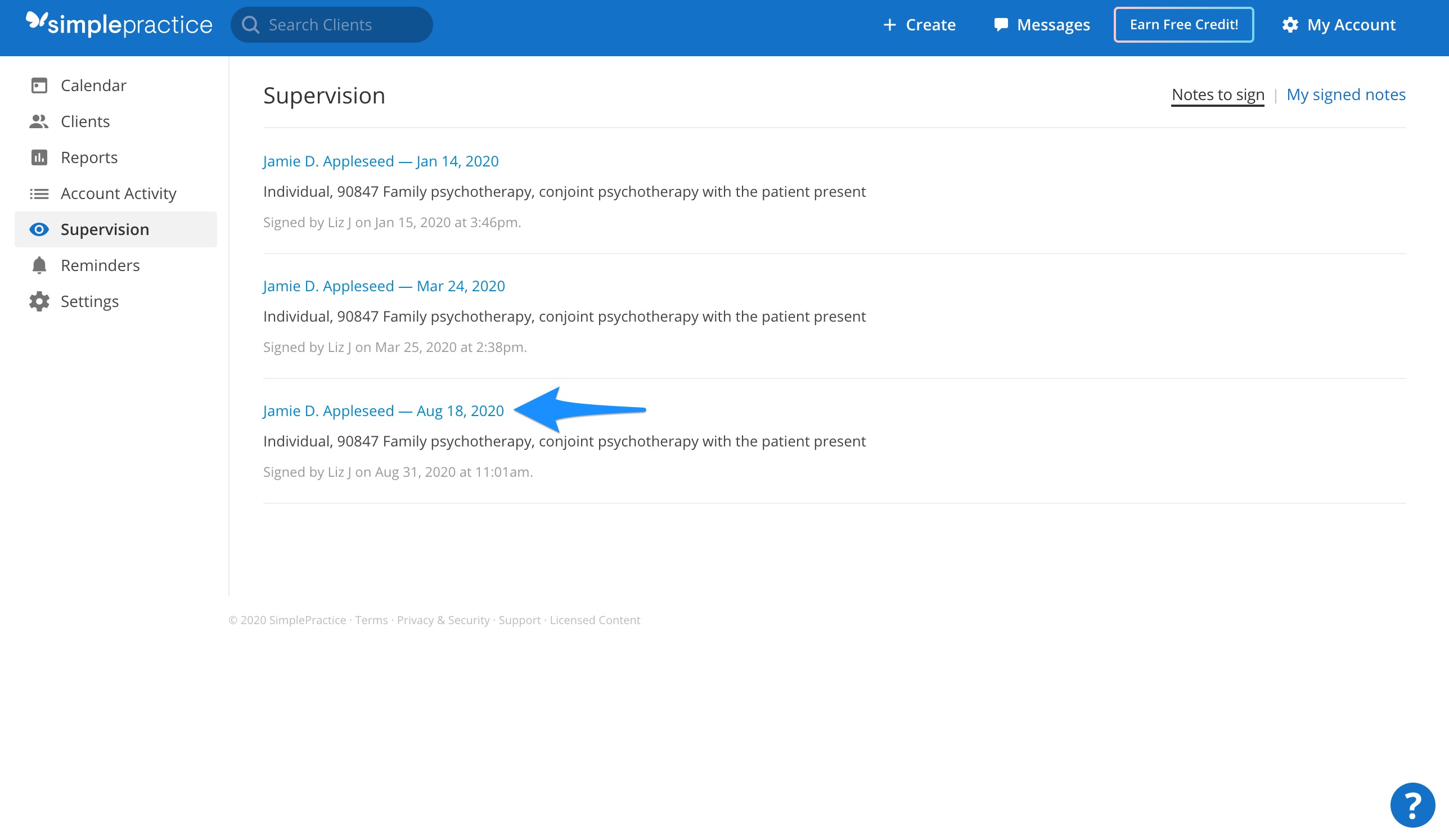 Click Unlock, Request Edits, or Sign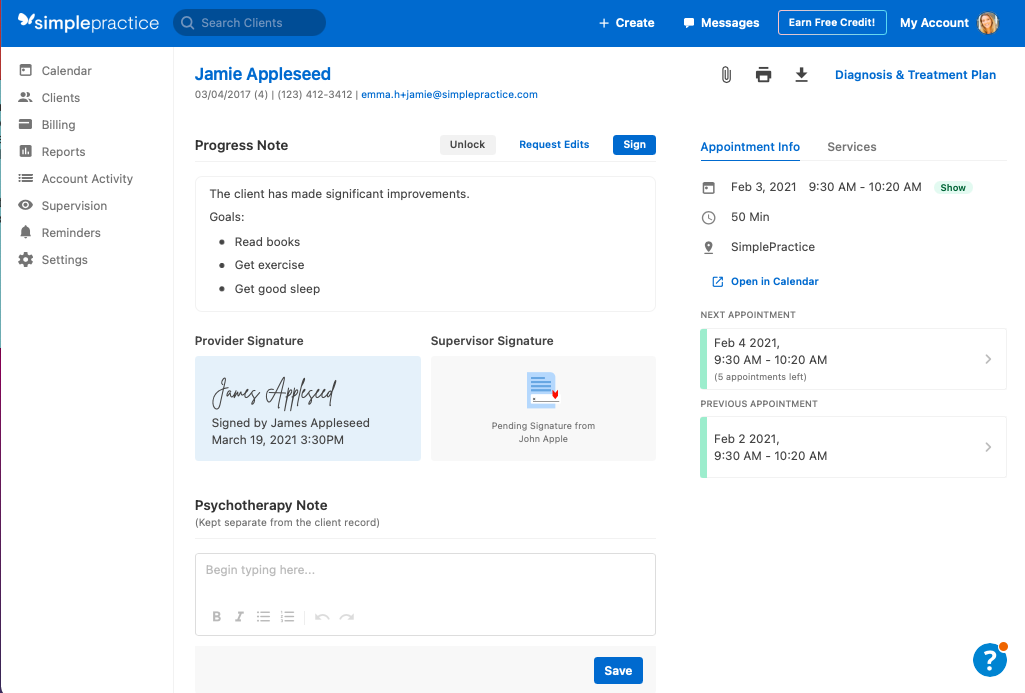 The Sign option will lock the progress note and add the Supervisor's eSignature

When this option is selected, the Supervisor will see a confirmation modal where they can click

Sign & Lock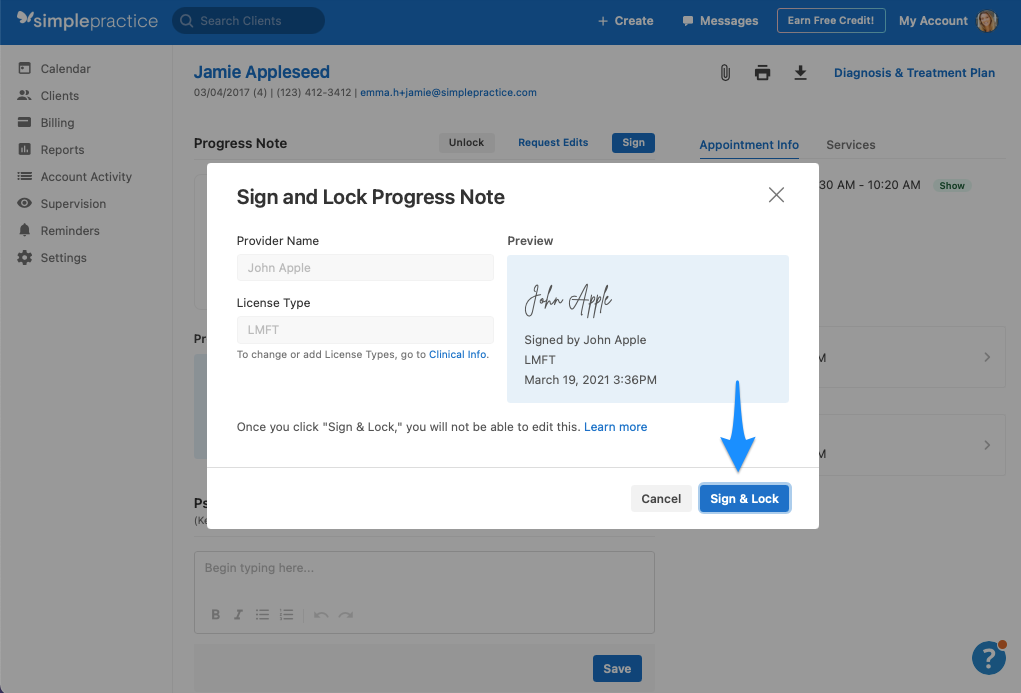 They'll then see both the provider's and supervisor's signatures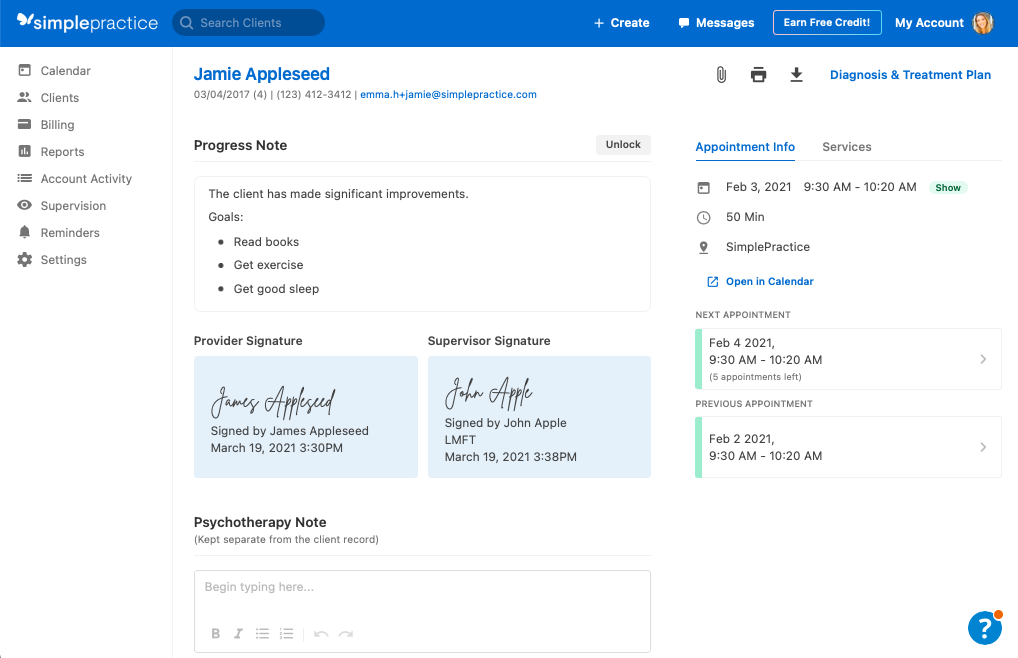 Note: There currently isn't a way to customize this signature.
The Request Edits

option will send the note back to the Supervisee to make additional edits before the Supervisor approves it




When this option is selected, the Supervisor will be able to Edit, Delete, or Sign the note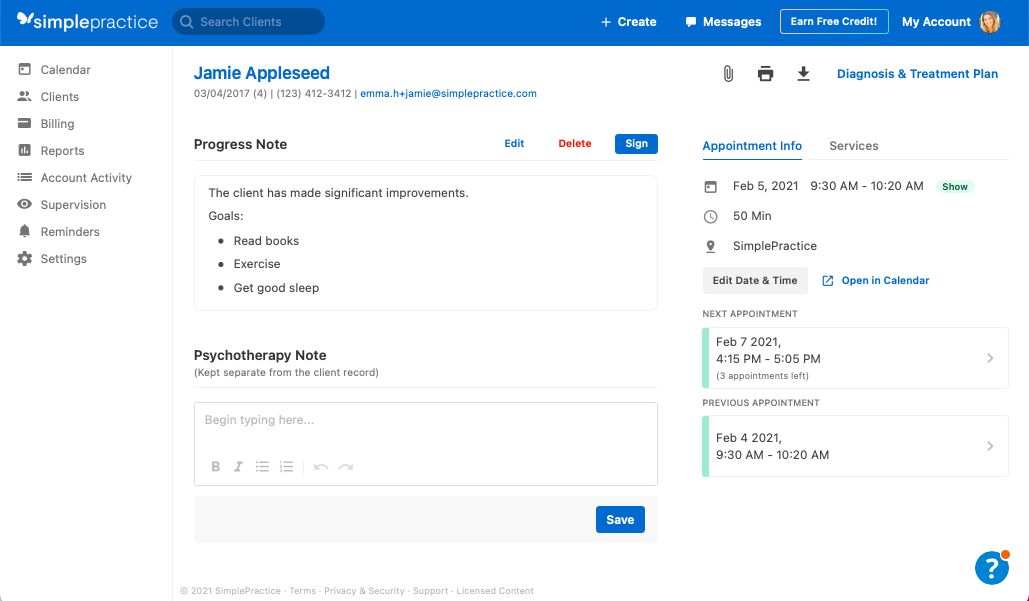 ​

​

​​

​​The Supervisee will see the note back in their account to edit and resubmit
Note: To learn more about the process to amend, correct, or clarify a locked note, see Using progress and psychotherapy notes.

---
Adding Supervisor information to billing documents and notes
You can also add Supervisor information to billing documents and notes. That way, this information automatically populates for pre-licensed clinicians in your practice. To do this:
Navigate to

Settings >

Documents
Select the box for

Add supervisor info to notes and billing documents

, under

Pre-licensed Clinicians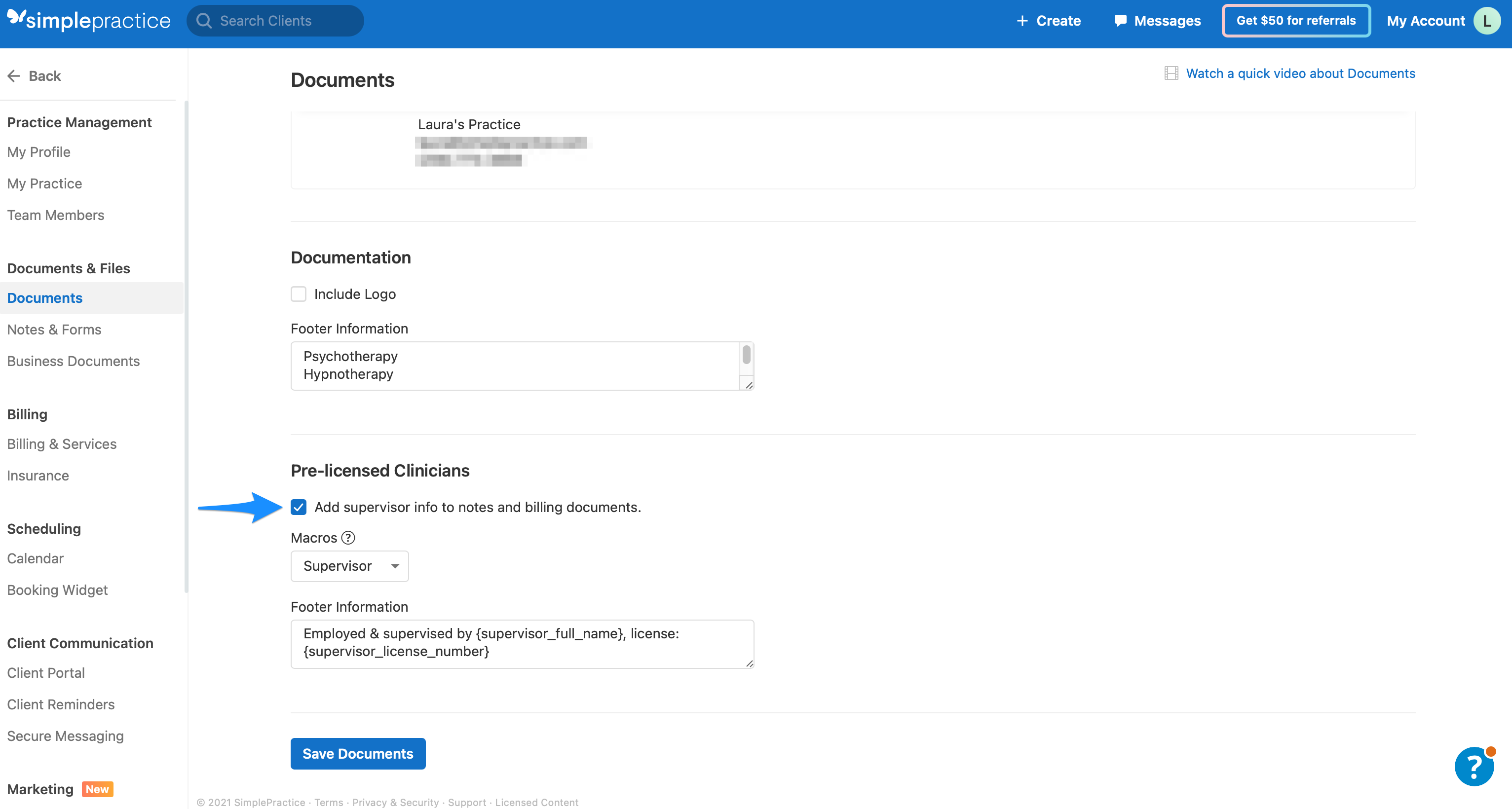 You can edit what's listed in the

Footer Information

textbox

If you have multiple interns that may have different supervisors, don't remove the

macros

in the pre-filled message below. These macros automatically fill in the intern's supervisor's information if they have filled it out in their account settings

Click

Save Documents
---
Troubleshooting access to Supervisee notes
If your Supervisor can't see your progress notes, you'll want to make sure that they're logged in as a Supervisor and that notes have been saved, signed, and shared. The Supervisee can also check their Clinical Info tab to verify if and by whom they're under supervision.
A Supervisor logged into their account will see a Supervision tab in the left column of their Calendar: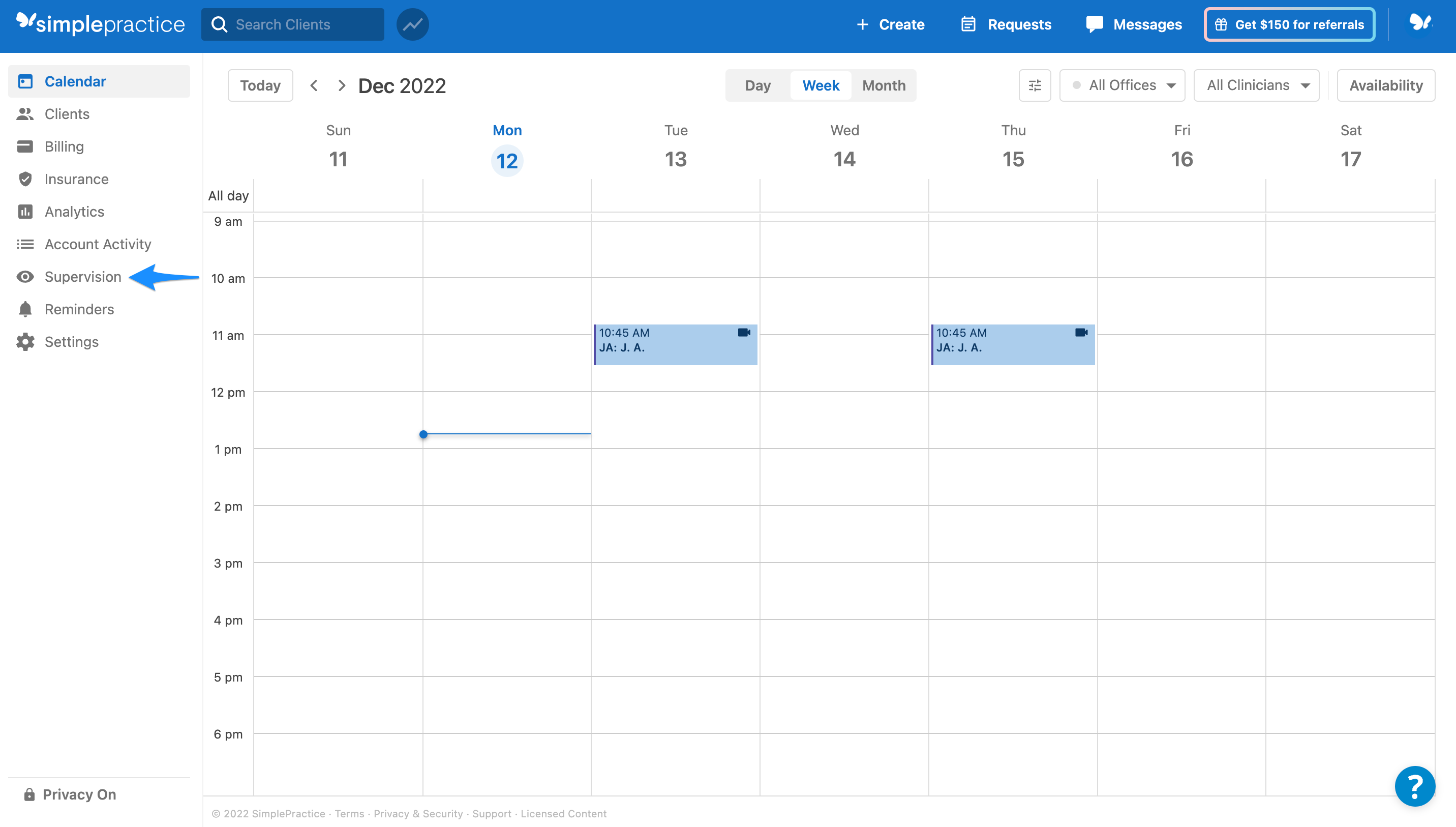 If you're ready for your Supervisor to review your notes, you'll need to save and share them. To save and share the completed progress note, click Save and then Share & Sign with Supervisor.