After clicking Submit on the claim form, SimplePractice will scrub your claim, prior to being sent to the payer, to look for any common errors which would cause the claim to be automatically rejected. Scrub errors will not result in a $0.25 fee and will not count against the allotted number of claims you have purchased.
If any information is found to be incorrect during the scrubbing process your claim will not be submitted. Instead, you'll receive an error message indicating what needs to be adjusted.

Two of the most common scrub errors are when there is an invalid subscriber or billing provider address and when a claim is submitted to a payer that requires a claim filing enrollment but the billing provider NPI is not yet enrolled.
The resolution for most of these errors will either come from making corrections in the client's settings and/or waiting for a claim filing enrollment to be accepted. Please verify and ensure these details are correct:
Client first, middle, and last name as it appears on the insurance card
Client's DOB
Client's address
Client's member ID
Billing provider name, address, tax ID, and NPI
Note: If the client is not the primary insured, please also verify the insured's first name, last name, DOB, and address as it matches with the insurance card.
If you receive an address/zip code scrubbing error, it is because one of the addresses on the claim (client's, primary insured, and/or the billing provider address) does not match the USPS database. When filing claims electronically, a 9-digit zip code is required by most payers and our clearinghouse has a system in place to send a 9-digit zip code if all addresses on the claim form are correct. If our clearinghouse is able to identify the 9-digit zip code using the street, city, state, and 5-digit zip code, you should not run into any zip code scrub errors.
Confirm address with the USPS
The most common errors which result in the zip code scrub error come from:
Extra characters in the street address.
Street address abbreviations that do not match the USPS database's record (i.e., you have entered "Lane" and the official address is "LN").
Incorrectly entering the 5-digit zip code.
You can check the address in the link below to see if there are any discrepancies between the information you have and what the USPS has on file. A simple Google search of the address can also prove to be helpful in confirming the address you have is correct.
Note: If the client's address appears correct, remember to check other addresses on the claim form.
Confirm zip codes include the 4-digit extension
If you are still experiencing a zip code scrub error, you can use this tool to identify the addresses 4-digit extension. Use this site to get the full 9-digit zip code: USPS Zip Code Look Up tool.
Note: You may need to remove the street address to find the correct 9-digit zip code on the USPS site. For example, if you are searching "2003 Curson Ave. Los Angeles, CA", try searching "Curson Ave. Los Angeles, CA".
Important: Enter the 9-digit zip code without a hyphen or space.
If you receive a scrub error regarding your billing NPI, it is because the payer you're working with requires you to file an enrollment in order to be able to file claims with them electronically via SimplePractice. If you need help submitting an enrollment, you can review how to submit enrollments for claim filing and payment reports
If you have already submitted your enrollment, then you need to wait for the payer to accept it before you can file claims electronically to them via SimplePractice. Go to My Account > Settings > Insurance Payers and check on the status of your enrollment. If the status reads Submitted, it means the enrollment is still being processed.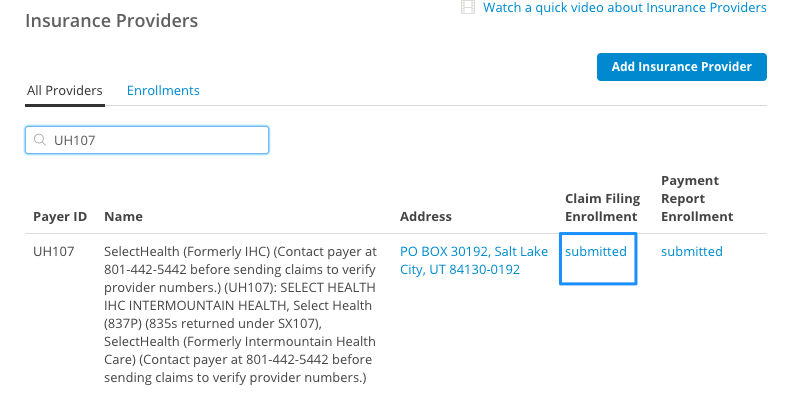 We will email you when your enrollment has been completed or if there are any other steps needed from you in order to complete this process.
Keep in mind that enrollments can take anywhere between 1-8 weeks to be accepted by the payers. We recommend that you continue to file claims outside of SimplePractice until your enrollment is accepted so that you don't experience an interruption to your cashflow.