This article includes answers to the most frequently asked questions regarding enrolling with insurance payers. If you need guidance on submitting your enrollments, see: How do I submit an enrollment to file claims or receive payment reports?
FAQs
---
What is an enrollment?
An enrollment is the process of informing an insurance payer that you plan to submit electronic claims via SimplePractice and/or receive electronic payment reports (ERAs).
When you start managing insurance through SimplePractice, you'll need to notify some payers that you plan to use SimplePractice by submitting enrollments. You can manage this process directly in just a few steps.
It's important to make sure you use the NPI and Tax ID that you'll be including as the Billing NPI on your claims to that payer when submitting an enrollment. The Billing NPI is the NPI listed in box 33 of your claim form. If you're billing under an organization NPI, also known as a type 2 NPI, use this when submitting your enrollment.
Note: Enrolling is NOT the same as getting paneled or credentialed with an insurance payer. If you're enrolling with a payer through SimplePractice, you'll typically need to already be paneled or credentialed with an insurance payer in order for them to approve your enrollment. SimplePractice doesn't assist with the paneling or credentialing process.
---
How can I find out if my insurance payers require enrollment for claims and/or payment reports?
Many payers don't require that you enroll for claim filing. Enrolling for payment reports is never required in order to submit claims electronically, but it's recommended if you'd like to automate your bookkeeping. However, if you'd like to receive payment reports, you'll always need to enroll with the payer first.
Note: You must have a paid account with SimplePractice in order to submit an enrollment.
To check if your client's insurance payers require an enrollment, follow these steps:
Navigate to Settings > Insurance
Click Search available payers
Type the name of the payer into the search box
Locate the payer
Click + Add
Locate the payer in your My Insurance Payers page
Check the Claim filing enrollment and Payment report enrollment columns to see the payer's requirements: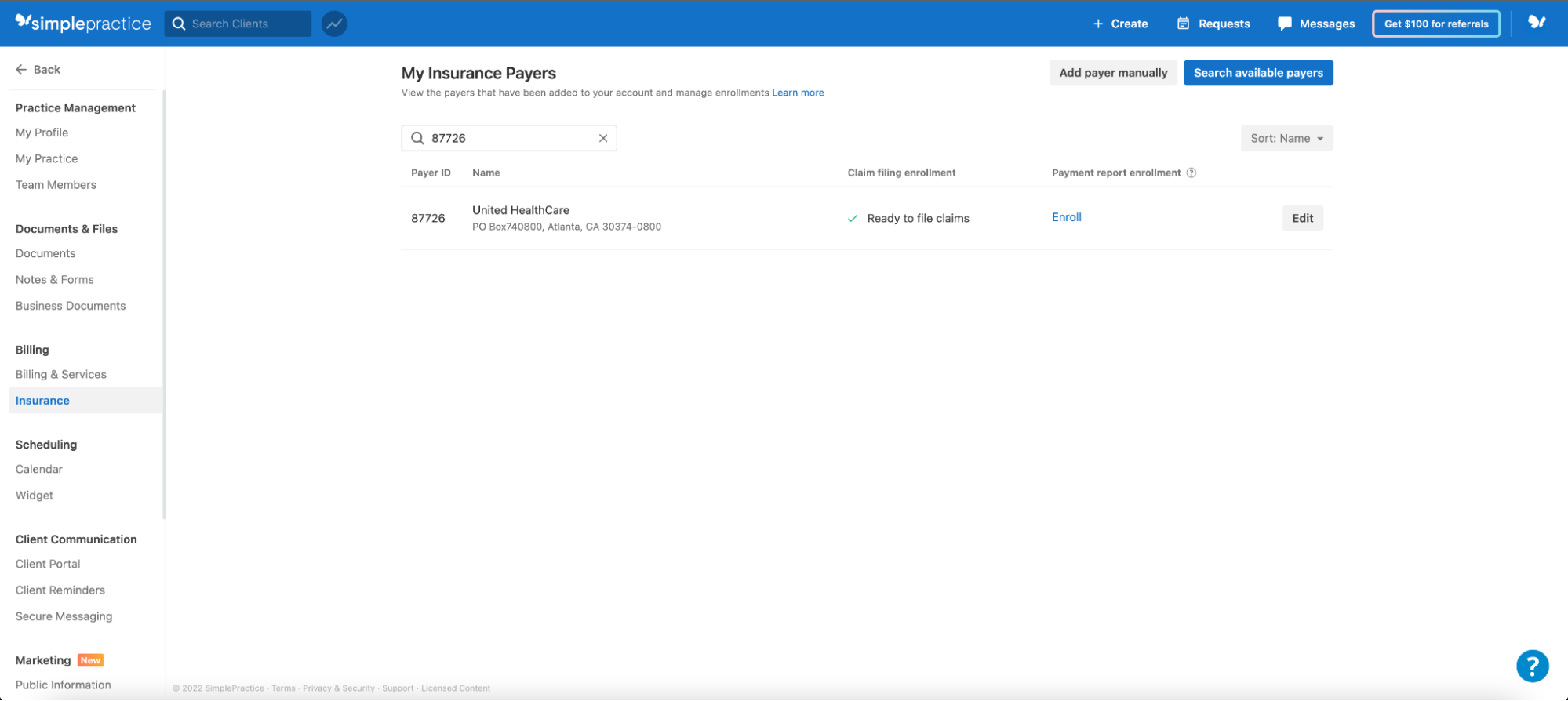 What do the column statuses mean?
Prior to submitting an enrollment, each payer will have a designation in the claim filing and payment report enrollment columns. Here's what each of those statuses means:
Status
Meaning
Ready to file claims

An enrollment isn't required for this payer. You can start submitting electronic claims right away.

Not supported

Payment reports aren't available for this payer. You can still submit claims electronically, but you'll receive a paper Explanation of Benefits (EOB) and can manually

add those payments

to keep your bookkeeping up-to-date.

Enroll

This payer offers payment reports. Click Enroll to begin the enrollment process. Once the enrollment is accepted, the status will update to Ready to receive ERAs. An Enroll option in the Claim filing enrollment column means the payer requires that you submit an enrollment before being able to submit claims electronically. Once the enrollment is accepted, the status will update to Ready to file claims.
---
What if I was already enrolled with my payer prior to SimplePractice?
If you've enrolled directly with an insurance company or through another clearinghouse, you still need to enroll through SimplePractice to set up the connection. Having been accepted to submit claims electronically with a payer in the past doesn't correlate to a faster acceptance through SimplePractice.
Payers can only send payment reports to a single clearinghouse. If you currently receive payment reports through another clearinghouse, you'll need to submit an enrollment through SimplePractice in order to receive payment reports in your account.
---
What is a Trading Partner/Submitter ID?
A Trading Partner ID (or Submitter ID) is an identification number assigned to a clearinghouse by an insurance payer.
A payer may request this ID if you are trying to set up claim filing or a payment report enrollment directly with the payer. Instead of connecting with the payer, you should submit your enrollments in your SimplePractice account so they can be successfully set up through our clearinghouse.
---
What is "PTAN" on the enrollment page?
PTAN stands for Provider Transaction Access Number. PTAN can also refer to the provider number, Medicare PIN, or Medicare ID number. The PTAN isn't an NPI, Tax ID, or Medicare UPIN.
The PTAN field is only required for Medicare enrollments. If you're trying to submit an enrollment to Medicare, you'll have to enter your PTAN in the enrollment form or your enrollment will be rejected. If you're a Medicare provider but can't locate your PTAN, reach out to Medicare directly and request that they provide it for you.
Medicare assigns both an individual and organization PTAN, similar to how you have individual and organization NPIs. If you're submitting a Medicare enrollment, make sure to use the PTAN specific to your NPI type. For example, if you're submitting Medicare claims under your organization NPI, make sure to submit the enrollment using your group NPI and group PTAN.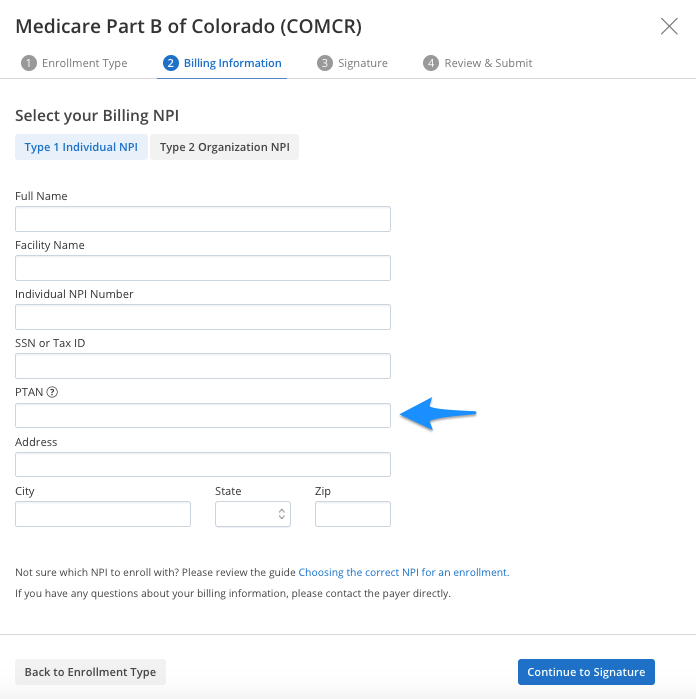 Note: If you're submitting an enrollment to a non-Medicare payer and you're still seeing a PTAN field, simply write "N/A" in that field and submit your enrollment.
---
How long until my enrollments are accepted by the insurance payer?
Once you submit an enrollment, please see Average payer enrollment approval times to see how long you can expect to wait for your enrollment to be processed. Keep in mind that SimplePractice has no control over this part of the process, but we'll email you once your enrollment has been accepted.
Note: While waiting for an enrollment to be accepted, we recommend that you submit claims by mail to avoid delays in reimbursement until your enrollments are approved.
To check the status of your enrollment, navigate to Settings > Insurance.
If an enrollment shows as Submitted, it's still in process and will need more time to be approved.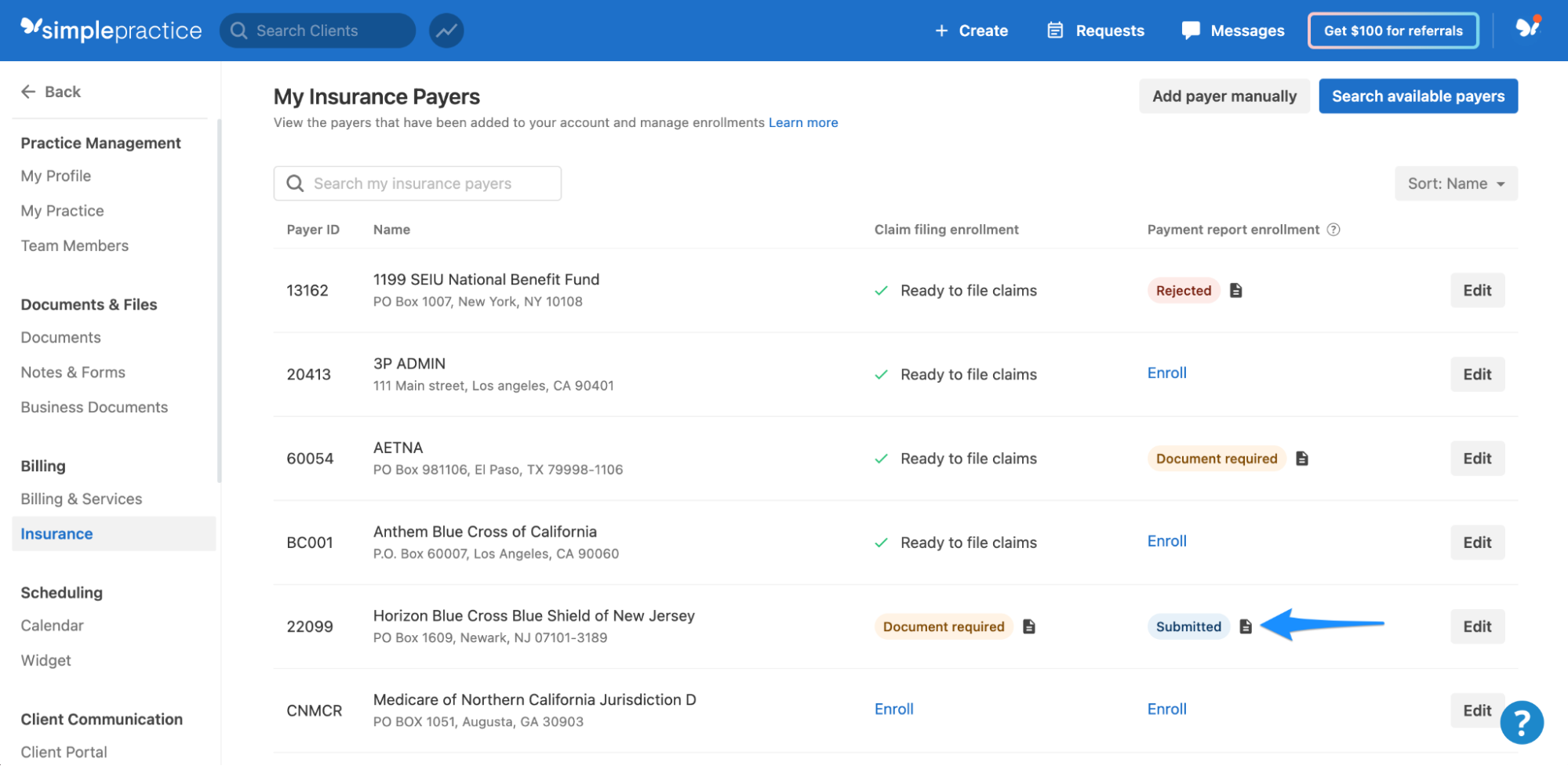 An enrollment may also have a Document required status. If you see this status, the payer requires additional steps be completed before they'll approve the enrollment. Click the Document required icon to complete those additional steps.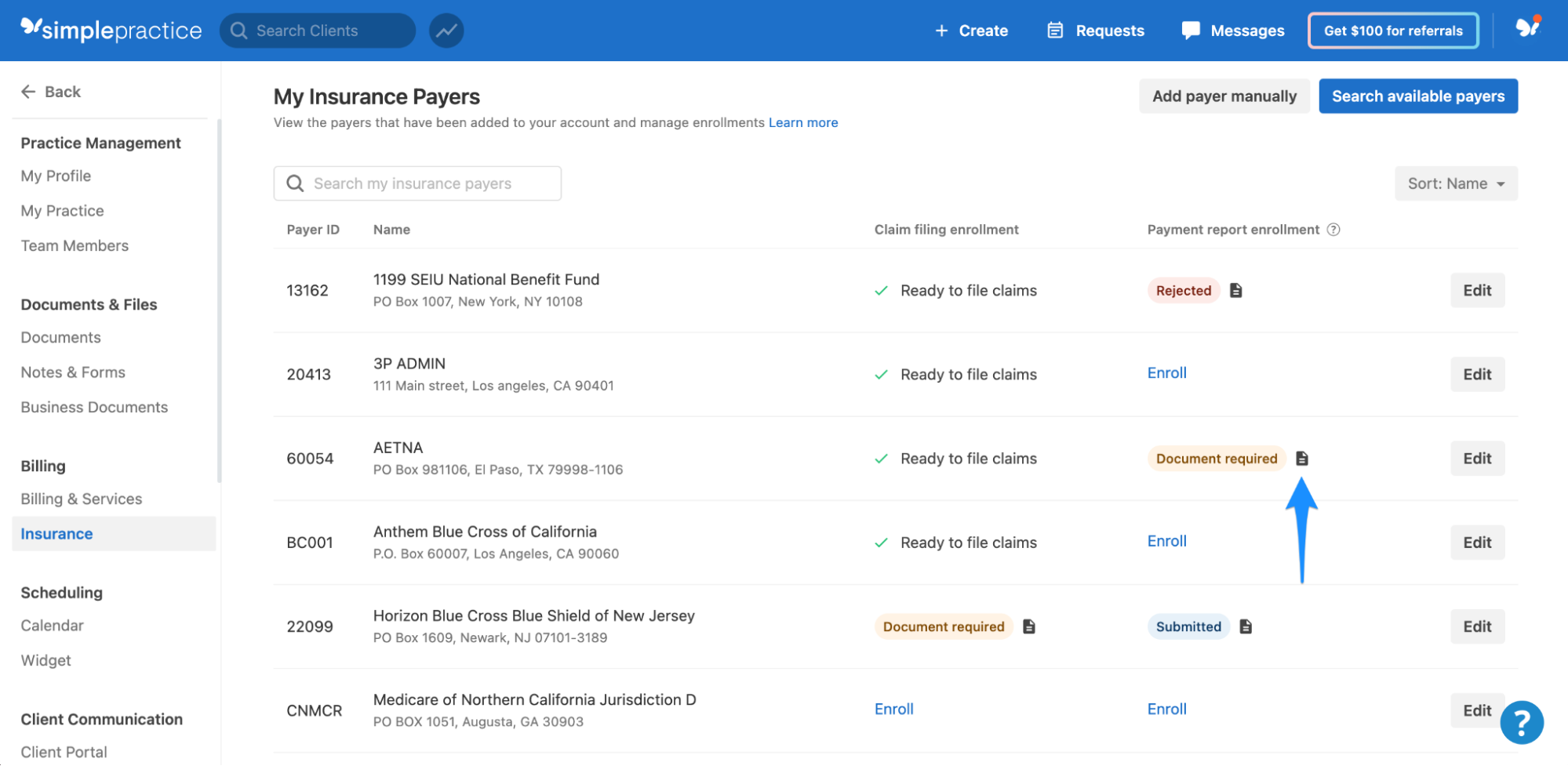 See Why is my enrollment requiring additional steps? for more information.
If an enrollment was rejected, click the Rejected icon to view the reason and to resubmit the enrollment.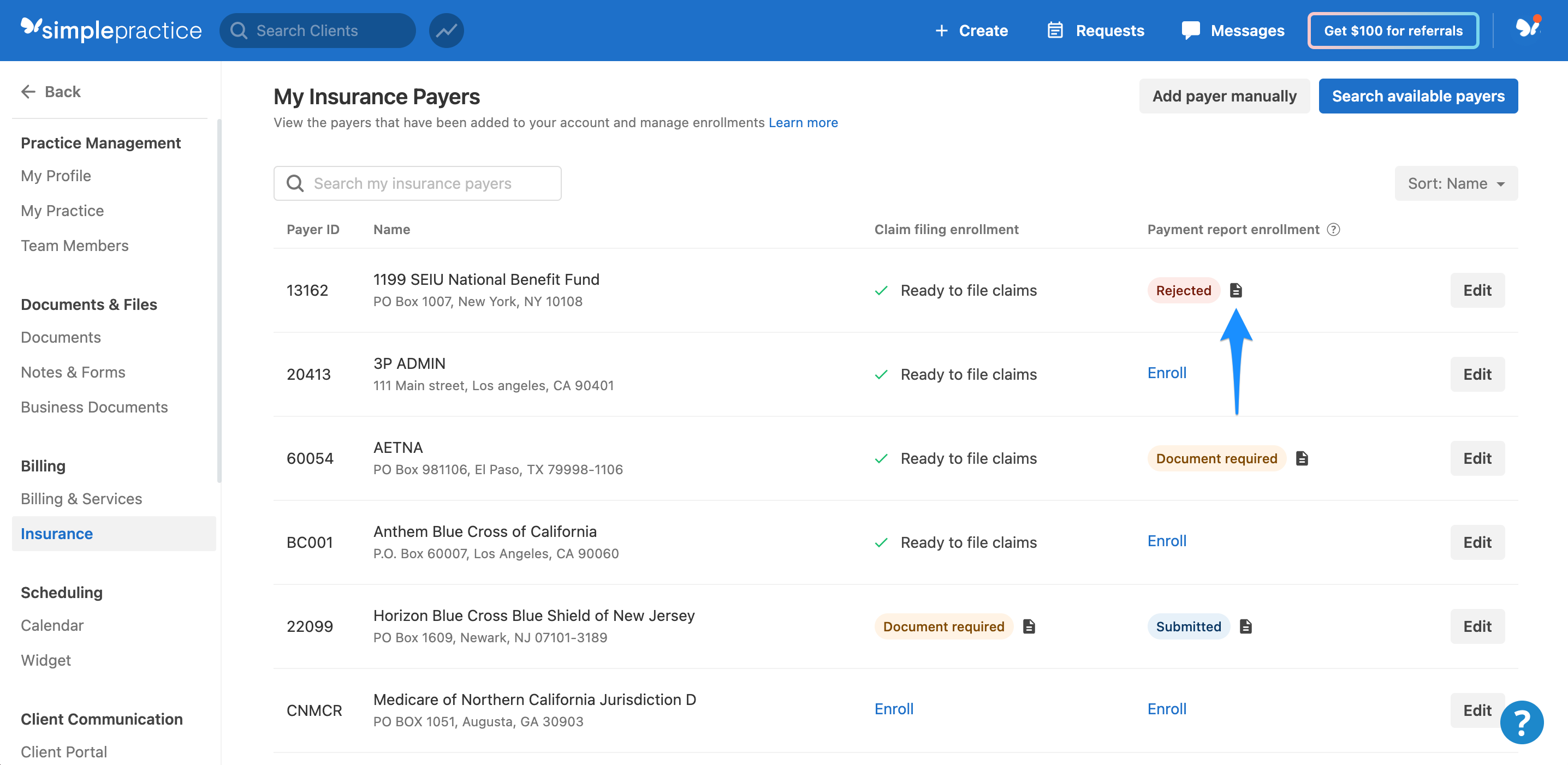 See What to do if your enrollment is rejected to learn more about resubmitting the enrollment.
---
Why is my enrollment requiring additional steps?
Some payers may require additional steps be completed before processing an enrollment. In addition to seeing a Document required status in your payers list, you'll also receive a banner notification asking you to review the information: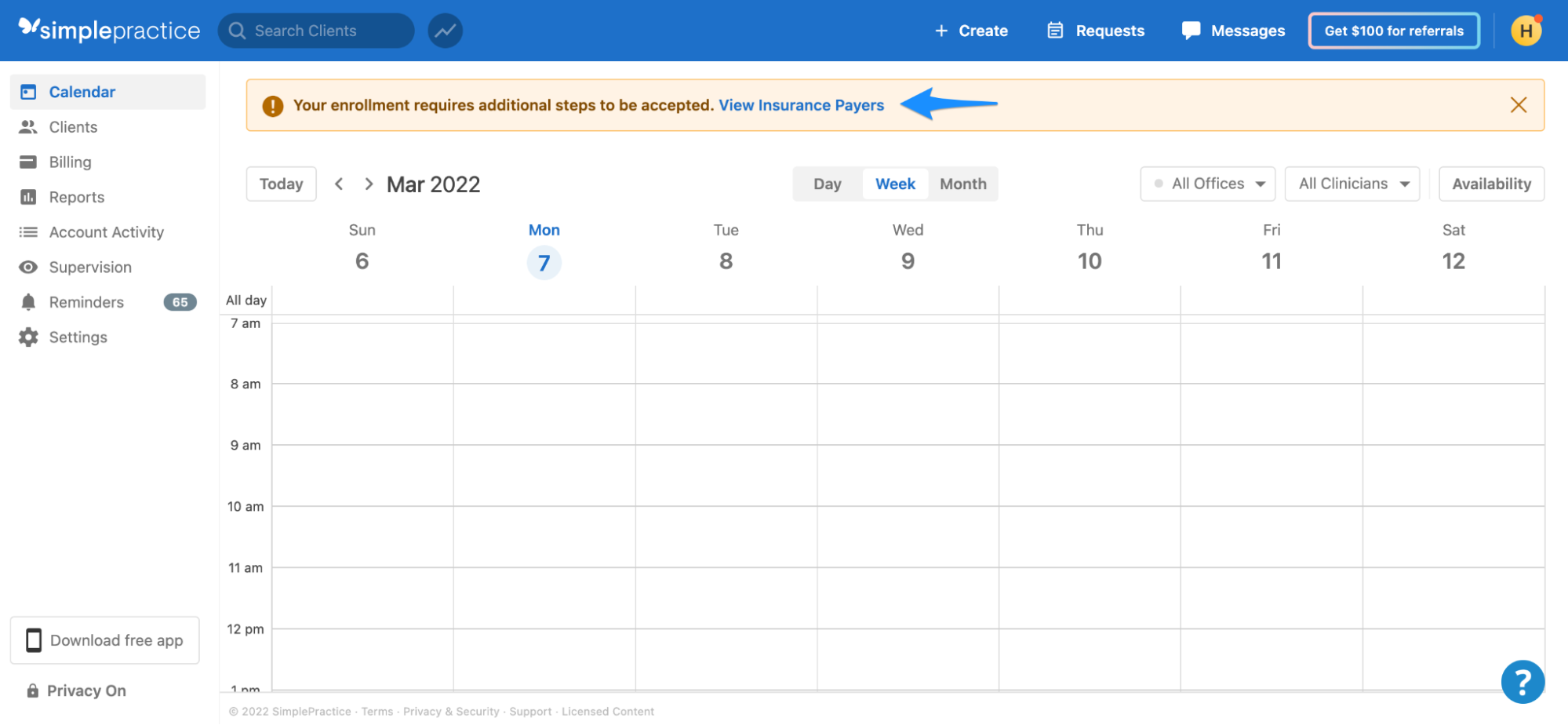 Click View Insurance Payers or navigate to Settings > Insurance and click the Document required icon to view the document: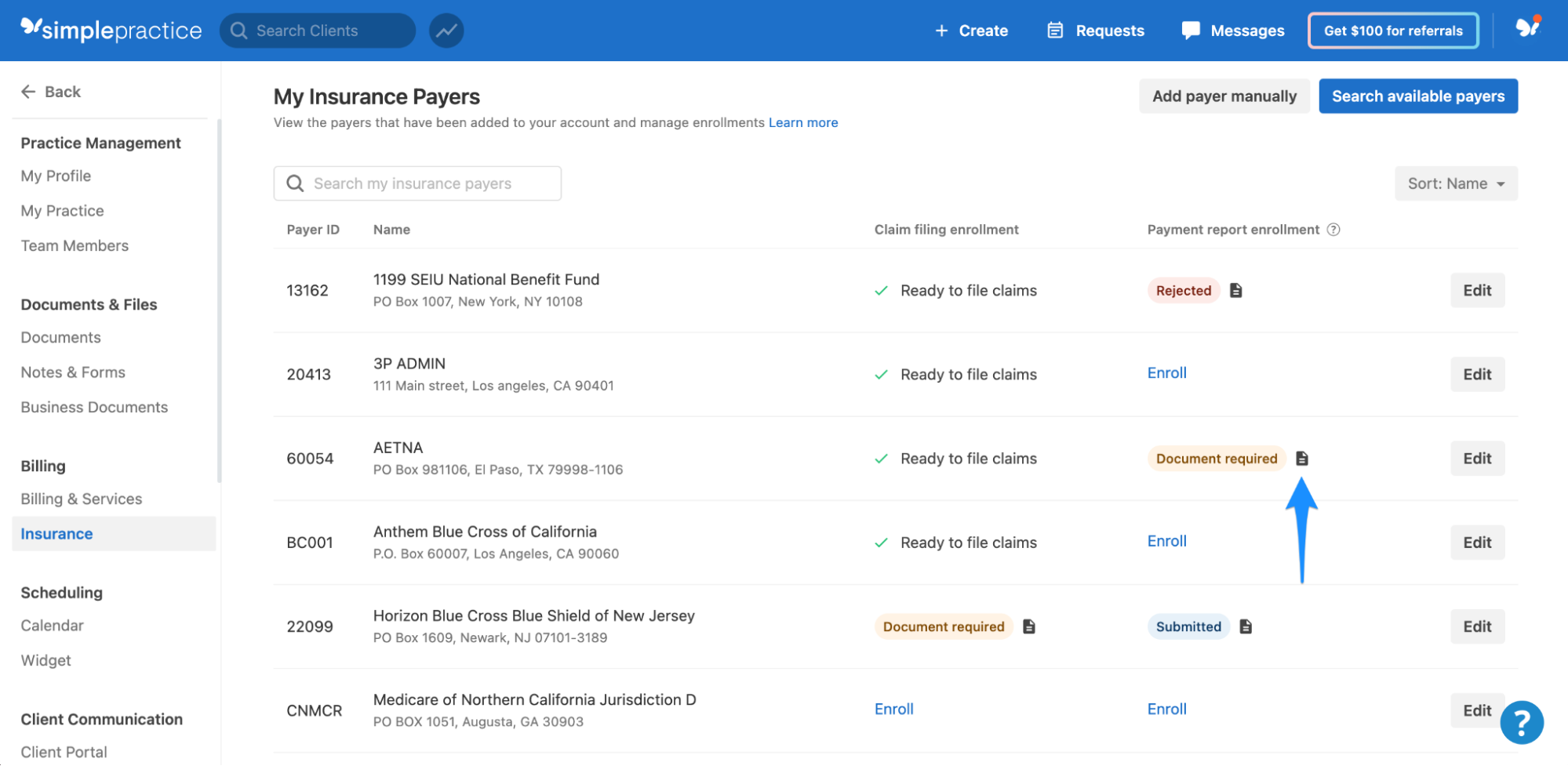 To complete the enrollment:
Click the

Document required icon

Download the PDF in Step 1: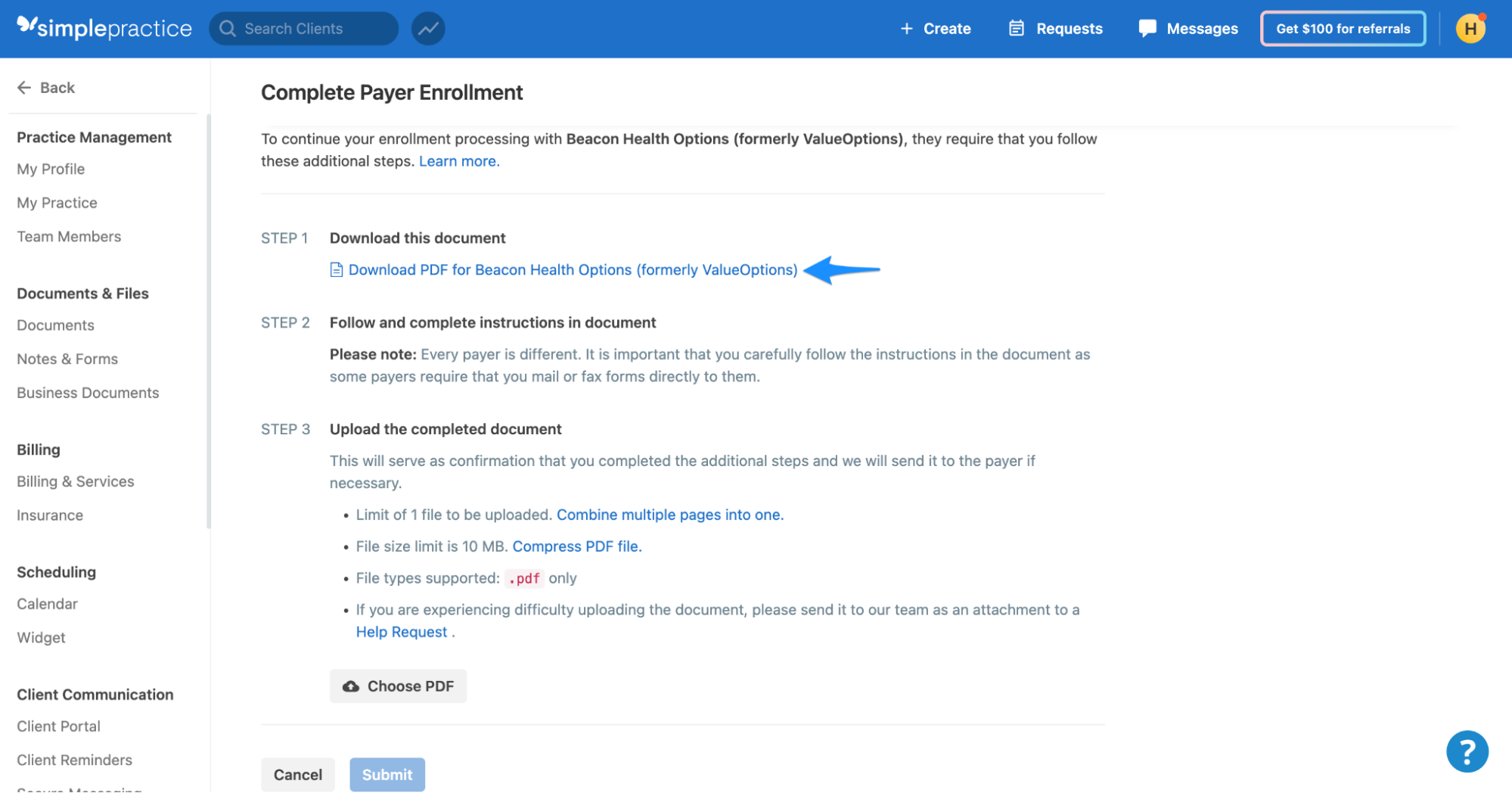 Follow the step-by-step instructions detailed in the document
Note: These instructions are required by a third-party clearinghouse and are subject to change. If you have any questions about the directions, please reach out to the number or website listed on the document.
Once you've completed all steps, print out and physically sign a copy of the instructions to confirm that you've completed all of the directions

Some payers may require that you upload a document packet that you'll receive after completing the steps

Click

Choose PDF

to upload the completed document

Once the document is uploaded, the enrollment will move from Document required

to S

ubmitted

and will process accordingly
If you feel the document wasn't uploaded correctly, or are having difficulty completing the steps outlined, submit a help request and we'll be happy to review the submitted document.
---
What should I do if I receive enrollment approval from the payer, but my enrollment still shows as Submitted?
Sometimes payers will notify providers that an enrollment for claim filing and/or electronic payment reports has been approved, but won't notify our clearinghouse. Our clearinghouse has to receive confirmation that your enrollment has been accepted, and a payer not notifying our clearinghouse can lead to an enrollment remaining stuck in the Submitted status. If you receive an approval notification and your enrollment hasn't updated past Submitted, please submit a help request so that we can help expedite the process for you.
When submitting a help request, please provide one of the following pieces of information to serve as clear confirmation of your enrollment approval:
Copy of the approval email or letter received from the insurance payer.


If the approval was verbal, please include the representative's name that you spoke with, as well as the phone number and reference number for the call.
---
When can I start filing claims?
You can start filing claims if either one of these is true:
The payer you're working with doesn't require a Claim filing enrollment. If you're working with a payer that says Ready to file claims under the Claim filing enrollment column, you can file claims to them right away.
The Claim filing enrollment you submitted has been accepted. You will know that this has been accepted because you'll receive an email from us letting you know. You can also check the status by going to Settings > Insurance. If the enrollment has been accepted, the status will update to Ready to file claims.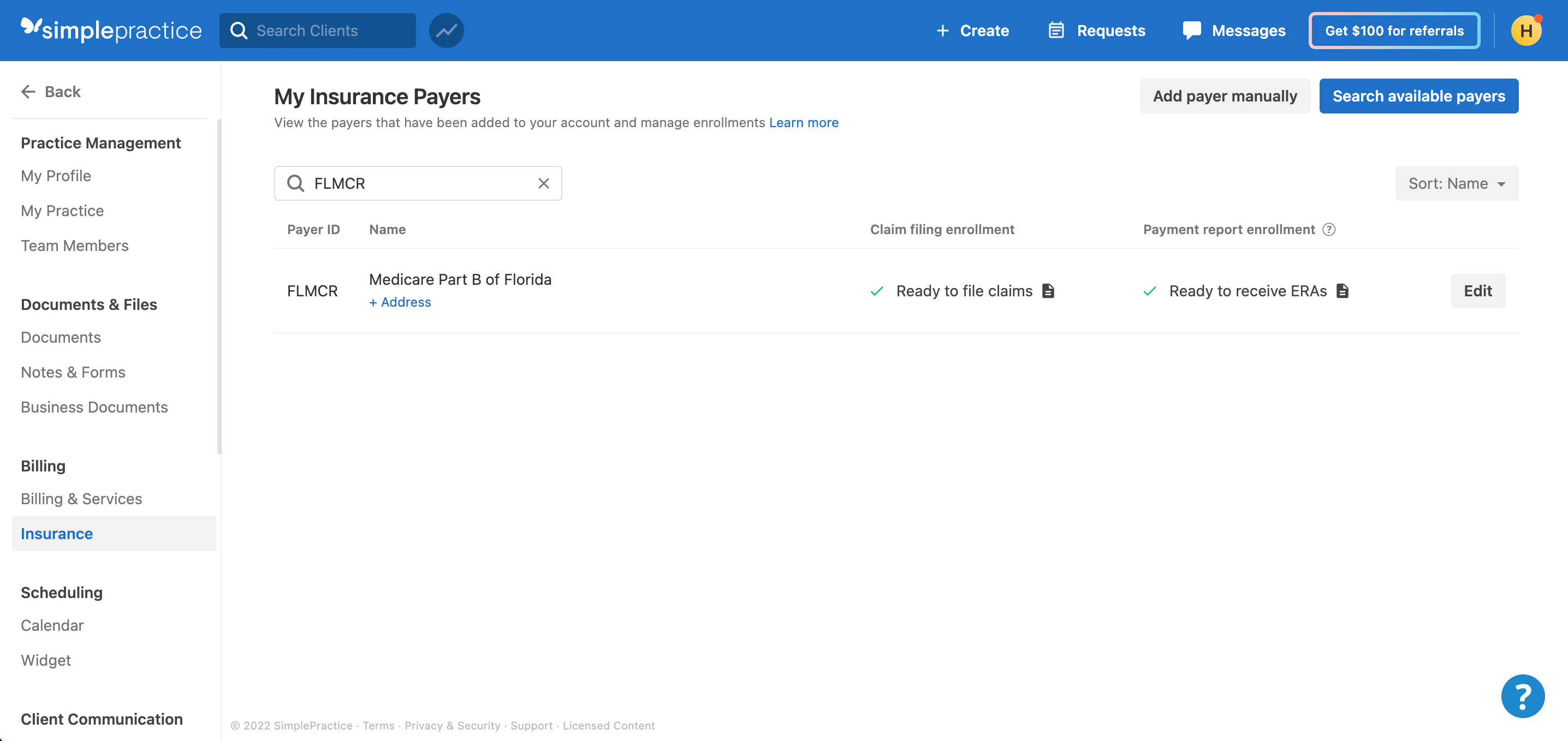 ---
Can I enroll with a payer if I'm out-of-network?
Most insurance payers will allow you to submit an enrollment if you're not in their network. This is beneficial if you're submitting claims as an out-of-network provider.
To submit an enrollment as an out-of-network provider, your billing information must be registered with the insurance payer as a non-participating provider. If you've confirmed that your information is on file and you're approved to submit electronic claims, submit the enrollment in the same way you would any other enrollment.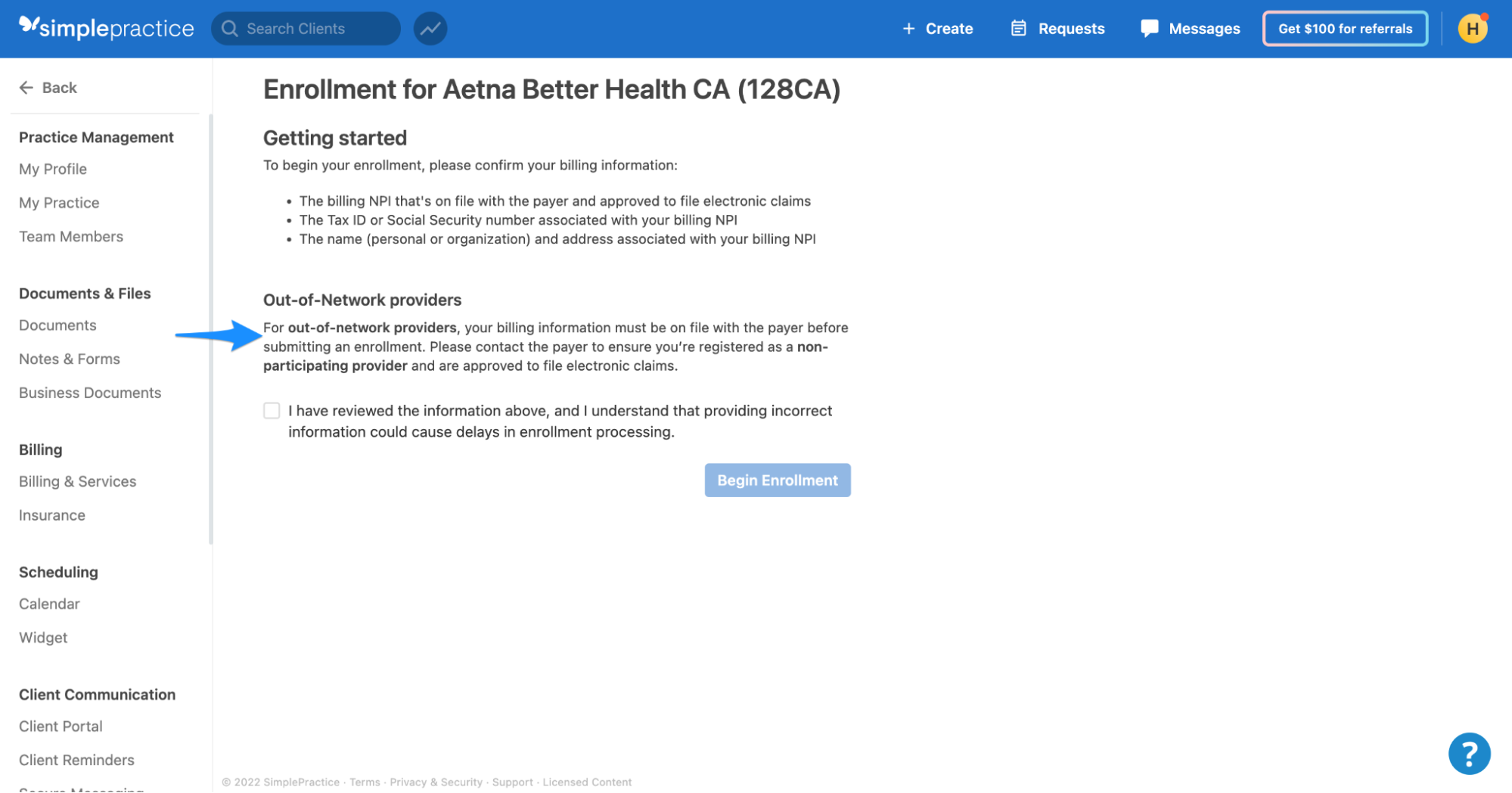 ---
How to update your enrollment information in SimplePractice
When there are changes to your practice information, you'll want to update the insurance payers and make sure your enrollments within SimplePractice have the correct information associated with them.
If the following information has changed or has been updated with the insurance payer, you'll want to check that the following information is correct in your enrollment:
NPI

Provider/facility name

Tax ID

Address
If you think an enrollment may need to be updated, navigate to Settings > Insurance and click on the document icon to view the billing information that enrollment is currently accepted under.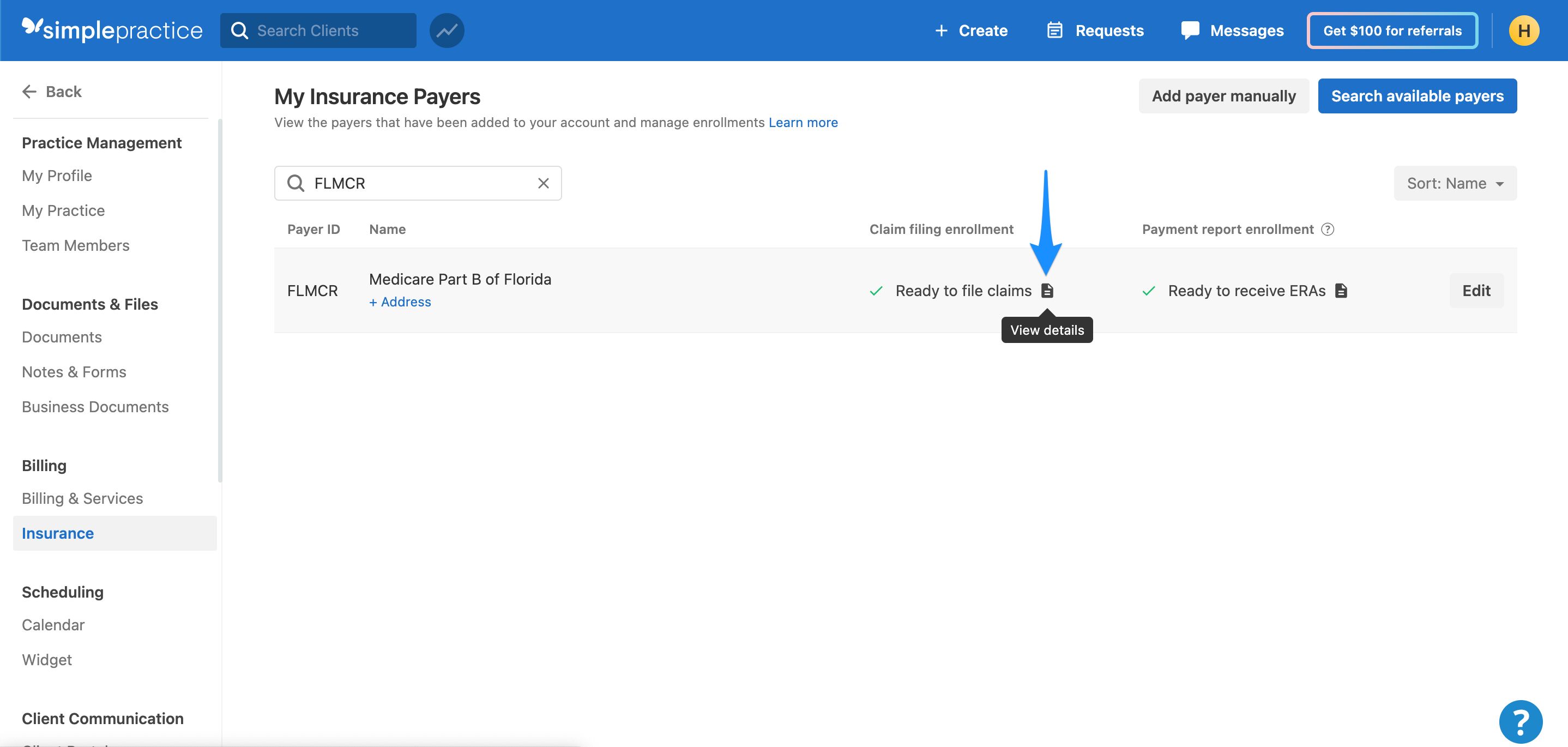 To update your enrollment information, follow these steps:
Contact the insurance payer to verify the information that they have on file for you.

If the enrollment in SimplePractice needs to be updated, please

submit a help request

.

One of our team members will reach out to our clearinghouse and request that they temporarily

reject

your current enrollment. This will allow you to update your information.

You'll receive an email notification informing you that the enrollment has been rejected.

Navigate to

Settings > Insurance

and click the

Rejected icon

. This will take you to the enrollment screen where you can update your information as needed.

Submit the enrollment under the updated information.

We'll email you once the enrollment is accepted again, or if additional steps are needed.