This article includes answers to the most frequently asked questions regarding enrolling for e-claim filing with insurance payers. If you need some guidance submitting your enrollments, check out this guide.
FAQs
---
What is Enrollment?
Enrollment is the process of informing your client's insurance company that you plan to submit electronic claims via SimplePractice and/or that you wish to receive electronic EOB's (or payment reports).
When you start managing your insurance through SimplePractice, you will need to notify some payers that you plan to use our software. You can manage the process of any required enrollments directly through SimplePractice in almost all cases, with just a few clicks of the mouse.
Enrollments are specific to a billing NPI. That's why you need to make sure that when you submit an enrollment you use the NPI and Tax ID that you will be including as the billing NPI on your claims to that payer. The Billing NPI is the one that goes in box 33 of your claim form.
Note: Enrollment is NOT the same as getting 'paneled' or 'credentialed' with an insurance payer. If you are enrolling with a payer through SimplePractice, you will likely need to already be paneled with an insurance payer in order for them to approve your enrollment. SimplePractice does not assist with credentialing.
---
How can I find out if my insurance payers require enrollment for claims and/or payment reports?
Many payers do not require that you enroll for claim filing. Some payers DO require that you enroll for payment reports.
If enrollment for either claim filing or for payment reports is required, you must upgrade to a paid account with SimplePractice and have at least 1 client that is listed as using that insurance payer.
How to check if your client's insurance companies requires enrollment
Go to My account > Settings > Insurance Payers.
Begin typing the name of your payer into the search box.
Locate the payer, check the Claim Filing Enrollment and Payment Report Enrollment columns to see the payer's requirements.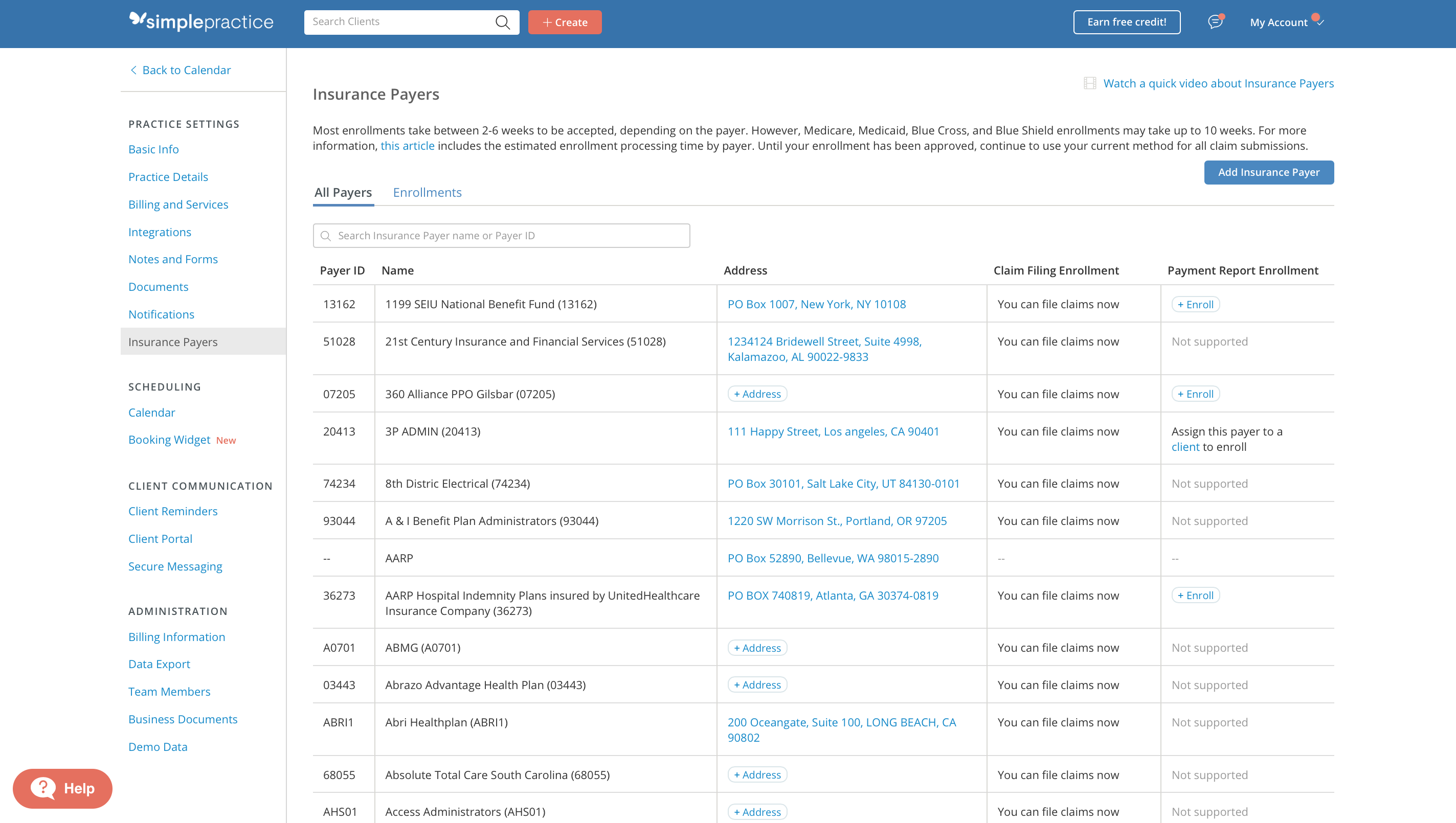 What do the column statuses mean?
Not Required: Enrollment is not required for this payer. Go ahead and start submitting claims right away!
No Clients on File: You have a paid SimplePractice account, but have not yet entered this payer into any of your client profiles. Enrollment requires a paid account and at least one client using the payer in order to enroll.
Payment Reports Not Supported: Payment reports are not available for this payer. You will receive paper EOB's.
+Enroll: Click the +enroll button in order to submit the simple application to your payer. We handle the rest!
---
What if I was already enrolled with my payer prior to SimplePractice?
Even if you've enrolled directly with an insurance company or through another clearinghouse, you still need to enroll through SimplePractice in order to set up the connection. Having been accepted to submit claims electronically with a payer in the past does not correlate to a faster acceptance through SimplePractice.
---
What are the requirements to enroll for claim filing or payment reports?
If enrollment is required for a payer, you must:
Have at least one client on file with that payer entered into their profile

To check: Go to Client > Edit Client info > Billing & Insurance Tab

Provide your credit card information by going to My Account > Settings > Subscription Information

This will not result in a charge on your card
---
How long until my enrollments are accepted by the insurance payer?
Every payer takes a different amount of time to approve their required enrollment forms. Some are approved in 1 business day, while others (i.e., Medicare and Medicaid) can take upwards of 2 months. However, most payers take less than 30 days.
Note: We recommend that until your enrollments are approved, you submit claims by mail to avoid any delays in reimbursement for your sessions.
---
When can I start filing claims?
You can start filing claims if either one of these is true:
1. The payer you're working with doesn't require a Claim Filing Enrollment. If you're working with a payer that says "You can file claims now" under the Claim Filing Enrollment column, you can file claims to them right away.
2. The Claim Filing Enrollment you submitted has been Accepted. You will know that this has been accepted because you'll receive an email from us letting you know. You can also check the status by going to My Account > Settings > Insurance Payers > Enrollments.