SimplePractice Online Booking features a user-friendly client scheduling solution, which provides the ability for clients to view your availability and then request an appointment.
We have also integrated SimplePractice Availability Scheduling into Online Booking which allows you to set specific times of the day that you want to make available to clients, as well as setting specific service codes and our Call-to-Book feature. Click here to learn more about Availability Scheduling.
Note: Online Booking is only available with the Professional Plan. Click here to see all our SimplePractice plans and pricing.
In this article
---
Make sure your client portal is turned on
Before we get started, make sure that you have enabled the Client Portal. Here's how:
Go to My Account > Settings > Client Portal.
Make sure the toggle shows a blue ON, as shown below.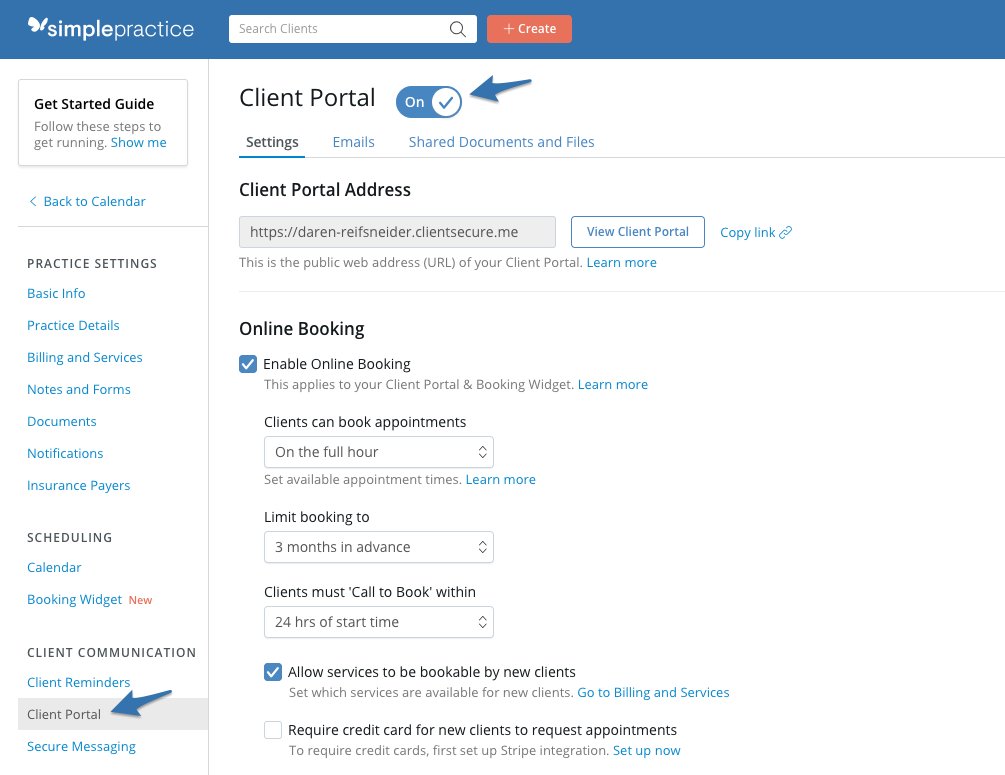 Creating your practice URL
To get started with Online Booking, you need to create your practice URL. This is the link that clients will visit to see your availability and request an appointment. You can also post this on your website so clients can easily access your Online Booking. Here's how:
Go to My Account > Settings > Client Portal.
You'll see a recommended practice link, which is based on your practice name and available URLs, as shown below. You can edit to this URL if you would prefer something different, then Save & Lock.
Important: Once you lock your Practice URL, you won't be able to make changes to it directly. Send us a help request and we can unlock it for you.
Here's what a locked URL looks like: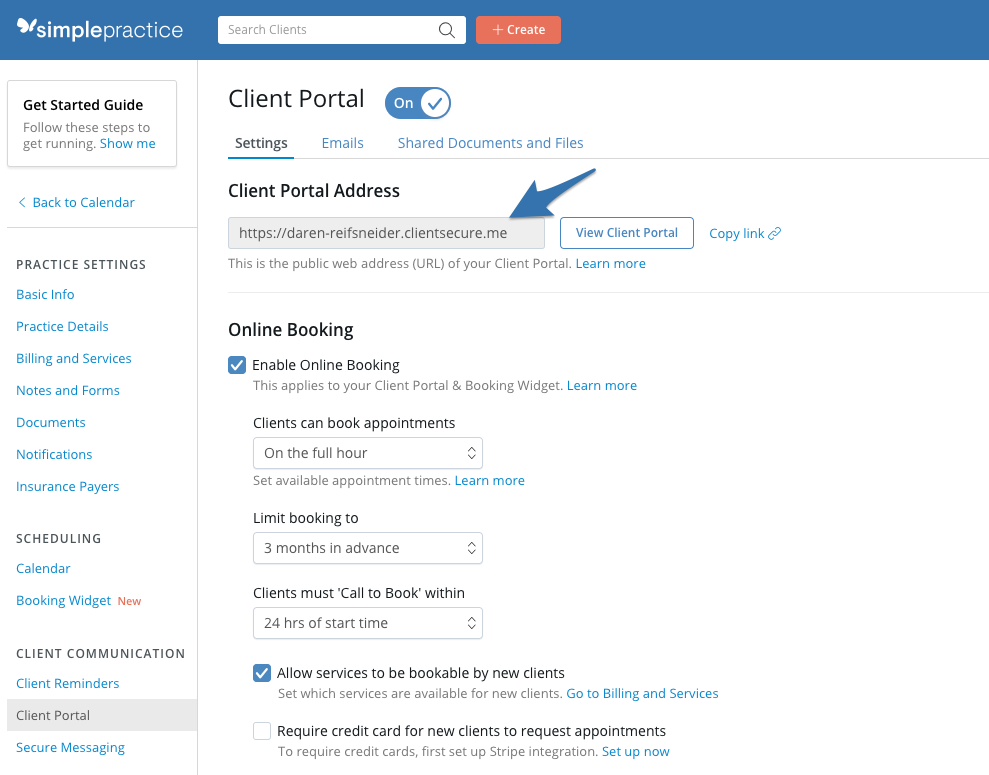 Once the URL is locked, you can check out your Client Portal to see what it looks like to your clients.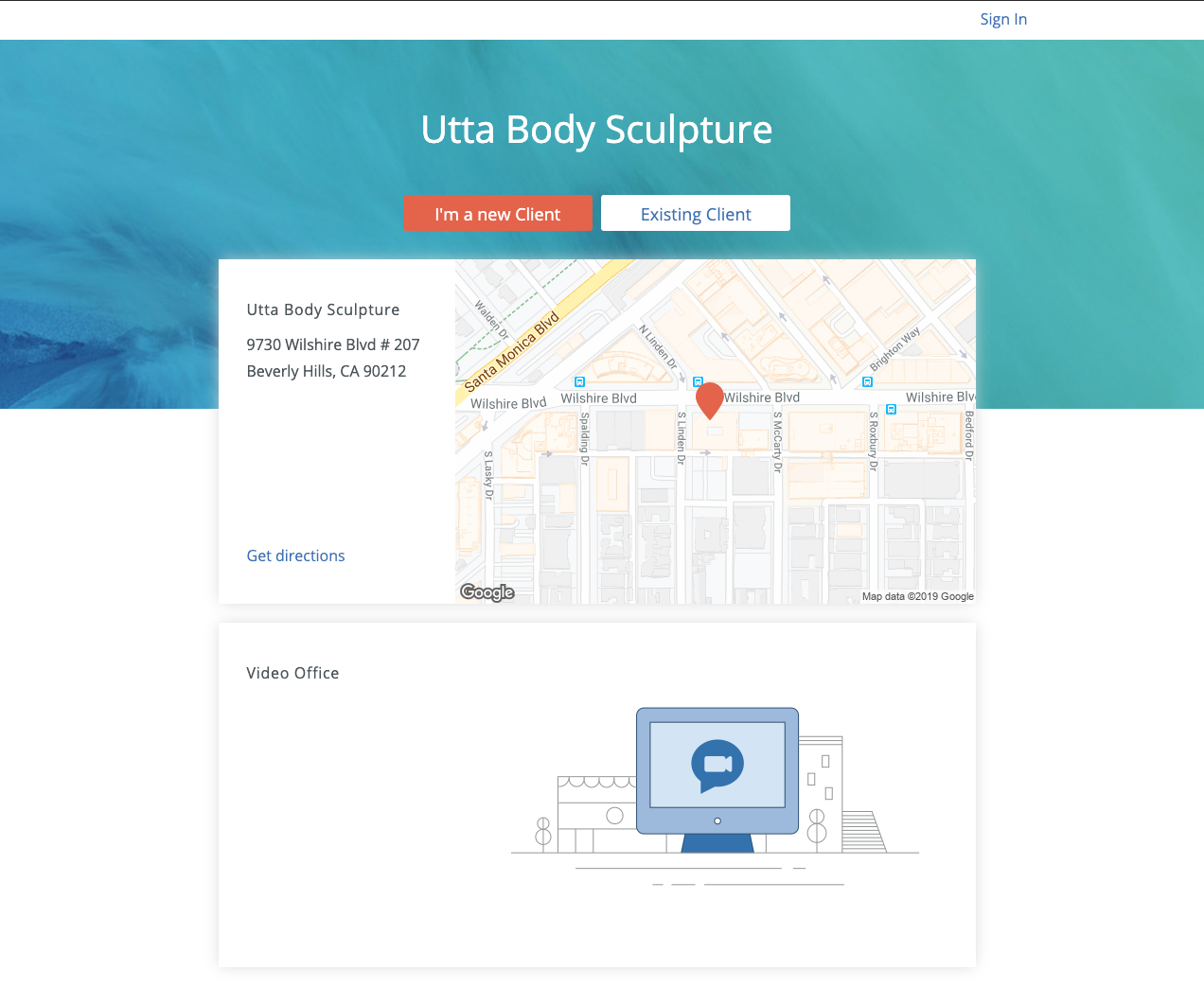 It's best to lock your Client Portal before sending out invites to the Client Portal. Click here to learn more about inviting clients to the Client Portal.
Customizing your Client Portal
Practice Name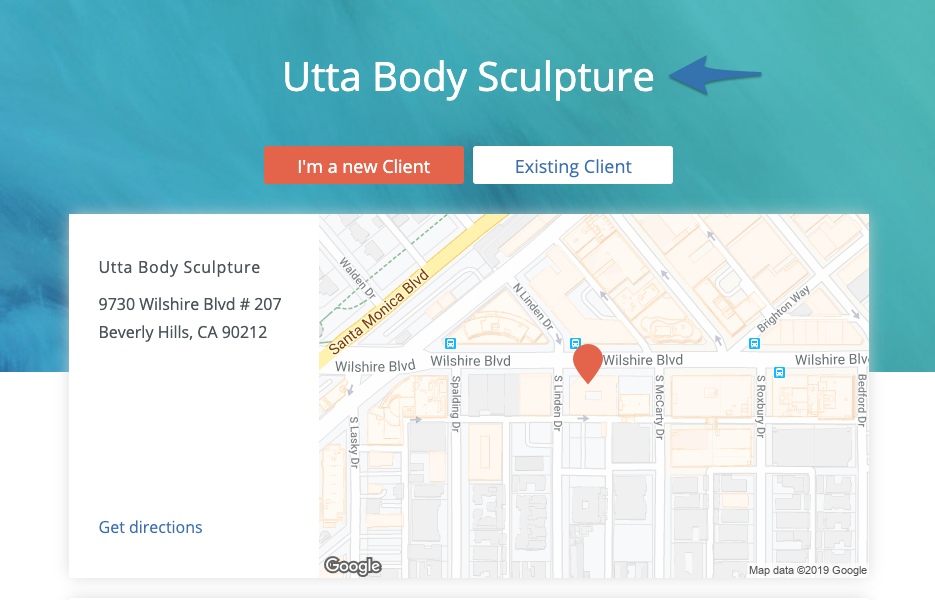 The header of your Client Portal is pulled from the Practice Name in your Practice Details page. You can customize it to be anything you like.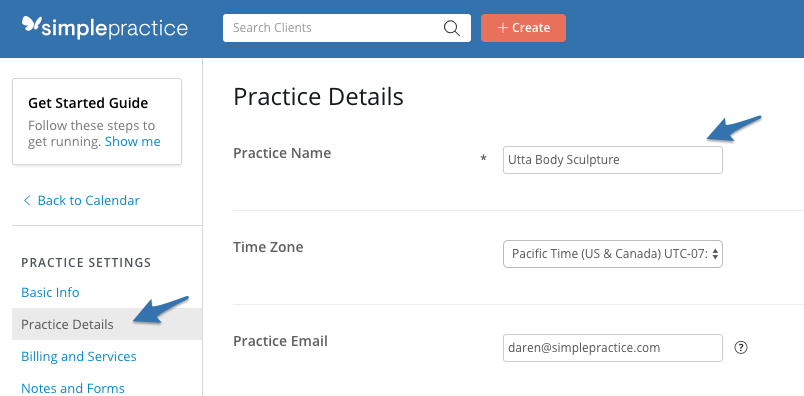 Office location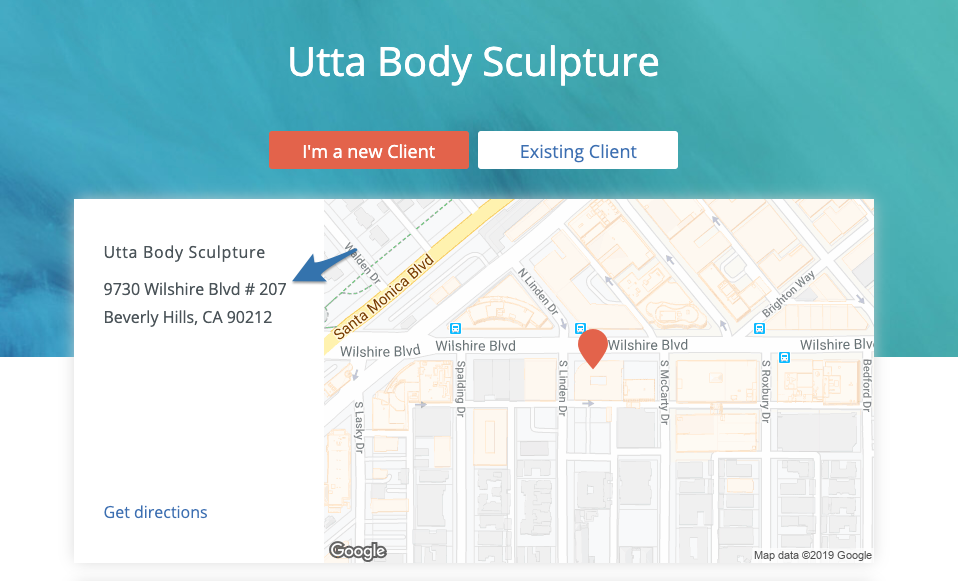 Your office name and address are pulled from the Office information entered in your Practice Details.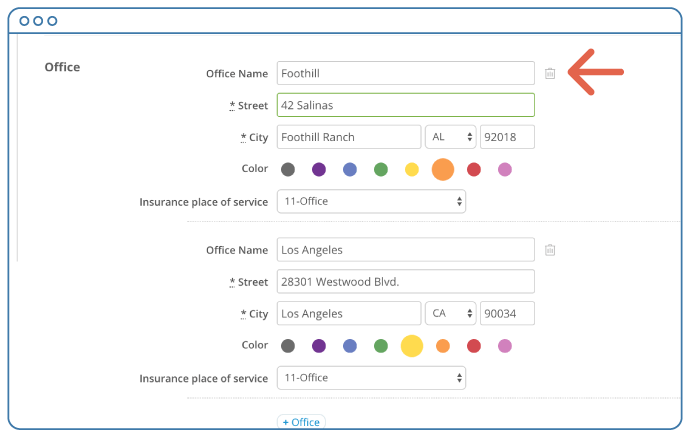 If you have multiple offices entered in your Practice Details page, they will appear on the Client Portal as well.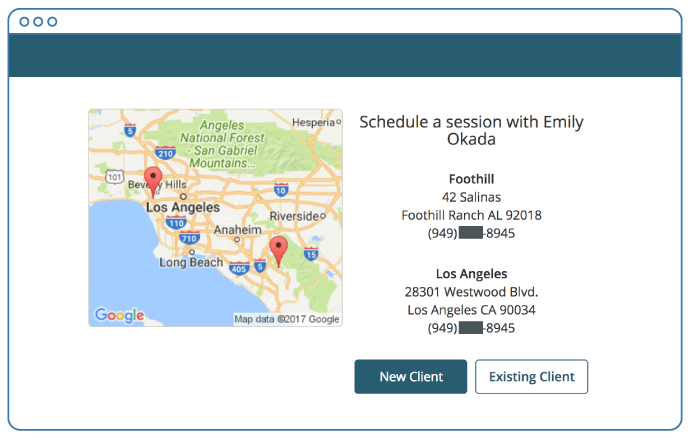 Enabling Online Booking
Now that your Client Portal is built, you're ready to enable Online Booking! Here's how:
Go to My Account > Settings > Client Portal.
Select Enable Online Booking. This opens extra settings to customize your Online Booking page. After setting your preferences, click Save, as shown below.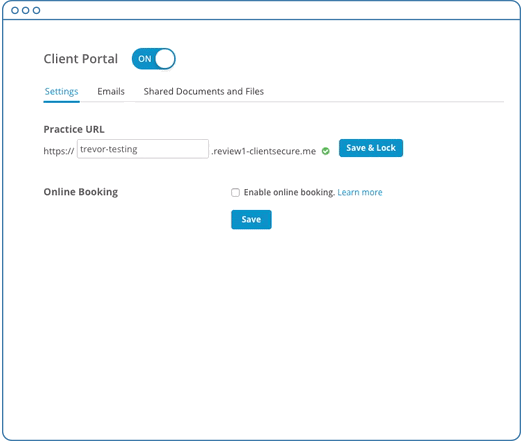 Here you'll be able to determine how sessions are booked: on the hour, half hour, or by session length.
You can also select if you would like to allow new clients to book, select if you would like to request a credit card to book, set how far in advance your clients can book, and set the time limit for booking appointments online to prompt a client to Call-to-Book.
You can allow new clients to book online to make it easier for new clients to see you. When they request an appointment, you'll still have the option to decline or accept the appointment. Also, you can set which specific services you offer to new clients by customizing your service codes.

Click here to learn more about Service Codes.
If you would like to request a credit card for Online Booking, select Require credit card to book appointments. New clients will be prompted to add a credit card and existing clients without a credit card on file will be asked for one as well. If you haven't setup your account with Stripe, you'll be prompted with information about Stripe to setup a new account. You won't be able to request a credit card without a Stripe account.
Note: You can learn more about Stripe by viewing this guide: Getting started with Online Payments in SimplePractice.
You can also limit how far in advance clients can request appointments. The default is set to 3 months but you can extend that to 6 months or even as little as 1 week out. This means clients will only be able to book an appointment as far into the future as you have limited.
In addition, you can set the time range where clients will need to Call-to-Book. The default is within 24 hours, but you can set this to as little as one hour or as far out as 5 days. You'll also be able to set service codes to be Call-to-Book always.
When you make changes to this page, always make sure to click Save. You can always make changes to the settings above to figure out which settings work best for you!
How to set existing clients up for Online Booking
Before your existing clients can schedule through your link, they need to set up a password so that they can access the portal securely. There are 2 ways your client can set up their password:
Send the client an activation link so they can create a username/password for Online Booking. To do this, go to Clients > Edit Client Info > Communication tab.
Click Send Client Portal Information, which will provide them with an activation link, so they can enter their username/password. The email they receive will look like this:
When your client clicks the link, they will be prompted to enter a password that they will use for future appointment scheduling, as shown below.
For clients already enabled in the Communication tab, you will need to provide them with a practice link (located here: My Account > Settings > Client Portal).
On your Client Portal, make sure to remind them to select Existing Client, as shown below.
They will then be asked to log in and will be prompted to create a password so they can continue to schedule/view their appointments. Once they have entered their new password, your clients will then be taken through the steps to schedule an appointment.
How to set up new clients for Online Booking
Option #1: Provide your client with your unique Practice URL, either by email or by embedding on your website. Here's how:
Locate your practice URL link by going to My Account > Settings > Client Portal.
Click Copy URL to copy the link to your computer's clipboard so you can paste it in another location such as an email, your Facebook page, or your practice website.
After a new client clicks your practice URL, they will need to click New Client to request a session.
Option #2: After you speak to a client via phone, you can also quickly enter their basic info and send them the scheduling link.
Click +Create > Create Client, as shown below.
Deselect Send Intake Forms so that you do not send them the client intake portal. (You will have the option to send the intake forms after you confirm the client's online appointment request.)
Enter the client's first and last name, phone number, and email. Click Save Client.
Now that your client is created, click edit client info on that client's page and then select the Communication tab.
In the Communication tab, you will see the option to send the scheduling information to the client so they can initiate their first appointment. Customize the text in the email if you wish (be sure not to remove the activation link macro) and click Send Client Portal Invitation.
Your client will receive an email prompting them to set up their password and schedule their first appointment. Your client will select an appointment, which will then be noted on your homepage to approve or decline.

Once you have approved your client's appointment request, you will be provided the option to send them the intake forms so they can complete their intake with you.
How your clients request an appointment
When your client clicks your Practice URL link, they will be taken to your Client Portal where they will indicate if they are a new client or an existing client.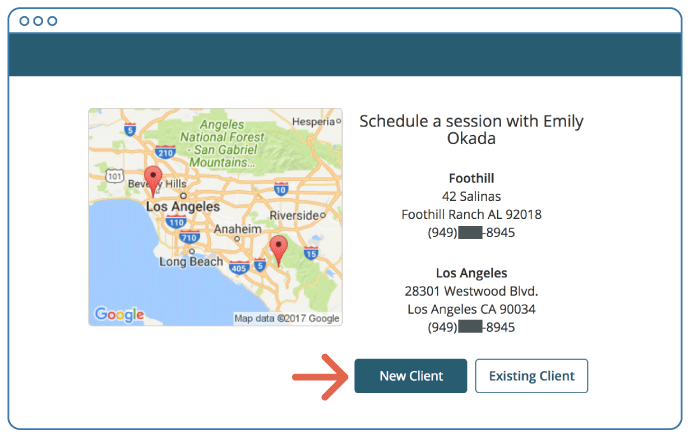 A new client is one that you have not yet added to your SimplePractice account.
An existing client is one you have already added to your SimplePractice account.
New clients
A new client will immediately be presented with the option to schedule a session with you based on your calendar availability.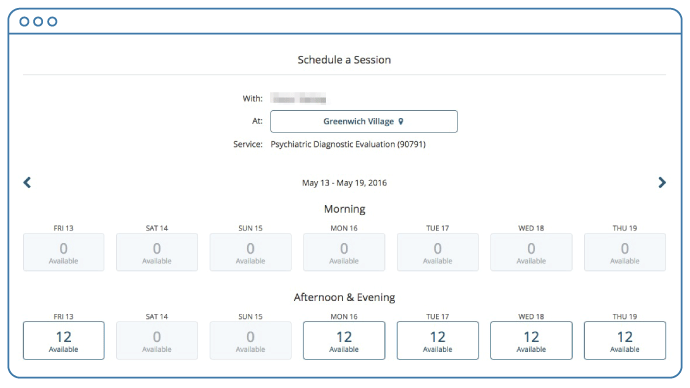 Once a new client chooses a time, they will be prompted to provide information to complete their request.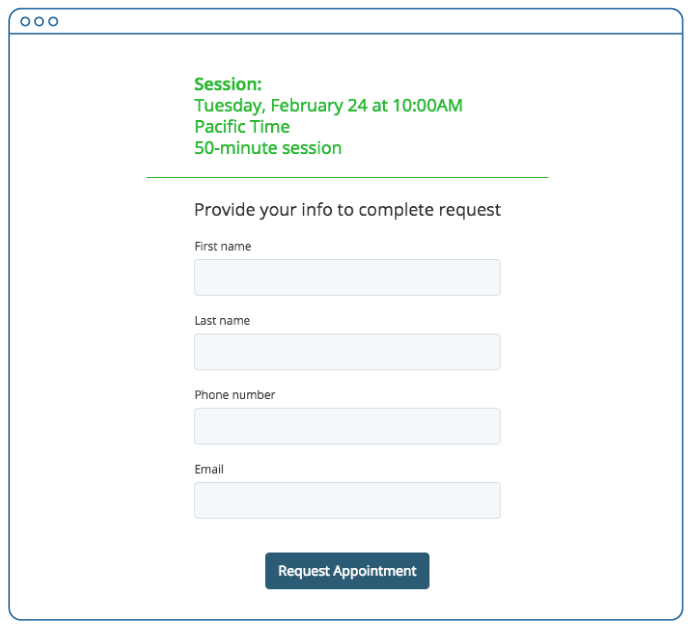 Once they click Request Appointment, they will see a confirmation page that allows them to put the appointment on their calendar and informs them that the therapist is required to confirm the appointment.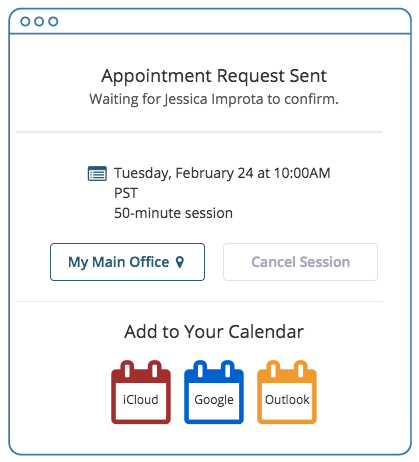 You will receive an email alerting you to the appointment request and the request will also appear on your SimplePractice account.
How to confirm/decline appointment requests
After your client has requested an appointment, the request will appear in your SimplePractice account and you'll also receive an email alert.
You will see a list of requests on the left-hand column of your account with the option to confirm or decline each request individually.
Simply select accept or decline.

A pop-up screen will appear with an email message to the client.
Appointment confirmation and decline emails are pre-populated with a standard message. You can edit these messages individually at the time you accept or decline the appointment. (In the next section, you'll see how you can create a custom message that will pre-populate these emails.)
This is what the standard accept/decline emails look like:
Accept Email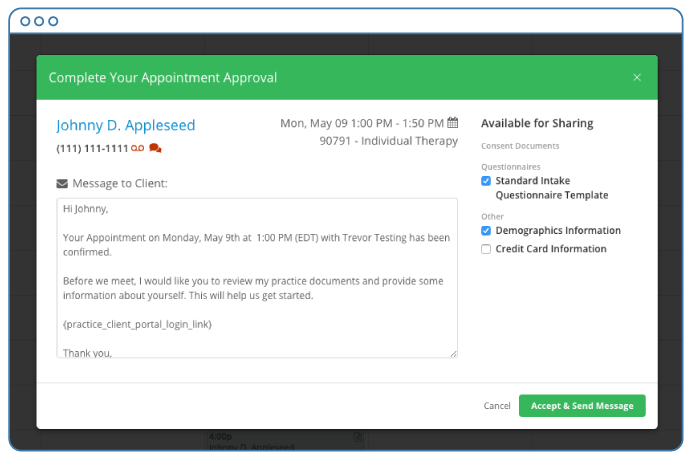 Decline Email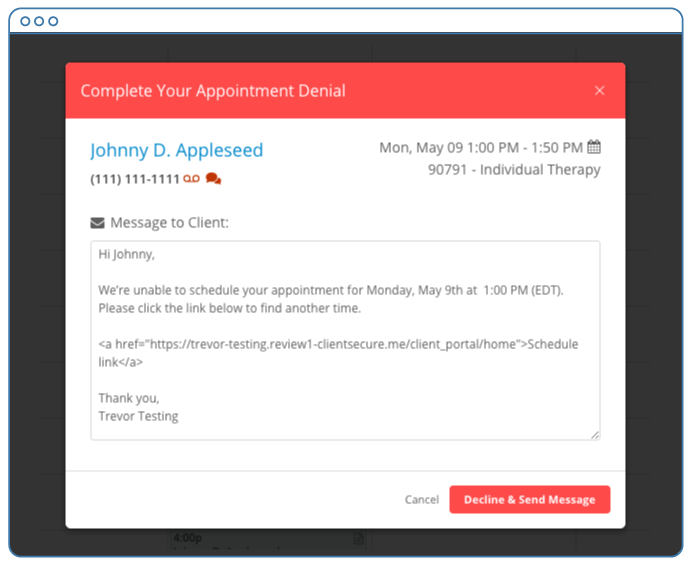 You will also have the option to send the intake forms along with the desired intake questionnaires and forms.
Once you have selected to decline or accept, the appointment will either be removed or placed on your calendar.
Edit appointment email confirmations/declines
To customize the standard email messages:
Go to My Account > Settings > Client Portal.
Click the Emails tab at the top of the page.
Here you can customize the message for each type of email. To offer more personalization, you can use the macros provided in the drop-down menus.
Note: What is a macro? A macro is a placeholder in the body of the email message that will dynamically pull information from your account. For example, you can choose to include the client full name or just your first name based on what you've entered in your Client's Details.
Important: Email is not a secure form of communication and these email messages to clients are not encrypted. We do provide the option to include some patient health information (PHI) like a client's name, address, phone number, and more in these email messages. Please make sure you use this feature appropriately based on your practice's HIPAA security requirements.
Important details to know
If your client forgets their password, they can always request a new one by clicking on forgot my password from the scheduling portal homepage.
When accepting a client request, you now are given the option to send the intake documents to the client (even an existing client).