If you prefer to bill and collect payments from clients on a session-by-session basis, this article will recommend the steps to manage your billing this way.
You might be a "pay-as-you-go" clinician if:
You collect payments from clients at the time of service.
You typically do not have clients who carry a balance.
Here's some steps to get you setup correctly for session-by-session payments:
SimpleRecommendation: We recommend daily invoice generation. To set this up, go to Settings > Billing and Services > Invoice Settings, and make sure the Daily option is selected.
Even if you collect payments as you go, you can generate a monthly statement of services or a superbill automatically. To do this, check the boxes next to statements and/or superbills in this section and select when they should be sent. Remember that you can always create these documents on demand if they are not created automatically.
2. Collect client payments at the time of service
Click on the calendar to open the appointment.
Select the amount you collect from the client. Typically this will be just the session fee which is indicated on the flyout as the Uninvoiced Session fee.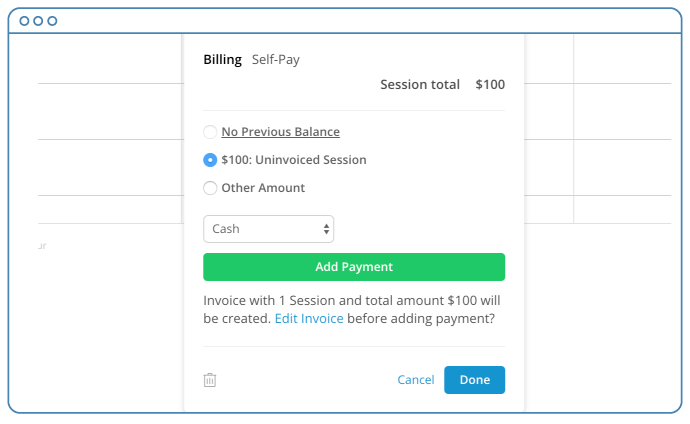 Then click Add Payment. You'll see a confirmation when the new invoice appears on the flyout as PAID.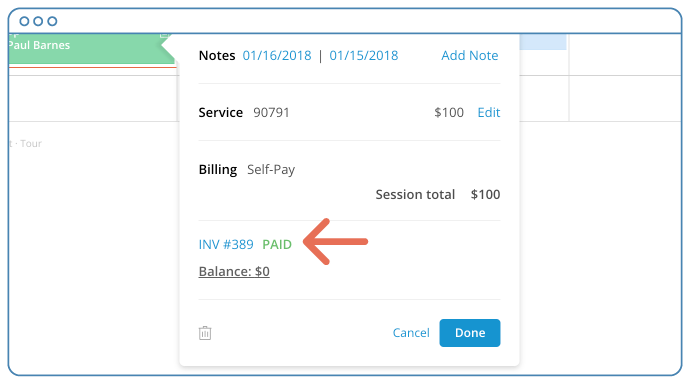 3. Set up AutoPay
Rather than collect payment at the time of service, you can also set up AutoPay so your clients are automatically charged overnight without even opening up your computer! Click here to learn how to get this set up.
4. Have clients pay through the portal
If you don't take a payment at the time of the session, that's fine! You can set up the system to automatically notify your client when payment is due so she can pay through your client portal.
Immediately after a session on the client's billing page, the session fee will be recorded in the "Uninvoiced" area of the "At-A-Glance" section. There is no need to create an invoice now, as you have already set your session invoices to generate overnight.

Remember that until a session is put onto an invoice, the amount will not be listed as part of the client balance.
Example: You bill $150/session on 11/2 at 10:00 a.m. The client balance due will remain at $0 and the "uninvoiced" amount will indicate $150 until the session is invoiced.
After the invoice generates overnight as scheduled, the "uninvoiced" amount of the session will now become part of the client's balance.

If you have your client's billing document delivery method set to client portal with invoice notifications enabled, your client will be alerted of the new invoice. She will be able to log into her portal to review the invoice and pay it online. No further action is required from you.
You can determine if a particular invoice has been paid because it will switch from the "Unpaid" to the "Paid" status.

5. Download and print invoices for clients
Many clinicians do not feel the need to provide invoices to clients who pay them on a session-by-session basis. However, sometimes a client will request a past invoice. You can always print a past invoice by going to the client's billing page and filtering the date range.
Or you can export and print a series of documents for the client from the new Billing Documents section of your account:
From the calendar home page:
Go to: Billing > Billing Documents
Select the client's name and the type of billing document you wish to send.
Click Apply filters.
You can then select the documents you want to export for printing and download the PDF to your computer.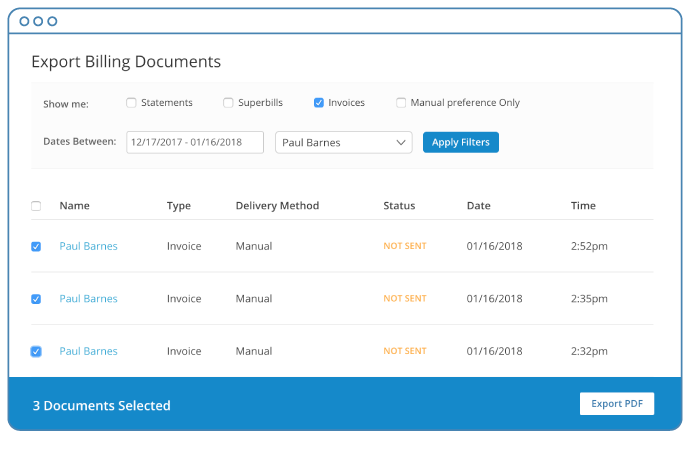 Keep in mind that these are just guidelines and you always have the flexibility to alter your workflow in the best way for your practice!