If you prefer to bill and collect payments from clients on an appointment-by-appointment basis, follow the steps in this guide.
You might be a "pay-as-you-go" clinician if:
You collect payments from clients at the time of service

You typically do not have clients who carry a balance
Here are some steps to help you set up appointment-by-appointment payments:
Note: We're currently rolling out a new client billing page for our customers. If this has already been enabled in your account, please see our guide on Billing updates for more information.
---
Changing your billing settings to generate daily invoices
We recommend enabling daily invoice generation in your account. To do so:
Navigate to

Settings > Billing and Services

Scroll to the

Invoice Settings

section

Select

Daily

under

Invoice Creation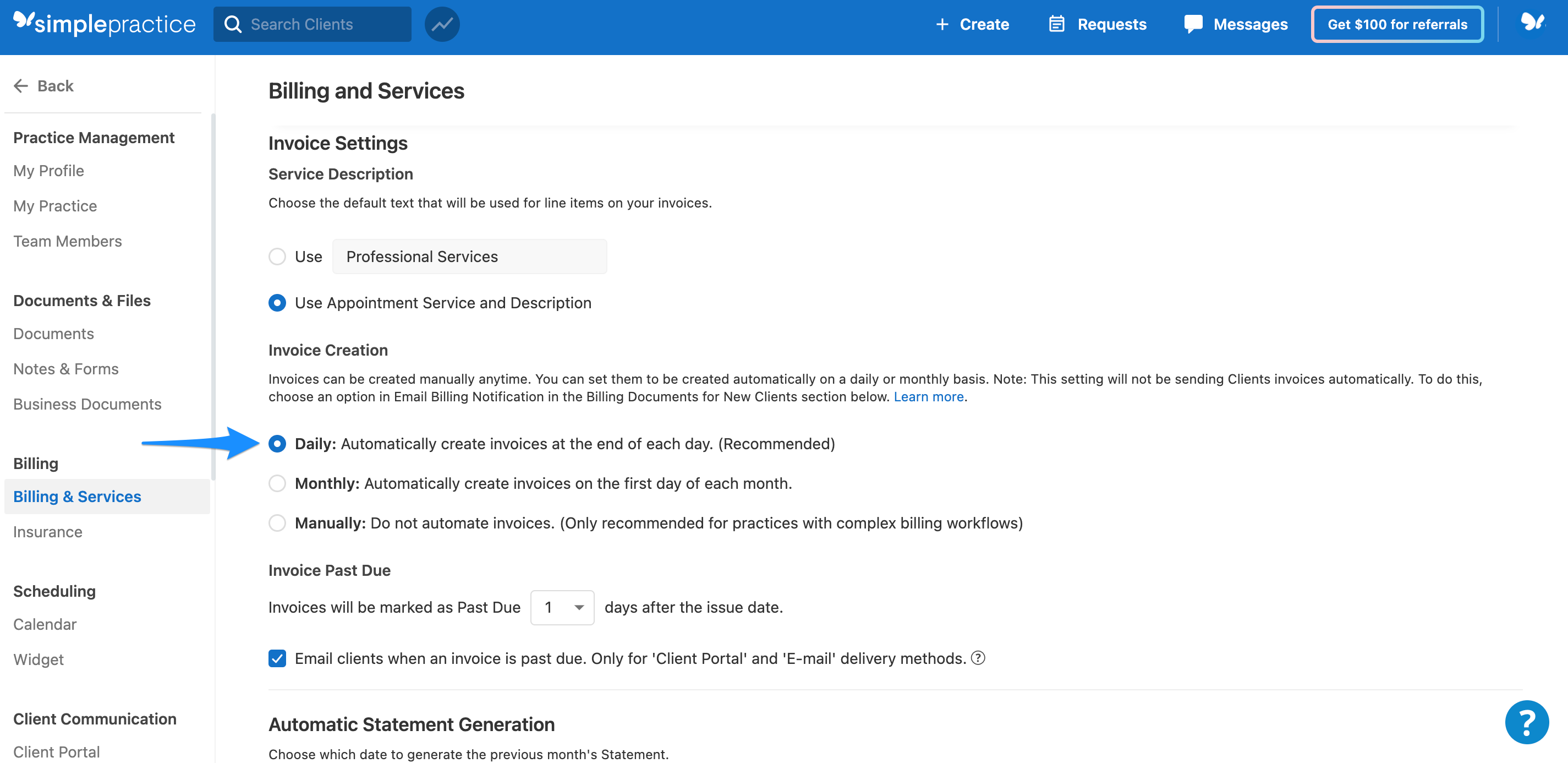 Note: See Setting up your billing and automations to learn more about the billing automations you can set up for your account.
If you collect payments as you go, you can generate a monthly statement of services or a superbill automatically. To update this on a practice level:
Navigate to

Settings > Billing and Services

Scroll to the

Billing Documents for New Clients

section

Select

Statements for new clients

and/or

Superbills for new clients


Keep in mind that this setting only applies to new clients that you create. To set up automatic statement/superbill creation for existing clients, you can do so from their individual profile. To learn more, see:

How to share billing documents with clients

.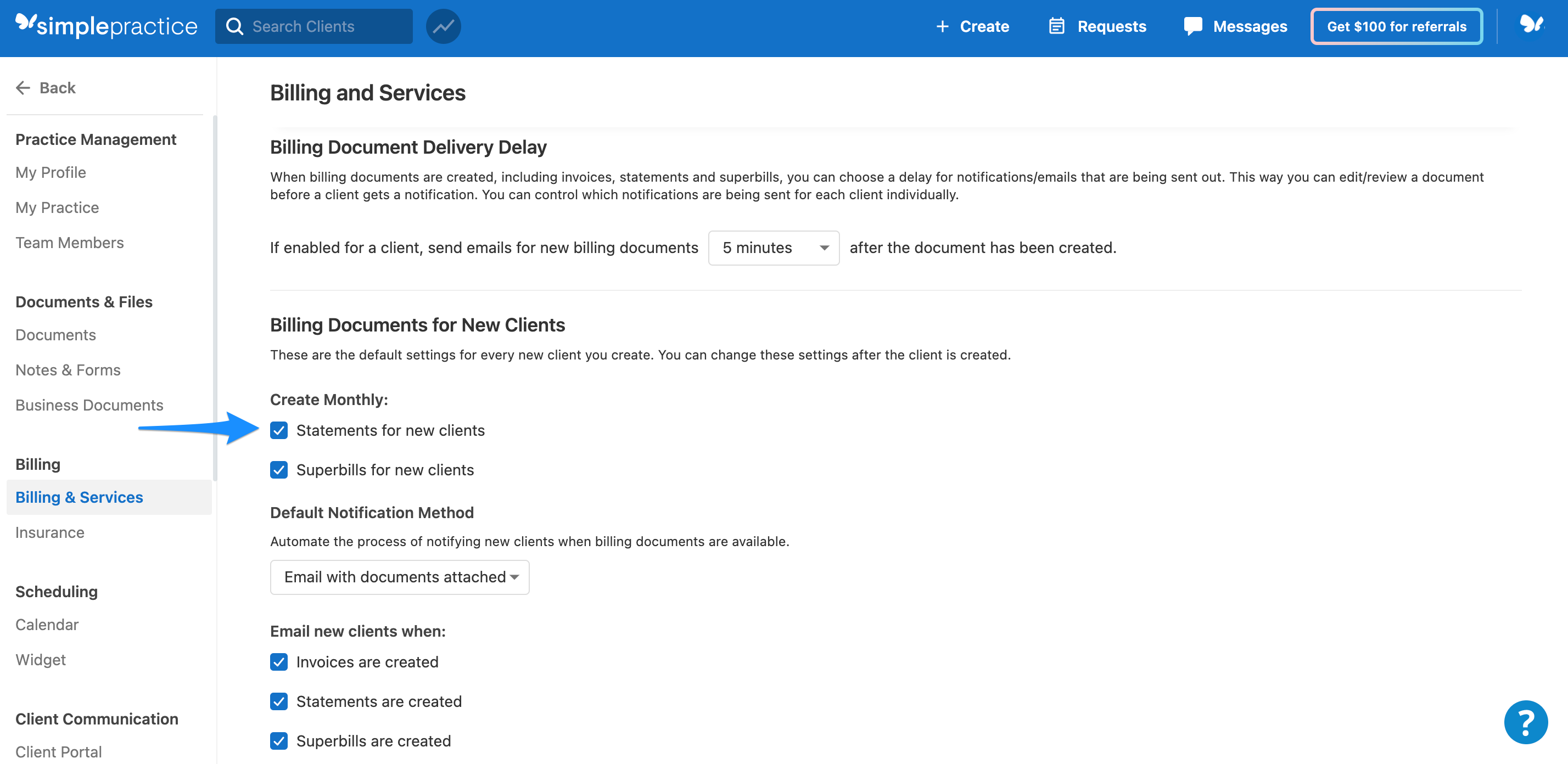 Select a day of the month these documents should be created in the

Generate monthly Statements/Superbills on day X of the following month

dropdown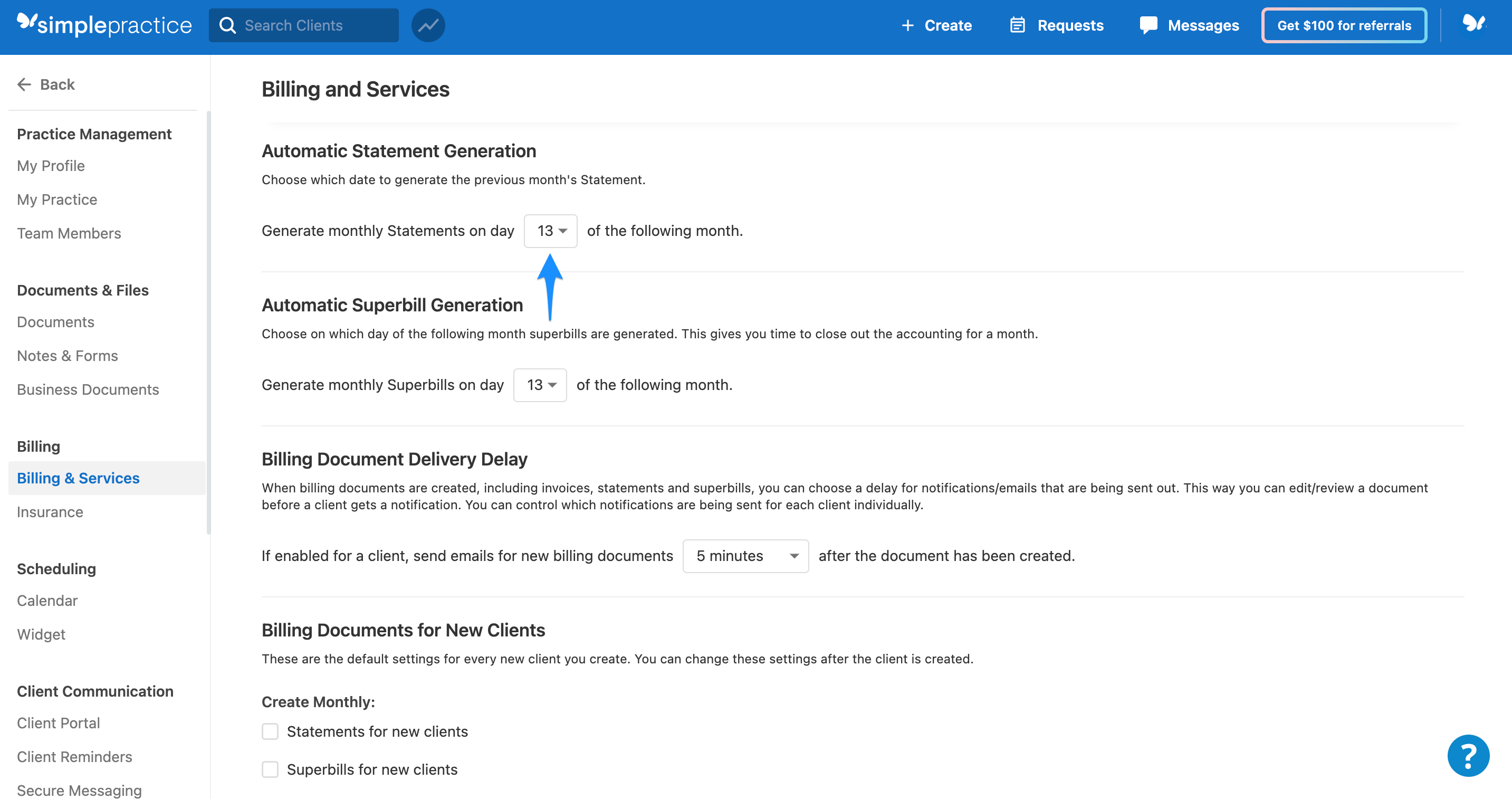 ---
Collecting client payments at the time of service
To collect payments at the time of service:
Click the appointment on the calendar

Select the amount you're collecting from the client




If you're collecting the fee for the appointment only, select the

Uninvoiced Session

option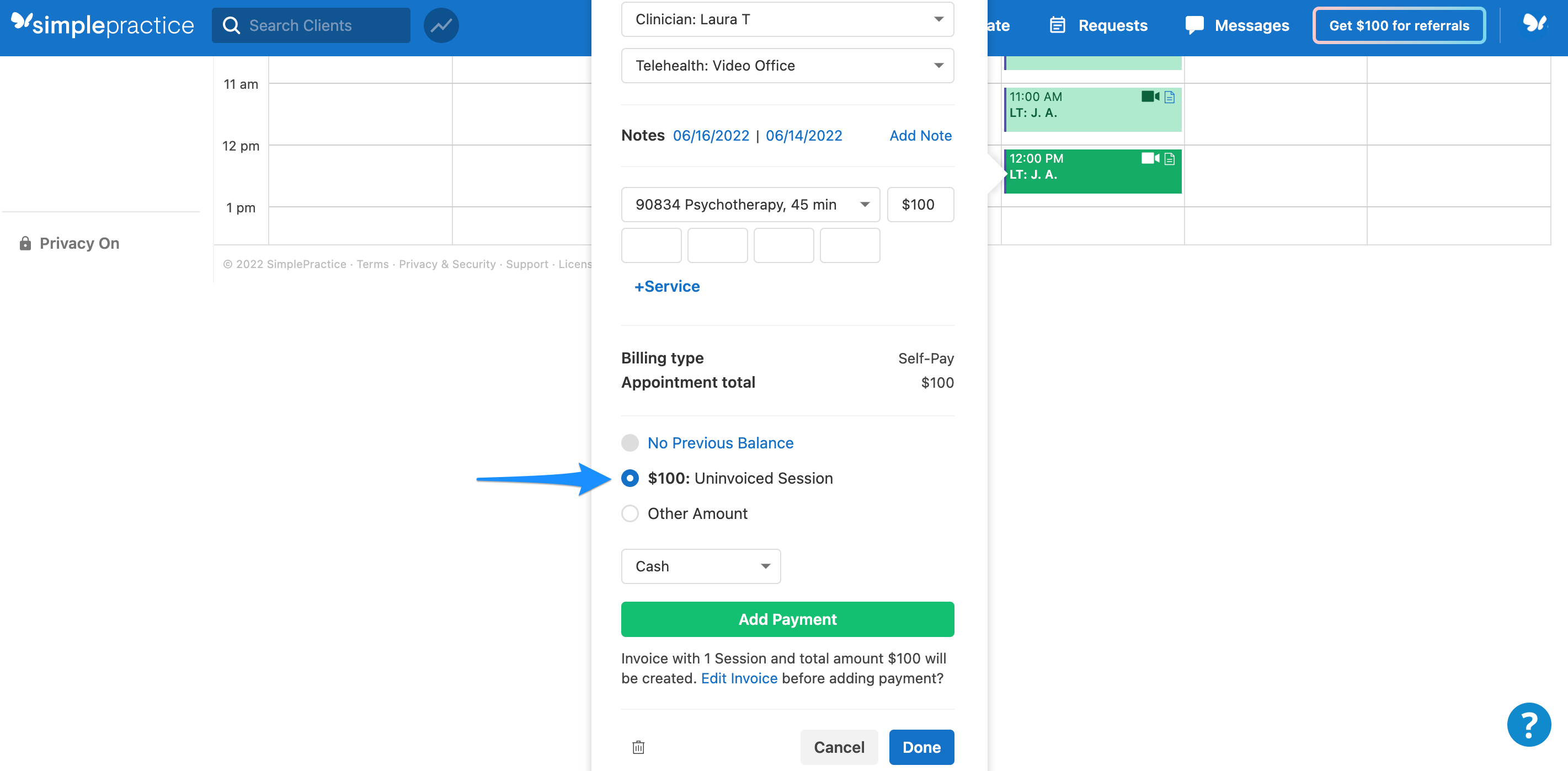 Select the

payment method

(Cash, Stripe Credit Card, External Card, or Check)

Click

Add Payment
A new invoice will appear on the appointment, along with the Paid status.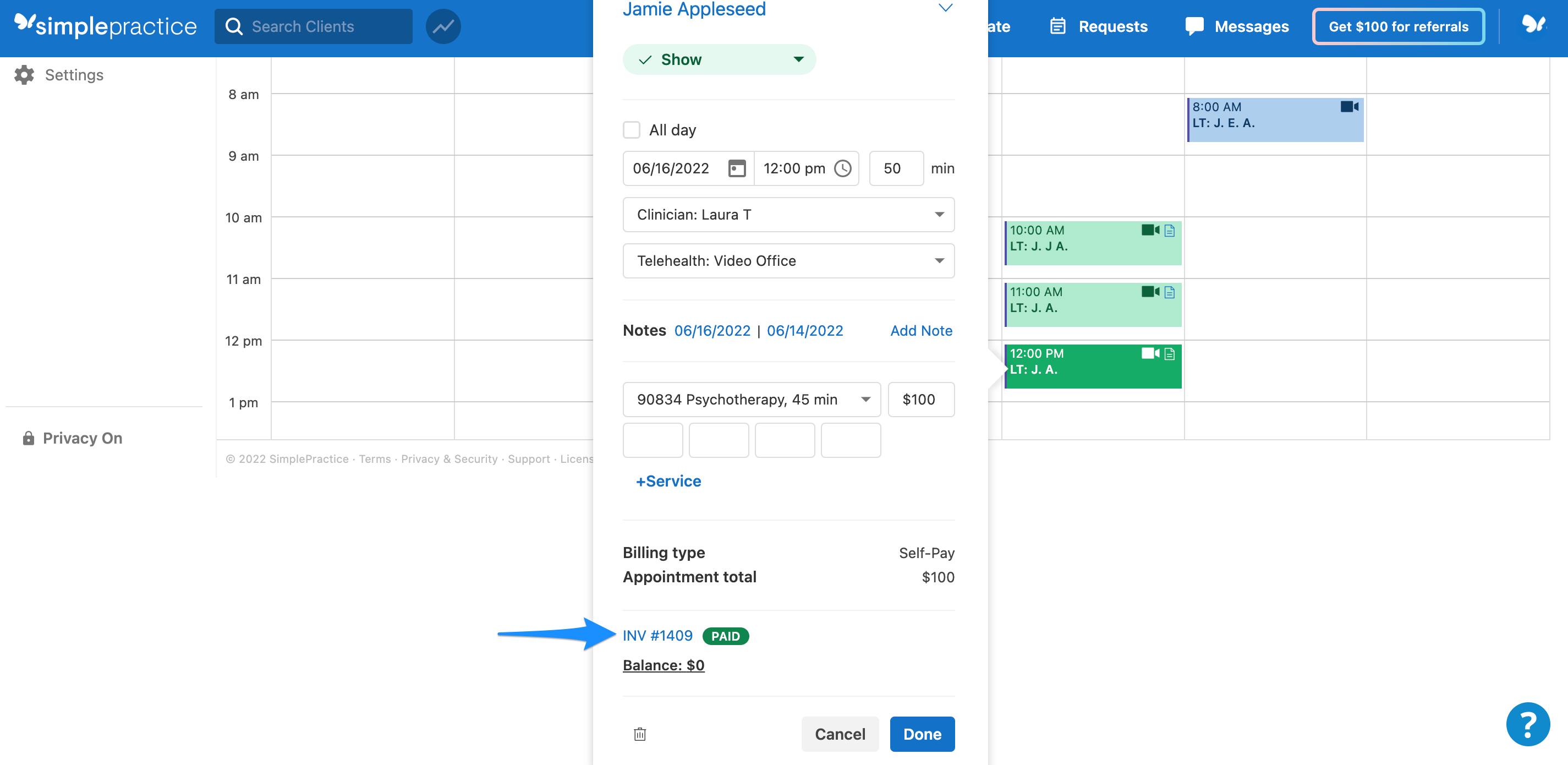 ---
Setting up AutoPay
Rather than collecting payment at the time of service, you can set up AutoPay so clients are automatically charged overnight. To learn how to set-up AutoPay in your account, see: Getting Started with AutoPay.
---
Having clients pay through their Client Portal
If you don't take payment at the time of session, you can have clients pay through their Client Portal.
After an appointment takes place, a client's Billing page will display an Uninvoiced amount in the Billing Overview section.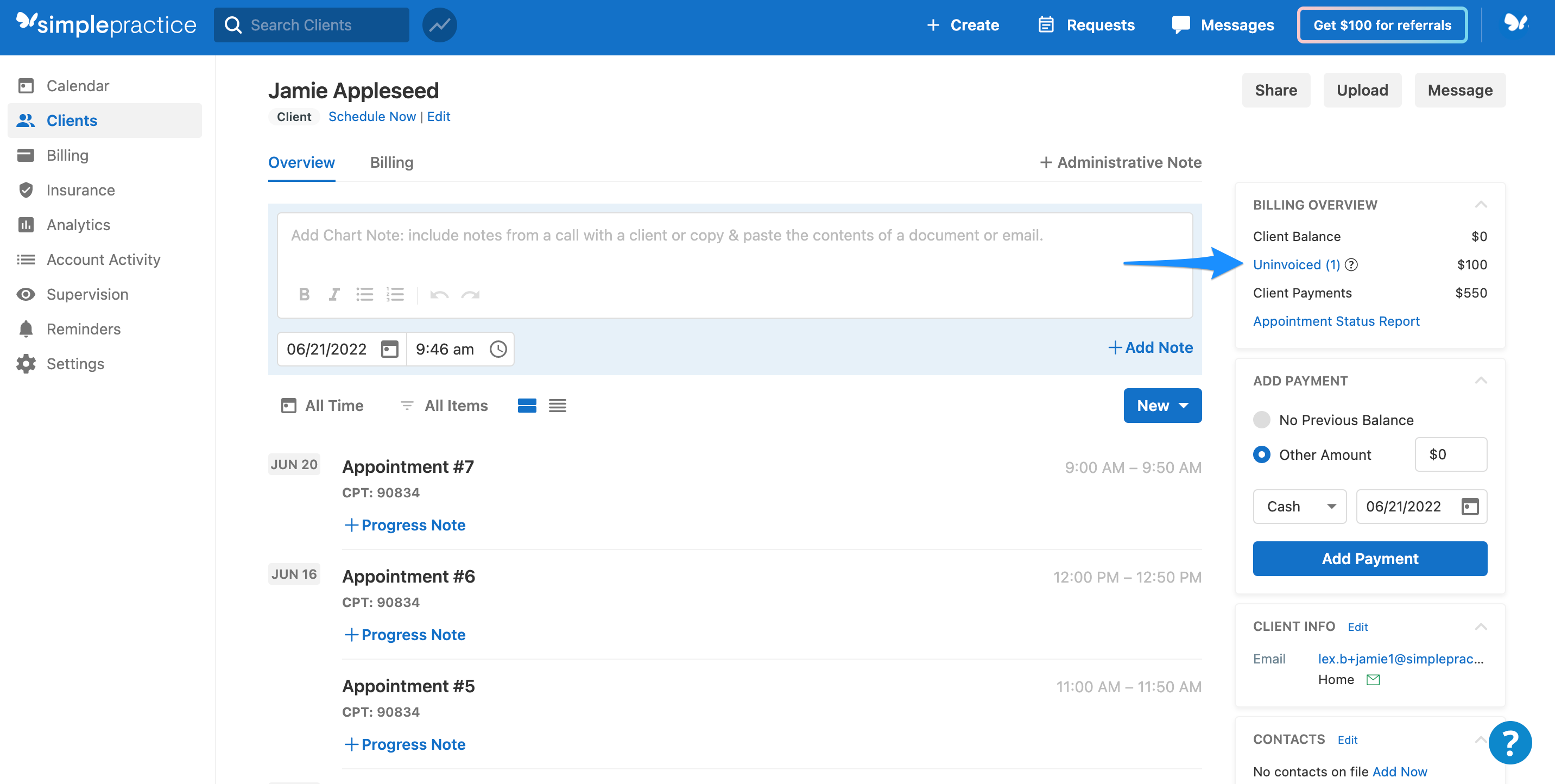 If you have daily automatic invoicing enabled, the invoice will automatically be created overnight. Keep in mind that until an appointment is invoiced, the session fee won't be added to the client's overall balance. See Creating invoices to learn more.
After the invoice is created overnight, the Uninvoiced amount from the appointment will be added to the Client Balance.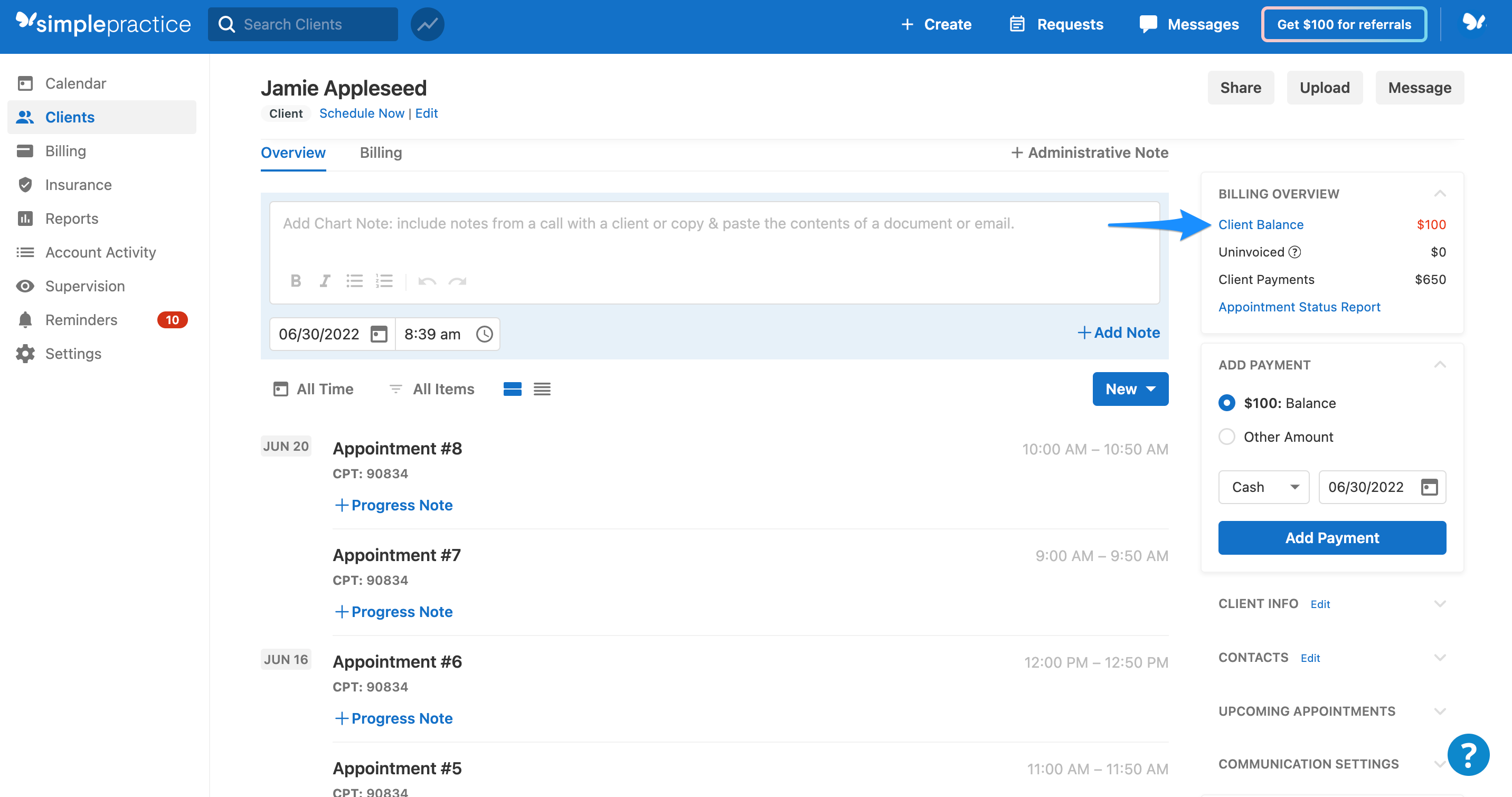 If you have your client's billing document delivery method set to Send email with link to Client Portal and you have the Notify client when new Invoices are available option selected, your client will receive an email informing them that a new invoice is available in their Client Portal. See How to share billing documents with clients to learn more about setting up client-specific billing automations.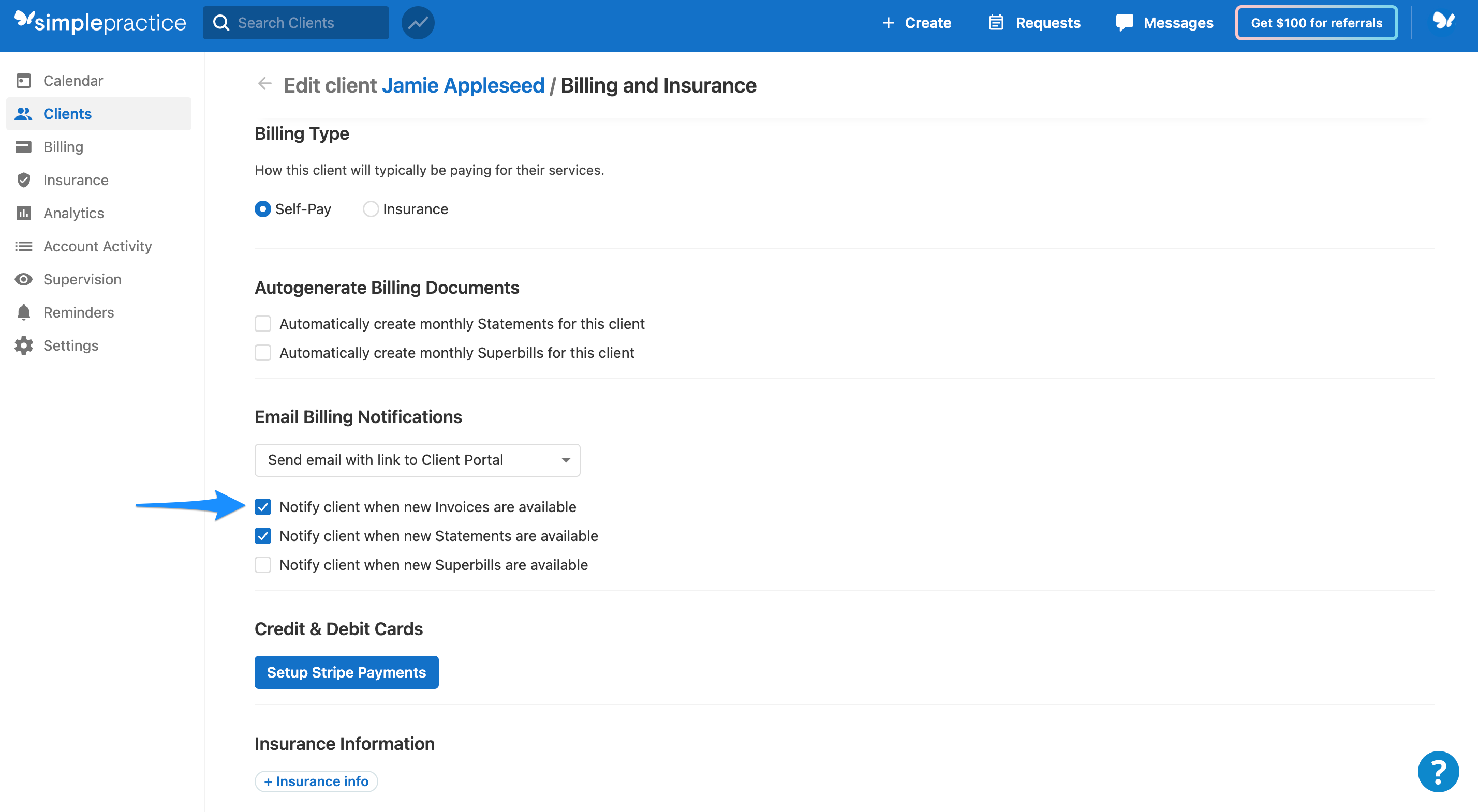 Your client can then log into their Client Portal and review the invoice and pay online. No further action is required from you.
Tip: For a client-facing guide to making payments in the Client Portal, see: Billing in the Client Portal.
You can determine if a particular appointment has been paid for if you see the status change from Unpaid to Paid under the Client column.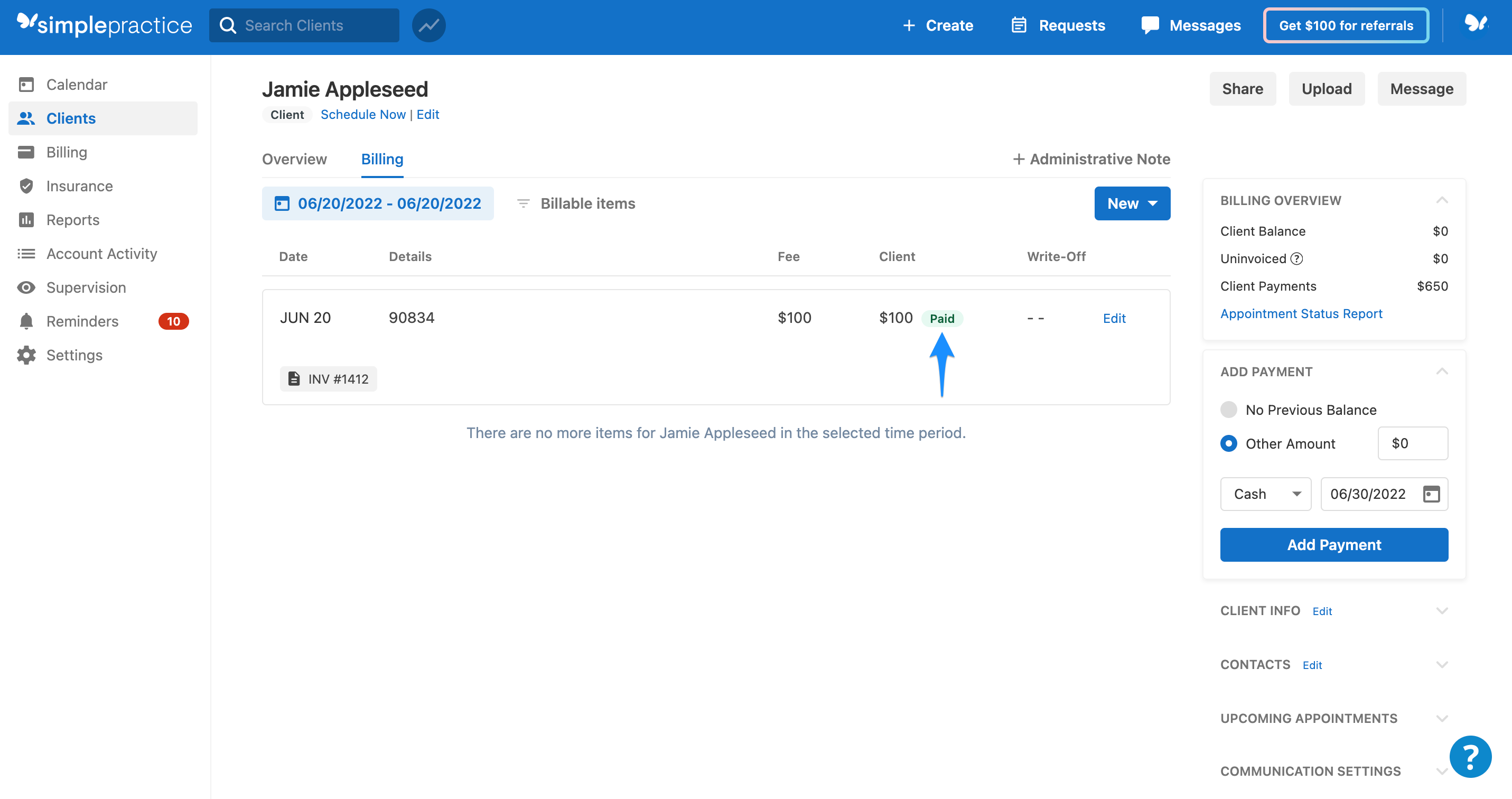 ---
Downloading and printing invoices for clients
Many clinicians don't feel the need to provide physical invoices to clients who pay on an appointment-by-appointment basis. However, sometimes a client will request a past or current invoice. You can always print an invoice by going to the client's Billing page and sorting by Paid Items. You may also need to adjust the date range filter to find the invoice you're looking for. You can click on the invoice from below its associated appointment to open it.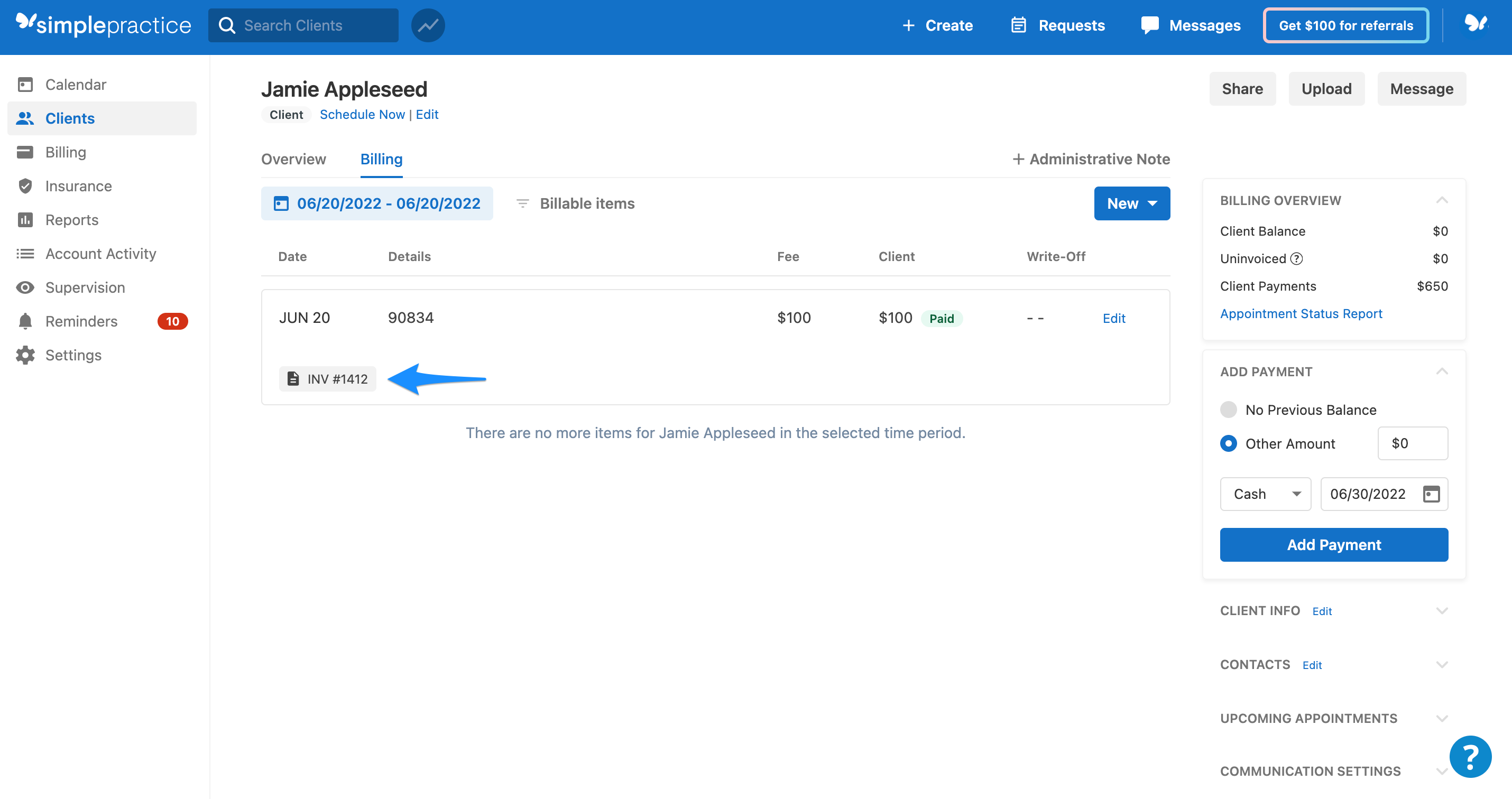 You can then select the printer icon.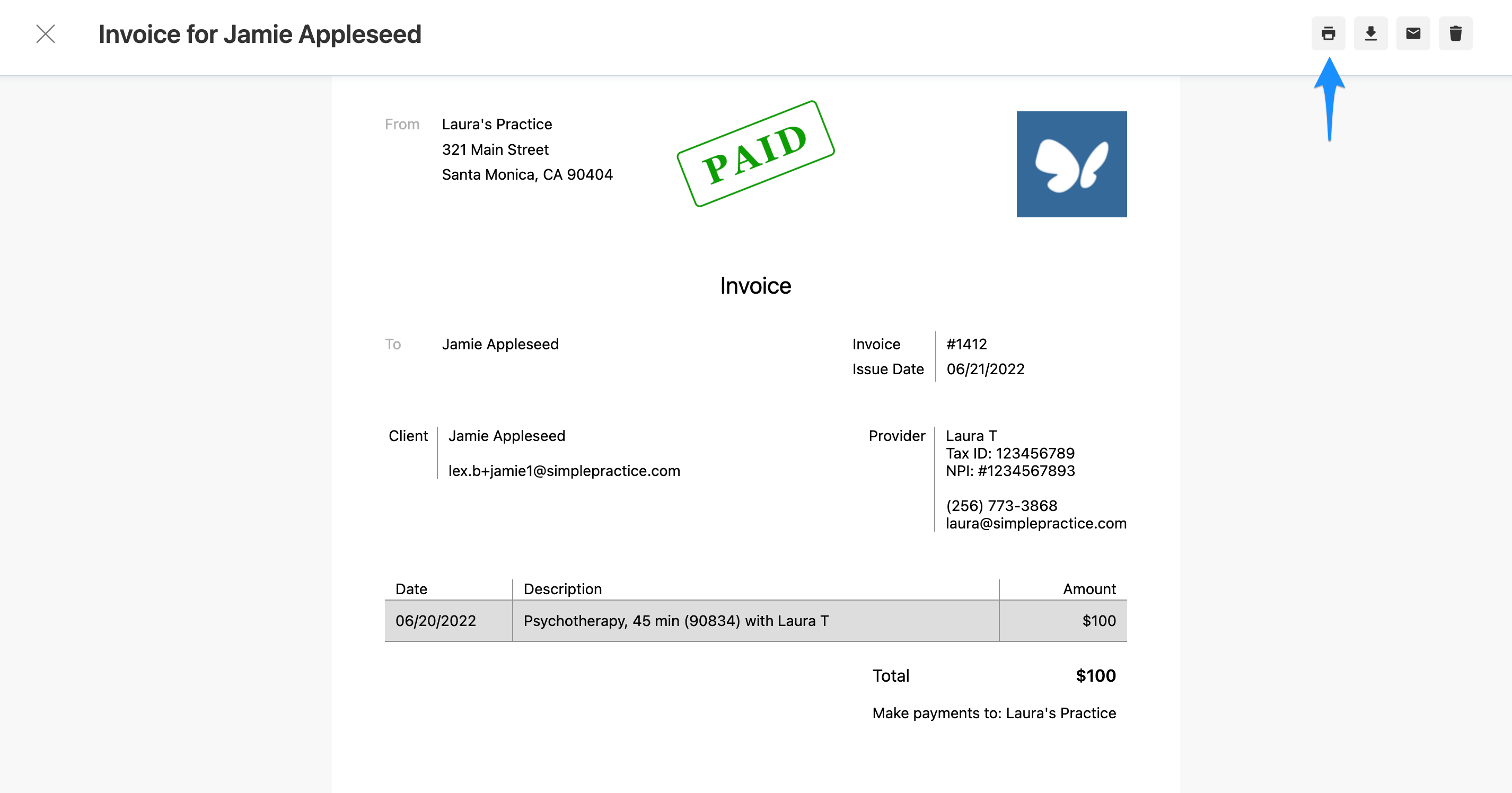 You also have the option to export and print a series of documents for the client. To do so, follow these steps:
Navigate to Calendar > Billing > Billing Documents
Select the type of billing document you want to see, the client's name in the dropdown, and the date range
Click Apply filters
Select the documents you want to export by checking the box(es)
Click Export PDF