Invoices are a central component to billing with SimplePractice. An invoice is a document that creates a financial obligation to your client alerting them that they owe you money for services or products rendered. In SimplePractice, you can manually generate invoices or set them to auto-generate on a daily or monthly basis.
What are some of the advantages of SimplePractice invoicing?
Ability to track payments against specific appointments
Better financial management and tracking of client balances
"Past due" alerts for outstanding payments
An accurate record of a client's balance over time
Important: Until an appointment is invoiced, it is considered Uninvoiced. Once an invoice is generated, the Uninvoiced amount transfers to the Client Balance and you now have a record of what your client owes.
We recommend that you allow the system to generate invoices on a daily basis so that you never have to worry about doing this yourself.
Note: You can learn more about your billing options in this walkthrough: Setting up your billing and automations.
How to Generate an Invoice
There are several ways to create invoices. SimplePractice gives you the flexibility to handle these processes automatically or manage them manually as needed.
Auto-generate daily or monthly
Most practices auto-generate invoices at the end of the day, and we highly recommend choosing this option. However, if you do monthly billing, monthly invoice generation is the right option for you.
You can set these processes up by going to My Account > Settings > Billing and Services.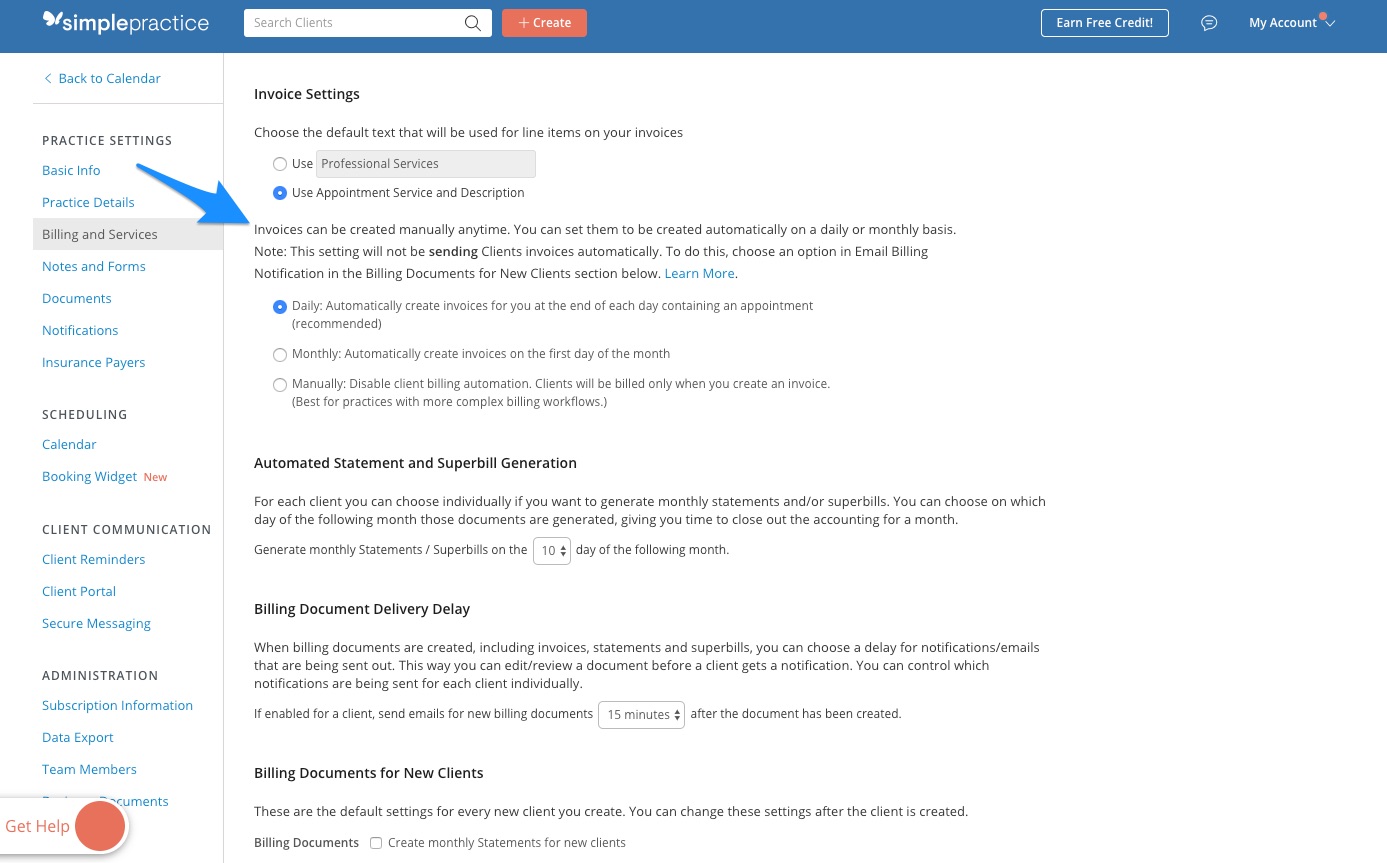 From the Calendar flyout
If you collect payment and record it at the time of an appointment, you will add a payment and generate an invoice at the same time from the Calendar flyout.
To do this, select the correct appointment in the calendar. Collect the Uninvoiced Session amount from the client, select the payment type, and record the payment by clicking Add Payment.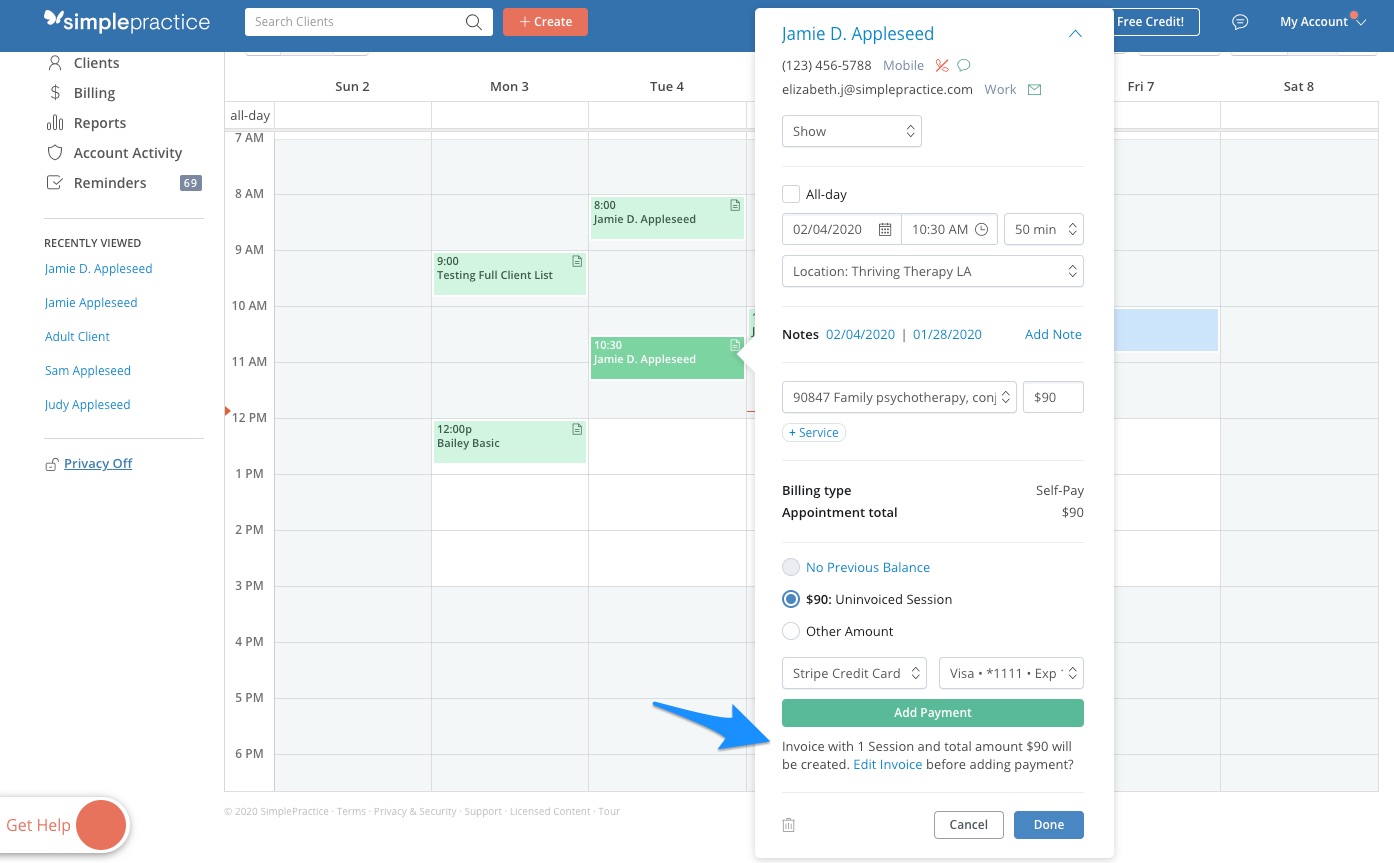 The invoice is generated and the payment applied. You'll receive confirmation of this with the PAID invoice indicated on the flyout.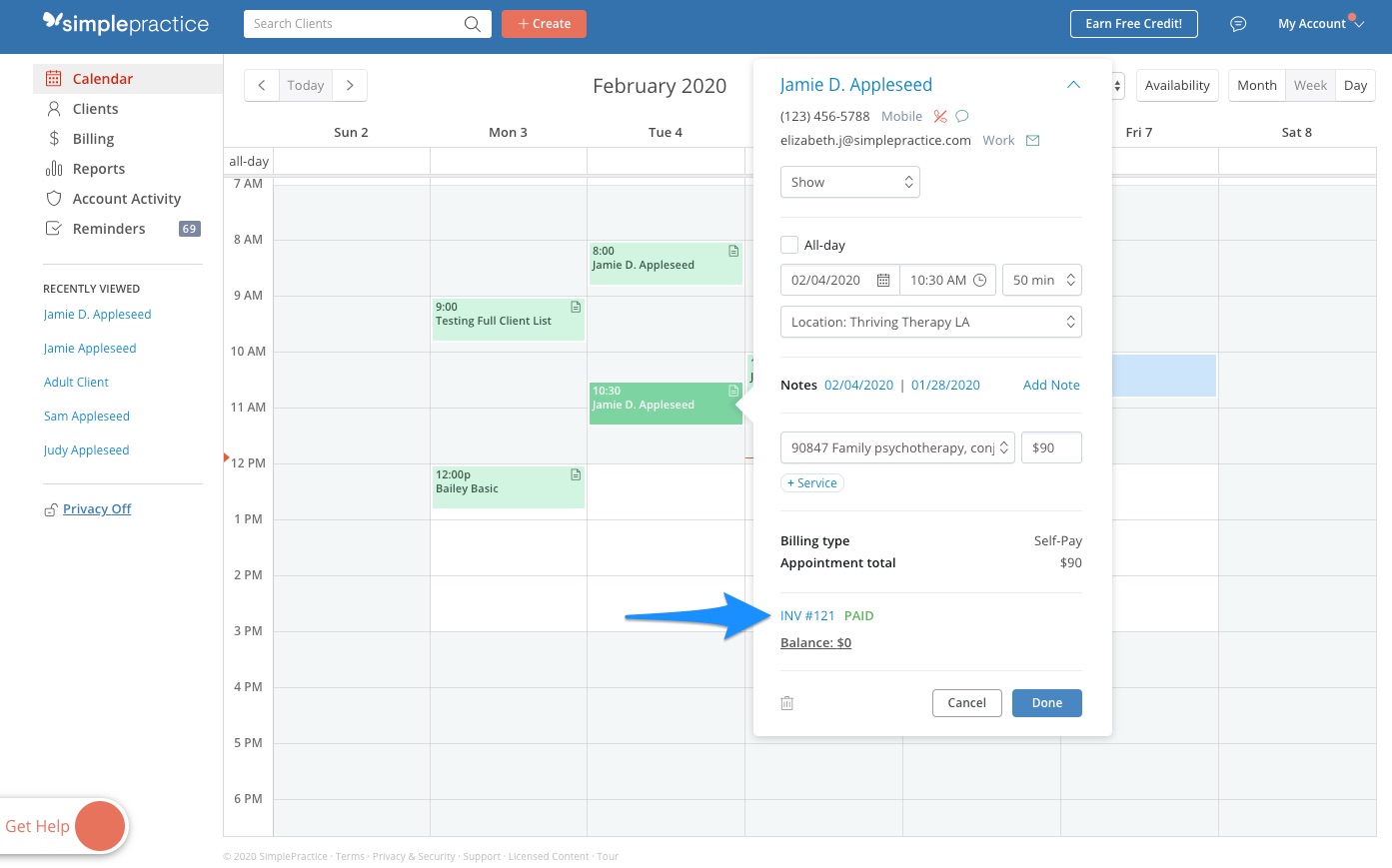 If you'd prefer to view and customize the invoice before applying payment, you can click Edit Invoice instead of Add Payment.
From the Client Overview page
If you've decided to generate invoices monthly or to manually generate them, you'll want to periodically create an invoice of all uninvoiced appointments to make sure that your client's balance is accurate. If you see either a Client Credit or an Uninvoiced amount reflected when it should not be, this means that you'll want to update their financial records.
To generate an invoice:
Navigate to the client's Billing page

Click

Uninvoiced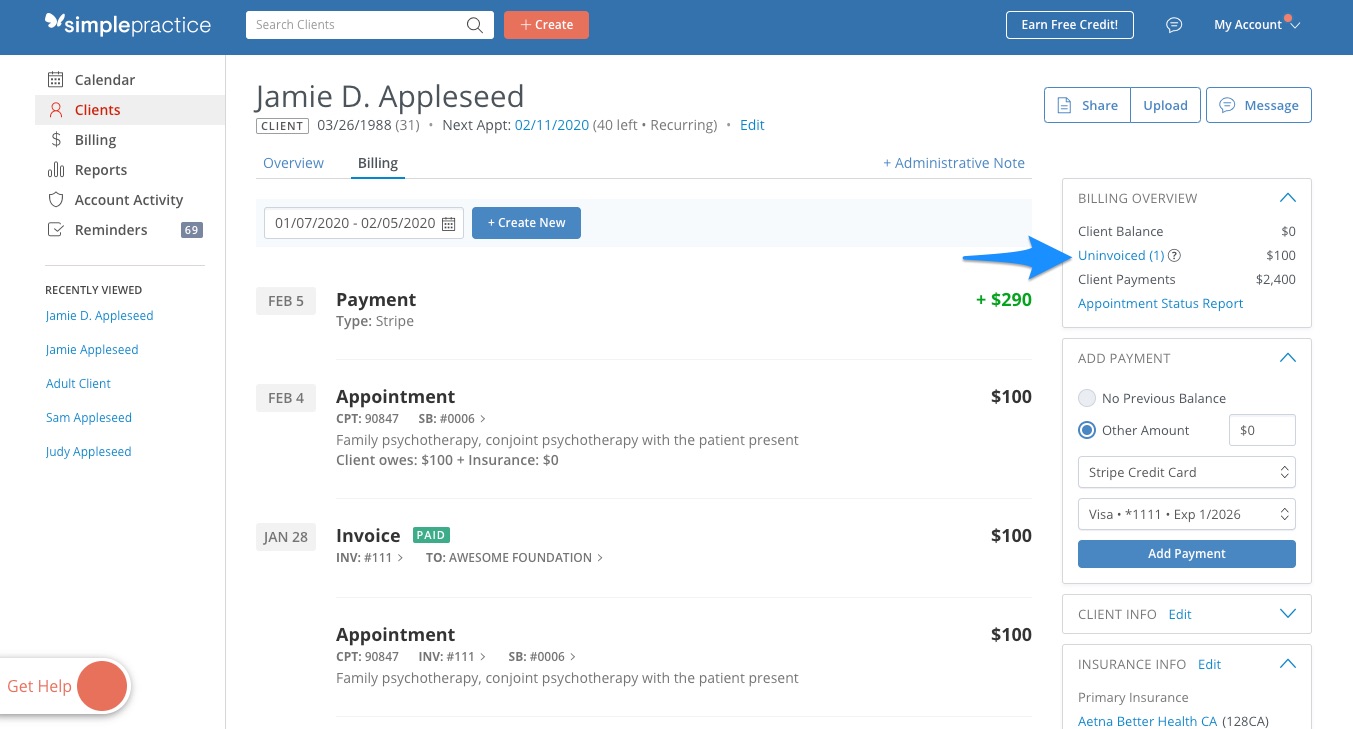 Click OK in the pop-up that follows
Your invoice will appear with all outstanding appointments listed and you can edit it as needed. Once the client has made the correct payment, the invoice will get marked as Paid. See How are payments allocated to invoices? to learn about how your client's payments are posted to invoices.