Billing your clients is essential to getting paid for each appointment. This guide outlines the client billing process, from setting your rates to keeping track of your invoices.
In this guide, we'll cover:
---
Creating an Online Payments account
To begin billing clients, create an Online Payments account to easily charge your clients and receive payouts within SimplePractice. To set up an Online Payments account and provide details for verification:
For detailed instructions, see Getting started with Online Payments.
Note: If you choose not to create an Online Payments account, you can still record client payments and select External Card, Cash, or Check as the payment method when adding a payment.
---
Setting your rates
Set your practice-wide rates for your services and products so that when you create new appointments, your rate for each service code is already populated. To do this:
Navigate to

Settings > Billing and Services >

Services
Click Add New Service
Use the dropdown menu to select a service code
Add a description, rate per unit, default duration, and other booking options
Click Save
For additional details, see Creating and using service codes and products.
When creating a new appointment, you also have the option to update the fee before scheduling. To do this:
Click + Create > Schedule appointment
Update the Fee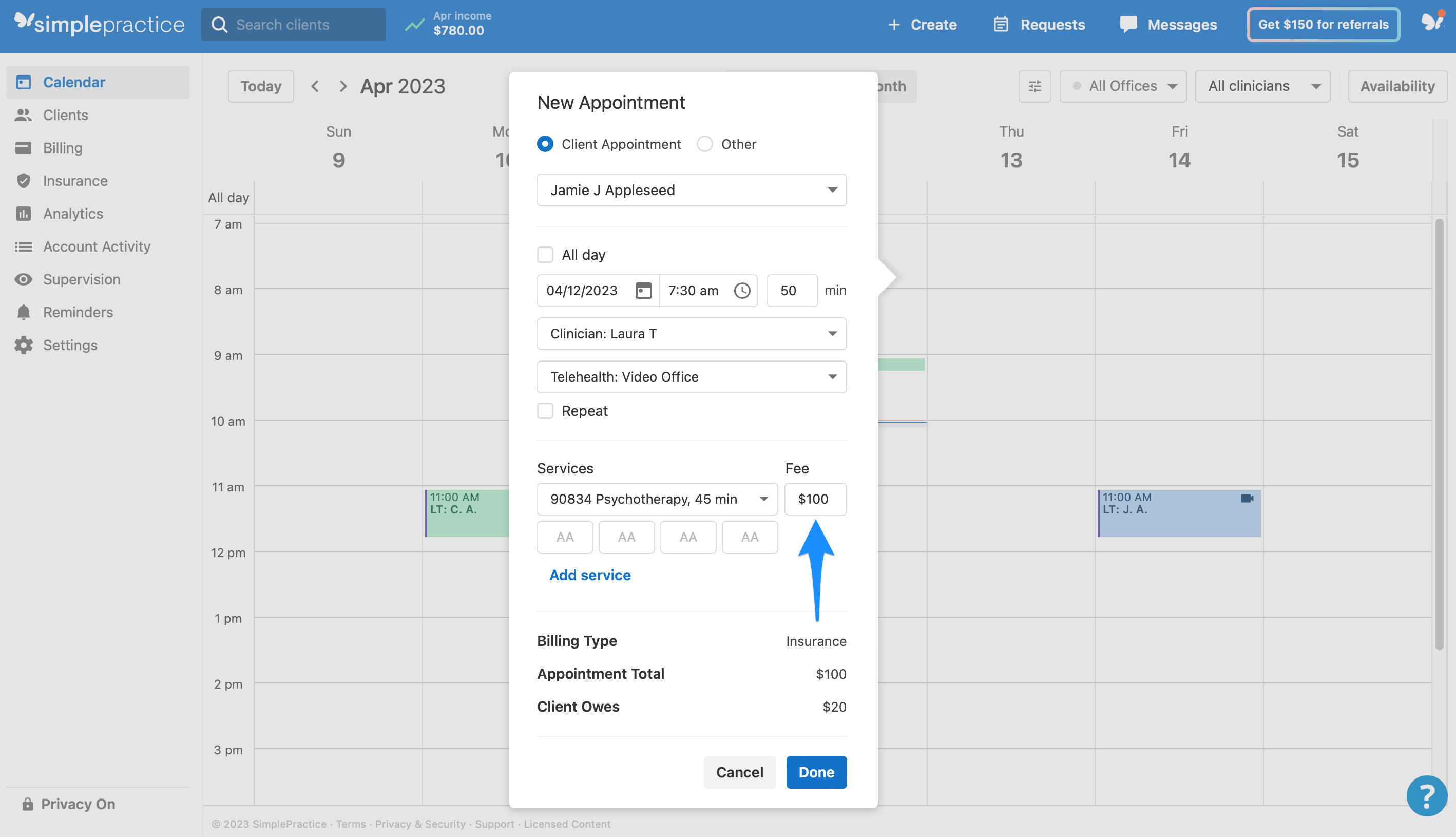 ---
Indicating a client's Billing Type as Self-Pay or Insurance
For each client, you can indicate whether they'll be paying your full service rate or a copay through insurance, to make sure that their client balance and insurance balance (if applicable) is accurately calculated. To do this:
Navigate to the client's Overview page > Edit > Billing and Insurance
Under Billing Type, select Self-pay or Insurance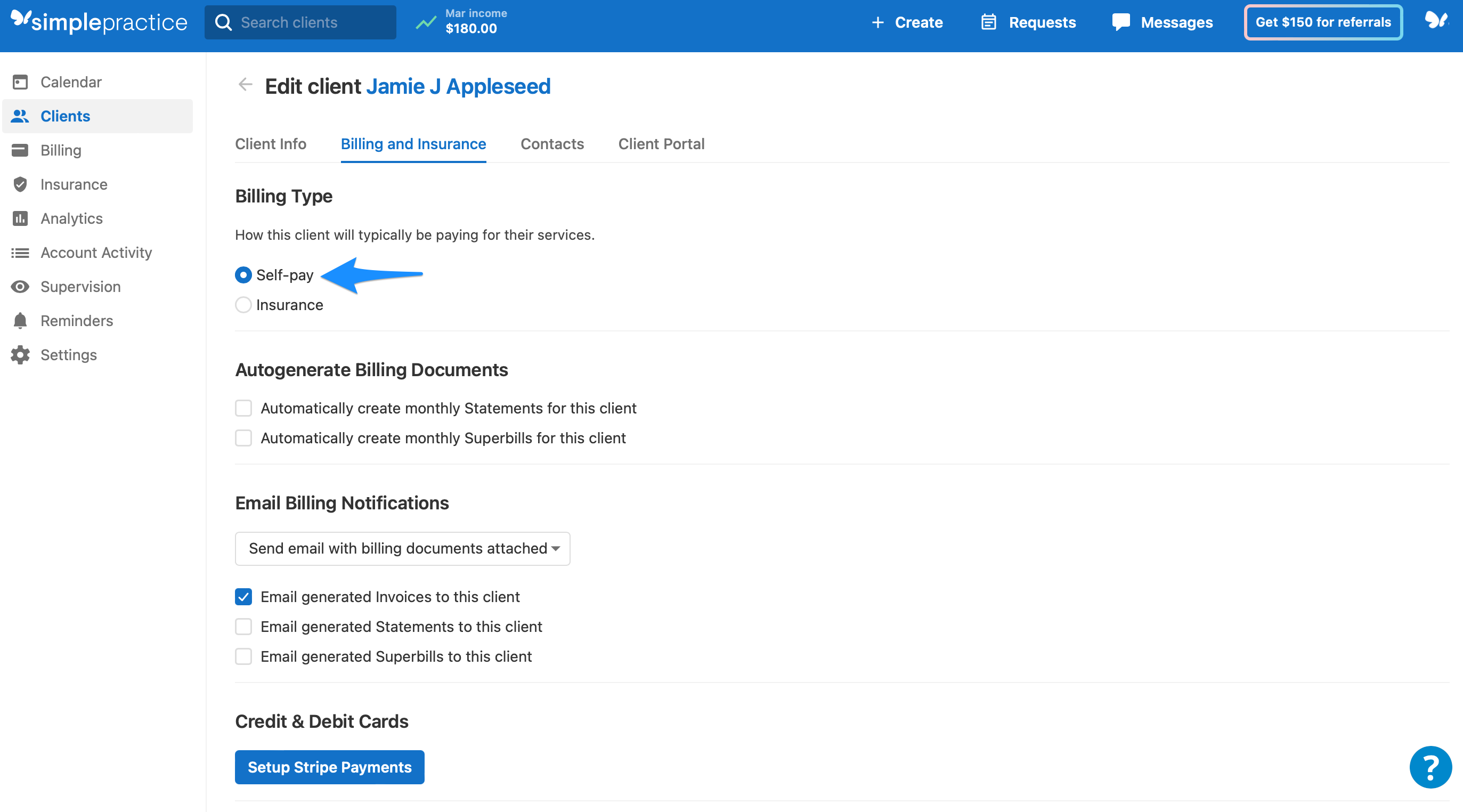 For additional details, see Billing and Insurance.
---
Creating and sharing invoices with clients
To let clients know how much they owe for each appointment, you can create an invoice.
Note: The client's balance will reflect the total invoiced amount due. If an invoice hasn't been created for an appointment, that amount will be reflected as an Uninvoiced amount instead.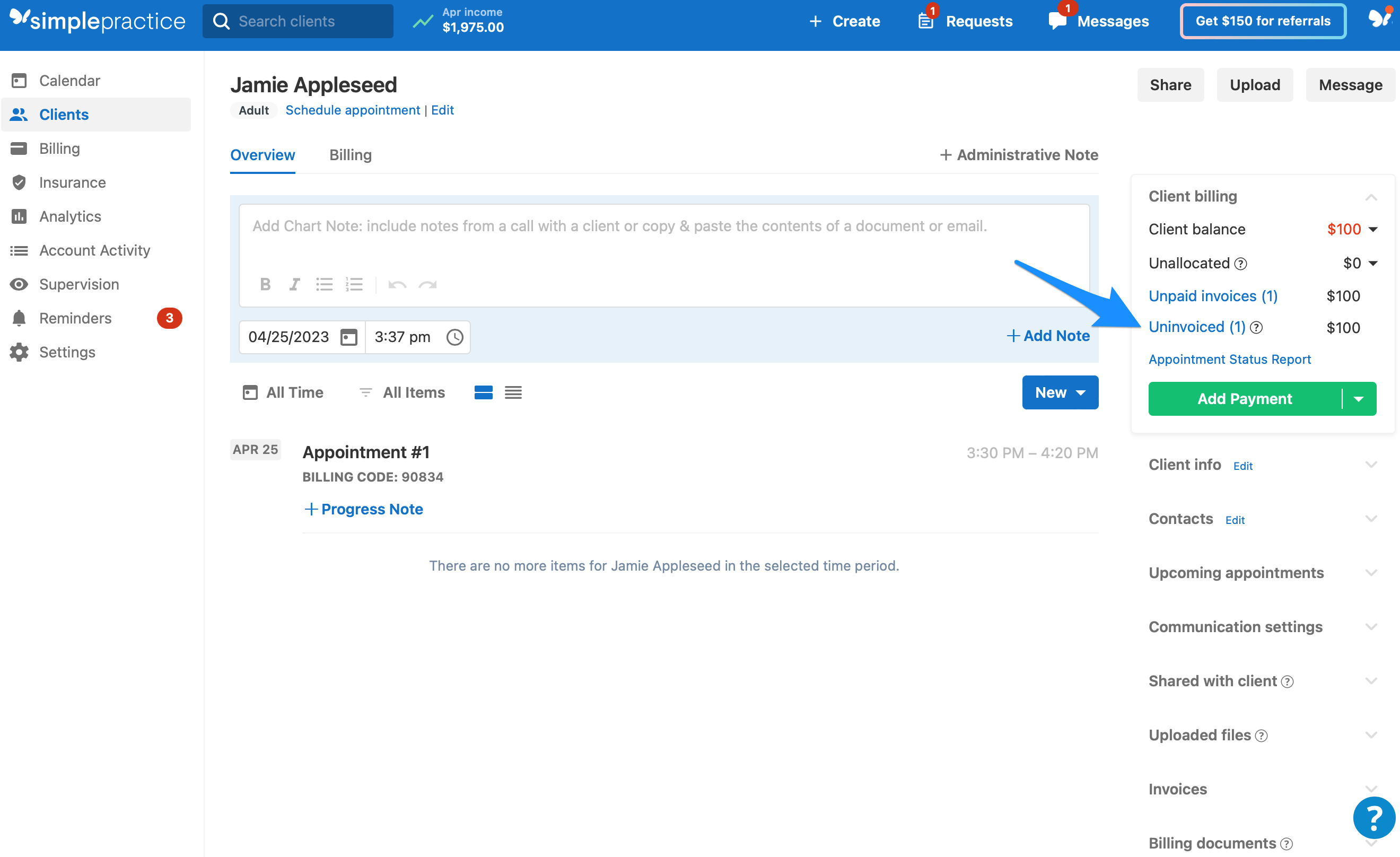 An invoice includes:
Date(s) of service

Issue date

Balance owed

Product add-ons

Customizable information fields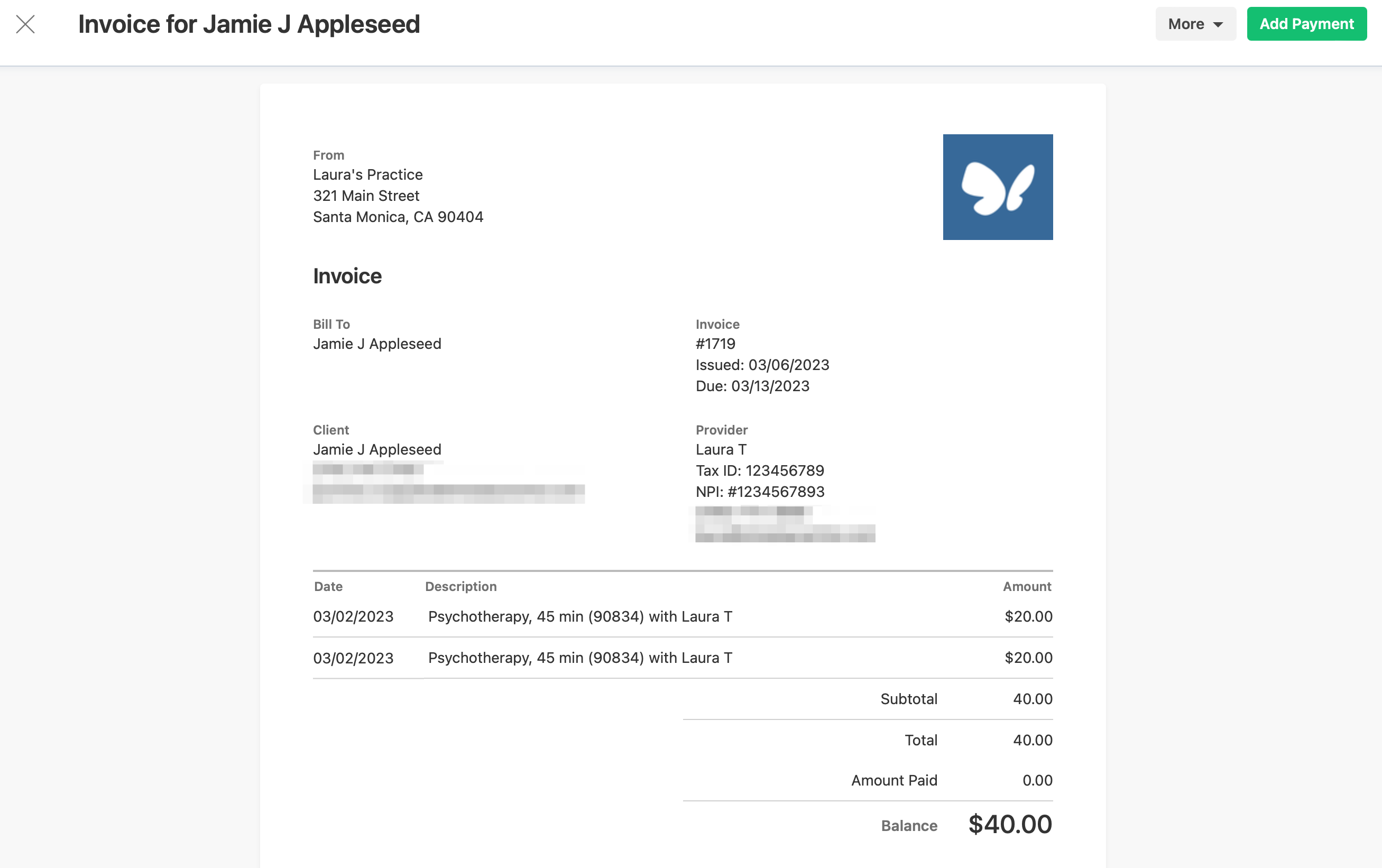 Most practices choose to have invoices automatically created at the end of the day. If you collect payment at the time of the appointment, Daily invoice creation is the best option to select. To set up automatic invoice creation:
Navigate to

Settings > Billing and Services >

Settings

Under

Invoice Creation

, select

Daily, Monthly, or Manually
To learn more about invoice billing automation, see Invoice Settings.
---
Sharing billing documents with clients
There are 3 types of billing documents that you can use to keep track of client payments:
To learn more about each of these, see Understanding invoices, statements, and superbills.
After a billing document is created, you can send an email notification to your client or their contact so they can view it in their email, or in the Client Portal.
Each billing document can be shared manually or shared with your clients automatically. To learn more, see:
---
Collecting payment
There are 3 ways to collect payment:
From the client through the Client Portal
If you have an Online Payments account and a client has a balance, the client or their contact responsible for billing will have the option to pay the balance by clicking Pay Now in the Client Portal, or on the invoice directly.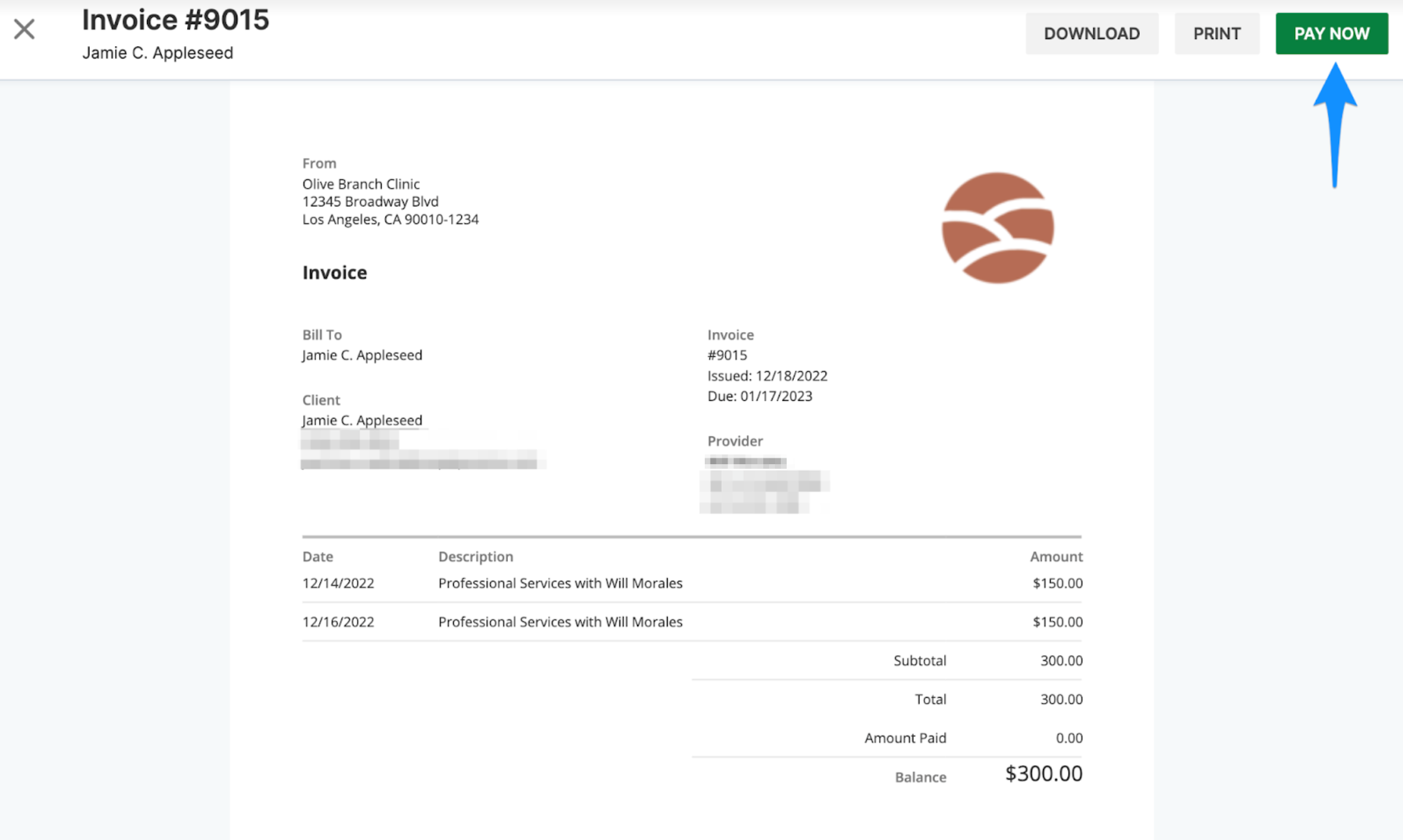 Note: Clients and contacts responsible for billing can pay the balance in the Client Portal if they have Client Portal access.
Adding the payment manually
When adding a payment on behalf of the client, there are 4 options you can choose for the payment method type:
Online Card: Choose this option to charge a client's credit, debit, or FSA/HSA card via your Online Payments account
External Card: Choose this option to record a client credit card payment made using a third-party credit card processor
Cash
Check
Important: Selecting External Card, Cash, or Check as the payment method when adding a client payment won't charge the client's card. Select Online Card to charge the client's card on file through your Online Payments account.
Through AutoPay
AutoPay is an easy way to collect card payments without having to manually do so after each appointment. If AutoPay is enabled for a client, the default credit card stored in their profile will be charged their full invoiced amount overnight.
To learn more about setting up AutoPay, see Getting Started with AutoPay.
---
Marking invoices and appointments as Paid
When full payment is received for an invoice, the invoice will automatically be marked Paid.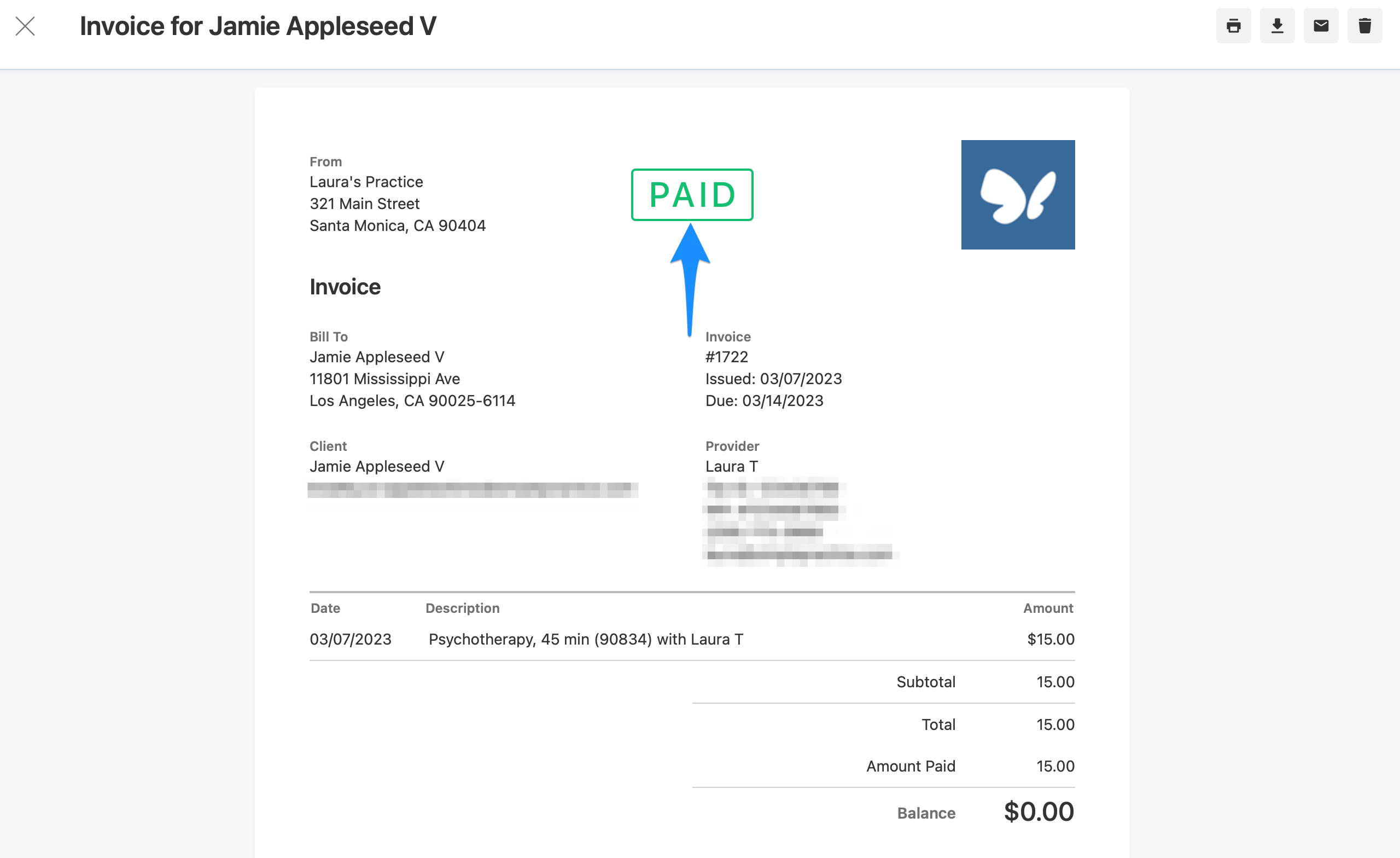 On the client's Billing page, appointment that have been paid in full will also automatically be marked Paid.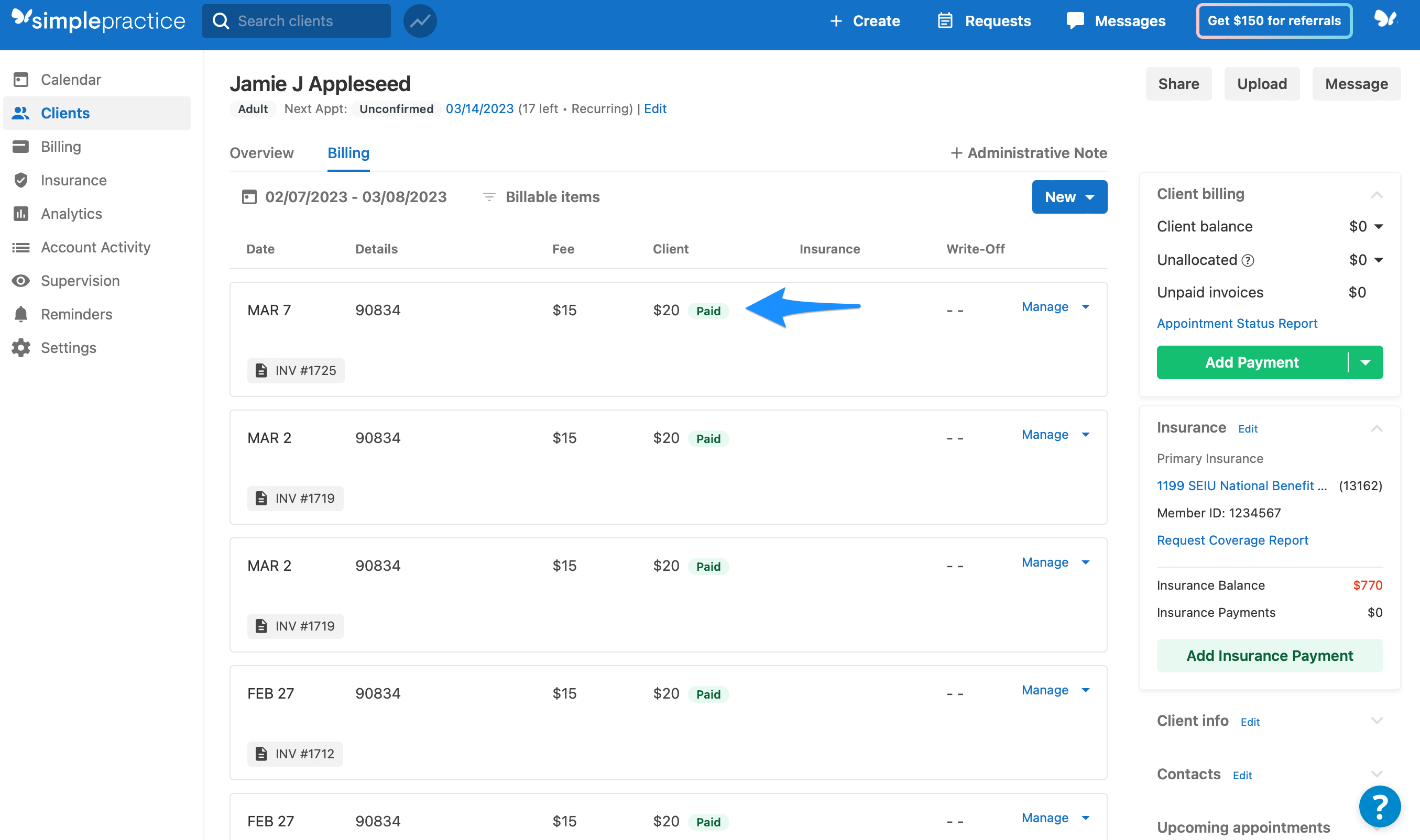 Invoices can also reflect partial payments. If an invoice is only partially paid, the invoice won't be marked as Paid until it's covered in full.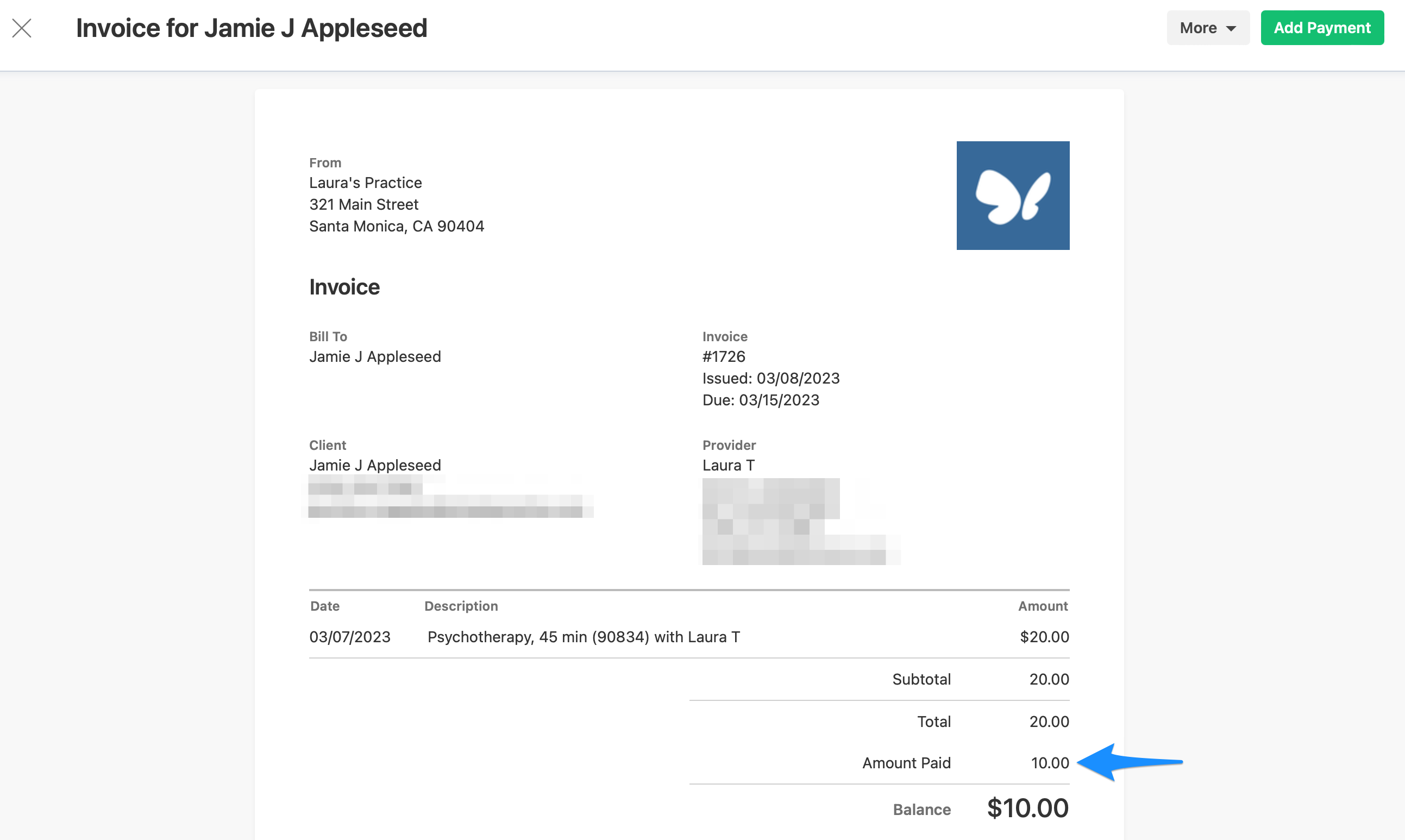 ---
Using client billing and income reports
SimplePractice offers many reports to keep track of how your business is doing. You can use the billing reports to track billing information at Analytics > Reports. These reports include:
To learn more about billing reports, see Understanding your billing reports.
Once you start recording client payments in SimplePractice, you can leverage your income reports for additional insight. Understanding what's in these reports can help leverage the payment data present in your account to improve the billing process for both clinicians and clients. To learn more about each income report, see Understanding your income reports.
---
Additional resources
The workflows presented in this guide provide a high level overview of the client billing process in SimplePractice. You can also attend our Client Billing & Automation on-demand class. To view our full list of classes, see On-demand Classes and Q&As.
The various additional Help Center guides shared throughout this guide that can provide you with more in depth information are listed below: