Submitting an enrollment to receive Payment Reports and/or file claims is an important step to start billing insurance through SimplePractice. During this process, you may receive an enrollment rejection. If this occurs, you can contact the insurance payer and follow the steps below to resubmit.
In this guide, we'll cover:
Note: For more information about submitting enrollments, see Submitting enrollments to file claims and receive Payment Reports.
---
Viewing a rejected enrollment
When an enrollment is rejected, it will reflect in Settings > Insurance. The status of the enrollment will appear as Rejected in red.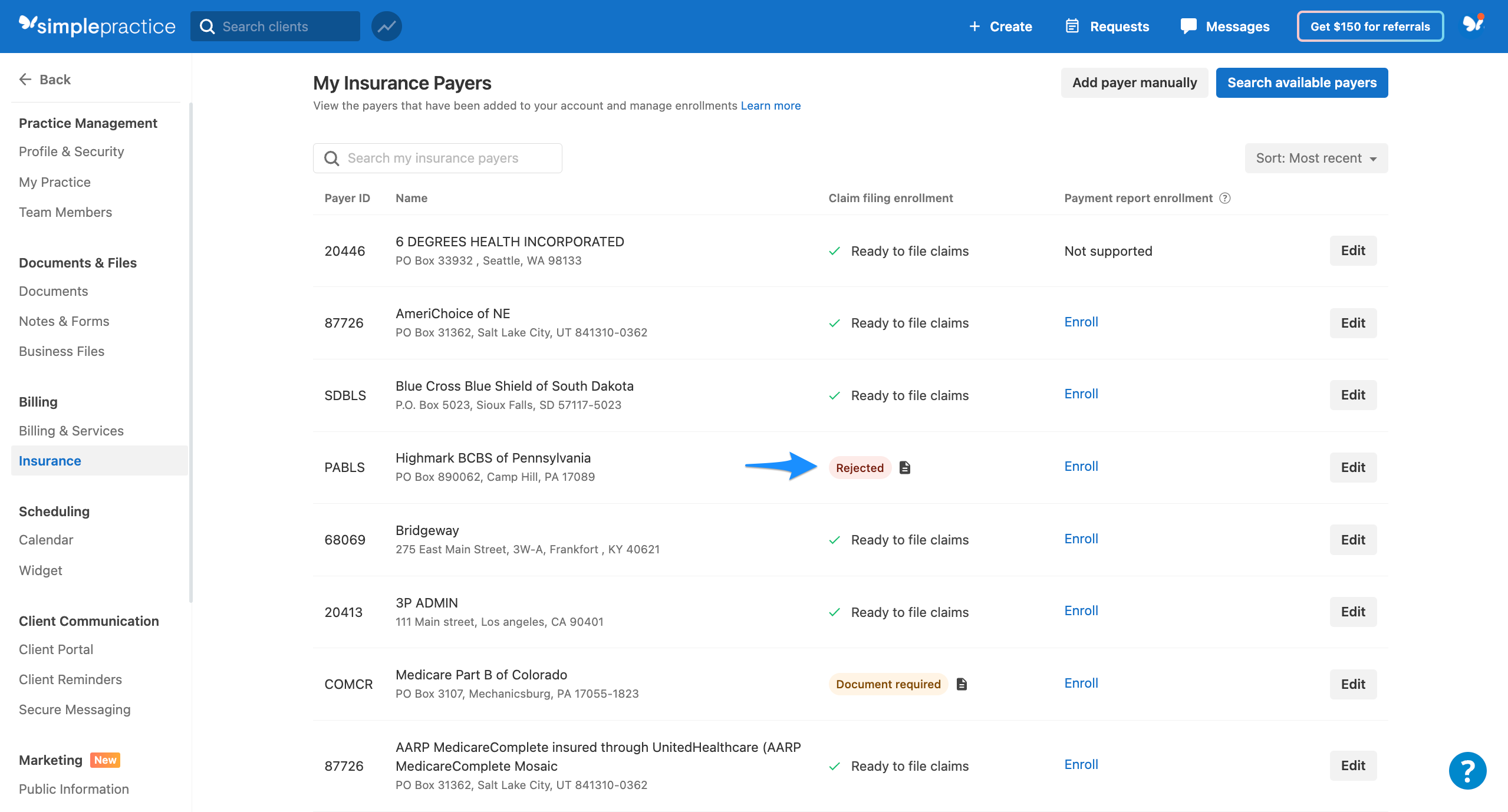 For more information on other enrollment statuses, see How long until my enrollments are accepted by the insurance provider?
---
Resubmitting an enrollment
If your enrollment is rejected, you can resubmit it. Before resubmitting, it's important to contact the payer directly to confirm that the following information is up-to-date:
The billing provider NPI on file with the payer and approved to file electronic claims

If you're billing as an group, this will be your organization (Type 2) NPI

The Tax ID or Social Security Number associated with your billing provider NPI

For group practices, this may be a unique number tied to your group NPI

The full name (personal or organization) and address associated with your billing provider NPI
Note: You'll need to be credentialed with the insurance payer before an enrollment can be accepted. For more information on credentialing, see The credentialing process.
To resubmit your enrollment once you've confirmed this information:
Navigate to

Settings >

Insurance

Click the icon next to the

Rejected

status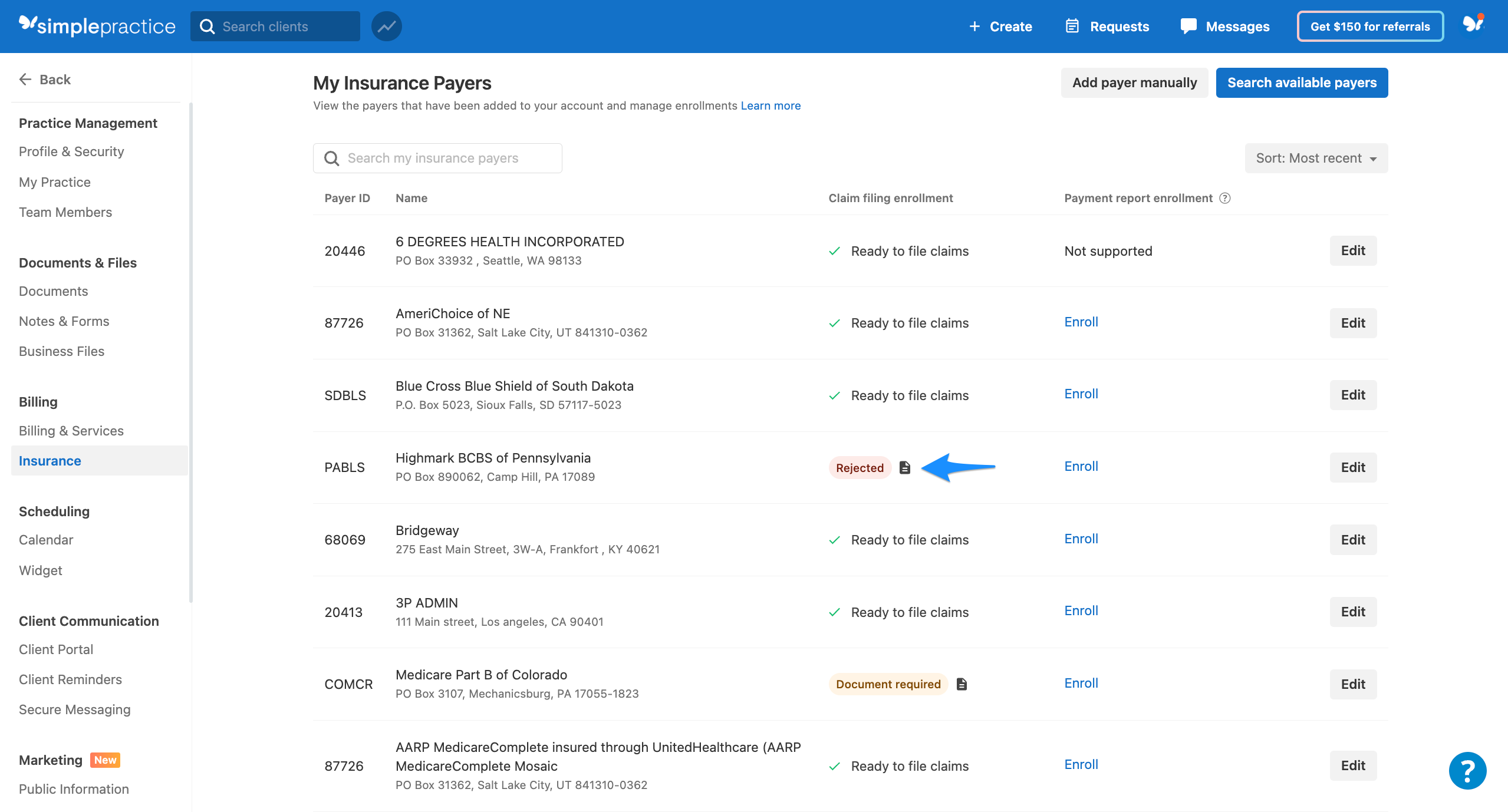 Review the Payer's rejection message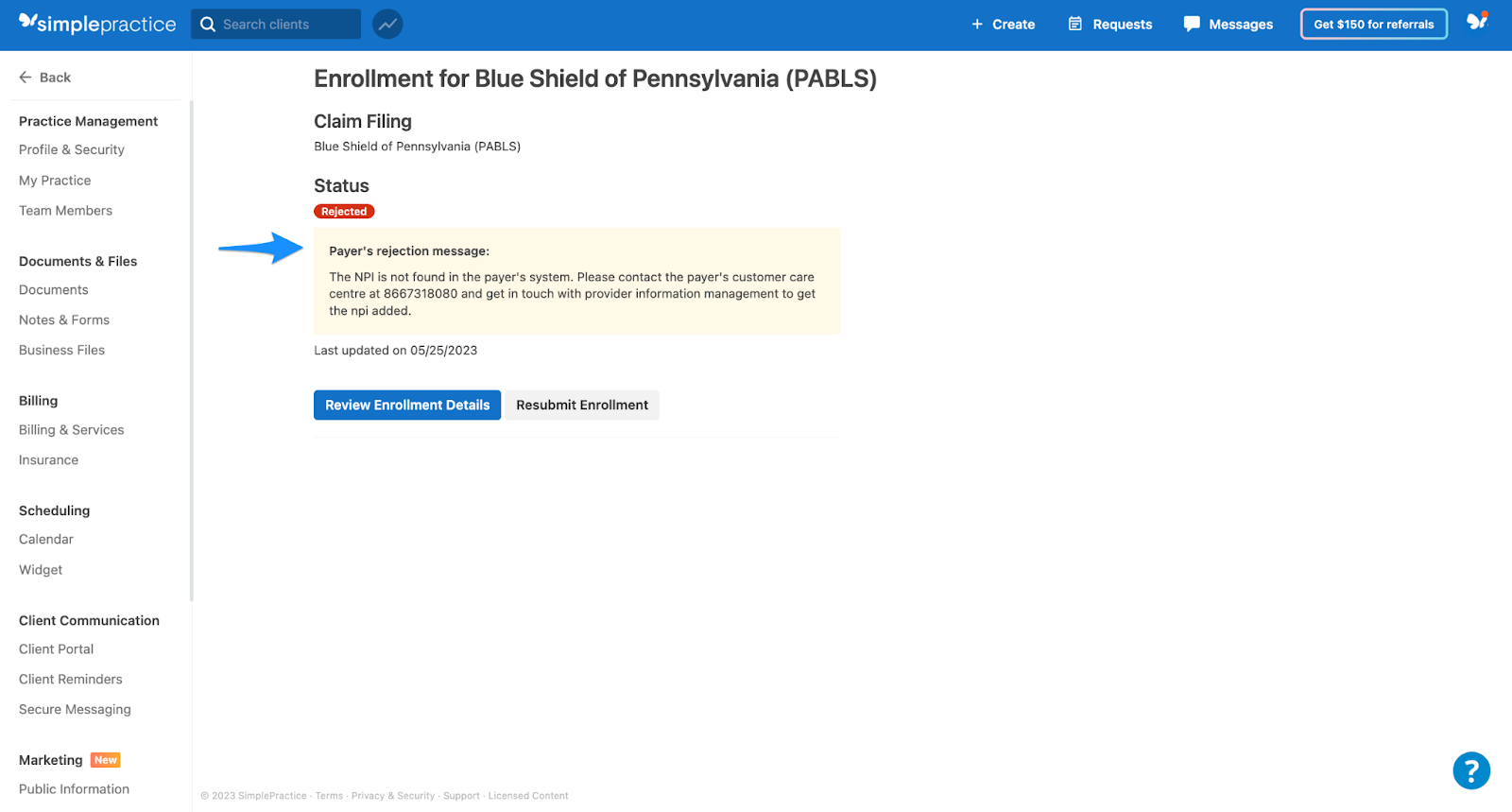 Note: Rejection messages may contain a specific method of contacting the payer to confirm that your information is in their system, or indicate that you'll need to submit a Change of Vendor (COV) letter. For more information on this letter, see Completing additional steps.
Choose

Resubmit Enrollment

Click Yes, I want to resubmit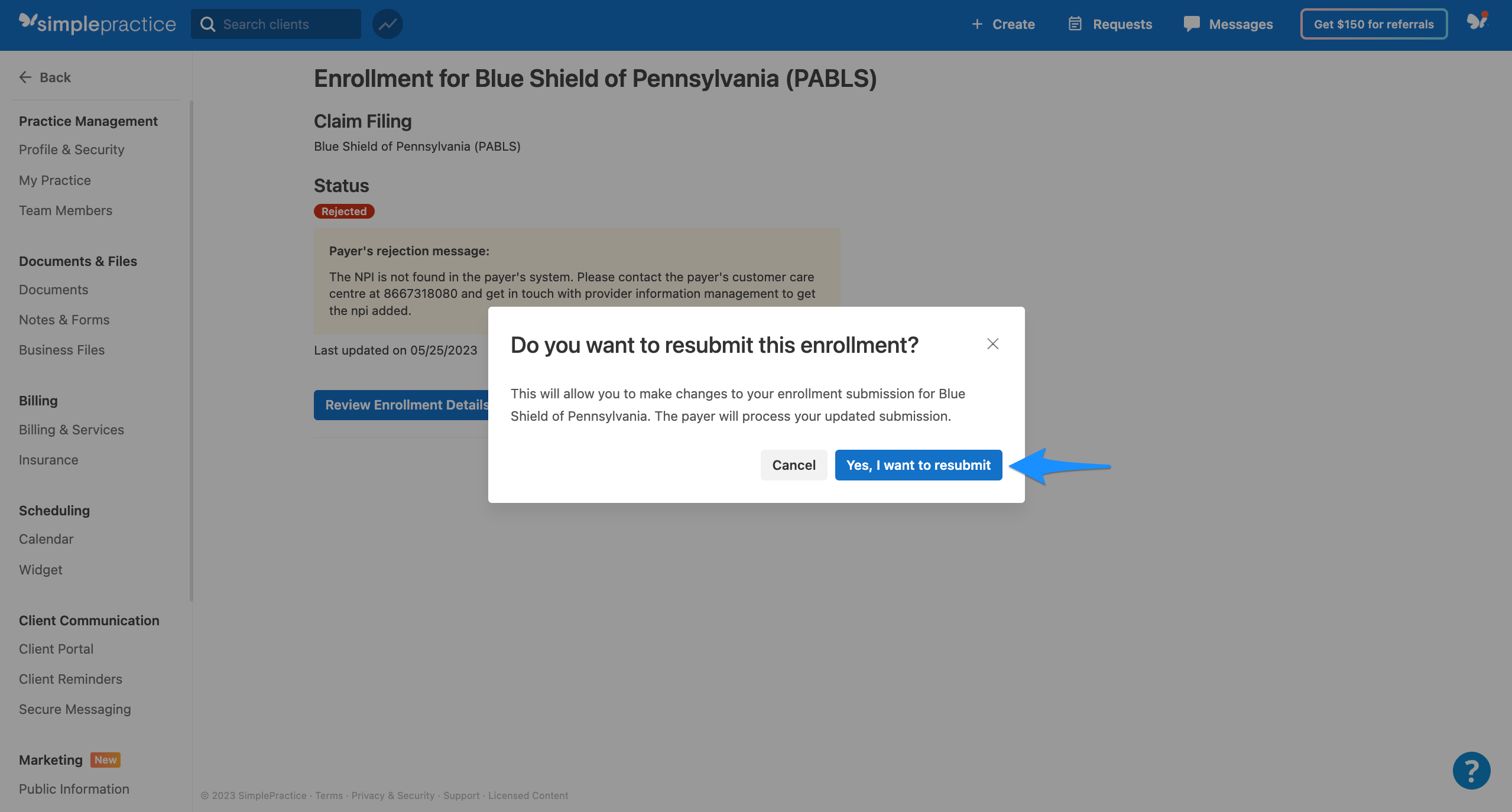 Select the enrollment type(s) you want to resubmit

Click

Continue to Billing Information

Select

Type 1 Individual NPI

or

Type 2 Organization NPI

depending on what the payer has on file as your billing provider NPI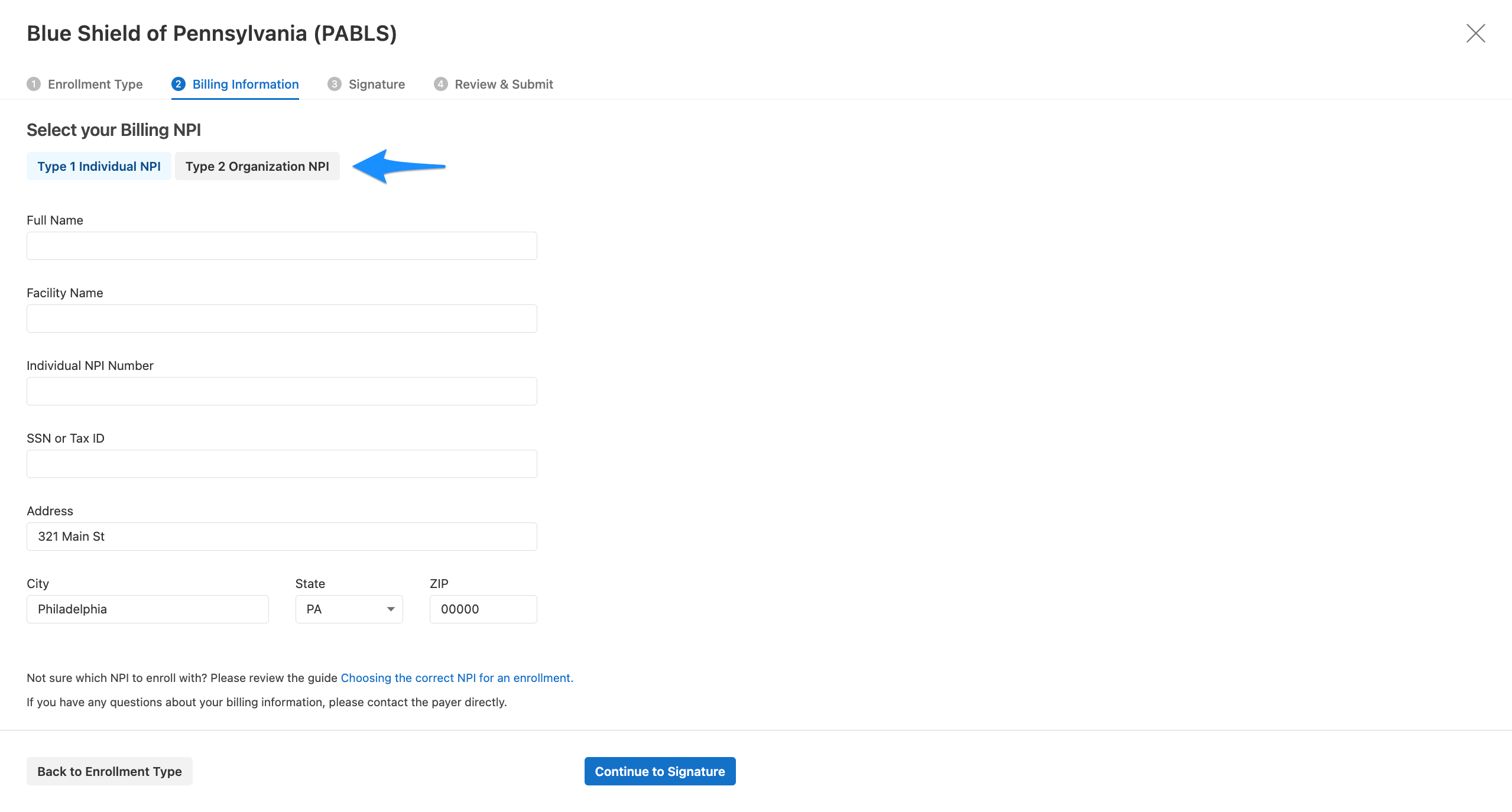 Enter your billing provider information in the fields

Click

Continue to Signature

Enter your signature and click

Continue to Review & Submit

Review the information and click

Submit Enrollment
Once these steps are completed, the enrollment status will update to Submitted while the payer is processing your enrollment.
---
Completing additional steps
A Payment Report enrollment may receive a rejection message indicating that you're "linked to another clearinghouse to receive ERAs," and need to "submit the COV (change of vendor)." This occurs when you're already receiving Payment Reports (ERAs) through another clearinghouse, as payers will only send Payment Reports to one clearinghouse.
To resolve this rejection, you'll need to submit a Change of Vendor letter through SimplePractice. Our clearinghouse will provide this to the payer to indicate that you want to receive Payment Reports through SimplePractice going forward.
Note: Only provide a Change of Vendor letter if your enrollment rejection message specifically asks you to submit one, as not all payers require this.
The Change of Vendor letter must include the following information:
Your name, address, and today's date at the top

A short paragraph stating the following:

"Please update my enrollment with [INSURANCE PAYER] to receive Payment Reports through SimplePractice. Below is the requested information:

TIN (tax ID number):

NPI:

Payer Name:

Payer ID: [This can be found in your

My Insurance Payers

page]

Clearinghouse / Company Name / User Id: Eligible, inc. GATE0164"

Your printed name and signature at the bottom
When you've completed this letter, please submit a help request with your COV letter attached. We'll submit this to our clearinghouse to continue processing your enrollment.
If your enrollment updates to the Document Required status after resubmission, this indicates that the payer requires additional steps outside of SimplePractice. For more information, see Why is my enrollment requiring additional steps?
Important: Your enrollment may be rejected or unprocessed if these additional steps aren't completed.