In SimplePractice, you can generate CMS 1500 claim forms to submit electronically through the system, or download and print to submit outside the system.
Note: If you're not currently a SimplePractice customer and are considering signing up for an account, make sure to take a look at how we streamline insurance billing.
In this guide, we'll cover:
Note: Before you create your first claim form, you'll want to make sure that you've entered all of your practice and client information accurately so this populates into your claim forms correctly. Refer to Getting Started Guide: Insurance for these steps.
---
How to create a CMS 1500 form
Navigate to the client's Billing page
Set the date range for the appointments you want to include on the claim form
Click New > Claim/CMS1500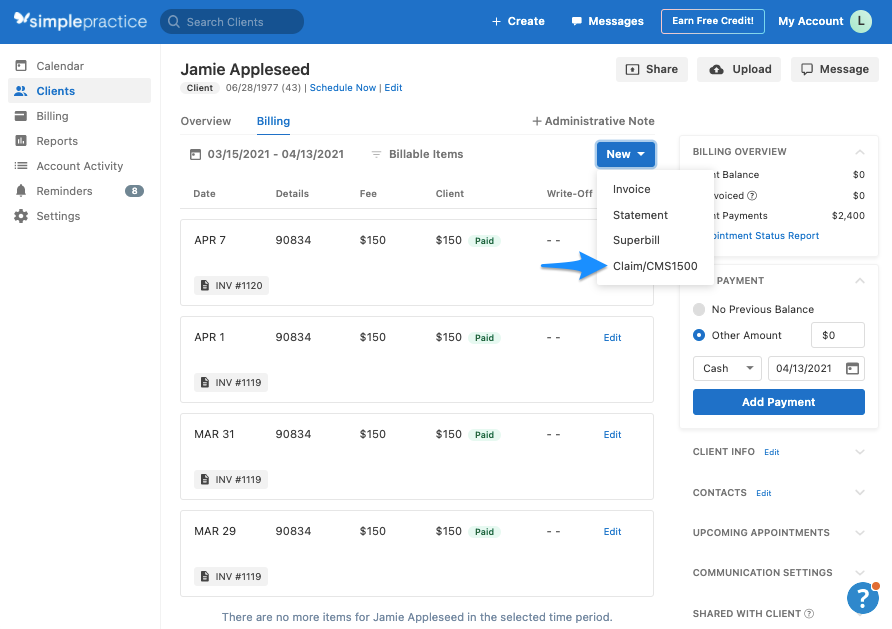 Select the appointments you'd like to include on the claim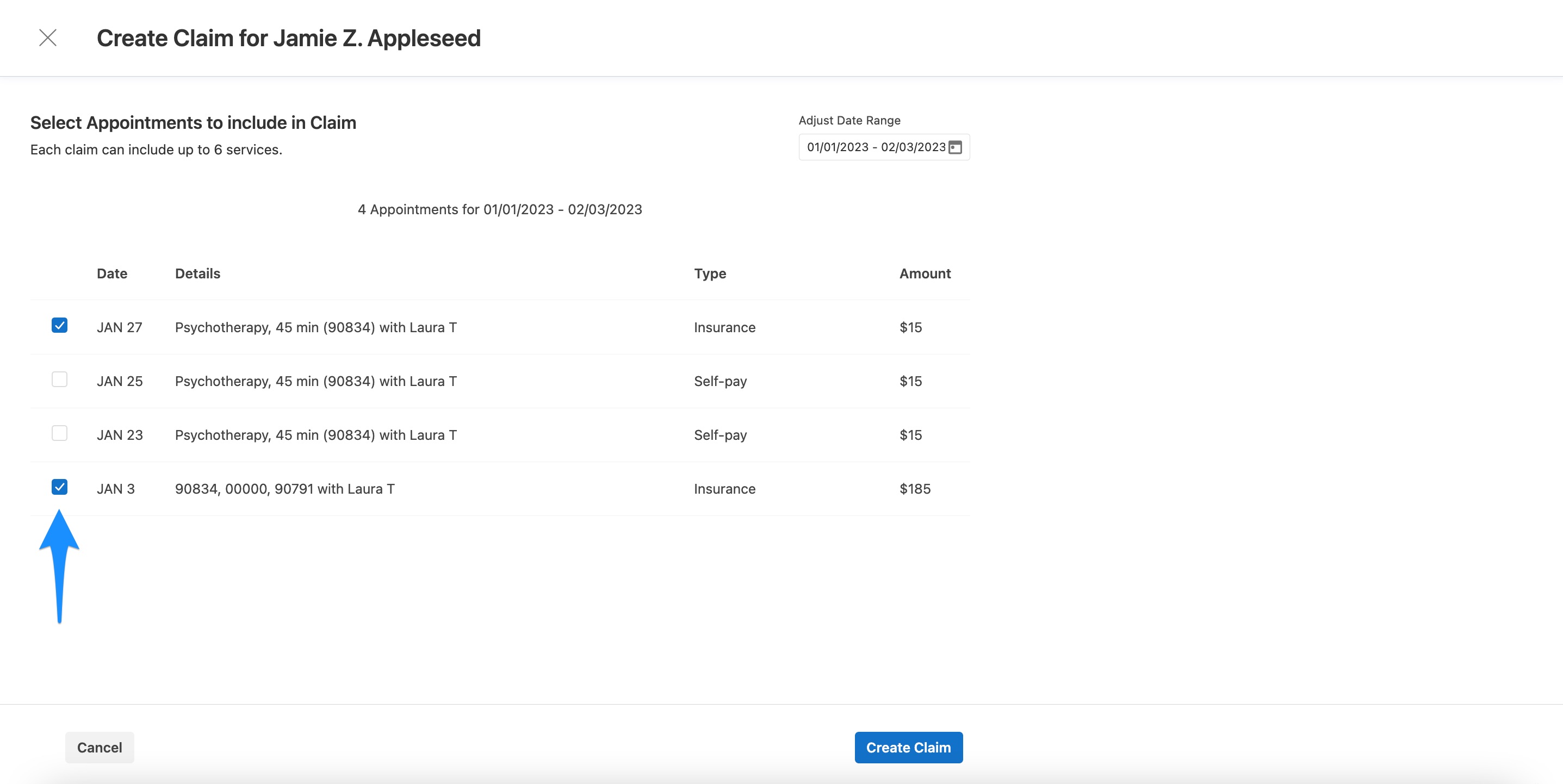 Review the auto-populated information on the claim and add or edit any fields necessary

Click Save
You can also use our batch claim filing feature to create a claim. For more details, see Creating batch claims.
Note: The layout that you see your new claim form in is for editing purposes. Once printed, your claim form will appear like a normal CMS 1500 form. For more information on auto-populating additional fields, see Auto-populating additional fields on claim forms.
---
How to print your CMS 1500 form
After saving your claim form, you can submit it electronically through SimplePractice, or download it to print.
To download and print your claim form, follow these steps:
Click the download icon

Select Download complete form if you want to generate the full, red CMS 1500 form as a PDF
Select Download field entries only if you want to only generate the data fields so you can print it onto a blank CMS 1500 form
Important: If you are downloading a secondary claim form, you will notice that the downloaded PDF does not match that of the claim form you see in SimplePractice. That is because certain boxes like 8 and 24 where you would enter the client's COB information are specific to SimplePractice and filing secondary claims electronically. These fields are not present when you download the claim as they are not required since secondary claims filed by mail usually are accompanied by a physical primary EOB.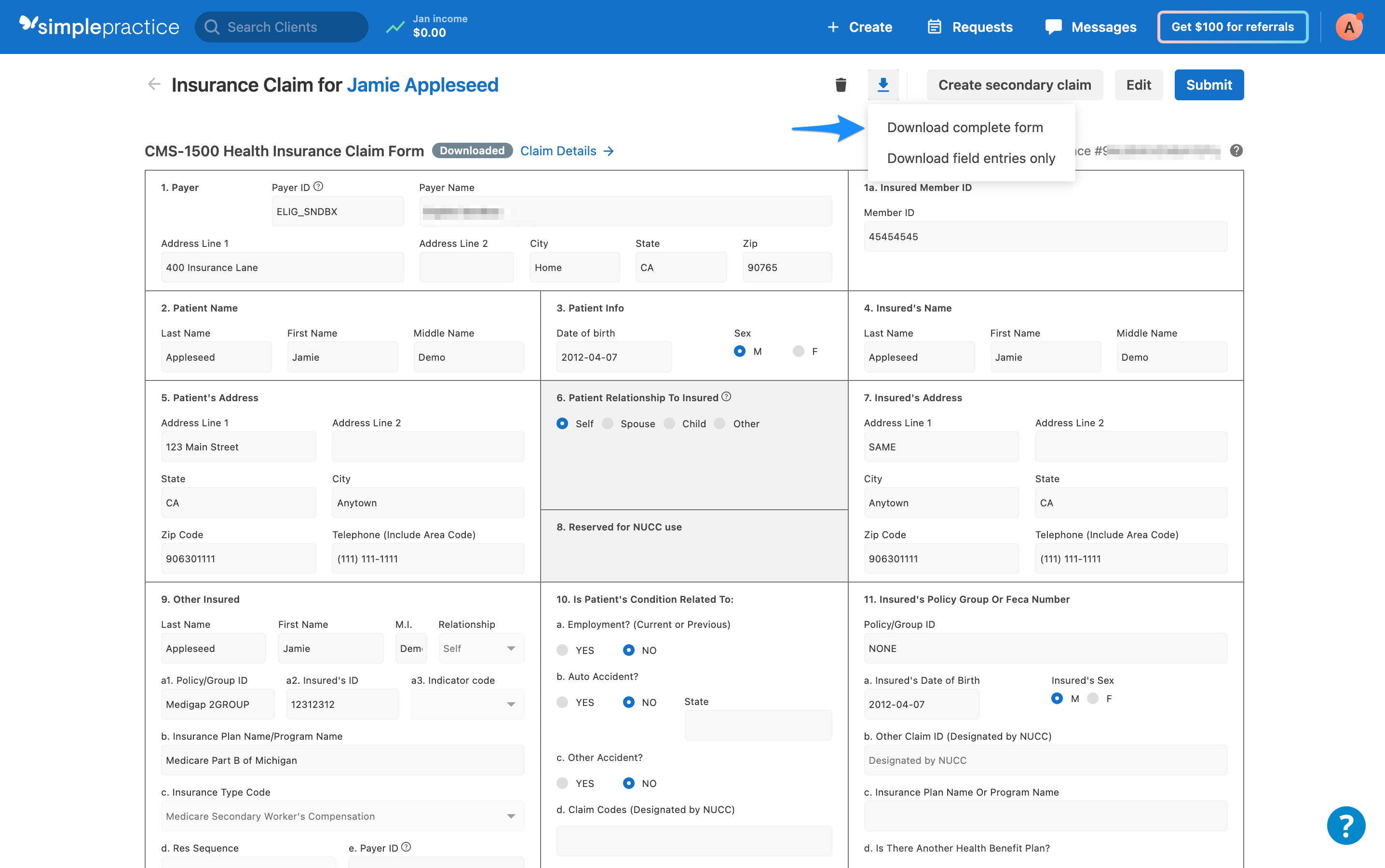 Note: To submit your claim electronically instead, click the Submit button. Refer to Filing an insurance claim in SimplePractice to learn more about electronic claim filing.
---
Tips for printing your claim form
When printing the claim form, make sure the printer does not scale the page or add margins.
When printing the full claim form with the red background, make sure your red ink cartridge is full and the red background prints without any streaks or faded color.
When printing the data directly onto a blank claim form, we recommend adding the blank claim form to your printer's main paper tray as opposed to an auxiliary paper tray.
Remember that each printer is different — if your data fields don't print perfectly onto the blank claim form, you may have to adjust the way you load the blank forms in the paper tray.
We recommend reaching out to your insurance payer if you have questions about the requirements for submitting printed CMS 1500 forms.
Note: There isn't a fee for creating and downloading claims.