SimplePractice offers 3 different subscription plans so you can choose the one that includes the features best suited to help run your practice.
These subscription plans are:
Starter

Begin with the basics for your private practice. Starting at

$29/mo

.

Essential

Simplify your practice with all of the essentials. Starting at

$69/mo

.

Plus

Expand your practice with every feature available. Starting at

$99/mo

.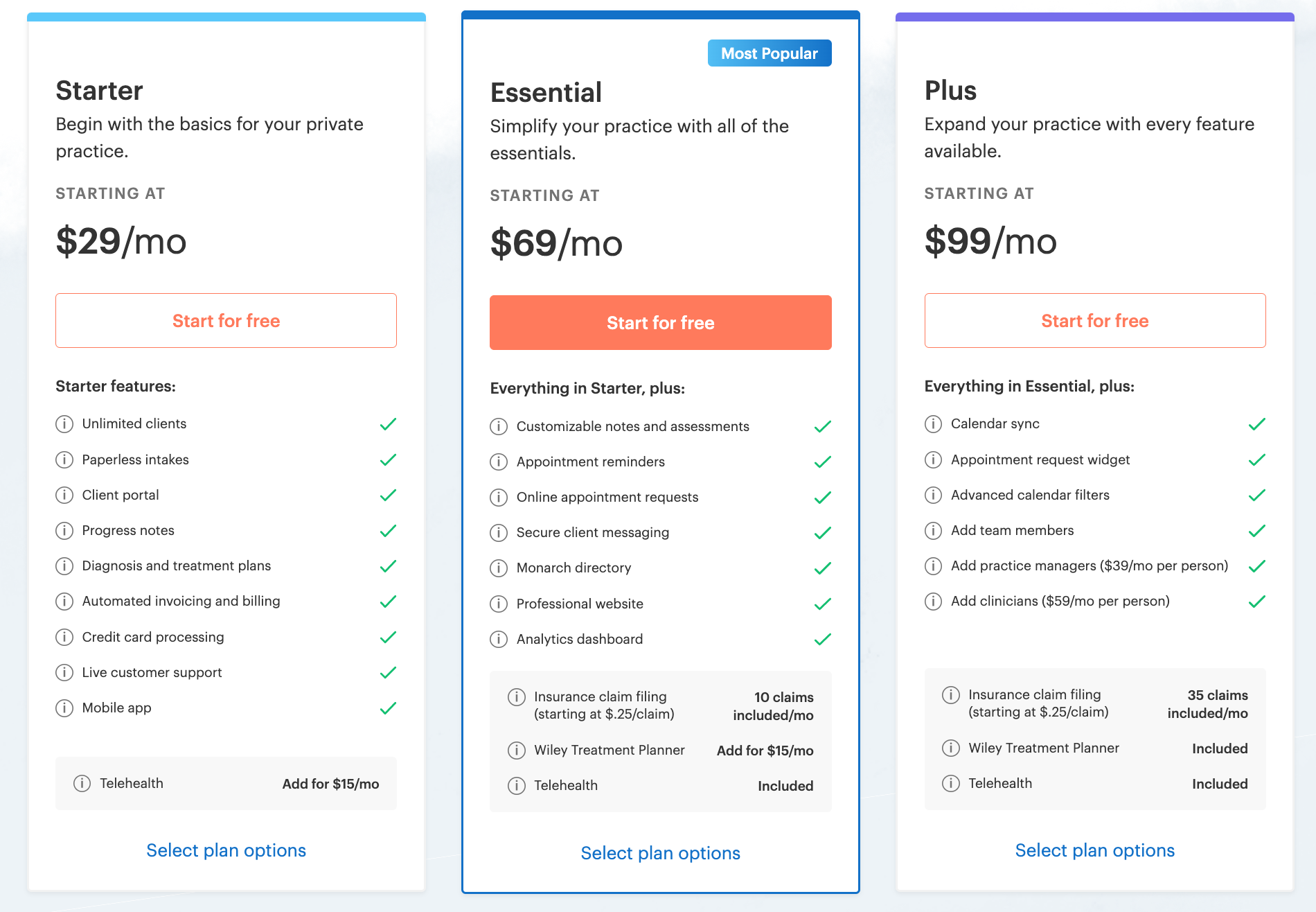 Once you've signed up for a free 30-day trial of our platform, you can choose to enter your credit card information at any time. Once your trial period ends, you'll be billed your plan rate on a month-to-month basis. 
Our Pricing page details all of the differences between the 3 plans, but you can find a breakdown of the fees associated with specific features below, as well as answers to frequently asked questions. In this guide, we'll cover:
---
Team members
For Solo practices, you can select from any of the three plans: Starter, Essential, or Plus.
Additional team members can only be added on the Plus plan. To create a group practice in SimplePractice, select the Plus plan and then you can add team members. 
On the Plus plan, you can:
Add billers, schedulers, or supervisors for free

Add an unlimited number of clinicians for $59/month per clinician

Add a Practice Manager

for $39/month per person
---
Insurance billing
When billing insurance electronically through SimplePractice, you'll be charged for successfully submitted claims and Coverage Reports. 
Note: Electronic insurance billing is only available on the Essential and Plus plans. 
Each month, the Essential plan includes 10 free claim submissions, and the Plus plan includes 35 free claim submissions.
Beyond what's included in your subscription plan, electronic insurance claim submissions have a tiered payment structure based on how many claims you submit each month: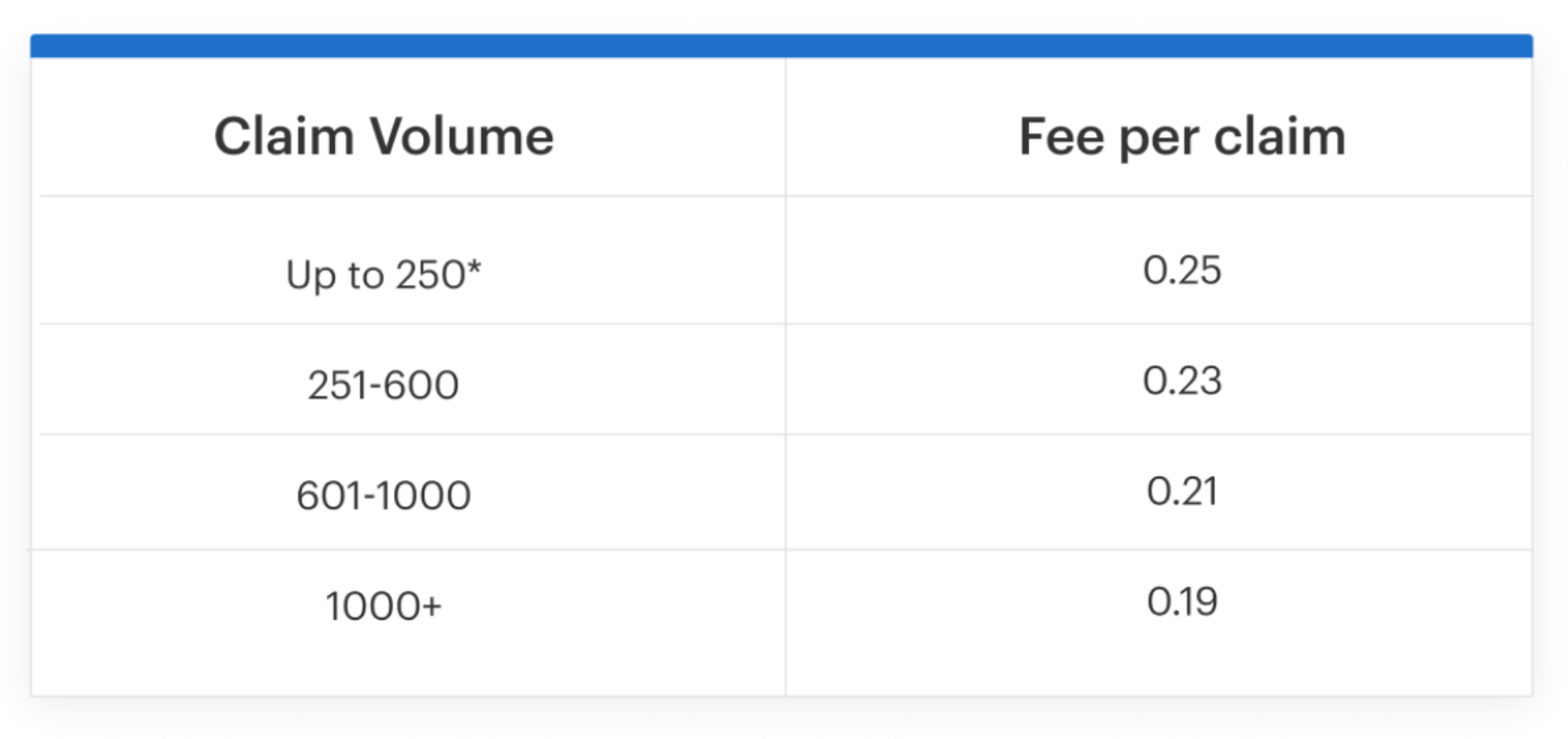 Note: You can create and download insurance claims on the Starter plan to print and submit outside of SimplePractice.
You'll be charged $.05 for each successful Coverage Report. For more information, see Coverage Reports in SimplePractice.
---
Additional features
Telehealth

is included in the

Essential

and

Plus plans at no additional cost. It's also available as an add-on feature on the Starter plan for an additional $15/mo.
Wiley Treatment Planners

are included in the Plus plan at no additional cost. They're also available as an add-on feature on the Essential plan for an additional $15/mo. 

Appointment reminders

are included in the Essential and Plus plans at no additional cost. 

Appointment reminders are not available on the

Starter

plan. However, if Telehealth is enabled, clients can still receive

Telehealth reminders

.

You can add an unlimited number of clients for free on all subscription plans.
Note: For a complete list of features included on each plan, please refer to our Pricing page. You can also see Which subscription plan is right for me? to learn more.
---
Credit card processing
If you're planning to accept credit card payments through our integrated payment processing system, please see Getting Started with Online Payments.
Our credit card processing system is fully PCI-compliant, giving you the ability to store cards securely, and saving you time with automated payment options. The integration fee is 3.15% + $0.30 for each successful transaction - and that's across the board, whether you're running the card at the time of service or if you've stored the card to charge at a later time. Some card processors may offer a lower fee for card-in-hand transactions, but a much higher one for card-absent transactions.
---
Discounts and promotions
If you're interested in receiving free credits you can use towards your SimplePractice subscription fee, see our Refer-a-Colleague: SimplePractice referral program.
Tip: If you're shopping around for an EHR, make sure you ask about any hidden costs that may not be listed on a company's pricing page. SimplePractice lists everything and believes in pricing transparency, so that you can make the best decision for your practice.
---
FAQs
---
Do you offer refunds?
SimplePractice provides a 30-day free trial. After your trial, you have the option to sign up for a paid SimplePractice account. If changing from one plan type to another results in a credit on your account, we'll automatically apply that credit to your subscription. 
Note: We do not provide refunds.
We clearly provide our refund policy to you in Section 24 of our Terms of Service:
"Upon termination or expiration of this Agreement (which will automatically result in termination of Your Account), You will not receive any refund of any amounts previously paid and You will remain liable for any charges incurred or unpaid amounts owed by You to SimplePractice."
Prior to making a change to your subscription, you'll see a modal that reminds you of our no-refund policy. You can cancel your subscription at any time, but you're responsible for any charges already incurred.
---
Do you have a referral program?
You can refer your colleagues to SimplePractice and earn $150 credits toward your subscription plan. To do this, use our automated referral system that is located in your SimplePractice account when you click Get $150 for referrals at the top of your account: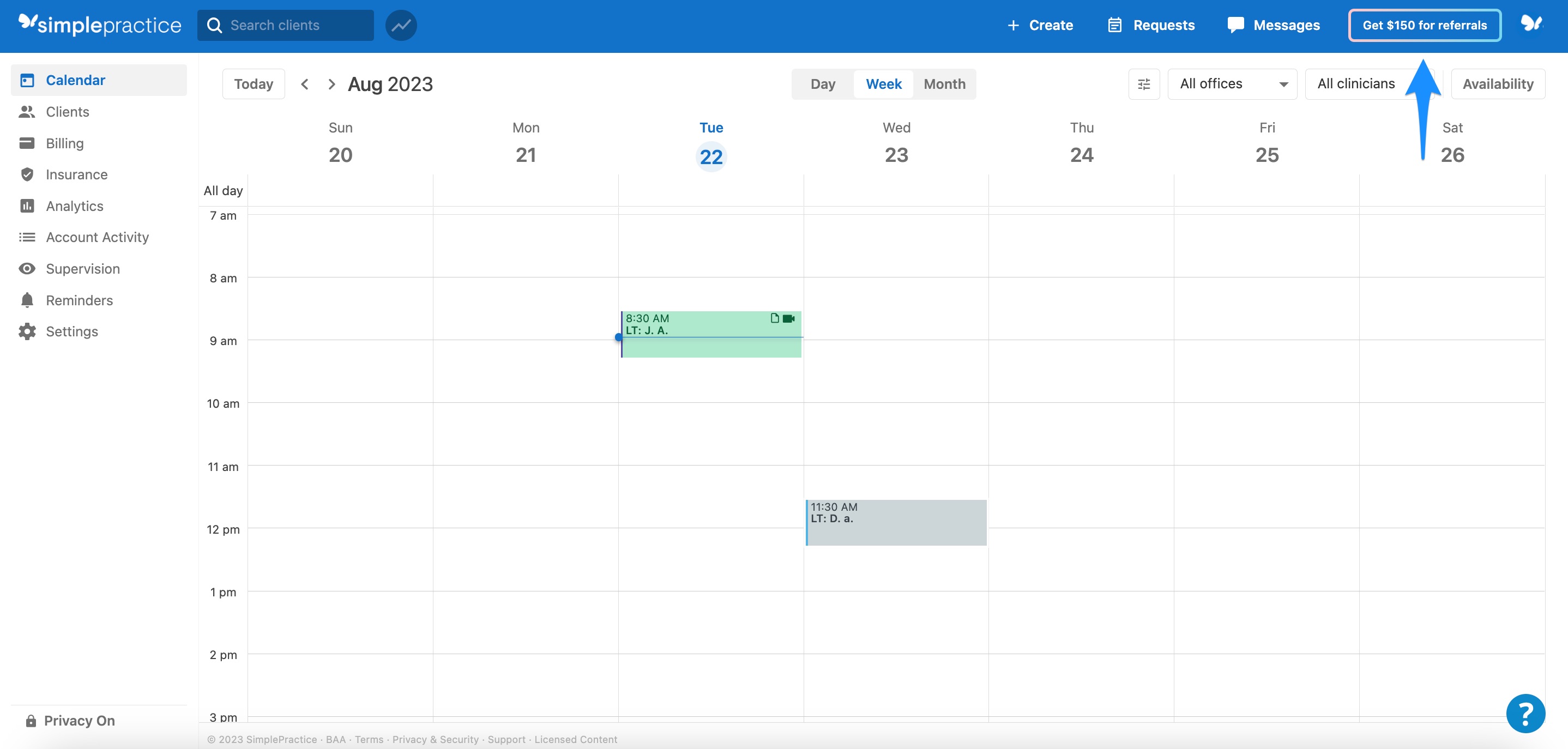 You can invite people right from SimplePractice, and even send your custom referral link to your Twitter followers or Facebook friends.
If colleagues you invite sign up for a paid SimplePractice account, you both get a $150 credit applied to your subscription. When signing up, make sure that your colleague clicks on the referral link before creating a free trial account. This $150 credit will apply to the next billing cycle on your account after your referee makes their first subscription payment. 
Learn more about referring a colleague here.
---
What happens if I change plans or upgrade my trial account?
You can change your subscription plan at any time. If you upgrade your subscription plan, your account will be charged the pro-rated difference. If you choose a less expensive plan or remove certain features, your account will be credited the pro-rated difference. To compare plans, please see our Pricing page. For instructions on changing your plan, see SimplePractice subscription billing information.
Note: SimplePractice accepts Visa, Mastercard, American Express, Discover, JCB, and Diner's Club cards as a form of subscription payment.
---
Can I put my account on hold?
SimplePractice does not offer a way to put your account on hold. If you'd like to reduce your monthly subscription cost, you can switch to a lower subscription plan. Our Starter plan is the lowest priced available SimplePractice subscription at $29/month. This plan offers HIPAA-compliant storage of all of your data and client PHI, while still giving you the flexibility to easily access client records when the need arises.
Note: If you'll be taking a leave of absence, see Preparing your SimplePractice account for a leave of absence.
Please note that you'll lose access to the following features if you switch to the Starter plan:
Secure Messaging

Online appointment requests

Appointment-request Widget

Administrative notes

Custom note templates

Any previously created customized templates will be stored and become available for use again if you choose to upgrade your plan in the future

Wiley Treatment Planners

Electronic claim filing

Integrated ERAs/EOBs

Automated ERA recording

Team members
Note: See SimplePractice subscription billing information to learn more about making changes to your subscription plan.
---
Can I file claims during my 30-day free trial?
During your 30-day free trial, you can submit as many insurance claims as you'd like at no charge. After your trial ends, you'll need to select the Essential or Plus plan to continue filing electronic claims. 
Note: Certain payers require an accepted claim filing enrollment to submit insurance claims. To submit an enrollment during your trial, see Can I submit enrollments during my trial? 
---
How can I see a breakdown of all insurance billing charges in my account?
Your SimplePractice monthly subscription invoice will include a breakdown of all insurance billing charges, including the rate at which each submitted claim was billed. 
To view insurance billing charges for your current billing period: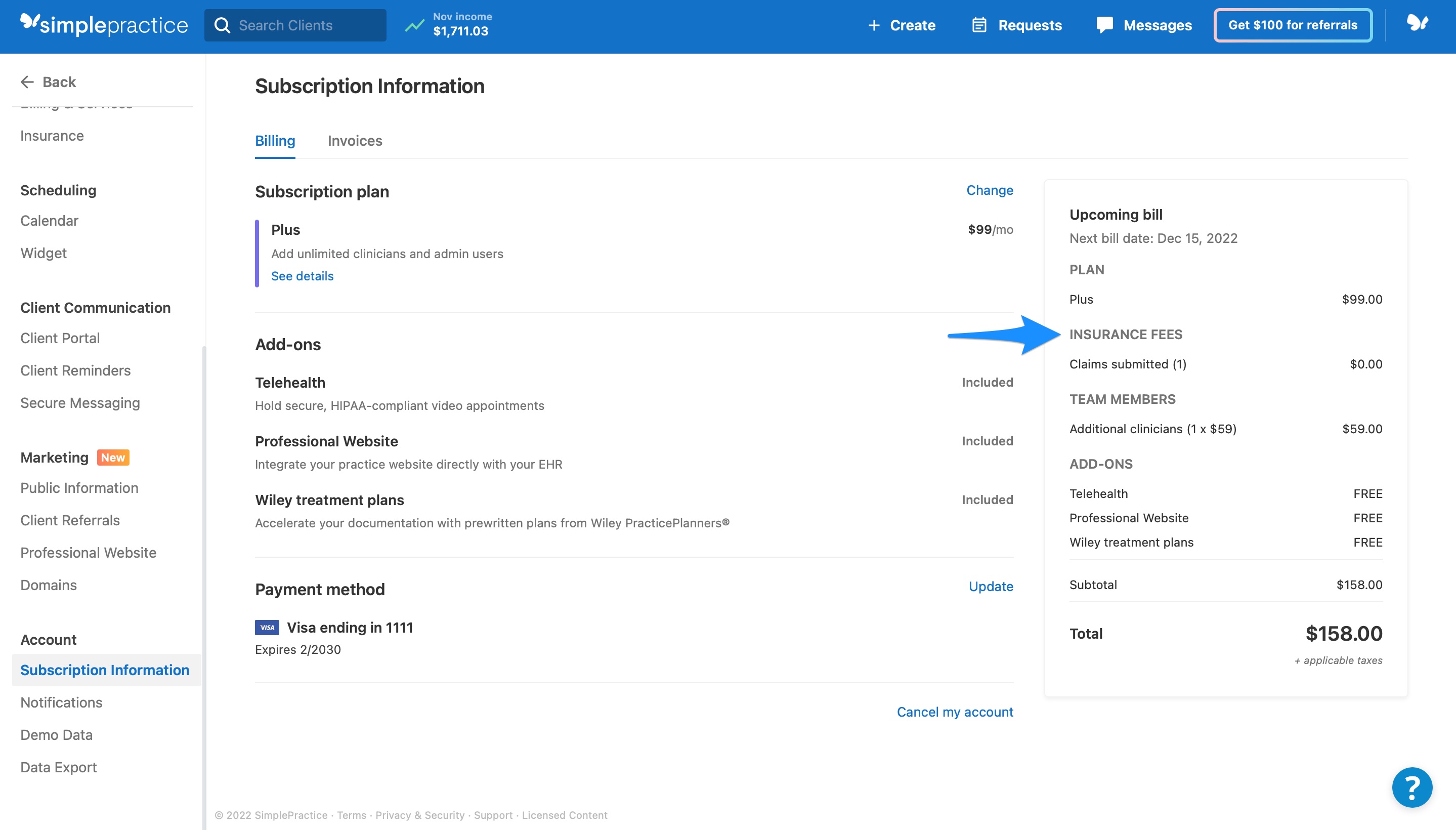 To view insurance billing charges for past billing periods: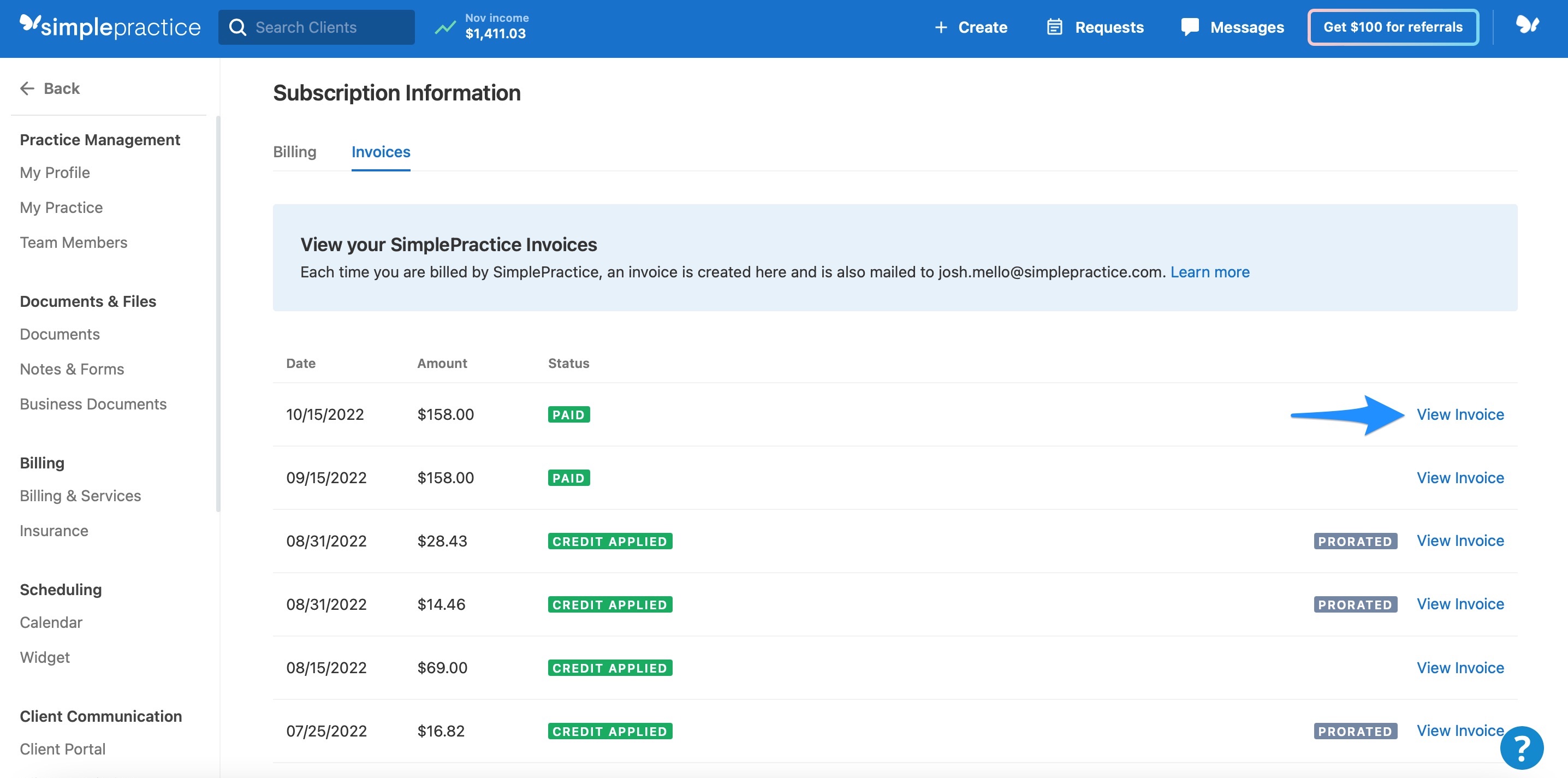 ---
What claims and Coverage Reports am I being charged for?
Claims and Coverage Reports that have generated insurance charges can be viewed in the Filed claims and Coverage Reports reports. To access these reports: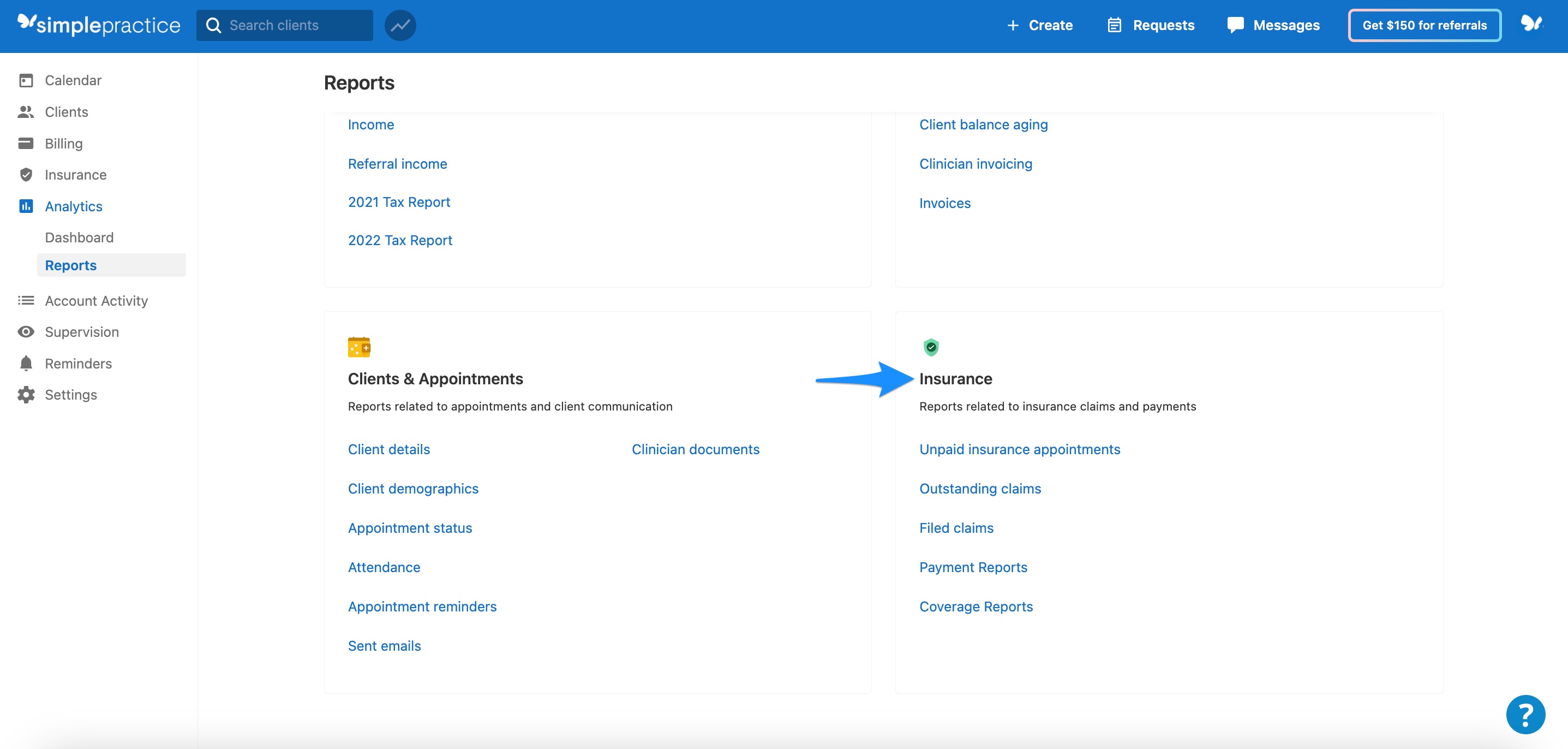 The date ranges in these reports can be adjusted to review a specific billing period.