There are two different email addresses that you can add to your SimplePractice account: your Account Email and your Practice Email.
In this guide, we'll cover:
Note: As of December 13, 2022 ​​SimplePractice customers must use an email address to sign into their account. If you're having trouble logging in, see Trouble logging in to your account. 
---
Explaining your Account and Practice Emails
Account email
Your Account Email is the email address that's associated with your SimplePractice account, and can be used to log in. It's not visible to your clients, unless you also choose to use it as your Practice Email. 
All communication from SimplePractice will be sent to your Account Email, including: 
Email support responses from SimplePractice

All emails from the SimplePractice team will come from yourteam@simplepractice.com

Client Portal notifications

Account and subscription notifications
Note: Our Customer Success team won't be able to communicate with you if your Account Email is a Hushmail email address. If you currently have a Hushmail email address associated with your account and would like to change it to a different email address, please see Changing your Account Email. 
Practice email
Your Practice Email will be visible to your clients on their billing documents including invoices and superbills. When the Practice Email field is left blank, client billing documents won't show an email address for your practice. 
---
Changing your Account Email 
If you need to change the email address associated with your SimplePractice account, you can:
Navigate to

Settings

>

Profile & Security
In the SimplePractice security box, click Manage
Click Edit in the Contact information box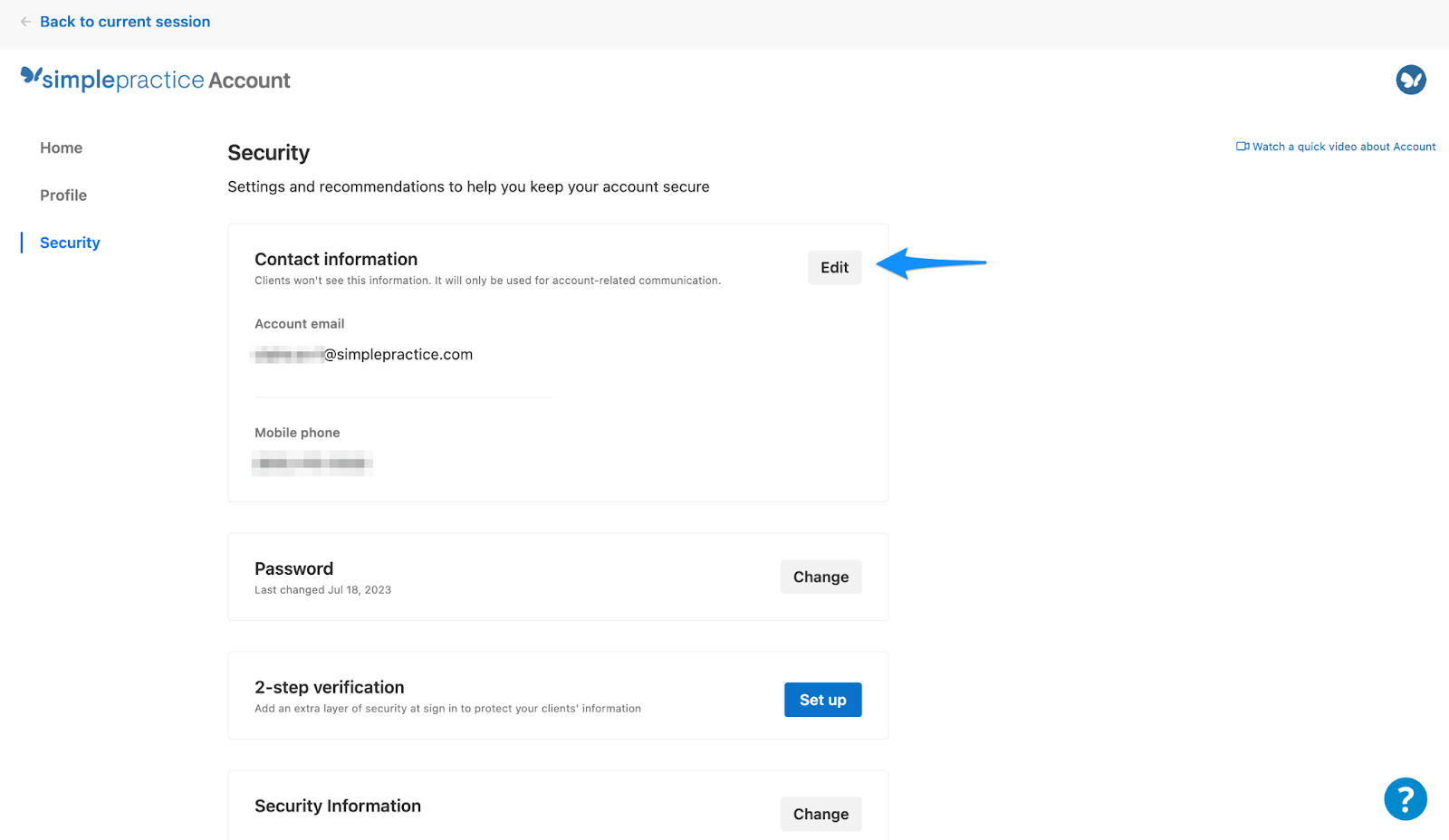 Enter your password 

Click

Continue

Type in your new email address in the

Account Email

field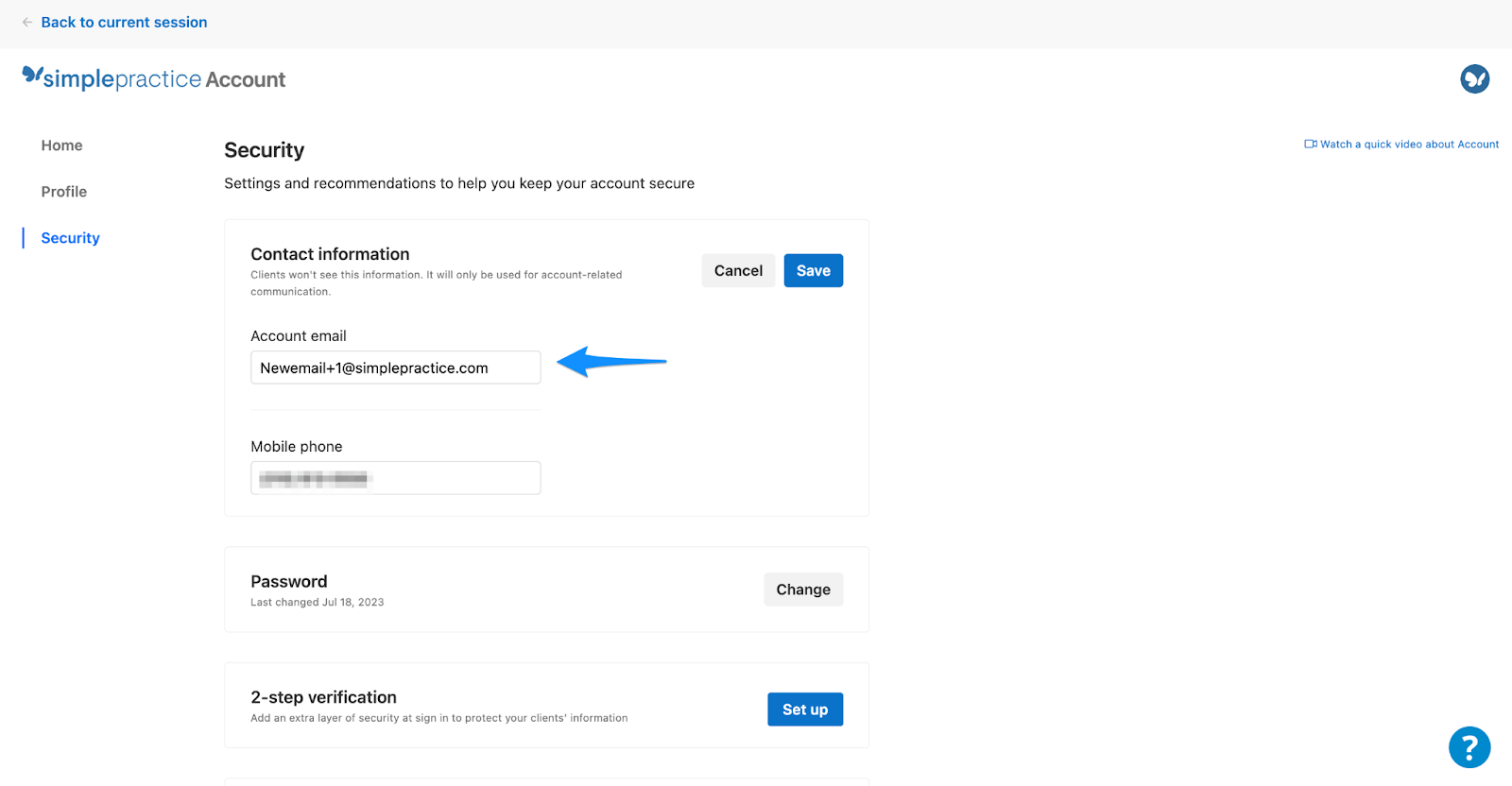 After you save your new Account Email, you'll receive a verification email from yourteam@simplepractice.com to your updated email address. The subject will be Your name, verify your email address now. From the email, click Verify Email Now and your Account Email will be successfully changed.    
Important: The Account Email at Settings > Profile & Security  won't update to the new email address until it's verified.
---
Updating your Practice Email
To update your Practice Email:
Navigate to

Settings >

My Practice

Enter your new email address in the

Practice Email

field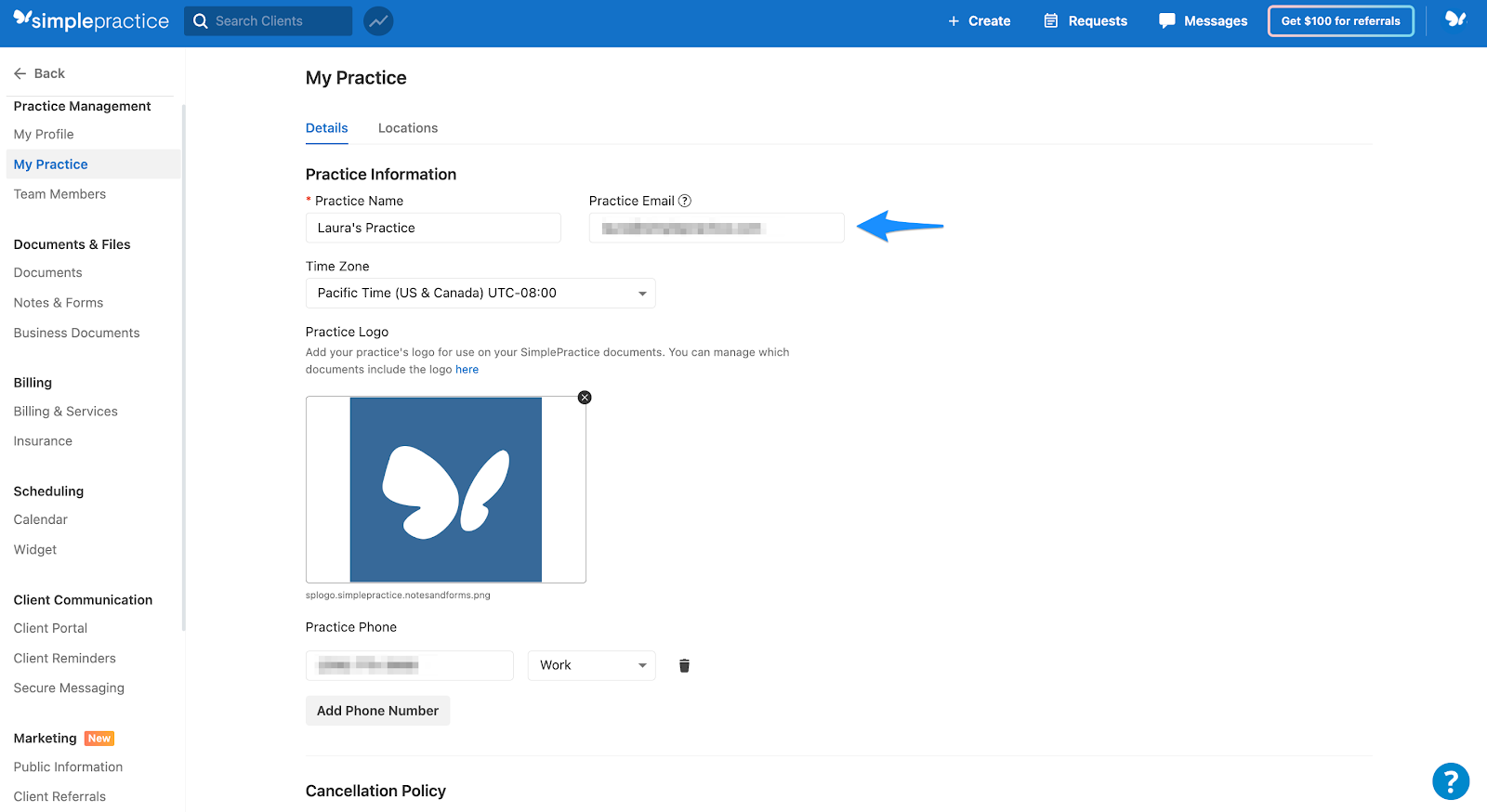 Note: If you leave the Practice Email field blank, clients can't see your email address when receiving documents from you. All billing emails will be sent from the no-reply email address yourprovider@simplepractice.com. If clients respond to this email address, they'll receive an automated response asking them to reach out to their clinician via phone or email.