Every practice is different. Depending on your practice's unique needs, you can add different types of team members to customize your SimplePractice account.
Before you begin adding new team members, you can use this guide to learn what each role entails. After you review the roles, see Adding and managing team members to learn how to add and manage team members.
Note: The ability to add team members is only available on the Professional Plan. Clinician roles are an additional $39/month per clinician, and non-clinician roles are free.
In this guide, we'll cover the best practices for setting up and managing a group account:
---
Selecting the right role and access level for a team member
There are different clinician and non-clinician access levels that can be granted to team members. Each individual role will determine what a team member can see and do within the group practice account.
We've seen that in many private practices, scheduling and billing can often be managed by the same person. To accomplish this in your account, you can assign multiple roles to one team member if their work encompasses responsibilities of multiple roles.
You can review each access level below to make sure that you're assigning the appropriate permissions to your clinicians, and that your administrative staff has the access they need to complete their jobs.
---
Clinician roles
These team member roles are clinician-level roles. They are an additional $39/month per clinician, after the Account Owner.
Account Owner
This is the individual who started the SimplePractice account. This Clinician role allows comprehensive access to all clients, documentation, reports, and subscription management in the group account.

The Account Owner has all the privileges of a Clinician with Administrator Access, but will also have exclusive access to the

Subscription Information

settings,

Team Members

settings,

Demo Data

settings,

Business Documents

, the annual

Tax Report

, and generating a

Data Export

.

If the Account Owner role is better suited for someone else, you can

reach out to our Customer Success team

. A Group Practice Specialist can help you with an

Account Ownership Transfer

.
Important: We do not recommend sharing your login credentials with anyone, even to pass the account on to another individual. Sharing login credentials to transfer your account to another individual can impact the integrity of your signed documentation, reports, payroll data, and is in violation of our Terms of Service.

Clinician with Administrator Access
This Clinician has access to all practice settings except those which are reserved for the Account Owner (see above).

This

Clinician has full access to all clients within the practice; all client documentation, notes, and billing; and all reports except for the annual

Tax Report

.

This leadership role is typically granted to a Co-owner of a practice, an Office Manager, or a Biller/Scheduler that needs comprehensive account access.



Clinician with Full Client List Access
This Clinician can add documentation, manage billing, and schedule appointments for any of their own clients.

This Clinician has limited access to all other clients' charts and appointments. They can view other clients' profiles and appointments, but will not have visibility to progress notes, billing, or chart notes for clients that are not their own.



Clinician with Basic Access + Billing
This Clinician can add documentation, manage billing, and schedule appointments for any of their own clients only.

All other clients in the practice will be hidden from view. All reports available to this team member role will exclusively show this team member's own information.



Basic Access
This Clinician can add documentation and schedule appointments for their own clients only.

All other clients of the other group members will be hidden from view. This role will not have access to any billing, client balances, financial reporting, or session fees. Any billing that is not automated would need to be taken care of by a Biller or Administrator team member.

This role is commonly given to interns or pre-licensed clinicians.
For an in-depth chart showing what each clinician role can see or do, download our Clinician Access Level infographic here.
---
Non-clinician roles
The Supervisor, Biller, and Scheduler roles are non-clinician roles. These team members are free to add to your subscription and can be selected in conjunction with another non-clinician or clinician role. For example, an individual can be a Scheduler + Biller team member, or an existing Clinician with Administrator Access could also have a Supervisor role added to their existing team member account.
Important: Access to the SimplePractice Mobile App requires a clinician team member role. Schedulers, Billers, and Supervisors won't be able to log into the mobile app at this time.
Supervisor
This role is intended to be used exclusively for supervision of pre-licensed clinicians. When a Supervisor is added to the team and a pre-licensed clinician is designated as under their supervision, all progress notes written by the Supervisee needs to be sent to the Supervisor.

The Supervisor will be granted access to only the clients of the team member whom they are supervising.

Supervisors have permission to:
See the practice calendar and session details for their Supervisee's clients only

View/edit service fees in the Calendar flyout for their Supervisee's appointments

View the client list and edit clients of their Supervisee

View, sign, lock, and request edits of notes of their Supervisee

View and update/attach documents to a note for their Supervisee's clients

Upload files to their Supervisee's client charts

View reminders

View/edit a client's Billing and Insurance tab of their Supervisee's clients
Note: A Supervisor can supervise an unlimited number of pre-licensed clinicians under supervision, however a pre-licensed clinician can only have one Supervisor at a time.

Tip: For more details about adding a Supervisor team member, adding Supervisor privileges to an existing team member, or how a Supervisor reviews and signs off on notes, please review this guide: Adding a supervisor to review and sign notes.
Biller
This role has limited access to all client charts in the group account. Billers will be able to create and send billing documents to any client, process payments for any client, access billing-related reports, and manage payroll.

Billers do not have access to any progress notes, chart notes, or practice-wide settings.

Billers have permission to:

Create and edit billing documents: statements, superbills, CMS-1500 claim forms

See the practice calendar

View client diagnoses

Manage client account balances

Add insurance payments

Create and submit insurance claims

View payment reports

Add and update client contact and demographic information

View the

Account Activity log

Access reminders

Access

Reports
Scheduler:
This role has a limited view of all client charts within the practice. They can manage appointment requests and schedule, modify, and delete appointments for any clinician on the team.

Schedulers have permission to:

Create clients and edit existing client information

Assign clinicians to any client in the practice

Create billing documents: invoice and statements

Create and modify appointments in the calendar

Modify a clinician's availability calendar*

View account activity

Access reminders

Approve/deny appointment requests once logged into the account
Note: The Account Owner or a Clinician with Administrator Access will need to first enable online appointment requests within the Client Portal settings to use the Availability Calendar. You can review this guide for more information: Enabling online appointment requests.
While Billers, Schedulers, and Supervisors have access to upload documents to client charts, they will only have access to the documents that they themselves upload. Comprehensive access to uploaded documents requires a Clinician role.
---
Account settings and reports access for team members
Each team member role will have a unique view of the Account Settings and Reports pages.
For the Account Settings page, team members will see all accessible links in blue, while inaccessible links will be in gray. For the Reports page, team members will only see the reports they have access to.
If a team member needs access to a settings page or report that isn't included in their role, the Account Owner can update their role from the Team Members page. Below, we'll show what's available at each access level.
Account Owner: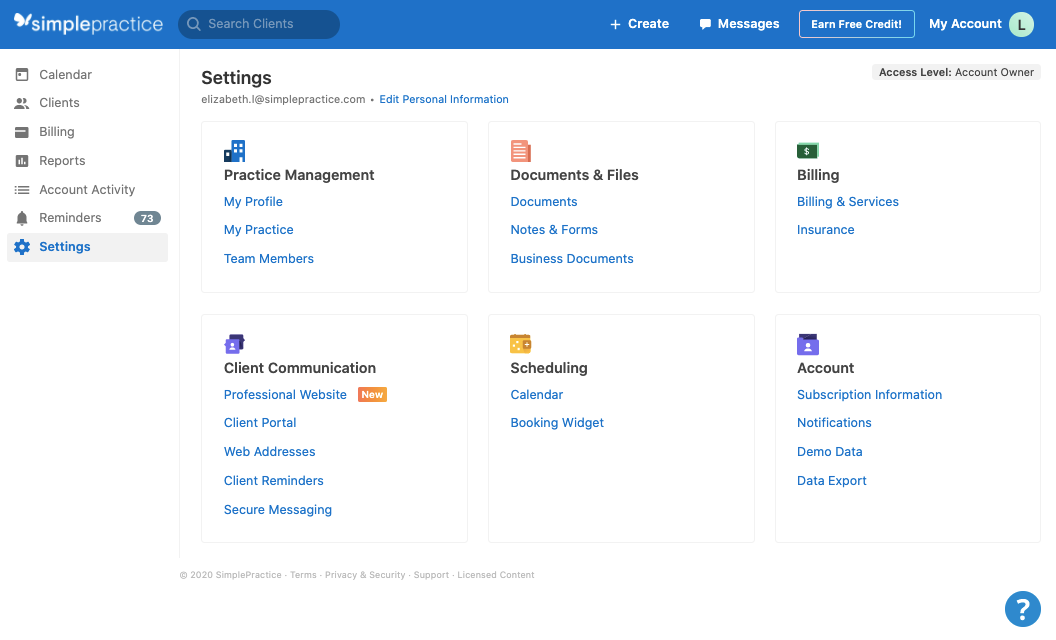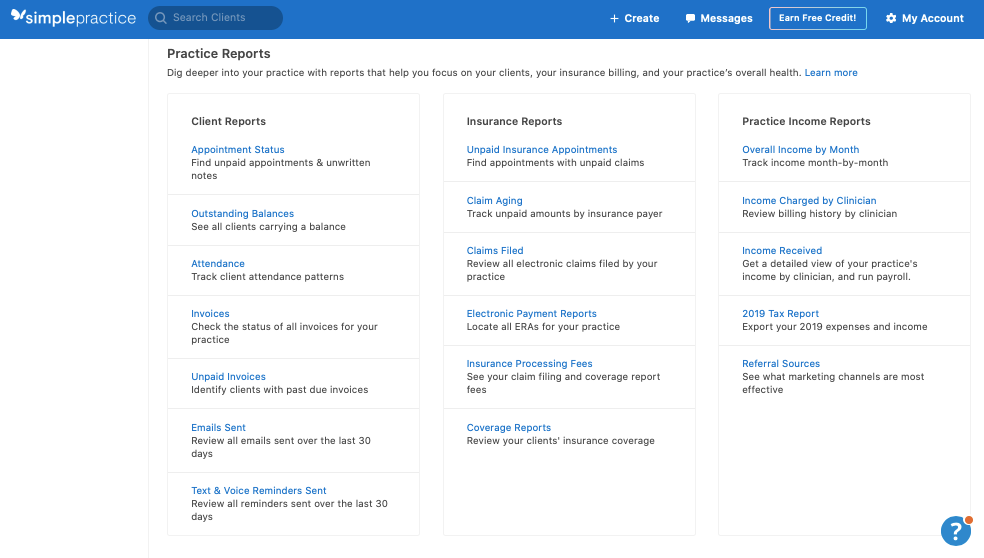 Clinician with Administrator Access: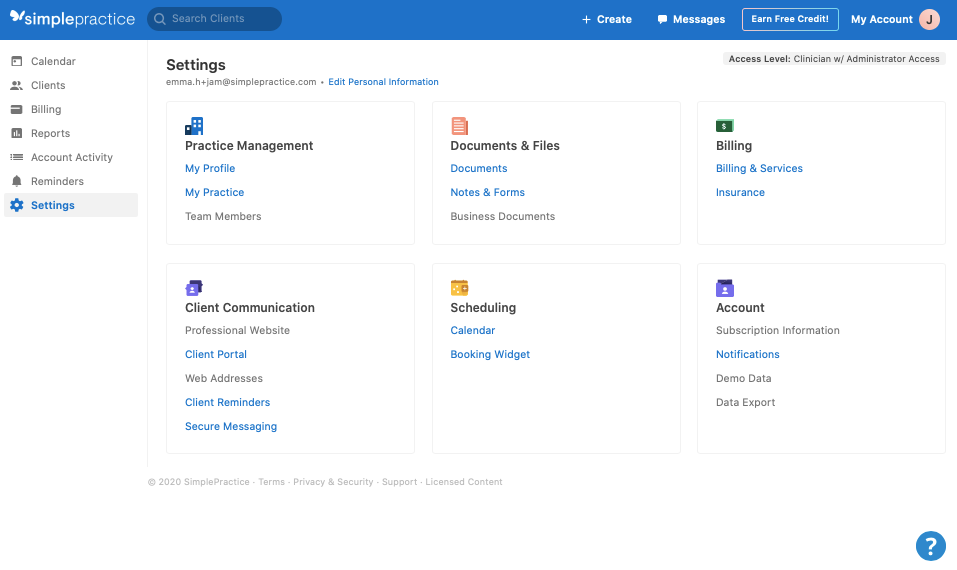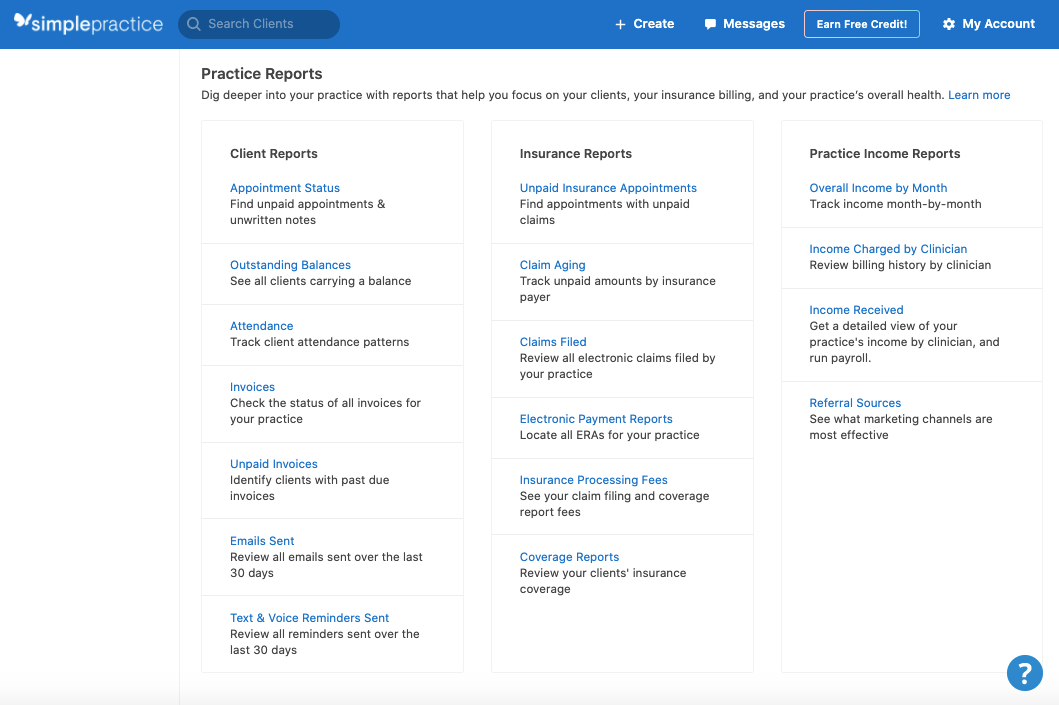 Clinician with Full Client List Access: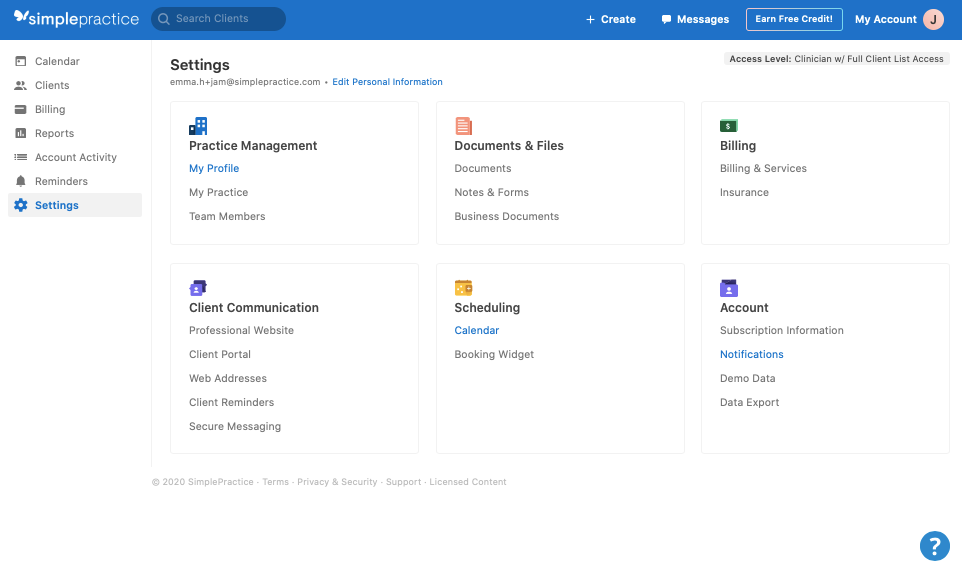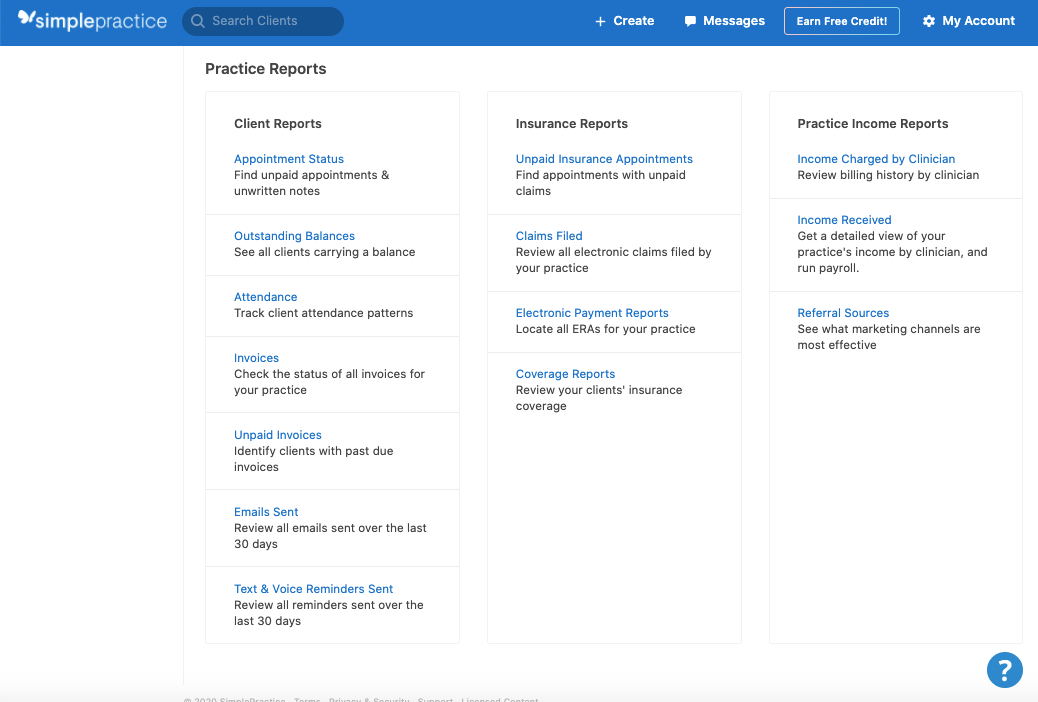 Basic Access + Billing: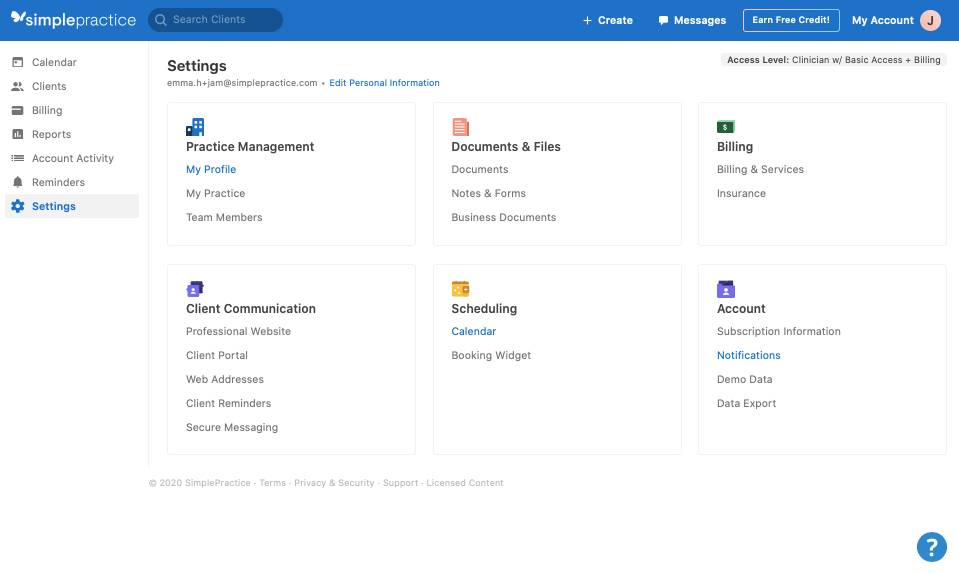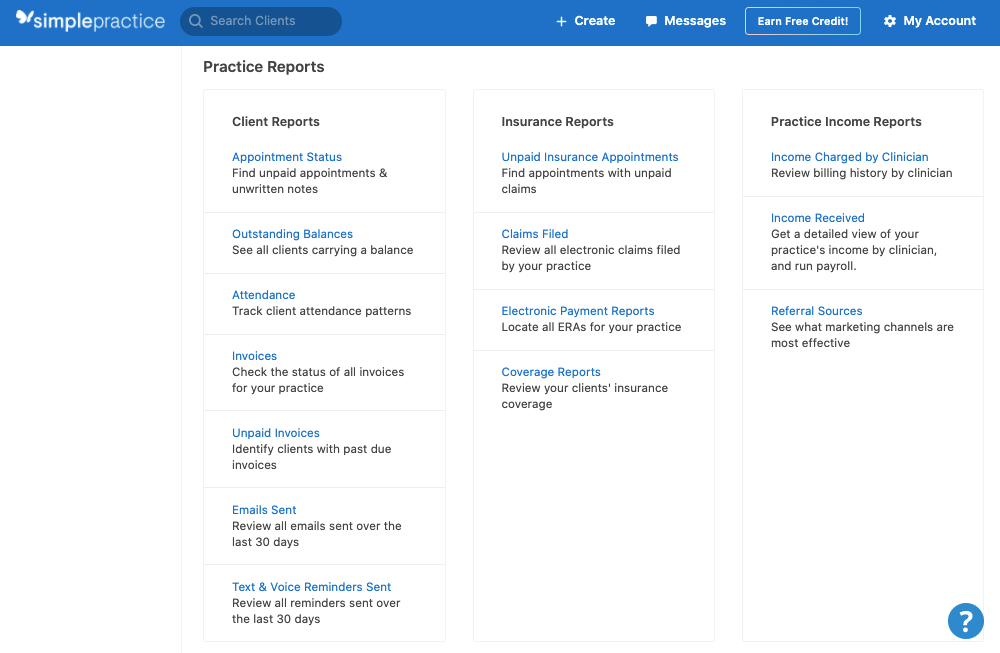 Basic Access: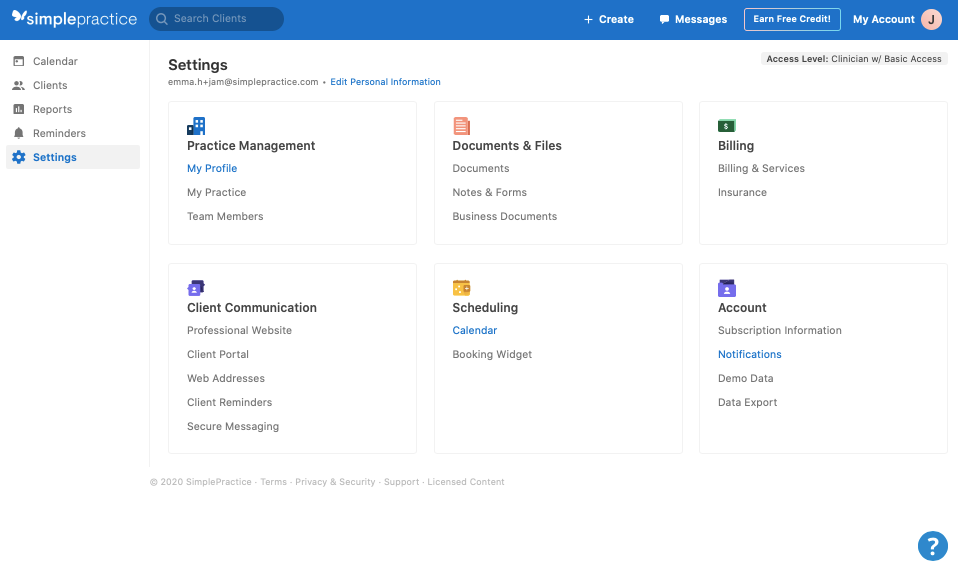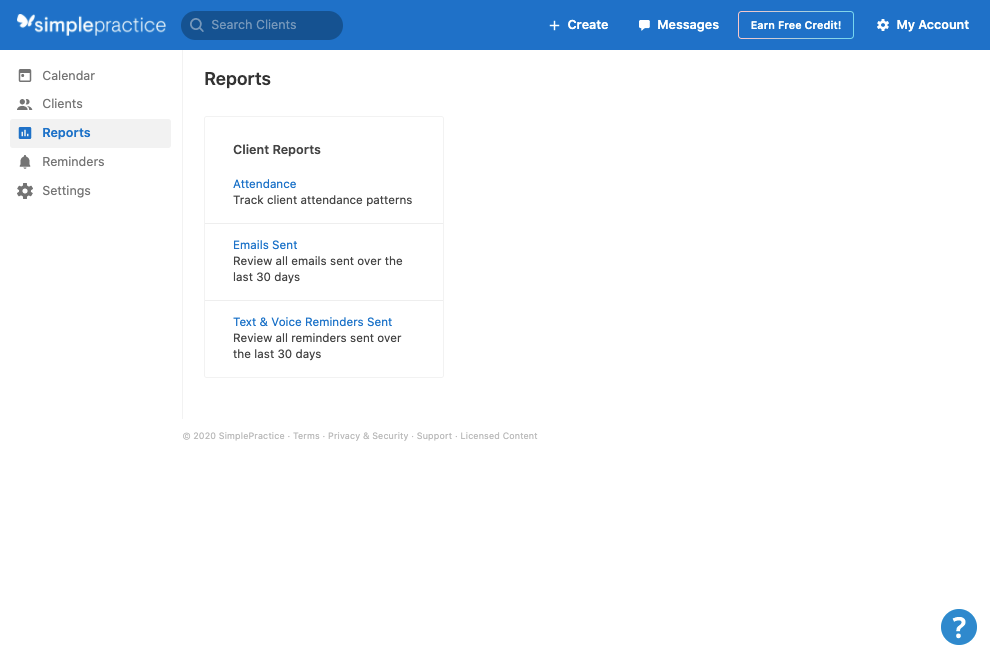 Supervisor: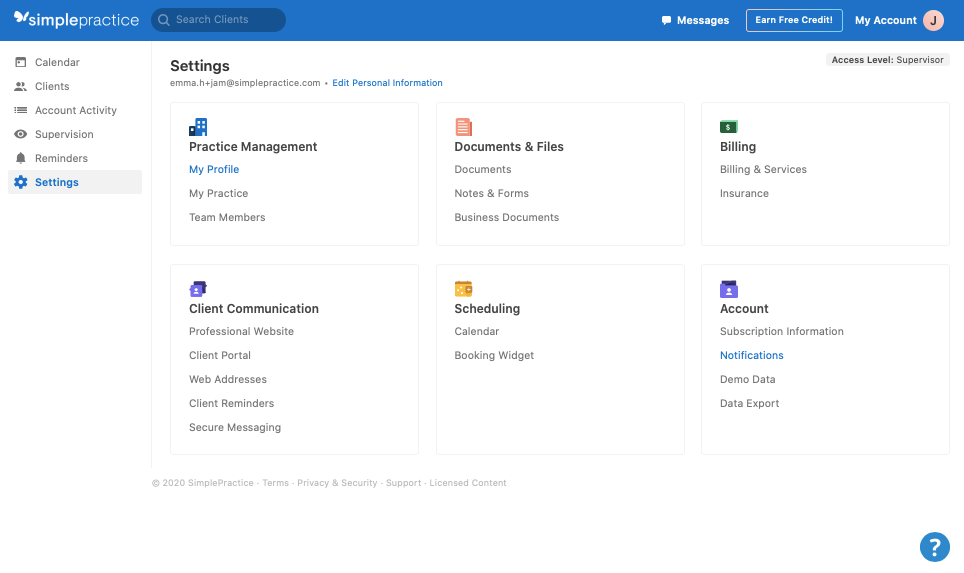 Biller: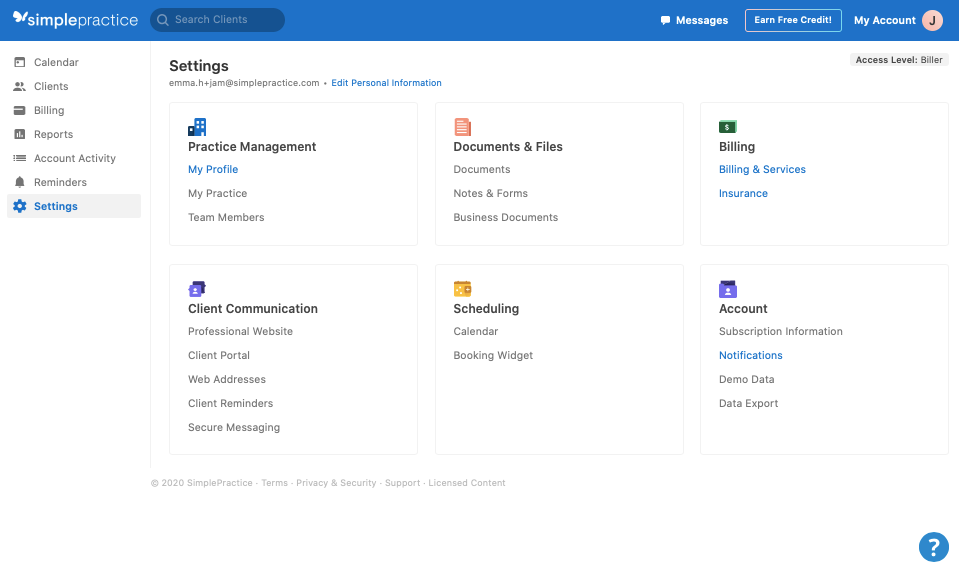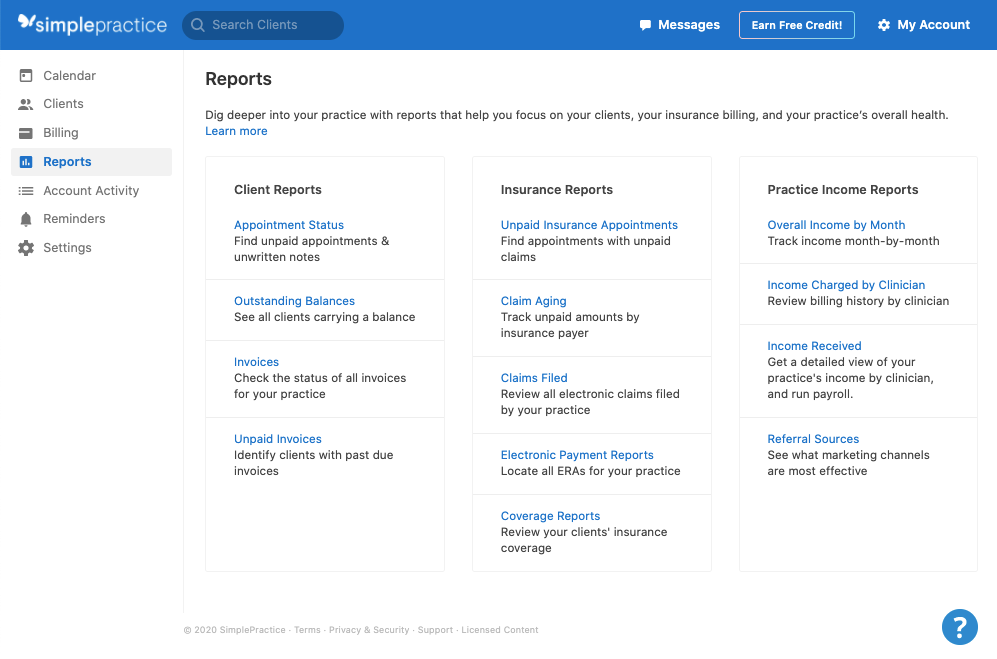 Scheduler: