As your practice evolves, your SimplePractice account can, too. With the Plus plan, you can add new team members to your account at any time. We offer specialized team member roles with carefully tailored access levels for Billers, Schedulers, Supervisors, and various Clinician roles.
We allow as many additional team members as you need. Billers, Schedulers, and Supervisors can be added free of charge, and additional Clinicians can be added at a discounted rate of $59/month per clinician.
Tip: Group practice accounts in SimplePractice are designed for individual clinicians that have additional administrative staff, and for practices consisting of multiple clinicians that all bill under a single NPI, tax ID, and Online Payments account. See Is a group practice right for me? before expanding your account.
In this guide, we'll cover the best practices for setting up and managing a group account:
You can also find answers to frequently asked questions:
---
Adding a new team member
Important: Team members can only be added on the Plus plan. To manage or update your subscription, go to Settings > Subscription Information and click Change Plan.
To add a team member, the Account Owner will need to: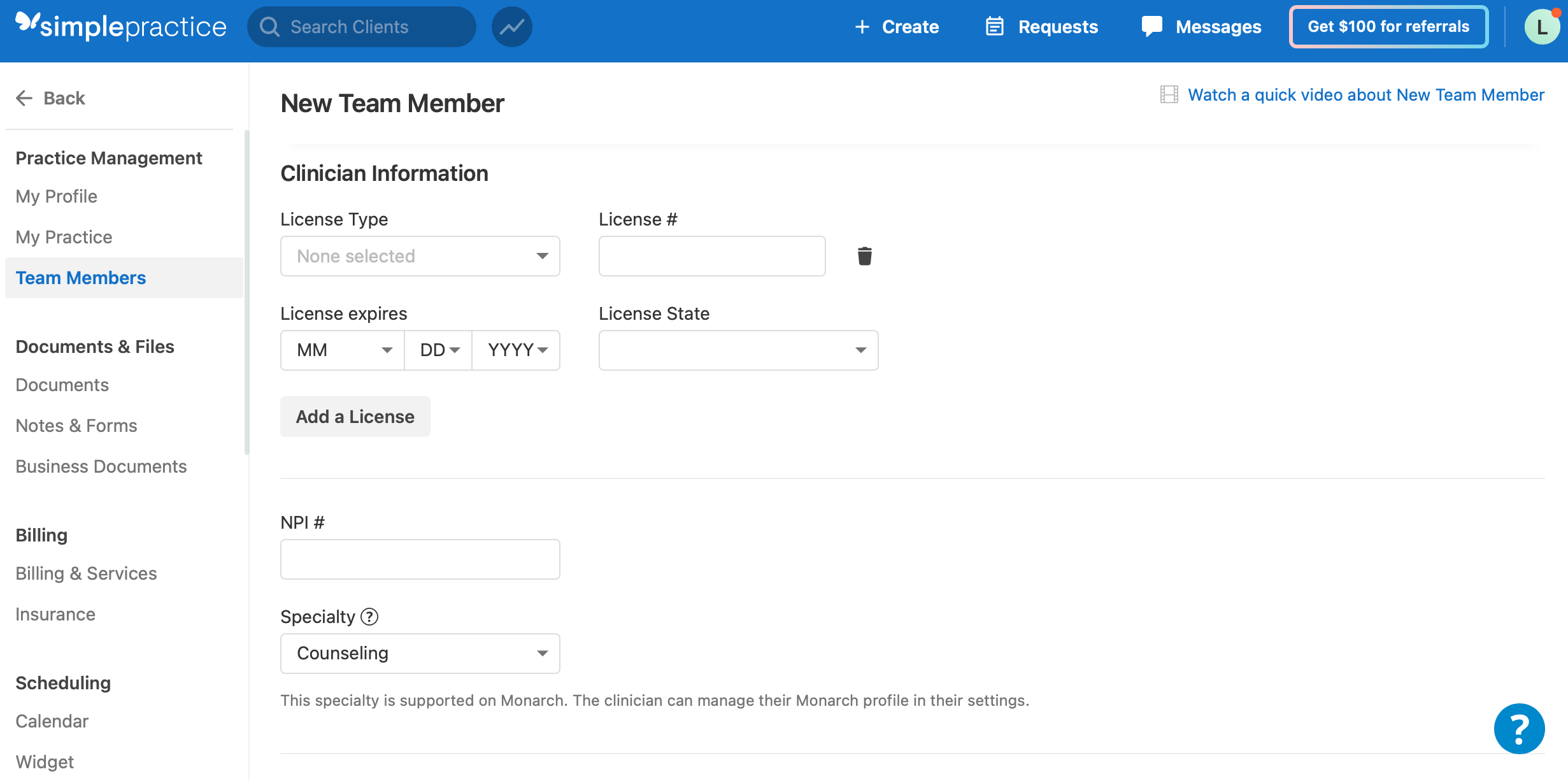 Note: Secure Messaging will automatically be enabled for each newly added clinician if it's enabled at the practice level.
When the team member opens the invitation from their email, they'll be able to create their own username and password for their personal login.
Using a unique email address for each SimplePractice login
If the prospective team member's email address is already in our system for any existing paid or trial SimplePractice account, you'll see an error message that says: Could not add Team Member. If you see this message, a different, unique email address will be required to successfully invite this team member.
If a team member's email address was used for a trial account that was recently deleted or expired, the email address associated with the trial account will not be available until 30 days after the trial account has been cancelled.
Note: A team member's email address can be changed after they're added to your practice, but the same email cannot be used for multiple accounts.
We've found that some Billers or Schedulers work for multiple practices that use SimplePractice as their EHR. To help streamline this process for any team members in this situation, you can refer to our guide: Adding team members or clients using the same email address.
Note: Only an Account Owner can add or manage team members. If you're not an Account Owner and you need to make updates to team members, contact your Account Owner.
---
Updating a team member's role
If a team member needs greater access to the account or there's a role that suits their workflow better, you can update their team member role.
Note: Once a team member has been added to your subscription as a Clinician, the Clinician role cannot be removed to give them a non-clinician role. If a Biller, Scheduler, or Supervisor team member has been added to your practice with a clinician role by mistake, you will have to delete and then re-add them. If you want to remove a clinician from your subscription, you will need to delete them.
---
Removing a team member
Important: When you remove a Clinician from your practice, your account will retain all data tied to the Clinician, but the Clinician will no longer be able to log in or access the files. If you add the Clinician back to your account later, they will not be automatically linked to their former client files. You'll need to manually assign the Clinician as the clients' primary clinician. See Client access and changing access levels to learn more. We also recommend performing a Data Export.
You can remove team members from your account at any time. Here's how:
Note: Deleting a team member is a permanent action. The clinician name field for permanent deletion is both case and space sensitive. Only once the team member name is typed exactly as it's found in your account will the Permanently Delete button become clickable.
If the team member is a Clinician, you'll receive a prorated credit back to your account for the remaining time that was paid for. This credit will apply towards your next billing cycle.
---
Organizing your team member list
You have the ability to organize how your team members are displayed in both your SimplePractice account and the Client Portal for greater control and flexibility. To organize the order of your team members, navigate to Settings > Team Members and select the way you wish to display them: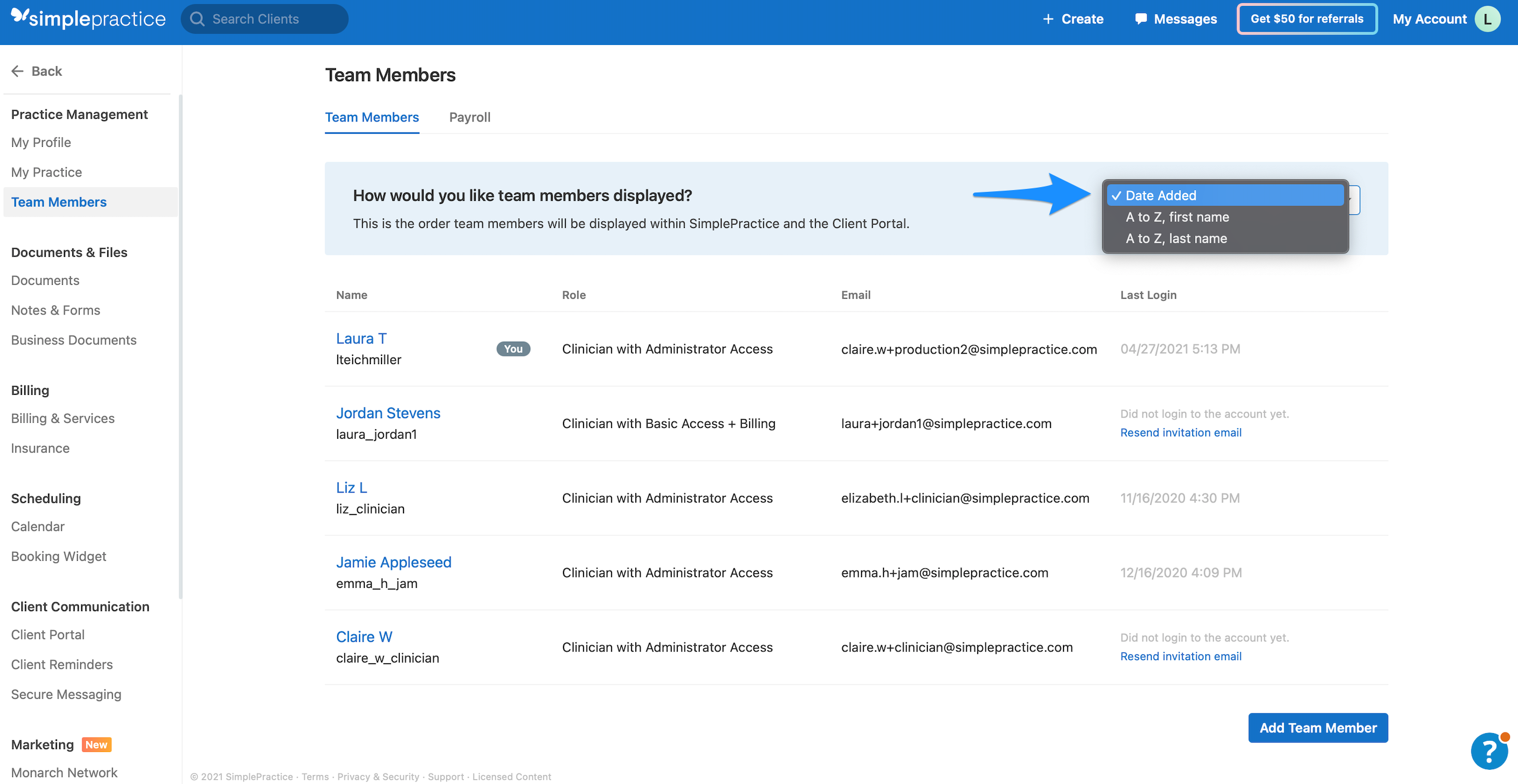 ---
Data from a deleted Clinician team member
Although deleting a team member is a permanent action, SimplePractice will still keep a deleted Clinician's history accounted for in all of your Reports. You'll notice that deleted Clinicians will remain in the Income received report along with the Appointment status report. However, they will be indicated as a deleted clinician by a strike through their name and the word "deleted" next to their name.
Even if the team member is added back to your team later on with identical credentials and personal information, our system will treat them as a brand new Clinician. Any Secure Messages between the deleted team member and existing team members will also be deleted.
Deleting a Clinician will not remove or negatively impact any existing client data. Notes, reports, billing documentation, claims, and payroll will not be affected when a team member is removed. If you need to access the Secure Messages between a deleted team member and their clients, you can do a complete Data Export.
The deleted Clinician's appointments will remain on the calendar, but they'll be unassigned. This means that a Clinician will need to be reassigned to the appointment. If no one will be seeing these clients moving forward, these upcoming appointments can be deleted.
If the Clinician returns to the practice, they can have their former clients re-assigned to them at any time by another team member with access. You can learn more in this guide:: Client access and changing access levels.
FAQs
---
I am going on maternity or paternity leave, sabbatical, or taking a break from the practice. Can I freeze my subscription?
There isn't a way to pause a subscription for a team member. The Account Owner can decide to keep the team member on the account, or delete them. If a team member is deleted, they will need to be re-added to the account when they return from their leave. If this happens, their clients will need to be reassigned to them. See Client access and changing access level to learn more.
---
If I enable Telehealth for my practice, is it applied to all team members?
Our Telehealth feature is only available for Clinical team members. The Plus subscription plan is the only one available for group practices and it includes access to Telehealth for all Clinicians at no additional cost. There isn't a way to adjust this feature on a Clinician by Clinician basis.
---
How do I calculate payroll for my group practice?
Payroll is calculated for you and your team members through our Income Received report. This report will track all funds earned by each team member within the given time period. For more information on best practices and how to use this report for payroll, please see Calculating payroll for group practices.
---
Is there a discounted rate if my group practice has a lot of clinicians?
We do not offer discounts based on the number of team members an account has at this time. The subscription rate for Clinicians is $59/month, while Billers, Schedulers, and Supervisors can be added for free. We do offer referral credit when colleagues sign up for a paid account using your referral link. You can learn more about our referral program in this guide: Refer-a-Colleague: SimplePractice referral program.