The North Carolina Health Information exchange, NC HealthConnex, is a digital tool that gives providers a holistic view of their clients' medical records, including things like allergies, diagnoses, medications, and more. All providers who accept state based insurance plans within the state of North Carolina are required to enroll in the NC HealthConnex by January 1st, 2023. SimplePractice is now an approved EHR vendor with NC HealthConnex, which has allowed us to create a streamlined process within our platform for providers in North Carolina to remain compliant with state regulations.
Note: Connection with the NC Health Information Exchange through SimplePractice is only available in Essential and Plus plan accounts.
Below, you'll find answers to the following questions:
Note: See the North Carolina Department of Information Technology's website for more information on the NC HealthConnex.
---
Who is required to connect to the NC HealthConnex?
All health care providers who receive state reimbursement (e.g., Medicaid, NC Health Choice and State Health Plan) for health care services are required to connect with the NC HIE. For Blue Cross Blue Shield clients, this will depend on the client's specific policy. We recommend calling the payer directly, so they can review the client's member ID.
---
How do I connect with the NC HealthConnex?
To connect with the NC HealthConnex, you'll need to complete the NC HIEA Full Participation Agreement | NC Health Information Exchange Authority
Once you've completed the Participation Agreement, SimplePractice will receive your information from our HIE partner and can enable this feature in your account. To check the status of your participation, see the NC HealthConnex Participants list.
---
How do I enable information sharing for my clients?
You can enable information sharing for your clients from their Billing and Insurance pages. To do this:
Navigate to the client's

Overview

page

Click

Edit

under their name

Toggle to their

Billing and Insurance

tab

Scroll down to the

Insurance Information

section

Select Send information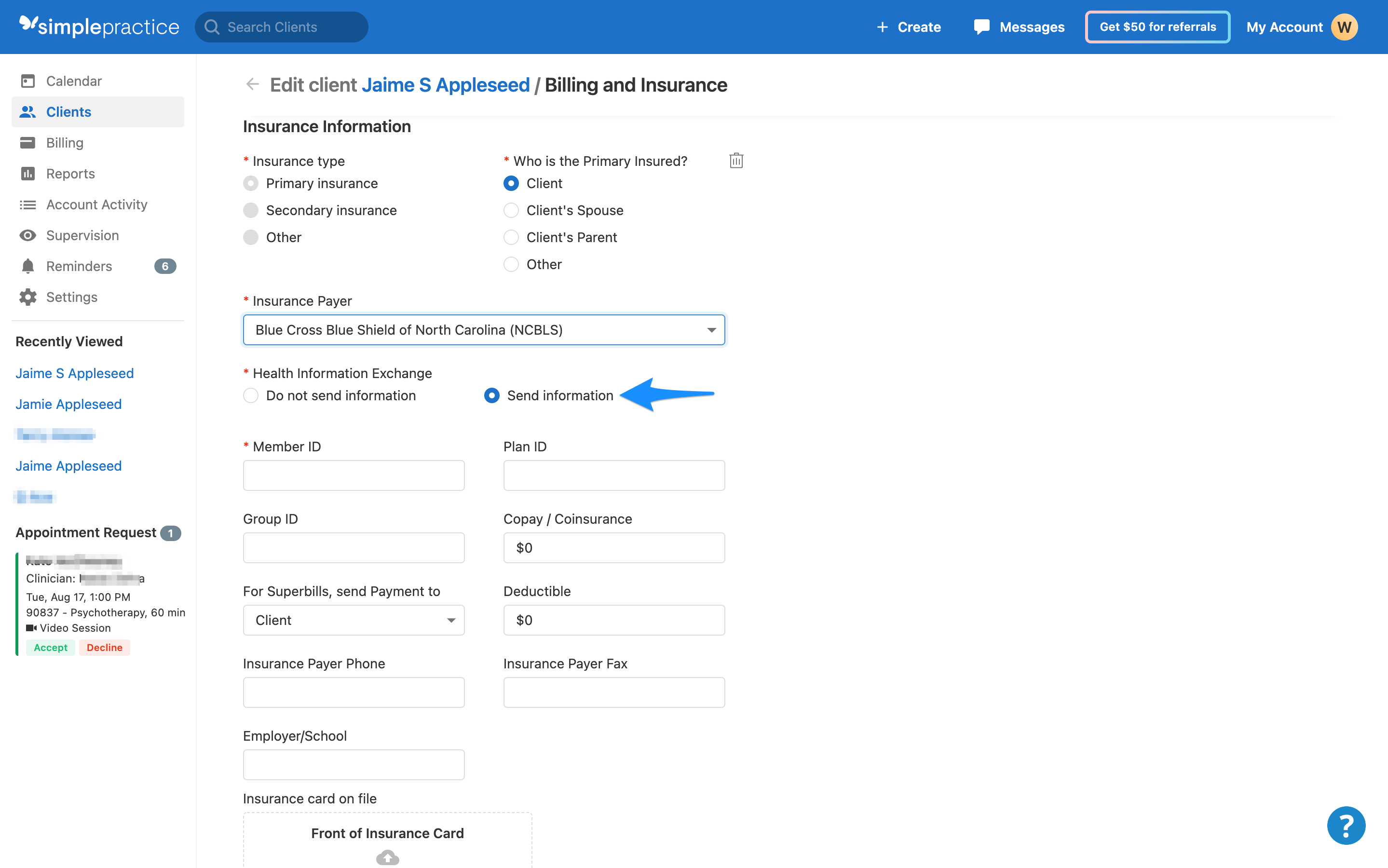 Check the box next to

I agree

Choose

Continue

Click

Save Client
Note: It isn't currently possible to enable information sharing for clients en masse.
---
How do I know if this feature is enabled for a client?
You can see whether this feature is enabled for a client in two places: your Clients list, and a client's Billing and Insurance page.
To check from the Client's list:
From your Calendar home page, click Clients on the left side
Use the filters to search for the client
If information sharing is enabled for them, you'll see the HIE tag next to the client's name: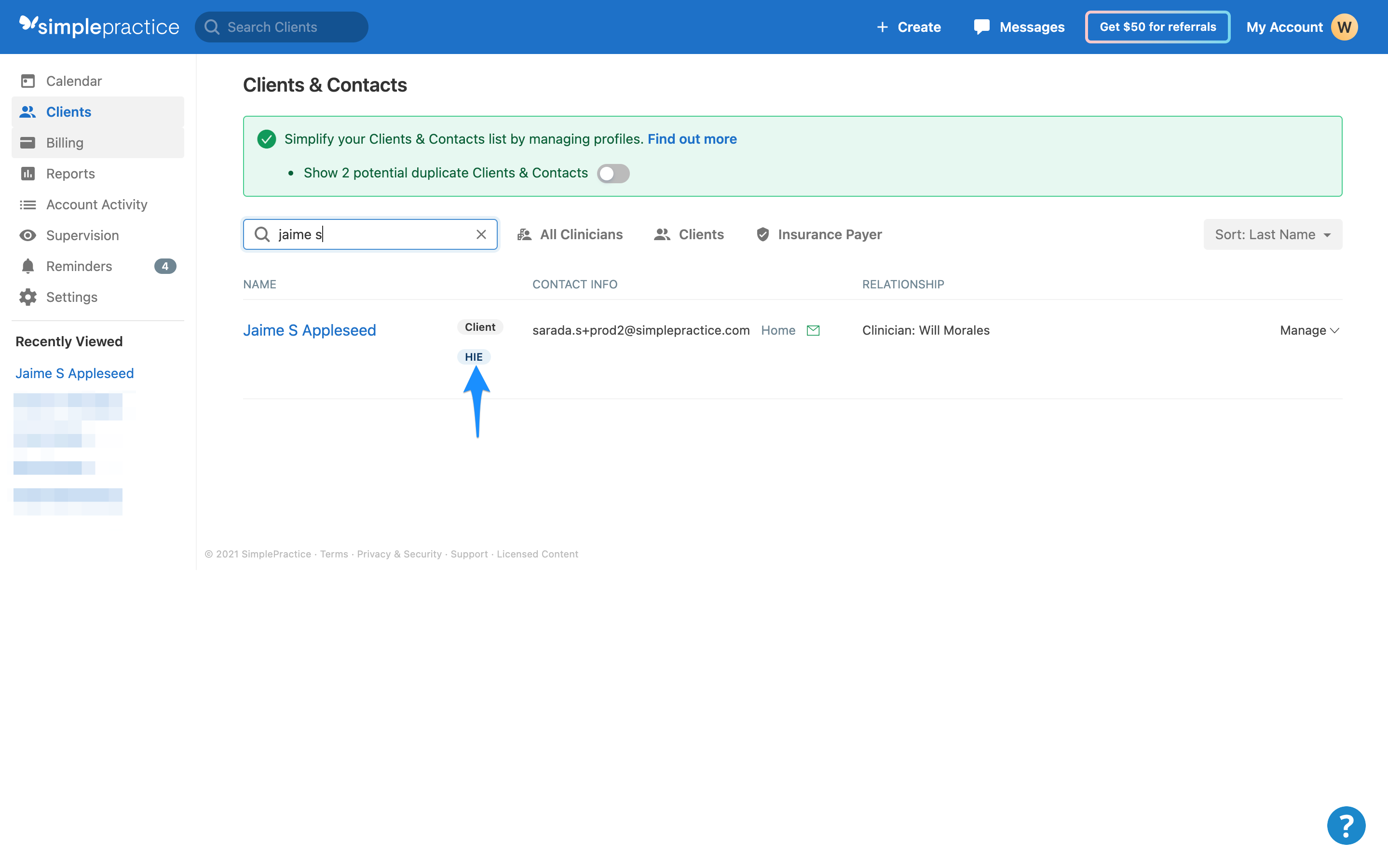 To check from an individual client's Billing and Insurance page:
Navigate to the client's Overview page
Click Edit under their name
Toggle to the Billing and Insurance tab
Scroll down to the Insurance Information section
If Send information is checked under Health Information Exchange, then the HIE is enabled for the client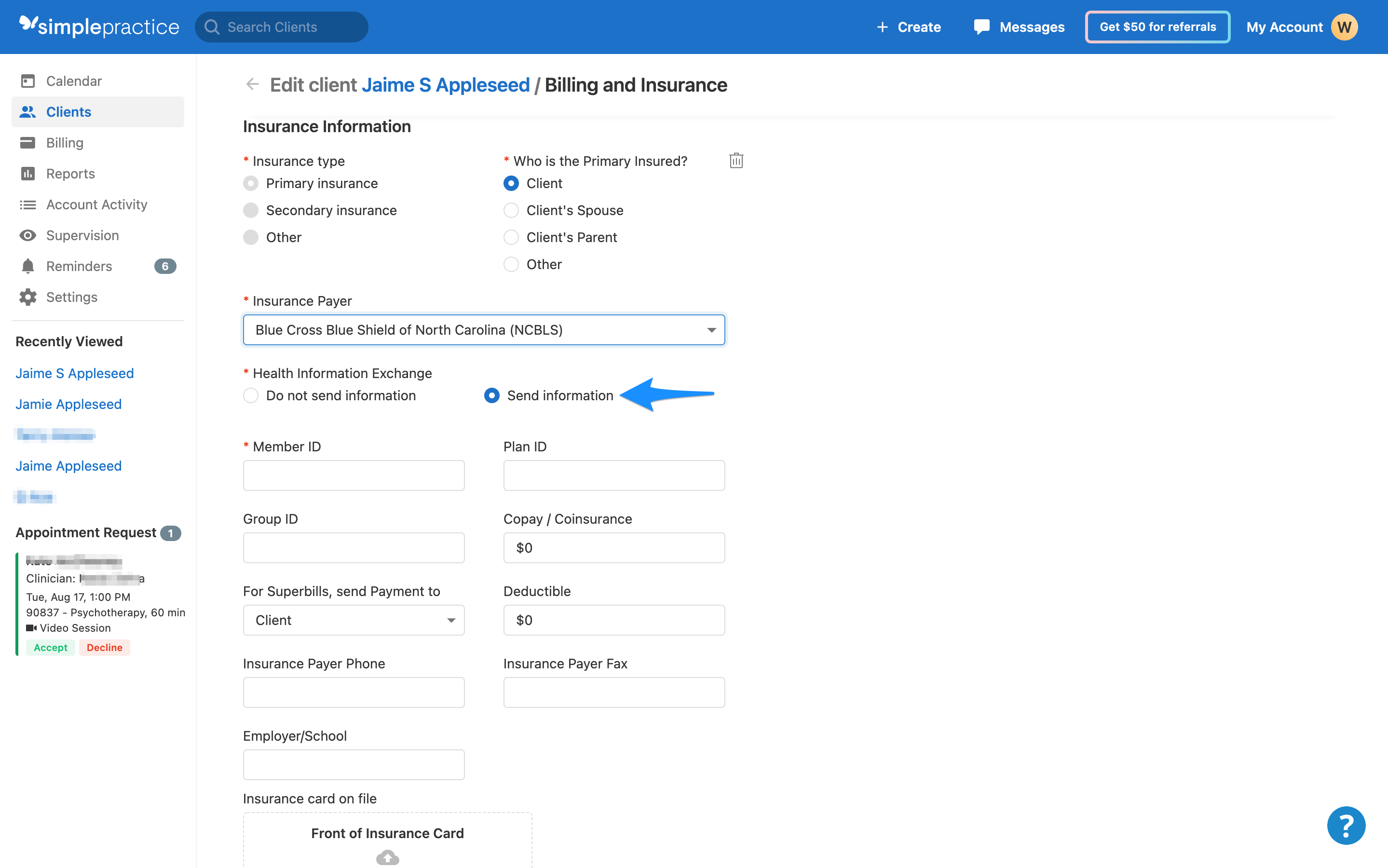 ---
What if I'm not seeing the setting in my client's insurance information?
If you choose a participating insurance payer in your client's Insurance Information, you'll see the Health Information Exchange field populate: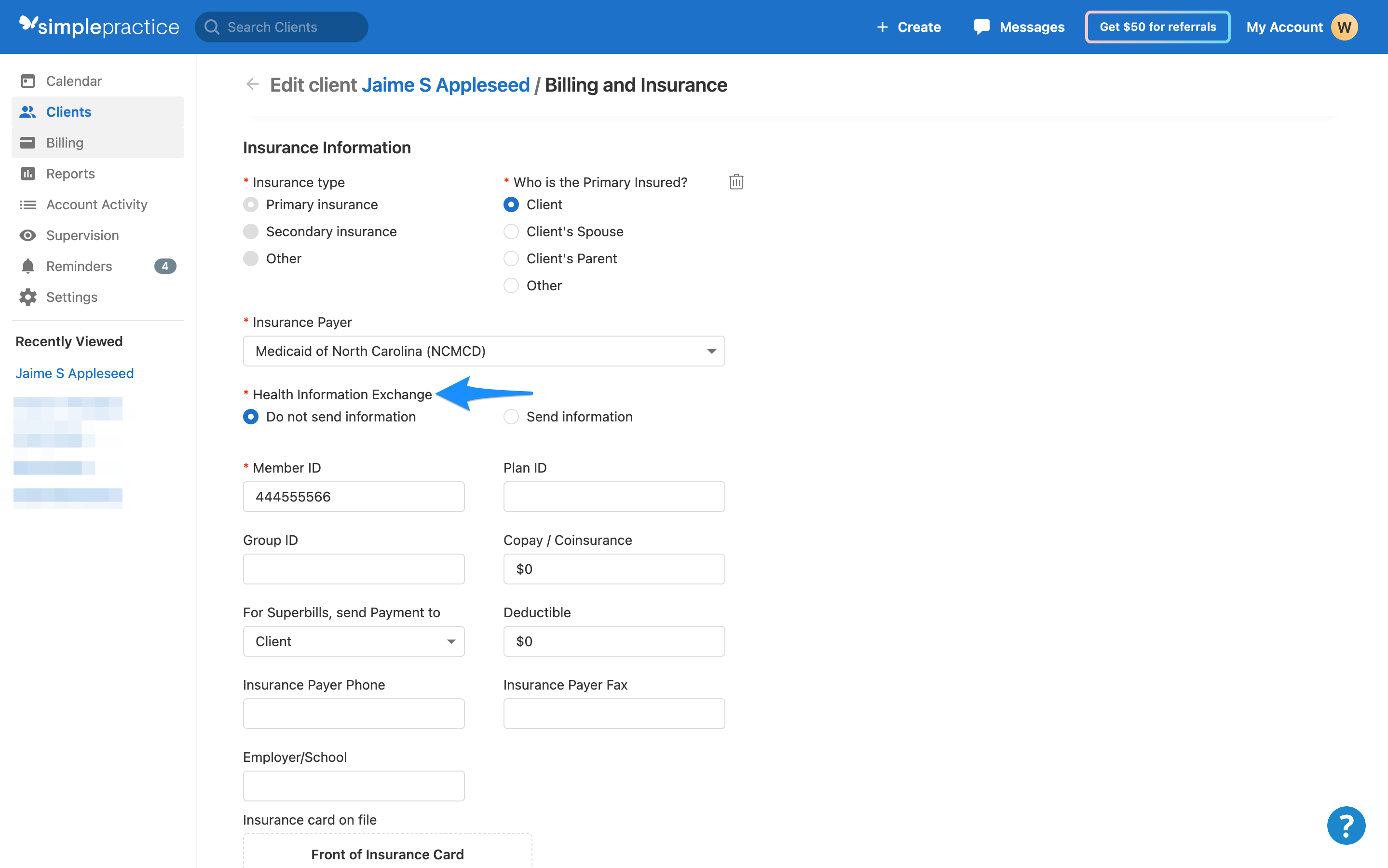 If you aren't seeing the HIE option in your client's Insurance Information section, you either don't have this feature enabled in your account, or the feature is not set up for that specific insurance payer.
First, check whether you have this feature enabled in your account by following the instructions in our section on How do I know if this feature is enabled for a client? to view the insurance information for a client with a payer that is part of the NC HIE. If you do see the feature available for other insurance payers, but not the one in question, you can reach out to our Customer Success team with the insurance payer ID, so we can enable this connection.
---
I don't file claims in SimplePractice, can I still use this feature?
Claims will need to be submitted via SimplePractice, so that a copy is created and sent to the HIE each time a claim is filed. This ensures that the HIE information sharing requirements are all met.
If you're using a different system to file claims, we recommend reaching out to the HIE directly for clarification on alternative ways to connect, including their Clinical portal access method. For additional information on options for connecting, see the NC HIE's page on How to Connect.