To simplify your workflow, we've streamlined the process for logging in and securely submitting help requests. Once you sign in to access your SimplePractice account, help requests, or the Help Center, you'll be signed in to manage all of these.

One sign-in saves you time and effort because it:
Creates a personal portal for you where you can initiate, follow up on, and track the history of your communications with SimplePractice - no more solely relying on email or dealing with lost help responses. You even have the power to mark the request as solved, or you can choose to follow up with a Customer Success representative.

Immediately identifies you and your practice information in SimplePractice - this helps speed up response times even more and allows our team to better focus our efforts and assist you faster.

Increases the security of your SimplePractice account - we've gone the extra step to secure the exchange of your data.
Below, you'll find more information related to:
---
Signing in
For current SimplePractice customers, use your login credentials associated with your SimplePractice account and enter them here to sign into your account.
---
Submitting a help request from your SimplePractice account
To submit a help request while logged into your SimplePractice account:
Click the

?

icon on the lower right corner of your account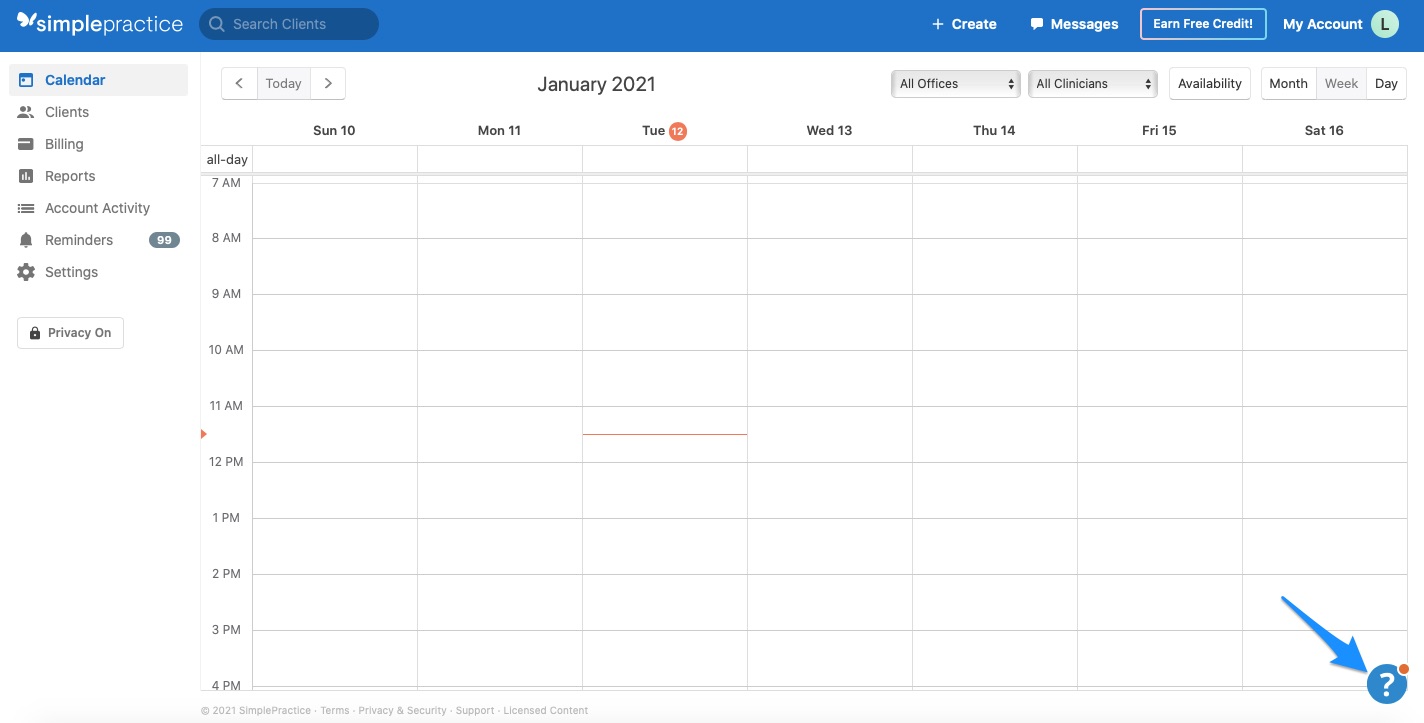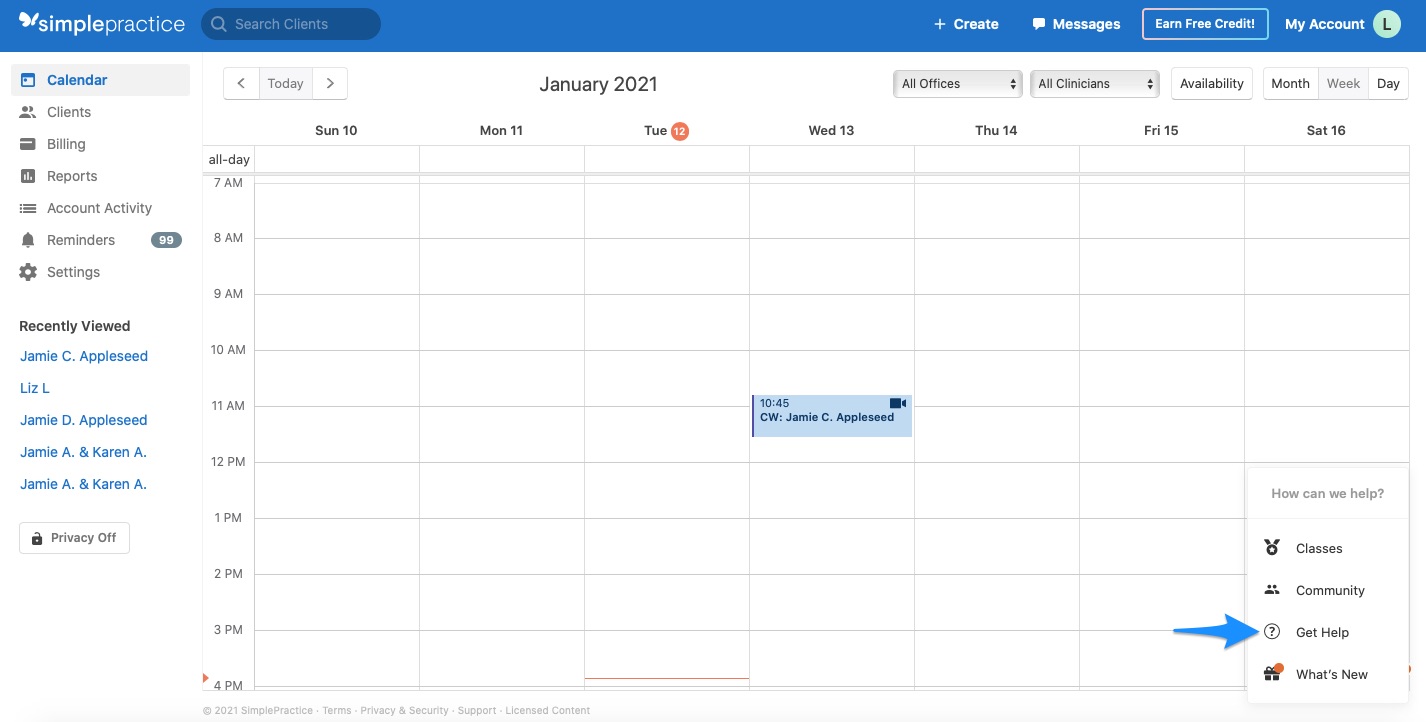 From there, you'll be prompted to type in your question. Once you submit the question, you'll be given a few resources that could be helpful in solving your question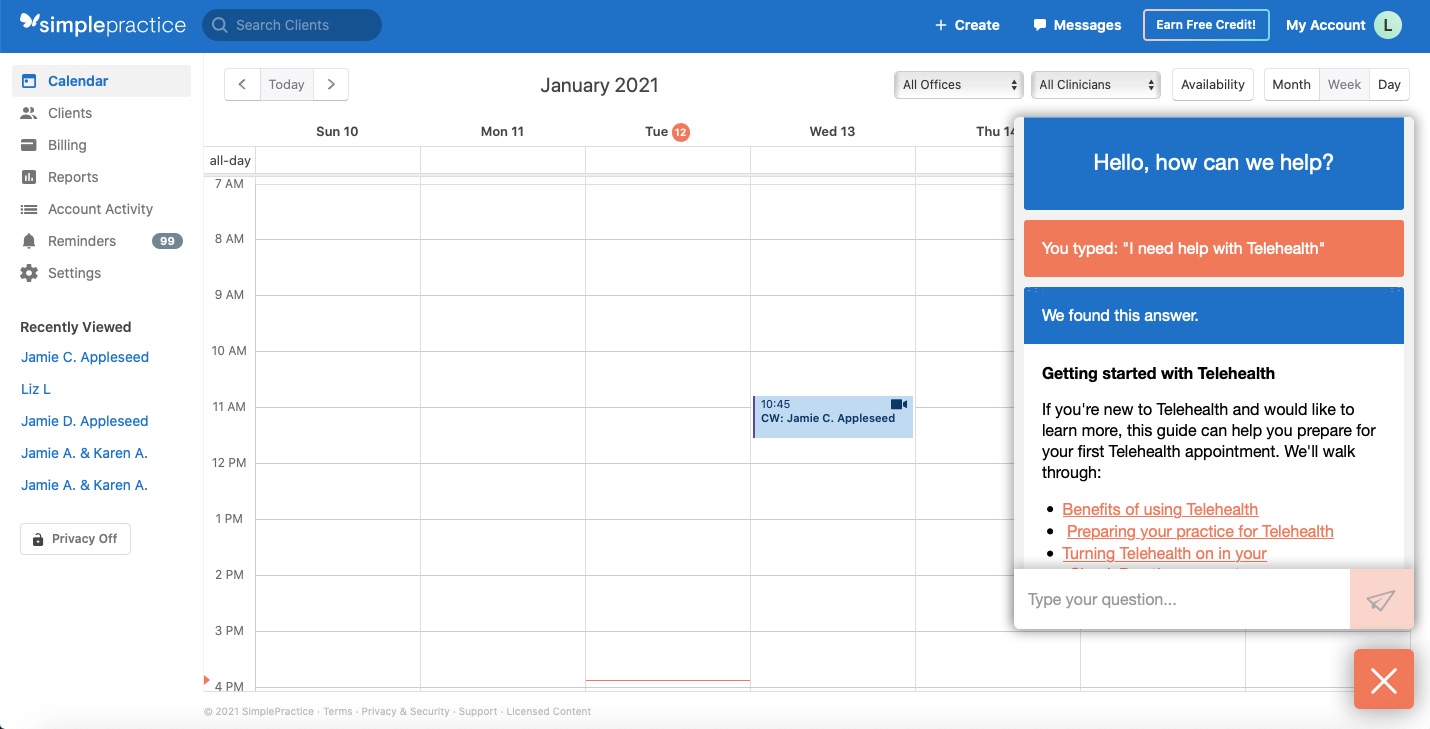 If these resources don't answer your question, scroll to the bottom of this pop-up window and select Contact Support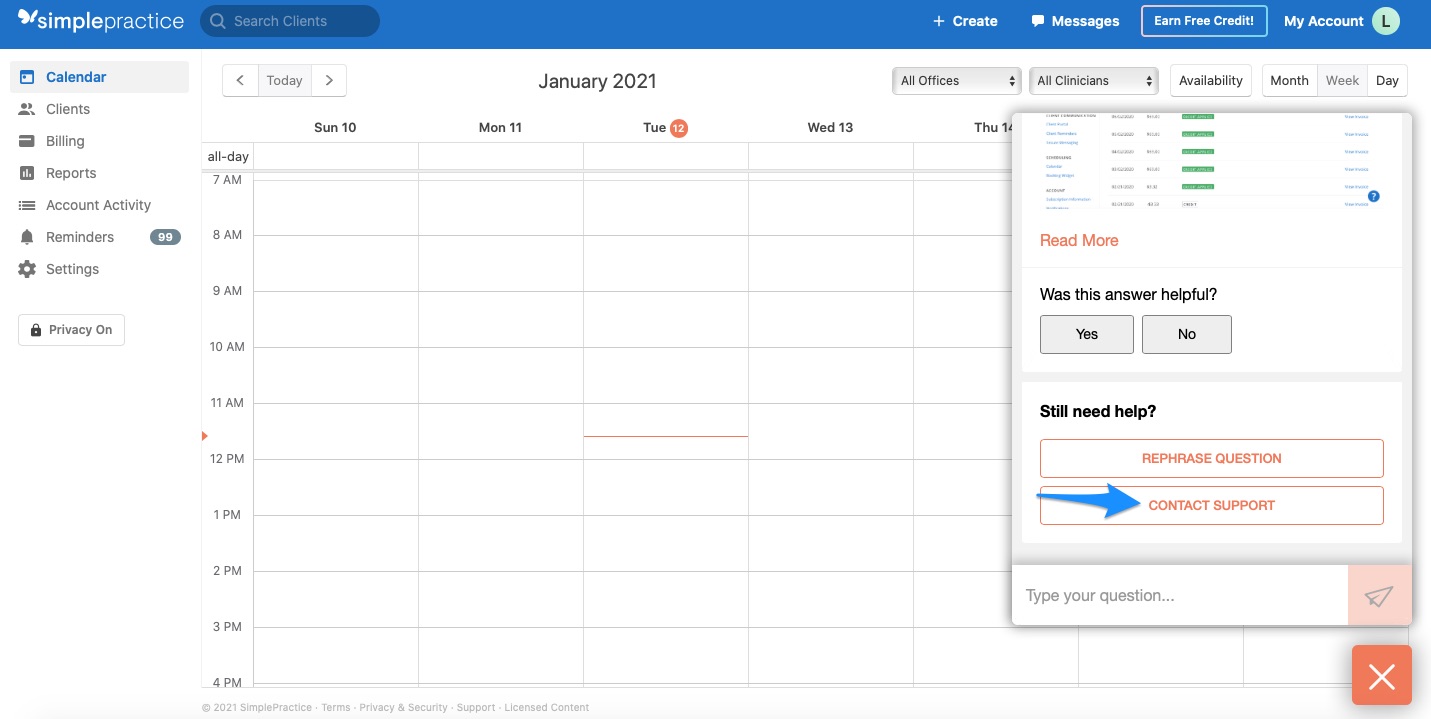 Select Send an email request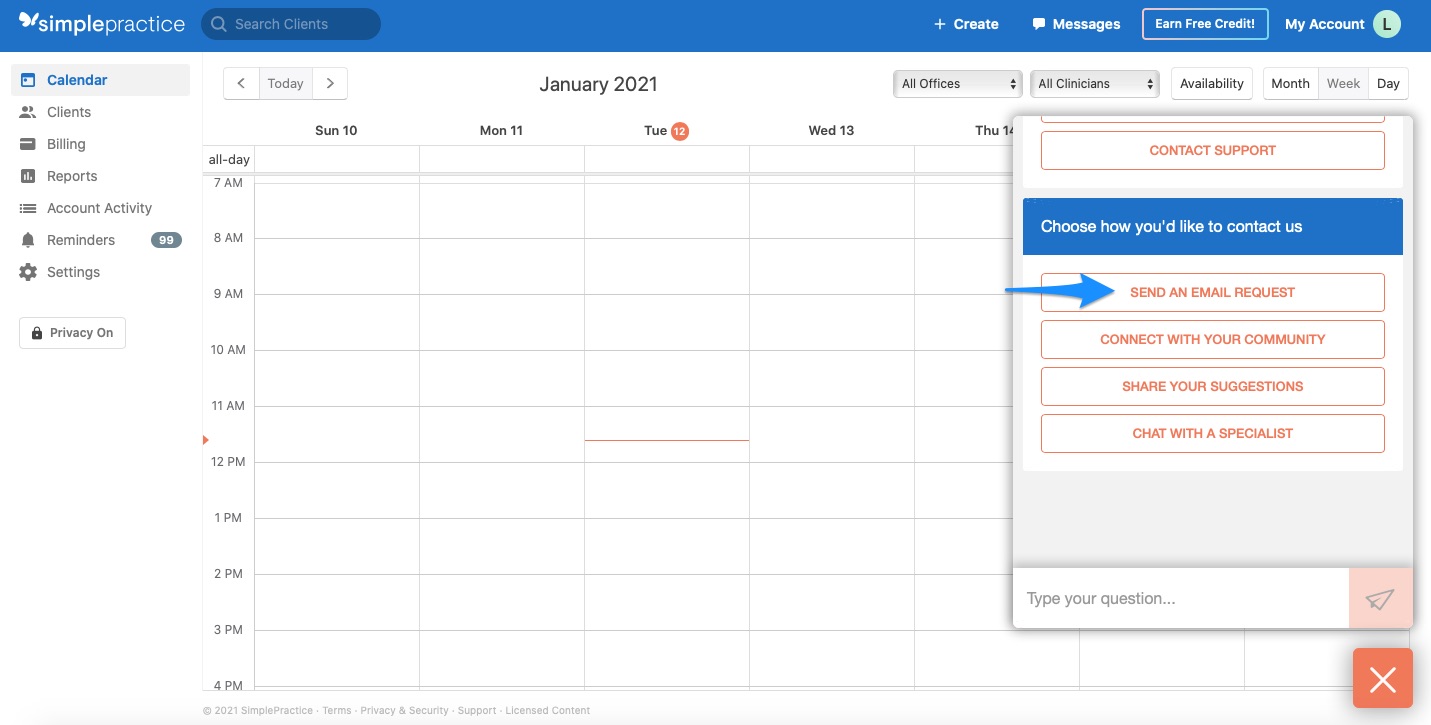 Enter the required information and click Submit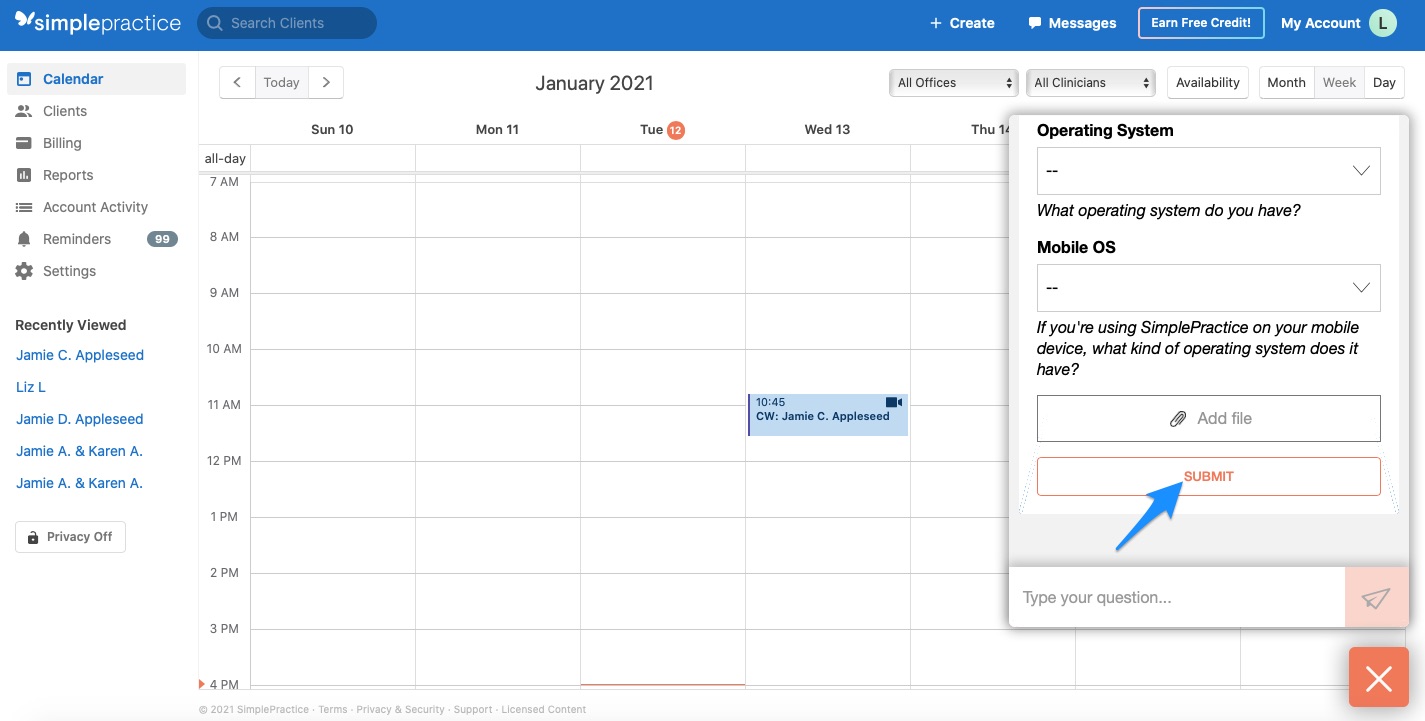 Your help request has been submitted and a Specialist will reach out as soon as possible to assist with your question.
---
Accessing your SimplePractice communications
To see and manage the full history of your communications with SimplePractice, you will need to click the Sign in button found on all pages of the Help Center.
On your mobile device, the Sign in button is located here: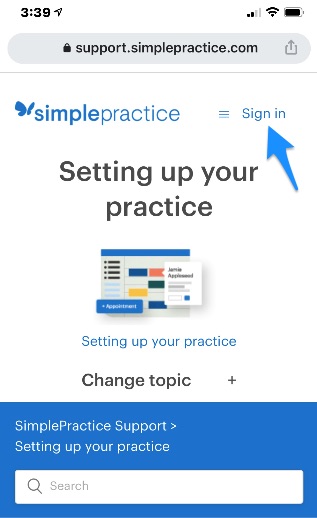 From there, you can enter your username and password
Once you successfully sign in, click your name and

select

My activities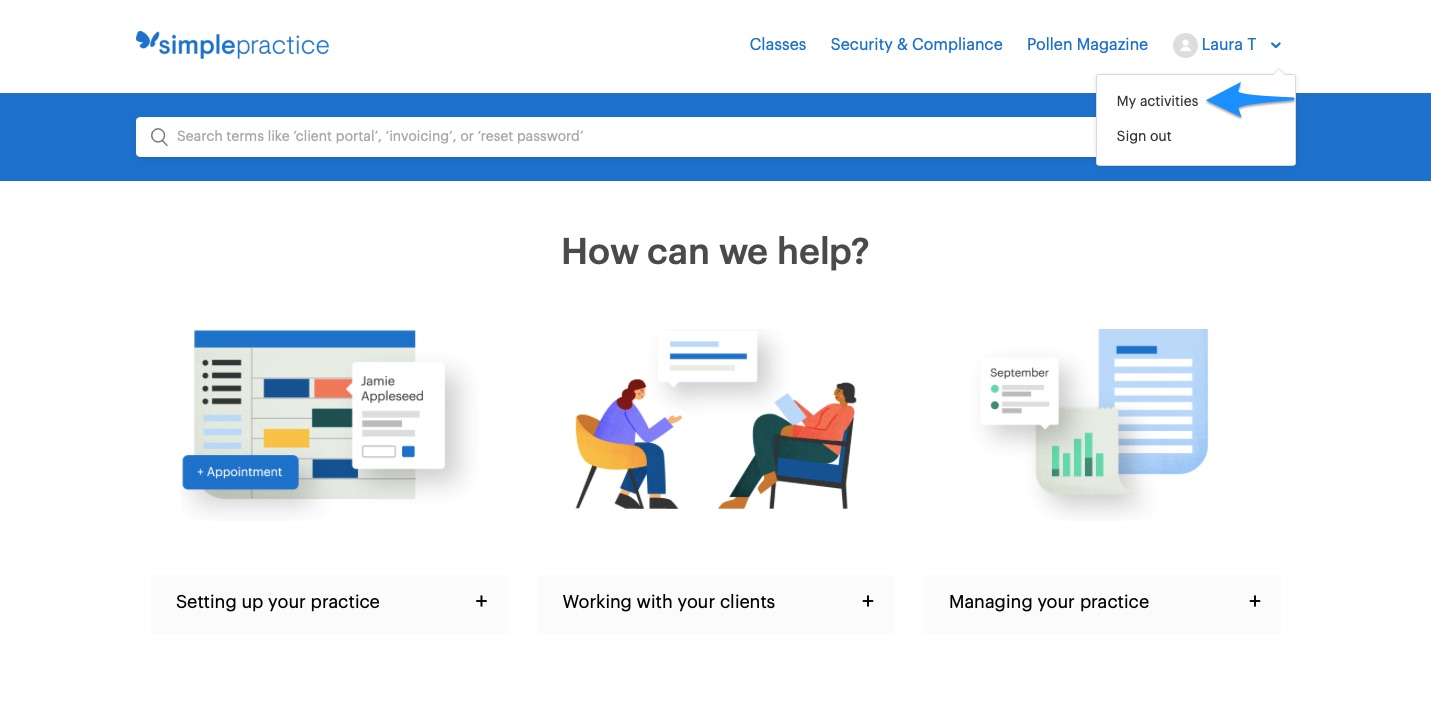 From here, you can see all of your current and previous help requests along with their statuses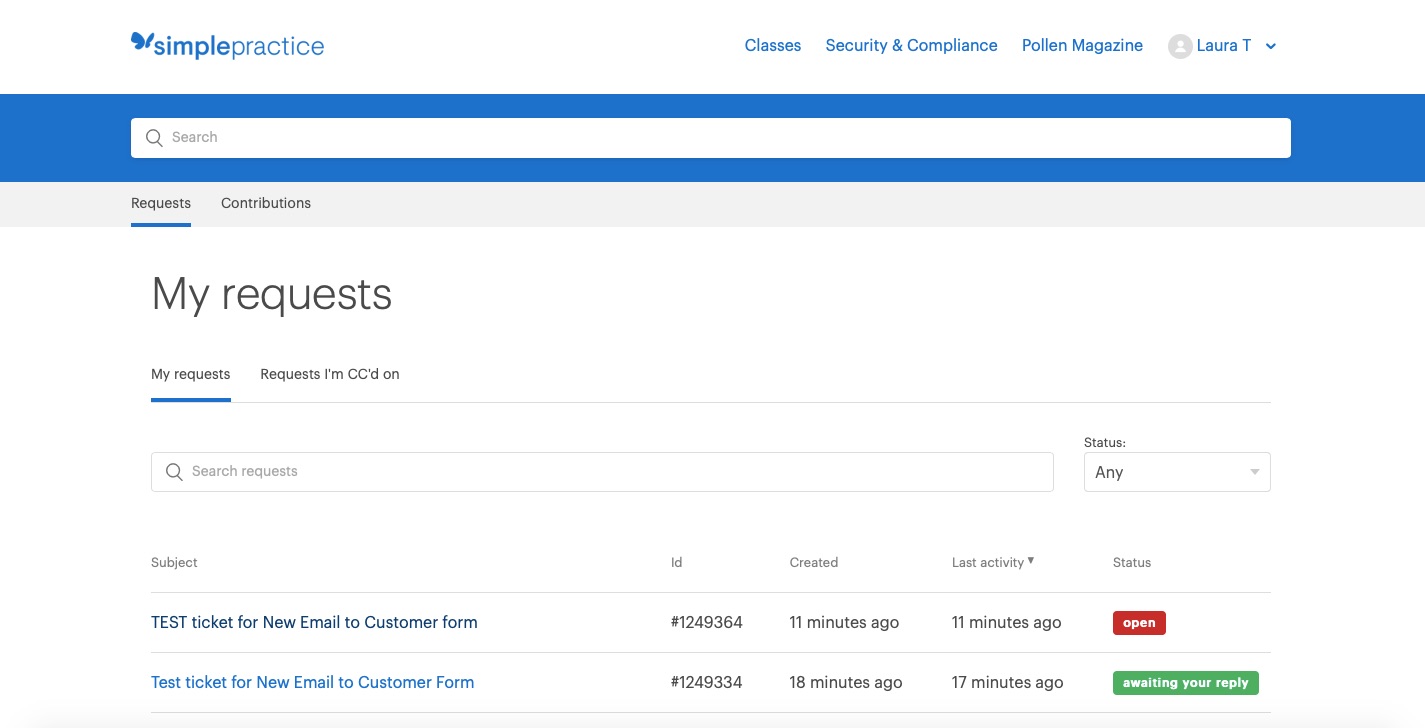 ---
Submitting a help request from the Help Center
While you can submit a help request using the ? icon when signed into your SimplePractice account, you can also submit them directly through the Help Center. To do this, follow these steps:
Click

Get more help

at the bottom of your page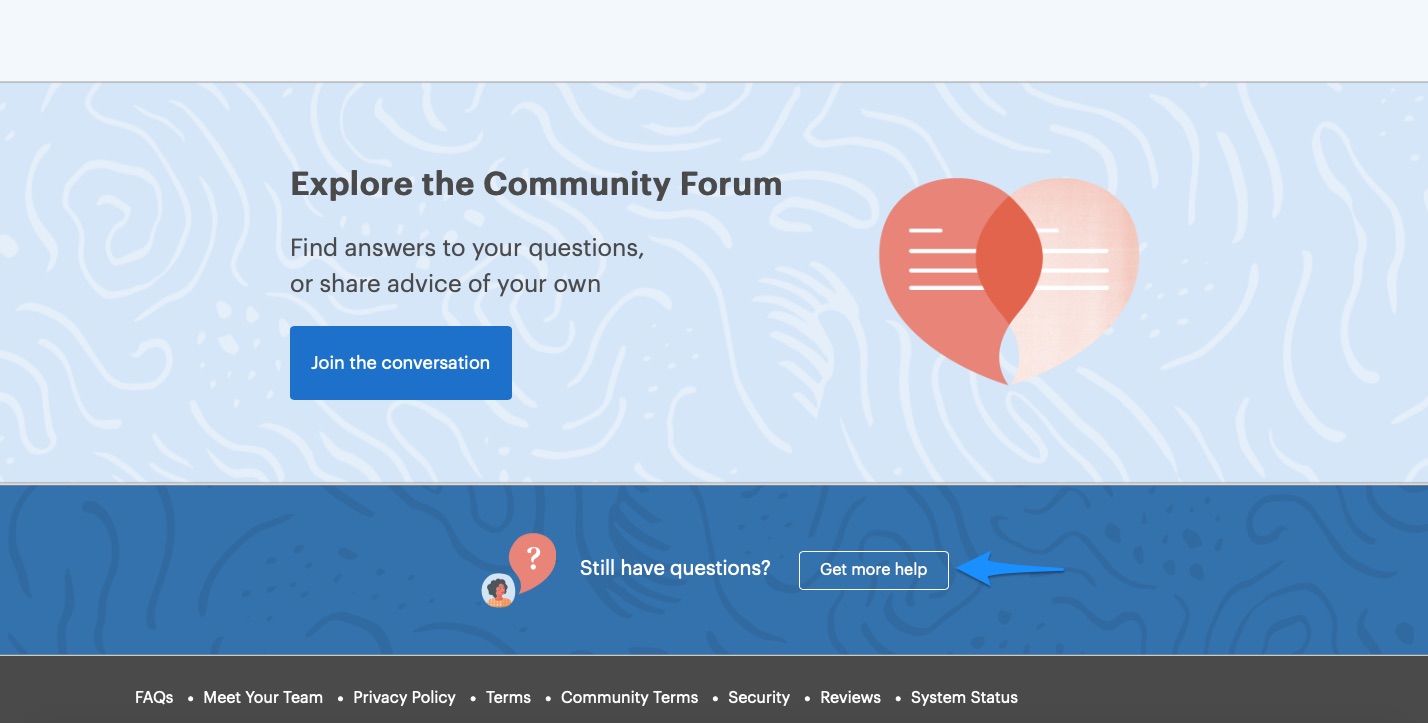 From the Submit a request page, select the topic of your question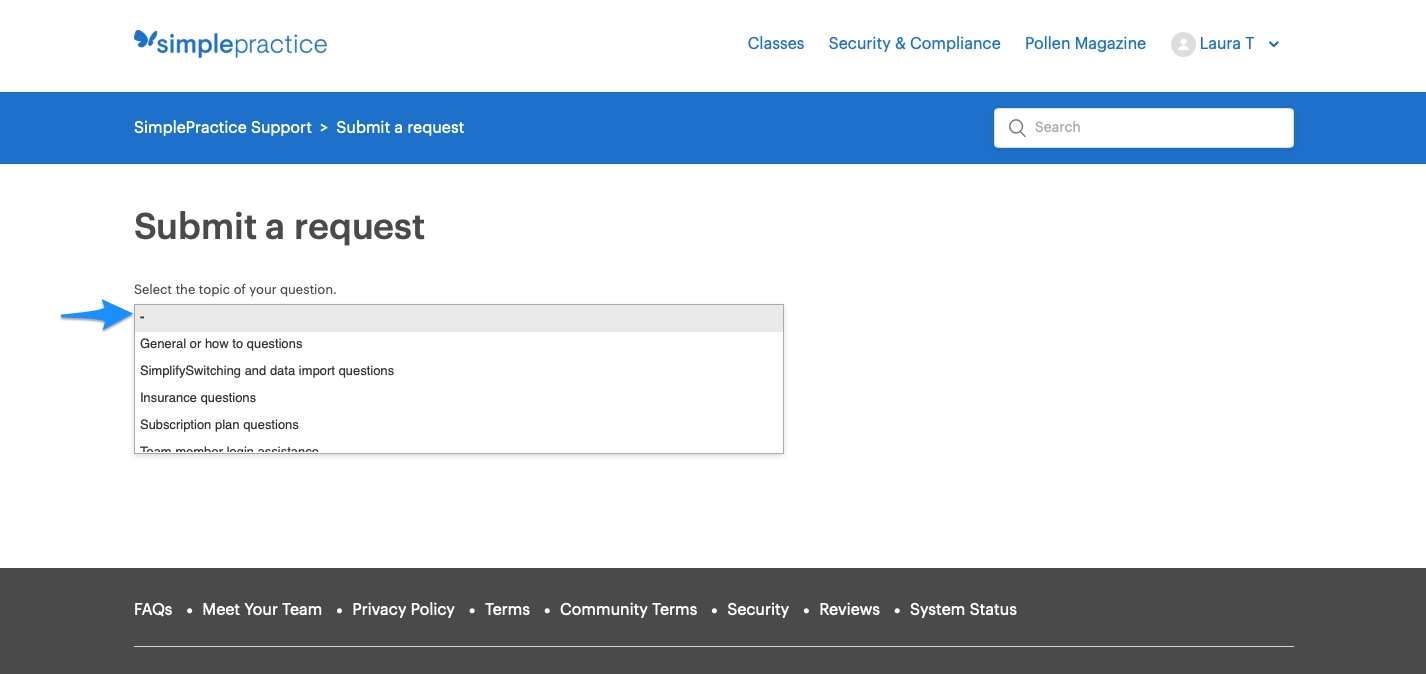 Then, you'll be given a list of resources that may help answer your question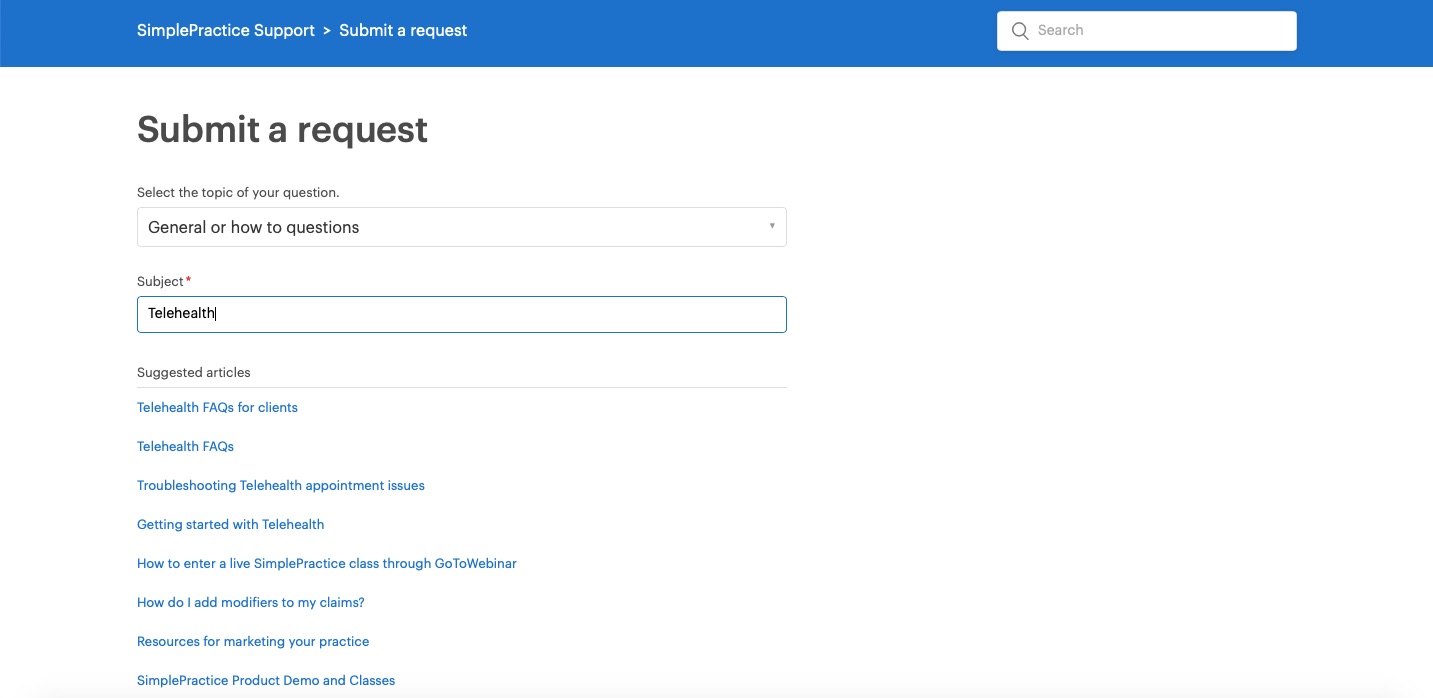 If these resources don't answer your question, continue entering the description, client URL if applicable, and any other information you'd like to include, and click

Submit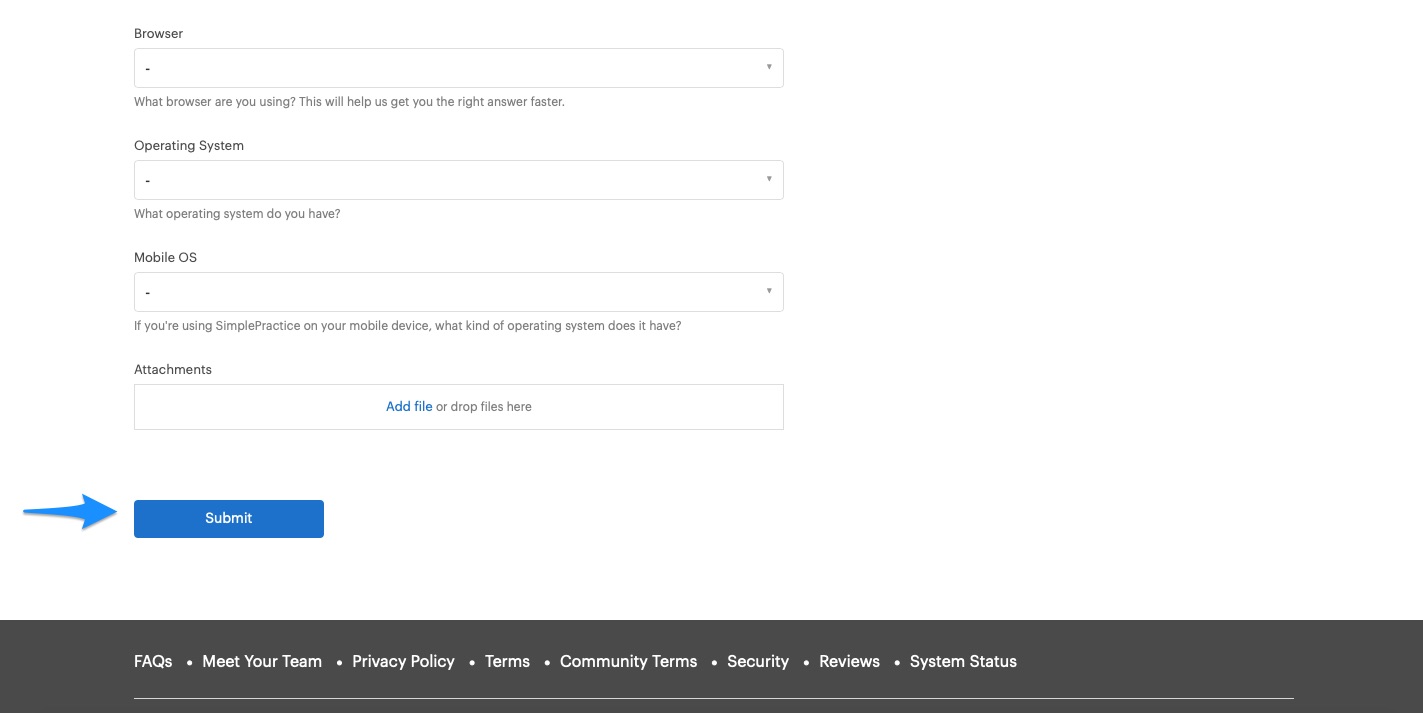 To respond to your specialist or add more information, select the request, and enter a response in the

Add to conversation

box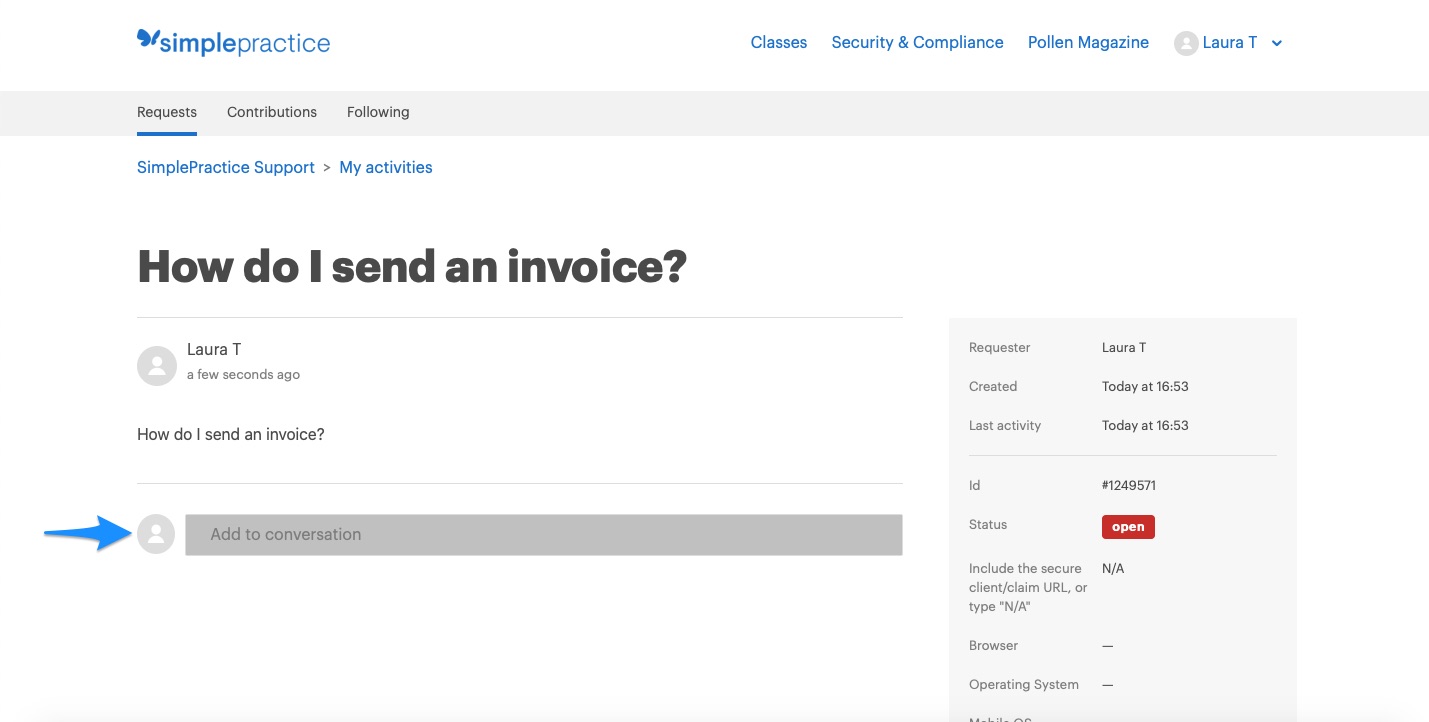 Note: When submitting a help request, make sure to include the secure URLs for any client(s) or claim(s) in question. This can significantly decrease the amount of time it takes for us to be able to dig into your question. To learn more about secure client URLs, please see this guide: How to include a secure client URL with your help request.
---
Can I submit PHI in my help request?
Yes, you have the choice to safely and securely submit PHI to our team if needed. To do so, you will have to select the Submit PHI with my request question topic at the top of the form.
This is the view from your SimplePractice account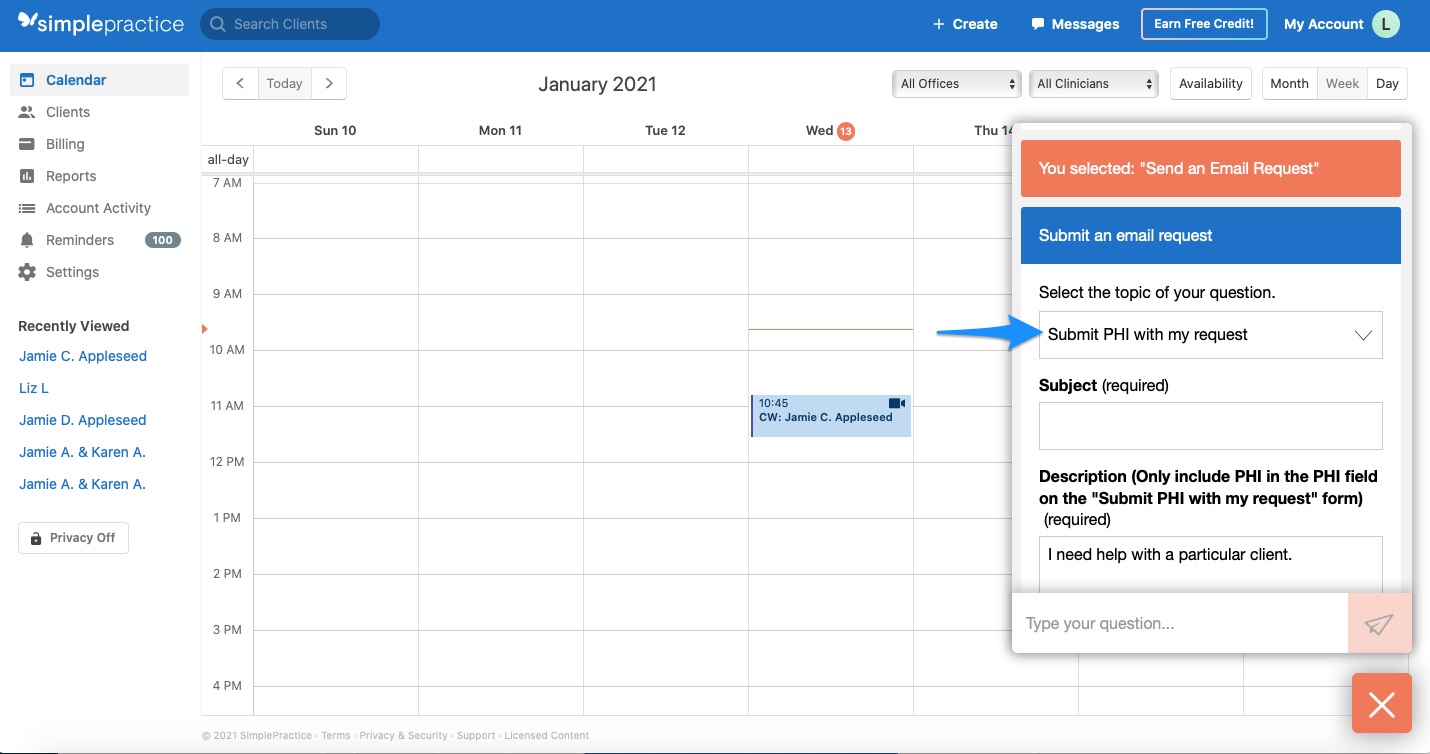 This is the view from the Help Center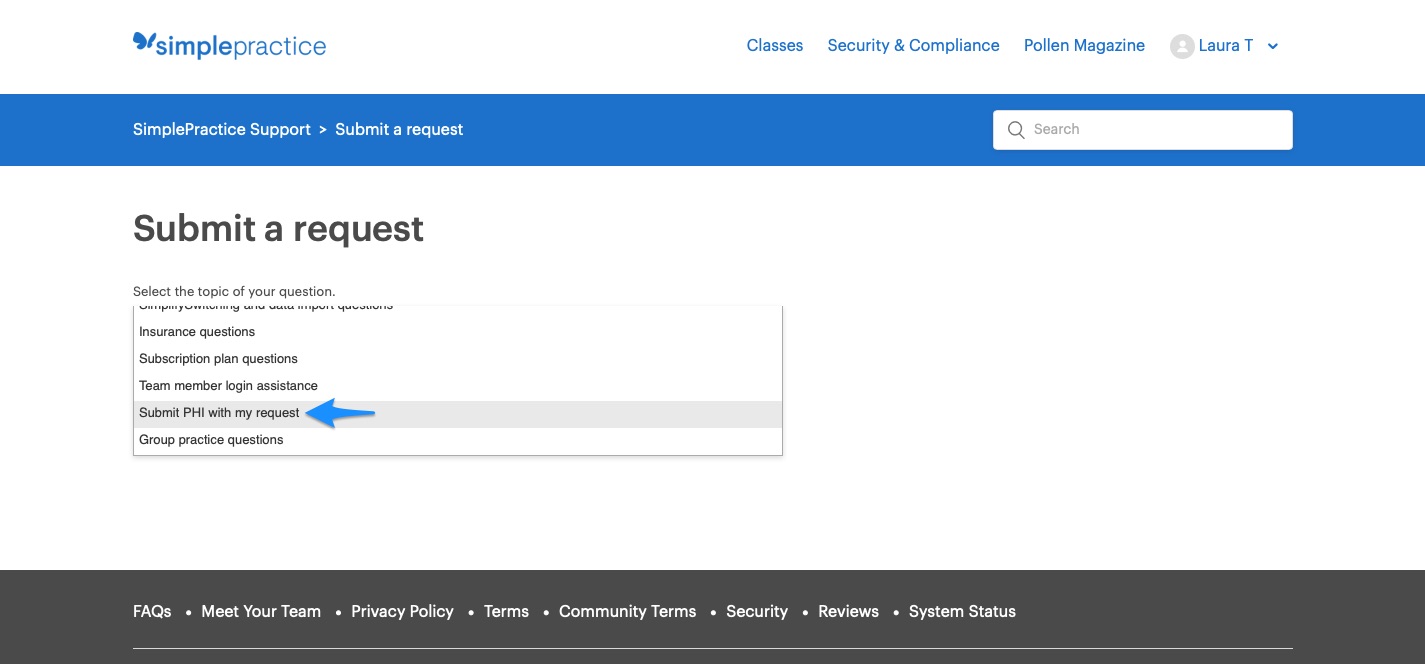 Only include PHI in the Securely submit PHI here box below the description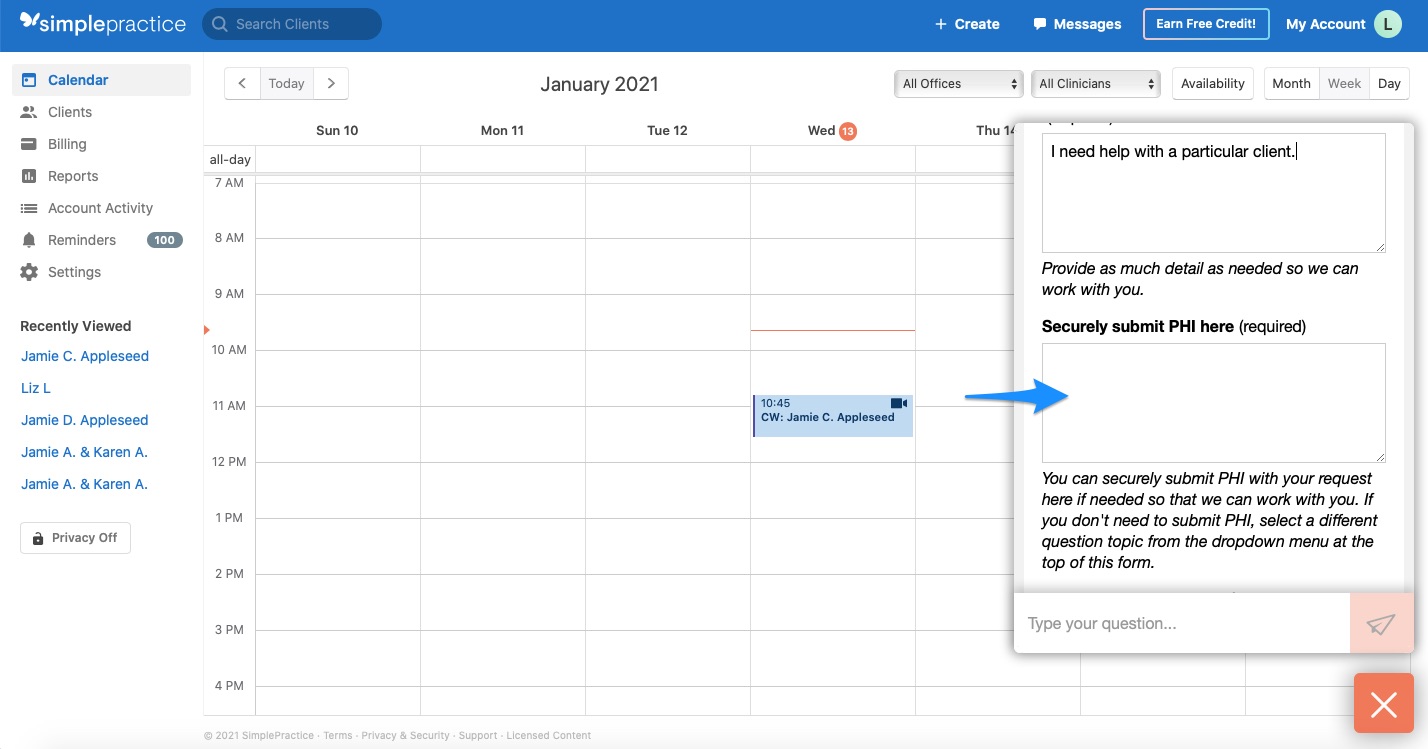 Note: Because most email correspondence is not HIPAA-compliant, you will only be interacting with our team through your secure Help Center portal for requests that involve PHI. This is to ensure the security of your and your clients' data.
---
Marking your request solved
Once you hear back from one of our Customer Success representatives, we want you to have the power to determine if the help request you made was solved. If your request has been answered appropriately, you'll want to follow these steps to mark the request Solved:
Log into the Help Center and select My Activities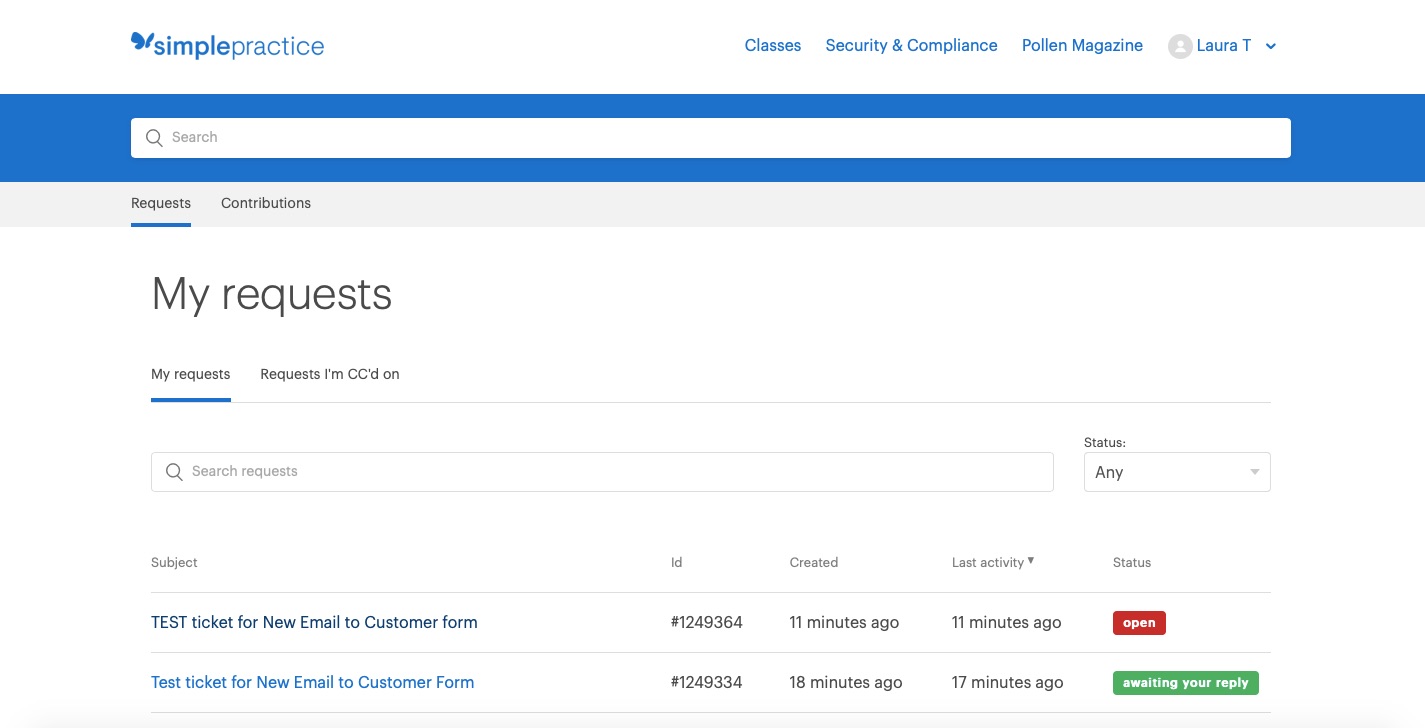 Select the request you'd like to mark solved
Click the Mark as solved button

If you still need help, do not click the Mark as solved button. Instead, send a follow up message to our Customer Success team asking for more clarification or providing additional information so that they can continue working with you.
---
Sending in requests as a future or potential SimplePractice customer
For future or potential SimplePractice customers, you can select the Not a Customer? Ask us a question option from the sign in page.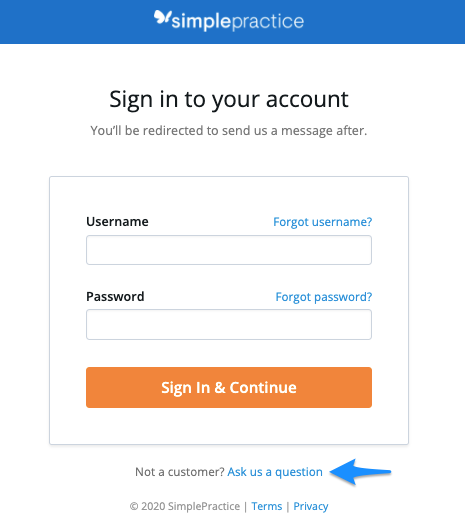 You'll be directed to enter your information and your question on a form tailored specifically for you