The Reports page of your SimplePractice account includes 6 reports related to clients, appointments, and emails. These reports will help you to understand client information, appointment status, reminders, and emails from SimplePractice.​​
In this guide, we'll cover the following reports:
Note: For information on the Analytics Dashboard and other reports, see Understanding your Analytics Dashboard and Reports.
---
Client details
The Client details report displays basic client information that allows you to manage, filter, and export information for both active and inactive clients. This report also allows you to manage inactive clients more effectively for discharge or new appointments.
Client
Client Type
Clinician

(Group practices only)
Intake Date
Last Appointment
Address
City
State
ZIP
Phone
Email
Insurance
Insurance ID
Status

You can filter this report by Date Range, Clinician, Insurance Payer, Client Status, or Client Type. This report is exportable in either a CSV or Excel file.
Note: This report is populated based on the client's initial intake date. You can update the data that appears using the date range filter. To show all of your clients, set the date range to start when your SimplePractice account was created.
---
Client demographics
The Client demographics report displays key demographic information of all of the clients in your account, including the client's:
Name
Contact
Age
Date of Birth
Assigned Sex
Gender Identity
Race
Relationship Status
Employment Status
Preferred Language
City
ZIP
Note: Team members will only have access to demographic information of the clients they can access in the account. See Team member roles and access levels for more information. The Client demographics report is only available for customers on our Essential and Plus plans.
---
Appointment status
The Appointment status report details the financial status of every appointment in your practice. This report allows you to see the billing history for a client and easily identify billing discrepancies so you can make any corrections needed.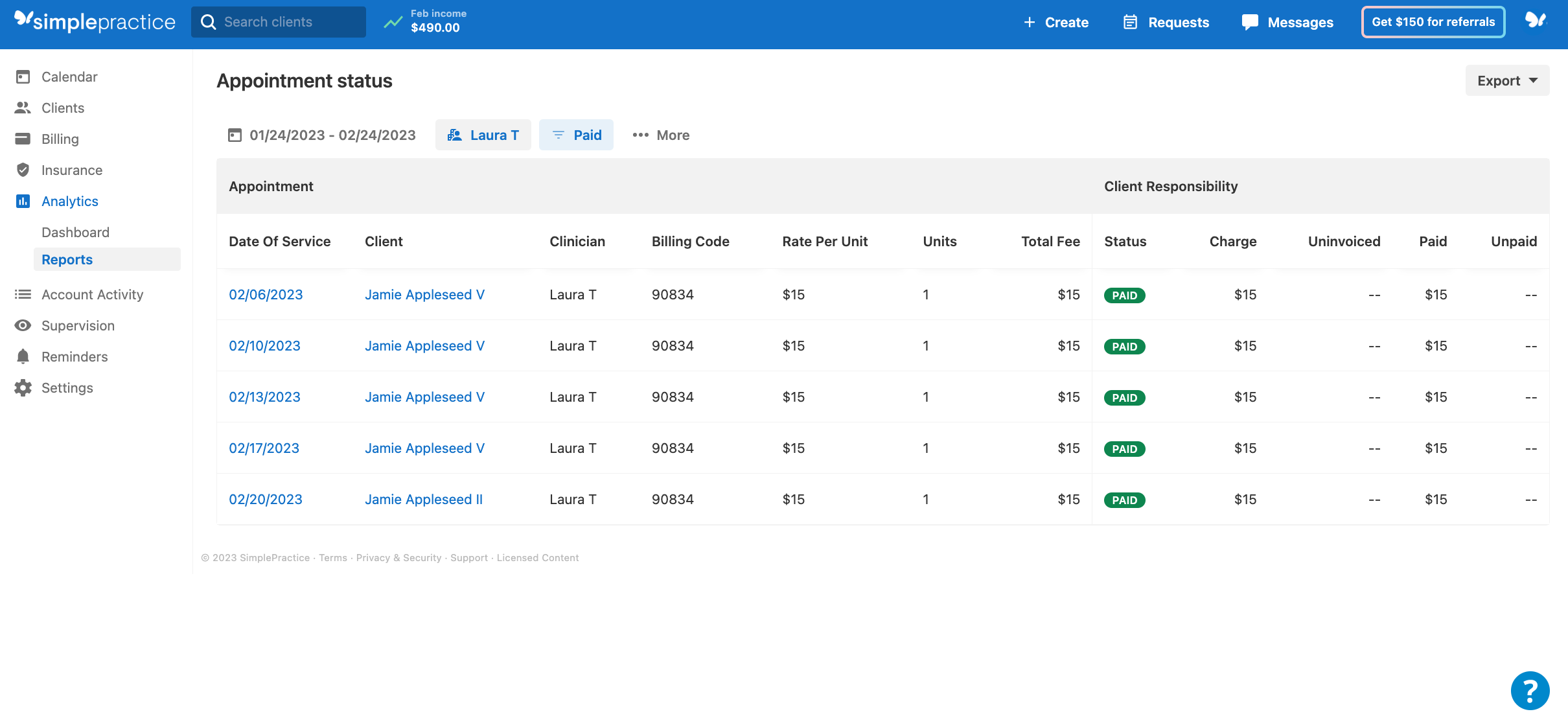 Note: To learn more, see Appointment Status Report: Checking the billing and documentation status for appointments.
---
Attendance
The Attendance report is organized into the following columns:
Client name

The report is set to sort by Client in ascending alphabetical order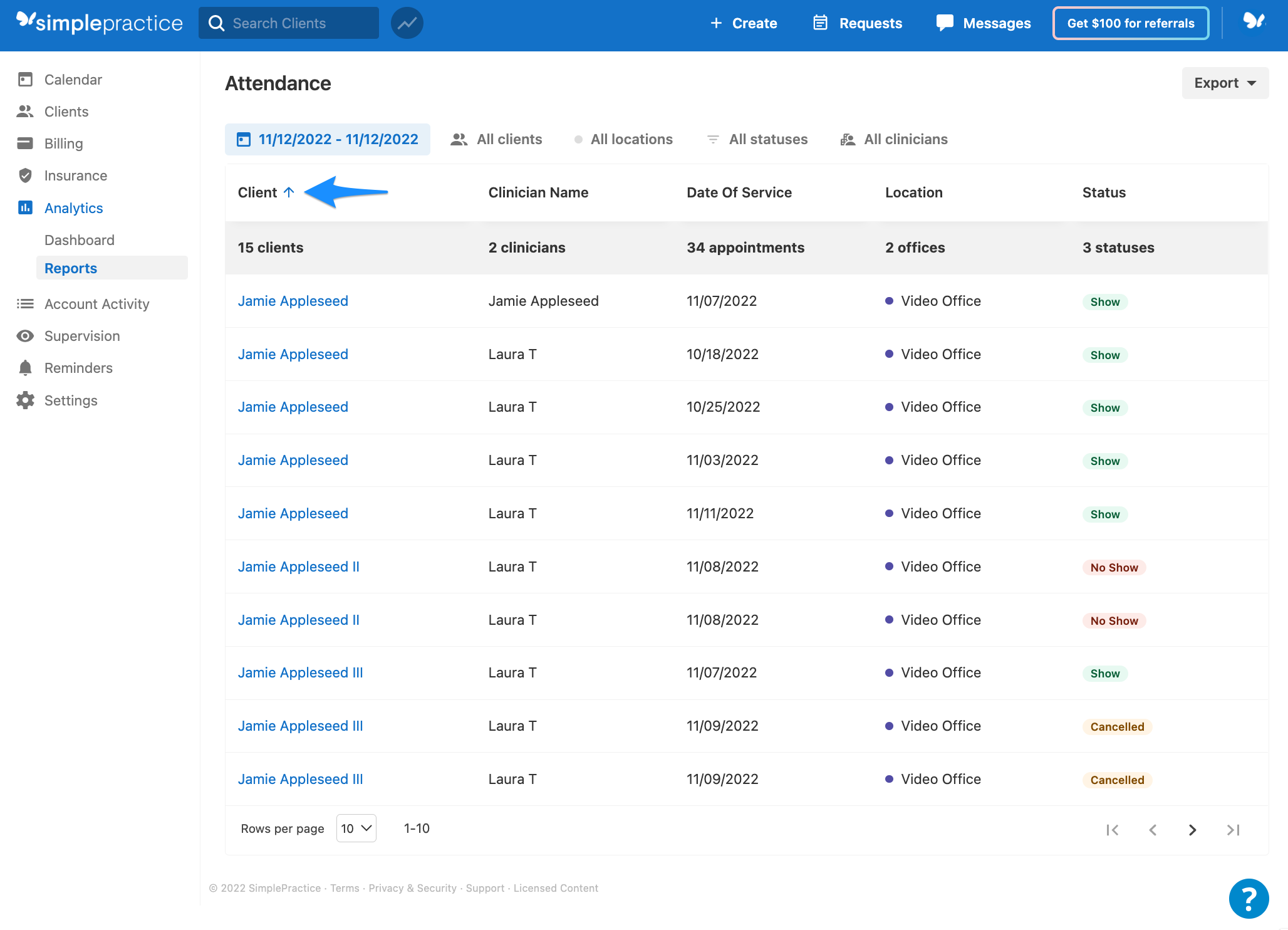 Clinician Name (Group practices only)

This column will populate the clinician assigned to that appointment, even if the client is assigned a different primary clinician in their profile

Date Of Service
Location

This column is visible if your practice has two or more locations added

Status

Statuses include Show, Canceled, Late Canceled, and No Show
Note: To change the sorting order of the report, click the name of any column to sort by ascending or descending order.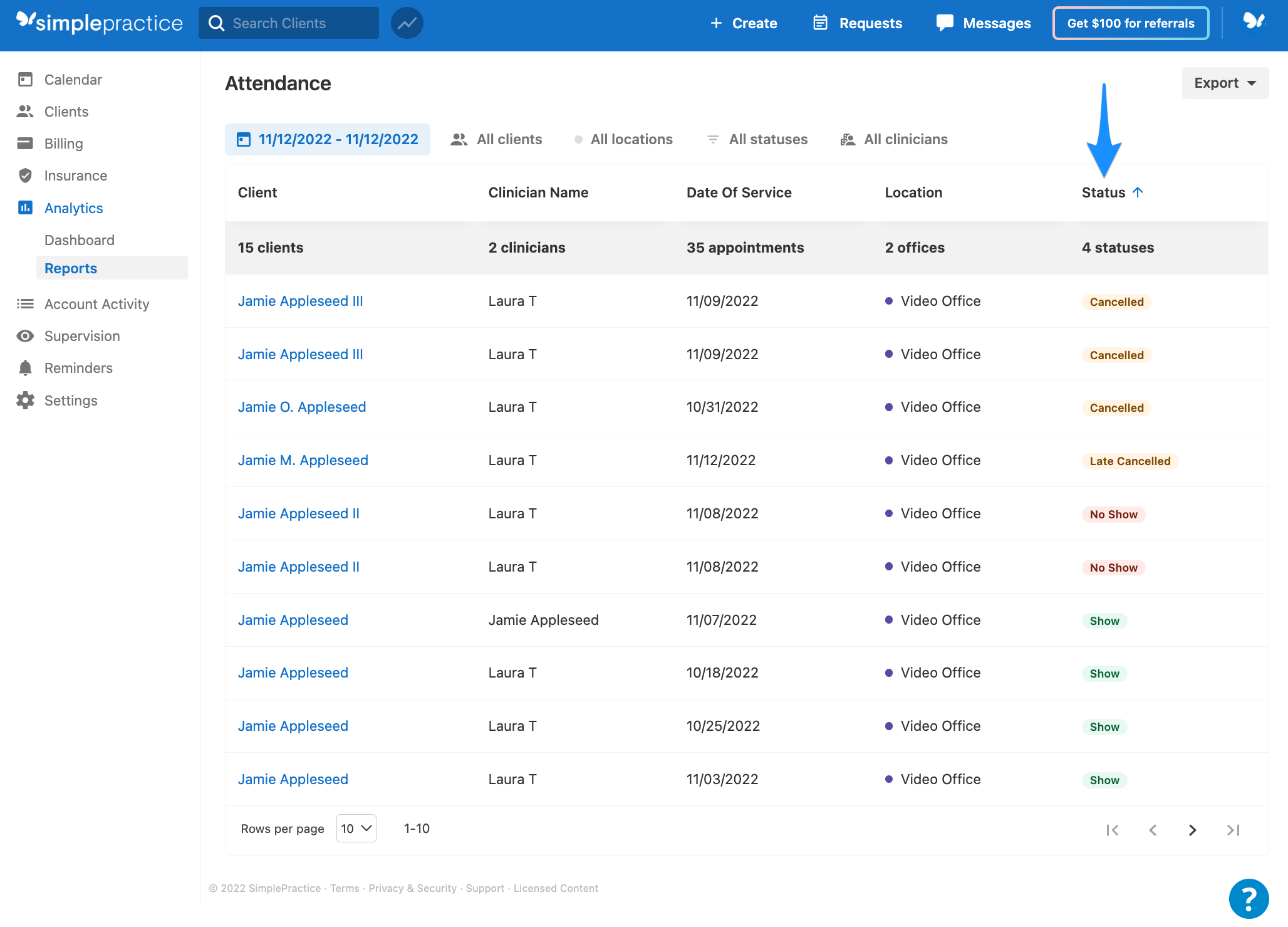 The report can be filtered by the following categories:
Date
Client
Location

This filter is visible if your practice has two or more locations added

Status
Clinician (Group practices only)
Permissions by team member
This report can be accessed by all team members
The following roles have access to all clients:

Account Owner
Clinician with administrative access
Clinician with full client list access
Scheduler
Biller
Practice Manager

The following roles have access to only clients where they're assigned as the primary clinician:


Clinician with basic access
Clinician with basic access + billing
---
Appointment reminders
The Appointment reminders report keeps a record of the reminders sent to your clients in the last 30 days. You can refer to this report to see if a reminder was sent to a client.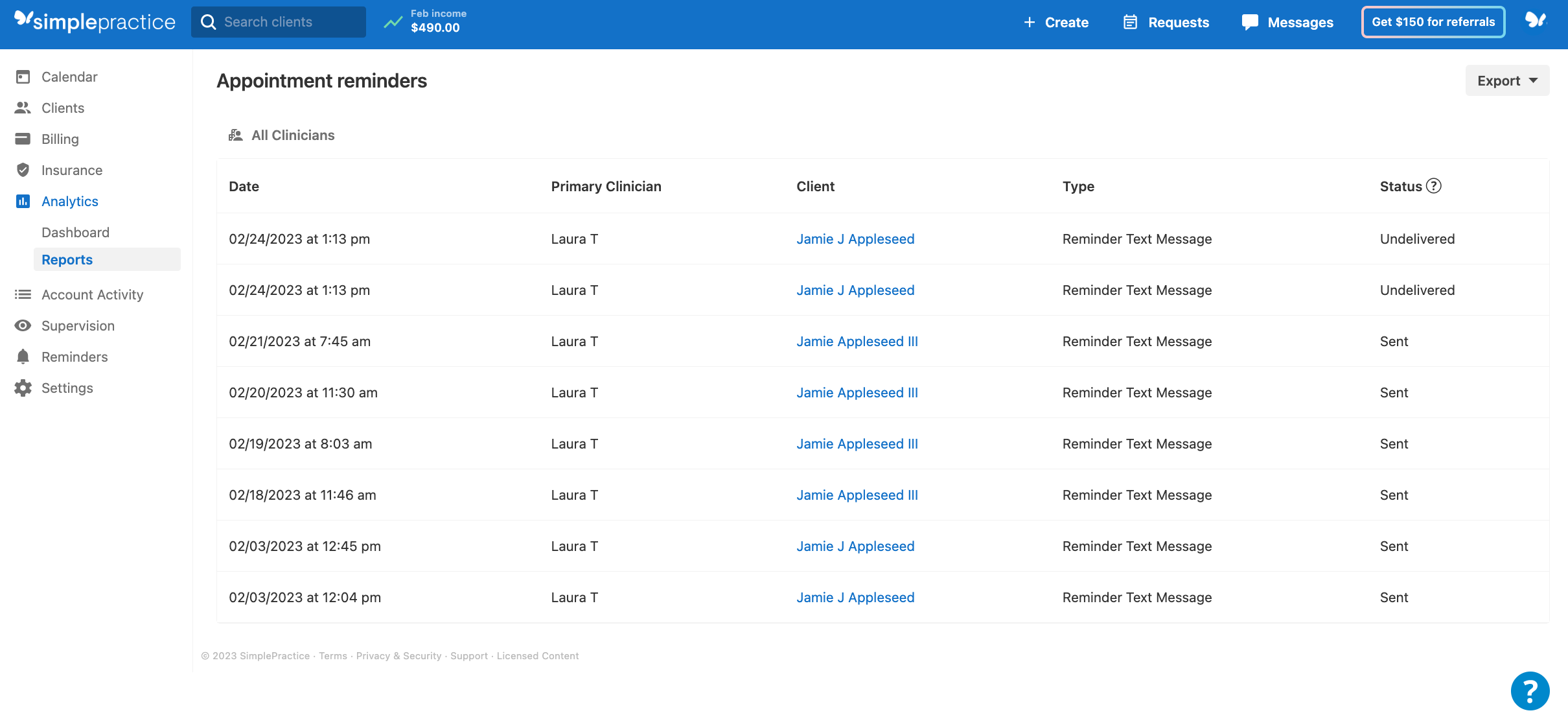 For more information about appointment reminders, see How to set up appointment reminders and Understanding client reminder statuses.
---
Sent emails
The Sent emails report gives you a record of emails that are sent from SimplePractice for the last 30 days, including:
Invitations to clients to complete the intake
Your schedule for today
Enrollment updates
Insurance claim updates
Subscription-related emails (e.g., invoices and payments for your account)

Note: For more information on email statuses, see Understanding email statuses.