You can set up your office locations so that your appointments, appointment reminders, and billing information display your correct office information. This guide will walk you through how to set them up:
---
Setting up additional offices
Go to Settings > My Practice > Locations
Click +Office to add an additional location
Select the color that you wish to be associated with each office location
Click Save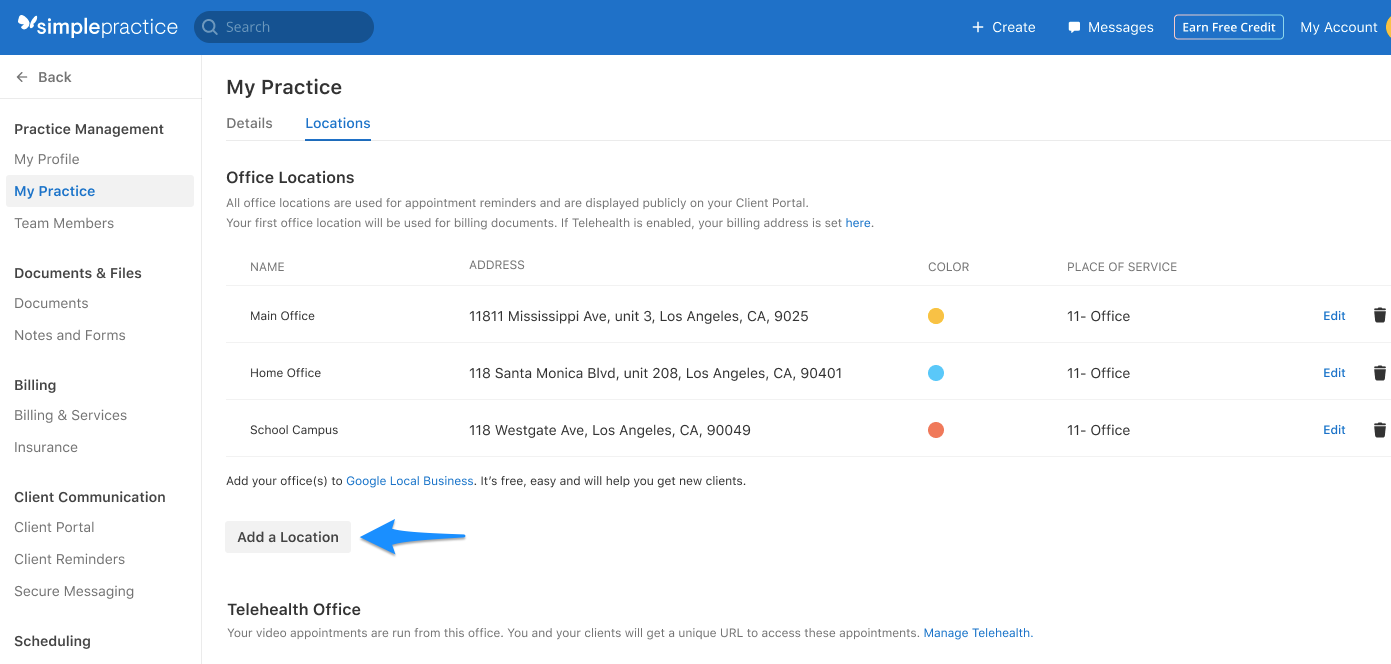 Note: If you need to create an office location without an address, you can put dashes in the street, city, and zip code boxes.
The color coding appears like this on your calendar: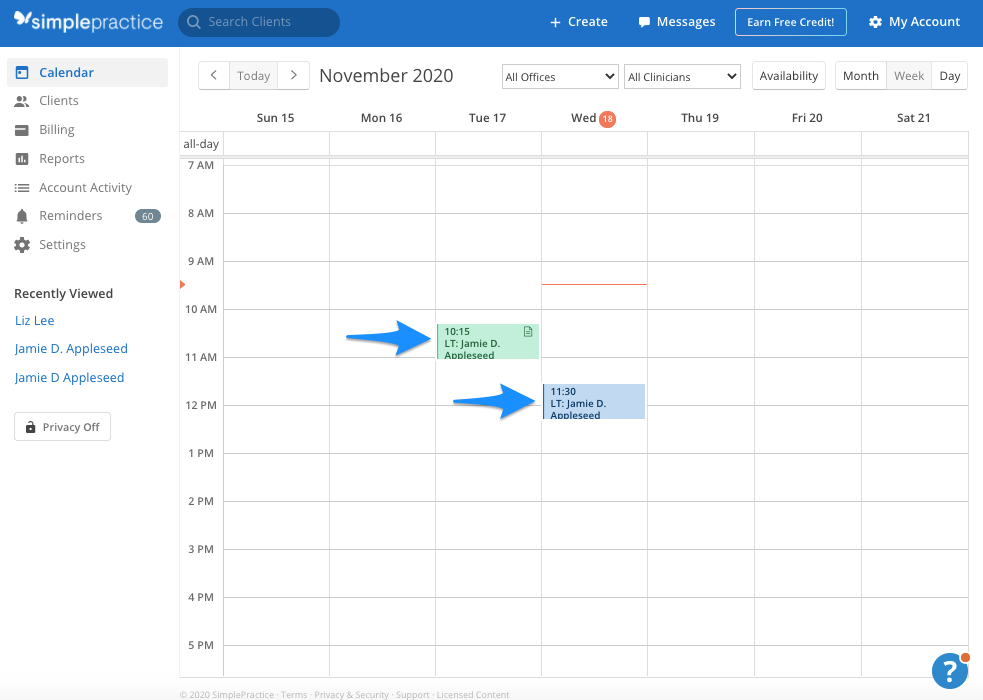 ---
Adding a billing address
You can add both a Business Billing address and a Client Billing address to appear on your corresponding billing documents. Your Business Billing address will be displayed on your SimplePractice subscription invoices, and your Client Billing address will be displayed on all client facing billing documents, such as invoices, statements, and superbills.
To add a billing address:
Navigate to Settings > My Practice > Locations
Click Add next to Business Billing or Client Billing, depending on which one you want to add
Fill out the address information and click Save
Note: If you already have an office location in your account, it will automatically default to be your billing address.
To change an existing Business Billing or Client Billing address:
Navigate to Settings > My Practice > Locations
Find the address you want to change and click Edit
Select the address from your existing addresses, or add a new one by clicking Enter a different location
Click Save
If the billing address you've added matches an existing office address in your account, you'll see a corresponding icon next to that address to indicate whether it is a Business Billing address, Client Billing address, or both: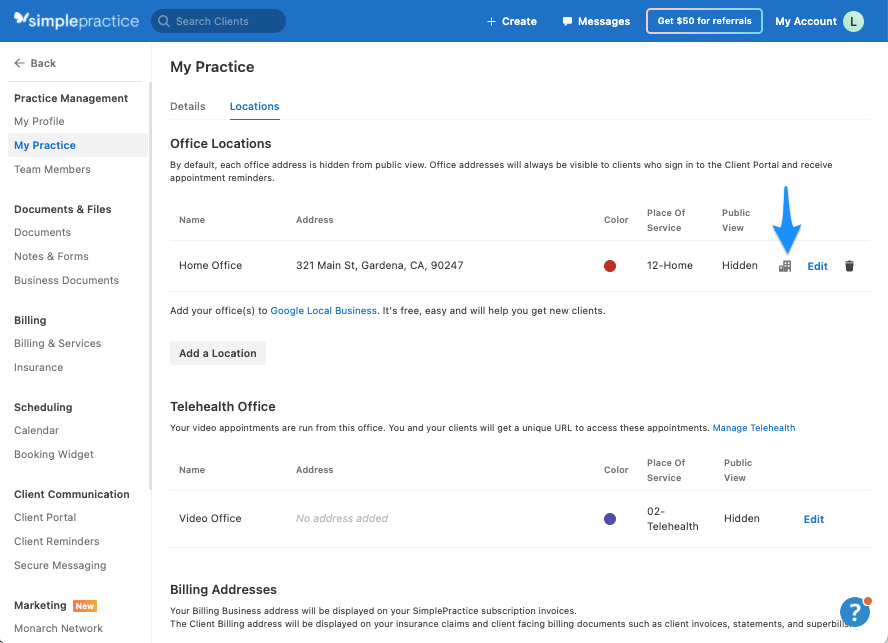 ---
Hiding or displaying your address publicly
You can choose whether you'd like your office addresses to be shown or hidden to the general public via your Monarch profile, Professional Website, Booking Widget, and the Client Portal.
To hide or show your office addresses from the general public:
Navigate to Settings > My Practice > Locations
Click Edit next to your office location
Select Hide Address or Show Address
Click Save
When you hide your address from the public view, the map will show an image with your approximate location in a zoomed out view: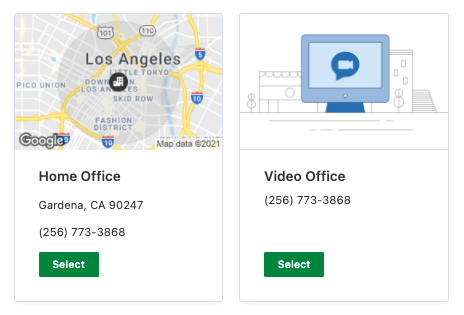 If you choose to publicly show your address, the map will show your exact address in a zoomed in view with directions to your location: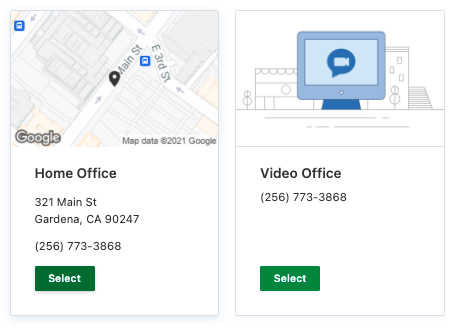 After a client signs into their Client Portal, they'll be able to see your full address regardless of whether you choose Hide Address or Show Address. Similarly, new clients will be able to see your address after they book an appointment with you after they're signed into the Client Portal.
Note: All office locations will default to Hide Address.
---
Assigning a client to a specific office
Go to your client's Overview Page and navigate to Edit Client Info
Select the office where the client is typically seen from the drop down menu
Click Save after you have chosen the location
The office location selected will be reflected in appointment reminders, but the primary office location for your practice will still be listed on all billing documents.
Note: You can override the default office location selected when you create an appointment in the calendar (i.e. if your client is being seen at a different office for a specific appointment).
---
Deleting an office location
You can delete an existing office location at Settings > My Practice > Locations by clicking on the trash can icon next to the office.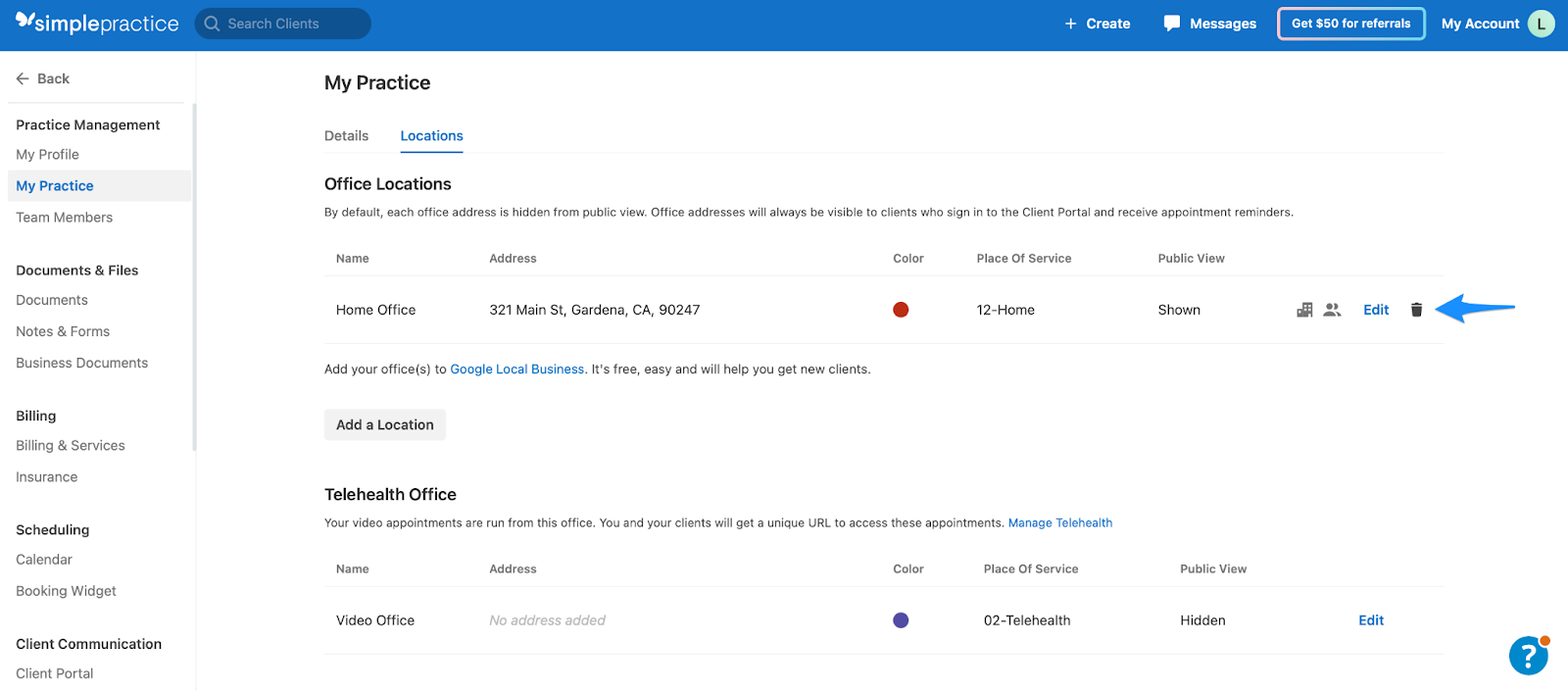 When deleting an office location, keep in mind that:
All future appointments at that location will be automatically updated to

Location: Unassigned

Any availability blocks at that location will also be automatically removed

Any billing documents listed with that address will remain unaffected
Note: If any billing documents (invoices, statements, or superbills) are retroactively deleted and recreated for past appointments, the new default office location will be displayed.