Tip: If you need help troubleshooting Telehealth, see this guide for detailed steps to follow: Troubleshooting Telehealth appointment issues.
Here are the answers to frequently asked questions about Telehealth by SimplePractice, by category:
Adding Telehealth to my subscription
Telehealth security and compliance
Preparing for Telehealth appointments
Telehealth features
Troubleshooting Telehealth appointment issues
Billing and legal policies for Telehealth
Note: To learn more about preparing to offer Telehealth services in your practice, see Getting started with Telehealth. For a resource to send to clients about Telehealth, refer to Telehealth FAQs for clients. You can also download this PDF to have a resource on-hand before your first appointment: Telehealth Checklist.
---
Adding Telehealth to my subscription
---
How much does Telehealth cost?
Telehealth will be available as an add-on feature on the Starter plan for an additional $15/mo., and included in the monthly subscription on the Essential and Plus plans at no additional cost.
Note: To learn more about the features included on each of our subscription options, see Which subscription plan is right for me?
---
What are the benefits of using Telehealth by SimplePractice instead of another video call platform?
---
How do I turn Telehealth on or off?
To turn on Telehealth: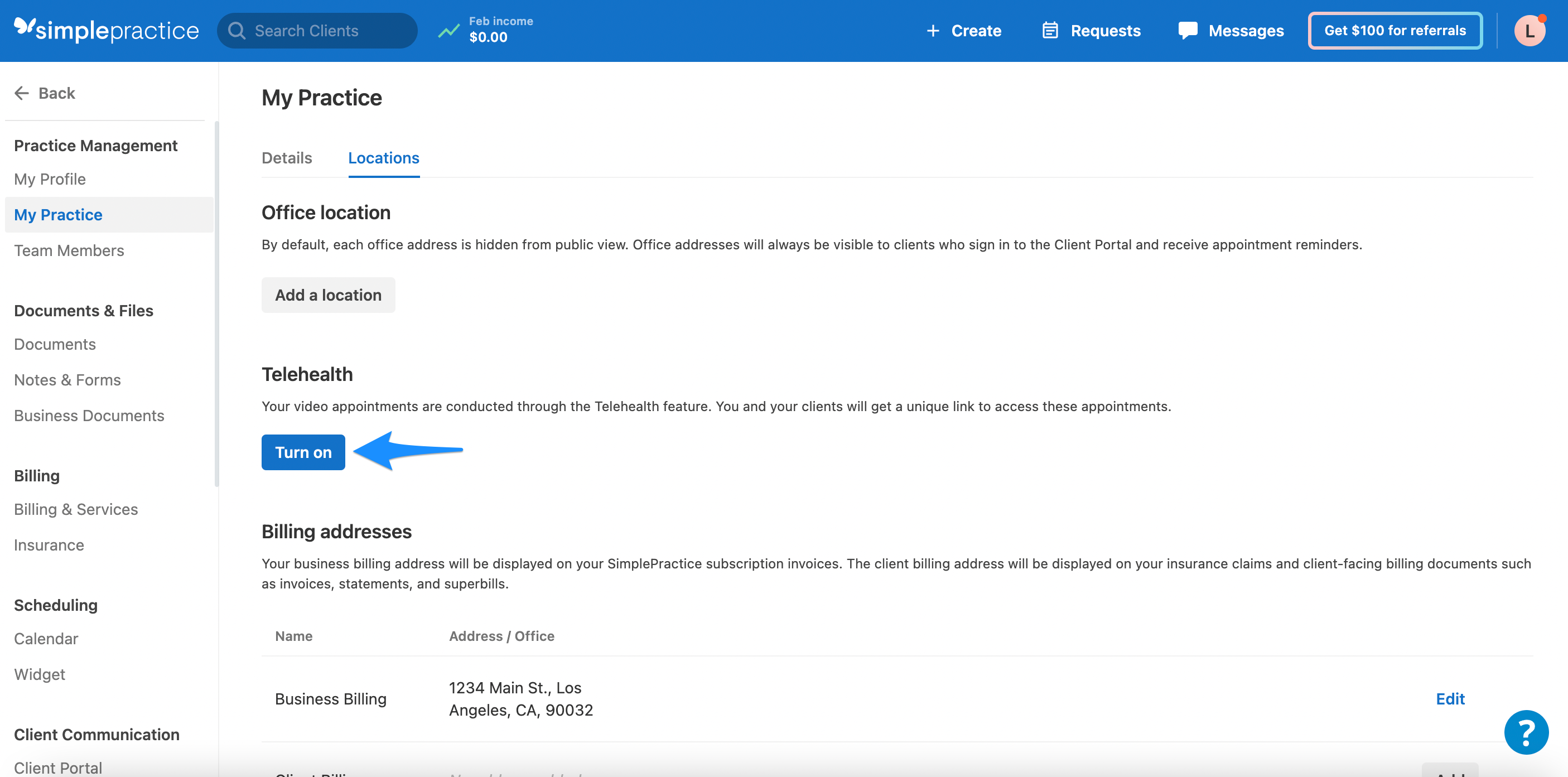 Turning Telehealth on will create a new Video Office location. You can customize this location to reflect the unique needs of your practice. You do need to have a separate Telehealth location saved for this feature to work correctly.
Once enabled, you can create new Availability for your Telehealth Office if you'd like clients to be able to request Telehealth appointments and services online. To learn more about setting up your Availability, see Managing your Availability.
To turn Telehealth off: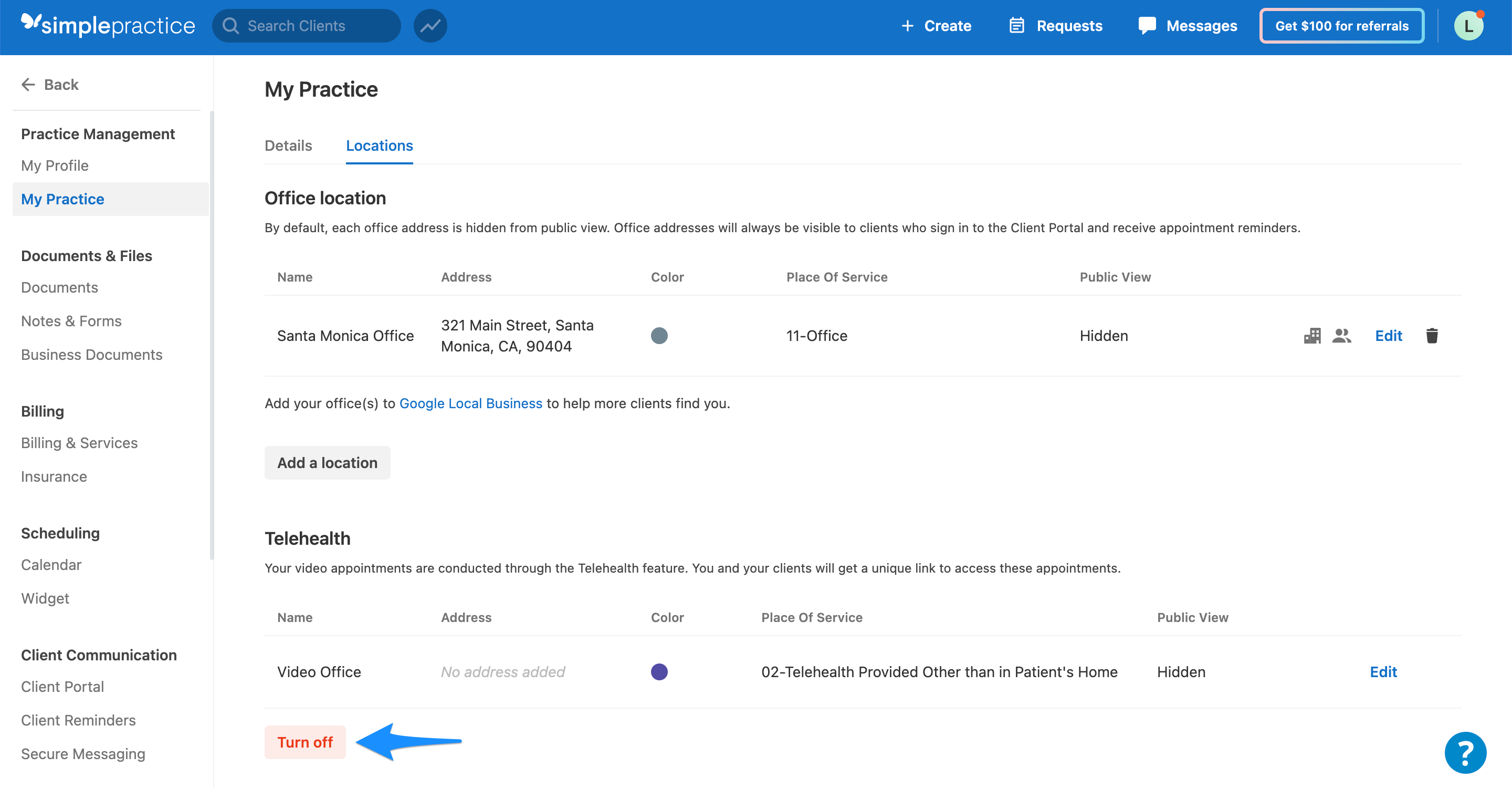 Note: Telehealth is included at no additional cost on the Essential and Plus plans. If you're on the Essential or Plus plan, you can manage this feature from Settings > My Practice > Locations. If you'd like to enable Telehealth as an add-on feature on the Starter plan, first go to Settings > Subscription Information to toggle it on.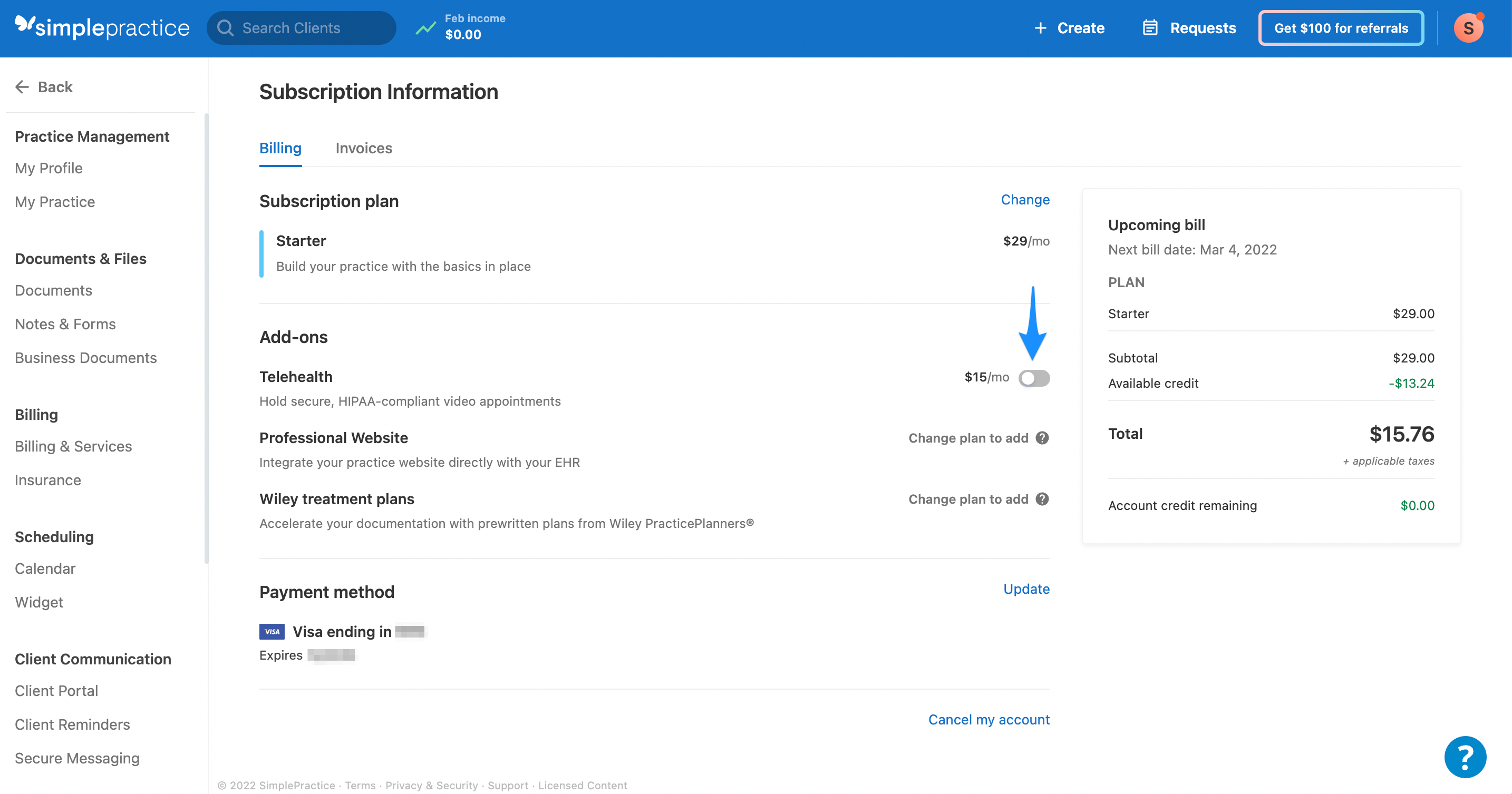 ---
Is there a limit on using this feature?
There's no need to worry about your session timing out or only being able to offer a certain number of Telehealth appointments per month. Telehealth by SimplePractice is truly unlimited. It's included on the Essential and Plus plans for no additional cost, and is also available as an add-on for $15 a month on the Starter plan.
We offer something different from other Telehealth services: a fully integrated experience that makes billing, notes, appointment reminders, and client communication much simpler compared to maintaining an external, stand-alone Telehealth solution.
---
Telehealth security and compliance
---
Is SimplePractice HIPAA compliant?
Yes, we meet or exceed all the requirements of HIPAA as a business associate, including the Business Associate Agreement (BAA) in which SimplePractice agrees to be responsible for keeping all client information private.
Additionally, SimplePractice has a partnership with the Telebehavioral Health Institute. The Telebehavioral Health Institute holds a high criteria with whom they partner, and we are proud of our relationship with the them: Telebehavioral Health Institute Affiliates, Partners and Sponsors.

---
Do I need a BAA with SimplePractice to begin using Telehealth?
When you signed up for your trial account with SimplePractice, you also agreed to our Terms of Service and Business Associate Agreement. Signing up for your trial constitutes a legally binding agreement as stated when you click the Start my free trial button.
All features in our platform are covered in this agreement, including Telehealth.
There will be no need for you to agree to or "sign" the BAA again once you switch to a paid subscription. You can access a copy of the agreement here: SimplePractice BAA.
---
Are video sessions recorded and/or stored?
We do not record or store any video sessions.
---
How does informed consent work for Telehealth?
Certain states do not require consent, while some require verbal consent, and others require written consent that must be stored in the client's record.
Here's how to find out what your state requires:
Select your state

and scroll down to the

Consent section. Here you'll be able to see whether state law requires you to get client consent.
---
Do you have some examples of informed consent documents?
Your account will include a default consent form for Telehealth, but providers should review it very closely and update as needed. For best practices, see our guide that walks through Creating your own custom Consent for Telehealth Consultation intake form.
Also, here are a few sample consent forms collected from various online sources. These are for informational purposes only, so it is your responsibility as the provider to update the content to meet your specific state's requirements.
---
Preparing for Telehealth appointments
---
What browser versions are supported?
Telehealth by SimplePractice works on the latest versions of Google Chrome, Mozilla Firefox, Safari, and Microsoft Edge on desktops/laptops.
For mobile devices, the SimplePractice Telehealth app for iOS or Android is currently the only supported method for accessing appointments.
For older browser versions, a dismissible warning banner is shown that requests users to update.
Important: We highly recommend making sure you're using the most up-to-date browser version for the best Telehealth experience. Please be cautious when using this functionality on older browser versions and beware that incompatibilities can cause unpredictable behavior. See How to set up your browser for SimplePractice to learn how to update your browser.
---
Will my clients have to install or download anything in order to join the session?
Your clients will be able to easily and effortlessly join the session on their computer by simply clicking a link you provide.
They will not have to:
download or install software or extensions

enter a password or ID to access the session

create an account or login into an account
If your clients prefer to use a mobile device for their sessions, we do have a mobile app that clients will need to download. They can find the app in the iOS and Android app stores by searching for Telehealth by SimplePractice.
---
If my client prefers to use a mobile device, is there an app they can get?
Yes! To use a mobile device, your client must first download the Telehealth by SimplePractice app, available for iOS or Android in the app store.
---
Telehealth features
---
Can I do group sessions?
Up to two clients can join the same Telehealth video call, which allows for a Telehealth session of up to three people (one clinician and two clients). Each client can join the video call through the link provided in either the email or text appointment reminder.
See Multi-client support on Telehealth for more information on holding group Telehealth sessions.
---
What if I need to offer a session to a client sooner than a reminder email/text can go out to them?
In the event of a crisis or needing to offer a session sooner than a reminder can be sent out, you can copy the link from the Calendar. From the calendar, follow these steps:
Schedule the appointment as usual
Make sure that the location is Video Office
Click Save
Click the appointment
Select Share link to immediately send an email that includes the link to the client as long as they have email reminders enabled
You can also select Copy link and manually send it to your client by pasting it in a separate email or Secure Message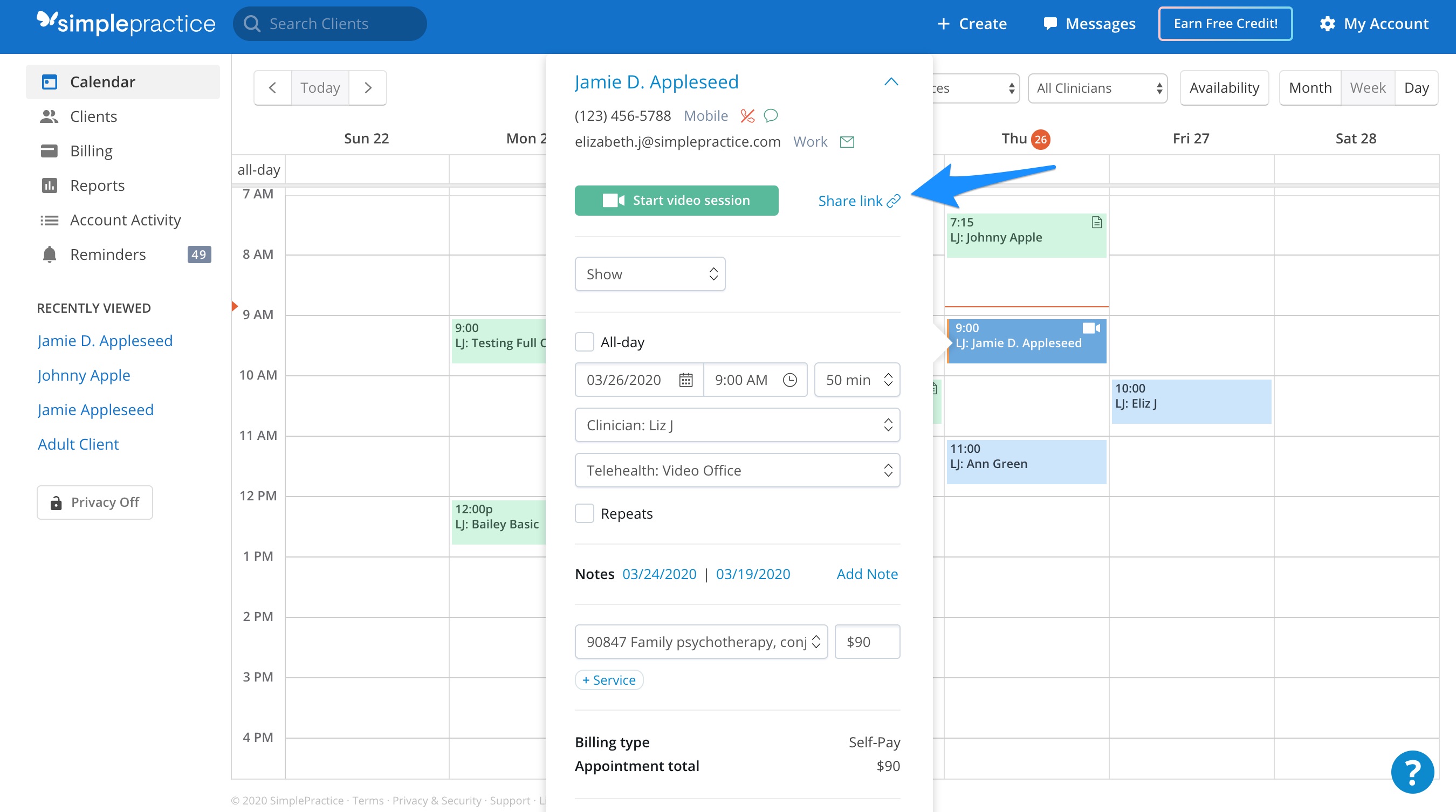 ​
Note: Reminders for Telehealth appointments go out based on the settings you have enabled for each client. They are available to send to clients 24, 36, 48, or 72 hours before the scheduled appointment. Based on those settings, the client will also get a text reminder and/or a email reminder about 10 minutes prior to their appointment time, as long as the appointment is set before the text/email reminder window. For a refresher on setting up these options, see: How to set up appointment reminders.
---
Is there a whiteboard option?
Our Telehealth platform now includes an interactive whiteboard feature, which you can use to make your Telehealth sessions more engaging and collaborative. To use this feature, join the video call from a web browser, click Share, and select Whiteboard.
Currently, the whiteboard feature is only available when accessing Telehealth from a web browser. If a participant joins a video call from their mobile device, they'll be able to view a shared board, but not interact with it. For more information, see Getting started with Telehealth.
You can also join us for a Q&A session and ask a live support specialist your questions about getting started with Telehealth and our built-in features, including whiteboard and screen sharing. You can register for a Q&A session here: Telehealth features Q&A.
---
Does the screen sharing feature include mouse control?
Our Telehealth platform doesn't include a remote control feature at this time. While you and your clients can interact real-time on a shared whiteboard during Telehealth sessions, there's no way to control someone else's mouse or keyboard.
We love feedback and ideas for ways to advance the platform, and we'd love to hear from you. You can vote and share your feedback about this feature here: Ideas and Suggestions board.
---
Can I turn off the sound notification when an attendee joins or leaves the Telehealth appointment?
We've added a sound notification that indicates when an attendee joins or leaves a Telehealth appointment. This is designed to give transparency to all attendees, so there aren't any surprises when someone joins, or if someone gets disconnected. There isn't an option to turn this feature off.
---
Troubleshooting Telehealth appointment issues
---
Why am I hearing an echo?
If you hear your own audio back as an echo, the issue is on your client's end. If the situation is reversed, then the echo is coming from your end. If the echo is coming from your end, you can try the following steps to resolve the issue. If the echo is coming from your client's end, they can follow the steps below.
To eliminate an echo:
If you're using external speakers, place the speakers as far away as possible from the laptop mic, and lower the volume to a comfortable level.
If you're using an external microphone, move the microphone about a foot away from the speakers. You can also reduce the microphone level to 50 percent or less, and reduce or turn off the microphone boost option.
Some computers have an echo cancellation feature, but it could require a high CPU load. Closing other programs on your computer can help enable that feature.
Using a headset or headphones instead of speakers can stop the echo issue.
---
What about if I'm having connectivity problems?
Connectivity is important for high-quality video and audio sessions. Follow these steps to make sure that you have a sufficiently fast, robust connection:
Confirm that you're connected to the fastest connection available.

It's easy to connect to a less performant network accidentally (for example, if you move around the house/office).

Disable/enable network connection.

If necessary, reboot to restore connection.
---
What should I do if my client is appearing with a crossed-out speaker icon over their image in Telehealth?
If your client is appearing with a crossed-out speaker icon over their image in Telehealth and you're experiencing audio problems, this is most likely due to using Safari 11+. Click the view of yourself in the bottom right portion of the screen to dismiss the icon and fix the sound.
---
Why can't my client access their Telehealth appointment using the same link from past appointments?
All Telehealth appointment links expire at the end of each session. This means that clients will not be able to bookmark the link to their appointments. In order for them to access the appropriate link for an upcoming Telehealth appointment, they'll need to either click Join Video Call from their Telehealth appointment email reminder, or click Join Video in the Upcoming appointments section in their Client Portal.
Clinicians also have the option to copy the unique Telehealth link from the appointment listed on their calendar to share with their client via Secure Message or another secure communication method.
---
Billing and legal policies for Telehealth
---
Where can I get information on my state's Telehealth policies?
The following organizations provide resources to help you learn more about your state's specific policies and regulations:
---
Does insurance reimburse Telehealth appointments? If so, is there anything special I need to do? Is the amount less than an in-person session reimbursement?
Navigating Telehealth reimbursement can be very tricky. In order to find out more your specific state's Telehealth rules, here are a few resources:
---
How does billing work?
When billing insurance, we recommend that you always check with the individual insurance payer to determine whether Telehealth services are covered and, if they are, which codes or modifier should be used for different types of services.
It is very important to check directly with the insurance payer because coverage for Telehealth change all the time. Download our Telehealth Resources Directory PDF to find links to legal, educational, and insurance resources for Telehealth.
---
Which Insurance Place of Service code should I use for Telehealth appointments?
The two Insurance Place of Service codes for Telehealth from 1/1/2022 onward are 02 - Telehealth Provided Other than in Patient's Home and 10 - Telehealth Provided in Patient's Home. If you're billing insurance or providing clients with superbills, we recommend contacting the payer directly for clarification on which one you should include on claims as each payer has different requirements.
Once you determine which POS code you're going to use, you can make the adjustments to your Video Office location by following the directions in our guide on Editing the Insurance Place of Service.
---
How do I change my Telehealth location Insurance Place of Service code from 02 to 10?
To bill insurance using the Insurance Place of Service Code to 10 - Telehealth Provided in Patient's Home, you'll want to change the POS code for your Video Office location. To do this:
Navigate to

Settings > My Practice > Locations

tab

Click

Edit

next to

Video Office

, under

Telehealth Office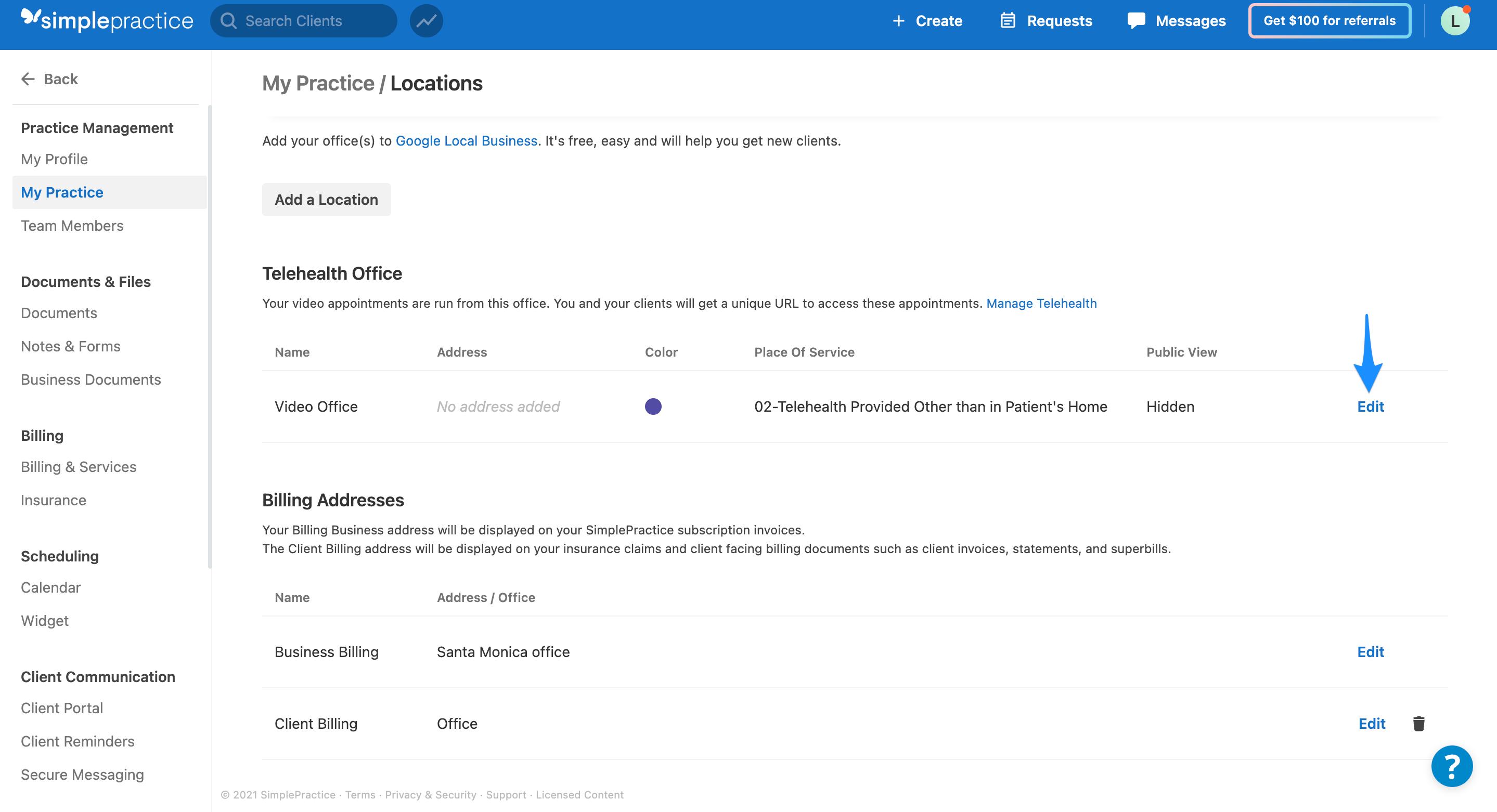 From the drop down under

Insurance Place of Service

, choose

10 - Telehealth Provided in Patient's Home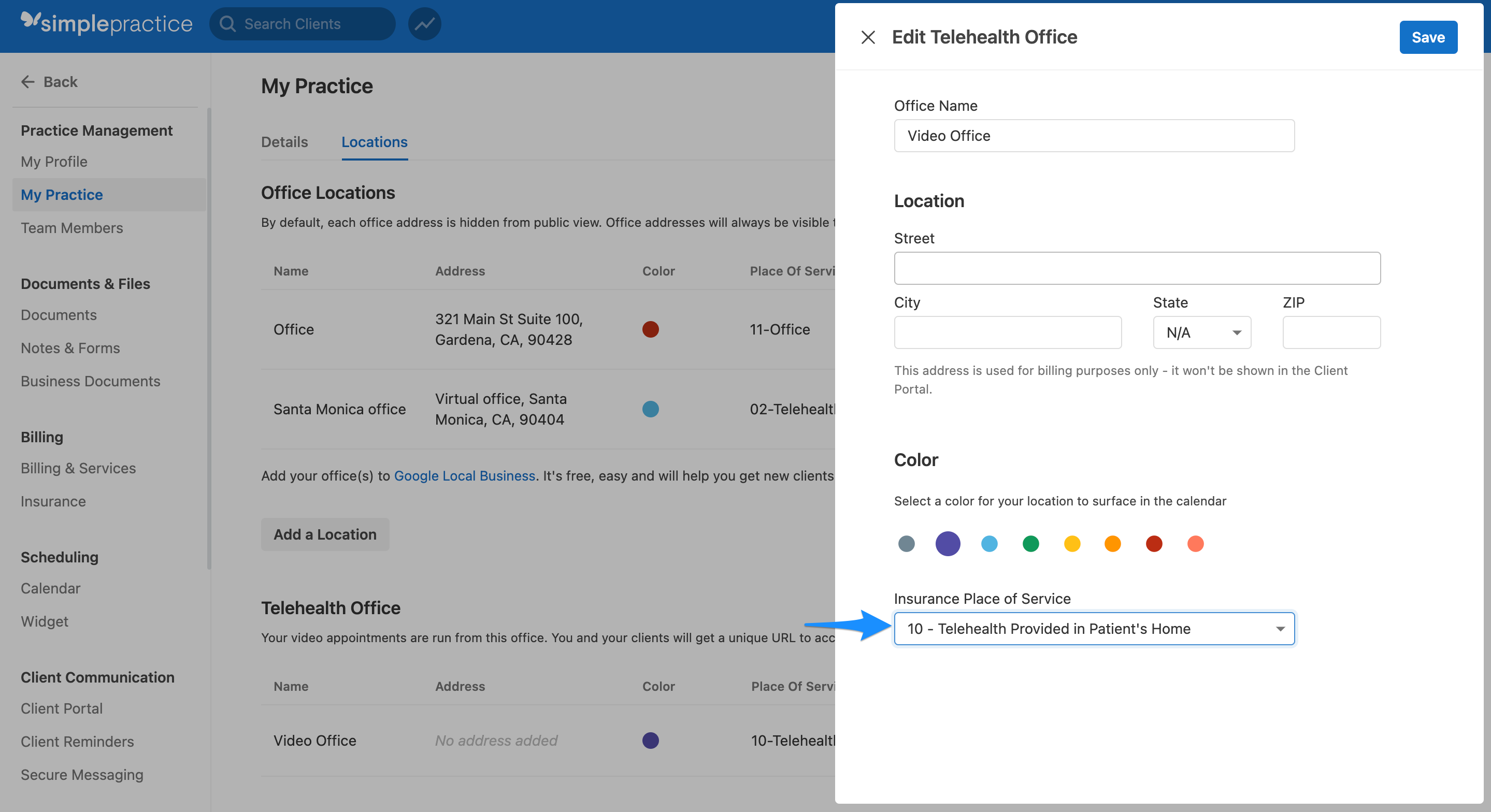 ---
What if I'll be alternating between Insurance Place of Service codes 02 and 10?
If you'll be alternating codes for claim filing, we recommend creating a second Telehealth location for one of the codes, and then adjusting the appointment's location after it passes as needed for billing purposes. To create the second location:
Navigate to

Settings > My Practice > Locations

tab

Click

Add a Location

Enter an

Office Name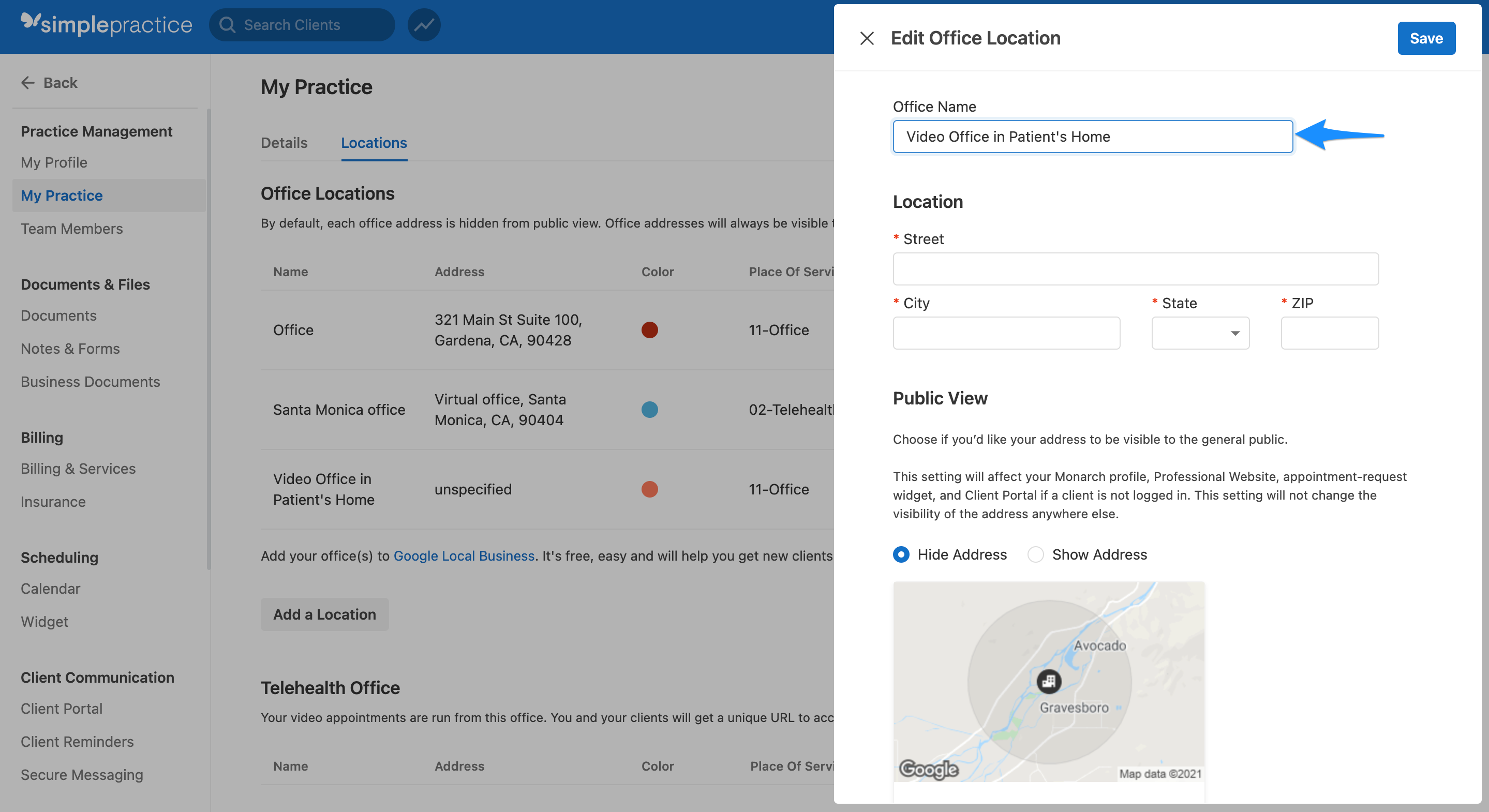 Choose

Hide Address

under

Public View

Enter dashes into the address fields and your state from the drop down

Note: A s

crub error may occur when adding dashes to an office location and have

Service Facility Location (Box 32)

included on claim forms in the

Settings > Billing and Services > Insurance

Choose

Insurance Place of Service

code

10 - Telehealth Provided in Patient's Home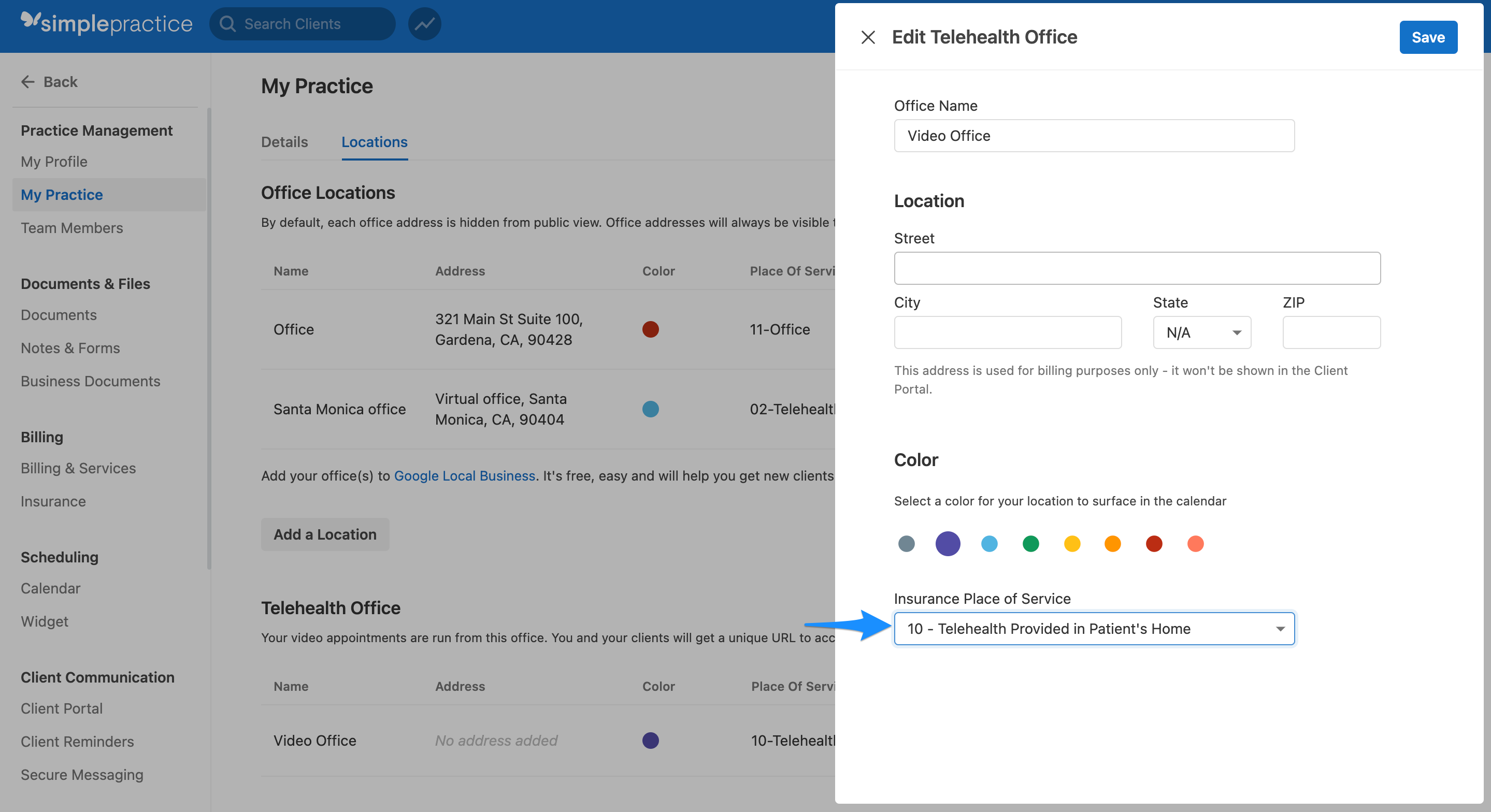 Click

Save

Since only the Telehealth: Video Office location will generate a Telehealth link, you'll want to choose that when scheduling the appointment, and then change your appointment's location after it passes before you create any billing documents, to the location you just created if you intend to bill with POS code 10. To change the location after the appointment passes:

After the Telehealth session, navigate to your

Calendar

and click the appointment

From the calendar fly-out, select your second Telehealth location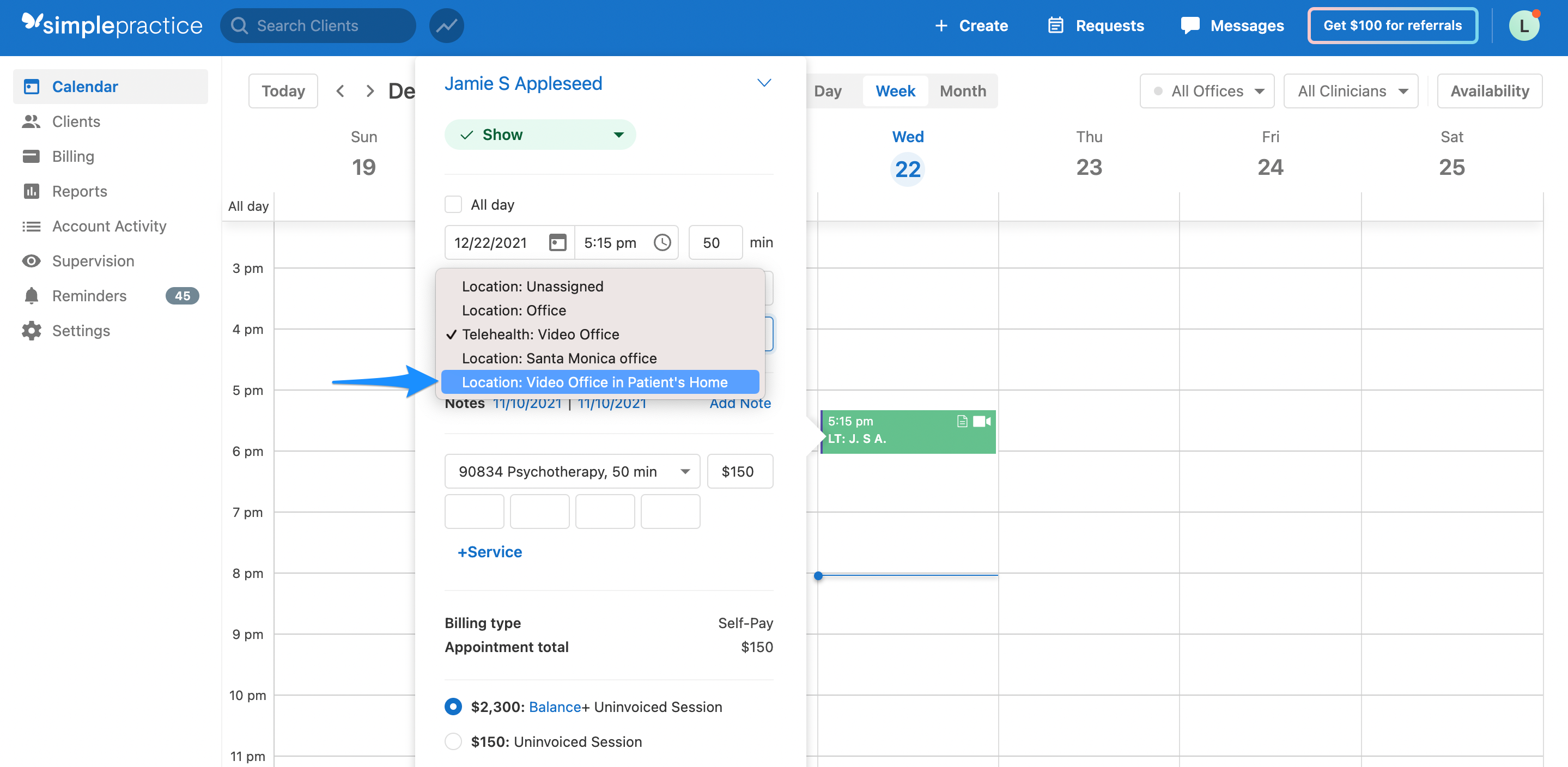 ---
How does state licensure work?
Clinicians must be licensed in each state in which they want to provide Telehealth appointments.
---
What are the requirements/restrictions regarding providing Telehealth services to minors?
The age at which a person may lawfully consent to care varies with the health condition at issue, the person's state of residence, or the state where the patient is at the time of the Telehealth visit. Therefore, clinicians should be aware of the rules for the state in which the client is physically located for that visit.
For more information, see American Telemedicine Association Practice Guidelines for Telemental Health with Children and Adolescents.
---
What other resources are available for Telehealth?