If you're enrolled in a healthcare partner's channel, you can reserve hours for in-network client referrals by creating partner-specific Availability blocks. Once you've set up your Availability for in-network client referrals, care coordinators and members will be able to view these available time slots and request appointments online.
In this guide, we'll cover:
Tip: In-network client referrals are powered by integrations with healthcare partners. Providers who are eligible for in-network client referrals are enrolled through an EAP or insurance provider.
---
Setting up your Availability
To get started with creating Availability blocks for a healthcare partner: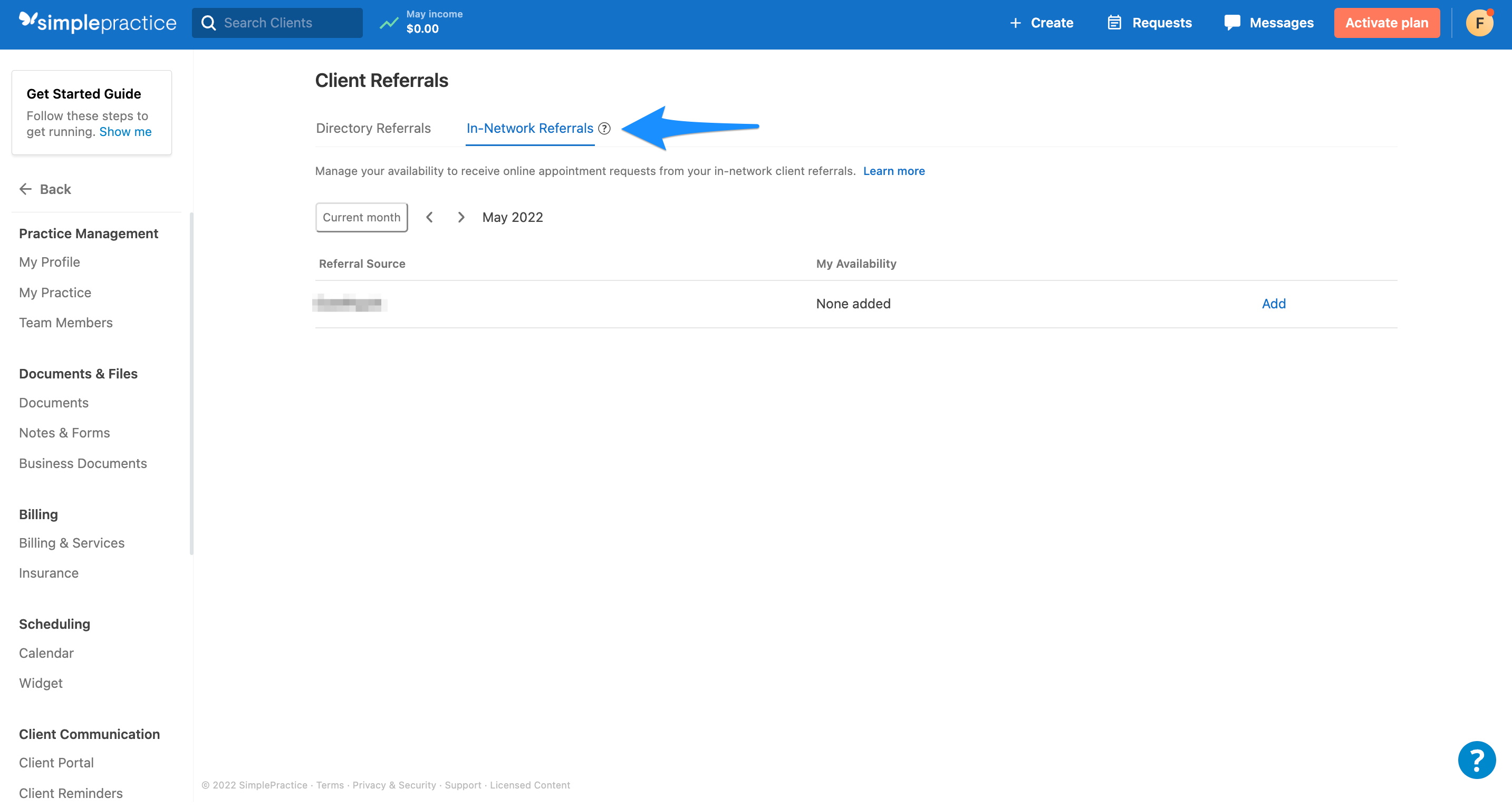 Important: You'll only see the In-Network Referrals tab once you enroll in a referral channel through the partner's provider portal.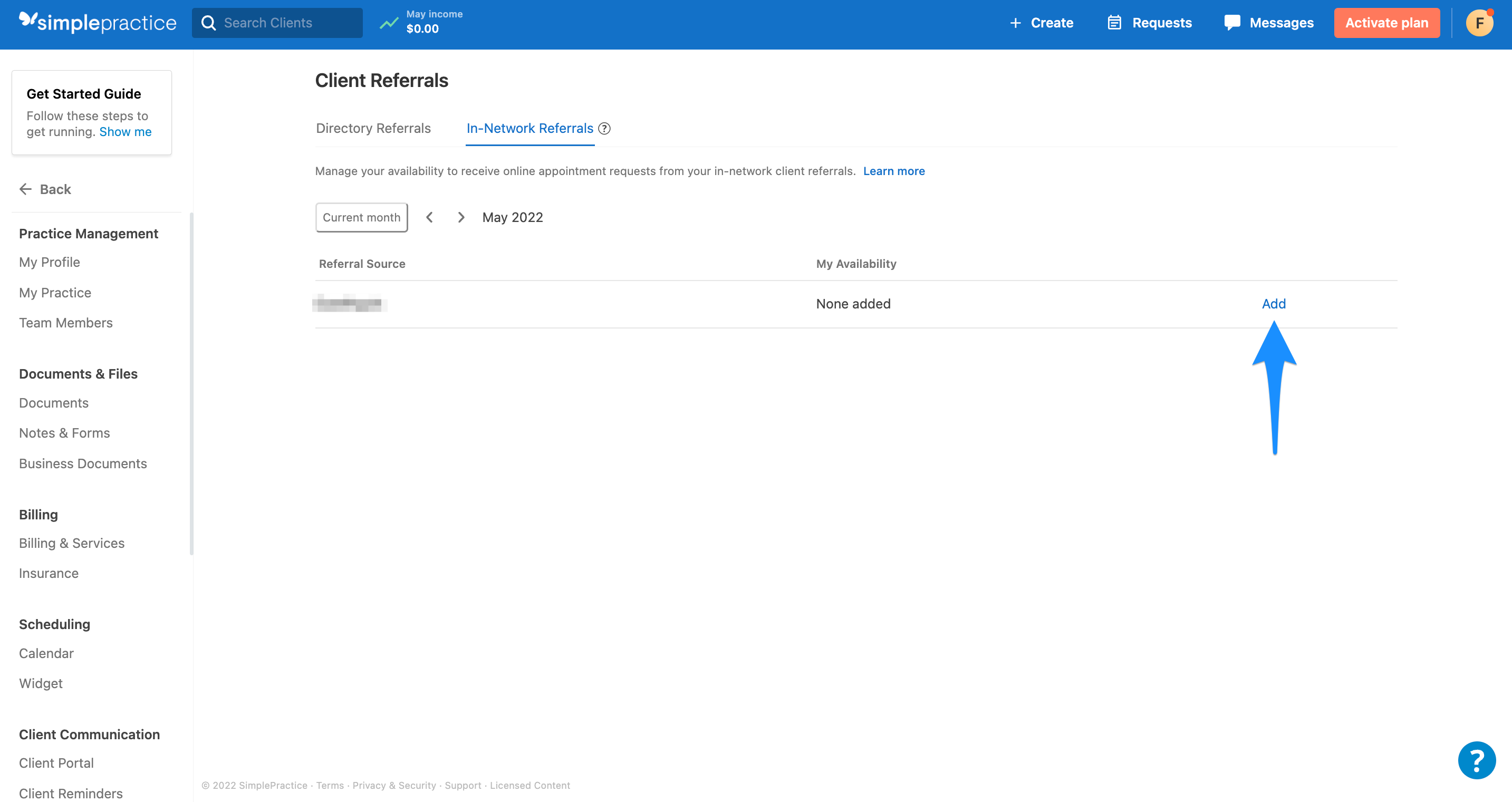 Enter an

Availability title

Select the start date, hours, and frequency with which you'd like the Availability to repeat

Choose the location(s)

Set the rate

Tip:

You can set this to your default practice rate and adjust it later as needed. If you have questions about the rate at which you'll be reimbursed, please contact the EAP or insurance payer directly.

To create a buffer before or after each appointment requested through this channel, click

Advanced settings

and specify how many minutes you'd like to block off

Click

Save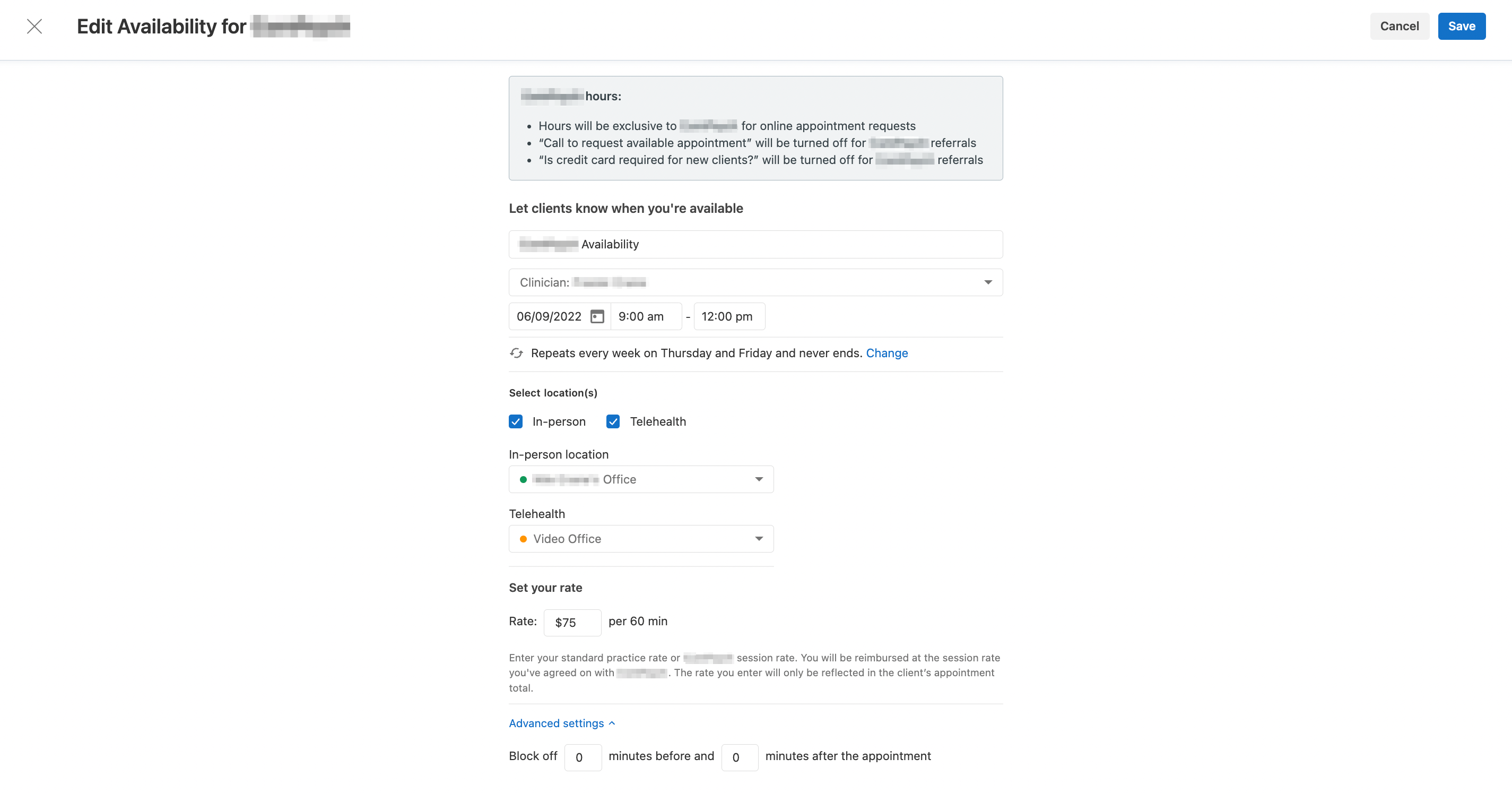 Some partners have specific requirements that apply to Availability blocks you create for their channel. For example, if you typically require a credit card for new clients, this option may be automatically disabled for in-network client referrals. This will be indicated in the banner at the top of the Create Availability modal.
Note: The Client Portal and Monarch Directory must be enabled for your practice in order to receive in-network client referrals. Creating partner-specific Availability will automatically enable the features if they've been turned off. To manage your Client Portal, navigate to Settings > Client Portal. If you'd like to update your Monarch profile, you can do so from Settings > Public Information.
---
Editing your Availability
To edit your existing Availability for in-network client referrals: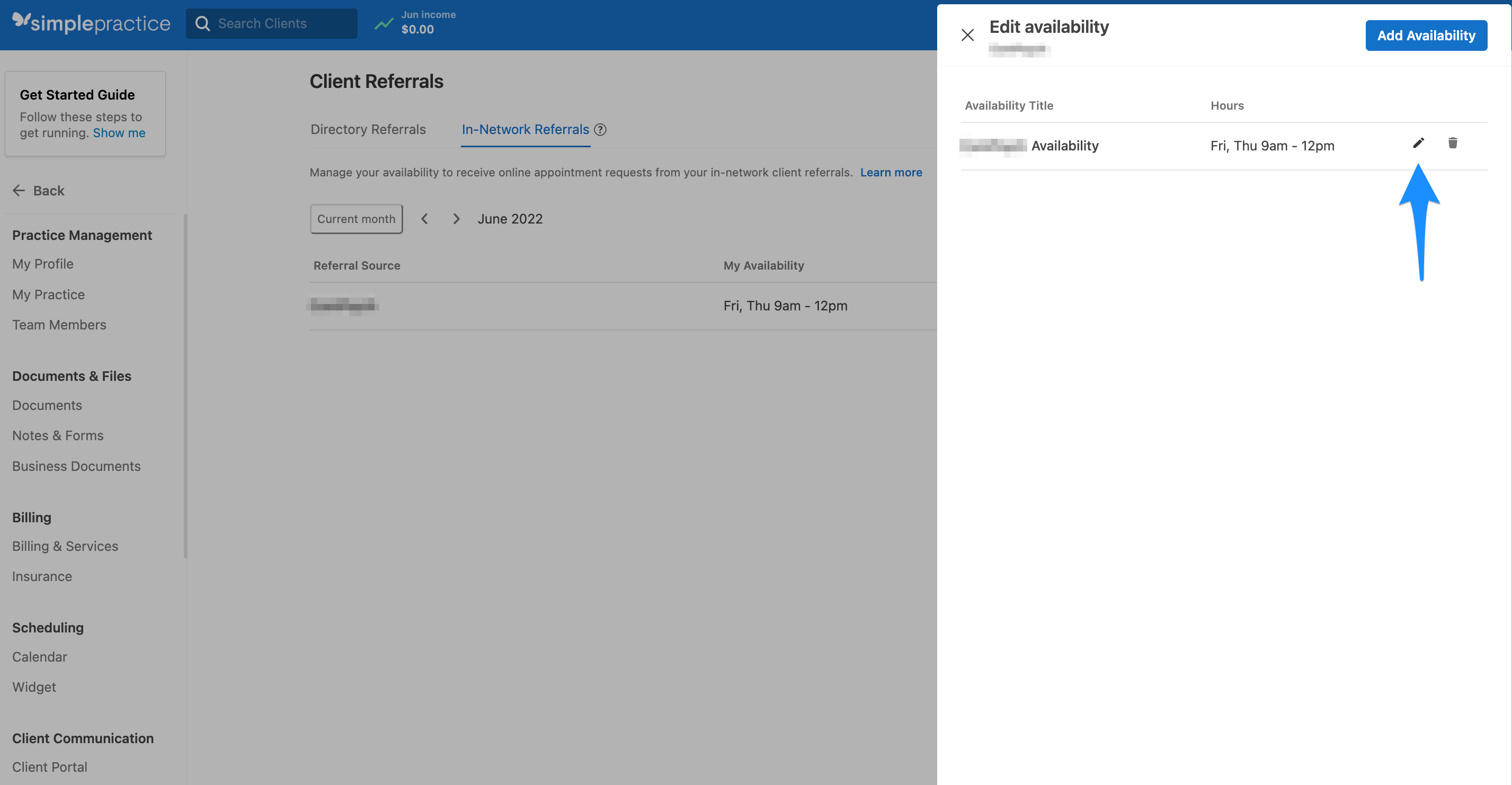 After making your desired changes, click

Save
---
Deleting your Availability
To delete partner-specific Availability: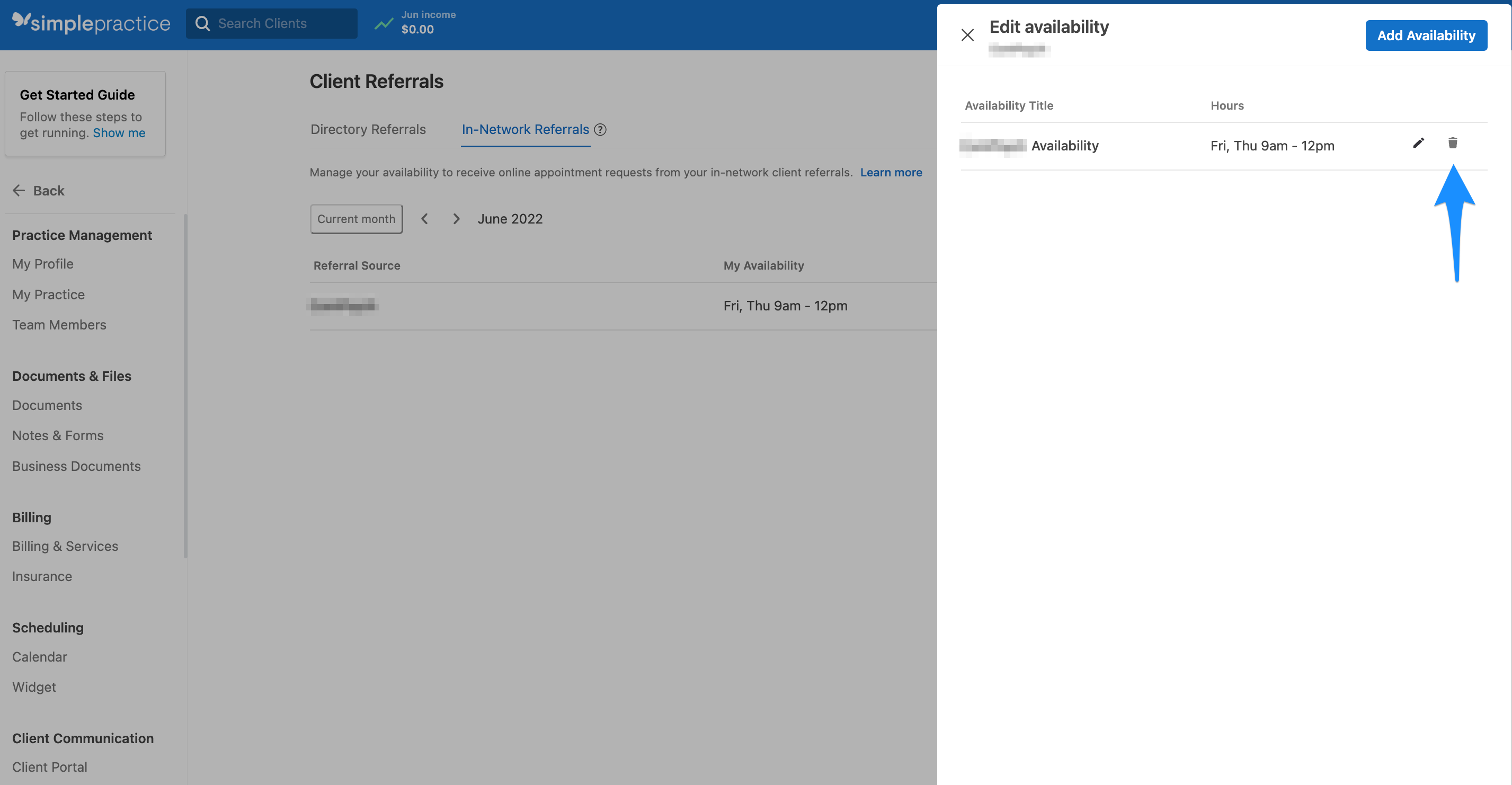 ---
Managing your partner-specific Availability
Once you create partner-specific Availability blocks, these reserved hours will be displayed on your Calendar.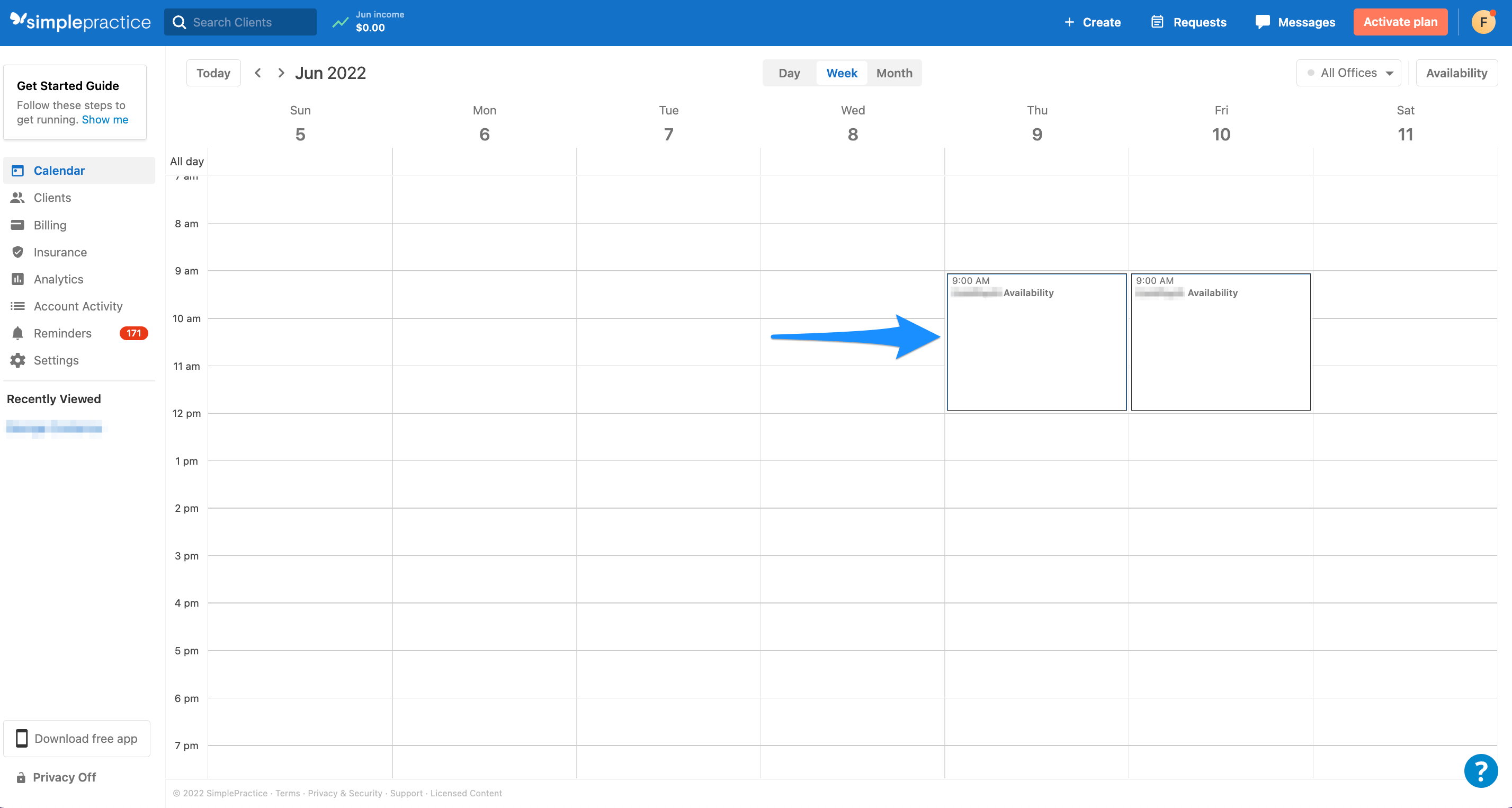 While you can view the details of your Availability blocks from the Availability calendar, you'll need to navigate to Settings > Client Referrals > In-Network Referrals to make changes. You can also click Client referrals from the Availability flyout.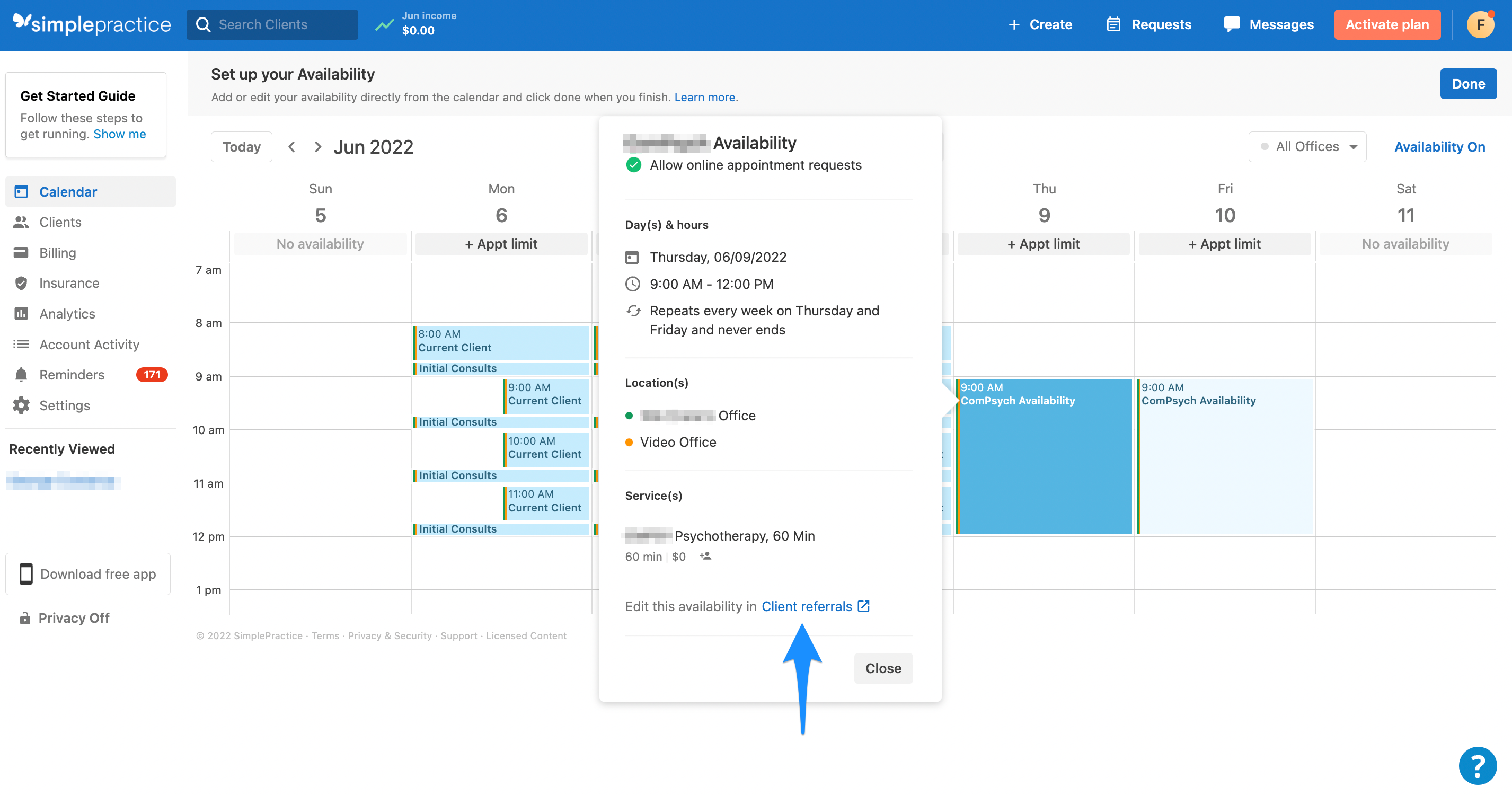 Your partner-specific Availability will appear as available for online appointment requests to care coordinators and members. These reserved hours won't appear on your Client Portal, Professional Website, or Monarch profile.
However, partner-specific Availability blocks won't affect your general Availability. A partner's reserved hours won't block available times for new or existing clients if you have other Availability blocks set up at the same time.
Note: You can still schedule appointments for clients who aren't affiliated with a healthcare partner during these reserved hours.
After a care coordinator or in-network client submits an online appointment request, it will appear in your SimplePractice account. To view all requests, click Requests at the top of the Calendar homepage. You can then choose to Accept or Decline each request.
If you accept an online appointment request, you'll have the option to send intake paperwork to the referred client through the Client Portal. To learn more, see: Enabling online appointment requests.
---
Additional resources