As small business owners, we recognize that a leave of absence might be required for a variety of reasons. In these instances, preparing your SimplePractice account for your time away will help set you up for success.
In this guide, we'll cover:
---
Preparing your SimplePractice account
In preparation for a leave of absence, there are a few automated settings to review:
Verify that all appointments during your absence are removed
Check your

Calendar

to confirm there are no appointments scheduled until your return date.

You can also disable

appointment reminders

. To do so, navigate to

Settings > Client Reminders

and toggle off any reminders that are currently enabled.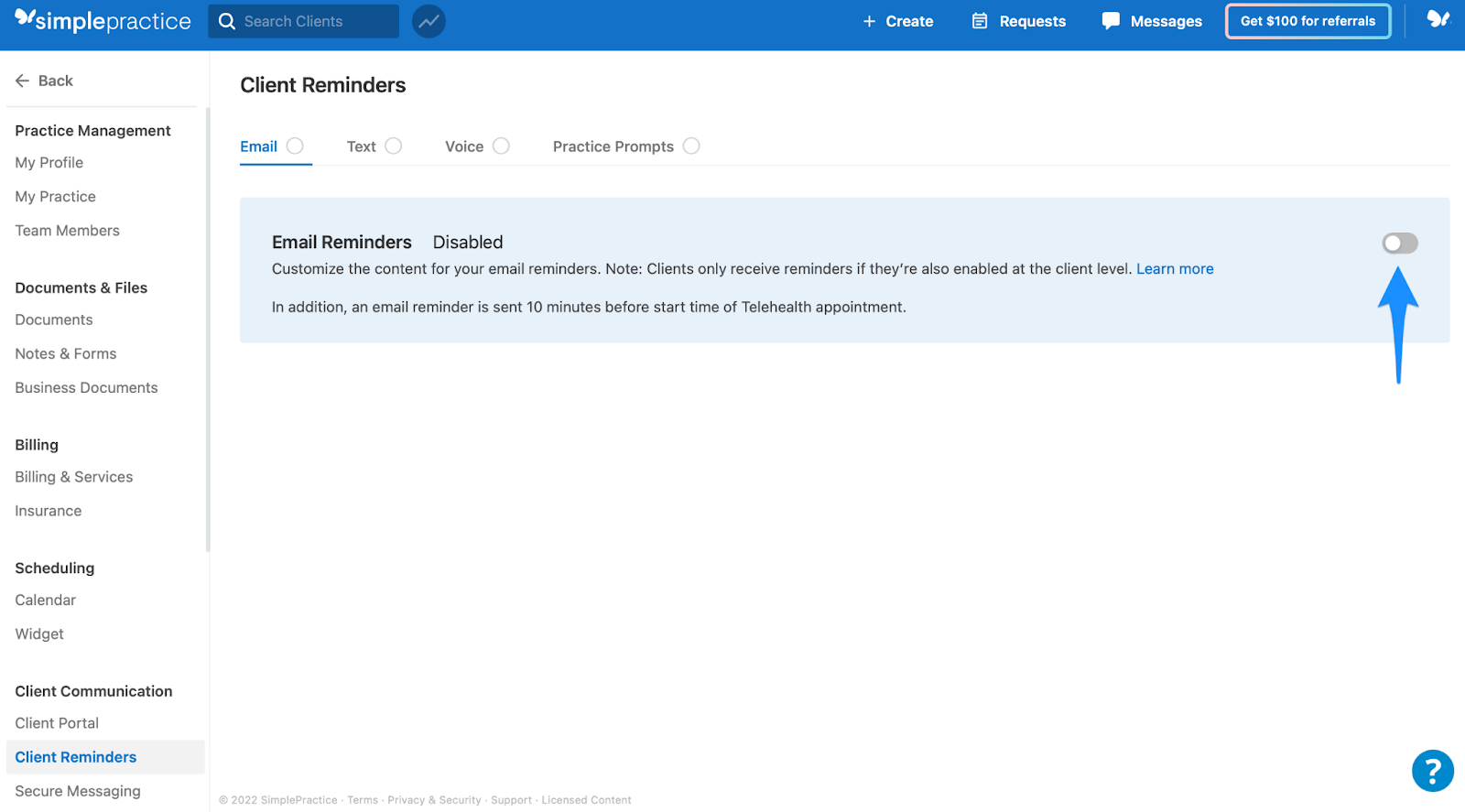 Turn off online appointment requests
Before going on your leave of absence, you'll want to disable online appointment requests. That way, clients aren't able to request appointments with you while you're away.
Navigate to

Settings > Client Portal

Toggle off

Online appointment requests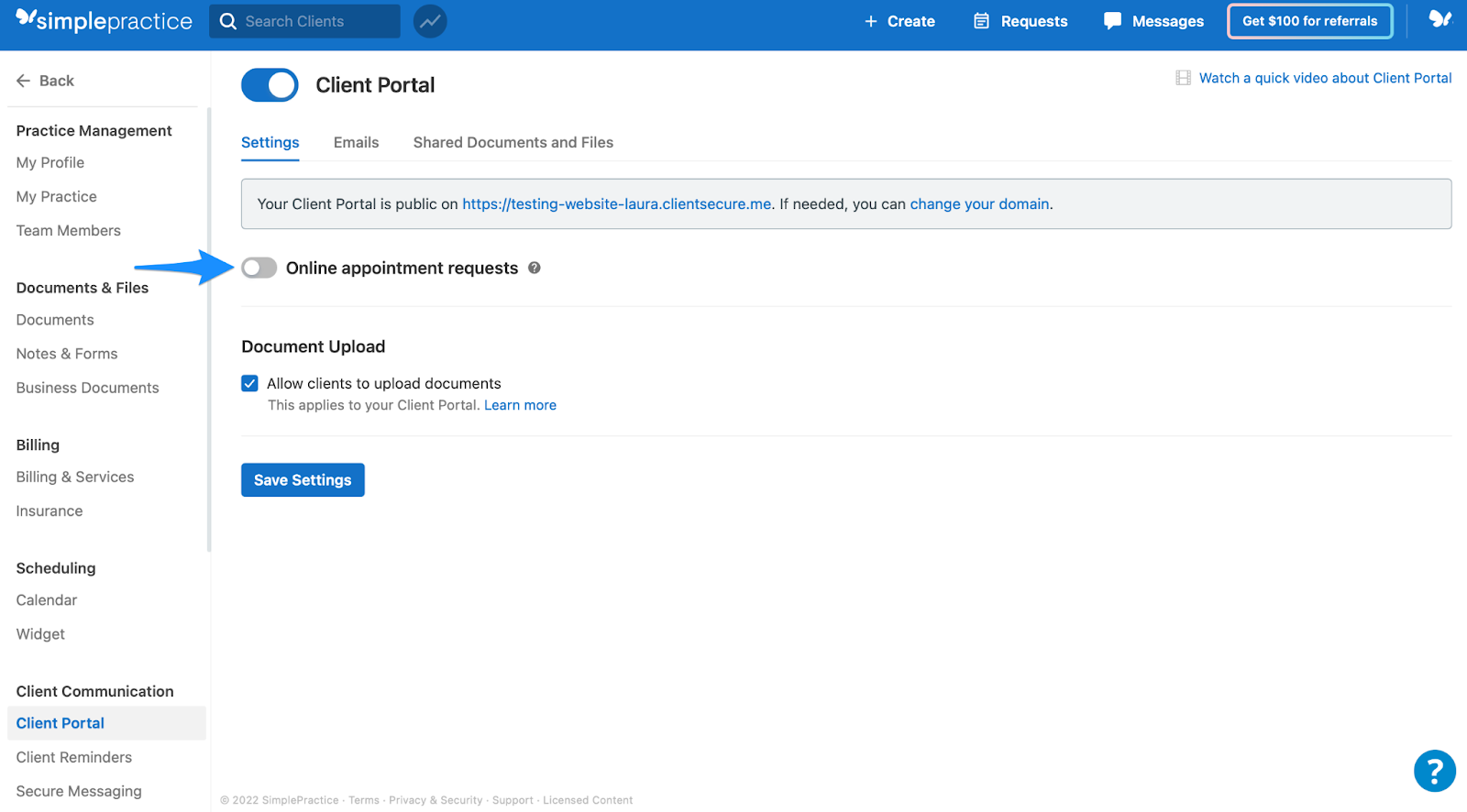 Note: This will also disable new appointment requests in your Monarch profile. Therapy seekers will still be able to view your profile; however, it'll show that you're not currently taking new clients.
Disable Secure Messaging
To prevent clients from sending messages to you, you can disable Secure Messaging. To do so:
Navigate to

Settings > Secure Messaging

Toggle off

Secure Messaging with Clients is enabled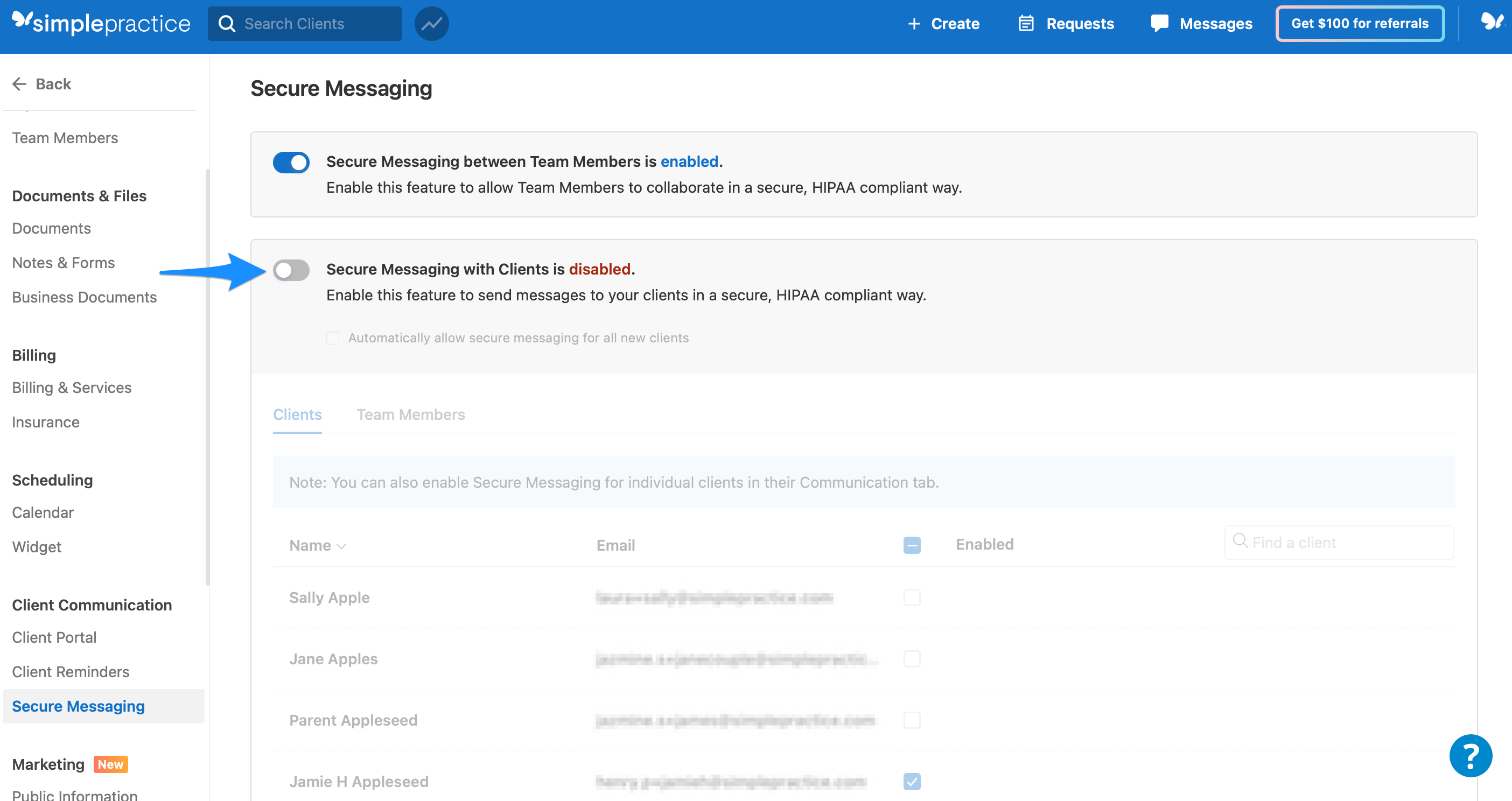 Note: If you're in a group practice, disabling Secure Messaging between Team Members will apply to all team members in your account.
---
Reverifying your Online Payments account
If you have an Online Payments account, our online payments processor will automatically flag an account for inactivity after 60 days. If your leave will be longer than 60 days, please submit a help request upon your return to have your Online Payments account reverified.
Note: Once your account is reverified, the first charge must be processed within 24 hours or the account will be flagged as inactive again.
---
FAQs
---
Do you have a pause or storage option?
While there isn't a pause or storage-only option, we have a Starter subscription plan available for $29/month. For more information about package options and pricing, please see: SimplePractice pricing and subscription FAQs.
If your account is downgraded from Essential or Plus to the Starter plan, certain features will no longer be available, including electronic claim filing and calendar sync, etc. Upon your return, the following will be reinstated once you upgrade back to the Essential or Plus plan from the Starter plan:
All templates

Claims

Payment Reports

Any other applicable features
For more information on what happens when you downgrade to the Starter plan, see Moving from one plan to another plan.
---
What happens if I cancel and recreate my account?
If you choose to cancel your account, you can export your data prior to doing so and upon your return, you can upload the information to a new SimplePractice account. For more details about exporting your data, please see: Data Export: Exporting Client Information.