Secure Messaging brings safe, secure, and HIPAA compliant communication to SimplePractice. It makes it easy to communicate with your clients and team members, all in one place.
Once Secure Messaging is enabled, you can use the links below to navigate through this guide:
Note: Secure Messaging is a premium feature available on the Professional Plan. To learn more about our plans and pricing, click here.
How to enable Secure Messaging
To message your clients, you must first enable Secure Messaging on both the Practice Level and the individual Client Level.
To enable Secure Messaging at the Practice Level:
Navigate to My Account > Settings > Secure Messaging

Switch the toggle to

On

to enable Secure Messaging between you and your

Clients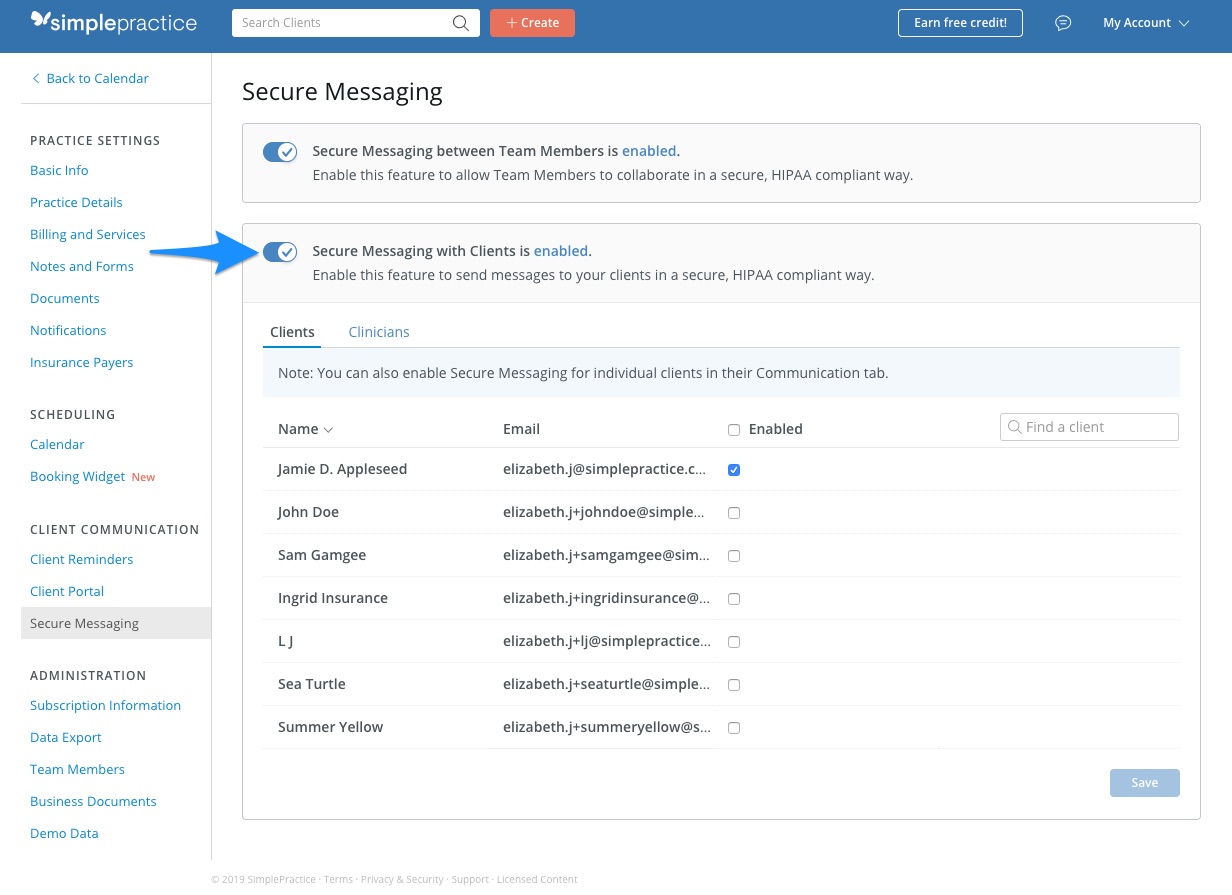 Note: If you've added Team Members to your account, you must first switch Secure Messaging On for your Team before you can do so for your clients.
You can enable Secure Messaging between yourself and individual clients from that page, or from the client's Overview Page > Edit details > Client Portal tab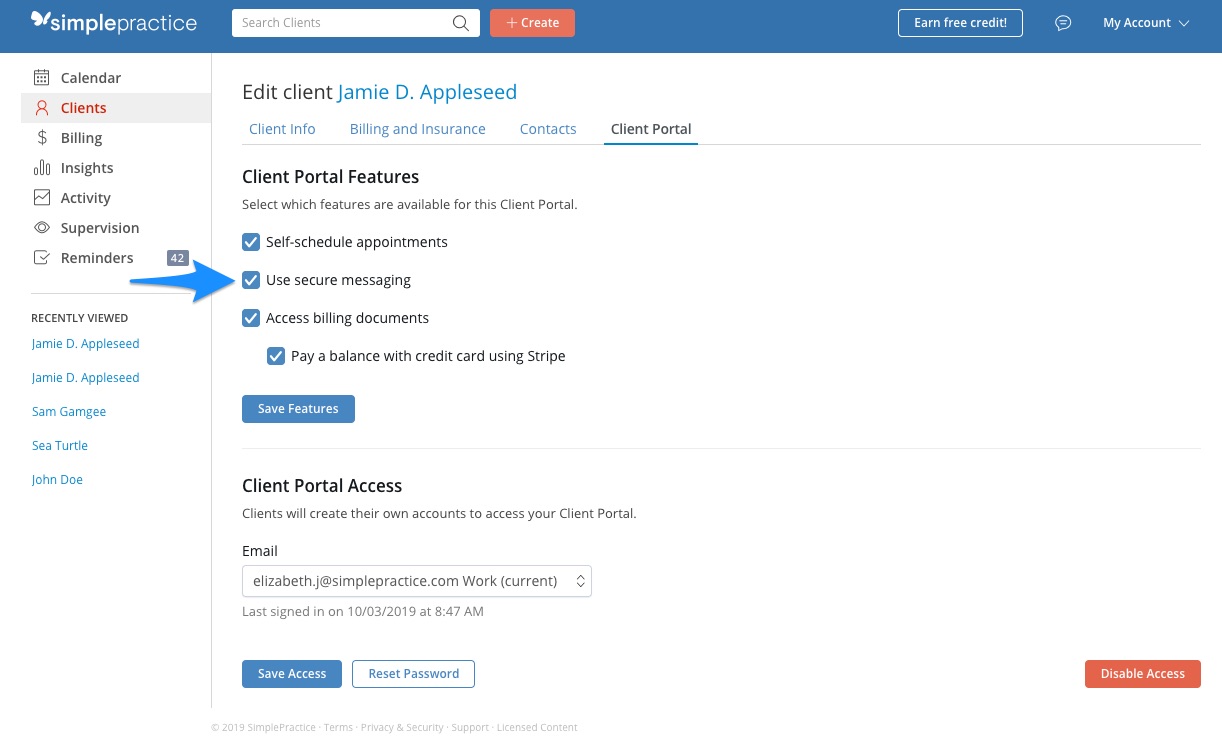 Note: When any user sends a Secure Message and the recipient does not read the message after 2 minutes, a notification email will be sent automatically.
---
Sending messages to your clients
Once Secure Messaging is enabled for a client, communicating via our secure, HIPAA Compliant system is easy. You can communicate via Secure Messaging on either a desktop computer or on your mobile device's default browser.
Messages sent to clients will trigger an email containing a quick login link that will enable the client to bypass the login process of inputting their username and password for 15 minutes. This allows them to receive and respond to your secure message quickly and easily from their desktop or mobile device.
To send a Secure Message, click the Secure Message icon:
You'll be able to access the Secure Message icon from any page of your SimplePractice account. The first time you use it, it looks like this:
After you have used Secure Messaging, when you click the icon, your past conversations will automatically open. You can either select one of your past conversations to continue, or you can choose to start a new conversation by selecting the New Message icon:
You will then see a list of clients and Team Members who you've recently messaged, as well as a Search Bar. Once you select a client to message, you will see the option to Enable Secure Messaging to start the chat:
Alternatively, if that client's Secure Messaging has already been enabled, you can just start writing your Secure Message:
When you send a Secure Message, your client will receive an email alerting them that you've messaged them: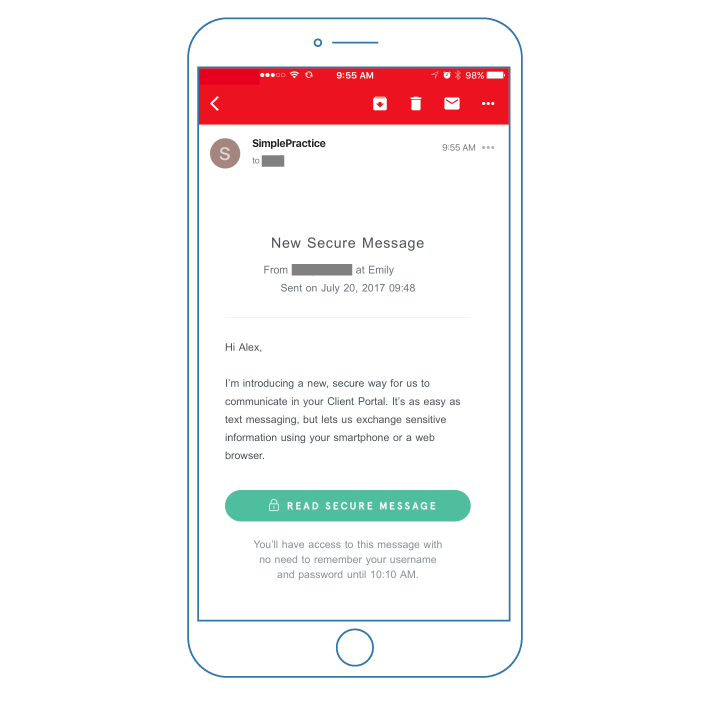 They can then open the email from either their desktop or, as in this example, from their mobile device. They will be able to view the message and reply back without having to sign in for 15 minutes. After 15 minutes, clients will have to enter their Client Portal username and password to log in and access your message. We require these credentials in order to keep messaging HIPAA compliant: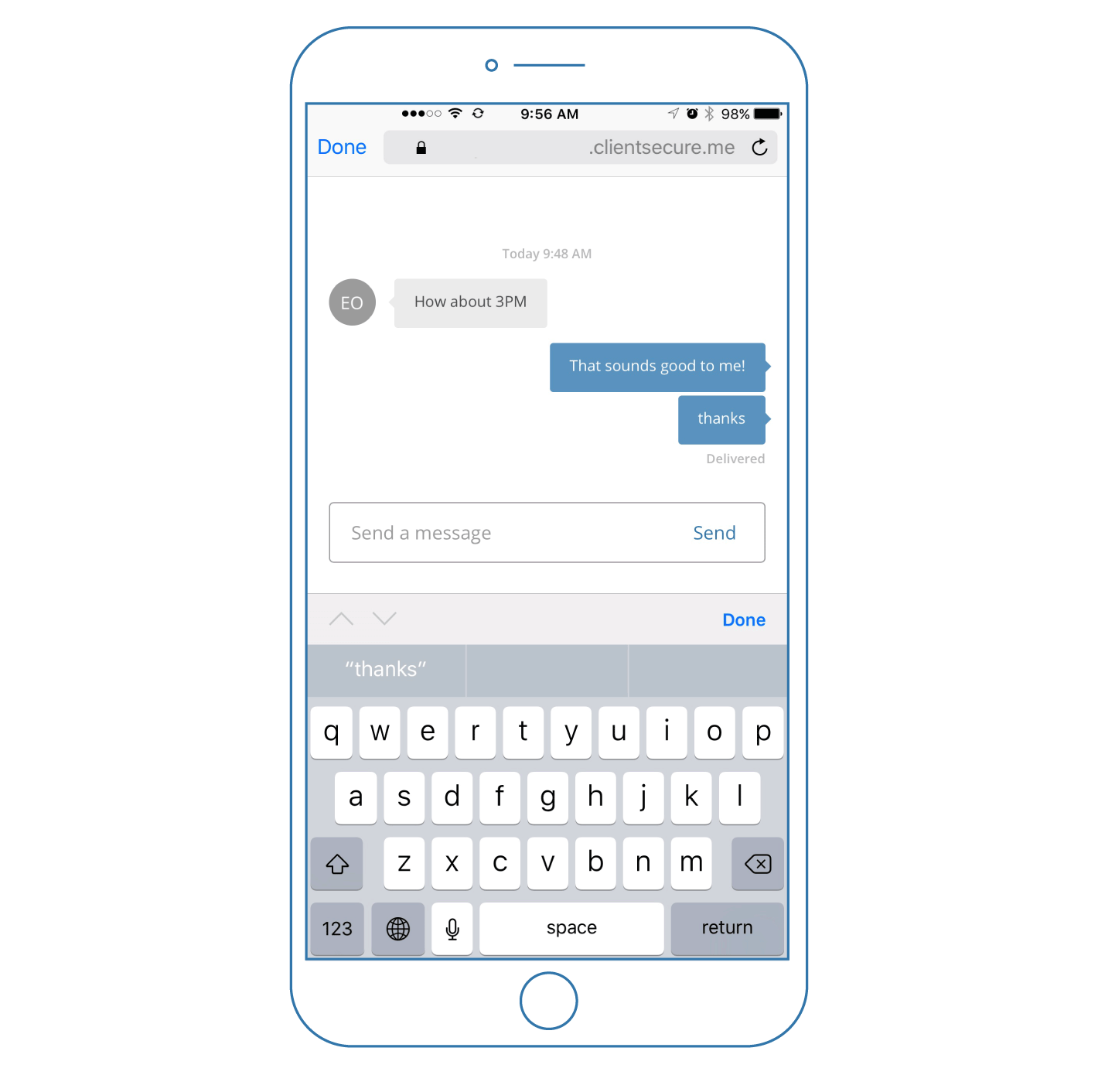 You will see their response in your Secure Messages and will be alerted by an orange dot next to the Secure Message icon.
---
How to re-enable Secure Messaging for a client
If a client unsubscribes from Secure Messaging accidentally or would like to re-enable it, he or she can re-enable these by replying START in the text thread.
If the client has deleted the text reminder thread, there isn't a way for the client to re-enable from his or her end. The clinician instead will need to delete the client's phone number in the account, save the page, then re-add the phone number, and check the Text message ok box again in the Client Info tab.
---
How to disable Secure Messaging for a client
With that being said, the client's phone carrier might still block the number if a client has previously unsubscribed. Your client will need to reach out directly to their carrier to see if there is anything that can be done.
To unsubscribe from Secure Messaging, a client can reply STOP in the text thread.
---
Sending messages to your team
Secure Messaging works the same way for your team as it does with clients, but the potential uses depend entirely on your team member's role:
Billers and Schedulers can now leave clinicians direct messages with their questions, notes, or actions required.
Schedulers can instantly inform clinicians when a client calls or leaves a message.
Billers can easily communicate about insurance information for a specific client.
Supervisors can advise interns directly in SimplePractice.
Clinicians can collaborate with other clinicians in your practice on a case, coordinate office scheduling, and even share SimplePractice tips.
Note: Clinicians will only be able to message clients if they have been granted Client Access. To learn more about client access click here.
---
Sending messages from your mobile device
Now you have even more reason to leave your laptop at home because you can send and receive secure messages from your SimplePractice app on iOS or Android.
With Secure Messaging, you can conveniently initiate conversations with team members and clients. To successfully message them, team members and clients will first need to have Secure Messaging enabled. To do so, you will need to enable it from the web app on your computer. For instructions, please see this walkthrough: Getting started with Secure Messaging.
Note: You can respond to any existing conversation in Secure Messaging.
---
How to enable push notifications
You can opt to receive a push notification on your mobile phone and respond in a timely manner directly from your SimplePractice mobile app. Just tap on the notification, and your app will open so that you can send a HIPAA compliant response quickly to your clients and team members. You can access the Push Notification management screen by going to Settings in the app. There are four different push notifications available, and here you can customize which ones you receive:
Session Alerts - tell you when a session is about to start.
New Message - tell you when a new Secure Message is received.
Session Request Alerts - tell you when a new session has been requested.
Video Session Alerts - tell you when a video session is about to start.
You can choose to receive all, some, or none of these push notifications.
Note: If you're experiencing any issues with accessing this feature, upgrading to the latest version of the mobile app will allow you to access all of the current features and to enjoy the full benefits of this update.