SimplePractice provides 5 reports related to your practice's income. Understanding what information is included in each report will allow you to leverage the payment data present in your account, to improve the billing process for both clinicians and clients. Each report can also be downloaded as a CSV or Excel file, allowing you to easily review or print as needed.
In this guide, we'll cover to following reports:
Note: For information on the Analytics dashboard and other reports, see Understanding your Analytics dashboard and reports.
---
Income allocation
The Income allocation report shows the total amount of payments received by the clinician for a Pay Period. You also have the ability to create Pay Period Snapshots and view Adjustments. To learn more about this report, see Income allocation: How the report is calculated.
Export information
If you export this report, the downloaded file will include:
The date payments were made

Which invoices the payments were applied to

A link to take you to each associated invoice

Note: If you're a group practice interested in learning more about how to leverage this report for payroll, see Calculating payroll for group practices.
---
Income
The Income report details your monthly total income including client payments, insurance payments, gross income, credit card fees, and resulting net income.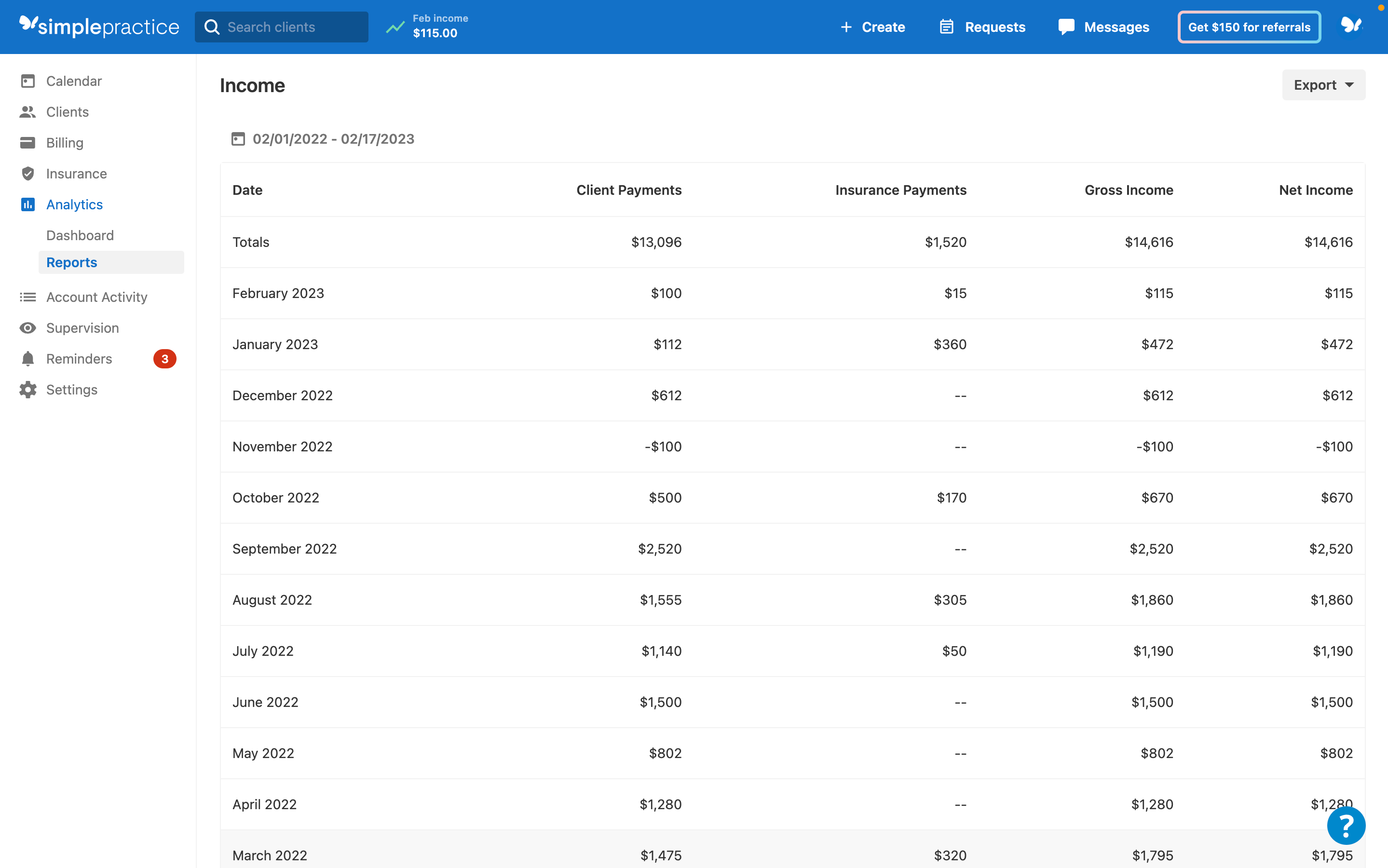 Note: A "--" symbol means there's no information to report.
Export information
We recommend exporting this report to detail your end of year totals. If you export this report as a CSV or Excel file, you can edit it to best serve your accounting or reporting needs.
---
Referral income
The Referral income report details where referrals came from and the Total Revenue attributed to those referrals. Total Revenue is the lifetime revenue from clients that have a referral source associated with them.
The Referral income report populates based on the date that a client was added, so a client will only appear on the reports if the date range selected includes the date when that client was added.
Note: For more information on adding a referral to a client's file, see Editing a client's information.
This report also allows you to manage your referral sources. Clicking Manage Sources will allow you to remove sources from your list.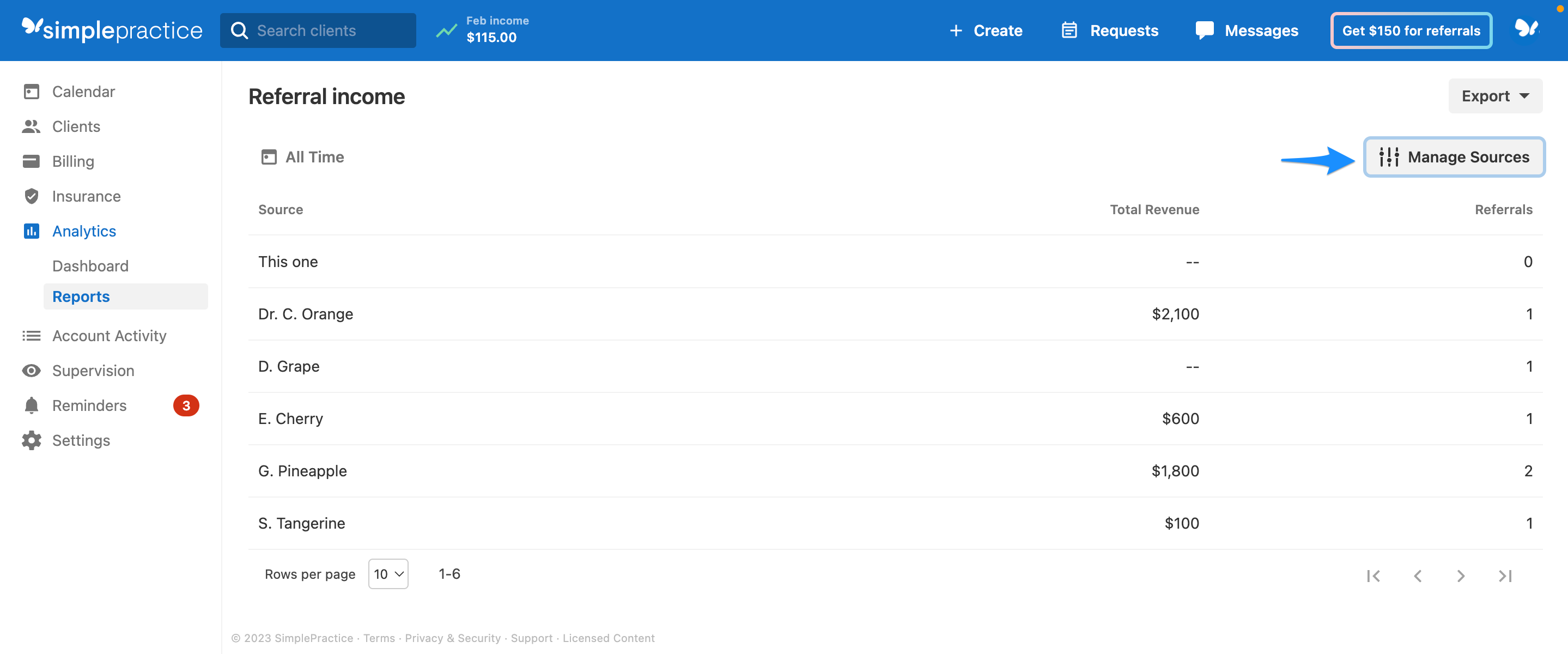 You also have the option to export the Referral income report as an Excel or CSV file.
Note: Each role has access to this report except for Schedulers, Supervisors, and Clinicians with Basic Access. Only Administrators will have access to the Total Revenue column and to Manage Sources.
---
Payouts
The Payouts report details all payouts issued through your account, including:
Status

of the payout

If the

Status

is

Failed

, hover over the

i

information icon to learn the details of the failure

The

Bank/Card

used for the payout

The

Description

of the payout

The

Initiated

date

This is the date Stripe initiates each payout

The

Est. Arrival

This is the date your payout will arrive in your bank account

For

Pending

or

In transit

payouts, this date is the expected date

The

Amount

of the payout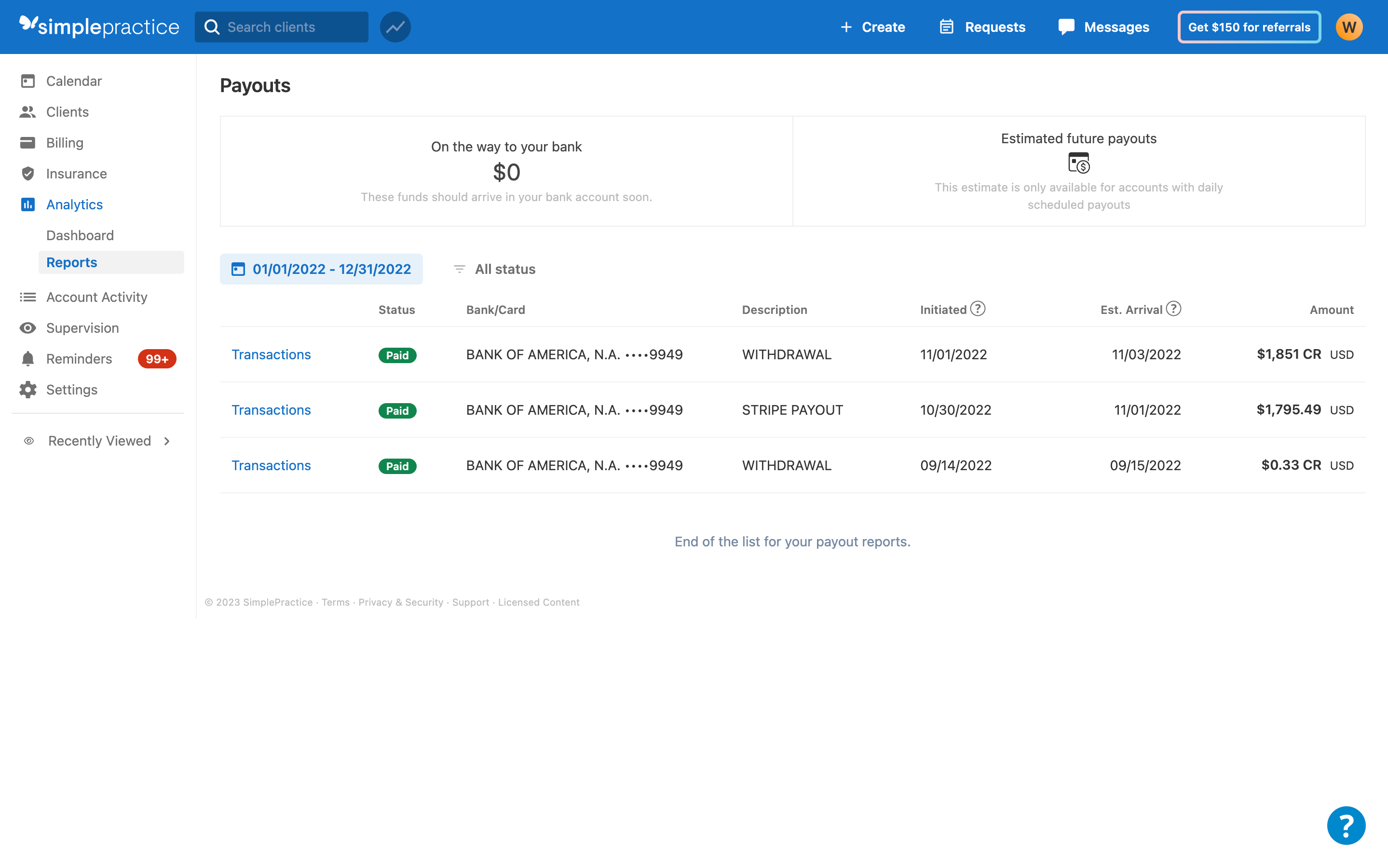 Click Transactions to be taken to the Card Transactions report, where you'll see each transaction associated with that payout.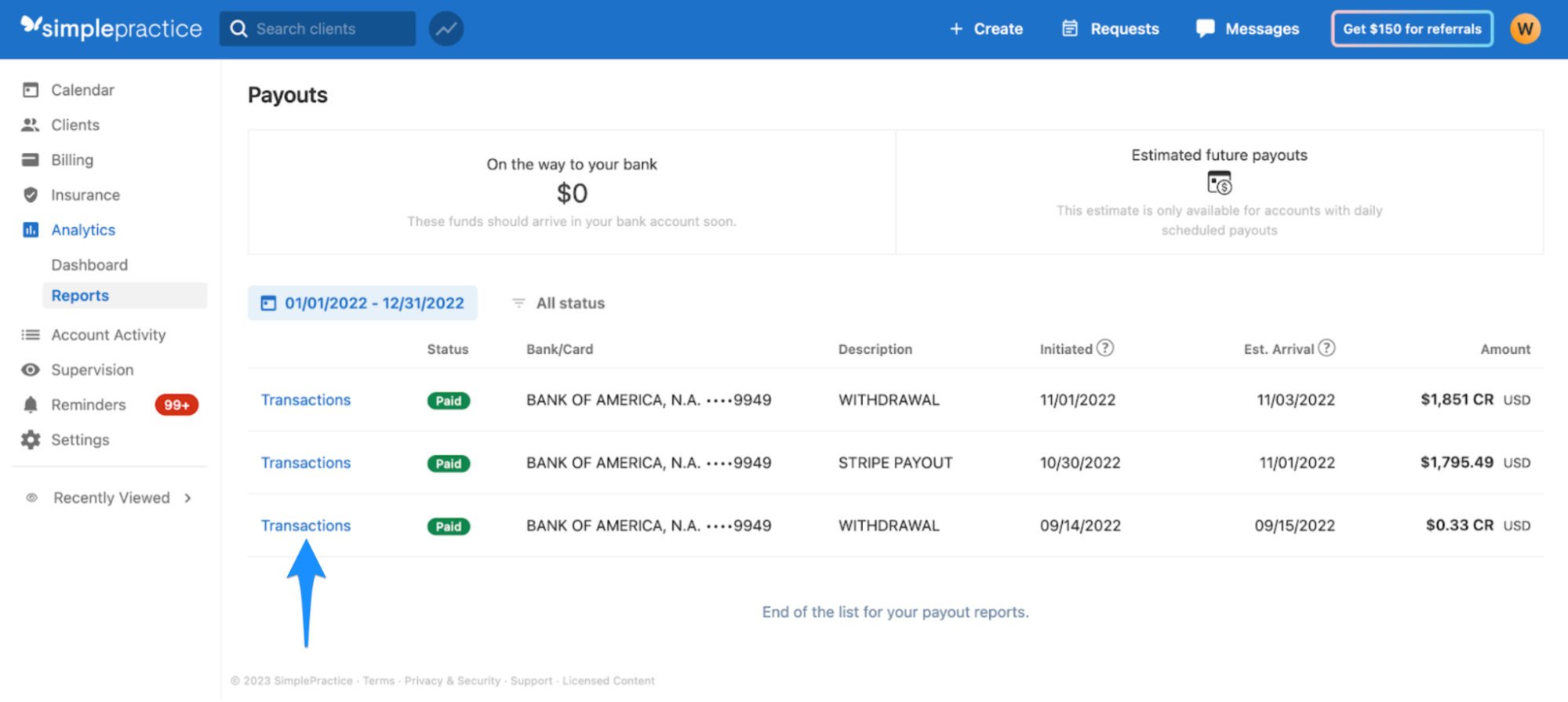 Note: For more information on payouts, see Online Payments payout FAQs.
---
Tax Reports
When you click 2022 Tax Report, you'll see a green banner appear letting you know that we're compiling your report and that we'll email you letting you know when it's ready. When you receive the email, it will contain a link to download your tax report. This link will expire after 24 hours. Your downloaded report will look similar to this: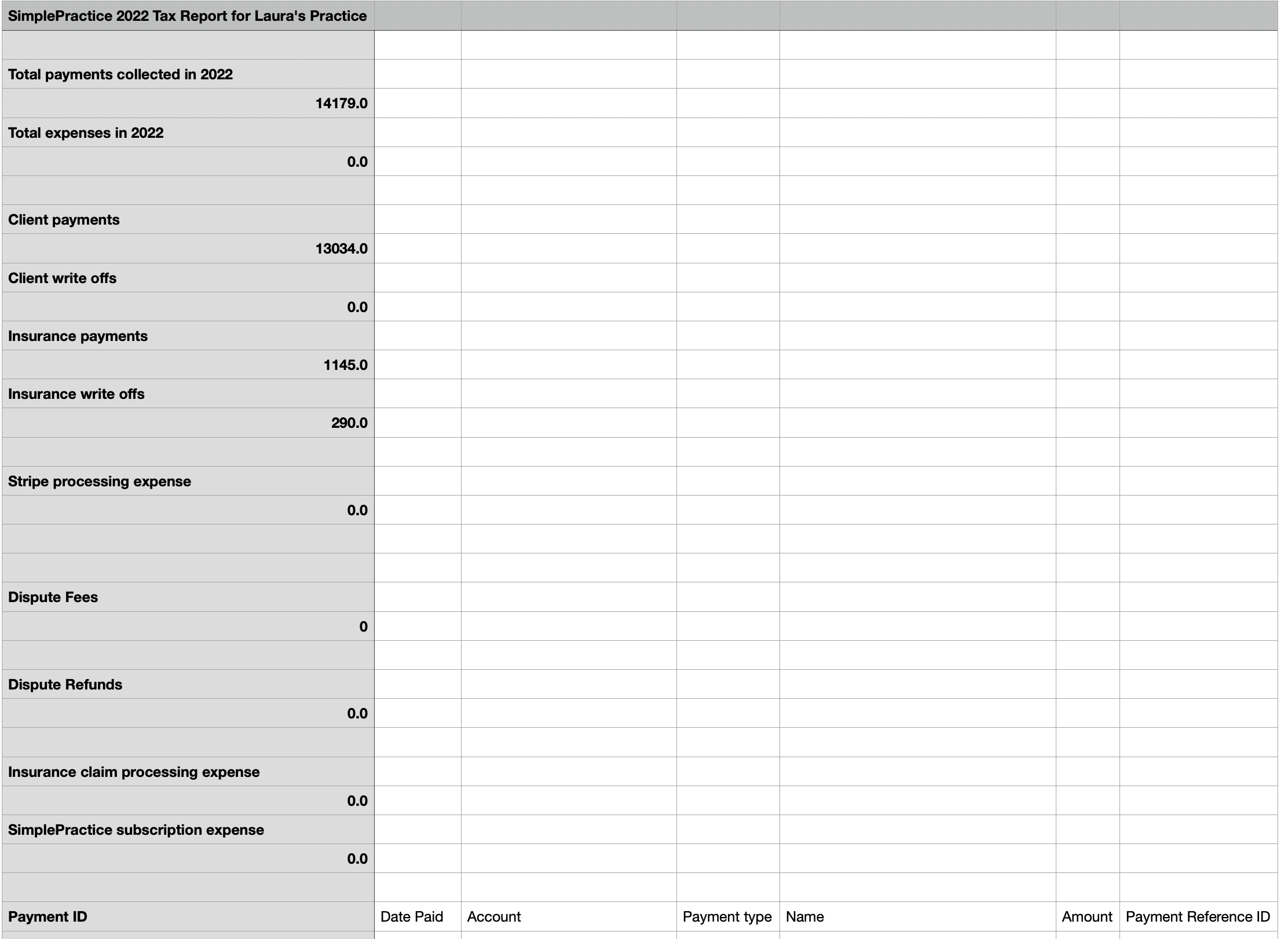 Note: To learn more about the Tax Report, see Tax Report FAQs.