No matter what business you're in, calculating payroll can be challenging. This is especially true if there are late client payments or if you take insurance. That's why we've created the Income Received report which includes Past Pay Period Snapshots to help you stay on top of changes and figure out what to pay your team members each pay period.
Learn more below about the Income Received report and best practices to use:
Note: To learn how the Income Received report is calculated, please see this guide: Income Received: How the report is calculated.
---
Current Payments
Many group practices successfully calculate their payroll in SimplePractice using the Income Received report. You can access this report by navigating to Reports from your Calendar homepage, and then clicking Income Received under Performance Reports.
Note: For more information about the different reports available to you through SimplePractice, see this guide: Reports: Analytics for your private practice.
As shown below, this report lists all clinicians who received payments for their appointments in the selected time frame.
You can customize your view by:
Adjusting the date range to show income received over a certain period of time
Choosing whether or not to include Insurance-related amounts
Selecting to view payments for individual clinicians
The Current Payments portion of the report is organized into 4 columns:
The Source column indicates the type of income received and whether or not they were allocated.
The Description column lets you know the types of income received, such as from appointments or product fees. If you are viewing for All Clinicians, you will see the descriptions divided by clinician and the total amount for each category of payment.
The Clinician column tells you what payments each clinician received during the selected time period.
The Amount column indicates how much each clinician received based on payments that were allocated to invoices as well as the total amounts for each Source category.
Clicking Unallocated Client Payments and Credits will take you to the report that lists the clients that have unallocated payments and credits. You can also see the total amounts and quickly navigate to the client's Overview page to fix any discrepancies.
Note: Payments that are entered into SimplePractice are automatically applied to first the smallest, then the oldest invoice in a client's billing record. If an appointment hasn't been invoiced, the payment can't be allocated and it instead sits in the client's account as a credit. Learn more about how payments are applied to invoices.
Tip: Practices who are currently having success with this report are making sure that all payments are allocated. A best practice that helps every type of business with payroll is invoicing and collecting payment at the time of service. If a payment is added to a client's file, but that payment isn't allocated to an invoice, it will not appear as part of a clinician's total, nor on the Total allocated to Clinicians line.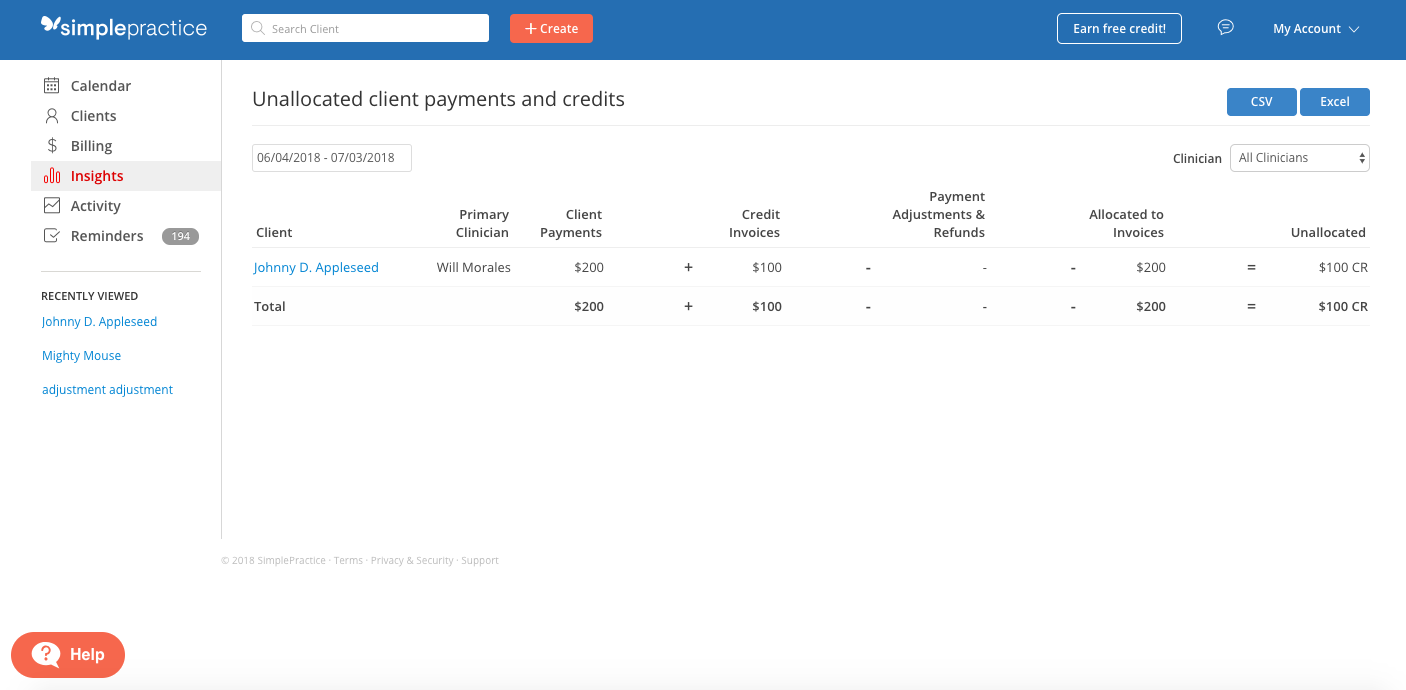 Note: The Unallocated Client Payments and Credits report only displays payments that were added in the selected date range. Widen the date range for more information about past payments.
---
Pay Period
You now also have the option to create Pay Periods for group practices. Most practice Administrators choose to pay their team members every 2 weeks or once per month. To calculate the correct pay for team members for a set amount of time, follow these steps:
Select the correct date range of your Pay Period

Note: Each date can only be associated with one Pay Period

Determine whether or not to include Insurance
Click Close Pay Period at the end of each Pay Period cycle
Note: Only the account Administrator and Biller roles will be able to view Pay Periods, all other team members can only view their own information on this report.
Important:
1. Make sure that you close your Pay Periods every cycle. They will not automatically close.
2. If you delete the first Pay Period, you will delete all of them.
---
Past Pay Periods
The Past Pay Periods tab shows a list of all of your past Pay Period snapshots. A Pay Period snapshot helps you see your payments for a certain time frame to better help you manage your payroll.
Adjustments from previous Pay Periods will show in the Adjustments column in the following Pay Period.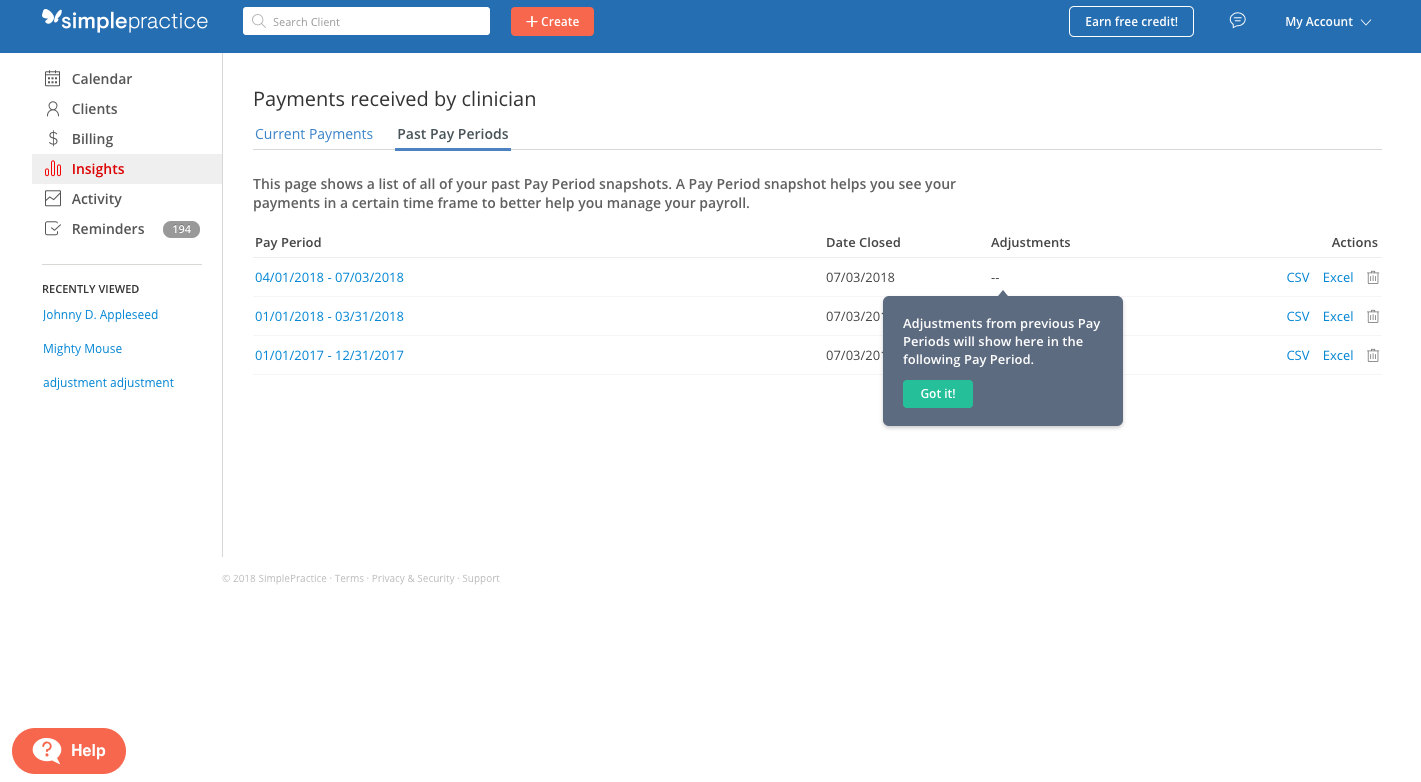 Note: You can export data from each Pay Period snapshot as CSV or Excel files.
---
Best Practices for Managing Payroll
How you choose to manage your payroll will vary from practice to practice. Some teams pay clinicians an hourly rate, others a percentage, and others based on the total number of appointments they conduct in a given time period. If the needs of your team are complex and require a full-featured payroll system, we recommend that you use one. If you pay clinicians a percentage or based on the number of appointments, and want to use SimplePractice to see what you owe, here are some best practices that have worked for our customers:
Invoicing and Client Payments
Your ability to identify and allocate payments easily and efficiently starts with invoicing. These tips will help set you up for invoicing success in SimplePractice, and will make it much easier to pay your team.
Create individual invoices for each appointment,

rather than one invoice that contains many appointments. This way payments can cover the whole invoice. This is important because...

You can't allocate a partial payment to a specific invoice. The entire invoice amount must be entered into the client's account in order for that invoice to be marked PAID.
Invoice and collect payment at the time of service. If a payment is added to a client's file, but that payment isn't allocated to an invoice, it will not appear as part of a clinician's total, nor on the Total allocated to Clinicians line.
Payments will be 'unallocated' and not included as part of the clinician's total if the invoice is too large and there are not enough payments to cover the invoice.

For example, an invoice is created for $300 and it covers two appointments. A payment is added for $150 (or one of the appointments). The $150 will NOT appear on the report because it hasn't been allocated to an invoice yet. The $150 is therefore considered

unallocated

.

Date your invoice in the same month as the client's session. If you invoice October's session in November, the session fee amount will display as part of November's income (even if you enter the payment in October).
Date payments correctly as soon as you receive them. When you add a payment, the payment date defaults to the current date. If you'd like to line up payments with sessions and you add a payment later, be sure to edit the date so that it matches the session.
Note: For more information about invoicing, please see these guides: Creating invoices and Using invoices in SimplePractice.
Accounting for Adjustments
Each pay period, take a Pay Period Snapshot for your records so you can compare any changes between pay periods. Adjustments happen using any payroll system, and comparing the current pay period to past ones helps you stay on top of the changes.
Pay period snapshots can shift from month to month for a few reasons:

If you make edits to past invoices or payments and don't correctly update the payment date

If you add backdated payments (payments with a date in the past)

When insurance payments are added, they could span sessions from previous months (and previous reports)
Important: For these reasons, we recommend that you save Pay Periods (especially if you deal with insurance payments) so if anything changes, you'll have an accurate record of what changed.
Reviewing past Pay Periods and checking for adjustments is a necessary process in any payroll workflow.

Pay Period Snapshots provide a historical record so you know what you paid last time and you can easily note any changes. If a clinician asks you where you got the numbers for their payment, or why an adjustment is made, you'll be able to refer back to your Pay Period history.
Note: We're working on making it easier to identify adjustments. If you have any suggestions on the best way that we can communicate when an adjustment happens based on how you manage payroll for your practice, we'd love for you to contribute your idea to our Community Forum by adding to our Ideas and Suggestions section.
---
Exporting Pay Period Drill Down reports
As an additional resource when calculating payroll, you can now download a Pay Period Drill Down report as a CSV file for closed pay periods. This will offer a detailed breakdown of all payments that contribute to the Total Allocated to Clinician amount in the Income Received report. By displaying all of the transactions, this report gives full transparency into the allocation for each clinician, making calculating payroll for your practice more comprehensive so you can know with confidence that you are paying your clinicians correctly.
Important: Only the Account Owner, Clinicians with Administrative Access or Billers will be able to export this report. This report is not accessible in the SimplePractice web app, it will need to be downloaded to view. Pay Period Drill Down reports will not be available for any pay periods that were closed prior to the release of this feature on 5/28/20.
To generate a Pay Period Drill Down report:
Go to Reports > Income Received and click on the date range of a closed Pay Period

Give the system 1-2 minutes to generate the Pay Period Drill Down report and refresh the page

Download Detailed Report: CSV in the upper right of the page to export the file to your desktop
The exported file will provide a complete spreadsheet that includes client names, payments, DOS, and links to all allocated payments received within the report's date range.
Please note that once the report has been exported from your account, it will be your responsibility to securely manage the PHI included in the file.
Note: The underlying formula for how the Income Received report is calculated has not changed with this release. This new feature simply gives additional insight into how our system calculates the totals that are included in a Past Pay Period.