Below you'll find answers to the most frequently asked questions regarding payouts through our Online Payments feature in SimplePractice:
In this guide, we'll answer:
---
How long does it take to get paid?
For U.S. accounts, you have three different payout schedule options: Daily, Weekly, and Monthly. For details on each type of schedule, see: Payout schedules.
U.S. customers will have a daily payout schedule selected by default once they're fully verified by our payment processor and our Risk team. With this payout schedule, your available account balance will be paid out daily containing payments processed two business days prior. This is how long it takes for your pending account balance to become available. For example, any client payments made on a Tuesday are paid out on Thursday, and any client payments made on a Friday are paid out on Tuesday.
Note: Payouts are affected by Federal holidays. American banks are closed these days:
New Year's Day, Birthday of Martin Luther King, Jr., Presidents' Day, Memorial Day, Independence Day, Labor Day, Indigenous Peoples'/Columbus Day, Veterans' Day, Thanksgiving Day, Christmas Day.
For CA (Canadian) accounts, payouts of your available account balance are made daily and contain payments processed seven business days prior (this is how long it takes for your pending account balance to become available on this schedule).
Note: This is based on location, not currency.
---
Where do I find my payout totals?
You can find your payout totals in your Payout reports in your SimplePractice account. If you had an old Online Payments account linked to SimplePractice, information about payouts will only be accessible through your Payout reports in SimplePractice and will not be reflected in your Online Payments dashboard. You can also learn more here: How do I keep track of credit card payments?
Note: If you had an old Online Payments account linked to your SimplePractice account, your Integrations tab will no longer be accessible and payments will no longer be reflected in the Online Payments dashboard.
---
I haven't received a payout I was expecting - where is it and what should I do?
If a payout hasn't arrived according to its expected delivery date, there can be several reasons as to why:
5 business delay for the first payout on an account: There is an expected 5 business day waiting period (7 calendar days) for the first payout for all new Online Payments accounts. After your account is set up for the first payout, future payouts will resume according to the account's payout schedule.

Payout failed: There are a number of reasons why a payout might fail when attempting to deposit into a bank account. See Payout failures for more information and how to remedy the issue.

The payout date was offset by a weekend or a holiday: Weekends and holidays can shift the deposit date beyond the expected due date. If the deposit date lands on a weekend or a holiday, the payout should land the following business day.

The payout amount was offset by refunds or disputes: Sometimes refunds or pending disputes can outnumber the positive balance of a payout and result in a withdrawal from your bank account, rather than a deposit. Check the Payout reports for details on the contents affecting each payout.

In the event that your Online Payments account becomes negative, SimplePractice reserves the right to draw from your bank account or to reimburse itself until the account no longer has a negative balance. This is to ensure that your business, our business, and our payment processor's business are all observing their respective financial responsibilities.

When multiple attempts are made to draw from or chargeback your account for a negative amount and they continue to fail, the bank account originally associated with your Online Payments account is no longer allowed to connect and cannot continue processing Online Payments.

The account requires re-verification:

SimplePractice treats your security as a priority. Our goal is to make sure that your Online Payments account is secure and never compromised. We've implemented various mechanisms to alert us when there might be suspicious activity in your account. If your account is flagged, your payouts would be delayed and our team would work to reverify the account. You can rest assured that your account is being carefully reviewed and our team is working hard to get your account reverified as soon as possible so that your payouts can resume.
Note:
If none of the reasons listed above appear to be the culprit of a delayed or missing payout, we recommend waiting
five business days
from the expected deposit date before escalating. There can sometimes be processing delays on the receiving bank's end that our payment processor won't have visibility into. If five business days have elapsed and the payout still hasn't arrived,
let us know
.
---
Can I change my payout schedule?
Yes, you can adjust your payout schedule to be daily, weekly, or monthly. Here's how:
Go to

Settings > Billing and Services > Online Payments
In the Payout Schedule section, click Change schedule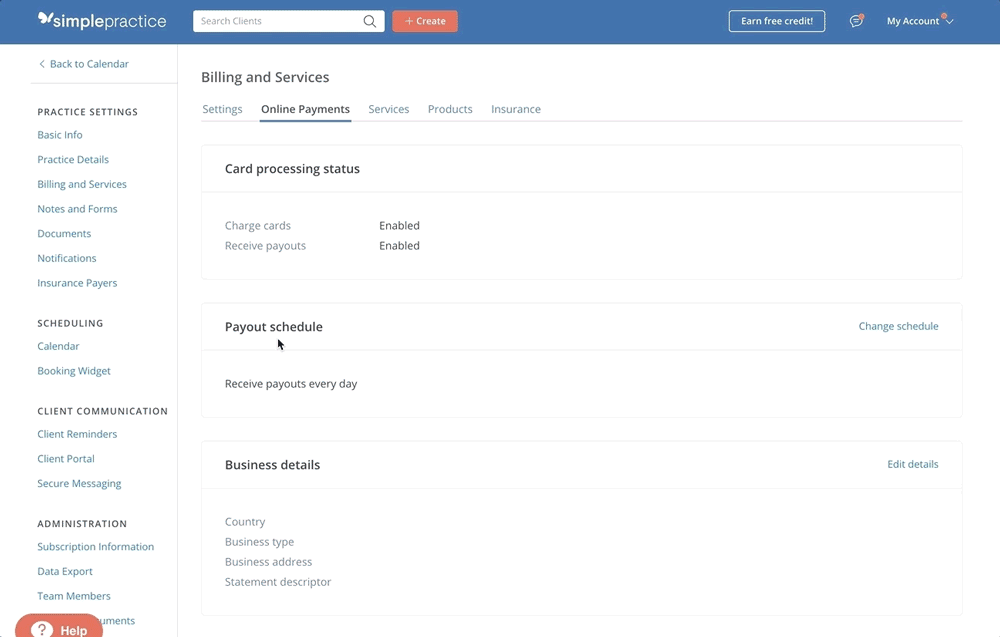 ---
Can I opt in to receive Instant Payouts?
Instant Payouts are not currently offered with SimplePractice Online Payments.
---
What happens to my payouts when I cancel my account?
If you have charges awaiting payout after you cancel your SimplePractice account, you'll still receive those funds to your bank account. However, you won't be able to make any new charges after your account is cancelled.
---
How do payouts work when there's been a dispute?
If a charge is disputed before it has been included in a payout, it will not be included in the next payout until that payout is resolved. Once the payout has been won or lost, that's when the money will either be sent to the bank or will be withdrawn from your Online Payments account and returned to the client.
---
What could cause a delay to my payouts?
There are several reasons why a payout may be delayed. Here are some of the most common reasons:
A holiday interfered with the processing time

You recently changed your payout schedule

Updating your payout schedule can sometimes interfere with a payout's processing time

Your account is under review by our Compliance team

Both our Online Payments processing partner and our Compliance team are required to perform random reviews of your account, which typically only delay payouts for a day or two
---
How can I make sure I have the right MCC?
Online Payments accounts set up through SimplePractice are automatically assigned an HSA/FSA eligible MCC. If you're having trouble running an HSA/FSA card, please submit a help request so our Customer Success team can assist you.
---
Why was I notified that money was withdrawn from my account?
When you receive a notification that money was withdrawn from your account, it means that there weren't sufficient funds in your Online Payments account balance to cover your recent activity. When this occurs, the funds are withdrawn from your personal bank account instead.
This recent activity usually refers to:
A client refund

A disputed charge
Each time you run a client payment, that amount is processed and collected by our integrated Online Payments processor. These payments accumulate in your Online Payments account balance until your next payout day. On your payout day, the balance is deposited directly into your bank account. However, if your Online Payments account goes negative, that amount will be withdrawn from your bank account.