Running a practice on an EHR offers a wide array of benefits, including reducing time on administrative tasks, going paperless, and keeping your documentation secure and consolidated.
But because your practice is now run within your computer, certain proactive and precautionary measures are recommended to ensure you maintain HIPAA compliance and that you have the best SimplePractice experience.
In 2011, Internet security expert Brian Krebs outlined three core tenets of staying safe on the Internet:
If you didn't go looking for it,

don't install it.

If you installed it,

update it

.

If you no longer need it,

remove it

.
Below are some best practices for configuring your browser to ensure the best experience.
---
Operating System
To keep your browser working smoothly, it's best to make sure your computer's entire operating system is up to date. System updates fix performance issues for your browser, Internet connection, and other key features on your computer.
---
Browser Version
It's always recommended that you use the most recent version of your preferred browser. Each browser update comes with improvements, new features, and performance fixes that keep your Internet browsing experience smooth and error-free, whether you are on SimplePractice or another site.
Tip: To see the minimum version requirements for all supported browsers, consult our guide: What are the minimum requirements for successfully using SimplePractice?
Update Google Chrome
Open Chrome

Click the 3 vertical dots on the top right.

Click

Update Google Chrome. (Note:

If you don't see this button, you're on the latest version.)

Click

Relaunch
Update Mozilla Firefox
Open Firefox

Click

Firefox > About Firefox

in the menu bar.

Firefox will check for updates and download them automatically.

Click

Restart
Update Safari
Safari is updated automatically when you update your Mac's operating system. See the directions above to make sure you are running the latest version of Mac OS X.
---
Enabling Javascript & Cookies
In SimplePractice, we use Javascript to render key features on the site, and we use cookies to store small bits of data in your browser to ensure you have a consistent SimplePractice experience. Browsers allow you to disable these features, which can be useful on other sites. However, we recommend enabling them for SimplePractice so you get access to all of our features. Learn how below:
Enable Javascript and Cookies on Chrome
Open Chrome

In the top right, click the 3 vertical dots

Choose

Advanced > Content settings

Click

Cookies

Check Allow sites to save and read cookie data (recommended)

If you would prefer to have cookies disabled on other sites, under

Allow

click

Add,

and add

secure.simplepractice.com

Click

JavaScript

Check Allowed (recommended)

If you would prefer to have JavaScript disabled on other sites, under

Allow

click

Add

and add

secure.simplepractice.com
Enable Javascript and Cookies on Firefox
Open Firefox

Click the menu button

and choose

Content Blocking

Make sure

Standard

is checked
Enable Javascript and Cookies on Safari
Open Safari

In the menu bar click

Safari > Preferences

Click the

Security

tab

Ensure that Enable JavaScript

is checked

Click the

Privacy

tab

Ensure that Block all cookies

is unchecked
---
AdBlock
Unwanted Internet advertisements are a common annoyance, which is why the AdBlock extension is so popular. SimplePractice will never include ads, but AdBlock can still interfere with some features you want to use, like Telehealth or Secure Messaging.
By disabling Adblock for SimplePractice, AdBlock will continue to block ads on all other sites, but will let SimplePractice work perfectly.
To do this, follow the below steps:
Click the

AdBlock

button in your browser's menu

Select

Don't run on pages on this site

(if you are on Chrome) or

Don't run on pages on this domain

(on other browsers)

Click

Exclude
---
Autofill
Modern browsers have a feature called Autofill that allows them to remember addresses, credit cards, passwords, and more to make it easy to fill out forms online. For most standard consumers, this is a convenient feature.
However, for someone running an internet-based business involving PHI, this can lead to the inadvertent storing of client information within your browser. In addition, storing login credentials within your browser means they'll be accessible to anyone opening your computer.
We recommend disabling Autofill on the browser you use to access SimplePractice. Learn how below:
Disable Autofill on Chrome
Open

Chrome

In the top right, click the 3 vertical dots

Choose

Settings > Autofill

Select

Passwords

Disable the toggles for

Offer to save passwords

and

Auto Sign-in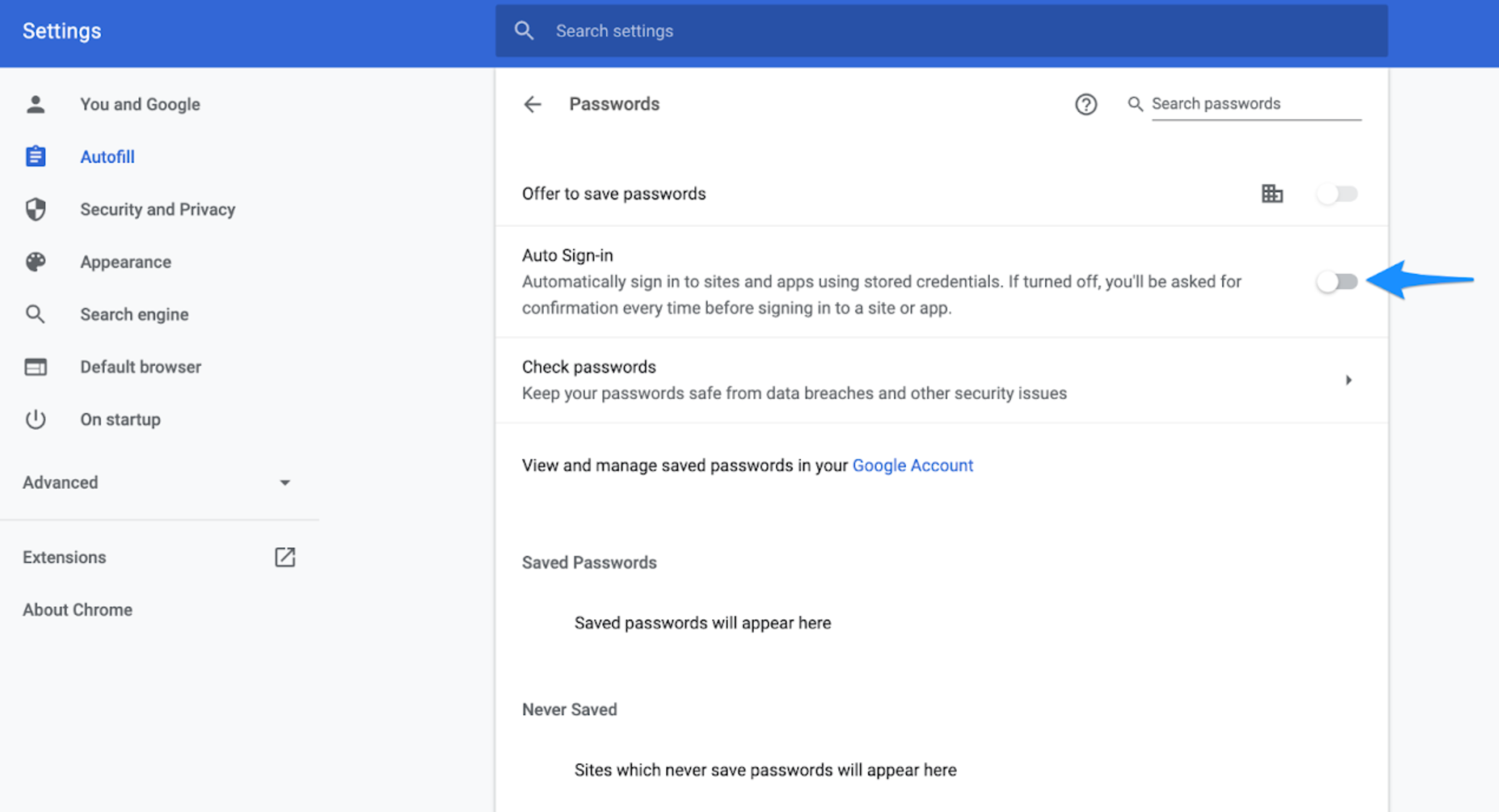 Click the back arrow

Select

Addresses and more

Disable the toggle for

Save and fill addresses
Disable Autofill on Firefox
Open

Firefox

Click the menu button and choose

Options > Privacy & Security

In the

Forms & Autofill

section, uncheck

Autofill Addresses
Disable Autofill on Safari
Open

Safari

Click

Safari > Preferences > Autofill
Uncheck Using info from my Contacts Card/Address Book Card

,

User names and passwords

, and

Other Forms

---
Browser Extensions
While they seem useful, many browser extensions can degrade your browser's performance (at best), or infect your computer with malware and harvest your information (at worst). In addition, many common extensions (like Grammarly) are not HIPAA-compliant.
Internet security experts recommend using as few browser extensions as possible, or ideally, none at all.
Installing extensions from third-party developers puts your data and your clients' data at risk.
When using SimplePractice, we recommend removing all browser extensions. Learn how below:
Remove browser extensions on Chrome
Open Chrome

In the top right, click the 3 vertical dots

Choose

More Tools > Extensions

Next you'll see a list of all installed extensions, there you should click

Remove

to uninstall your browser extensions
Remove browser extensions on Firefox
Open Firefox

Click the menu button

and choose

Add-ons

Right-click the extensions to

uninstall

or

disable

them
Remove browser extensions on Safari
Open Safari

In the menu bar click

Safari > Preferences

Click the

Extensions

tab

In the menu on the left, click an extension and then click

Uninstall

on the right