Last minute cancelations can lead to delicate conversations with clients regarding whether or not they'll be financially responsible for an appointment fee, or if the late-canceled appointment will be written off as a financial loss for your practice. Either outcome can be tough to navigate and having a defined cancelation policy for your clients is a great way to set expectations for when the situation arises.
In SimplePractice, you have flexible options for selecting the cancelation policy that works for your practice. In this guide, we'll cover:
---
Setting a cancelation policy in your account
To set up your cancelation policy:
Navigate to Settings > My Practice

Under

Cancelation policy, u

se the dropdown menu to select the cancellation window you'd like to have in place

Click Save Information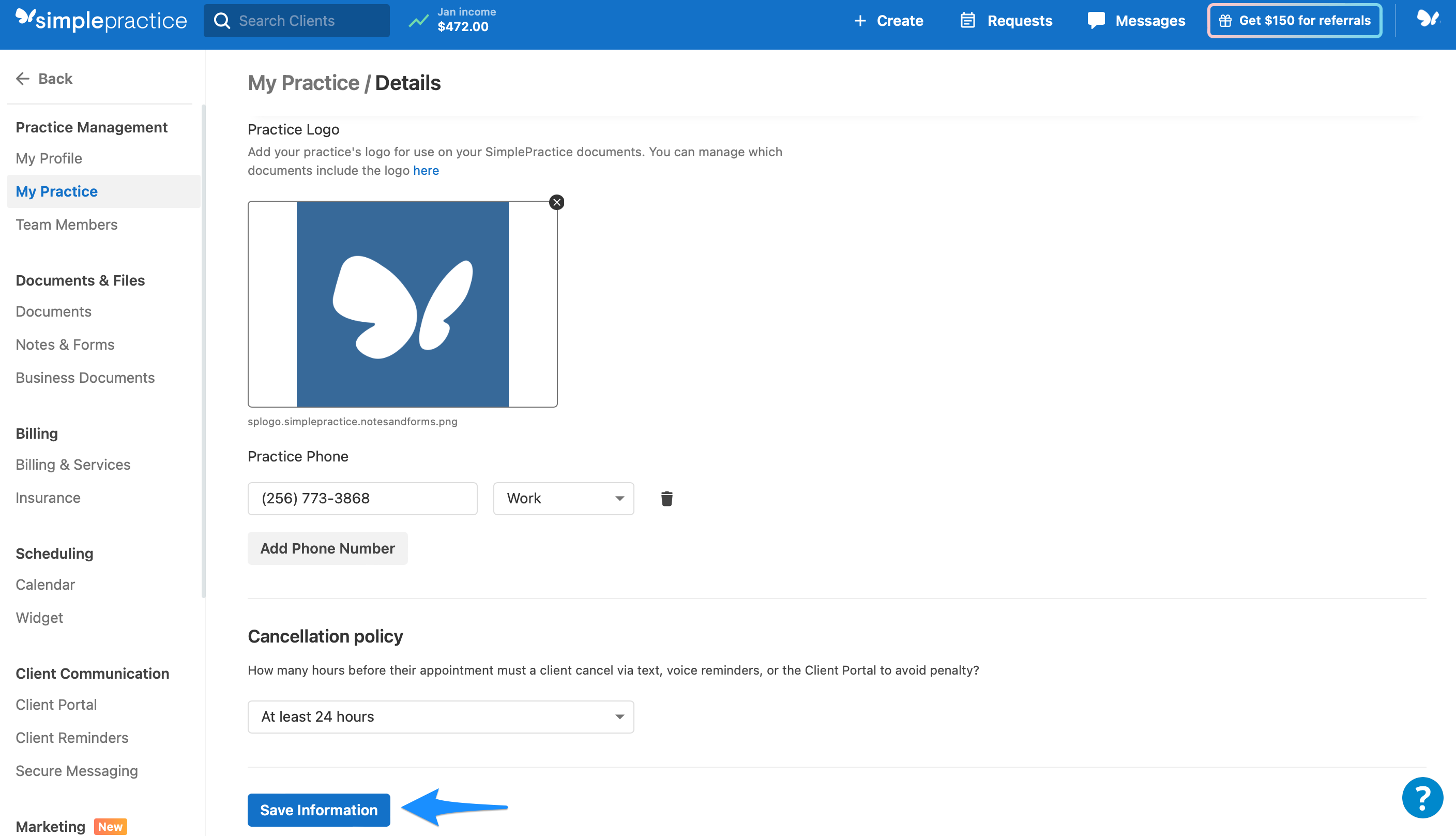 You'll see the options for allowing cancelations are as follows:
Require a phone call to cancel
At least 24 hours
At least 48 hours
At least 72 hours
Note: When considering your practice's Cancelation Policy, it's important to understand that allowing cancelations means clients will have the option to cancel an upcoming appointment, within the designated time frame, via their Client Portal or via Text Reminders, if these features are enabled. Canceling an appointment will free the client of any financial obligations for the appointment.
---
Understanding what the cancelation window means
For some background information, any appointment canceled outside of your approved cancelation window will be updated to the Late Canceled status. In SimplePractice, this status will appear as a red appointment on your Calendar and it will hold the client financially responsible for the appointment fee - appearing as a balance due for the client after an invoice is created.
If a client cancels within your practice's cancelation approved window, the appointment will instead be considered Canceled, appear orange on your Calendar, and the client will not be billed for the appointment fee.
Tip: To learn more about appointment statuses and how to make adjustments to them, see: How to change an appointment status.
---
Allowing cancelations via text reminders
If you'd like to take advantage of the automation options for having your clients cancel through the Client Portal, or through Text Reminders, you'll need to select a cancelation policy that allows cancelations within a set time frame.
With the Don't allow. Always request to call me option selected, clients must call you to notify you that they won't be able to make an upcoming appointment. This means that the options for clients cancelling via the Client Portal or via Text Reminders won't be available.
Tip: We've seen that allowing cancelations through the Client Portal, or via text, can help reduce No-Shows for your practice. If you'd like to make adjustments to your current cancelation policy, see Setting the cancelation policy in your account to learn about updating your cancelation policy and to review the available options.
If you allow clients to cancel within one of the available set time frames (24, 48, or 72 hours before the appointment start time), your clients will be able to cancel directly from their Client Portal, if its enabled, or with cancelations via text enabled, they'll be able to cancel through a link sent via text.
Even with these options enabled, if the approved cancelation window has already passed, clients will no longer have the option to cancel an appointment without contacting your practice directly. In these cases, you'll need to manually update the appointment status from the Calendar Fly-out.
---
What if I don't want to charge my client for a late cancelation?
If there's an appointment that was canceled outside of your cancelation policy, you still have the option to waive the appointment fees if you'd like. If the appointment status is set to Late Canceled, the client would still be invoiced for this session. This is easy to fix by updating the appointment status to Canceled so that the client is no longer responsible for the appointment fee. To do this:
Navigate to the client's profile and click the

Billing

tab.

If an invoice already exists for the appointment, you can delete the associated invoice.

Then, head to the Calendar and click the appointment to open the Calendar Flyout.

In the top left corner, click the Status drop-down, then select

Canceled

(No Show and Late Cancelled will still charge the client the full fee. Only use these statuses if you plan to charge the client).

Now the session won't need to be invoiced, but you'll have a record of whether or not the client was scheduled.
Tip: To learn more about appointment statuses and how to make adjustments to them, see: How to change an appointment status.